Top 12 Cryptocurrencies with the Highest Upside in 2023
Disclaimer: The Industry Talk section features insights by crypto industry players and is not a part of the editorial content of Cryptonews.com.
If you are anything like most cryptocurrency investors, then you have spent at least some time trying to find the crypto with the most upside potential.
After all, as a high risk and high reward asset class, the most successful cryptocurrencies can generate life-changing returns for early investors -but not all go on to achieve such meteoric growth.
In order to achieve the kind of stratospheric returns commonly associated with cryptocurrencies, you need to be an early investor in crypto with massive growth potential. Pulling this off can be quite the challenge, given the sheer number of cryptocurrencies to choose from.
Fortunately, with the right strategy and insights, you can drastically increase your chances of securing that sweet 100x investment opportunity.
The Best Cryptos with the Highest Upside in 2023
A quick look at our picks for the crypto with the most upside this year and beyond.
Wall Street Memes (WSM) - New meme token which will increase by over 17% by the end of its presale. This 100% community token has already raised over $6.8 million during its ongoing token presale.
Bitcoin BSC (BTCBSC) - An emerging eco-friendly staking token on Binance Smart Chain with upside potential, offering quick ten-minute rewards. In its presale phase, it has collected almost $2 million within a few days.
Launchpad XYZ (LPX) - A cutting-edge crypto platform simplifying Web 3.0 investments with a user-friendly dashboard, real-time data, and exclusive benefits for LPX token holders.
yPredict (YPRED) - An AI-driven ecosystem providing data insights and analytical models for crypto trading. The platform offers real-time analysis with the opportunity to stake $YPRED, its native token, for passive income.
Chimpzee (CHMPZ) - An excellent financial, social, and passive investment, Chimpzee has developed a unique blockchain tool against climate action and wildlife protection.
Battle Infinity (IBAT) - Project aiming to revolutionize the gaming industry by combining blockchain, gaming, and the metaverse.
Bitcoin (BTC) - With a limited supply of 21 million coins, the increasing demand and adoption by retail and institutional investors suggest a high potential upside for Bitcoin.
Ethereum Name Service (ENS) - Offers an open, distributed, and extensible naming system based on the Ethereum blockchain.
dYdX (DYDX) - Popular crypto exchange running on the Starkware Layer 2 protocol. As a leading decentralized perpetual contracts platform, it offers low fees and fast execution times.
Primal (PRIMAL) - Platform where users can engage with sports or workouts using a fitness tracker device and are rewarded with athlete fan tokens.
Univers (VRS) - Building the infrastructure for creating, connecting, and enriching virtual worlds using blockchain technology.
Gunfire AVAX (GUNX) - A play-to-earn 2D shooting game built on the Avalanche blockchain. Players are rewarded for their in-game achievements with AVAX tokens.
A Closer Look at the Cryptocurrencies with the Most Upside
With so many ways to make money with cryptocurrency finding the top digital assets with the most upside potential is at the top of most investors' to-do lists. At any particular time, there are potentially hundreds of cryptocurrencies with impressive upside potential.
But with more than 30,000 cryptocurrencies now in existence, it can be a challenge to pick out the most undervalued cryptos on the market.
With that in mind, we scoured the market to find the crypto with the most upside potential. Looking at key factors like market capitalization, hype, trends, development stage, and potential addressable market, we found nine worthy candidates that could become the most profitable cryptos in 2023.
1. Wall Street Memes - 100% Community-Backed Meme Token Offering Huge Growth Potential
While established cryptos, such as Bitcoin (BTC) and Ethereum (ETH), already boast a huge market cap, new tokens may offer a greater chance of 10x - 100x price increases. Therefore, diversifying into token presales such as Wall Street Memes ($WSM) can be one way to invest in crypto.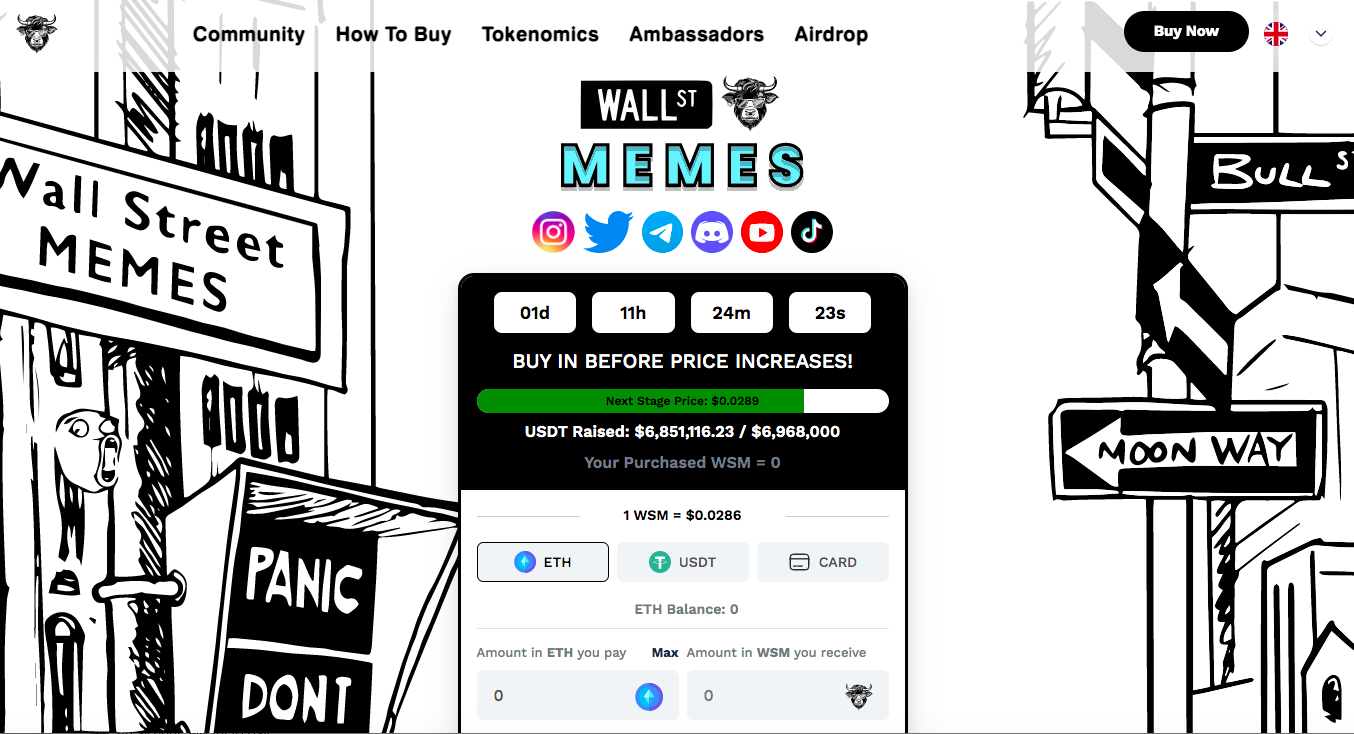 While presales are high-risk investments, Wall Street Memes has already managed to raise nearly $7 million within a few weeks of its presale. Furthermore, this meme token stands out from other meme coins such as $PEPE and $LADYS. For starters, Wall Street Memes is an established meme platform with over 1 million followers.
Secondly, the creators of Wall Street Memes have garnered success with their NFT project, Wall St Bulls. In the first NFT collection drop, 10,000 Ethereum NFTs were sold out within half an hour. Thus, this meme movement wants to dominate the crypto space with the $WSM token.
$WSM will be a 100% community token. Moreover, the low supply of 2 billion can help the price increase in the long term as the adoption rises. Half of the token supply has been allocated for the ongoing presale. 1 billion $WSM tokens are being distributed across 30 presale rounds, with the price increasing per round.
Currently, the token is available to buy for only $0.0286 per token. However, the price will jump by more than 17% to $0.0337 by the final stage of the presale. While Wall Street Memes has raised more than $6.8 million through the presale, it still aims to reach a hard cap of more than $30 million by the end of the presale.
One can stay updated with the presale and the new project developments by joining the Wall Street Memes Telegram group.
| | |
| --- | --- |
| Presale Started | 26 May 2023 |
| Purchase Methods | ETH, USDT, Credit Card |
| Chain | Ethereum |
| Min Investment | 100 $WSM |
| Max Investment | None |
2. Bitcoin BSC - Staking Token with Upside Potential Offering High APY Every 10 Minutes, Raised Over $1.7M in Presale
Bitcoin BSC (BTCBSC) is a new staking crypto that runs on the Binance Smart Chain with massive upside potential.
The token initial success has caught investor attention in a market that's already been optimistic about Bitcoin derivates.
For example, BTC20, an Ethereum-based staking platform, reached its presale target in 14 days and pumped 7x after listing on Uniswap. Given the initial success of BTCBSC, it could see a similar path.
BTCBSC tokens are valued at just $0.99 in their ongoing presale.
With an initial supply of more than 6 million tokens, the project aims to recapture the charm Bitcoin had over a decade ago, in 2011.
Bitcoin BSC has raised over $1.7 million within nine days of launch, reflecting robust community support.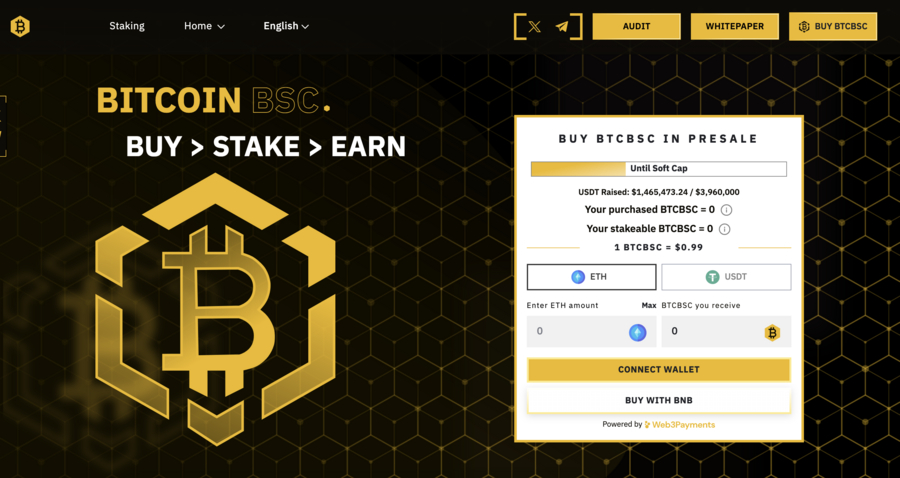 Why Does BTCBSC Stand Out?
Diverging from classic Bitcoin, which relies on a Proof-of-Work (PoW) framework, BTCBSC utilizes a Proof-of-Stake approach.
The project incentivizes long-term holding by committing BTCBSC tokens to a specified contract. The staking model entitles you to periodic rewards based on your contribution.
The Bitcoin BSC whitepaper highlights that these rewards are given every ten minutes following each block verification. This setup enables token owners to secure a steady, long-lasting passive income.
Key Factors That Differentiate BTCBSC:
Speed and Cost-Efficiency: Operating on Binance Smart Chain offers faster and more economical transactions than Ethereum or Bitcoin.
Eco-Friendliness: The PoS model diminishes the environmental impact, serving as a greener substitute.
High Returns: At the time of writing, Bitcoin BSC offers an APY of over 300%. This is lucrative for those entering the market early, especially considering the benefits of compound interest.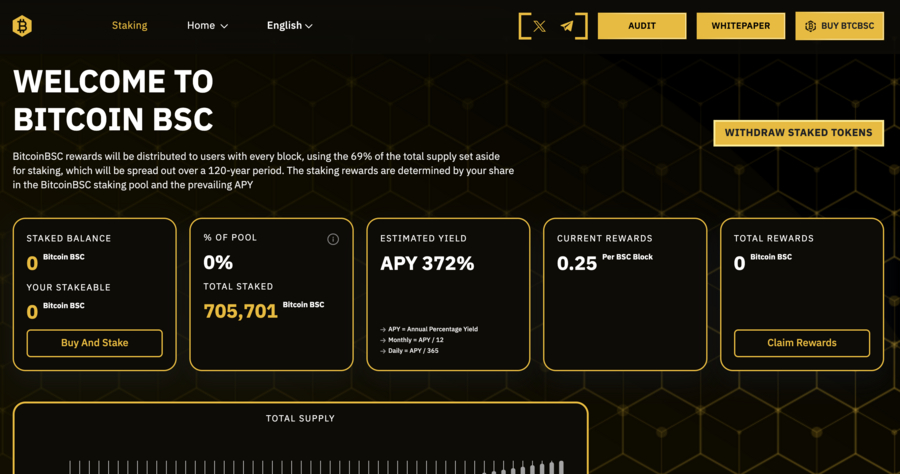 It's worth noting that the APY may decline as more participants enter the staking pool. However, the cumulative benefits of long-term rewards will likely balance the decrease.
You can stay informed by joining the Bitcoin BSC Telegram channel.
| | |
| --- | --- |
| Presale Started | September 5 2023 |
| Purchase Methods | ETH, USDT, BNB, Credit Card |
| Chain | BNB Smart Chain |
| Min Investment | $10 |
| Max Investment | None |
3. Launchpad XYZ - Portal with Real-time Insights to Simplify Web 3.0 Investments
Launchpad XYZ is an upcoming crypto with an upside potential designed to assist users in capitalizing on the ever-evolving Web 3.0 market. The platform offers an intuitive dashboard with valuable insights, including real-time crypto market sentiment.
At the time of writing, one LPX token is priced at a mere $0.035 USDT. With an initial listing price of $0.07 USDT, investors have a significant chance for swift returns.
The comprehensive guide covers all aspects of acquiring Launchpad XYZ tokens.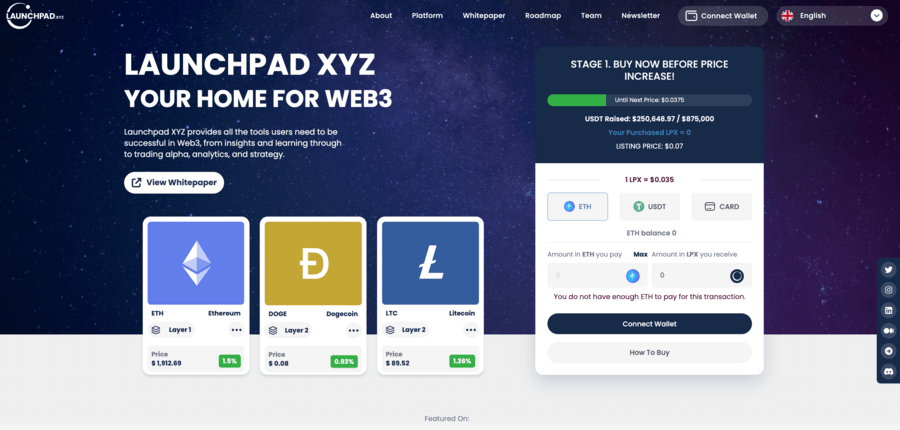 According to the Launchpad XYZ whitepaper, the project aims to demystify the intricate world of Web 3.0 investments by providing reliable data, analysis, and market sentiment for both beginners and seasoned investors. The platform encourages users to rely on their assessments rather than the opinions of others when making trading decisions.
The upcoming decentralized exchange (DEX) offered by Launchpad XYZ will enable smooth in-platform transactions, aligning with the platform's goal of becoming the core hub for the Web 3.0 business ecosystem.
For investors, the notification system on Launchpad XYZ, which alerts them of forthcoming presales, NFT launches, P2E game releases, and crucial project updates, is indispensable.
Before becoming publicly available on decentralized and centralized exchanges, LPX tokens can be obtained at a discounted rate. Although presale crypto investments carry risks, alternative coins like Tamadoge have demonstrated strong upside potential.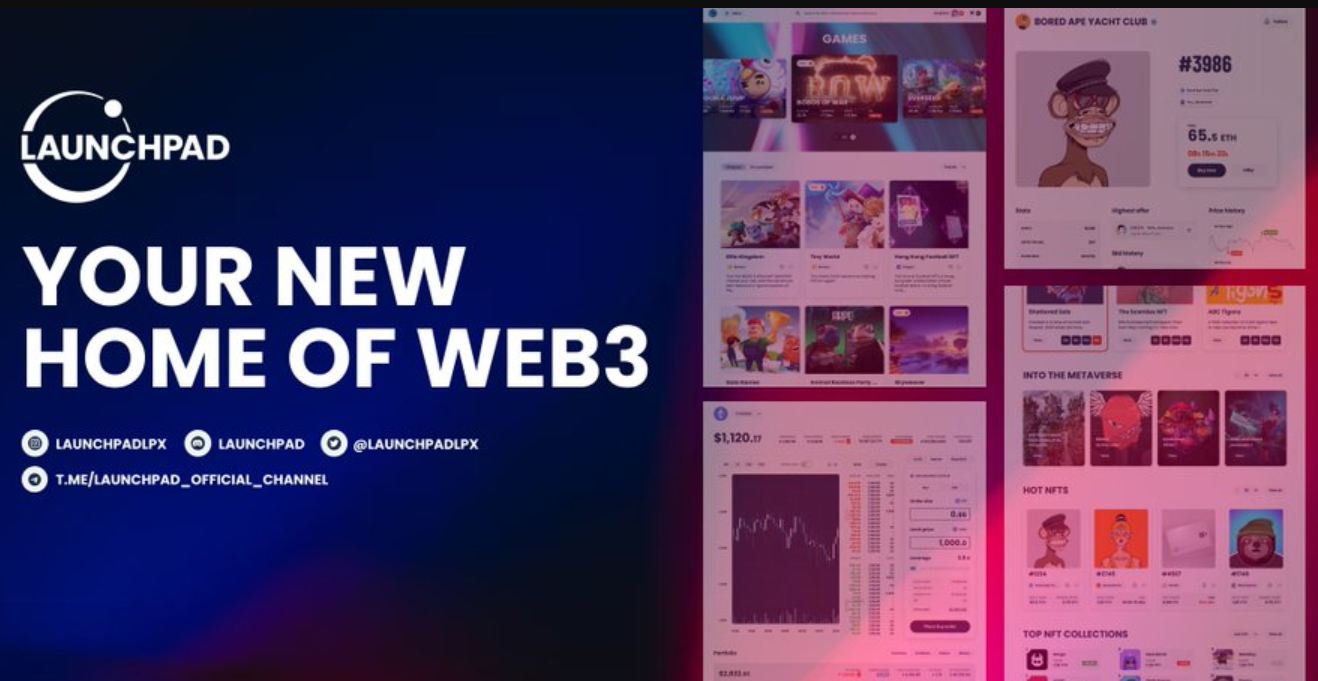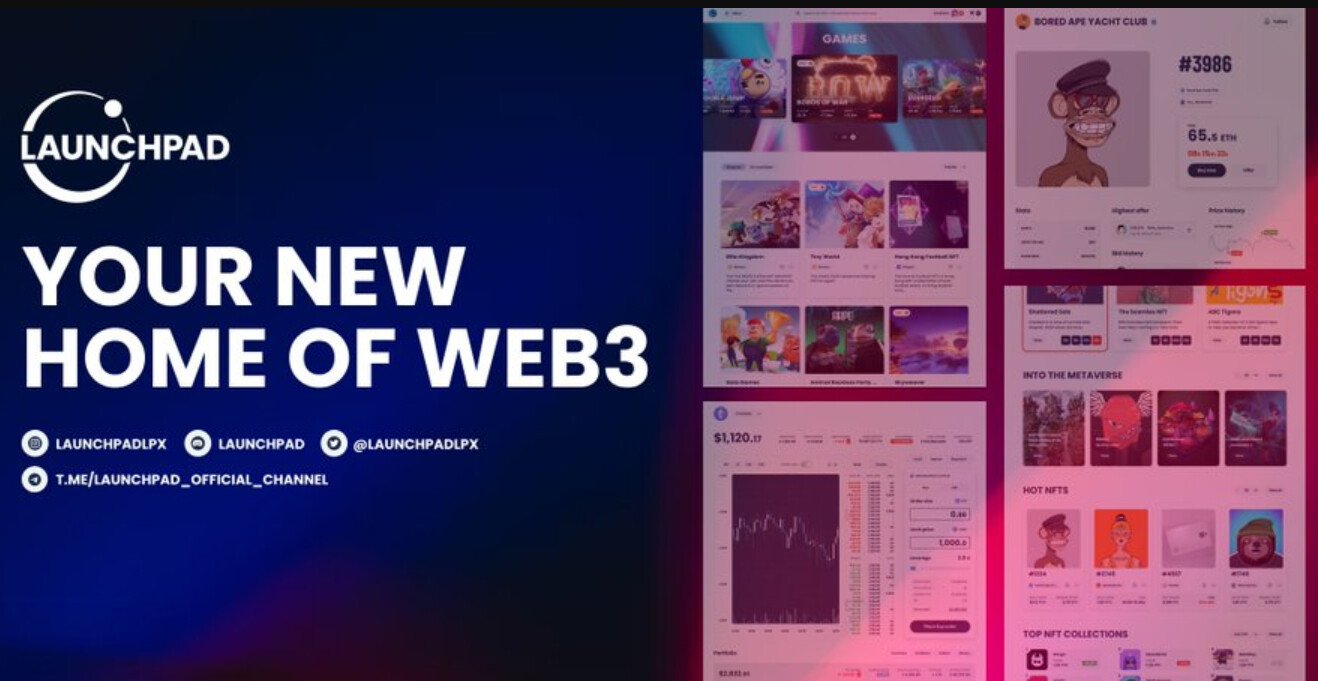 Within the framework of Launchpad XYZ, the LPX token plays multiple roles. By staking atleast 10,000 LPX tokens, users qualify for reduced prices on offerings from Launchpad XYZ affiliates and gain priority access to leading P2P game beta releases.
Staking at least 10,000 LPX for 90 days unlocks these exclusive features, highlighting the token's practicality. The project offers a wealth of data points for utility tokens, including liquidity, analyst views, custom indicators, and arbitrage opportunities.
Users looking to stay updated on the platform's progress should subscribe to the Launchpad XYZ Telegram channel.
| | |
| --- | --- |
| Presale Started | 25 April 2023 |
| Purchase Methods | ETH, USDT, Credit Card |
| Chain | Ethereum |
| Min Investment | 100 LPX |
| Max Investment | None |
4. yPredict - Empowering Crypto Trading with AI Insights
yPredict is an emerging crypto with an upside potential in the AI-based trading sector. Members of the yPredict ecosystem gain access to data-driven insights and expertise, which they can leverage for crypto trading. This platform employs a team of AI developers and quantitative financial analysts to provide analytical models and projections for the future of various cryptos.
A $YPRED token can be acquired in the presale for $0.05 USDT. However, the price will rise by the final round to $0.12. Since the presale went live, more than $778,000 has been raised.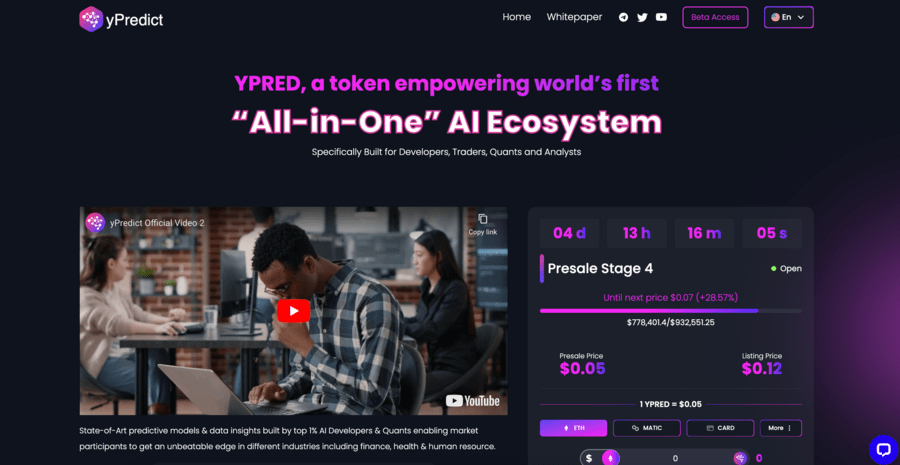 As per the yPredict whitepaper, yPredict uses a proprietary pattern recognition algorithm, currently patent-pending, to analyze multiple trading charts and determine whether a token will likely follow a bearish or bullish trend soon term.
Members can utilize these models through a financial marketplace and pay with $YPRED, the platform's native token, for monthly forecasts. Top AI researchers and developers have curated AI trading signals from the provided data set. The platform employs AI to analyze public sentiment and forecast token prices using various technical indicators.
Members can earn $YPRED tokens by completing tests and quizzes on the platform. The $YPRED token allows investors to speculate on the prices of other cryptos and participate in Play-to-Earn ecosystems. Tokens are awarded to the participants making the most accurate forecasts.


The $YPRED token can be staked in the ecosystem to generate passive income. Ten percent of yPredict's recurring revenue from new user subscriptions is allocated to the staking pools. Also, 15 percent of the ecosystem's swapping fee revenue is distributed to these staking pools.
To learn more about the platform, consider joining the yPredict Telegram channel.
| | |
| --- | --- |
| Presale Started | Q1 2023 |
| Purchase Methods | MATIC, ETH, USDT, BNB, Credit Card |
| Chain | Polygon |
| Min Investment | 200 YPRED |
| Max Investment | None |
5. Chimpzee – The Best Green Crypto Investment of 2023
The next cryptocurrency with the highest upside in 2023 is Chimpzee. An excellent financial, social, and passive investment, Chimpzee has developed a unique blockchain tool against climate action and wildlife protection.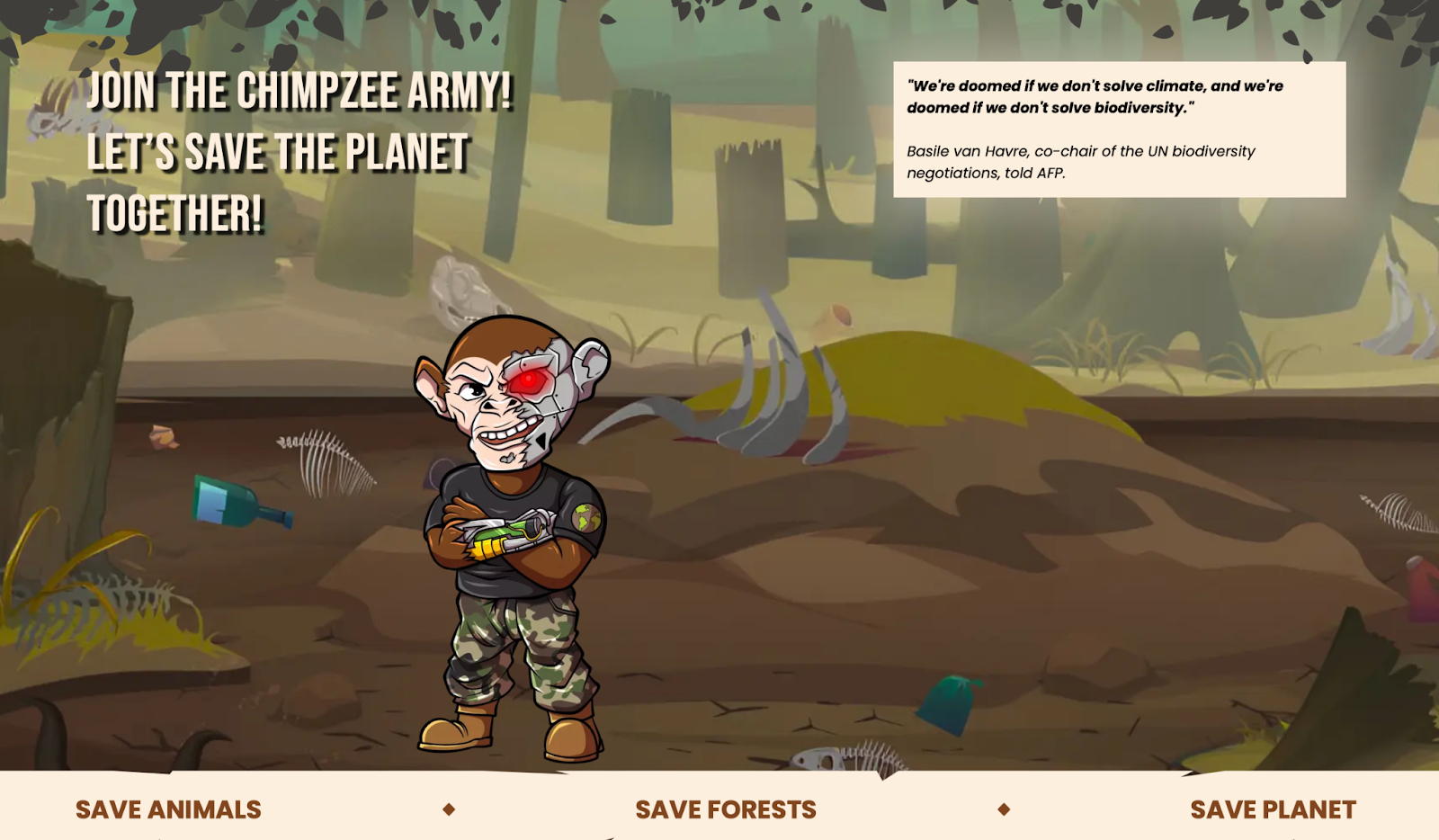 It is set apart by its three-pillared ecosystem dedicated to reinvigorating these initiatives through crypto incentivization. Here is a brief look at how it works.
Chimpzee earmarks 10% of its token supply and a share of its profits to organizations dedicated to saving animals, stopping deforestation, and fighting climate change.
The limited collections of Chimpzee NFT passports will give holders multiple benefits and rewards.
CHMPZ coins will be used for a broad range of payments in the ecosystem.
CHMPZ coins used to buy the Chimpzee NFT Passports will be burned (up to 10% of the total circulating supply).
They are then taken out of circulation, bolstering the value of both the tokens and the NFTs in the open market.
Given that we're inching closer to a worldwide climate crisis, everyone needs to make eco-conscious efforts to save Earth from mass destruction. Traditional initiatives have proven ineffective for the cause.
Chimpzee aims to change this through its three-pillared ecosystem which covers play to earn (The Zero Tolerance Game), Trade to earn (NFT marketplace), and Shop to earn (Merchandise store).

You can join any of these platforms to earn attractive CHMPZ rewards. It is also worth noting that The Giving Block, One Tree Planted, and the Wild Foundation have joined Chimpzee's mission. If you're looking to invest in the project, don't wait long. It is now hosting the CHMPZ presale for attractive discounts and bonuses in different stages. In fact, up to 100% free bonus CHMPZ coins await early investors.
| | |
| --- | --- |
| Token Symbol | CHMPZ |
| Total Supply | 200 Billion |
| Presale Supply | 40 Billion |
| Network | Ethereum (ERC-20) |
| Purchase Method | ETH, USDT, Credit Card |
6. Battle Infinity (IBAT) - High Risk High Reward Cryptocurrency
With the goal to revolutionize the gaming industry by coupling gaming with blockchain and the metaverse, Battle Infinity recently launched to a ready and waiting audience.
As fantasy sports play-to-earn Battle Arena, Battle Infinity will allow players to access a range of crypto-enabled battle games for a rewarding and entertaining experience.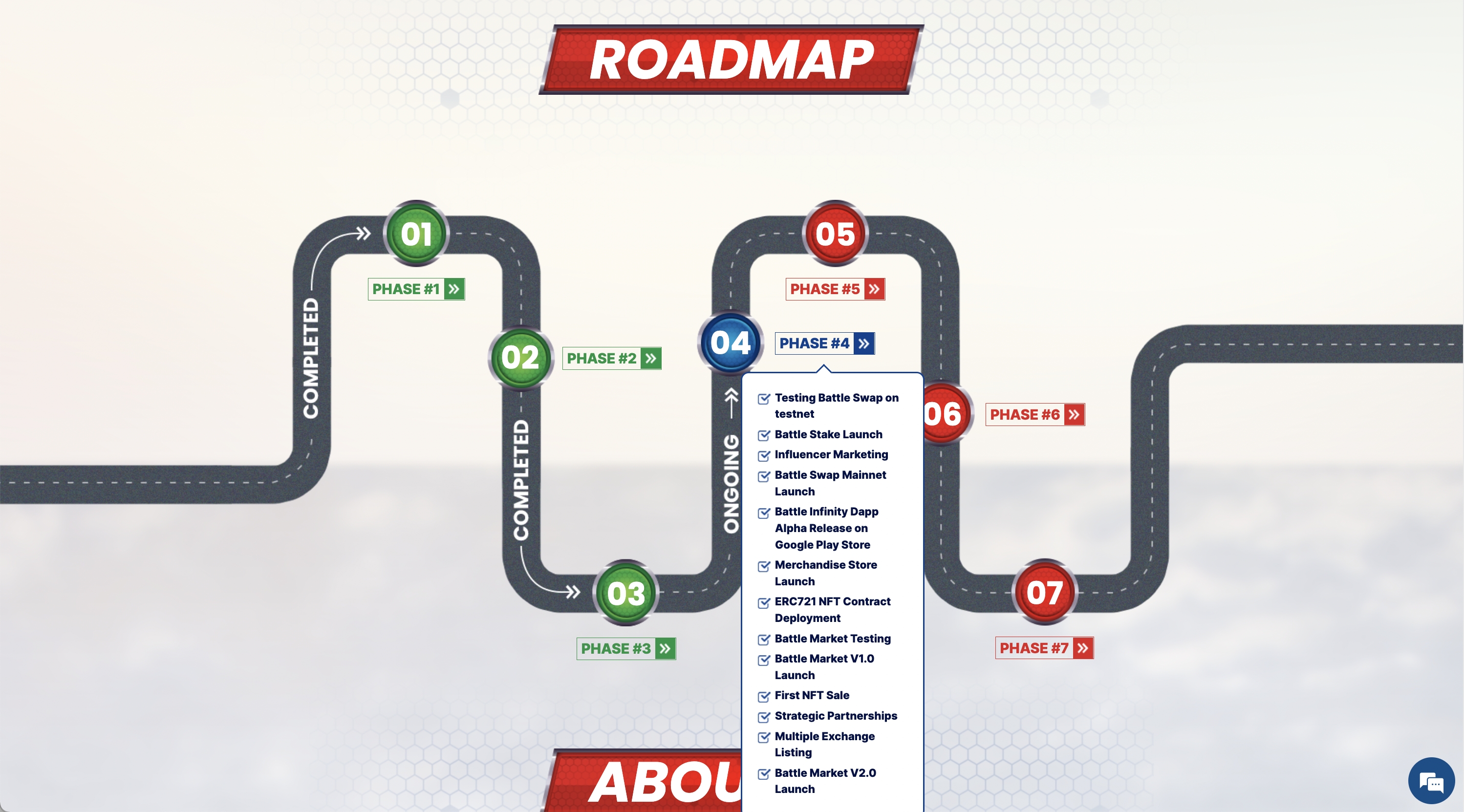 At the heart of the Battle Infinity economy is the IBAT token. This is required to access the suite of products available within the Battle Infinity ecosystem (its gaming metaverse). These include:
IBAT Premier League: An NFT-based fantasy sports game where users can battle head-to-head to earn rewards.
IBAT Battle Swap: A platform where users can buy IBAT and convert their winnings to other low and high risk cryptos. This is linked directly to the marketplace, the game store and the arena — making trades and token swaps hassle-free.
IBAT Battle Games: An NFT-based multiplayer game store that features games with strong play-to-earn mechanics.
IBAT Battle Market: A marketplace where any tokenized BEP721 digital goods can be exchanged, including in-game assets from the IBAT Battle Games;
IBAT Battle Arena: A playground for players to showcase their avatars and explore the metaverse.
Launched on exhcanges less than a month ago and with a market cap of $10m, IBAT fits many of the characteristics of a high risk high reward cryptocurrency.
But given the huge range of features and significant token utility, it appears to have substantial long-term potential for growth.
7. Bitcoin (BTC) - Cryptocurrency with the Most Upside Potential
By far the best-known cryptocurrency, Bitcoin is a worldwide phenomenon in its own right. As the very first blockchain-based digital asset that has been slowly gaining momentum since 2009, Bitcoin kickstarted an entire industry and is widely regarded as the gold standard in cryptocurrency.
Both cryptocurrencies and blockchain technology were invented by the so-called 'father of Bitcoin' — Satoshi Nakamoto, its enigmatic inventor and a legend in his/her/their own right.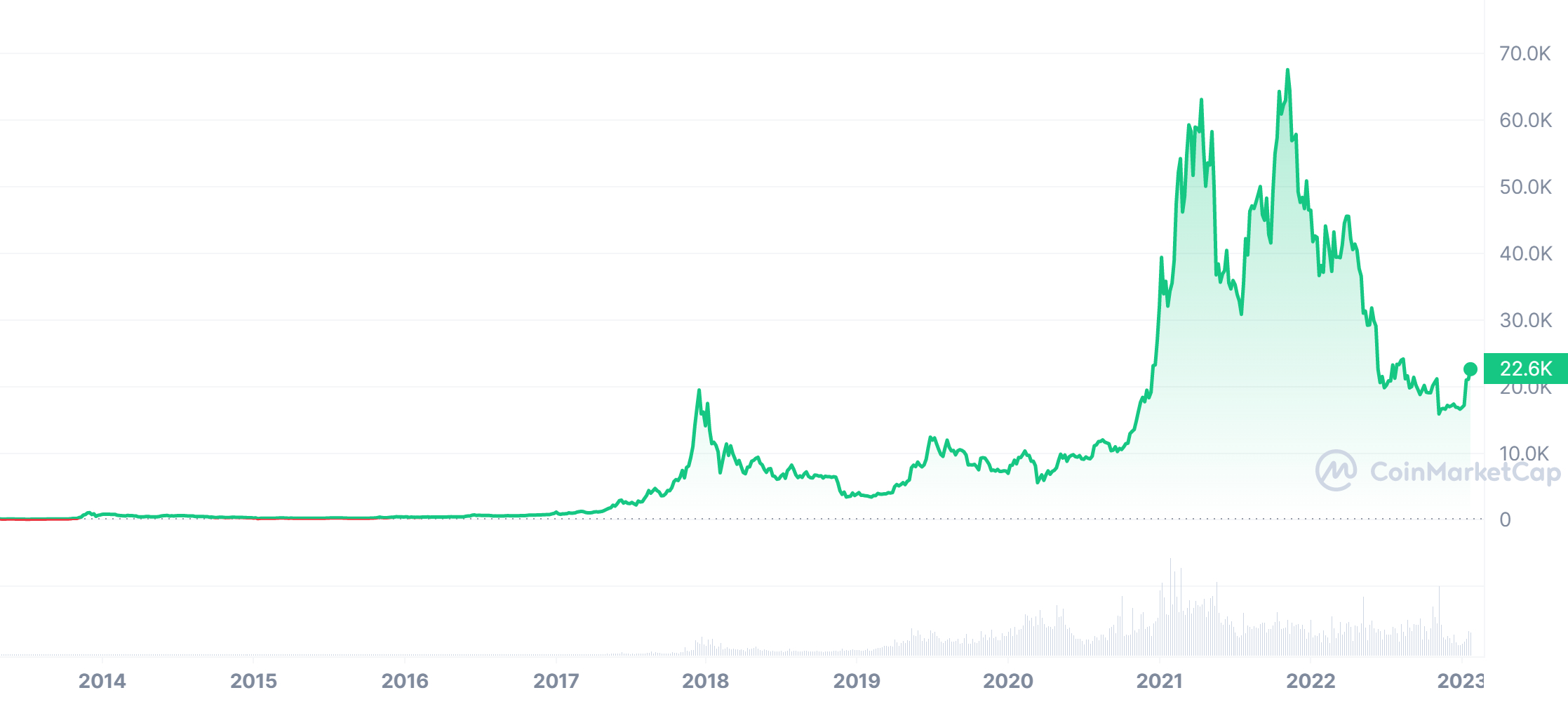 It wasn't until 2013 when BTC reached well over $1,000 that the concept started to gain serious traction. Since then, the idea of digital assets living on a blockchain ledger has caught on, leading to the rapid evolution of the cryptocurrency space — with tens of thousands of crypto coins now populating the market today.
Within just over a decade, Bitcoin has gone from $0 to a peak of over $68,500 in November 2021 — providing a roughly six million percent return on investment for early holders. It has frequently been estimated that Bitcoin can reach over $100,000 - or potentially even $1 million - in the coming years as demand for an inflation-resistant and censorship-resistant asset grows.
If this holds true, Bitcoin may very well be the cryptocurrency with the most upside potential long term. It's also one of the few mining Proof-of-Work cryptocurrencies.
What makes BTC exciting is that it has a fixed supply of 21 million coins, most of which have already entered circulation. The emission of the remaining supply is set to half every four years while both retail and institutional adoption grows with time. This provides a recipe for long-term growth, allowing Bitcoin to become well-known as the highest upside cryptocurrency.
Crypto assets are highly volatile and unregulated. No consumer protection. Tax on profits may apply.
8. Ethereum Name Service (ENS) - High Risk Crypto DNS Provider
Launched in November 2021, Ethereum Name Service (ENS) is the most widely used integrated blockchain naming standard. Currently supporting more than 2.1 million names, 506 integrations, and 541,000 unique owners, it has already achieved a great deal of success.
The platform acts as a distributed, open, and extensible naming system based on the Ethereum blockchain. Its naming service includes wallet names, websites, avatars, and practically anything Web3-related.
Access to the naming service is available to anyone with an internet connection directly via the app, which makes it easy to find, acquire, and manage a human-readable name for their on-chain wallets and assets.
The platform has its own native token, known as ENS. This is the primary governance token for the Ethereum Name Service, allowing holders to table and vote on proposals that change how it operates — ensuring it always aligns with the will of the community.
Due to the unlimited application potential, ENS falls in the category of cryptos with the biggest upsides. However, it can also be considered high risk, due to the sheer number of competitors and competing blockchains that now exist.
Nonetheless, the value of ENS has shown remarkable strength in recent times, despite the overall crypto market downtrend.
Cryptoassets are highly volatile and unregulated. No consumer protection. Tax on profits may apply.
9. dYdX (DYDX) - High Risk High Reward Perpetual Contracts Exchange
dYdX is a popular crypto exchange running on the Starkware Layer 2 protocol. Since it launched in February 2021, it has achieved an impressive aggregate trading volume of over $690 billion, and regularly clocks in more than $1 billion in daily trading volume.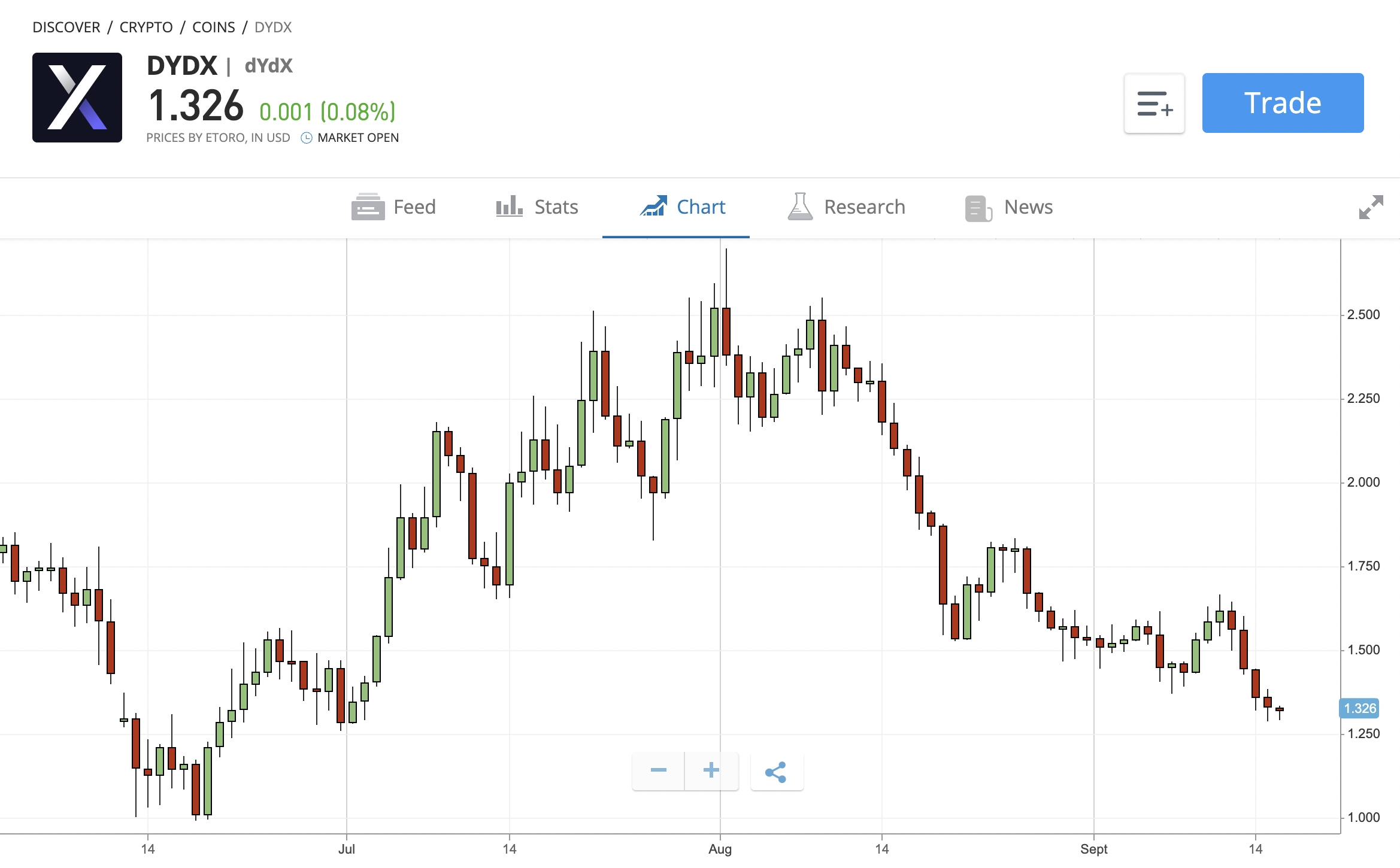 The derivatives platform is unusual in that it can be accessed from a web browser as well as a mobile device, reducing barriers to entry. It also allows users to trade with up to 20x leverage in a completely decentralized fashion — leading the market for decentralized perpetual contracts.
The platform is constantly being updated to improve the UI/UX experience and grow the number of contracts available to trade. Likewise, thanks to the low fees and fast execution times enabled by the L2 solution, it is popular among both professional and institutional traders.
The platform's native governance token is known as DYDX. This gives users to ability to vote on how the protocol operates — including trading fees, partner incentives, development goals, and more.
But since derivatives are a highly regulated industry, there is a chance this could adversely impact dYdX and the DYDX token — making it a high risk high reward cryptocurrency.
Cryptoassets are highly volatile and unregulated. No consumer protection. Tax on profits may apply.
10. Primal (PRIMAL) - Low Cap Move-to-Earn and Athlete Engagement Platform
The sports industry is huge and is currently estimated to have a global market size of at least $300 billion, attracting huge attention, sponsorship funding, and fan engagement.
Blockchain technology is now being used to push innovation in the sports industry by powering a range of tokenized fan engagement platforms. These often use a range of technologies, including blockchain, cryptocurrencies, NFTs, and play-to-earn games to improve the experience for fans and unlock new revenue streams for brands and sports stars.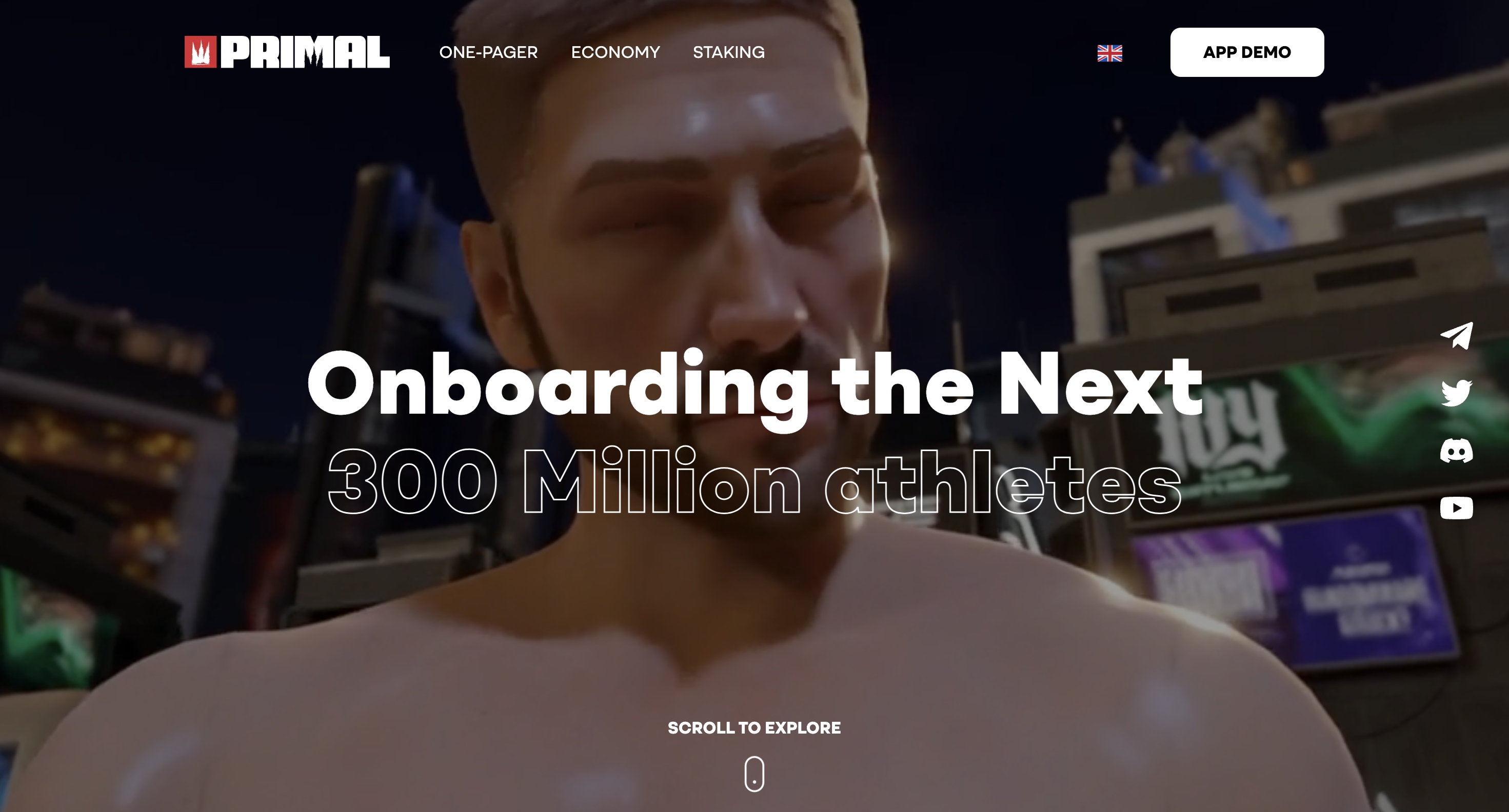 Primal, a fan-based infrastructure project is one of the projects innovating in this arena and looks to blend move-to-earn and fan-athlete experience tokenization to a broader audience.
The platform enables users to engage with any sport or workout while wearing a fitness tracker device. Its users are able to join the inner circle of athletes and train with their favorite sports stars — all while being rewarded with athlete fan tokens that can be traded, spent on rewards, or cashed out.
The platform will use three tokens: a reward token known as ENRGY; an in-app workout reward token called COMBAT, and PRIMAL — the governance token used to shape the platform and fine-tune its economics.
With strong connections to the Step App project, which recently achieved 14,800% returns for public sale participants, Primal could be the crypto with the most upside potential in 2023. It's still early-stage, having only just completed its private sale, but looks to be a promising prospect for 2023.
11. Univers (VRS) - Metaverse Crypto with the Huge Potential Upside
The metaverse is widely considered to be the future of the internet, providing people with new opportunities to work, play, socialize, and relax.
But until now, the vast majority of metaverse projects have lacked one crucial feature — interconnectivity. Indeed, most metaverses are actually simple closed-off ecosystems that are disconnected from other virtual worlds.
But the best metaverse projects do it differently. This includes Univers, a platform that is building the infrastructure for creating, connecting, and enriching virtual games/worlds using blockchain technology.
Focused on metaverse scalability and interconnectivity between, Univers looks to shake up the metaverse space and break up the siloed metaverse landscape of today.
Incubated by Kucoin labs and backed by Polygon studios as well as other notable partners, the VRS token is used to govern the Univers Network economy.
As an early-stage project with a low $729,000 initial market cap, VRS fits squarely into the high risk high reward category. That said, it is focused on powering what may become a trillion-dollar industry, painting it as a contender for this year's crypto with the most upside potential.
12. Gunfire AVAX (GUNX) - High Risk High Reward P2E Game
With an estimated market size of $180.3 billion in 2021, it is no surprise that the blockchain gaming narrative is becoming mainstream. While the crypto gaming landscape has seen several GameFi projects rise and fall, the industry is still bustling with innovation and promise.
Gunfire is one such project that holds a lot of potential but its token economy is still in its early stages of development.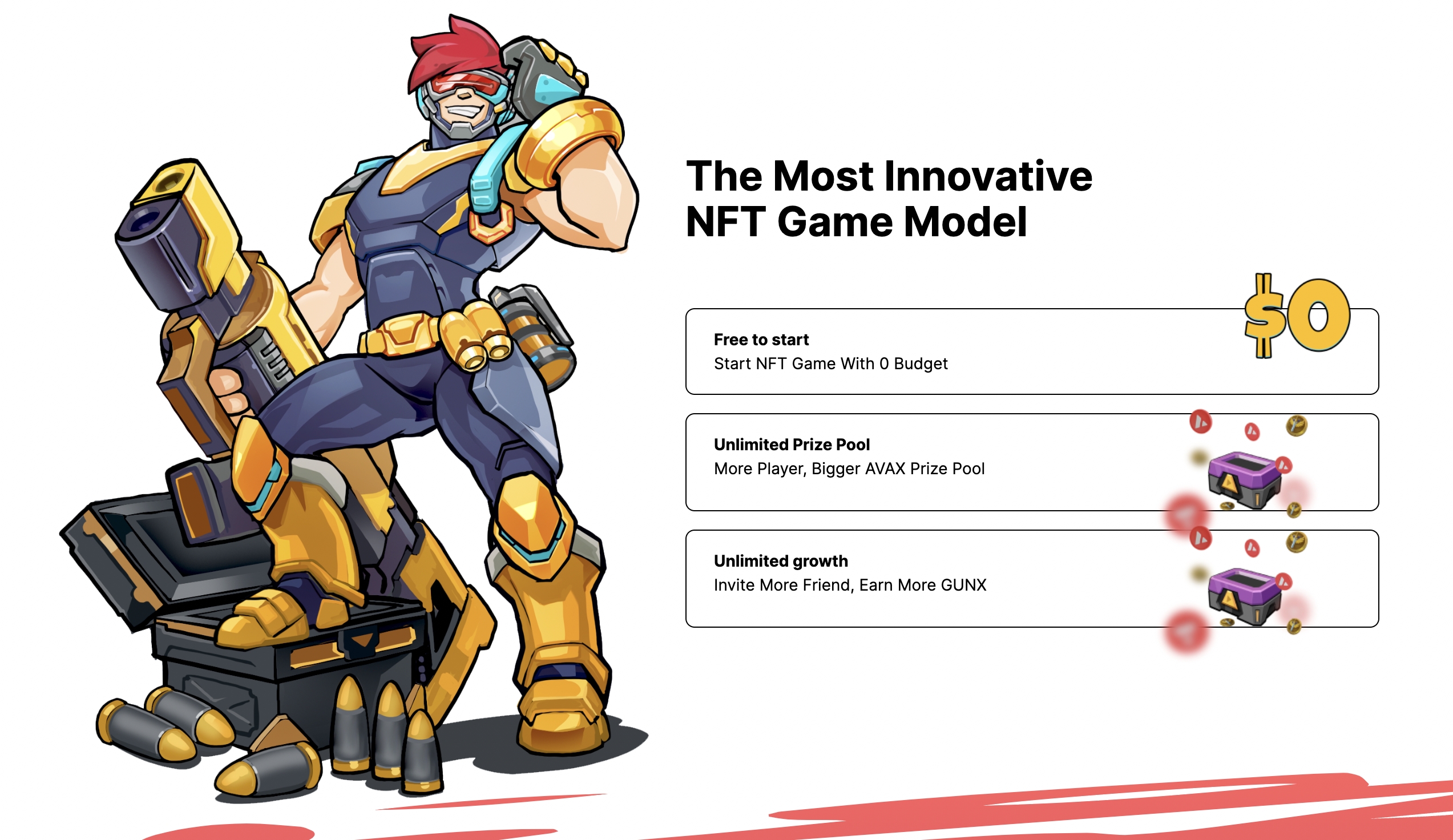 Built as a 2D shooting game on Avalanche, Gunfire AVAX looks to bring high-octane gaming to the Avalanche ecosystem and leverages a finely-tuned play-to-earn system to reward players for their in-game triumphs in the form of AVAX tokens.
The game has been available to play since summer and is quickly gaining a reputation as the world's first blockchain-driven tournament-only game.
Assuming that the token launch rumors are accurate, the earning model is likely to change in the near future, placing the native GUNX token at the center of the Gunfire economy. Until now weekly tournaments, the NFT marketplace, and referral programs were the only ways to dive into the game.
The game already has an active and growing community, but can still be considered a high risk high reward cryptocurrency due to its huge addressable market but still relatively unproven product.
Why do Investors Choose High Risk High Reward Cryptos?
Cryptocurrencies are well-known as perhaps the most lucrative asset class of all time - but they're not completely without risk.
Given their extreme volatility, the value of cryptocurrencies can swing wildly in either direction. The goal of cryptocurrency investors is to select assets that stand to gain more than they could possibly lose.
As such, digital assets can be stratified into three risk tiers: low, medium, and high risk cryptos. Typically, cryptocurrencies with a lower risk profile have the lowest potential upside — since they tend to be well-known, widely used, and heavily traded. Conversely, high risk cryptocurrencies tend to have the most growth potential, but also the highest chance of failing.
Many traders opt to trade high risk high reward cryptocurrency since they can represent asymmetric risk opportunities. Put simply, some high risk cryptos can lose a maximum of 100% of their value, but could potentially gain far more than 100%.
Indeed, in the last two years alone, dozens of so-called "high risk crypto assets" have recorded well over 10,000% returns for early investors.
This includes the likes of:
Shiba Inu (SHIBA): 43,000,000% (43 million percent) growth in 2021
Terra (LUNA): 13,000% growth in 2021
Axie Infinity (AXS): 12,000% growth in 2021
Solana (SOL): 10,000% growth in 2021
It is the investor's job to identify the cryptos with the highest upside for the lowest risk. Cryptocurrencies with an excellent risk/reward ratio can make excellent investments, but in most cases, investors should invest just a small amount of their capital in this category.
It's also important to note that most high risk cryptos don't keep climbing forever. So traders need to identify their exit points even when trading assets with a lot of potential left. The risk/reward ratio of an asset can skew toward excess risk when it has already appreciated considerably.
Those with a very limited investment budget may be inclined to search out the best high risk high reward crypto assets since they can represent opportunities to strike it rich without risking a large sum. After all, had someone invested $100 into Shiba Inu on January 01, 2021, and held until today, their investment would be worth $15 million.
That being said, few investors actually manage to hold onto their assets long enough to achieve such staggering returns — continuing to hold an asset that has already multiplied 10,000% or even 100,000% is no simple feat.
How to Find the Best High Risk High Reward Crypto
As you might expect, the vast majority of high risk cryptocurrencies fail to achieve notable success. Simply investing in random high risk cryptos would likely result in painful losses that could have been easily avoided with better project selection.
If you take the time to survey the landscape, you will find that the cryptos with the biggest upside tend to have features in common — such as an extremely low initial market capitalization, feverish hype and community sentiment, and an ambitious development schedule.
But given the sheer number of projects to sort through, finding the right opportunities can be time-consuming.
Fortunately, there are several ways to make finding the best high risk high reward cryptocurrencies a much quicker and easier task. These include:
Filter Through Low Caps
Low cap cryptocurrencies are defined as those with a low market capitalization. Many traders consider any cryptocurrency with a circulating market capitalization of less than $10 million to be a low cap.
These can represent asymmetric investment opportunities since they are still largely under the radar and their long-term potential might not be priced in.
Many of today's largest projects started off life as a low cap but had the right mix of fundamentals to achieve considerable growth.
Popular aggregators like CoinMarketCap and CoinGecko can be used to find low-cap cryptocurrencies, after which you can do further research to determine their viability.
Leverage Dextools
Dextools and similar platforms like Poocoin and Cryptokek can be used to quickly identify cryptocurrencies at their very earliest stages — that is, when they are first listed on popular decentralized exchanges like Uniswap or PancakeSwap.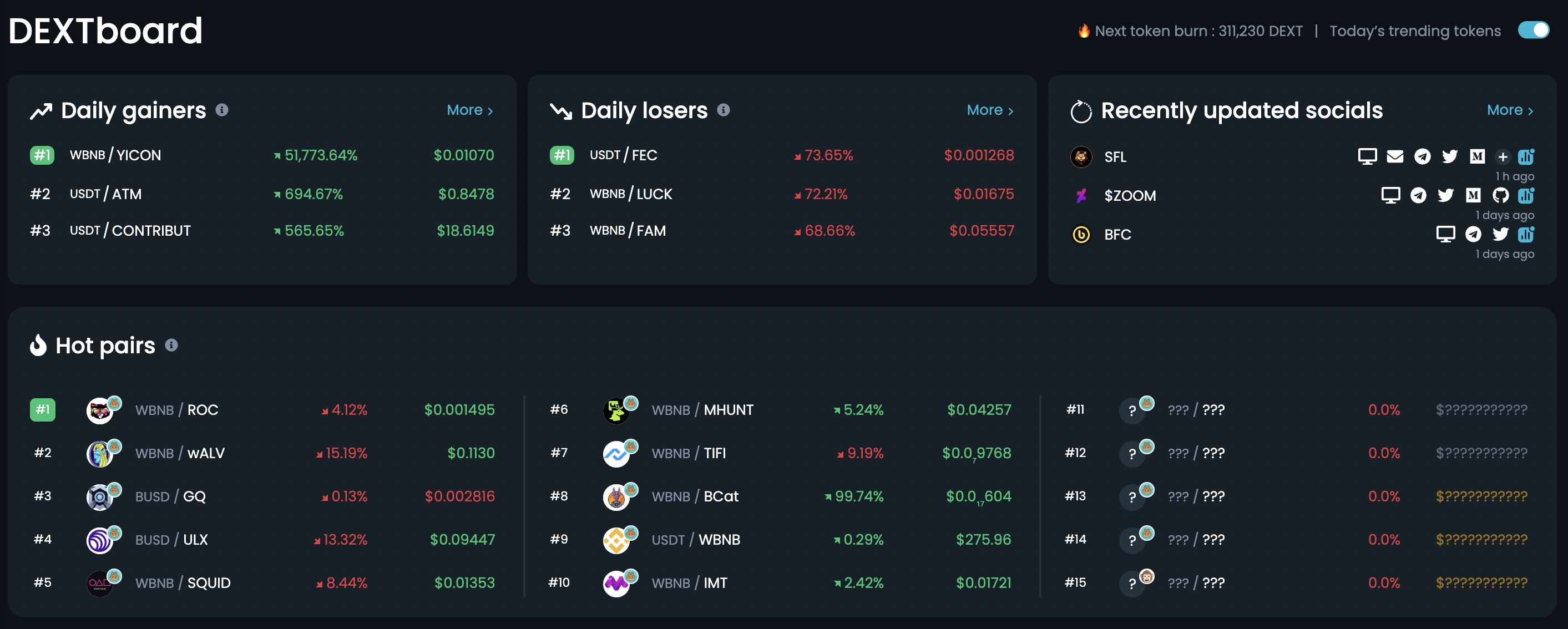 By spotting these assets shortly after their initial listing, you can scoop them up at the lowest possible prices.
This system should only be used to identify potential cryptos with the highest upside, after which you should do more in-depth research to get a better grasp of their fundamental strength before considering an investment.
Most of these will have little to no utility, and practically zero long-term potential. But some have the right stuff to defy the odds.
Consider Meme Coins
Despite their comical origins and frequent lack of real ambition or utility, some meme coins are no joke.
Throughout 2020 and 2021, several of the best-performing projects were meme coins. With assets like Dogecoin, Shiba Inu, Dogelon Mars, Baby Doge, and SafeMoon achieving staggering returns for early investors.
As such, if you're looking for the cryptocurrency with the most upside potential or the best high risk high reward crypto, meme coins like Tamadoge are worth considering.
Early-stage meme coins can often be found by searching Twitter using the #memecoin hashtag, or by diving into newly listed DEX tokens via Dextools or Cryptokek.
Forked Coins
Layer 1 gas coins are unusual among cryptocurrencies in that they can be forked. When a difference in opinion causes a schism in the community, this can lead to the production of fork coins and tokens.
Some of the highest upside cryptocurrency coins ever have resulted from forks. Including well-known assets like Bitcoin Cash (BCH), Ethereum (ETH), Terra (LUNA), and Bitcoin SV (BSV).
To put the potential returns into perspective, Bitcoin Cash opened on public markets at around $290 per coin but reached a peak value of $3,785 a month later — equivalent to a return of 1,200% in just four weeks.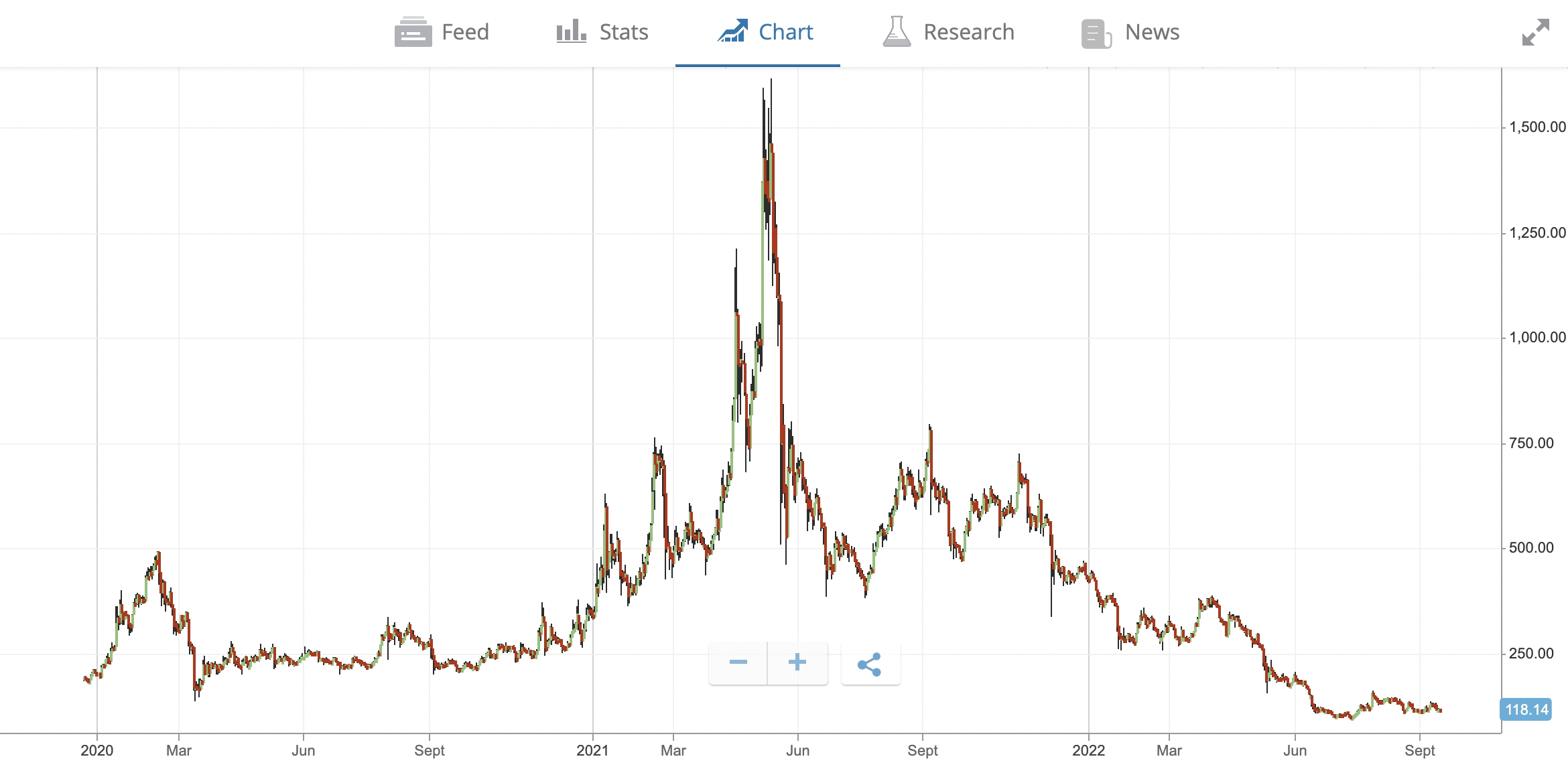 Though most forks never go on to develop much traction and remain almost worthless, some can develop a thriving ecosystem in their own right. Because of this, fork coins can be considered a type of high risk high reward cryptocurrency.
In most cases, prominent forks will be well publicized before launch, giving you enough time to research their strength before investing.
Browse Presales
In many cases, cryptocurrencies are sold to investors in different early-stage rounds, giving early participants the opportunity to buy tokens at the lowest possible prices before they list on an exchange and become available to secondary market buyers.
Sometimes, the discount these early-stage investors get is significant, allowing them to secure a sizeable profit if the asset is popular on secondary markets.
TAMA, for example, sold out its presale in less than eight weeks, raising $19 million and is now listed on OKX, while IMPT raised $500,000 in less than 48 hours.
When buying high-risk cryptos, the lower your entry price and the earlier you enter the better. This is why the best crypto presales can represent excellent opportunities for high-risk crypto connoisseurs.
See our recent guide for a list of the best cryptos to buy now.
Conclusion
In your search for the crypto with the most upside potential, you will almost certainly stumble across meme coins, low caps, and early-stage projects that have a high amount of risk associated with them.
Your job is to find the cryptos with the highest upside but lowest possible risk. By taking positions in cryptocurrencies with an excellent risk-to-reward ratio, you can maximize your chance of securing considerable returns.
Barring rare exceptions, high risk high, reward cryptocurrencies are the only reliable way to achieve substantial returns from a single investment.
One of the tokens boasting upside potential right now is $WSM, the native token of Wall Street Memes. This presale has raised almost $7 million in only a few weeks of launch. Wall Street Memes has the backing of over 1 million followers and is a 100% community token.
The token is currently priced at just $0.0286 and will rise to $0.0337 by the final presale round.
FAQs
Which cryptocurrency has the most upside potential?
The cryptocurrency industry is as wide as it is deep. Stand-out cryptocurrencies across all sectors and niches have the potential to generate substantial upside returns but finding these at an early stage is easier said than done.
That said, it is widely acknowledged that meme coins, low caps, and presale stage projects often represent the best investment opportunities, but can be considered high risk and high reward. As such, Wall Street Memes is a solid project well worth consideration. It is already creating waves in the investor community by seeing a successful presale so far, having raised more than $6.8 million.
What is a high risk/high reward crypto?
Cryptocurrencies are well-known to be one of the most profitable asset classes of all time. But even within the sector, there is a class of coins/tokens that stand out as the most profitable — these are known as high risk, high reward cryptocurrencies.
The cryptos with the highest upside also tend to have the highest associated risk — since they're often very early stage, obscure, unproven, or highly speculative. They generally have a very low market capitalization and have an excellent risk-to-reward ratio.
This makes them attractive investments for those looking to secure the highest possible returns.
---