18 Best Penny Cryptocurrencies 2023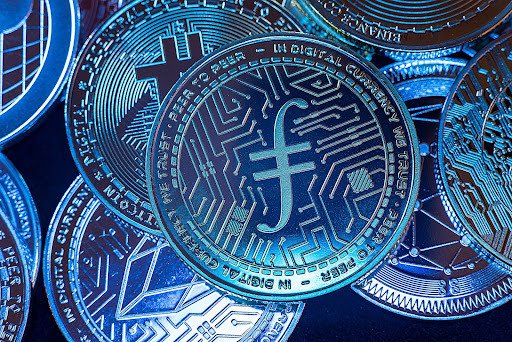 Disclaimer: The Industry Talk section features insights by crypto industry players and is not a part of the editorial content of Cryptonews.com.
Penny cryptocurrency investments have the potential to offer attractive returns with a very small initial commitment. There are more digital currencies than ever, and many trade for less than a dollar.
As such, in this guide, we discuss the best penny cryptocurrencies to invest in for 2023.
We also explore why investors choose penny cryptocurrencies and what risks to consider before proceeding with an investment.
Overview of the Top Penny Cryptos for 2023
Below is a list of the best penny crypto to buy in 2023, to assist investors in choosing a suitable project for their portfolio.
Meme Kombat (MK) - This multi-utility meme token can be used to earn staking APYs and to place wagers on a battle arena. On the battle arena, users can wager on fights between various meme coin avatars.
Bitcoin BSC (BTCBSC) - Inspired by Bitcoin, Bitcoin BSC is built on the BNB smart chain and offers a token supply of 21 million. This eco-friendly cryptocurrency offers passive income via its staking contracts. Priced at $0.99, Bitcoin BSC has raised over $1 million on presale in a few days.
TG.Casino (TGC) - This Telegram casino has released its stake-and-earn cryptocurrency for just $0.125 on presale. Hold $TGC to earn huge staking rewards, free NFTs, and access to exclusive casino games. Over $200K raised on presale.
Wall Street Memes (WSM) - Penny crypto that combines the excitement of meme coins with a strong community. It is backed by an Ethereum NFT collection, Wall St Bulls, and a loyal follower base of more than a million. The $WSM presale has raised over $26 million and is finished, now active on the OKX exchange.
Launchpad XYZ (LPX) - A cutting-edge crypto project that aims to make Web3 accessible to everyone. Contains a custom-built dashboard with valuable features, including an NFT DEX and fractionalized assets marketplace - over $1.25 million raised.
yPredict (YPRED) - Intelligent AI-powered crypto project designed to help traders and investors make better decisions. This project includes advanced analytics, high-end technical indicators, and price prediction models created by industry experts. More than $3.3 million raised in its presale.
Chimpzee (CHMPZ) - Eco-friendly crypto project where users can earn passive rewards as they save wildlife and fight climate change. The CHMPZ presale has now raised over $1.1 million.
eTukTuk (TUK) - This penny cryptocurrency will be used by TukTuk drivers to make payments at EV charging stations and help fight pollution in the developing world. $TUK is priced on presale at $0.024 per token.
Scorpion Casino (SCORP) - Upcoming crypto casino that allows users to earn rewards and generate passive income, as well as play a variety of popular games - more than $660k raised.
Pikamoon (PIKA) - Penny cryptocurrency that powers Pikamoon, an upcoming play-to-earn game that combined Pokemon, FIFA Ultimate Team and Fortnite. More than $3.8 million raised in its presale, which is now in the final stage.
BTC20 (BTC20) - An emerging altcoin that mirrors the original thrill of Bitcoin while using a green Proof-of-Stake model and offering high staking rewards. It's accessible, user-friendly, and set for a gradual 120-year token minting.
XRP20 (XRP20) - A second coming of the XRP token, $XRP20 is priced at $0.000092 on presale. This cryptocurrency offers on-chain staking and introduces a burning mechanism. Finished its presale with a $3.68m raise within 3 weeks.
Ripple (XRP) - Large-Cap Enterprise Blockchain and Crypto Solutions Payments Provider for Cross Border Settlements
Cardano (ADA) - Proof-of-Stake Network with Staking Pools & Research Focus
Tron (TRX) - Decentralized Network With DeFi, Web3, and NFT Integration, focused on media.
Cronos (CRO) - Native Token of the Ecosystem Supported by Crypto.com
Polygon (MATIC) - Multi-Chain Scaling Solution On Ethereum Network
Chiliz (CHZ) - Sports-Focussed Platform With Fan Tokens
We've included a good variety of penny cryptocurrencies for those who may want to create a diverse portfolio or are still deciding on their financial goals.
Full Analysis of the Best Penny Cryptocurrency to Invest in 2023
A large part of finding crypto under a penny that will explode is to conduct plenty of thorough research.
To aid this process, we've reviewed and ranked the most promising penny cryptocurrencies below.
As we touched on, to embrace diversification and risk management, we discuss a range of different project types.
1. Meme Kombat - Exciting Meme Crypto Offering Staking Rewards and Wagering Options on a Battle Arena
Meme Kombat ($MK) is a new meme cryptocurrency that offers real utility to token holders. While meme coins such as Pepe Coin and Wojak have been soaring in 2023, they do not offer the utility compared to Meme Kombat.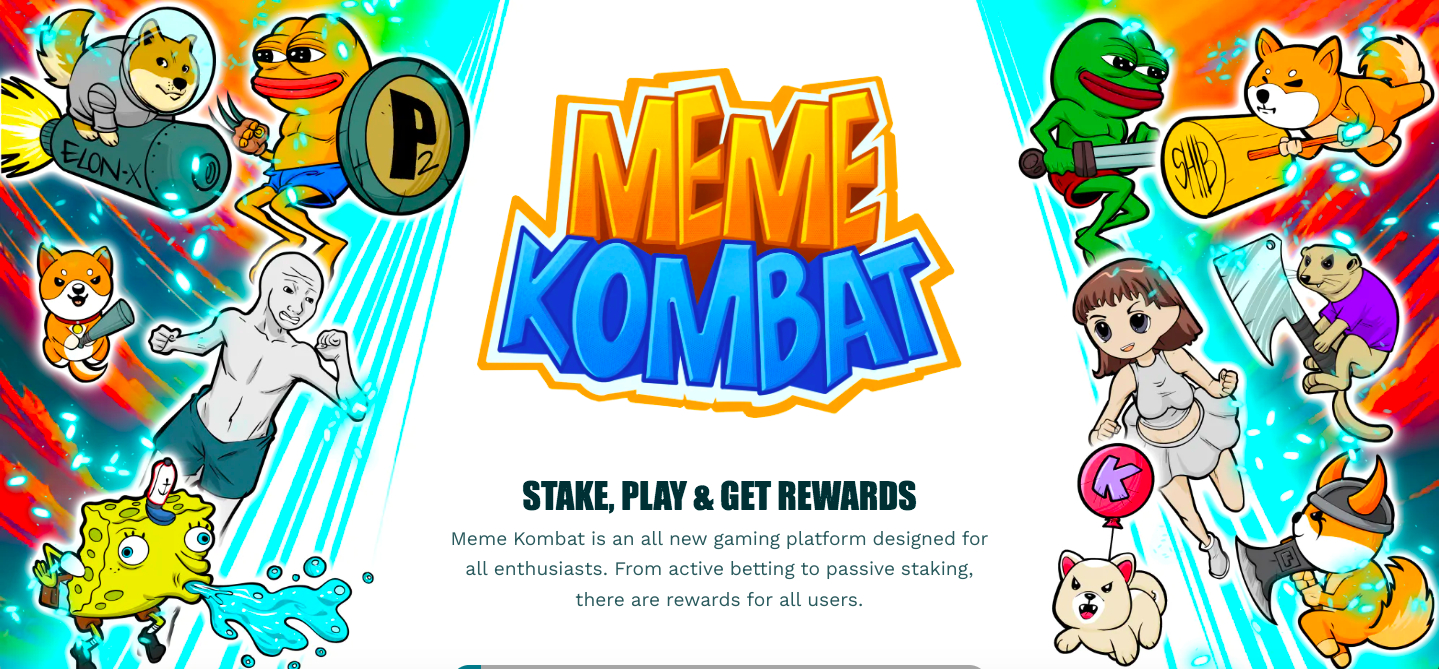 This meme coin allows token holders to stake and wager $MK, the native cryptocurrency, on its play-to-earn battle arena. On the battle arena, users can either bet or participate in battles featuring prominent meme coin characters such as Pepe or Spongebob.
Currently on presale, the $MK token is priced at just $1.667. Once you buy Meme Kombat, the tokens are automatically staked on a staking contract. After the presale ends, you must re-stake your tokens for at least 14 days to receive the APYs. At press time, Meme Kombat is offering a 112% staking APY.
On the battle arena, you can wager on single-player vs. Player games. You can challenge a friend to a battle and also earn wagering rewards simultaneously. Users can also bet on other live games on the ecosystem and win rewards.
Notably, Meme Kombat has a low supply of just 12 million. Half the supply has been allocated for the ongoing presale. Meme Kombat aims to raise a hard cap of $10 million from the presale. Another 30% of the supply will be used for staking and battle rewards. A further 10% will be offered as community rewards.
By offering multiple rewards, Meme Kombat aims to foster long-term growth by attracting a loyal customer base. The battle arena game will be released in different seasons, with the first expected to launch after the end of the presale.
Read the Meme Kombat whitepaper and join the Telegram channel for more information on this cryptocurrency.
| | |
| --- | --- |
| Presale Started | 21 September 2023 |
| Purchase Methods | ETH, USDT |
| Chain | Ethereum |
| Min Investment | $5 |
| Max Investment | None |
2. Bitcoin BSC - Proof-of-Stake Token Inspired by Bitcoin is Priced at $0.99, Over $1 Million Raised on Presale
The next penny cryptocurrency on our list is Bitcoin BSC ($BTCBSC). This cryptocurrency has been inspired by Bitcoin (BTC) and offers the same token supply of 21 million. While Bitcoin operates on a Proof-of-Work (PoW) consensus, Bitcoin BSC is a proof-of-stake (PoS) token.
The Bitcoin BSC project will let token holders stake $BTCBSC, the native token, on the staking mechanism. While Bitcoin requires users to mine new tokens to confirm a new block, Bitcoin BSC will validate new blocks every 10 minutes by leveraging the staked tokens. Once released, new tokens are distributed to the staked token holders as passive income.
Notably, Bitcoin BSC is currently priced at $0.99 per token during the ongoing presale. This price pays homage to when Bitcoin traded at the $1 zone in April 2011.
For the ongoing presale, 6.125 million tokens have been allocated. During the initial presale phase, 4 million tokens will be offered. After these sell out, another 2.125 million will be added to the presale. By the end of the presale. Bitcoin BSC expects a market cap of $6,063,750.
Since this penny cryptocurrency is priced under the $1 mark, token holders can start with just a small investment. A minimum investment of $10 must be made to enter the presale. The remaining presale token supply will be unlocked gradually through the staking mechanism over the next 120 years.
This successful presale has already raised more than $1 million in a few days since the presale launched. For more information, read the Bitcoin BSC whitepaper and join the Telegram channel.
| | |
| --- | --- |
| Presale Started | September 5 2023 |
| Purchase Methods | ETH, USDT, BNB, Credit Card |
| Chain | BNB Smart Chain |
| Min Investment | $10 |
| Max Investment | None |
3. TG.Casino - Telegram Online Casino Offering Native Token for $0.125 on Presale, Over $200K Raised
TG.Casino ($TGC) is an innovative Telegram casino that uses the $TGC token to offer several income-earning opportunities to token holders. This casino will offer thousands of games, such as table games, slots, and live dealers.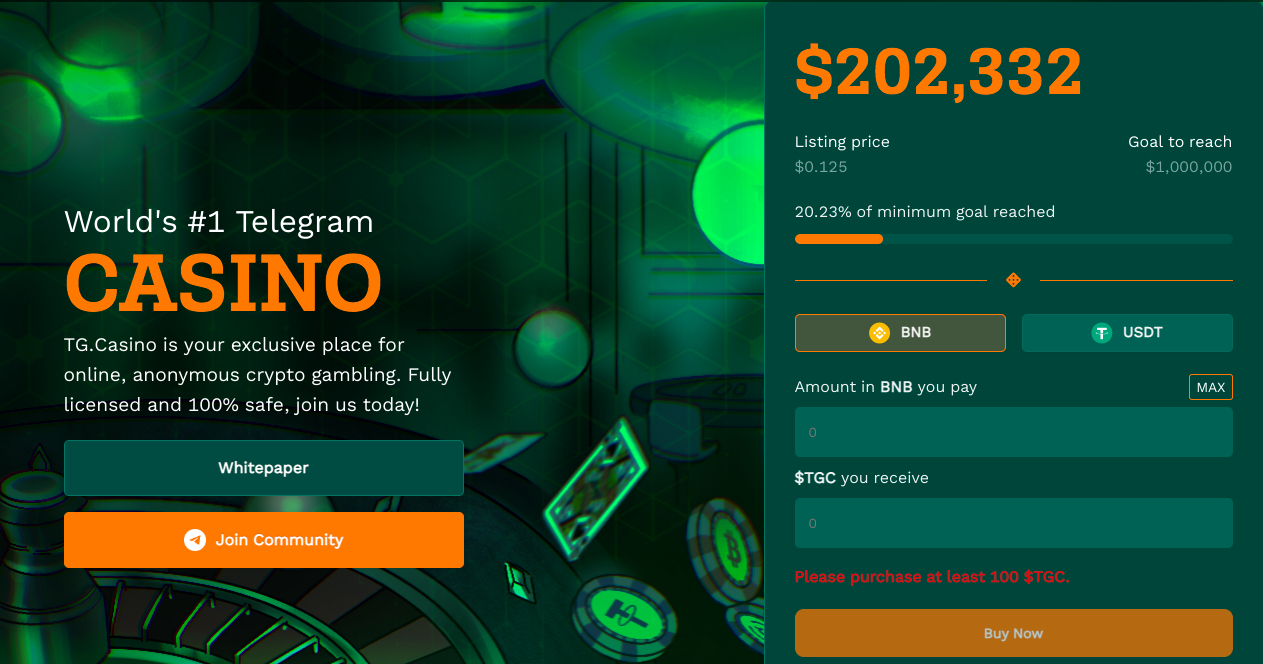 The TG.Casino will also feature an extensive sportsbook. Users can hold the $TGC token to access special casino games and earn $TGC as rewards on the ecosystem. Currently on presale, this penny token is priced at only $0.125 on presale. Those who purchase $5K worth of $TGC on presale can get access to premium NFTs and post-token launch rewards.
One of the top features of the $TGC token is its staking rewards. By staking the $TGC token at press time, you can earn an APY (Annual Percentage Yield) of 2,358%. Moreover, this token has a supply of just 100 million, which will reduce over time.
Profits generated from the casino will be used to buy back tokens to limit price volatility. 60% of the tokens bought back will be distributed to token holders through a staking pool. The remaining will be burnt on the ecosystem.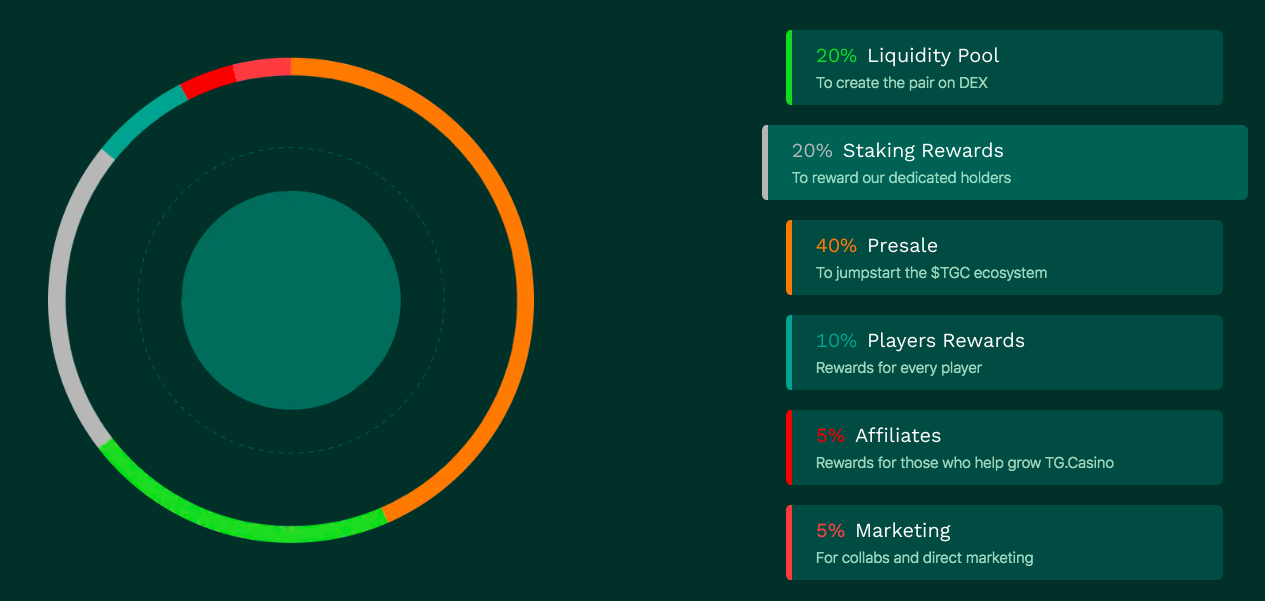 Since TG.Casino is a Telegram-only casino, it will be easily accessible through the app. Furthermore, TG.Casino is fully licensed and adopts various security measures such as AML (Anti-Money Laundering) to protect the client's funds.
40 million tokens are allocated for the presale, from which TG.Casino aims to raise $10 million. In just a few days since the presale launched, TG.Casino has already collected more than $200K. For more information on this new cryptocurrency, go through the TG.Casino whitepaper and join the Telegram channel.
| | |
| --- | --- |
| Presale Started | 21 September 2023 |
| Purchase Methods | ETH, USDT, BNB |
| Chain | Ethereum |
| Min Investment | None |
| Max Investment | None |
4. Wall Street Memes (WSM) - Penny Crypto Offering a Community-Centric Meme Token, Presale Over
The unexpected surges in the value of GameStop and AMC gripped the financial world in 2021. This sense of economic resurgence is now inspiring the 2023 crypto landscape, creating penny meme tokens.
Wall St Bulls, an esteemed Ethereum NFT collection, announced their Wall Street Memes token launch on 26 May. After their NFT collection's success in 2021, they've been monitoring crypto trends, launching Bitcoin NFTs and their meme coin, aligning with the high-performing crypto assets of recent times.
Backed by a substantial one-million-strong follower base thanks to its Ethereum NFT collection, listed on OpenSea, $WSM has established firm ground - that has been reflected in the presale which has now raised around $26 million in just 13 weeks.
The meme coin has initiated a presale of 50% of its extensive two billion supply. The total supply will eventually be traded or earned as rewards within the WSM community. The total supply of $WSM is community-focused: 50% for presale, 30% for community rewards, and 20% for exchange liquidity.
This strategy eradicates the potential hazard of an excessive number of team tokens flooding the market, an issue that has emerged with other coins in the past.
Nonetheless, remember that meme coins pose high risks and rewards and often defy conventional market analysis.

While presales bear risks, platforms like $WSM, with strong community backing, often yield long-term success. The $WSM token's rapid growth and broad existing backing may attract major crypto exchanges, possibly top-tier platforms like Binance.
Moreover, a $50k airdrop is planned for holders joining their social media channels to celebrate the presale launch. To follow WSM's progress, join their Discord and Telegram channels.
The presale is now finished and this token is listed on OKX, with more T1 exchanges expected to follow soon.
| | |
| --- | --- |
| Hard Cap | $30,577,000 |
| Total Tokens | 2 Billion |
| Tokens available in presale | 1 Billion |
| Blockchain | Ethereum |
| Token Type | ERC-20 |
| Minimum Purchase | 100 tokens |
| Purchase Type | USDT, ETH, BNB, Card |
5. Launchpad XYZ (LPX) – Ethereum-Based Crypto Platform with NFT DEX and Fractionalized Assets
Another highly-respected penny crypto project currently making waves is Launchpad XYZ. Launchpad XYZ is an Ethereum-based platform designed to appeal to NFT and crypto investors looking to seamlessly transition into the Web3 environment.
Currently, Web3 is still relatively complex and fractionalized, which can make the digital asset investment process daunting – especially for newcomers. Launchpad XYZ aims to solve this issue by creating an all-in-one "hub" that brings buyers and sellers together in a streamlined fashion.
In Launchpad XYZ's hub, users can invest in NFTs and cryptocurrencies, along with purchasing "fractions" of real-world assets like real estate and artwork. Not only that, but Launchpad XYZ will provide access to the hottest crypto presales and NFT whitelists while also offering its own high-speed trading terminal.
Per the project's whitepaper, all of these features will be underpinned by LPX – Launchpad XYZ's native utility token. This token will be required for many tasks within the ecosystem, such as paying for trading/listing fees and making transactions.
LPX holders can also lock up their tokens to earn rewards, like trading fee discounts and "community prestige badges." The total supply of LPX will be one billion, with 25% of these tokens reserved for presale investors.
Early investors can buy Launchpad tokens through this presale, which will have ten total stages. Each stage will have its own set price point, with the earlier stages offering lower prices – incentivizing investors to adopt LPX as early as possible.
As with all presale crypto projects, there's no guarantee of success since these projects are early-stage and still in development. However, those happy with the additional risk can learn more about Launchpad XYZ (and its growth) by joining the official Telegram channel.
More than $1.25 million has now been raised in the presale.
| | |
| --- | --- |
| Presale Started | April 25 2023 |
| Purchase Methods | ETH, USDT, Card |
| Chain | Ethereum |
| Min Investment | N/A |
| Max Investment | N/A |
6. yPredict (YPRED) – Polygon-Based Analytics Suite Offering Array of Valuable Tools & Services
yPredict is a next-generation crypto analytics platform powered by artificial intelligence (AI). Unlike other analytics platforms, yPredict aims to offer tools and services that appeal to both beginners and advanced investors – many of which are usually reserved for financial institutions.
Within the yPredict platform, investors can benefit from various valuable features. These include advanced technical indicators, coin price predictions, investor sentiment analysis, on-chain data, and much more. yPredict will also have its own high-speed trading terminal, ideal for day traders and scalpers.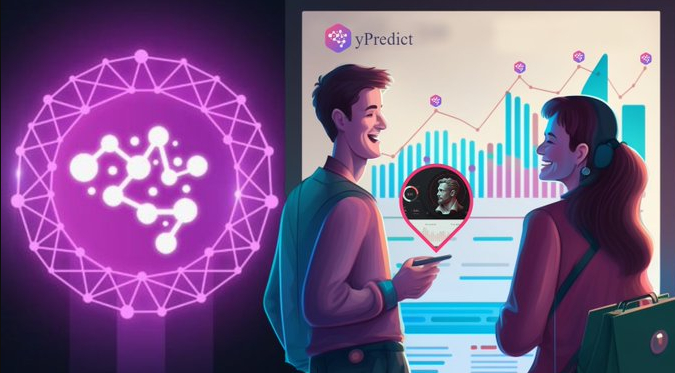 However, as noted in the project's whitepaper, one of the main features will be the "yPredict Marketplace." This marketplace empowers AI experts to create price prediction models and market them to traders and investors for a monthly/annual fee.
Fees are denominated in YPRED – yPredict's native ERC-20 token. Aside from being used to pay fees, YPRED will have other critical use cases within the ecosystem, such as yield generation (via staking) and voting rights.
The project has been racing through its presale allocation and has now raised more than $3.3 million.
$YPRED tokens currently cost $0.1 but will increase to $0.012 in the final round.
Right now, investors can buy yPredict tokens through the eight-stage presale at a heavily-discounted price relative to the eventual exchange listing price. Although this is a great opportunity, investors must also be aware that there's no guarantee of financial success with presale cryptos – so it's wise to do independent research before getting involved.
With over 20,000 users on the platform's waiting list and an estimated market cap of $6.5 million once launched, yPredict is one of the best penny cryptos of the year. Interested investors can learn more about yPredict by joining the project's Telegram channel.
| | |
| --- | --- |
| Presale Started | February 13 2023 |
| Purchase Methods | ETH, MATIC, BNB, USDT, Card |
| Chain | Polygon |
| Min Investment | N/A |
| Max Investment | N/A |
7. Chimpzee - Earn Passive Rewards As You Save Wildlife and Fight Climate Change
The next best penny cryptocurrency to buy in 2023 is Chimpzee. While all the assets listed in this article are excellent financial investments, Chimpzee is also a good social investment.
The project is dedicated to protecting wildlife and, in turn, slowing down climate change. It empowers more people to join climate action through a passive reward system based on NFTs and cryptocurrencies.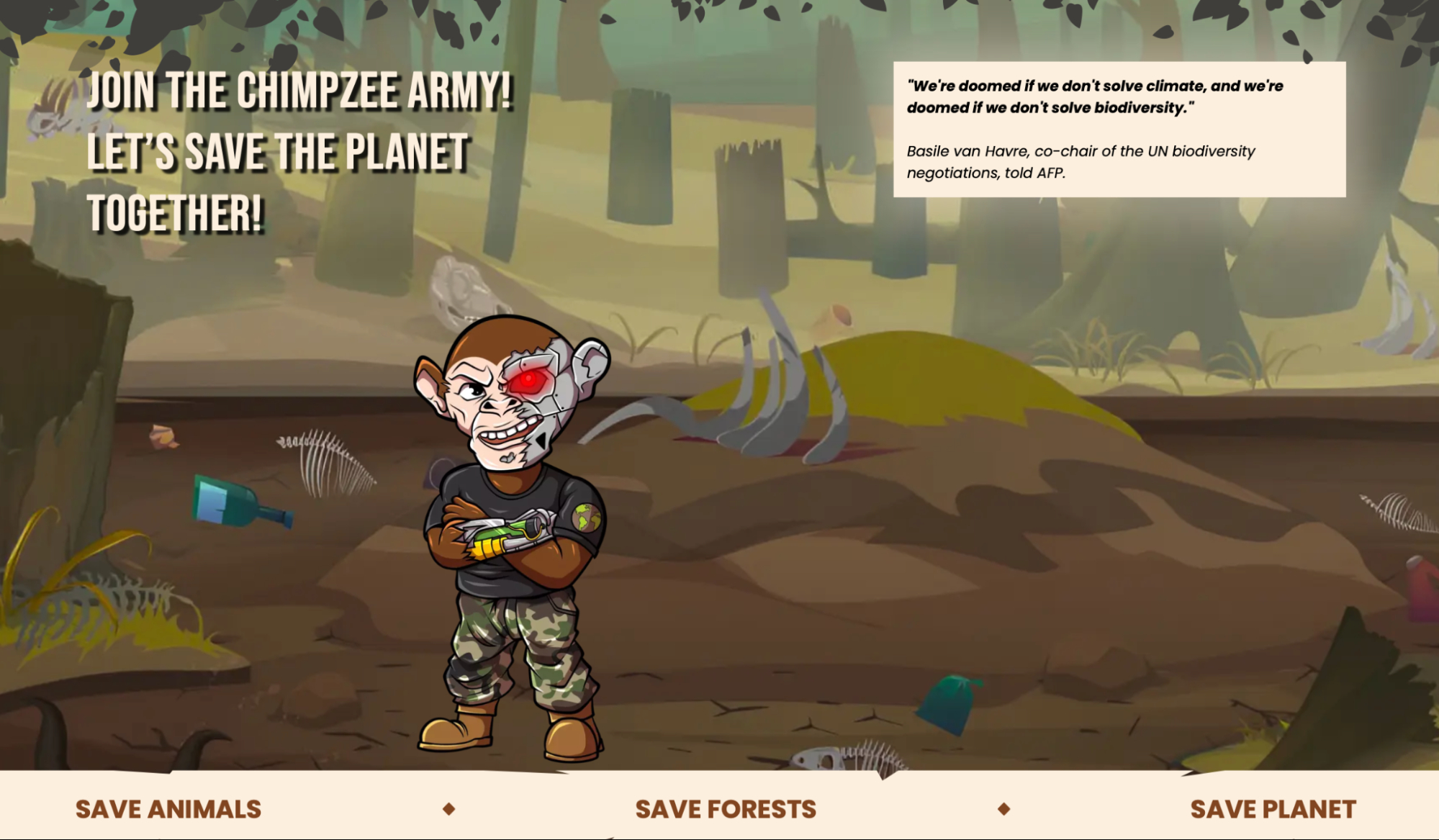 To bring its mission to fruition, Chimpzee sets aside 10% of its token supply and a portion of its profits. It is donated to organizations that have efficient initiatives for saving animals, combating deforestation, and fighting climate change.
The key asset of the platform are the Chimpzee NFT passports, which come with multiple benefits and rewards. Chimpzee NFT passport holders have a competitive edge against other ecosystem participants. Since the number of Chimpzee NFT passports is limited, only a few people can own one.
The native crypto of the platform is CHMPZ coins, which will be used for a wide range of payments in the ecosystem. Interestingly, the CHMPZ coins used to buy the Chimpzee NFT Passports will be burned and taken out of circulation. The complete burn potential is up to 10% of the total circulating supply, which will have a substantial effect on sustaining the value of the asset in the open market.
Chimpzee has three core pillars:
A play-to-earn game titled The Zero Tolerance Game where you can earn CHMPZ coins by achieving a series of predetermined benchmarks.
A trade-to-earn NFT marketplace that shares a percentage of the trading fee profits with active users on the network.
A shop-to-earn merchandise store that distributes CHMPZ rewards to shoppers.
All three platforms are integrated to help users make the best of the ecosystem.
The market relevance of Chimpzee is underscored by the fact that nature and the environment cannot wait, and immediate action is required. People need incentives to act and Chimpzee provides that. The project has already partnered with environmental initiatives like The Giving Block, One Tree Planted, and the Wild Foundation to achieve the goal.
The presale of CHMPZ is now live, marking probably the cheapest and most profitable entry to the project. Over $1.1 million has now been raised.
| | |
| --- | --- |
| Token Symbol | CHMPZ |
| Token Supply | 200 Billion |
| Presale Supply | 40 Billion |
| Network | Ethereum |
| Purchase Methods | ETH, USDT, Credit Card |
8. eTukTuk (TUK) - Penny Cryptocurrency Used to Make Payments on EV Charging Stations
The next penny cryptocurrency on the list is $TUK, the native token of eTukTuk. This is the world's first automotive project that is running on the BSC blockchain.
eTukTuk aims to set up various EV charging stations to help TukTuk drivers charge their electric vehicles.
The main goal of eTukTuk is to promote the usage of EVs among TukTuk drivers in developing areas. In the past few years, Internal Combustion Engines (ICEs) have been going obsolete. Since most TukTuks are run on ICEs, the drivers are struggling to make a monthly income.
eTukTuk will set up electric vehicle supply equipment (EVSE) and charging stations, which will be powered by the Binance Smart Chain blockchain. This proof-of-stake network will let token holders to stake $TUK on the ecosystem to earn a potentially high APY (Annual Percentage Yield).
TukTuk drivers can make payments with $TUK through the driver's app when they use these charging stations. Each station will be set up in a different territory, in urban and suburban areas of developing economies. Each territory will have a territory partner that will help in setting up the locations.
The territory partners will be paid a commission for each transaction that is generated at the charging stations. According to the eTukTuk whitepaper, this platform will help TukTuk drivers take home 400% additional income. In 2023, the first charging station will be set up in Colombo, Sri Lanka.
$TUK has a total supply of 2 billion, 12.5% of which will be allocated for the presale. Interested investors can buy $TUK for $0.024 per token. Join the Telegram channel for more updates on this cryptocurrency.
9. Scorpion Casino (SCORP) - Best Penny Crypto to Earn Passive Income Through a Casino's Performance
Scorpion Casino allows its holders to earn up to $10,000 in daily passive staking income based on the performance of the casino. The project is on a mission to build the number one social online gambling platform where users can earn a daily yield as the casino sees adoption and usage.
The casino is home to over 210 casino games, with an additional 160 live games that include all the major favorites such as blackjack, roulette, poker, and slots. The casino is connected with all the major gaming providers, such as Evolution and AMATIC, providing users with the highest possible quality casino games.
In addition, Scorpion Casino also hosts a sportsbook that provides over 30,000 betting options for users on the outcome of popular sports matches, like football, basketball, tennis, horse racing, golf, boxing, and MMA.
Scorpion Casino is fully regulated and licensed by the Curacao EGaming licensing entity, making the casino fully transparent and provable fair. Furthermore, they only work with reputable platforms like BetRadar and CoinsPaid to provide the best possible experience to users.
The project is hosting a presale for its native token, SCORP, the exclusive payment method throughout the ecosystem and the default betting currency in the sportsbook and casino.
The SCORP token includes a 2% redistribution tax, which is rewarded to all SCORP holders and allows their token balance to increase as the casino gains adoption. Furthermore, a 1% burn tax on each transaction makes the token deflationary.
The presale provides exclusive benefits for those investing $1,000 or more in the presale by enrolling investors in the Elite Scorpion Members Club. This club offers VIP services, cashback on the casino, and extra staking rewards. Furthermore, investors can use the exclusive bonus code Scorpion20 to get 20% extra tokens on their investment in the presale.
More than $660k has now been raised in the $SCORP token presale.
| | |
| --- | --- |
| Token Symbol | SCORP |
| Presale Supply | 200,000,000 SCORP |
| Token Type | BEP-20 |
| Payment Method | ETH, USD, BNB |
| Listing Price | $0.05 |
10. Pikamoon (PIKA) - Penny Cryptocurrency Used to Enter a P2E Gaming Metaverse
$PIKA is the native token of Pikamoon's play-to-earn and NFT gaming metaverse environment. Those who purchase $PIKA through the ongoing presale phases can buy in-game NFT avatars, battle in a metaverse, and earn exciting rewards.
The presale is already in its final stage with tokens priced at $0.0006 and more than $3.8 million has been raised so far. The total presale will allocate 15 billion tokens - representing 30% of the total token supply.
On the Pikaverse, the metaverse environment, users can leverage $PIKA to buy Pikamoon NFTs. These NFTs will be your in-game avatars. One can enter into battles and explore the world of Dreva with their Pikamoon.
Users can also capture other Pikamoon, enter Player v Player battles, and compete for tokens by climbing up the Pikamoon leaderboard. With $PIKA, players are free to purchase virtual land, just like other crypto games, including Axie Infinity.
But unlike other popular GameFi projects, Pikamoon offers an online and offline mode. The online mode can be used to earn tokens and more NFTs, while the offline mode allows players to participate without holding any $PIKA.
To limit the total supply of $PIKA, 5% of all tokens spent on the Pikamoon marketplace will be burnt. There is also a 2.5% tax charged for those that sell the token. To learn more about this NFT cryptocurrency, read the Pikamoon whitepaper.
| | |
| --- | --- |
| Presale Started | 16 April 2023 |
| Purchase Methods | ETH, USDT |
| Chain | Ethereum |
| Min Investment | None |
| Max Investment | None |
11. BTC20 (BTC20) - Blending Bitcoin's Legacy with Eco-friendly Practices and Attractive Staking Rewards
BTC20 is a new altcoin inspired by Bitcoin's early enthusiasm yet improved with today's blockchain advancements. It offers a new investment opportunity for those who missed the Bitcoin revolution.
The project launched and sold 6.05 million tokens, each priced at $1, for the token presale.
Itdifferentiates itself from Bitcoin by replacing the energy-consuming proof-of-work system with a more efficient, eco-friendly proof-of-stake model.
The 'staking' feature, a key feature of the BTC20 platform, offers token holders a way to earn passive income by simply holding their tokens in the network. This mechanism benefits investors and strengthens network security.
Unlike Bitcoin, BTC20 makes its tokens available to everyone, ensuring full decentralization and creating community involvement.
As an ERC-20 token, it integrates smoothly with existing crypto wallets and platforms, increasing its usability.
The total supply of BTC20 will be capped at 21 million tokens, just like Bitcoin. Out of these, 14.95 million tokens are reserved for staking, ensuring fair reward distribution for early investors.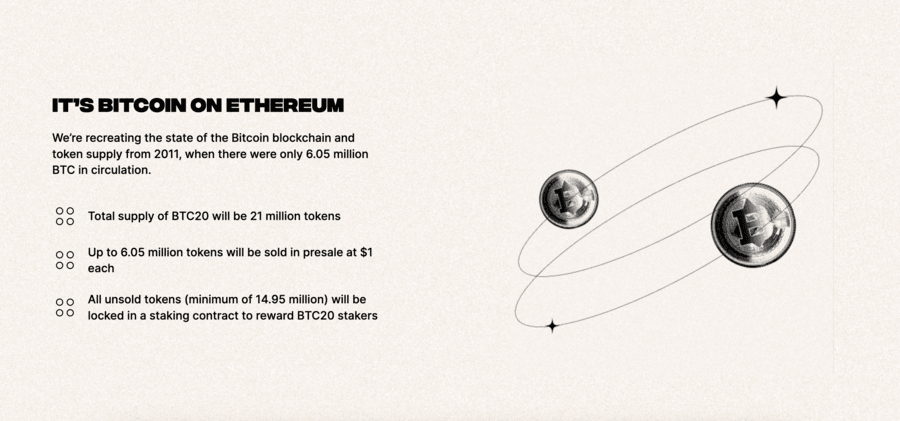 These investors will earn a fixed number of BTC20 tokens for every confirmed block, similar to Bitcoin's original model.
BTC20 plans to mint tokens over approximately 120 years, promoting stable token supply growth in line with Bitcoin's system.
The BTC20 whitepaper's roadmap also includes strategic partnerships, decentralized app (dApp) development, and establishing governance rights.
Any unsold tokens from the presale will be moved to the staking contract, providing extra incentives for community participation.
To stay updated with the project's progress, join the BTC20 Telegram community.
12. XRP20 (XRP20) - Priced 30x Cheaper than the XRP All-Time Lows, Presale Over In Just 3 Weeks
XRP20 ($XRP20) refers to itself as the second coming of the XRP token. XRP, one of the biggest tokens in the world, soared by 137,000% from its lowest to highest price. Those who did not manage to profit from the success of XRP could look to invest in the $XRP20 presale.
This presale finished up in just 3 weeks, reaching its $3.68m hard cap rapidly and showcasing the popularity of the project. Claiming is set to become active at a currently undisclosed date. In the meantime, an estimated 57% APY can be taken advantage of.
Similar to XRP, XRP20 has a 100 billion token supply. But, XRP20 is built on the Ethereum blockchain and caters to retail traders, unlike XRP. Therefore, token holders can stake $XRP20 on a staking mechanism and earn passive income. To maintain the token supply, XRP20 introduces deflationary tokenomics.
10% of its total 100 billion token supply will be burnt over time. 0.1% of buy and sell transactions will be sent to a burnt wallet address. This penny cryptocurrency is also priced 30 times cheaper than XRP during its all-time lows. For the ongoing presale, XRP20 is priced at $0.000092 per token. The presale will consist of one round, where 40 billion tokens will be allocated.

Since the start of the presale, XRP20 has already raised more than $1.8 million. The presale hard cap is set at $3.68 million. The remaining 10% of the token supply will be used to maintain DEX liquidity. While XRP20 has nothing to do with XRP, the decentralized platform gives more use cases and accessibility to users.
After the presale ends, one could see the price take off as the circulating supply decreases after the release of the staking mechanism. To learn more about this new cryptocurrency, read the XRP20 whitepaper and join the Telegram channel.
| | |
| --- | --- |
| Presale Started | August 2023 |
| Purchase Methods | ETH, USDT. |
| Chain | Ethereum |
| Min Investment | 100 XRP20 |
| Max Investment | None |
13. Ripple (XRP) - Large-Cap Enterprise Blockchain and Crypto Solutions Provider
Ripple is a firm favorite among those who favor penny cryptocurrencies. Moreover, XRP tokens rank among the top ten cryptocurrencies on CoinMarketCap.
This penny crypto was created with the goal of transferring transactions from closed systems controlled by financial institutions to a more open system while drastically reducing costs.
The goal of RippleNet, the blockchain infrastructure built by the company, is to offer access to speedy, affordable, and straightforward cross-border transactions. 100 billion XRP tokens were pre-mined at launch.
In 2022, Ripple partnered with Fomo Pay, a well-known payments company located in Singapore. Through the partnership, Ripple's crypto-enabled business technology will be used by Fomo Pay to increase its international treasury flows.
At the time of writing this best penny crypto guide, Ripple has a market capitalization of over $37 billion, and XRP tokens are trading at almost $0.70.
14. Cardano (ADA) - Proof-of-Stake Network With Staking Pools And Peer Reviewed Research Model
Cardano is a decentralized proof-of-stake network and one of the most potent challengers to Ethereum. Despite being a top 10 cryptocurrency with a market valuation of over $11 billion at the time of writing, ADA is among the best crypto to buy now under a penny.
With its Alonzo upgrade in 2021, Cardano put smart contract support into place. In contrast to other blockchains, the Cardano network requires peer approval for all applications and protocols before they can be implemented.
Moreover, there are various other use cases for ADA. For example, investors can take part in the staking and validation process. They also have the option of operating or owning a stake pool.
Trusted server nodes have the task of verifying transactions. The Cardano platform allows investors to manage numerous assets. They can also develop NFTs and smart contracts. Cardano is also one of the most energy-efficient cryptos on the market.
75% of the total coin supply has been mined at the time of writing and ADA is trading at approximately $0.31.
15. Tron (TRX) - Fully Decentralized DAO Governed Ecosystem With DeFi, Web3, & NFT Integration.
Another well-known rival of Ethereum is Tron. Instead of attempting to mimic the Ethereum ecosystem, the Tron project developed its own blockchain with an emphasis on entertainment.
Similar to Chiliz, the Tron platform gives content producers control over their creations. They may use this decentralized network to directly share their work and material with their friends and followers while earning a commission in the form of cryptocurrencies.
TRX is also among the best penny crypto coins. Tron incorporates a number of cutting-edge crypto technologies into this decentralized network. This includes NFTs, dApps, DeFi, and Web3.
As a result, it continues to get a warm reception from the community of creators. Well-known faces, such as Lindsay Lohan, have already launched NFT token sales on the Tron network. If further high-profile celebrities decide to publish content on the Tron blockchain in the future, this could bode well for the value of TRX.
The market capitalization of Tron at this time is over $7.5 billion and tokens are trading at almost $0.084.
16. Cronos (CRO) - Native Token of the Ecosystem Supported by Crypto.com
Cronos is the native token for the relatively new Cronos blockchain. There is often a misconception that CRO is the native token of Crypto.com, the popular trading and staking platform. However, both Cronos and Crypto.com are separate entities.
Having said that, Crypto.com does provide resources and support to the Cronos ecosystem. That is to say, the entire suite of products on the Crypto.com platform is presently compatible with Cronos. This includes the app, main exchange, and DeFi Wallet from Crypto.com
The DeFi staking platform even offers users interest rates of up to 14.5% on CRO tokens. Cronos discreetly introduced its Play developer tool in August 2022. The objective is to provide developers with all the required framework to create ultra-realistic images and more immersive experiences.
This offers compatibility for a variety of cutting-edge game engines, including Unreal Engine 5, which is best known for powering Fortnite. Additionally, it supports the immensely well-liked C++ programming language, which is favored by game creators.
The market capitalization at the time of writing is nearly $1.5 billion and CRO is trading at around $0.059.
17. Polygon (MATIC) - Multi-Chain scaling Solution On Ethereum Network
Built in conjunction with the Ethereum blockchain, Polygon is the most valued and promising layer-2 scaling penny crypto project. Polygon aims to reduce gas fees and increase Ethereum's efficiency. It also aims to increase transaction speeds. The native token of this project is MATIC.
Polygon has launched GameSwift, which is a Web3 ecosystem focused on gaming. An increasing number of developers and companies are drawn to Polygon. These tend to be those that are working on quickly developing crypto technologies like Web3, NFTs, and DEXs.
Polygon is therefore a multi-chain scaling solution. The project is expected to expand its activities over the next few years to additional blockchains and could be a top long-term crypto project to buy. This might broaden its use cases and boost interest in MATIC tokens, ultimately driving up the price.
The market capitalization of this altcoin at the time of writing is over $6.6 billion and MATIC is trading at approximately $0.71.
18. Chiliz (CHZ) - Sports-Focussed Platform With Fan Tokens
Investors researching crypto under a penny now will no doubt have come across Chiliz. Its native token is CHZ. This penny crypto is a popular option for sports fans, enabling them to have unique experiences with their favorite teams.
Put simply, Chiliz uses blockchain technology to enable interaction between fans and their preferred sports teams via NFTs and P2E gaming.
The project draws inspiration from the Socios (fans) of Spanish soccer teams. Whereby a yearly membership allows supporters access to a range of privileges.
This includes club voting perks and early tickets. Investors can also use the CHZ token to buy the Fan Tokens of their preferred teams. Each club that works with Chiliz is allowed to personalize the experiences that owners of their Fan Tokens have in the real world.
Holders of Fan Tokens may also have a say in choices made by the team, such as celebration songs, starting lineups, stadium naming, and even new kit designs.
Penny Cryptocurrencies Explained
All digital currencies that cost less than $1 per token are known as penny cryptocurrencies.
These low-cost cryptocurrencies have the potential to increase over the course of time
However, there is a huge risk attached when investing in any digital currency
It can be hard to know if crypto under a penny now will produce suitable gains later
This is why it's vital that when investors learn how to buy penny cryptocurrencies, they also research a wide range of other metrics such as the project behind the token, legitimacy, and how well-received it is in its early stages
Is it Worth Buying Penny Cryptocurrencies?
Today, we've reviewed the best penny cryptocurrency to buy in 2023. However, investors may still be wondering whether penny crypto tokens are a worthy addition to a portfolio.
Further information on why it might be worth buying penny cryptocurrencies can be found below:
Upside Potential
Leaders in the crypto space today include Bitcoin, Ethereum, and many others. These coins have been around since a period when interest in crypto-assets was low. In reality, the market wasn't nearly as saturated back then either.
That said, using Bitcoin as an example, BTC tokens were worth less than a cent when they were first introduced to the public. At the time of writing, BTC tokens trade for over $21,700 each. Moreover, the market capitalization of Bitcoin has since surpassed $1 trillion.
As such, by choosing the right project, investors could see attractive gains by investing a low amount of $1 or less in a cryptocurrency.
Low-Cost Entry into the Crypto Market
Many investors have been put off by the initial outlay of entering the crypto market.
However, this only really applies to tokens like Bitcoin, which, as we said, trades for many thousands of dollars.
In contrast, investors can buy our top pick - LHINU tokens - via the presale at a cost price of just $0.000085 USDT.
Crypto Portfolio Diversity
Why stop at one penny cryptocurrency? Some investors choose to spread the risk involved with such uncertainty by creating a diverse portfolio of low-cost tokens.
This is much easier to achieve with cryptocurrencies that trade for $1 or less.
That said, investors must still conduct plenty of research to gain an understanding of each project and the risk involved.
Where to Buy Alternative Penny Crypto Coins
In addition to the above walkthrough - which describes how to buy the best crypto under a penny, it is also worth looking at established projects that are already listed on tier-one exchanges.
When choosing an exchange for this purpose, investors should consider metrics surrounding safety and legitimacy, as well as trading and deposit fees, ease of navigation, market diversity, features, and more.
There are a wide variety of centralized and decentralized exchanges to choose from, but some of the top brands in the business - including Binance and Coinbase - currently find themselves in the crosshairs of regulators.
To Conclude
Throughout this guide, we've taken an in-depth look at some of the best penny cryptos currently available. While each project we've mentioned shows promise, one asset, in particular, could explode upon its release.
Our top choice is Meme Kombat. It has a doxxed founder (a rarity in presales) and has conducted an advanced smart contract audit.
It also brings the world's most famous memes together with multiple betting options on fight outcomes - a brand new idea which the market could easily take to.
FAQs
What is a penny cryptocurrency?
A penny crypto is categorized as a digital currency that is trading at $1 or less per token. Some crypto assets that fall within this category possess a large market capitalization - such as XRP and Cardano. This is directly linked to the number of tokens issued by the project.
What is the overall best penny cryptocurrency to invest in right now?
The best penny cryptocurrency to invest in right now is Meme Kombat, through it trades a little over the classical definition of a penny crypto, at $1.667.
Where is the best place to buy penny crypto?
The best place to buy penny crypto will depend on whether the project is listed on an exchange yet. Presale coins usually have a native website to buy from directly and offer low prices, while more established ones will be available on multiple centralized and decentralized exchanges.
How can I invest in penny cryptocurrencies?
The best cryptocurrencies are listed on reputable and regulated online exchanges. If, however, the penny cryptocurrency is still in its presale, then a purchase can be made directly on the provider's website.
Which penny cryptocurrency will blow up?
While it's impossible to predict the future exactly, Meme Kombat has all the markings of a blue-chip cryptocurrency and could explode in the coming months.
---