10 Best Crypto to Buy on the Dip
Disclosure: Crypto is a high-risk asset class. This article is provided for informational purposes and does not constitute investment advice. By using this website, you agree to our terms and conditions. We may utilise affiliate links within our content, and receive commission.
Disclaimer: The Industry Talk section features insights by crypto industry players and is not a part of the editorial content of Cryptonews.com.
Crypto prices are down considerably throughout the industry and this has been the case since the markets peaked in late 2021. While nobody wishes to experience a bearish cycle, this does offer the opportunity to scope up some top-rated crypto assets at a huge discount.
The purpose of this market insight is to analyze the 10 best crypto to buy during this dip to take advantage of the current bear cycle.
The 10 Best Crypto to Buy on the Dip
The list below offers a quick overview of the best crypto to buy during the crash:
Bitcoin ETF Token – The best crypto to buy on the dip with a staking APY of 2,000% in the early stages of the presale and burn mechanics based on events around the Bitcoin spot ETF approval by the SEC.
Bitcoin Minetrix – Offers an innovative stake-to-mine model, replacing conventional cash contracts. By staking $BTCMTX, users receive BTC mining power, simplifying the mining process.
Wall Street Memes – One of the most popular meme cryptos right now, Wall Street Memes has raised more than $25 million on presale. This platform has more than 1 million followers on social media and offers high staking returns. 
Tamadoge – P2E gaming platform with metaverse and NFT features.
Battle Infinity – Low-cap gem building a decentralized fantasy sports game.
Lucky Block – NFT reward and competition project with huge upside potential.
DeFi Coin – Undervalued DeFi ecosystem about to hit the market.
Bitcoin – Buy the world's most popular crypto asset at a 70% discount.
Ethereum – Large-cap smart contract blockchain that remains undervalued.
BNB – Proprietary cryptocurrency backed by the Binance exchange.
Many of the projects listed above have been hit hard by the crypto winter that we currently find ourselves in. With many analysts wondering is cryptocurrency a good investment, presales offer an attractive entry point for long-term investors – in preparation for the next bull run.
Analyzing the Best Cryptos to Buy During the Crash
Just because a crypto asset is trading at a huge discount when compared to its prior all-time high, this doesn't automatically make it a sound investment.
Investors should instead take a step back before risking any capital and conduct in-depth research on the many options available in this bear market as well as ahead of the next altcoin season.
In this section, we analyze the best crypto to invest in during the crash so that traders can make an informed decision. 
Additionally, many of the following cryptos are also considered to be the best next crypto bull run coins.
1. Bitcoin ETF Token – Best Crypto To Buy In The Dip With Over 2,000% Staking APY And Up To 25% Token Burn Mechanics
Bitcoin ETF Token is the latest token presale that is solely focused around the spot Bitcoin ETF approval by the Securities and Exchange Commission (SEC). This includes token burn mechanics when events around the Bitcoin ETF approval unfold as well as transaction burn tax. What's more, you can earn a generous APY by staking your tokens regardless of what happens with the Bitcoin ETF approval.
Buy $BTCETF tokens on the Bitcoin ETF Token website by connecting your MetaMask wallet, or any other Ethereum wallet, and use ETH, USDT or card. There's also the option to buy with MATIC and BNB, but you won't be eligible to stake your tokens if you buy them using these two crypto coins.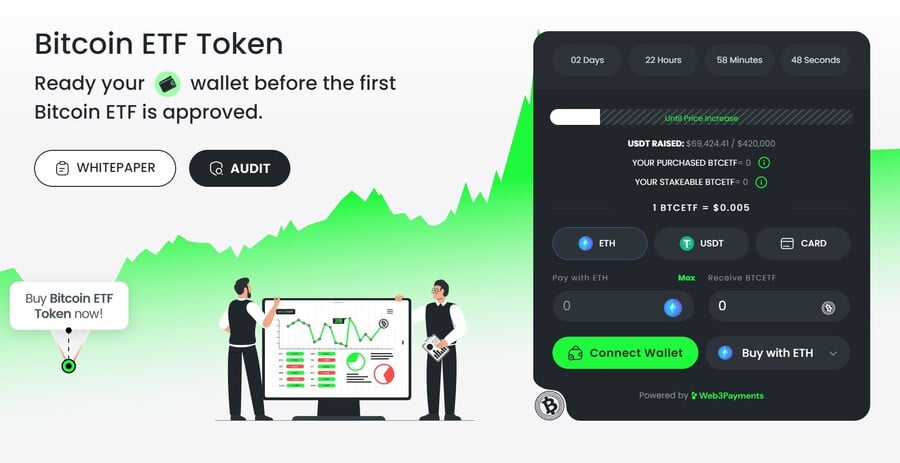 If you decide to buy the $BTCETF tokens, it may be prudent to do so in the early stages as the token price increases with each stage. In the first stage, one $BTCETF token costs $0.0050 and goes all the way up to $0.0068 in the last stage.
Regardless in which stage you buy, though, you can maximize your rewards by staking your tokens. In the early presale stages, the APY is 2,000%. However, this will drop as more tokens are staked. This means if you plan to buy $BTCETF tokens, it may be best to do so early to take advantage of the higher APY.

Aside from staking rewards, the team will use a deflationary mechanic to lower the token supply. The way it works is each transaction will initially have a 5% burn tax, which will drop to 0% once certain milestones around the Bitcoin spot ETF approval are reached. These milestones themselves will each cause a 5% of the total supply to be burned. Milestones include:
$BTCETF token reaches $100 million trading volume.
The first Bitcoin ETF is approved.
The first Bitcoin ETF is launched.
The total assets under management for all Bitcoin ETFs reaches $1 billion in value.
Bitcoin reaches a price of over $100,000.
Follow Bitcoin ETF Token on X and join the Bitcoin ETF Token Telegram channel to get the latest information about the project and the Bitcoin ETF approval. Also, read the Whitepaper to get more details about the project. 
| | |
| --- | --- |
| Presale Started | 6 Noe 2023 |
| Purchase Methods  | ETH, USDT, BNB, MATIC and Card |
| Chain | Ethereum |
| Min Investment | None |
| Max Investment | None |
2. Bitcoin Minetrix – A Crypto Token That Makes Earning Passive Income Via Bitcoin Cloud Mining Easy
Bitcoin Minetrix ($BTCMTX) allows users to earn passive income by mining Bitocin with almost no costs.
This Ethereum-backed platform has quickly captured investor attention, securing over $500,000 within 10 days post-launch.
The project's presale introduces its native token, $BTCMTX, with an opening price of $0.011. This moves through a structured price increase, peaking at $0.0119 by the presale's end.
Of the total 4 billion token supply, a substantial 70% (equivalent to 2.8 billion tokens) is allocated for the presale. The platform targets a hard cap of $32 million.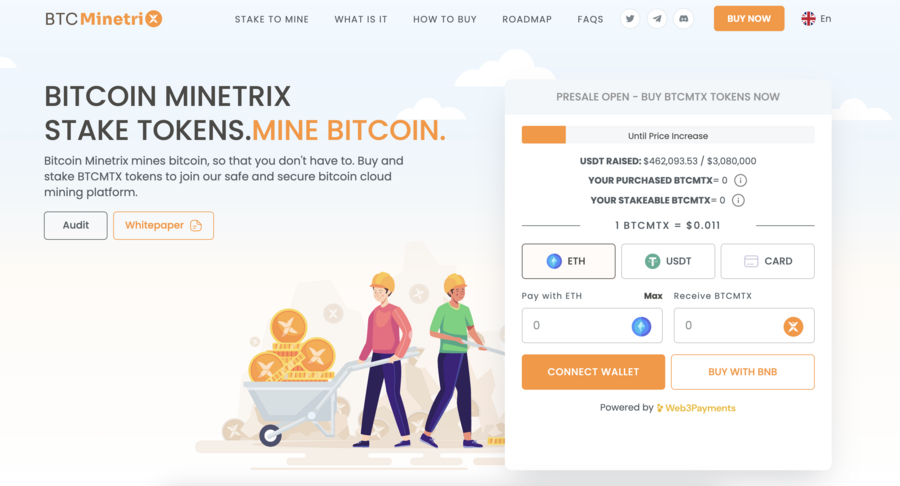 Central to its platform is the unique "Stake-to-Mine" model. Unlike traditional mining practices that involve cash contracts and pose certain risks, Bitcoin Minetrix offers a safer, simpler alternative. 
By staking $BTCMTX tokens, users receive non-tradable mining credits. Once these credits are burned, users secure BTC mining power. 
This innovative approach simplifies the mining process and minimizes the risks of scams, fraud, and complications from conventional mining models.
One of the standout features is its integrated user-centric dashboard. With an emphasis on simplicity and transparency, it allows users, even those unfamiliar with the mining intricacies, to effortlessly monitor various metrics such as hashing power, mining credit earnings, and projected rewards. 
This focus on user experience is further highlighted by its mobile optimization. As highlighted in the Bitcoin Minetrix whitepaper, users can engage in Bitcoin mining on the go, ensuring seamless operation.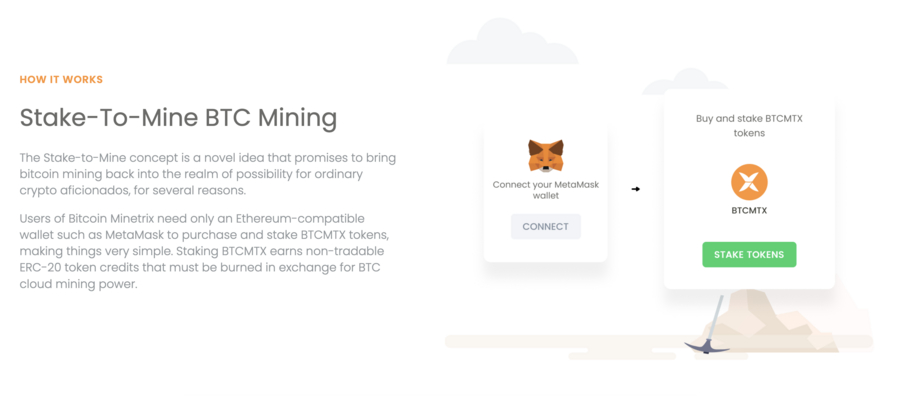 Steering away from the energy-intensive methods of traditional Bitcoin mining, it takes an eco-friendly cloud mining approach.
Moreover, users can unstake their $BTCMTX tokens and trade them based on prevailing market conditions, ensuring full control and flexibility over their funds.
Bitcoin Minetrix has undergone a rigorous third-party smart contract audit, highlighting its focus on user security and trust. 
You can follow Bitcoin Minetrix on X (Twitter) for the latest updates. Additionally, a dedicated Telegram group offers real-time community interactions and updates.
| | |
| --- | --- |
| Presale Started | 26 Sept 2023 |
| Purchase Methods  | ETH, USDT, BNB |
| Chain | Ethereum |
| Min Investment | $10 |
| Max Investment | None |
3. Wall Street Memes – Soaring Meme Crypto Has Raised Over $25 Million, Offers Huge Staking APYs
Wall Street Memes ($WSM) is the next best crypto token to purchase during the dip. While large-cap assets such as Bitcoin and Ethereum have been trading sideways, this new meme cryptocurrency has become one of the hottest assets of the year.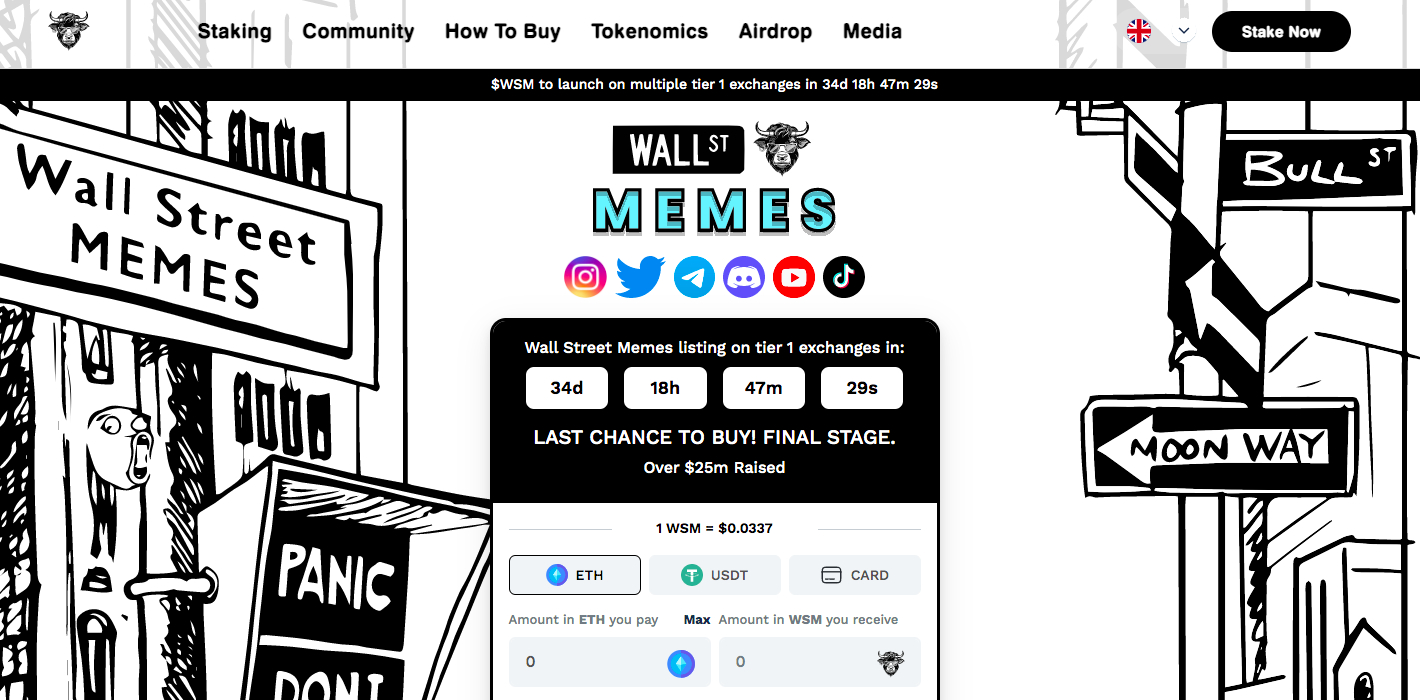 The Wall Street Memes platform originated in 2019 and has since developed a following of more than 1 million across Instagram and Twitter. The creators of Wall Street Memes have decided to launch their own native token, $WSM. 
This meme cryptocurrency has a total supply of only 2 billion. The supply is far less than other popular meme coins such as Dogecoin and Shiba Inu. The low supply can help make a token more valuable once there is an increase in demand. Half of the supply has been allocated for the ongoing $WSM presale. 

After witnessing a solid initial investor response, the platform rushed through its presale stages and got listed on OKX on 26 September. Soon after its listing, it saw a 2x price jump in just 4 days.
Furthermore, Wall Street Memes is one of the few meme coins that offer staking benefits. Users can stake the token and receive a live APY (Annual Percentage Yield) of 55%. 
30% of the token supply will be used to offer community rewards. For all these reasons, Wall Street Memes is at the top of our list. Join the Wall Street Memes Telegram channel to learn more about this project.
3. Tamadoge – P2E Gaming Platform With Metaverse and NFT Features
Tamadoge continues to trend in the crypto market even though we are firmly in a bearish cycle. The reason for this is two-fold. First, Tamadoge recently executed its much-anticipated crypto presale, whereby the project raised its hard cap total of $19 million in a matter of weeks.
Second, the project was then accepted by tier-one exchange OKX for its first centralized and decentralized listing, marking one of the best IEO cryptos to buy this year. This was a huge success, with the value of Tamadoge increasing 10-fold within a few days. Fortunately for those that missed out on the initial buying pressure, the price of Tamadoge has since witnessed a market correction.
With that said, CoinMarketCap notes that Tamadoge was originally priced at $0.021 upon listing on OKX. As of writing, Tamadoge is trading at just over $0.037. This means that in just a couple of weeks of trading, Tamadoge investors are looking at gains of 80%.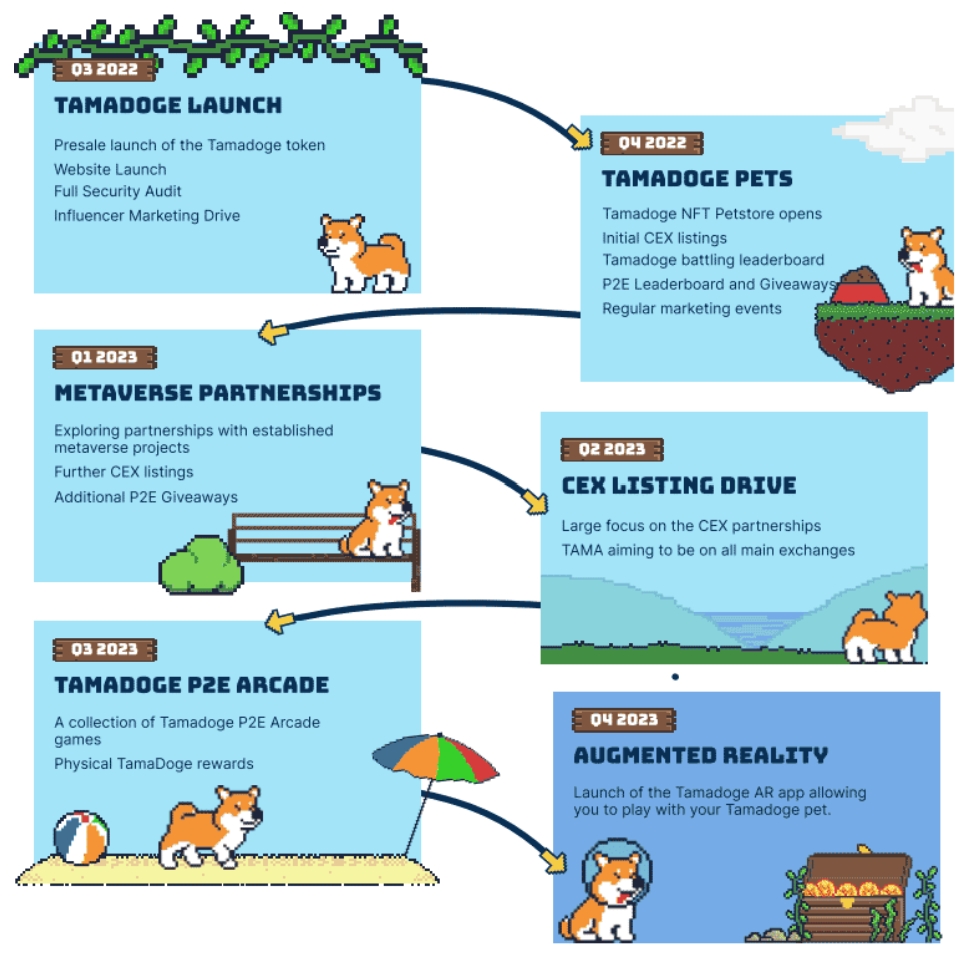 In comparison, most crypto assets have barely moved in recent weeks – with the likes of Bitcoin still staring at a decline of 70% from its pre-bear market peak. Another reason why Tamadoge could be the best crypto to buy during this dip is that its market capitalization sits below $40 million. As such, Tamadoge is arguably one of the most undervalued crypto assets as of writing.
In terms of the project itself, Tamadoge has begun building a play-to-earn game that offers crypto rewards and NFTs. Players will need to mint, feed, breed, and care for a virtual Tamadoge pet before entering battles with the view of winning TAMA tokens. To buy Tamadoge today, the digital token can be purchased at OKX, Uniswap, LBank, Bitmart, BKEX, and MEXC.
5. Battle Infinity – Low-Cap Gem Building a Decentralized Fantasy Sports Game
Long-term investors that seek hugely undervalued cryptocurrencies to buy might wish to explore Battle Infinity. This project is also building a play-to-earn game that offers crypto rewards in IBAT tokens in addition to NFT ownership. The first multiplayer game to hit the Battle Infinity platform is the IBAT Premier League.
This is a take on fantasy sports but on the blockchain protocol. Successful players will win IBAT tokens by creating a fantasy sports team that performs well in the real world. Battle Infinity will eventually offer immersive gaming experiences from within its very own metaverse – the Multiverse. So if you're wondering how to invest in the metaverse, Battle Infinity could be a great option to consider.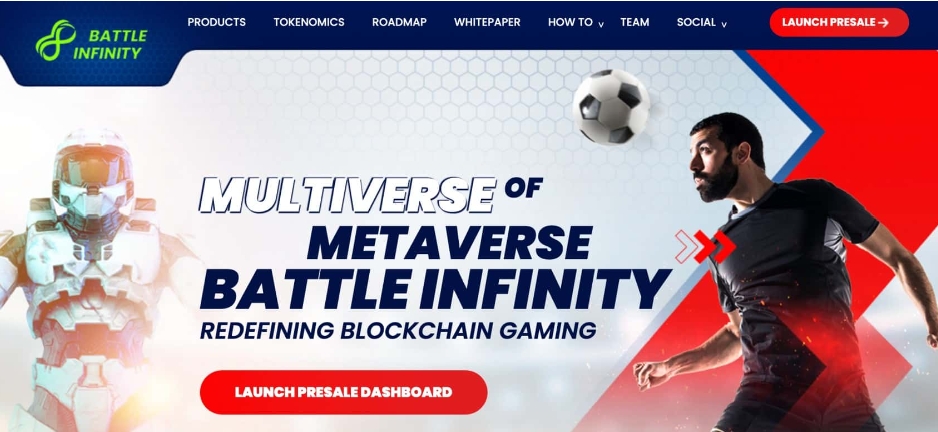 The Multiverse will also host staking tools, a decentralized exchange, and an NFT marketplace. As of writing, Battle infinity is just a couple of months into its play-to-earn development journey. The project hosted its presale with a hard cap target of just over $5 million – or about 16,500 BNB. Put simply, Battle Infinity achieved this goal in just 24 days.
The presale campaign offered IBAT tokens at a fixed price of $0.0015. Since launching on both PancakeSwap and Lbank, IBAT has gone on to hit an all-time high of $0.0055. This represents growth of over 260% since the presale. However, IBAT is still one of the best crypto to buy during the crash – considering that as of writing, it is trading at 45% below its former peak.
Potential investors might consider joining the Battle Infinity Telegram to get real-time updates on the development of the Multiverse in addition to upcoming exchange listings.
6. Lucky Block – NFT Reward and Competition Project With Huge Upside Potential 
Lucky Block was founded in January 2022 with the view of revolutionizing the global competition space. It is already achieving this goal through its NFT-backed competition platform that is built on top of the blockchain protocol. In its most basic form, people can enter a Lucky Block competition by purchasing a Lucky Block NFT.
Each NFT collection is assigned to a specific competition – which includes a Lamborghini, 5-star package holidays, and $1 million worth of Bitcoin. Each NFT that is purchased amounts to one entry into the chosen competition. Once the respective NFT collection sells out, the competition draw then takes place via a secure smart contract.
What's more, both winners and losers will continue to receive LBLOCK tokens simply for keeping hold of the NFT. This offers an incentive to enter competitions considering that passive income will continue to be earned indefinitely. Lucky Block also offers its Platinum Rollers Club NFT series.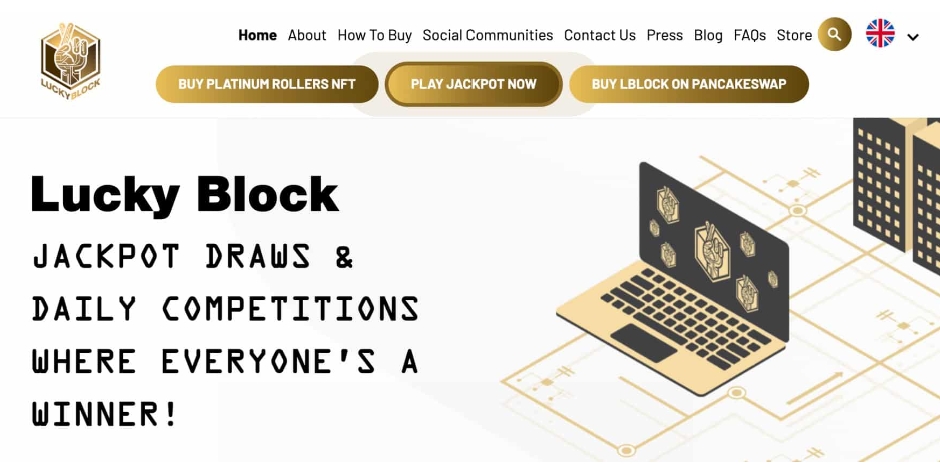 This in itself offers a full suite of perks, such as having access to a lifetime competition draw. Each NFT from within this collection has its own number, which represents a ticket entry to the weekly prize draw. Another way to gain exposure to Lucky Block is to buy the LBLOCK token, which trades on several of the best crypto exchanges.
V1 of the token – which follows the BSc standard, is traded on PancakeSwap. V2 – which follows the ERC-20 standard, trades on Uniswap, LBank, MEXC, and Gate.io. After studying its price trajectory, the LBLOCK token is available to purchase at a huge discount right now, which makes it one of the best crypto to buy during the crash.
7. DeFi Coin – Undervalued DeFi Ecosystem About to Hit the Market 
Next up on this list of the best crypto to buy during the crash is DeFi Coin. As of writing, DeFi Coin is trading at a hugely undervalued market capitalization of just $840k, making it one of the most undervalued cryptos on the market. While there are no guarantees, this does represent a good entry point, considering how low its valuation is.
One of the main reasons why investors should be bullish on DeFi Coin is that it is approaching its much-anticipated DEX launch. The DeFi Swap DEX will offer a full range of decentralized finance services to users around the globe – without requiring an account to be opened.
This means that users can connect their best crypto wallet to DeFi Swap and exchange tokens anonymously. No personal details and no KYC documents. When the exchange launches in the coming weeks, it will initially host token swaps on the BSc network. Soon after, its cross-chain functionality tool will be launched – meaning that other networks will be supported too.
The DeFi Swap launch will also offer staking services in addition to yield farming. Both of these tools offer a way to generate a yield on idle crypto tokens. There is still time to buy DeFi Coin before its impending DeFi Swap launch, with prices as of writing a huge 88% lower than previous 52-week  highs.
8. Bitcoin – Buy the World's Most Popular Crypto Asset at a 70% Discount
The five projects discussed above are all low-cap crypto gems with an attractive upside. However, lower-cap assets do come with additional risk and higher levels of volatility. As a result, investors might also consider a large-cap market leader like Bitcoin when searching for the best crypto to buy during the crash.
In addition to many other benefits, holding Bitcoin in a portfolio offers long-term stability because BTC is considered by some market analysts to be the top recession-proof crypto in existence. Moreover, many argue that Bitcoin has cemented itself as a solid store of value that could one day overtake gold. In the meantime, the current bear market offers an unparalleled opportunity to buy the world's de-facto crypto asset at a huge discount.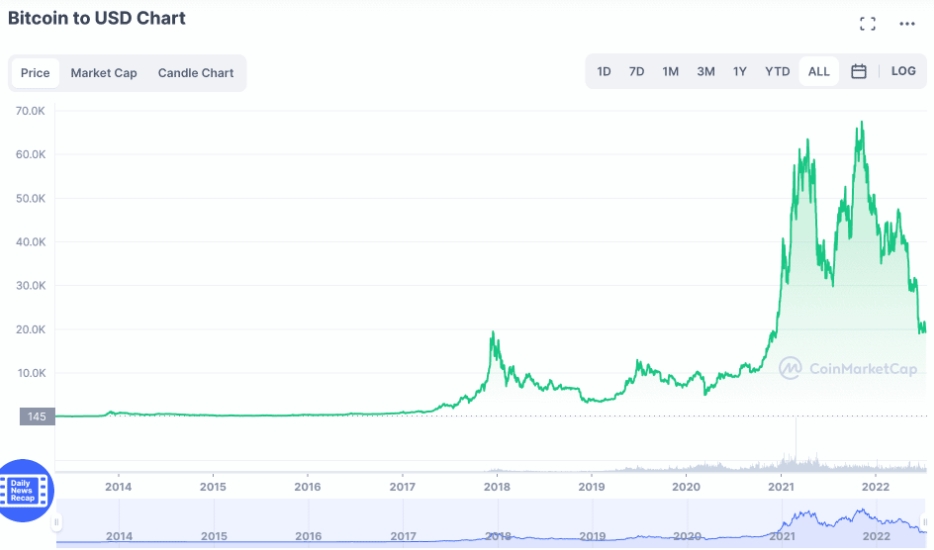 As of writing, Bitcoin continues to remain in a tight trading zone – finding solace at the $20,000 level. Compare this to its previous all-time high of almost $69,000, investors can now buy the dip to secure a 70% price reduction. Another way to view this pricing zone is that should Bitcoin eventually get back to its previous all-time high, this would return a 245% upside.
Many market commentators argue that even at the $69,000 prior all-time high, this undervalues Bitcoin. While there are never any guarantees in this speculative market, Bitcoin could be one of the best long-term cryptocurrency investments to consider right now – especially at current prices.
Note: The minimum investment required when choosing to buy Bitcoin at eToro is only $10. No fees are charged on debit/credit card payments made in US dollars.
Your capital is at risk. Crypto asset investments are highly volatile and speculative. 
9. Ethereum – Large-Cap Smart Contract Blockchain That Remains Undervalued
From a value perspective, Ethereum is almost as enticing as Bitcoin based on current pricing levels. Before the bear market, Ethereum was generating significant gains for investors – reaching an all-time high of just under $5,000. However, just like Bitcoin and the vast majority of crypto assets, Ethereum is now trading at a sizable discount.
As of writing, investors can buy ETH at 70% below its former all-time high. There is a lot to like about this large-cap project, which sits behind Bitcoin as the world's second most valuable cryptocurrency. First and foremost, Ethereum is now a proof-of-stake blockchain and therefore one of the best PoS coins on the market. In simple terms, this means that Ethereum transactions are no longer expensive.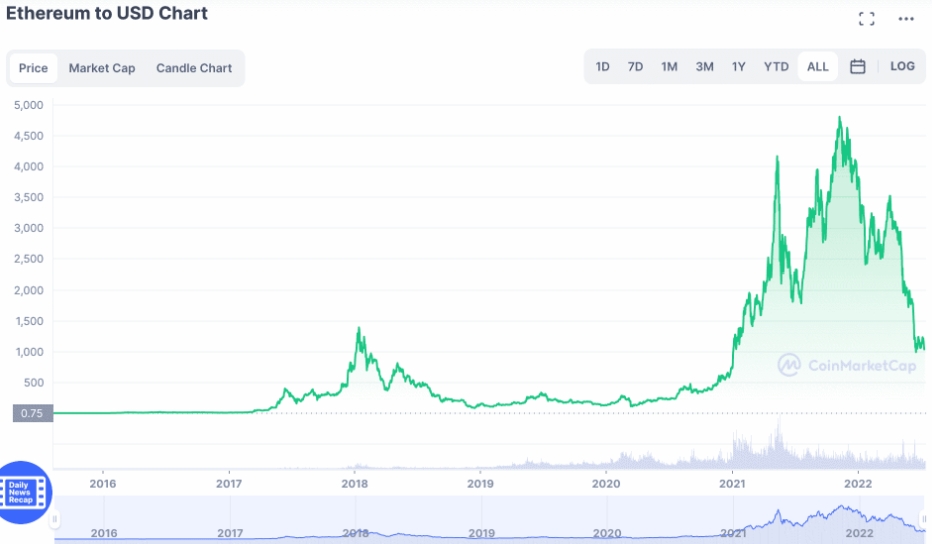 Moreover, the proof-of-stake merge means that Ethereum is considerably more scalable, with its previous consensus mechanism being able to handle just 15/16 transactions per second. Market commentators now put this figure at up to 100,000 transactions per second, with a block speed of just 12 seconds.
The importance of this network upgrade should not be understated, considering that the Ethereum blockchain is utilized by thousands of other crypto projects – otherwise known as ERC-20 tokens. And most appealingly, ERC-20 token transfers must pay transaction fees in ETH. As a result, for as long as ETH remains around the $1,500 level – many would argue it's hugely undervalued.
Your capital is at risk. Crypto asset investments are highly volatile and speculative.
10. BNB – Proprietary Cryptocurrency Backed by Binance
An analysis of the best crypto to buy during this dip wouldn't be complete without a discussion on BNB. This cryptocurrency was launched in 2017 as the native digital token of the Binance ecosystem. During its first few years, the primary use case of BNB was to offer discounted trading fees on the Binance exchange.
While it still serves this purpose, BNB offers a lot more in terms of utility, which is perhaps why many crypto-enthusiasts consider BNB to be one of the best utility tokens in 2023. At the heart of this is the Binance Smart Chain. This blockchain is looking to compete with the likes of Ethereum, insofar as it enables new crypto projects to build their framework on the Binance network.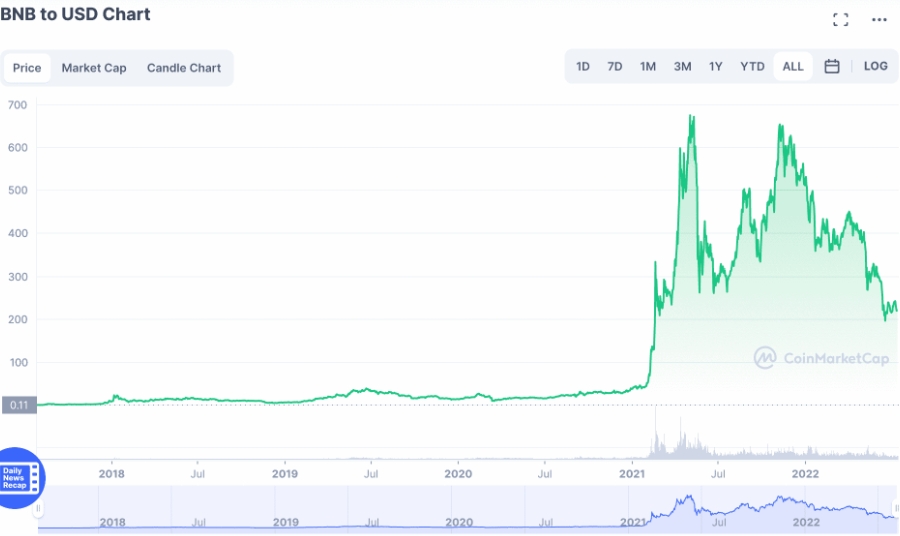 Similar to Ethereum and ETH, transactions that are executed on the Binance Smart Chain will attract fees – payable in BNB. This means that BNB remains in demand by thousands of projects. BNB is also utilized to buy and sell tokens on the Binance Smart Chain, inclusive of pairs like BNB/LBLOCK and BNB/DEFC.
Considering that Binance is by far the most liquid and utilized exchange in this industry – with the platform generating billions of dollars in quarterly revenues, the future of BNB could be bright. This is especially the case considering its current valuation, with BNB trading at nearly 60% below its prior all-time high.
Your capital is at risk. Crypto asset investments are highly volatile and speculative. 
What Causes the Crypto Market to Crash?
Investors should understand that just like in the stock trading industry – there isn't necessarily a catalyst that causes a crypto bear market. On the contrary, crypto prices go through both bull and bear trends. Each trend can last several months or even years, with there being no surefire way of knowing when the next cycle is due to begin.
For example, in the midst of the pandemic, Bitcoin was trading at lows of $5,000. The digital asset then went on a prolonged bull run that lasted until November 2021. This is the point when Bitcoin, and the vast majority of the industry, witnessed their most recent all-time high.
However, crypto asset prices cannot be on an upward trajectory indefinitely. Just like a bullish stock market, an extended reversal is always inevitable. During this period, a so-called 'domino effect' can occur, which means that selling pressure far outweighs new buyers in the market. In other words, once a bear market has been established, price declines can be exacerbated. Did you know that IMPT and TAMA are some of the best crypto winter tokens to invest in right now? 
The good news for first-time crypto investors is that Bitcoin and the broader market have gone through many bear cycles in previous years. Don't forget, the bear market previous to the one that we are currently witnessing saw Bitcoin go from a then-all-time high of $20,000 down to just $3,500 a mere 12 months later.
Should You Invest During a Bear Market?
Irrespective of wider market conditions, there is no guarantee that the price of cryptocurrencies will ever get back to previous all-time highs. This is much the same as investing in any other asset class – whether that's stocks, ETFs, currencies, or bonds. So what are the best cryptos to buy in a bear market?
With that being said, crypto bear markets – such as the one we are currently in, do offer unparalleled opportunities. In its most basic form, current pricing levels as per the bear market means that solid, established cryptocurrencies like Bitcoin and Ethereum are trading at a 70% discount from prior highs.
This means that those missing out on the previous bear market now have a chance to build a long-term position on Bitcoin at a much more favorable entry price.
After all, consider that investing $5,000 in Ethereum when it peaked in November 2021 would have amounted to a purchase of 1 ETH token.
Based on prices as of writing, the same $5,000 investment would yield nearly 4 ETH tokens.
Similarly, a $20,000 investment in Bitcoin in November 2021 would have yielded approximately 0.28 BTC tokens
And today, the same $20,000 would yield a full BTC token.
This sentiment of discounted prices extends even further when taking into account smaller, up-and-coming projects. For example, buying a top trending cryptocurrency like DeFi Coin or Lucky Block at current prices offers a discount of over 90% from their respective all-time highs.
Another thing to remember is that not all cryptocurrencies struggle during a bear market. For example, we mentioned earlier that early investors of Tamadoge witnessed gains of 10x after it was first listed on OKX. Those that purchased TAMA during the presale could have been looking at even higher gains of 20x.
Battle Infinity is another example of how choosing the right crypto assets during a bear market can be profitable. Those that purchased IBAT tokens during the presale would have been looking at maximum gains of 260%.
Crucially, investing in crypto is risky, regardless of whether we are in a bull or bear market. This is where sensible risk management comes into play. For instance, when searching for the best crypto to buy on the dip, investors might consider dollar-cost averaging and creating a diversified portfolio.
How to Find Cryptos to Buy on the Dip?
As noted above, the best approach to the current bear market is to buy the dip across multiple projects. This will ensure that the portfolio is well-diversified and not overexposed to a small number of tokens. In other words it can lead to the best crypto portfolio allocation.
So that begs the question – what is the most effective way to find and choose cryptos to buy during this dip?
Newly Launched Cryptocurrencies
A good starting point is to scour the crypto market for newly launched projects – perhaps within the prior 6-12 months. The reason for this is that any potential upward growth will likely have been hindered by the bear market.
And as such, this offers an attractive entry point before the next bull market comes to fruition. Investors will need to dedicate sufficient time to researching their chosen projects, considering crucial metrics surrounding the whitepaper, roadmap, and team of developers.
For example, there are solid projects like Tamadoge and Battle Infinity that are not only building and meeting achievable roadmap goals, but they carry a small market capitalization. This perhaps offers a more attractive long-term upside when compared to large-cap projects like Bitcoin.
Upcoming Presales
Another way to fully capitalize on the current bear market is to look for solid crypto presales that are either in operation or about the launch.
Top-10 Crypto Assets
Newly launched crypto projects and token presales offer the opportunity to target above-average returns. However, this segment of the crypto industry is a lot risker, in a similar nature to buying growth stocks as opposed to blue-chips.
As such, to offer some much-needed portfolio diversification, investors might also consider buying some top-10 cryptocurrencies by market capitalization. We have already discussed the likes of Bitcoin, Ethereum, and BNB.
However, However, there are many other established, large-cap cryptocurrencies that are currently offering discounts above and beyond 70% from previous highs, such as XRP, Cardano, Solana, and Dogecoin.
Conclusion
For many, the current crypto bear market has resulted in a huge drop in portfolio valuation. Even the largest cryptocurrencies by market capitalization, namely Bitcoin and Ethereum, have witnessed sizable declines since hitting all-time highs in late 2021.
This does, however, offer the opportunity to buy crypto assets at a major discount. One of the top options to look at right now is Bitcoin ETF Token. This new cryptocurrency has raised over $100,000 on presale in just a few days. 
Furthermore, token holders can stake $BTCETF tokens to earn passive rewards. Currently, $BTCETF is priced at $0.005 during the first stage of the presale.
FAQs
What is the best crypto to buy during the dip?
On the one hand, buying crypto during the bear market does offer plenty of opportunities to buy into projects at a heavily discounted price. However, it is likely a better strategy to build a well-diversified portfolio of coins, rather than honing in on just one. With this in mind, we found that the best cryptocurrencies to buy during this dip include Bitcoin ETF Token, Bitcoin Minetrix, Wall Street Memes, and Tamadoge. From the large-cap side of things, perhaps consider Bitcoin, Ethereum, and BNB.
Should you buy crypto when it dips?
Buying crypto when the broader market has dipped enables investors to buy tokens at a discounted price. However, this is on the proviso that the purchased tokens eventually go on to recover – which can never be guaranteed. As such, investors should consider dollar-cost averaging in addition to diversifying – which will help lessen the risks.
Will the crypto market recover?
Over the prior decade, the crypto market has witnessed plenty of bear and bull cycles. While history suggests that the current bear market is temporary, there is no surefire way of knowing. As such, investors should proceed with caution when buying cryptocurrencies during the current bear market.
---