10 Best Crypto Trading Tips for 2023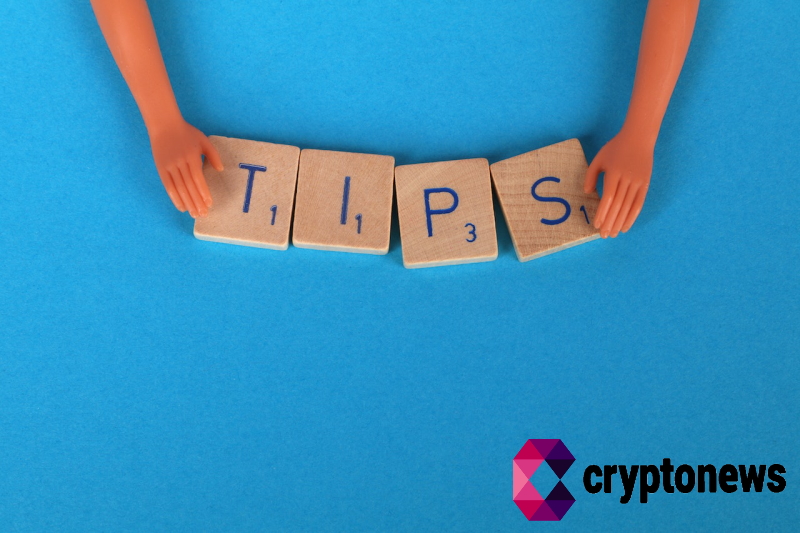 Disclaimer: The Industry Talk section features insights by crypto industry players and is not a part of the editorial content of Cryptonews.com.
Learning how to trade cryptocurrency can be a rather daunting task. There's a near-unlimited amount of information surrounding the topic, but it's often outdated or contradictory. However, we've done the research and rounded up 10 of the best crypto tips that will always be actionable and relevant.
Throughout this guide, we'll discuss 10 top crypto tips that can be used by people to improve their trading performance and expand their knowledge. We've included a variety of tips for every type of trader. Let's get started.
The Best 10 Crypto Trading Tips for 2023
For those simply needing a push in the right direction or some inspiration, we've included a brief summary of our best crypto trading tips. Although this overview will be enough for some traders, we've also taken an in-depth dive into each of the cryptocurrency tips within the next section on this page.
Join a Reliable Crypto Group - Find Like-Minded Individuals and Learn from Experienced Traders
Look for Early Crypto Presales - Maximize Returns by Investing Prior to CEX Listings
Join a Crypto Signals Group - Save Time and Get Great Trade Setups
Try Copy Trading - Automatically Mirror the Trades of Other Users to Trade Automatically
Practice Trading on a Demo Account - Learn the Ins and Outs of Trading while Conserving Funds
Learn About the Wider Economy - Understand What Drives the Market to Improve Decision-Making Skills
Understand the Technology - Crucial to Appreciating the Merits of Cryptocurrency
Risk Management - Knowing How to Conserve Funds is Equally as Important as Making Profit
Utilize Trading Bots - Automate Trading Strategy using Robots
Create and Stick to a Strategy - Following a Specific Strategy is Important for Long-Term Growth
A Closer Look at Our Top 10 Crypto Tips
In order to assist our readers in the best way possible, we've opted to add cryptocurrency tips that span a wide range of areas, including trading, understanding the market, and reducing risk. While each tip is solid on its own, together they're even more powerful. As such, it's worth carefully reading through each tip in order to get the most value possible.
1. Join a Reliable Crypto Group - Find Like-Minded Individuals and Learn from Experienced Traders
One of the fastest, easiest, and most effective ways an investor can expand their trading knowledge is by joining a reliable crypto group. An example of such a group is the Jacob Crypto Bury Discord server. The server is updated constantly, with Bury tutoring both experienced and amateur traders alike, providing immeasurable value.
While it can be incredibly difficult to filter through all the information available online to find crypto trade tips, the best Discord crypto groups and Telegram channels often provide a myriad of information concentrated on a single platform. This can be a huge help when it comes to learning the ins and outs of crypto trading as it prevents confusion arising from conflicting information.
Furthermore, the community aspect of crypto groups can make trading both more teachable and fun. A budding trader will have an easy way to find an answer to an otherwise obscure question and they're also able to interact with like-minded people, helping to boost consistency and reinforce positive trading habits.
The Jacob Crypto Bury Discord group features a plethora of resources including a channel for friendly crypto-related discussions, a channel to promote altcoins with huge potential, and even a dedicated tutorial channel. As such, it's an excellent platform for both traders and investors regardless of their experience within the market.
Another phenomenal platform run by Jacob Bury is the B2C Crypto Calls & News Telegram channel. With over 1,700 subscribers, it's clear the group is a treasure trove of information. It features key information about hot new cryptocurrencies as well as analytical pieces and crypto news, the B2C Telegram is a great tool for budding traders.
All in all, Telegram and Discord trading groups can be invaluable resources. Additionally, the best crypto TikTok accounts and the best crypto YouTube channels also offer insights into the best upcoming crypto projects. The only drawback is that many lack substantial, actionable information.
However, both the Discord and the best crypto Telegram groups we've taken a look at are excellent resources that should not be overlooked by anyone looking to expand their trading and investing knowledge.
Visit Jacob Crypto Bury Discord
Visit B2C Crypto Calls & News Telegram
2. Look for Early Crypto Presales - Maximize Returns by Investing Prior to CEX Listings
One of the best ways to profit in the cryptocurrency space is to get in early on a hyped project or the best deflationary cryptos. Typically, price is driven primarily by demand. As such, investing in a project before it becomes widely known and mainstream is one of the top tips for crypto.
This is where the best crypto presales come into the picture. By carefully researching upcoming or early-stage presales, an investor can determine which projects have ample utility and are likely to explode.
A few things that are important to look out for when working out which crypto presales are likely to perform well and increase in value once on the open market include utility, a doxed team, and community.
The only drawback to investing in crypto presales is that actually finding them can be rather time-consuming. However, this burden can be lessened easily.
Linking to our previous crypto trading tip, joining a crypto group like the Jacob Bury Discord or the B2C Telegram can make it easy to find new presales as well as the best crypto ICOs.
Both groups spoke about TAMA and IBAT well before they announced exchange listings and with the team's behind each contently researching, the next big presale could be announced at any time.
Currently, the group has outlined two projects with immense upside potential - Wall Street Memes and Bitcoin BSC.
Wall Street Memes: Community-Backed Meme Token with Staking APY of Over 50% That Raised Over $25 Million In Presale
Wall St Bulls, originally known for its Ethereum NFT collection, has entered the meme coin market with its Wall Street memes (WSM) token.
With a combined social media following of over one million across platforms like Twitter and Instagram, the project leverages an established community as it expands into the crypto ecosystem.
Launched in May 2023, the $WSM token presale is in its final stage, set to close on September 25. The project has already secured over $25 million, indicating strong investor interest. An Initial Exchange Offering (IEO) on top-tier exchanges is expected soon after.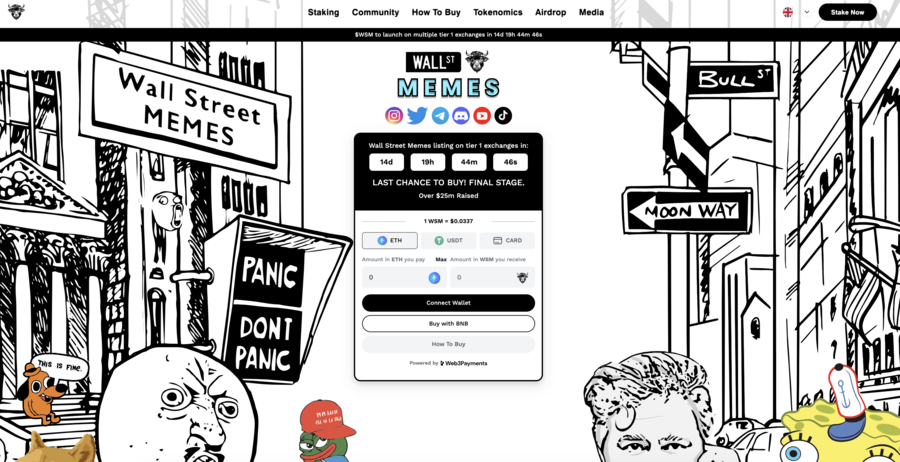 According to the Wall Street Memes whitepaper, WSM's total token supply is 2 billion, entirely community-allocated.
Half of this supply is reserved for the presale, while the remainder is distributed between community rewards and liquidity pools.
Additionally, there is no team allocation, highlighting the project's community-driven nature. Investors can also generate passive income through staking, with an estimated APY of over 50% at the time of writing.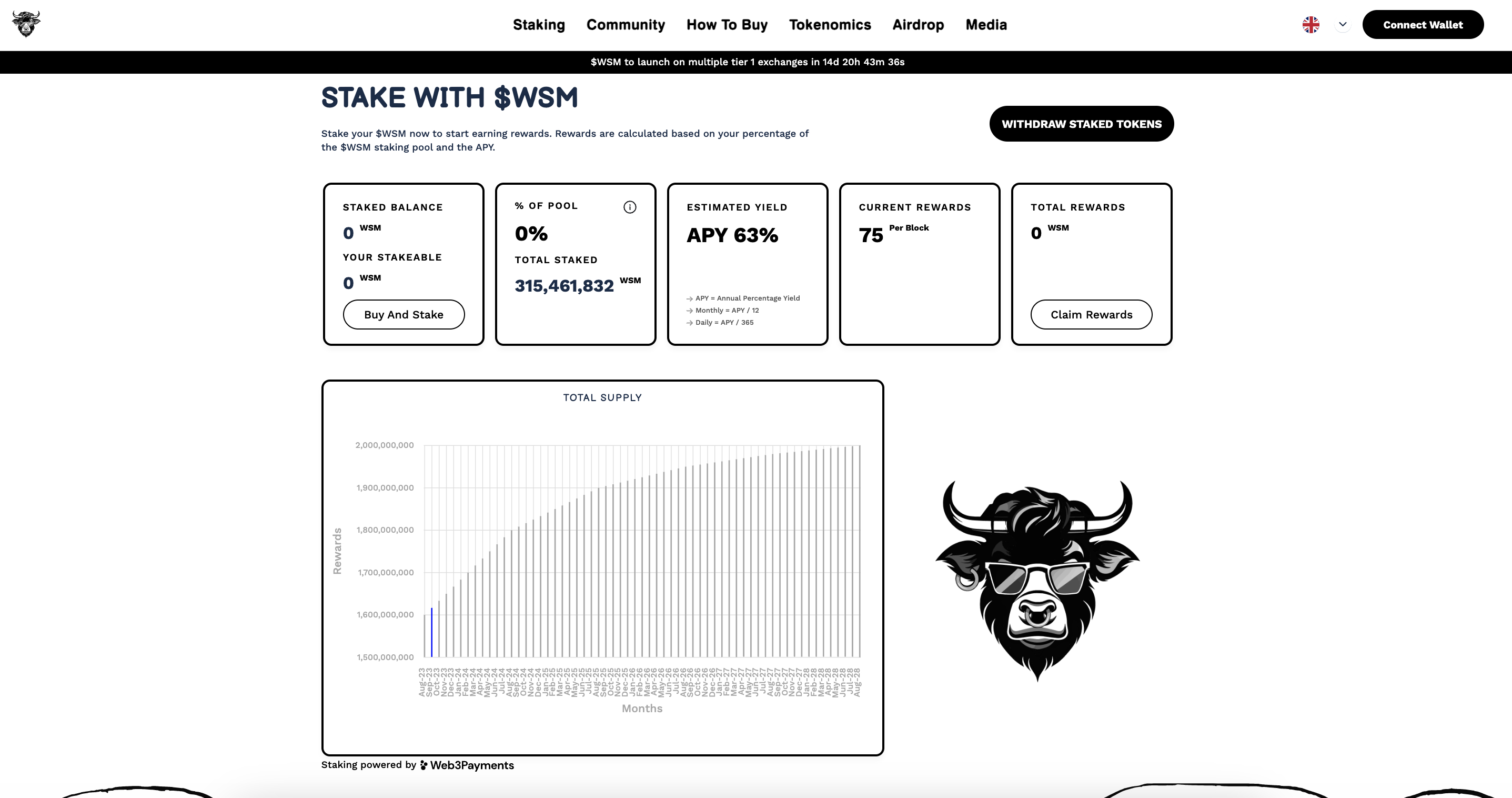 Moreover, Wall Street Memes has caught the attention of high-profile individuals like Elon Musk, who interacted with WSM on X (previously Twitter).
Its strong digital footprint makes it a probable candidate for listings on major exchanges, including Binance and Coinbase.
Also, to celebrate the presale, a $50,000 airdrop is planned. Participants can join the Wall Street Memes Discord and follow its various social media platforms for a chance to win a share.
You can enter the Wall Street Memes Telegram channel for the latest news.
| | |
| --- | --- |
| Presale Started | 26 May 2023 |
| Purchase Methods | ETH, USDT, Credit Card |
| Chain | Ethereum |
| Min Investment | 100 $WSM |
| Max Investment | None |
Bitcoin BSC: An Eco-Friendly and High-Rewarding Staking Token on Binance Smart Chain, Raised $3.4 Million
Bitcoin BSC (BTCBSC) is a hot new staking token gaining traction with its initial presale success. Within just over two weeks of its presale, the platform raised over $3.4 million.
This highlights strong investor interest, especially considering the optimism surrounding Bitcoin alternatives, like the Ethereum-based BTC20, which experienced a 7x price increase post-listing.
Offered at a mere $0.99 per token during the presale, BTCBSC maintains an initial circulating supply of approximately 6.125 million tokens. This creates a lower barrier to entry for investors.
The project's total supply mirrors Bitcoin's cap of 21 million, with 4 million tokens offered in the first round of presale and an additional 2.125 million reserved for the next round, which will begin soon.
The eco-friendly platform offers quick rewards using a Proof-of-Stake (PoS) model instead of Bitcoin's Proof-of-Work (PoW).
Per the Bitcoin BSC whitepaper, token holders earn yields every 10 minutes, aligning with each block's confirmation. This system ensures a long-term investment by offering rewards proportionate to one's stake in the pool.
At the time of writing, the APY exceeds 150%, although it's expected to decrease as more tokens join the pool.
BTCBSC operates on the Binance Smart Chain, resulting in quicker, less expensive transactions than traditional platforms like Bitcoin or Ethereum. Plus, any unsold tokens from the presale return to the staking pool, ensuring maximum utility.
A noteworthy feature is the project's 120-year staking structure, aimed at sustainability and aligning with Bitcoin's long-term vision.
Potential buyers can join the Bitcoin BSC Telegram channel for real-time news and developments.
| | |
| --- | --- |
| Presale Started | September 5 2023 |
| Purchase Methods | ETH, USDT, BNB, Credit Card |
| Chain | BNB Smart Chain |
| Min Investment | $10 |
| Max Investment | None |
3. Join a Crypto Signals Group - Save Time and Get Great Trade Setups
While joining a crypto Discord server or Telegram channel is an excellent way to learn about cryptocurrency and find exciting new projects, joining a dedicated crypto signals group like CryptoSignals.org is perhaps the best way one can improve their skills as a trader.
The best crypto signals groups often yield impressive returns for users as they tend to be created by or contain extremely knowledgeable traders that constantly monitor the charts for potential setups. As not everyone has the time required to watch charts all day, these groups offer a simple way to get access to top setups without dealing with the boring stuff.
The CryptoSignals platform provides roughly 2-3 carefully curated signals every single day, meaning that there will always be ample opportunity to profit from the group. Furthermore, with an 82% success ratio, the group has already provided its users with a plethora of actionable trades that yielded some great returns.
Overall, while not everyone is able to dedicate the time to watch a multitude of charts in order to find interesting setups, joining a crypto signals group can prove immediate access to the best trades without requiring lengthy research. As such, these groups are perfect for those learning or trading alongside a full or part-time job.
4. Try Copy Trading - Automatically Mirror the Trades of Other Users to Trade Automatically
Copy trading is sometimes referred to as social trading and involves mirroring the traders of another user in order to earn a profit. Typically, a copy trading platform will allow users to automatically copy the trades another user executes will customizing factors like trade size. This concept has been a huge hit, with global brokers like eToro implementing it directly into their platforms.
One of the best crypto trade tips out there is to use copy trading to your advantage. Over the past few years, copy trading has risen in prevalence massively as an increasing number of people have been looking toward methods for streaming the trading experience.
Out of all the copy trading platforms on the market, eToro is perhaps the best. The broker allows users to search for traders and view their win rate on trades. This gives the user far more control over their trades while incentivizing those registered as copy traders to only engage in solid trades to avoid negatively impacting their ratings.
While copy trading does, of course, help users to earn a profit from crypto with minimal effort, that's not all. People learning to trade can use copy trading platforms to learn which strategies work without spending large sums testing . This is a huge help for new traders to anyone simply attempting to minimize risk. Therefore, it's worth trying copy trading to see how it works.
5. Practice Trading on a Demo Account - Learn the Ins and Outs of Trading while Conserving Funds
Learning to trade can be difficult and costly. Many beginner traders are afraid to get started for fear of losing money and understandably so. It's almost guaranteed that someone new to trading will make a few bad calls. However, this doesn't have to be the end of the world. By utilizing demo accounts, people are free to practice without the worry of losing their funds.
There is no shortage of brokers that offer a demo account for users, however, surprisingly few traders actually make use of them. While it can be easy to get caught up on the idea of making money, conserving funds is just as important (more on that later). As such, demo accounts are invaluable tools that are worth considering.
While some might think that practice accounts are only for beginners, that couldn't be further from the truth. Even experienced traders need to test out new strategies before fully deploying them and demo accounts make for the perfect testing grounds.
Although it can be tempting to jump straight into the world of crypto trading, it's rarely the right call. It's a far better idea to take heed of some of our crypto day trading tips and practice using a demo account prior to parting with real money.
6. Learn About the Wider Economy - Understand What Drives the Market to Benefit Decision Making
Regardless of what some die-hard crypto fanatics might have beginners think, cryptocurrency is a financial market like any other. As such, learning about how the economy works and what causes markets to move can be immensely valuable.
While there is an uncountable number of factors that influence the cryptocurrency market, some have more impact than others. For example, it's crucial for a trader to understand the effects of inflation as it has a large impact on consumer spending and the value of base currencies like the dollar.
Learning about factors that affect the wider economy as well as other financial markets is key to truly understanding what drives the value of cryptocurrency. Furthermore, it has the added bonus of improving a trader's financial literacy helping them to make better-informed decisions regarding things like saving as well as trading and investing.
7. Understand the Technology - Crucial to Appreciating the Merits of Cryptocurrency
At its core, cryptocurrency is a piece of technology. However, far too few people actually understand what cryptocurrency is, how it works, and what makes a specific project good and instead view the asset class as nothing but an investment vehicle. It goes without saying, lacking knowledge on the aforementioned topics can lead traders to make poor decisions.
In order to avoid any unfortunate incidents that may arise from a lack of knowledge on the technology that powers crypto, it's worth brushing up on topics like distributed ledgers, what a blockchain is, how transactions are validated, consensus mechanisms (e.g. proof of work, proof of stake, etc) and how smart contracts work.
While it's true that cryptocurrency is a complex topic with a lot of moving parts, understanding even the basics outside of its merits as an investment can put a trader or investor on the path to success. There is a plethora of crypto educational resources out there so it's worth taking the time to research in order to unlock new opportunities within the space.
8. Risk Management - Knowing How to Conserve Funds is Equally as Important as Making Profit
As we briefly touched on earlier, understanding risk management is equally as important as understanding how to find the best crypto to buy. Again, risk management can be a complex topic but being aware of the basic concept can help take a person's trading prowess to new heights.
Understanding risk vs reward is one of our favorite tips for crypto. Every position has a potential upside and downside. As a trader, it's important to ensure that a position has ample risk vs reward. A common measure is a 2:1 ratio in favor of reward (e.g. earn $10 while risking $5). Other important risk management concepts include diversification and trading within a budget.
While making a profit is perhaps the most fun aspect of trading, minimizing losses is what helps to make a trader great. To enjoy continued, long-term success the concept of risk management is crucial to understand and should never be overlooked.
9. Utilize Trading Bots - Automate Trading Strategy using Robots
Cryptocurrency and robots are two of the most exciting technologies in the modern world. As such, combining both makes for an interesting proposition. Some of the best crypto apps will allow people to create robots that trade automatically and adhere to a specific buying and selling strategy, effectively allowing people to trade autonomously.
With this in mind, one of our top crypto tips is to utilize the best crypto trading bots in order to create passive income streams. Many popular exchanges allow users to create their own bots using predetermined strategies like grid trading, meaning it can be surprisingly simple to get started.
While it's important to be aware that successfully using a crypto bot will require an already tried and tested profitable trading strategy, once set up they require minimal maintenance(unless something affects the strategy). Therefore, learning how to use crypto bots is one of the best crypto trading tips for making life that little bit easier.
10. Create and Stick to a Strategy - Following a Specific Strategy is Important for Long-Term Growth
Next on our list of the best crypto tips is sticking to a strategy. Fear, uncertainty, and doubt (FUD), alongside the fear of missing out (FOMO) are two of the most common factors that can influence a trader into making poor decisions. However, following a predetermined strategy can help to eliminate these issues.
Having an open position can be rather stressful. Nobody wants to see their funds evaporate due to unforeseen circumstances, but it's crucial to not act rashly. Creating and adhering to a trading strategy is crucial to safely trading and bolstering long-term portfolio growth. While it's important to make sure a certain strategy is actually working, sticking to can improve a person's trading tenfold.
Not everyone will trade in the same way so one of our most important cryptocurrency trading tips is to find a strategy that works and stick to it. This goes hand in hand with minimizing risk and can often make a far larger difference than most people anticipate.
Conclusion

Throughout this guide, we've revealed some of the best crypto trading tips that can be employed easily while yielding impressive results. Each of the top crypto tips that we've discussed is great on its own but when paired with joining a reliable crypto Discord or Telegram group, improves exponentially.
The Jacob Crypto Bury Discord group is a hub for traders, investors, and crypto enthusiasts everywhere. It has provided investors with early calls on some of the year's hottest crypto presales like Wall Street Memes and Bitcoin BSC. With Bury providing members with a plethora of invaluable information, there's no reason not to join the group and see what all the fuss is about.
Join the Jacob Crypto Bury Discord
FAQs
How do you get good at crypto?
There's no mystical secret to getting good at crypto. Two of the most important factors are not getting deterred by losses and constantly seeking out knowledge. As such, educating yourself and persevering through any missteps are two of the best crypto tips for real results.
What are some good tips for trading crypto?
While we've provided 10 of the best crypto tips, a few will likely lead to noticeable results far quicker than others. Joining a powerful crypto community like the Jacob Crypto Bury Discord will immediately help to improve decision-making. Additionally, investing in crypto presales can offer some of the best opportunities for growth in the market.
---