11 Best TikTok Crypto Influencers & Accounts to Follow in 2023
Disclosure: Crypto is a high-risk asset class. This article is provided for informational purposes and does not constitute investment advice. By using this website, you agree to our terms and conditions. We may utilise affiliate links within our content, and receive commission.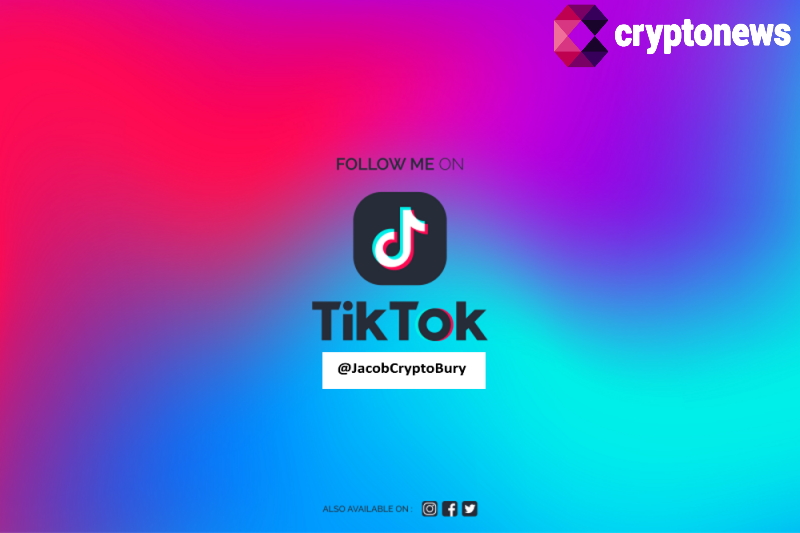 Disclaimer: The Industry Talk section features insights by crypto industry players and is not a part of the editorial content of Cryptonews.com. 
Over the prior couple of years, TikTok has seen a high demand for 'FinTok' videos. This corner of TikTok provides educational content on financial investments – which includes everything from traditional savings accounts to cryptocurrencies. 
In this guide, we've compiled a list of the best TikTok crypto influencers to follow in 2023. The TikTok accounts discussed make it easy and engaging for young audiences to learn about the crypto landscape. 
Best 11 TikTok Cryptocurrency Influencers Ranked 
Here are the best TikTok crypto accounts to follow right now:
Jacob Crypto Bury – Overall Best Crypto TikTok Account to Follow
CryptoProjects – TikTok Crypto Account for Fundamental Analysis
CryptoMasun – Popular Crypto Influencer Offering Market Insights
Cryptocita – Best TikTok Account for Crypto Miners
nft.Degen – Crypto Channel for NFT Investors
Cryptowendyo – Crypto Influencer To Follow for Investment Tips
Virtual Bacon – Best TikTok Crypto Account for Beginners
Cryptomanran – TikTok Channel For Tracking Crypto Market Trends
RealBitBoyCrypto – TikTok Account to Follow to Spot Trending Cryptos
Performante – TikTok Channel To Learn About Cryptocurrency
MacNCheeasy – Crypto Influencer Covering Web3 Space
When it comes to financial advice, it is important to listen to the right people. 
As such, investors should consider reading this guide in its entirety to learn more about the top TikTok influencers listed above.  
Best Crypto TikTok Accounts Reviewed
With over 1 billion daily active users, TikTok is arguably one of the most popular social media platforms of today. Many crypto-enthusiasts use TikTok crypto accounts to try and find the best cryptos to invest in right now. 
However, the main attraction of this platform is its content format – short, stackable, and easily understandable. 
Nevertheless, on TikTok, it can be hard to identify experts who are qualified enough to offer crypto investment insights. 
Therefore, in the sections below, we have rounded up the best crypto TikTok accounts not only based on the number of followers but also on the quality of the content. 
1. Jacob Crypto Bury – Overall Best Crypto TikTok Account to Follow
Jacob Crypto Bury is a relatively new crypto influencer on TikTok. He has approximately 1.3k followers and 13k likes as of writing. However, Jacob Bury has made many crypto recommendations in the past that have turned out to be lucrative for his followers. 
For instance, Bury did a bunch of videos on new cryptocurrencies to hit the market in – such as Bitcoin ETF Token, Wall Street Memes and Bitcoin Minetrix. And interestingly, the aforementioned digital coins went on to have hugely successful launches.
In fact, Wall Street Memes raised over $25 million dollars in its presale. As such, this is one of the best crypto presales of the year. Similarly, Bitcoin ETF Token and Bitcoin Minetrix have also gained popularity since their presale launches, raising over $200,000 within the first few days of the presale. 
Bitcoin ETF Token – This is the latest token presale aiming to reward holders based on events around the spot Bitcoin ETF approval by the SEC. With each milestone reached around the ETF approval, the team will burn 5% of the total token supply until they burn a total of 25%. The milestones include the ETF approval, the launch of the first spot Bitcoin ETF and reaching $1 billion in assets under management in these Bitcoin ETFs.
What's more, you can earn a massive staking APY of 2,000% during the early stages of the presale. This number will drop as more tokens get staked, which makes it prudent to stake early to take advantage of these rewards.
During the presale, there will be 10 stages where each stage will slightly increase the token price, starting from $0.0050 per token for the first stage. If you're looking to buy this presale, buying and staking early is likely to yield the highest rewards.
Bitcoin Minetrix (BTCMTX) – This is a relatively new presale that has raised nearly $600k within a week, and offers a generous 1,106% APY, at the time of this writing.
It offers a simple and low cost way to cloud mine Bitcoin, an industry known for high levels of centralization and lots of untrustworthy providers. Bitcoin Minetrix allows users to retain full control of their operations through the use of non-transferrable ERC20 cloud mining credits.
The user has full oversight over the mining project through an integrated and intuitive dashboard, where they can choose to burn, stake, or withdraw. This dashboard also allows them to see daily, weekly, and monthly rewards, as well as other key metrics.
The upfront cost is just $10 and this could be a great way to passively earn BTC. The token currently trades at a discount, at  $0.011, in its first state. This will rise to $0.0119 by stage 10, the final stage. 
Wall Street Memes – Wall St Bulls recently launched Wall Street Memes ($WSM), quickly gaining traction with a $300K first-day presale and over $25M raised so far. The presale is finished, being one of the most successful of 2023, and is now live on the OKX exchange, among others. 
Building on prior success with over a million-strong social following, WSM is an exciting new entry in the booming meme coin market. Furthermore, Elon Musk's interactions with the project on Twitter add to its charm.
The token supply is capped at 2 billion, with a presale allocation of 50%. The remaining tokens are split between community rewards (30%) and liquidity (20%), with no team allocation, reducing rug pull risks. Staking offers an APY above 50%, appealing to long-term investors.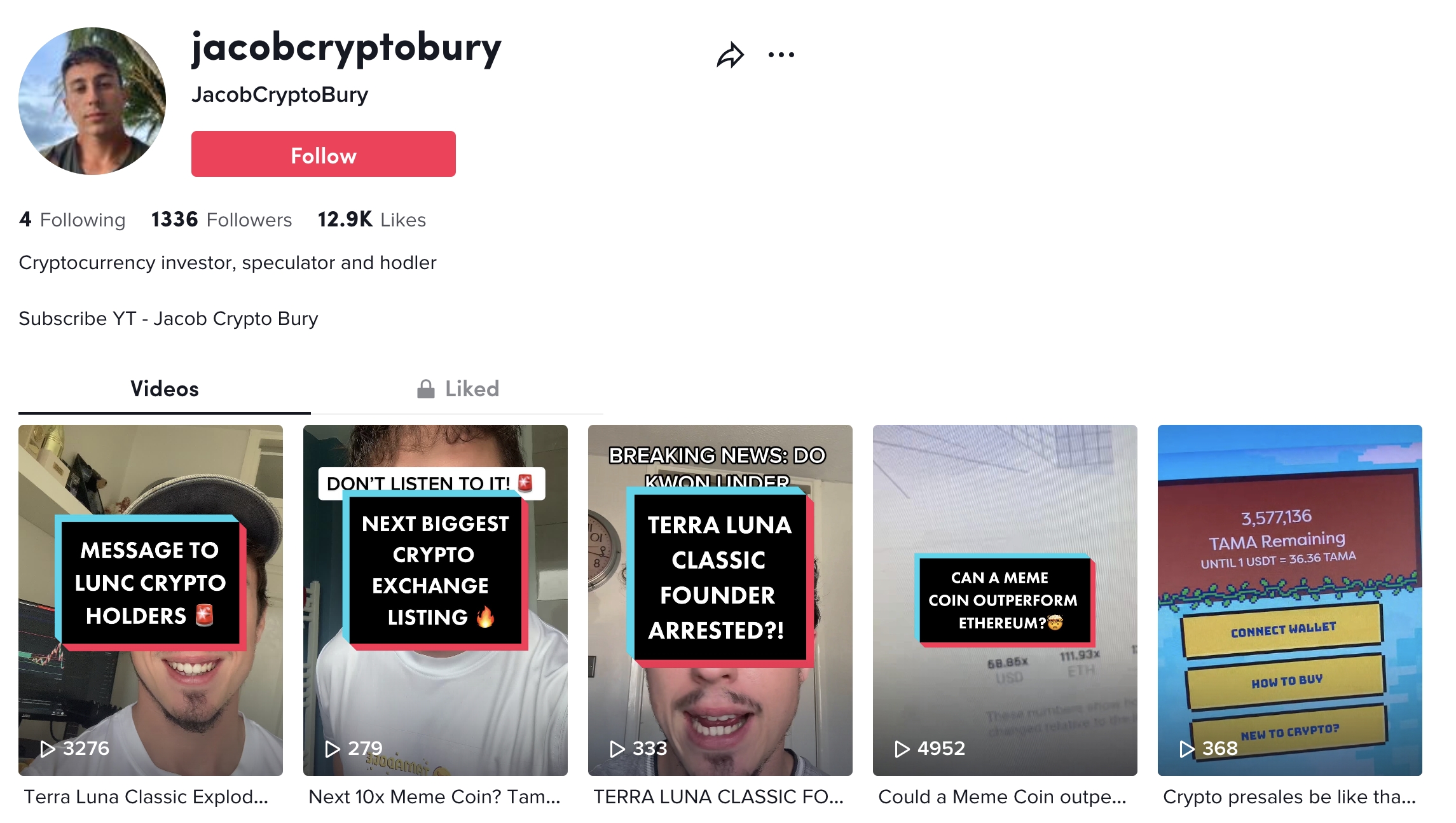 So, in light of the success of the aforementioned projects, it could be wise to follow Bury's TikTok channel to identify the next big launch in the crypto market.
In addition to this, Jacob Bury's content is beginner-friendly. He keeps his videos short but they still include essential information about the crypto in question. Notably, Bury has a background as a tech analyst, and as such, he does a great job in breaking down market data. 
In addition to his TikTok account, Jacob Bury has a popular crypto YouTube channel under the same name. There, the videos are longer and offer in-depth information about the crypto market. He also offers the best crypto Discord group and engages with his followers and sends market alerts. 
2. CryptoProjects –  TikTok Crypto Account for Fundamental Analysis
With over 1.4 million followers, CryptoProjects is one of the most popular crypto TikTok channels in the market. This account is best suited for those seeking a professional perspective on the crypto space. 
The channel regularly uploads videos on the fastest-growing cryptocurrencies to keep an eye on. As such, following this channel is a great way to learn about emerging cryptos. 
However, instead of going into detail with technical analysis, the host provides information about the technology and use cases of the respective project.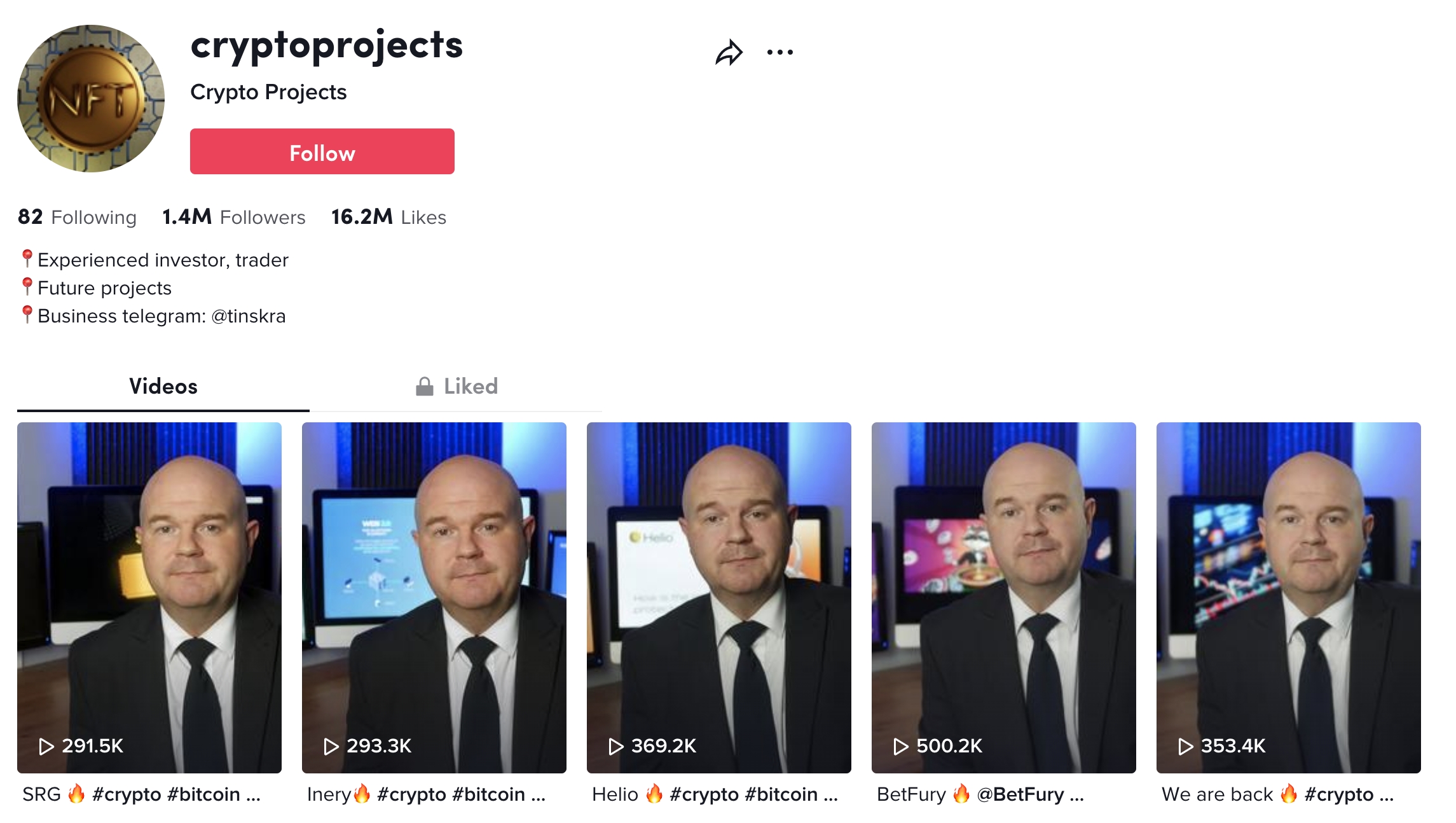 In other words, followers will be able to get a quick overview of the crypto token without having to do any legwork. And if the prospect of a digital token seems interesting, investors can do their research to consider it as an option for their portfolio. 
However, videos often include crypto jargon, and given this, CryptoProject caters primarily to those who have a basic understanding of the blockchain industry. 
3. CryptoMasun – Popular Crypto Influencer Offering Market Insights
Mason Versluis is one of the best TikTok crypto accounts to follow to learn about the latest trends and developments in the market. His account has over 1.2 million followers and offers a wide variety of content – stretched across different niches within the crypto market. 
For instance, Versluis often uploads videos that reference a news article and explain how the event can impact the crypto market. Additionally, he explores the different cryptocurrencies available in the market and evaluates their prospects. 
This channel also analyses the price movements of various digital tokens and speculates on their future price direction. In addition to TikTok, CryptoMason is also popular across other social media platforms, such as YouTube, Twitter, Discord, and more.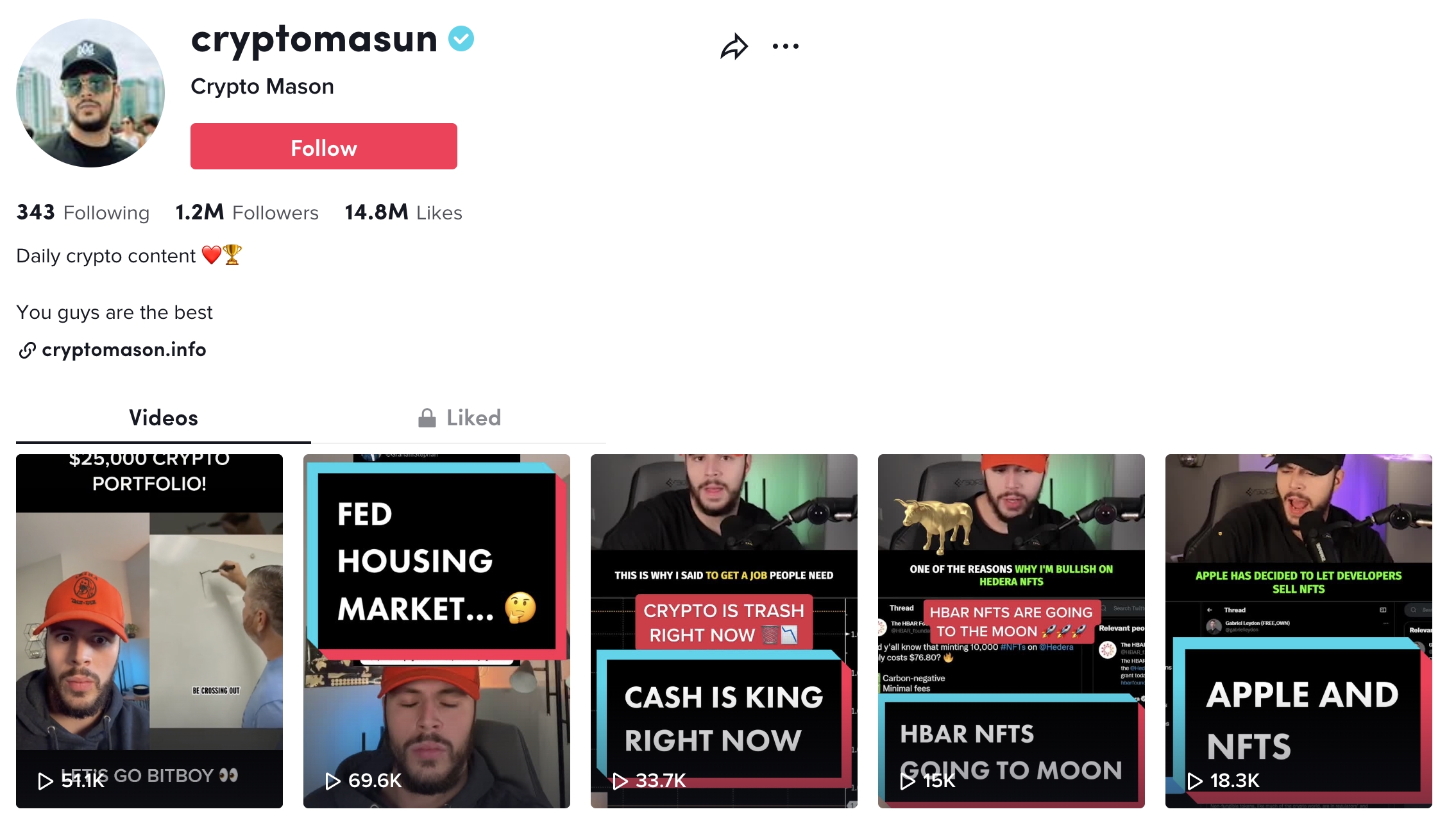 All that being said, bear in mind that Mason Versluis's content comprises his own opinions and personal takes on crypto market trends. Put otherwise, the videos might not be completely unbiased. 
Nevertheless, he offers helpful insight and nifty investment advice, which crypto traders might find very useful. 
4. Cryptocita – Best TikTok Account for Crypto Miners
Alina Pak has won her audience with humorous yet insightful crypto commentaries. Today, with over 720k followers, Pak is one of the best TikTok crypto influencers of 2023. Her content focuses mainly on technology and crypto mining. 
Having said that, don't be surprised if Pak uploads random lifestyle TikToks occasionally. Regardless, her videos reflect her expertise in technology and crypto mining.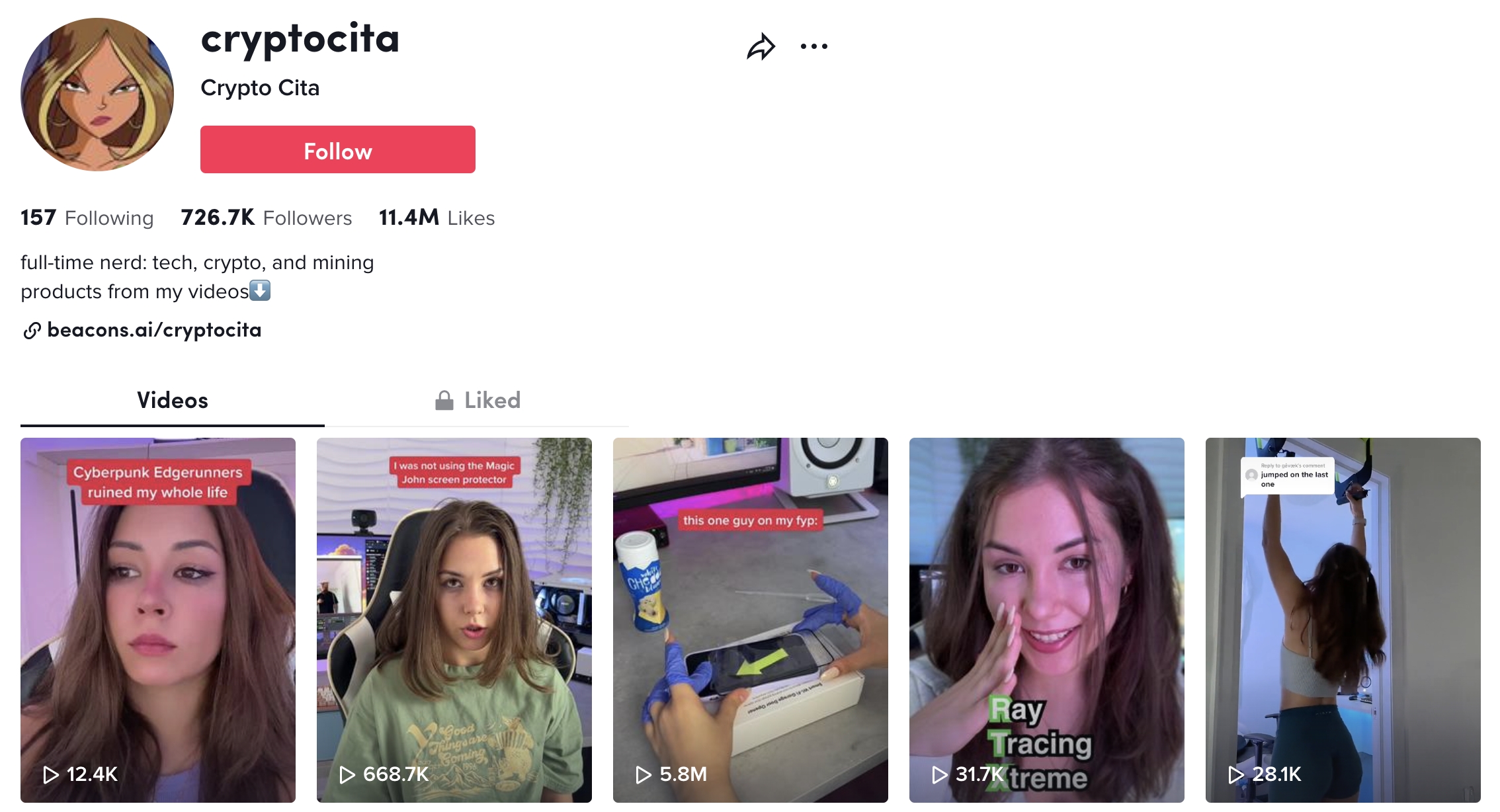 She often discusses what kind of tech to use in order to get started with mining or how to assemble different equipment, which can be interesting for not only crypto enthusiasts but also tech buffs. 
And importantly, her videos are engaging and fun to watch. Her content appeals to both seasoned traders and beginners alike. In addition to offering educational videos, CryptoCita also reviews top crypto lending startups, trading platforms, and other related services. 
5. nft.Degen – Crypto Channel for NFT Investors
Although there are plenty of channels focusing on cryptocurrencies, when it comes to NFTs – nft.Degen is the top player in this space. The channel has over 1.3 million followers and more than 12 million likes. 
This channel can be used to identify the best NFTs emerging in the market. The videos discuss what's unique about the respective NFT project and why investors might want to consider making a purchase.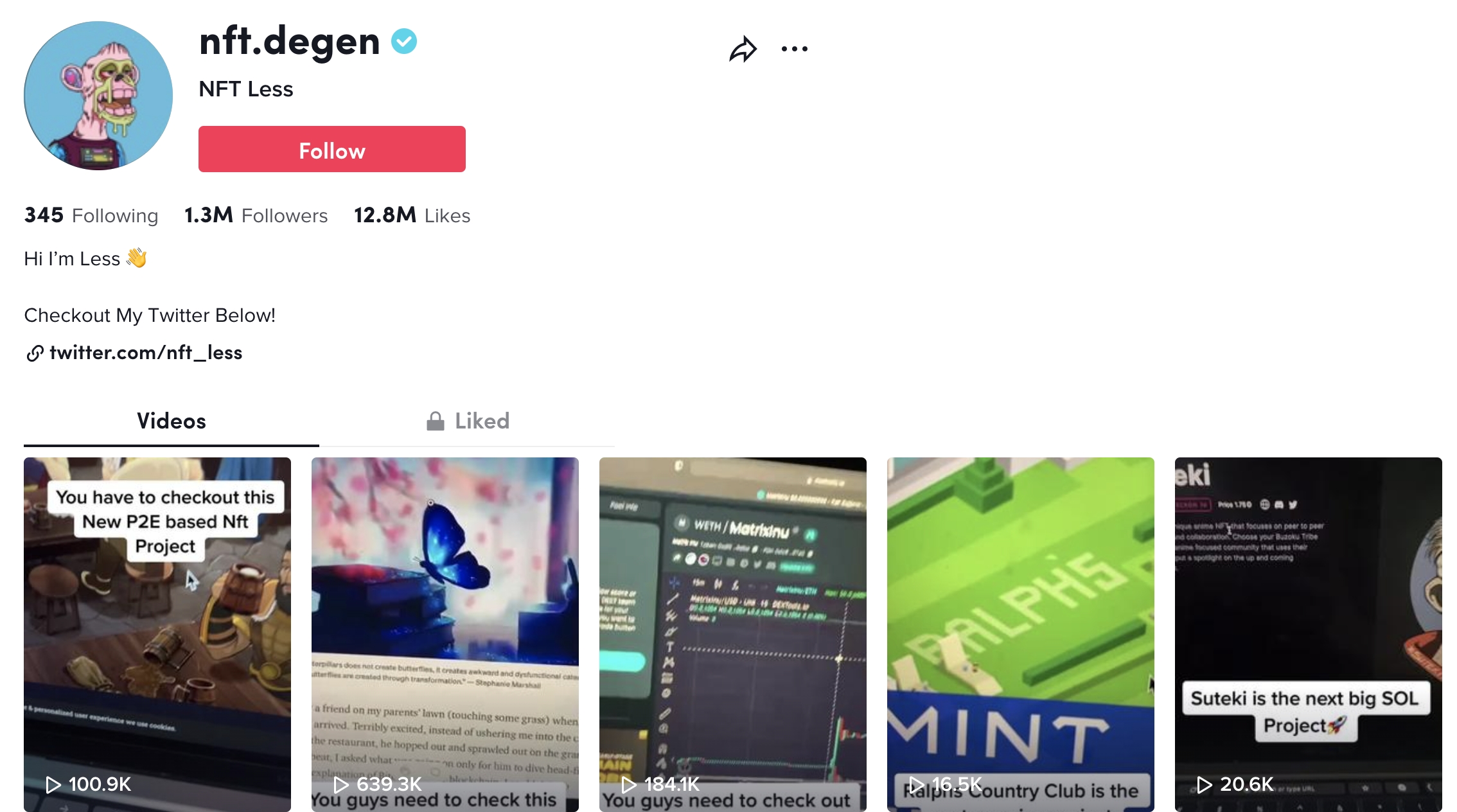 While nft.Degen primarily caters to the NFT community, there are also videos on the best metaverse coins in the market. This makes sense, as many top crypto projects require investors to use their native digital tokens to purchase metaverse-based NFTs. 
However, the insights offered are limited to fundamental analysis. So, a technical trader interested in the metaverse might need to look elsewhere. 
6. Cryptowendyo – Crypto Influencer To Follow for Investment Tips
Wendy's TikTok account has more than 240k followers as of writing, along with over 2.4 million likes. This crypto-focused TikTok account is an excellent choice for both investors and traders. 
Wendy uses her status as one of the best Tiktok cryptocurrency influencers to create awareness about current opportunities in the crypto market. 
She analyses the price movement of various digital currencies and even offers tips on how investors can place trades to make potential profits. Her suggestions are backed by both technical and fundamental analysis, which investors will find useful.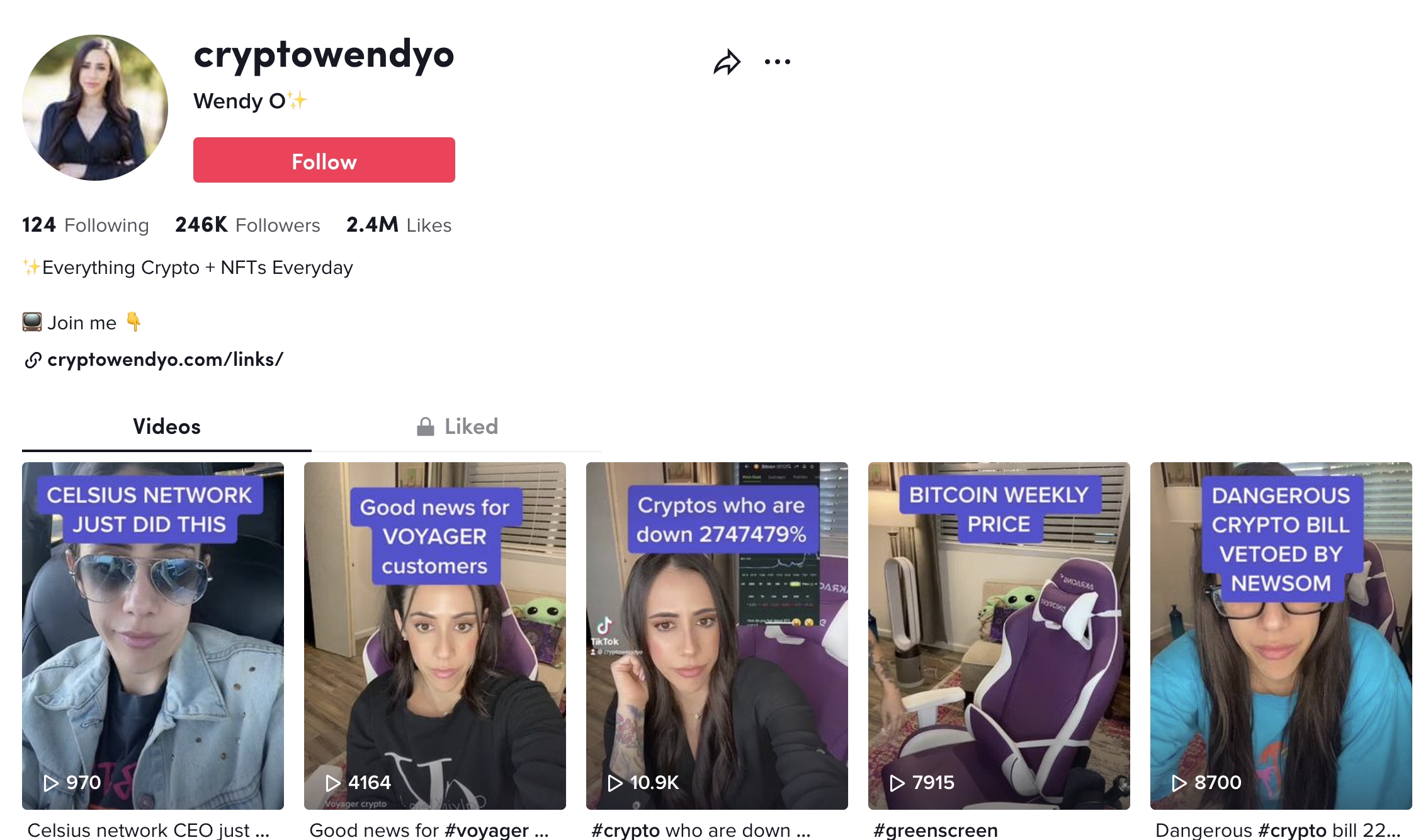 Wendy also shares daily news on trends in the crypto space. For instance, she has done a bunch of videos on how regulatory policies and bills could affect the crypto market – and on the correlation between the US dollar and Bitcoin. 
Investors can also check out Wendy's YouTube channel, where she hosts the 'O Show'. This channel features tons of videos on Bitcoin and other cryptocurrencies in a beginner-friendly manner. 
7. Virtual Bacon – Best TikTok Crypto Account for Beginners
Virtual Bacon's videos are short and to-the-point, which has helped it attain the status as one of the best TikTok crypto accounts to follow now. 
Managed by Dennis Liu, this channel offers explanatory videos in a professional manner. However, Liu manages to make the content beginner and youth-friendly.  Liu offers plenty of insights into the crypto market, and his videos cover topics such as how to pick the right investment product. 
He also explains why he thinks a certain digital token could be the next cryptocurrency to explode – and backs his speculation with sufficient market data.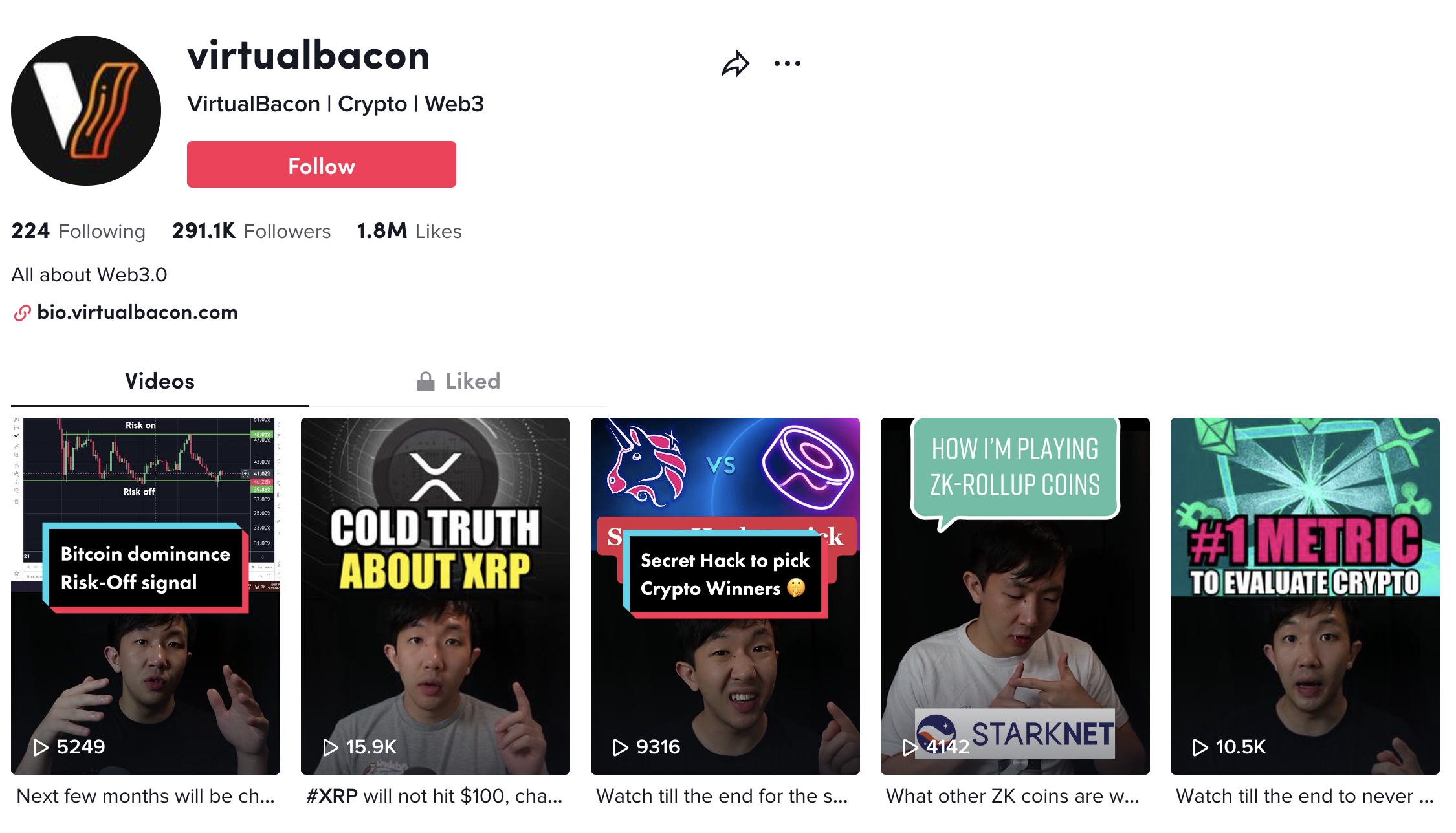 Some of his videos also offer educational value, such as how to use charting tools and technical indicators. Virtual Bacon will appeal not only to beginners but also experienced crypto investors who wish to keep up with the latest trends in the market. 
Virtual Bacon also has a Discord channel that investors can join to receive real-time alerts about cryptocurrencies. As of writing, Virtual Bacon has over 291k followers and around 1.8 million likes. 
8. Cryptomanran –  TikTok Channel For Tracking Crypto Market Trends
Cryptomanran is the TikTok channel of Ran Neuner, the founder of the famous enterprise Crypto Banter. Although his TikTok account has only 15k followers, he has over a million subscribers across YouTube and Twitter. 
Today, he is an independent media personality and an expert in the field of cryptocurrencies. On his TikTok channel, Neuner discusses trading strategies and investment tips and shares his own experience within the crypto market.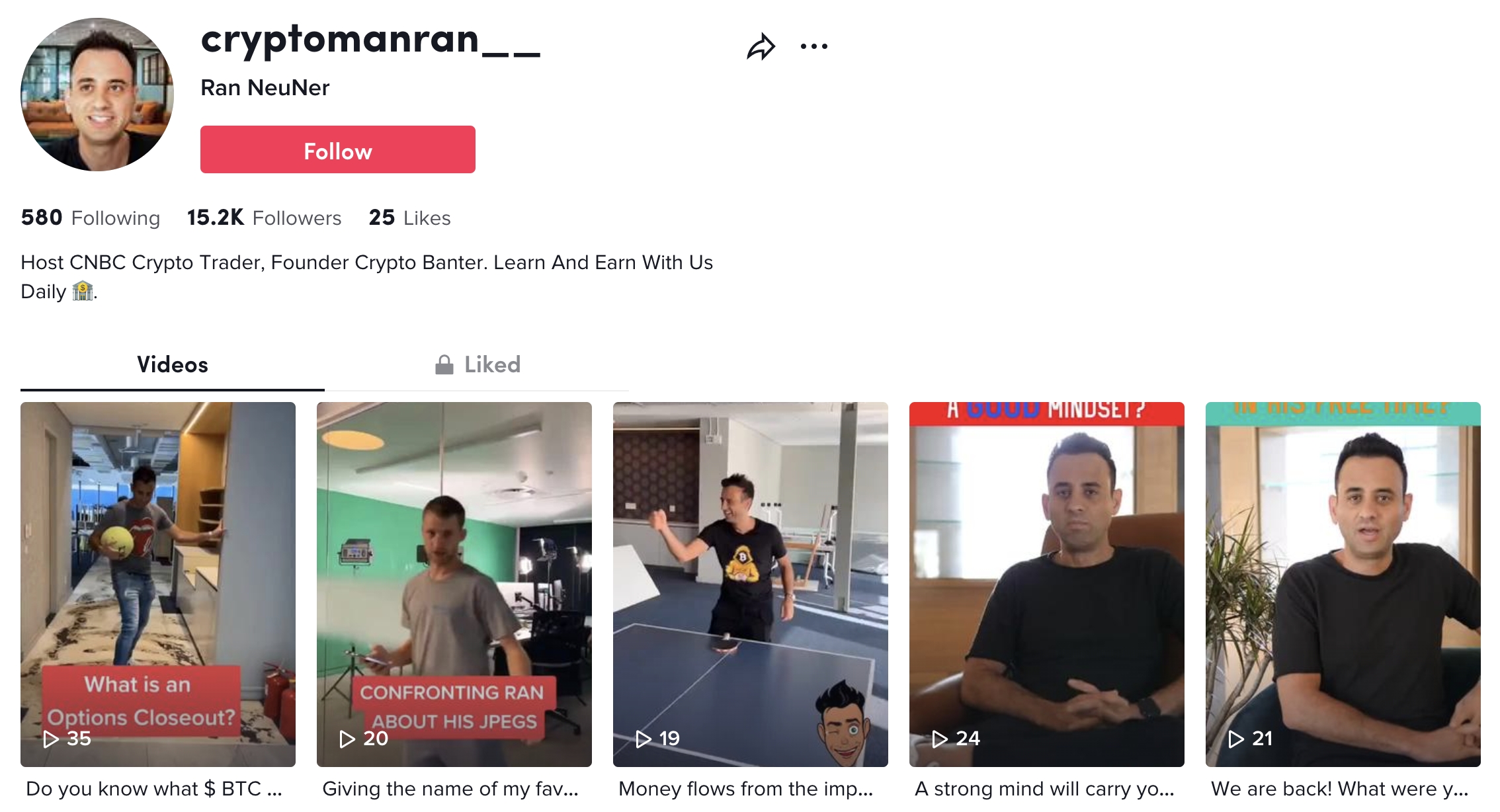 He also analyzes markets, often from a 'HODLing' perspective. So, this would be a channel to follow for those looking to gain ideas on the best long-term cryptocurrencies in the market. 
With that said, we found that his YouTube videos offer more valuable content – especially when it comes to learning the basics of the crypto industry. Nevertheless, Cryptomanran is a good channel to follow to learn about different perspectives on issues surrounding blockchain assets. 
9. RealBitBoyCrypto – TikTok Account to Follow to Spot Trending Cryptos
BitBoyCrypto has already established a strong presence on YouTube as one of the top crypto channels on the platform. The BitBoyCrypto TikTok account is an extension of the YouTube channel, which offers similar content, but in a shorter format. 
The channel is run by Ben Armstrong, an experienced crypto trader and investor. His content expands across crypto market analysis, insights, and his own speculations about the future trajectory of different digital coins.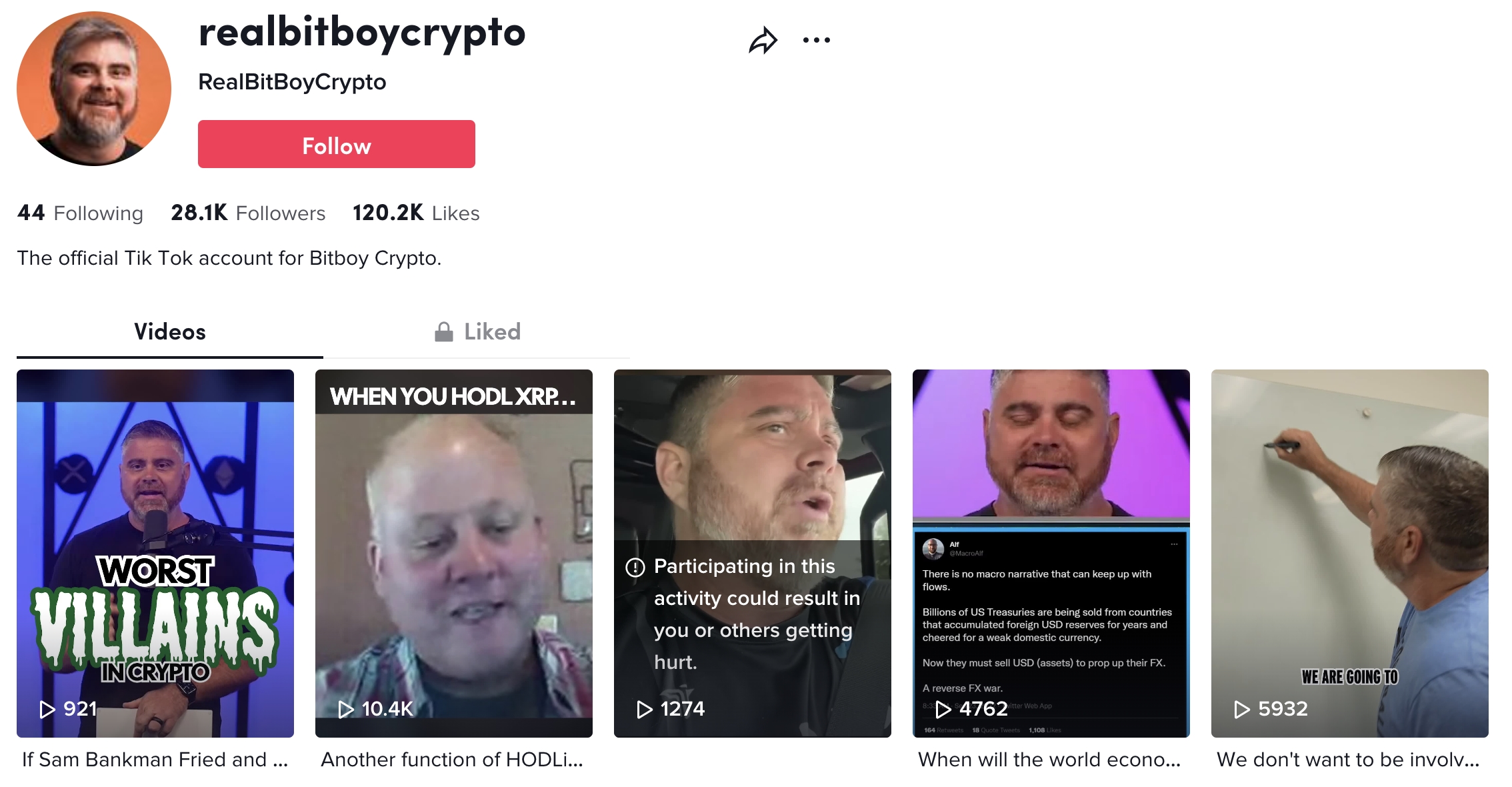 He also discusses new cryptocurrencies that are being launched in the market. 
BitBoyCrypto has essentially become a brand in the crypto space and has a website that offers crypto courses, merchandise, and more. Along with YouTube and TikTok channels, investors can receive market updates from BitBoyCrypto's accounts on Facebook and Instagram. 
10. Performante – TikTok Channel To Learn About Cryptocurrency
Performante is yet another cryptocurrency TikTok account popular among young audiences. It has over 77k followers on the social medial platform and focuses primarily on cryptocurrency trading videos. 
The channel also spreads awareness about doing due diligence before making an investment decision.  Additionally, the channel discusses tips on how to invest in the crypto market, which digital tokens to consider, and what precautions to take.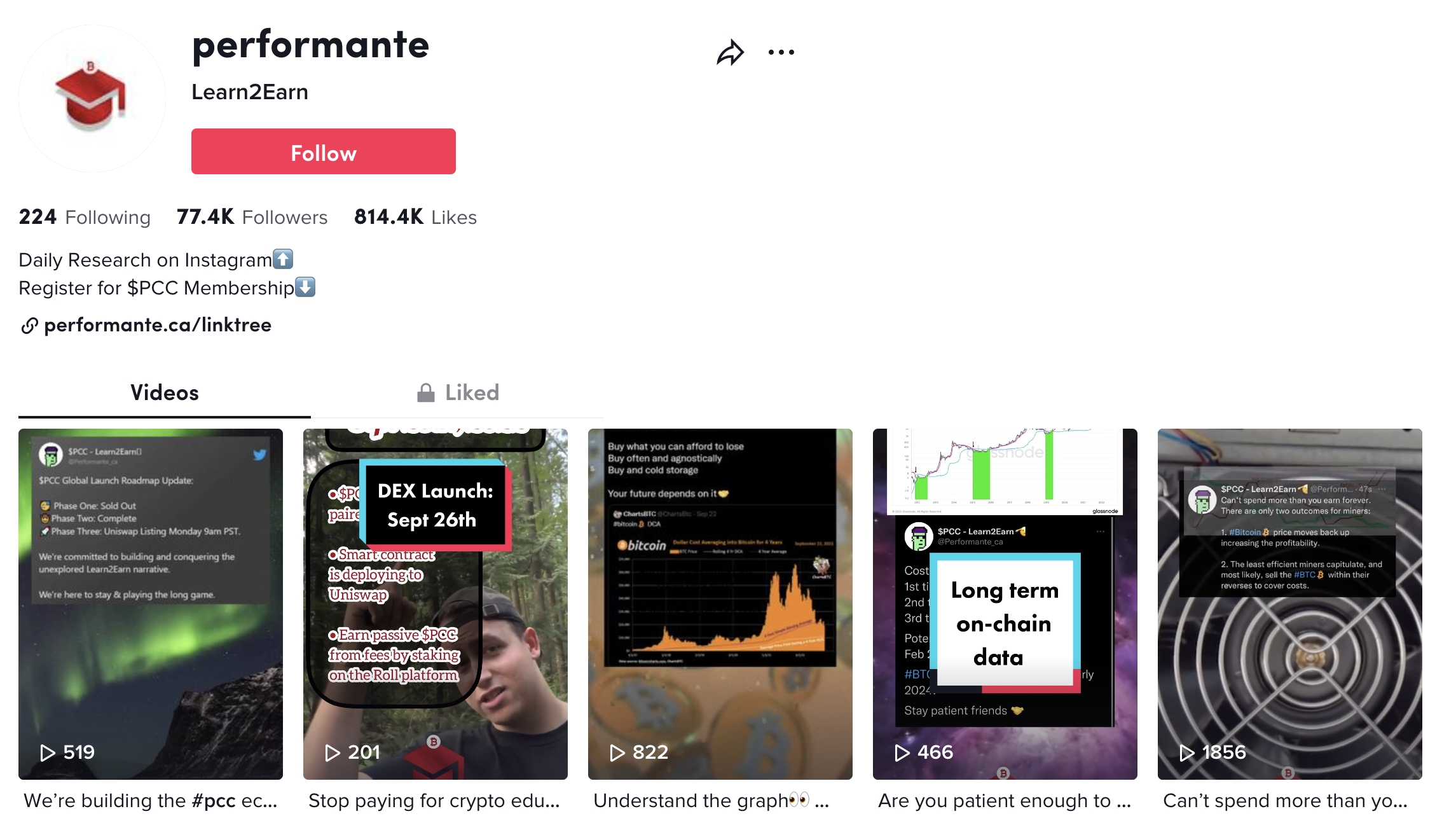 The platform also has active Instagram and Twitter accounts, where it posts daily market analyses. 
Performante's aim is to encourage the 'Learn2Earn' trend. To do that, the channel has set up its own website and even created a native digital token. Interested followers can participate in learning opportunities via the platform's Discord channel. 
11. MacNCheeasy – Crypto Influencer Covering Web3 Space
MacNCheasy is a TikTok influencer who makes content surrounding the crypto market. For instance, MacNCheasy might release a video on Mark Cuban's crypto holdings or how a club in Soho can integrate NFTs to double revenues. 
To be clear, the videos are not exactly focused on investment advice or market analysis.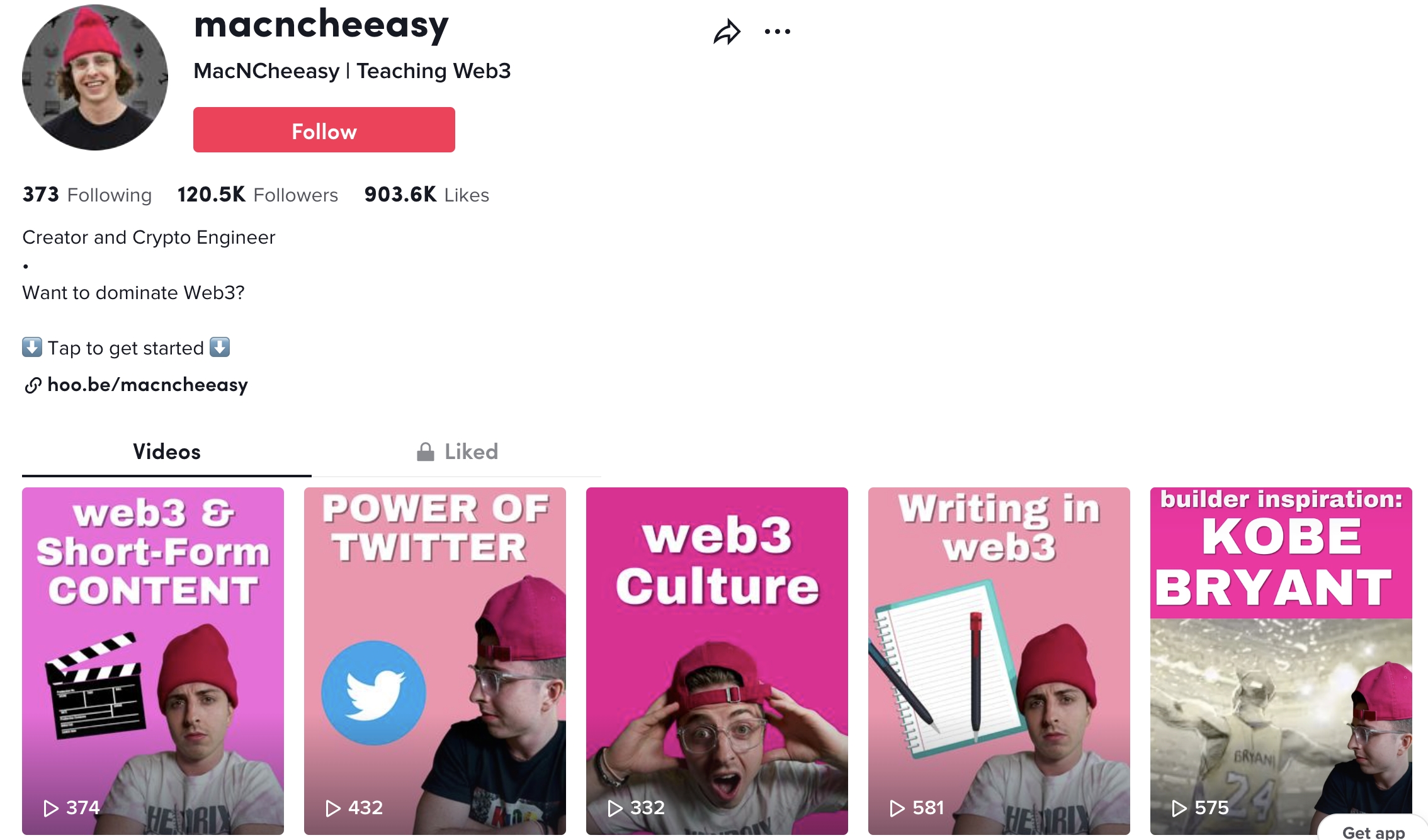 Instead, MacNCheasy delivers interesting facts or news in the crypto market that are relevant to investors. After all, a single Tweet can push digital tokens to the moon these days – so it wouldn't hurt to keep tabs on all aspects of the crypto industry. 
Most MacNCheasy videos are focused on NFTs or top trending cryptos in Web3. As of writing, the account has over 120k followers and more than 900 likes. 
Why Follow Crypto TikTok Influencers?
TikTok was certainly not designed as a platform offering crypto investment advice. Most of the content on this network is lighthearted and created for entertainment purposes – such as viral dance moves and singalongs. 
However, with its increasing popularity, TikTok is being used by creators across the world to target young audiences in a way that appeals to them the most – by offering easy-to-consume content. 
Furthermore, in 2020, the platform launched a #LearnOnTikTok initiative which has further fueled this trend. 
Below, we have summed up the main reasons why TikTok can be a useful channel to learn about crypto. 
Find New Digital Tokens
For a beginner getting into the blockchain space, the most common question is often "which is the best crypto to buy?". There are thousands of cryptocurrencies in the market today – and while some have unique propositions, others are virtually useless. 
Undoubtedly, it can be challenging even for professionals to separate the wheat from the chaff. 
There are, however, several ways to identify cryptos with the most potential. One method is through TikTok. 
As we covered above, the best TikTok crypto accounts help investors spot top new coins emerging in the market like Wall Street Memes and Bitcoin BSC.
This is just one example of how TikTok crypto influencers can direct investors to potential opportunities in the market. However, as with all other asset classes, investors should do their due diligence before purchasing a cryptocurrency – regardless of what TikTok influencers say.  
High Level of Engagement 
The most obvious attraction of TikTok is its content format. Here, the content is offered in short snippets, which keeps viewers engaged – especially from the younger demographic.  
After all, there is no need to go through a one-hour video just to assess whether or not a certain cryptocurrency represents a good investment.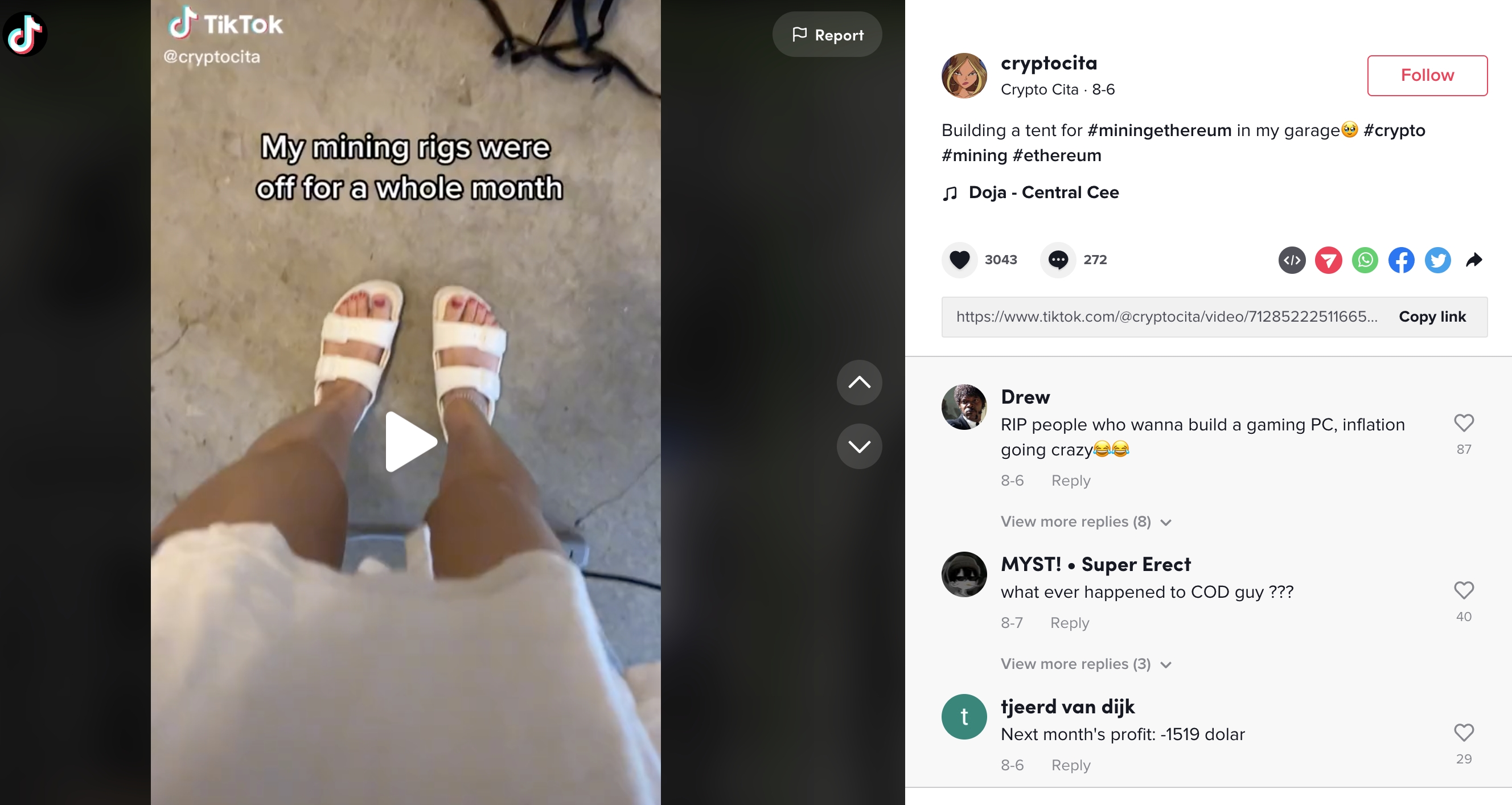 The best TikTok crypto influencers pack the essentials about the chosen crypto token in a one-minute video or less, keeping the content crisp and concise. 
This makes TikTok easy to follow and, perhaps, more appealing to the younger audiences when compared to lengthy YouTube videos. 
Learn About Cryptocurrencies
While TikTok videos might not offer an in-depth course in cryptocurrencies, the content can still pack crucial information by focusing on the fundamentals. On the other hand, the best crypto Telegram groups offer detailed crypto analysis and a platform for social discussion.
While beginners might need to watch many videos to fully understand the technology behind blockchain and cryptocurrency, TikTok still manages to serve the underlying purpose.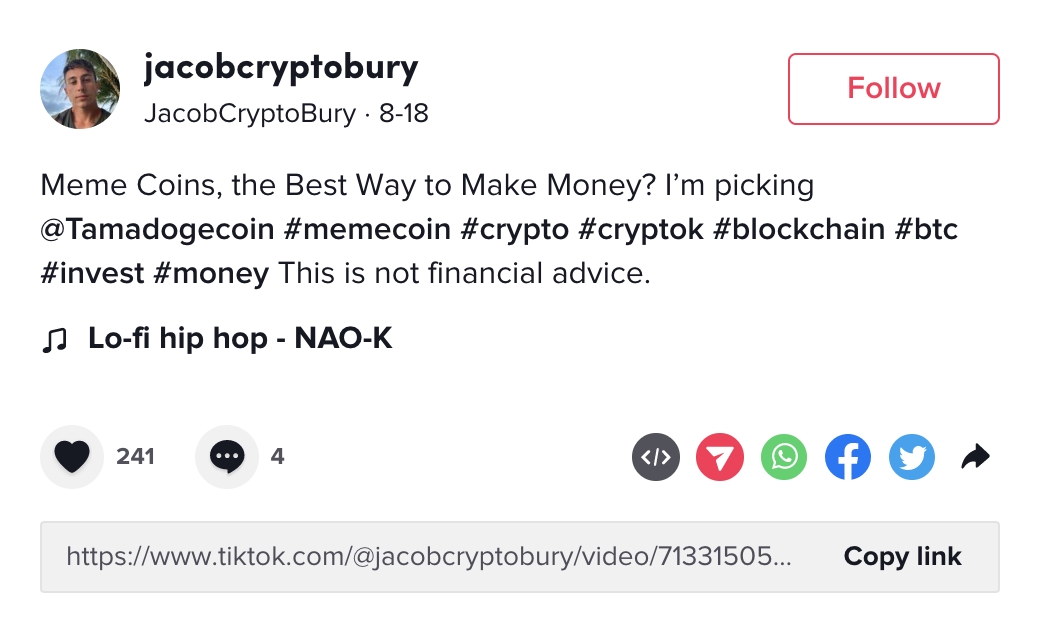 Moreover, many of the best crypto influencers on TikTok also have YouTube channels, which offer lengthier versions of the same content, should viewers require it. 
Crypto Product Reviews
Before making a purchase, consumers tend to watch reviews of the product or service in question. The same applies to the crypto industry. 
For instance, after electing to buy cryptocurrencies, investors will also have to decide on the best exchange for this purpose, the most secure crypto wallet, and more. 
Cryptocurrency TikTok influencer accounts can guide investors in choosing the right products for their needs. 
Choosing the Right Crypto Influencer 
It is no news that anyone can create a TikTok account and start offering crypto trading tips. And not so surprisingly, this degree of freedom has led to many self-proclaimed crypto experts offering their own versions of investment advice. 
And what's more, this huge rise in popularity has resulted in singers writing songs about the niche. Furthermore, the term 'crypto boy TikToks' even managed to be the trend for a while. 
However, unfortunately, not every so-called crypto buff is equipped to offer proper investment ideas.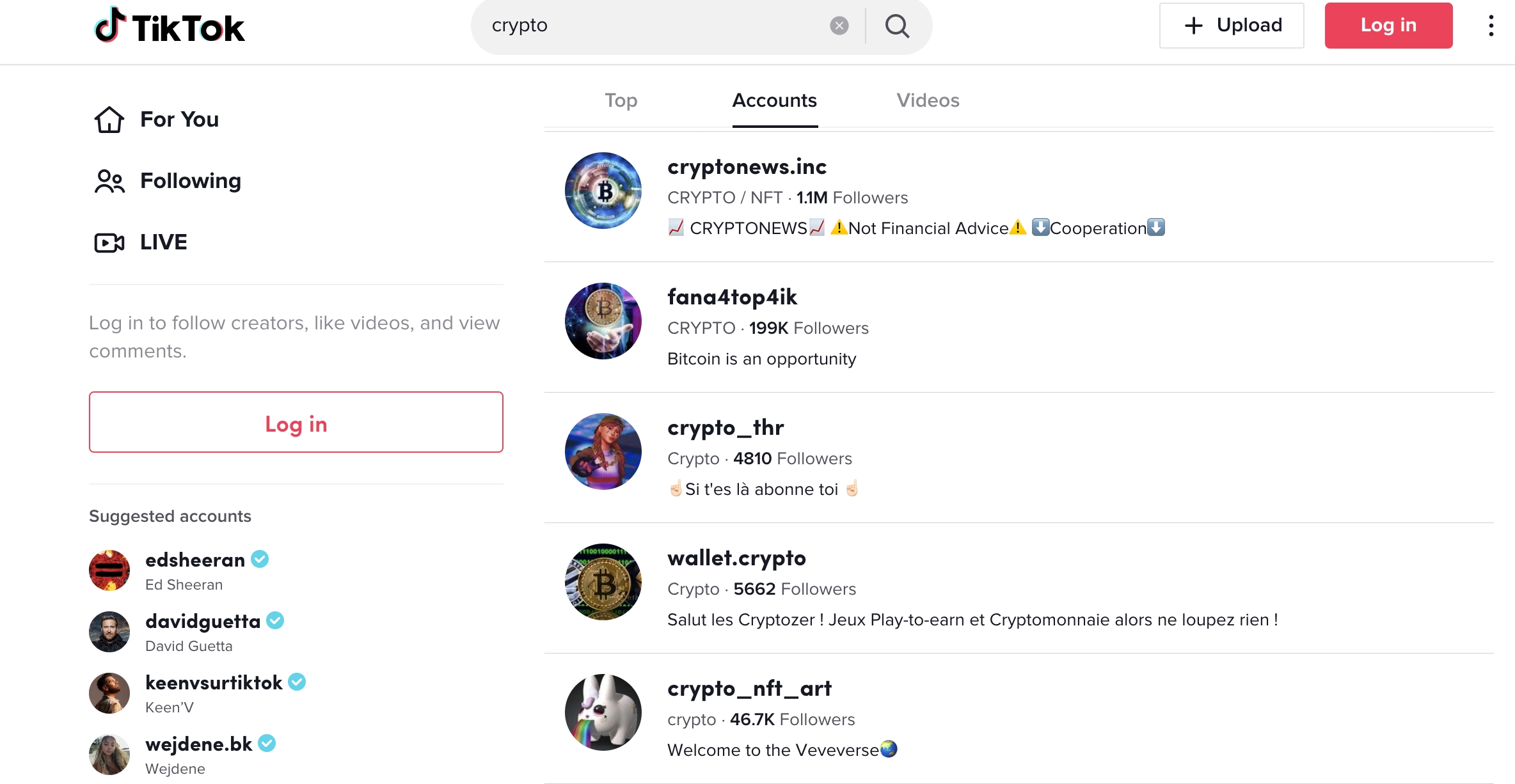 In other words, any investment advice available on social media platforms such as TikTok should be taken with a pinch of salt. 
There is nothing wrong with turning to the best crypto TikTok accounts for market analysis or news. But, investors should be wary of TikTok influencers who make outright recommendations or even make promises that a certain cryptocurrency will go to the moon. 
After all, no one can be 100% sure how the crypto markets will move in the future. Therefore, when it comes to entering a trade or choosing a long-term investment, people should do their homework to identify the options that best fit their portfolio. 
Investors should therefore proceed cautiously before investing blindly as per the advice of a crypto influencer. 
Conclusion
With the cryptocurrency market being extremely volatile, it is important for investors and traders to stay ahead of the curve and keep up with the latest trends in the industry. 
One easy way to do this is by following the best TikTok crypto influencers. Popular accounts in this space summarize market news and analysis in a short, easily-understandable format – which helps investors save time. 
Among the best TikTok crypto accounts we reviewed today is Jacob Bury – who stands out with his simple and straightforward, yet highly valuable content.  
Investors can also check out Jacob Bury's Discord and YouTube channels for access to more crypto alerts and updates. 

FAQs
Who is the best crypto influencer on TikTok?
One of the best TikTok crypto influencers to follow is Jacob Bury – who offers valuable content across a number of different niches. This includes technical analysis on trending coins, in addition to discussion on up-and-coming projects to keep an eye on. Jacob Bury is also popular on YouTube, which is in addition to his Discord channel.  
What cryptos are trending on TikTok?
Due to the sheer number of influencers active on TikTok, there are many crypto assets trending as of writing. Bitcoin and Ethereum both seem to lead the way in terms of the number of videos and shares. However, TikTok is also often the go-to place to market newly launched projects and ICOs. 
---