19 Best Crypto Telegram Groups to Join in 2023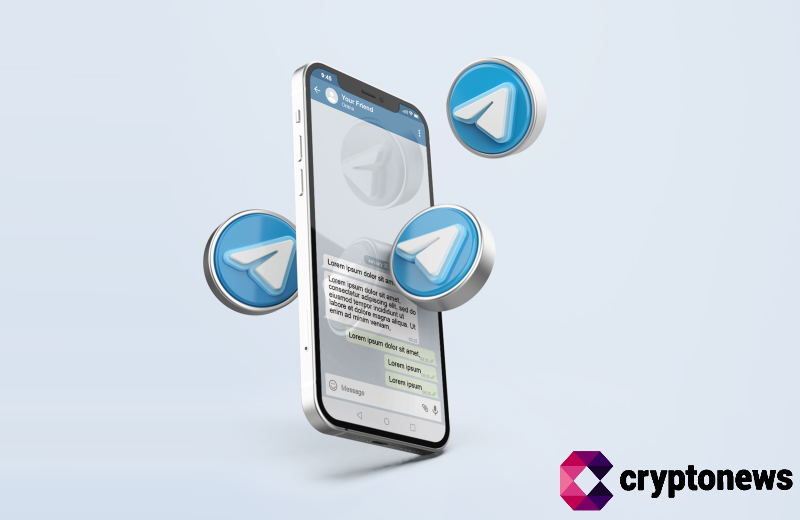 Disclaimer: The Industry Talk section features insights by crypto industry players and is not a part of the editorial content of Cryptonews.com.
For crypto investors and traders, it is crucial to stay up-to-date with the market. However, the main challenge is that there is an overabundance of information in the online space - which can make things confusing for beginners.
This is why investors might want to consider using a crypto Telegram group that can offer real-time price alerts and trading signals. In our guide, we review the best crypto Telegram groups for investors to keep up with market trends and find potential investment opportunities.
Best 19 Cryptocurrency Telegram Groups Ranked
Listed below are the top 19 crypto Telegram groups to consider joining today:
B2C/Jacob Crypto Bury - Overall Best Crypto Telegram Group
Cryptosignals.org - Daily Crypto Trading Signals for Beginners
Crypto Inner Circle - Over 92% Signal Success Rate
Binance Signals - Get Daily Signals Free of Charge
Bitcoin Bullets - Accuracy-Focused Telegram Channel
Binance Killers - Real-Time Alerts for Various Tokens
Wolf of Trading - Exceptional Source of Trading Signals and Market Analysis
Wallstreet Queen Official - Great Risk Management and Strategy Guides Source
Fed Russian Insiders - Transparent Binance Trading Signals Channel
Learn2Trade - Get Up to Five Trading Signals Daily
ICO Analytics - Telegram Group To Find New Cryptocurrencies
WOLFX Signals - Receive Signals for Intraday Trades
100eyes Crypto Scanner - Send Alerts For Crypto Price Movements Using Indicators
NFT Signals - Learn About new NFTs in the Market
Whale Alert - Track Large-Scale Cryptocurrency Transactions
Coin Bureau Insider - Get a Daily Dose of Crypto Market News
DeFi Million - DeFi-Focused Crypto Telegram Group
Airdrop - Telegram Channel Tracking Crypto Airdrops
Glassnode - Receive On-Chain Analytics Data
While crypto Telegram groups can be great sources of information, not every channel offers solid investment guidance.
This is why investors should be sure to do due diligence before following any trading suggestions suggested by Telegram channels.
Best Crypto Telegram Groups Reviewed
Investing in the crypto market can be complex, especially for beginners.
In this regard, crypto Telegram groups can be of great assistance - especially those that offer real-time price alerts, trading signals, and regular market updates.
After considering the many providers in this market, we have rounded up a list of the best crypto Telegram groups to join in 2023.
1. B2C/Jacob Crypto Bury - Overall Best Crypto Telegram Group
B2C, or Business2Community, is one of the most popular cryptocurrency platforms used by investors and traders alike.
It offers everything from investment guides to software reviews. The platform posts high-quality content from experienced investors, tech experts, and financial consultants on a daily basis.
B2C also has a Telegram group that delivers crypto news directly to channel subscribers. The channel's content includes price predictions of various digital tokens and overviews of new cryptocurrencies that are being launched in the market.
Investors can also join the B2C group in order to find out about the best upcoming ICOs and new DEX listings. We noticed that this was one of the few Telegram groups to offer in-depth information about Tamadage, one of the latest digital tokens to take the crypto world by storm.
The B2C channel sends alerts multiple times a day, making sure that followers are notified of important news in real-time. One of the key contributors to the B2C Telegram group is Jacob Crypto Bury, a crypto influencer who runs the best crypto YouTube channels with over 6.5k subscribers.
He also offers one of the best crypto TikTok accounts and his own Discord channel that supplies high potential presale picks, trading signals and target prices for its users.
His recent picks include trending meme coins Wall Street Memes ($WSM) and Bitcoin BSC (BTCBSC) which have been making huge waves in the crypto world in recent weeks.
Wall Street Memes - The $WSM token presale has already raised over $25 million in its presale and has been developed by a proven group with long experience in the space.
They have more than a million followers across their social media platforms and previously released the highly popular Wall Street Bulls NFT collection, which sold out in just 30 minutes when it launched.
Importantly, $WSM has no team allocation and will be 100% community-driven.
Bitcoin BSC - The platform has raised over $3.4 million in just two weeks, signaling strong investor interest in this new staking token.
Priced at $0.99 per token during presale and with an initial 6.125 million tokens in circulation, it offers an affordable entry point.
The total supply is capped at 21 million, mirroring Bitcoin. The first presale round has 4 million tokens, with an additional 2.125 million set for the next round.
Utilizing an eco-friendly Proof-of-Stake model, BTCBSC offers quick yields at ten-minute intervals, with an APY over 150%. Operating on the Binance Smart Chain, it provides fast, cost-effective transactions.
Overall, the B2C Telegram group offers the valuable information necessary for crypto investors to stay on top of the market. And what's more, the Telegram group is also completely free to join.
2. Cryptosignals.org - Daily Crypto Trading Signals for Beginners
Cryptosignals.org is one of the best crypto Telegram groups for trading signals. Founded in 2014, this platform uses artificial intelligence to gather market data and analyze it.
On top of this, the platform also has a team of expert crypto traders who conducts fundamental and technical analysis in order to send optimized trading signals.
For those unaware, crypto signals are trading ideas that indicate which digital token to buy or sell based on market conditions. The signals provided by Cryptosignals.org include details such as at what price to open a position and at which level to exit the trade.
Along with the signals, the channel also sends an overview of the analysis identified - which explains the reasoning behind the trading idea.
Apart from trading signals, this Telegram group also alerts its users of trending crypto news. Cryptosignals.org has over 50k followers in its free Telegram group. However, the free channel only offers three to five signals per week.
Serious traders might want to consider the VIP Telegram group - which sends two to five signals every day. The paid plan starts at £42, or about $45 a month.
As of writing, CryptoSignals.org is focused on the best cryptocurrencies in the industry - which include Bitcoin, Ethereum, Ripple, Chainlink, Binance Coin, Polkadot, and Cardano.
3. Crypto Inner Circle - Over 92% Signal Success Rate
Crypto Inner Circle is an outstanding Telegram channel for signal trading owned by highly professional and experienced Binance traders. It has over 100 thousand subscribers, including beginners and seasoned traders.
Crypto Inner Circle is one of the fastest-growing Binance Telegram channels, thanks to its expert team of traders who share tips daily. The best thing about this channel is that you don't have to become a VIP member to read and follow its trading signals.
With Crypto Inner Circle, you will know which digital tokens to buy and when to sell them, with detailed analysis and reasoning provided to you. Only the admins can post in this channel, resulting in no spam and a clean channel without unnecessary filler posts. By joining this channel, you can expect trading signals, success reports, and expert advice.

The expert advice shared on the channel includes trading signals, technical analysis of the market, and premium market analysis for the VIP members. By closely following their guides, you can gain a deeper understanding of the crypto market and make more informed decisions.
You can become a Crypto Inner Circle by subscribing for a 1-month, 3-month, or lifelong plan when spots are open, with varying prices depending on their VIP roster size.
Crypto Inner Circle's Telegram group is free to join, meaning crypto enthusiasts, investors, and experienced traders can join and start getting their trade signals free of charge.
Join Crypto Inner Circle today
4. Binance Signals - Get Daily Signals Free of Charge
Binance Signals is a channel with steady growth because of its accurate daily trading signals. It aims to provide free trading signals with expert tips and detailed market analysis, including goal projections for its members.
Since the channel shares its goal projections with its members, you can gain a deeper insight into how the market works and use the channel's informative analysis to plan your next investment.
For example, Binance Signals may suggest testing a specific trading token in the 28K region. It will provide a detailed analysis of the token's liquidity, resistance points, and potential fail-safe investment methods to help you make informed decisions.
Binance Signals regularly posts short-term and mid-term trading signals with detailed instructions for its members and multiple possible outcomes. That means you can learn what can happen if you hold longer than advised, allowing you to assess the situation and make your own decisions.
This Telegram channel often posts crypto news and liquidation charts, giving you a deeper understanding of how the crypto ecosystem works. You will appreciate Binance Signals' notes on upcoming Crypto Price Index (CPI) and Producer Price Index (PPI) data releases and their high volatility warnings.
Binance Signals mostly shares BTC and ETH trading signals and focuses on a no-leverage or low-leverage slow-paced trading. That makes it one of the best Telegram channels for new traders and crypto enthusiasts.
5. Bitcoin Bullets - Accuracy-Focused Telegram Channel
Bitcoin Bullets is a well-established community of traders with a verified accuracy rate of over 95%. Although it values quality over quantity, this Telegram channel manages to post daily, thanks to its expert team of analysts and traders.
You can expect free trading signals from Bitcoin Bullets, but its VIP members enjoy priority treatment with additional benefits. VIP members can expect more details for each signal, a more in-depth market analysis, and a buy-in time advantage over the free members.
In addition to trading signals, Bitcoin Bullets provides comprehensive market information through its commentary posts. That includes information on the fear and greed index, market developments, and Binance statistics. With access to that information, you will have a source of the latest market trends and make more informed investments.
One of the main benefits of this channel is that it caters to a diverse range of traders. It's a reliable source for novice traders and hedge fund managers alike. Bitcoin Bullets also has an outstanding customer support service that will help you overcome any issue or doubt regarding your crypto trading goals.
To become a VIP member of this Telegram channel, you can pick between three subscription plans, including a lifelong subscription that is incredibly cost-effective in the long run.
Whether you choose a 1-month, 3-month, or lifelong subscription, you'll become a part of one of the most profitable trading signal VIP groups allows you to get expert tips directly from The Sicilian, an Italian trader responsible for the irrefutable success of this trading channel.
6. Binance Killers - Real-Time Alerts for Various Tokens
Binance Killers has a competitive advantage over other groups because of its daily educational content that helps you stay informed. Becoming a Binance Killers VIP member is affordable, and you can expect approximately three trading signals daily.
This Telegram channel posts a daily in-depth market analysis, encompassing BTC and ETH market share, top losers and gainers, and tips for future investments based on recent developments.
While its free educational content is helpful for newer traders who are still learning the ropes, its VIP members receive expert tips from its highly experienced team of traders and analysts, which can help even the most seasoned traders.
Binance Killers provides alerts and profitable trading opportunities using advanced algorithms and technical analysis for these time frames. It focuses on short-term and long-term trading, making it an ideal choice for patient users and those who want to make money quickly.
However, it advises against high-leverage trading, as most of its signals focus on accuracy and steady income. With that said, Binance Killers will allow its VIP members to capitalize on the market's safest high-leverage potential targets with exclusive VIP signals.
This Telegram channel is famous for its alt-coins accurate analysis and trading tips, making it one of the best channels to join for alt-coin enthusiasts and generalist traders. You can get the most out of this channel by becoming a VIP member by subscribing to its 1-month, 3-month, or life-long subscription plans.
7. Wolf of Trading - Exceptional Source of Trading Signals and Market Analysis
Wolf of Trading is a cryptocurrency signal-sharing Telegram channel with over 80 thousand members who benefit from its daily market insights. If you are looking for a nice mix of cryptocurrency news and expert tips, Wolf of Trading might be the ideal channel for you to join.
This Telegram channel has no VIP membership, which means everyone can join for free and use its professional tips to make more informed investments. You can expect daily fear and greed index updates, information on the latest market trends, and an average of two signals.
The channel mainly focuses on Bitcoin and Ethereum, providing insightful information, real-time market analysis, technical indicators, and detailed instructions on investing.
Besides providing valuable resources on the dynamic cryptocurrency market, the channel's team of experts offers various valuable insights into the world's leading currency changes, like the USD.
If you are new to crypto trading signals, Wolf of Trading will help you by providing straightforward instructions on what to buy, when to buy, and, most importantly - when to sell. In addition, the channel will notify you to avoid trading for some time if the channel's experts predict a market manipulation trend.
This channel is ideal for trading enthusiasts and novices, but its expert market analysis can be vital even for the most experienced traders. Wolf of Trading practices personal coaching for its members, which means you can message their team of trading professionals for personal tips at no additional cost.
8. Wallstreet Queen Official - Great Risk Management and Strategy Guides Source
Wallstreet Queen Official amassed over 100 thousand subscribers quickly thanks to its accurate signals and its founder. The channel's owner is one of the most recognized and successful female Binance experts, and it provides the most comprehensive customer support, making it a superb choice for novices.
With high signal accuracy and in-depth expert market evaluation, Wallstreet Queen Official helps you make safe investments while teaching you about various market-related schemes.
That means you can follow the channel's fundamental analysis methods and apply them to your own trading ideas in the future. While Wallstreet Queen Official has an impressive history of accurate signals, it's crucial to investigate by yourself before investing.
Besides the immense benefits for novices who will learn how to analyze the market and properly invest, this Telegram channel posts market trends and updates which are appreciated even by the most experienced traders.
This channel is generous to free members as it regularly posts free pre-pump signals. That means you won't be behind the VIP members all the time, and you will get to be one of the first to invest early into a potential skyrocketing crypto token.
However, becoming a VIP member lets you get the most out of Wallstreet Queen Official insider information and exclusive content. This Telegram channel has some of the best high potential high-leverage signals, making it an outstanding choice for people looking to win big.
Join Wallstreet Queen Official today
9. Fed Russian Insiders - Transparent Binance Trading Signals Channel
Fed Russian Insiders is a Binance signal-sharing channel that mainly provides short, mid, and long-term alt-coin holds and margin signals. The channel has over 110 thousand subscribers who endorse it for its timely, well-planned, and accurate Binance signals, which enable its members to be the first buyers of soon-to-skyrocket tokens.
The channel averages 60 signals per month and focuses on trading Fibonacci sequences, making it an ideal choice for beginners. Fed Russian Insiders has a risk management expert team on deck in addition to seasoned traders, resulting in impressive statistics regarding the channel's accuracy and average profits.
Fed Russian Insiders stands out from other channels with its permanent VIP membership benefits. In addition to expert tips and in-depth market analysis, its members receive trading courses, books, guides, and professional insights with an estimated value of over $30,000.
This Telegram channel offers equally beneficial information to both beginners and experienced traders, especially if you plan to enroll in its VIP club. You'll appreciate that Fed Russian Insiders posts its signals hours or days before entry ranges hit, allowing you to prepare in advance.
Free members of this Telegram channel won't see as many signals as the VIP members, but they can learn from one of the best margin trading signals teams and learn to form their own strategies.
You can become a Fed Russian Insiders VIP member by subscribing for one month, three months, or a lifetime. Besides exclusive tips and charts, you'll have access to the channel's responsive customer support, which will help you with any questions.
Join Fed Russian Insiders today
10. Learn2Trade - Get Up to Five Trading Signals Daily
Next up, we have Learn2Trade, another prominent crypto Telegram group known for its trading signals. It sends daily technical analyses of various cryptocurrencies and real-time alerts on important economic events.
Like the majority of the best crypto Telegram groups in the market, Learn2Trade also offers both free and paid access to its signals. The free version delivers up to three signals per week.
However, through the paid channel investors can not only receive a higher number of trading signals but also gain access to weekly webinars - which we found to be very insightful.
To identify suitable trading opportunities, Learn2Trade utilizes over 90+ technical indicators, such as session volume, parabolic star, Ichimoku, MACD, and more. Signals are available for Bitcoin and many of the best altcoins in the crypto market.
According to the Learm2Trade website, its trading signals have a verifiable success rate of 76%. The VIP membership costs just $53 (about £40 a month). In addition to cryptocurrencies, Learn2Trade also offers trading signals for forex.
Join the Learn2Trade Telegram Group
11. ICO Analytics - Telegram Group To Find New Cryptocurrencies
ICO Analytics is the best Telegram crypto group to follow to learn more about the latest digital tokens emerging in the market. This Telegram channel provides information regarding new coin listings, crypto ICOs, and presales.
More importantly, ICO Analytics sends alerts almost right after the official announcement was made. Meaning, by joining this free Telegram group, crypto investors have the chance to get ahead of the curve and make early purchases.
ICO Analytics is also a great channel to follow to identify the cryptocurrencies that stay under the radar - but have the potential to grow in the future.
Crypto enthusiasts can also check out the website of ICO Analytics to find the best crypto to buy. The platform also has a list of VC funds and the projects they have invested in.
For instance, through ICO Analytics, an investor will learn that Coinbase Ventures has a stake in 132 digital tokens, which include Cashmere, Merge, Entropy, and more.
This can offer further insight when choosing cryptocurrencies to invest in. However, the one notable downside of this Telegram group is that it does not post every day.
12. WOLFX Signals - Receive Signals for Intraday Trades
When searching for the best cryptocurrency signals on Telegram, traders should also take into account their strategy and risk appetite. After all, the signals for short-term traders might not work well for long-term investors.
WOLFX Signals is a platform that caters primarily to intraday traders. Those joining the WOLFX Telegram group can expect two to five signals a day, all focusing on short-term positions.
WOLFX sends its signals via Telegram live alerts so that there will not be any delay - which makes sense as timing is of utmost importance with short-term strategies. Moreover, WOLFX also offers support for auto trading using its signals.
All that being said, we found WOLFX Signals to be somewhat expensive - especially when compared to the likes of Learn2Trade and CryptoSignals.org. The monthly price for crypto VIP signals comes to $89 a month.
There is, however, a free Telegram group offered by WOLFX Signals - albeit the frequency of the alerts will be much lower.
13. 100eyes Crypto Scanner - Sends Alerts for Crypto Price Movements Using Indicators
The next crypto Telegram group on our list is 100eyes Crypto Scanner. In simple terms, this provider uses a trading bot that automatically tracks the price movement of cryptocurrencies.
It uses technical indicators such as RSI Divergences, Horizontal Support, and Fibonacci Retracements in order to identify price trends. So, if the price of a specific cryptocurrency makes a sudden jump within a predetermined time frame, the scanner will send an alert.
This alert will include an image of the indicator that shows the price movement of the cryptocurrency. And importantly, the scanner can be customized to suit each trader's strategies.
Needless to say, this can save a significant amount of time for traders. The scanner supports several technical indicators such as the MACD, Bollinger Bands, EMA's, and Stochastics. However, to get access to the customizable alerts, users will have to sign up for the paid Telegram group.
And in order to know the price, investors will have to contact the team directly and send a request. However, 100eyes Crypto Scanners offers a free trial for 24 hours, which provides a chance for users to try out the scanner.
On the free Telegram group, alerts are automated - and are offered only for Bitcoin, Ethereum, Ripple, and EOS.
14. NFT Signals - Top Crypto Signals Telegram Group for NFT Investors
As with cryptocurrencies, new NFTs are being launched almost on a daily basis As such, investors in this space often struggle to find quality NFT news from the mainstream media in order to locate the best buying opportunities.
As the name suggests, NFT Signals is one of the leading providers to offer signals for investing in non-fungible tokens.
The signals are devised based on a combination of technical analysis and market trends. Crucially, this is one of the best crypto Telegram groups to join to gain info about the best NFTs in the space.
Traders can expect a minimum of five trading signals a week from the NFT Signals Telegram Group. The signals offered can be used for both long and short-term positions, which will be indicated in the alert.
Along with signals, the platform also offers tips about new NFTs coming up in the market. Access to the VIP Telegram group comes at a price of £50 per month (around $55). A free group is also available; however, users will receive fewer NFT signals.
15. Whale Alert - Track Large-Scale Cryptocurrency Transactions
Whale Alert can be described as a bot that tracks large transactions that can affect the price of a cryptocurrency. And when such a transaction is identified, the bot will send alerts via its Telegram group. So, why is 'whale watching' important to crypto investors?
Let's suppose that an alert signals that someone is sending a large number of cryptocurrencies to an exchange. This could mean that they are looking to sell.
On the contrary, if there is a large transaction from an exchange to a private digital wallet, this indicates that a big purchase was completed.
Put otherwise, alerts of this nature can be a predictor of whether the price of a cryptocurrency is about to go up or down. Investors can join the Whale Alert Telegram group to get a general sense of the market direction.
Moreover, the Telegram group is free to join - and as such, investors won't need to have to pay anything to receive the alerts straight to their phones.
16. Coin Bureau Insider - Get Daily Dose of Crypto Market News
Coin Bureau is best known for its YouTube channel, which has over 2 million followers. However, YouTube videos take time to write, film, and edit. As such, Coin Bureau uses its Telegram channel in order to send out market news and insights in real-time.
Every day, the channel sends out a roundup of the most important headlines related to the crypto industry. In addition to this, Coin Bureau also posts price predictions of various digital coins and discusses economic news that could affect the fastest growing cryptocurrencies.
Moreover, the posts often include external links to the original news article, which helps crypto investors to do their own research. In a nutshell, the channel is focused on keeping its subscribers informed about the crypto space. And crucially, the Coin Bureau Telegram group is free to access.
17. DeFi Million - DeFi-Focused Crypto Telegram Group
As the name implies, DeFi Million is a crypto Telegram channel best suited for following the decentralized finance market. With more than 140k followers, this is one of the go-to platforms for investors to learn more about the DeFi space.
This Telegram channel not only sends market news but also delivers alerts about the best crypto presales and new coin listings on decentralized exchanges. On top of this, DeFi Million even sends reviews of apps and platforms that are new in the DeFi sector.
In other words, this Telegram channel covers all necessary information about the DeFi sector and keeps its subscribers updated. As with all other Telegram groups, it is up to the investor to do their own due diligence before investing in any DeFi projects featured on this channel.
18. Airdrop - Telegram Channel Tracking Crypto Airdrops
As many of our readers might already know, an airdrop is a promotional activity through which free cryptocurrencies are distributed.
Usually, airdrops are offered in return for completing certain tasks - such as following a crypto project's Twitter account, sharing details of the digital token on TikTok, or even holding a certain number of coins in the wallet.
Nevertheless, airdrops can be a great way to obtain top trending cryptos in the market without risking any money. In this regard, Airdrop is one of the best crypto Telegram groups to follow in order to keep track of new campaigns.
However, this channel does not offer alerts of every single airdrop happening in the crypto space - after all, there are dozens of projects running such kinds of promotions. More often than not, the channel covers up-and-coming cryptocurrencies that are not yet hugely popular.
19. Glassnode - Receive On-Chain Analytics Data
The last crypto Telegram channel on our list is Glassnode. This is an on-chain analytics platform that features dozens of indicators. For those unaware, on-chain analysis is an emerging field that involves examining the utility and transaction activity of a digital token and its blockchain data.
In other words, Glassnode can be used to analyze market data in order to make better trading decisions. Not so surprisingly. Glassnode's crypto Telegram group sends out messages containing data derived from on-chain analytics.
Additionally, the channel offers explanations of what the analytical data means for the crypto market. Sometimes, the Telegram alerts include links to detailed Glassnode reports that can offer further insight into the topic.
In a nutshell, Glassnode is one of the best cryptocurrency Telegram groups for traders who rely on economic indicators.
Why Follow Crypto Telegram Groups?
The reviews above highlight what Telegram crypto groups can offer to investors and traders.
However, no two Telegram channels are the same, especially when it comes to the end-service offered.
In this section, we take a closer look at the advantages of following crypto Telegram groups.
Find Out About Top New Coins
With the number of crypto projects growing regularly, it is challenging to assess which ones are worth investing in.
However, keeping tabs on all new cryptocurrencies in the market is virtually impossible. Instead, crypto investors can turn to the best Telegram cryptocurrency groups to garner valuable information.
And the chances are that reliable accounts can lead investors to potentially profitable opportunities.
For example, the B2C platform was of the first providers to introduce Tamadoge to its followers and had one of the most successful presales of 2022, raising $19 million in its TAMA token presale in just eight weeks before pumping to an all-time high of $0.194.
Jacob and his group provided info on the token in stage 1, when TAMA tokens were available for just $0.01 - that means those who purchased at that stage could have potentially seen a ROI of nearly 2,000%.
As is evident, the best crypto Telegram groups can be valuable sources to spot the next crypto to explode, with Wall Street Memes ($WSM) and Bitcoin BSC ($BTCBSC) two more recent high-potential picks.
Get Trading Ideas via Signals
One of the most popular categories of crypto Telegram groups is focused on crypto trading signals.
In essence, these are trading ideas that contain the following information:
The crypto pair to trade
The entry price
The type of order to place - buy or sell
Take profit and stop loss price levels
In addition to this, some of the best crypto signals Telegram groups we discussed above also include additional details - such as the risk-reward ratio and even the amount to stake.
This saves investors from having to do extensive research and analysis. Instead, they can streamline their trading process and save time.
Choose Between Different Types of Services
Another advantage of crypto Telegram groups is that the investor has the option to choose between different types of services.
For instance, there are crypto Telegram groups that offer crypto trading signals, and there are those that focus solely on market news and updates.
Additionally, there are also platforms that send crypto price and indicator alerts via their Telegram channel.
In other words, Telegram channels are not simply about engaging with other investors. Instead, choosing the right Telegram group can help investors identify cryptos with the most potential for both long-term investing or short-term trading.
Conclusion
Crypto Telegram groups can be a strong tool in the arsenal of investors and traders.
The best crypto Telegram groups can help investors with their trading decisions, identity investment opportunities, track market movements, and more.
While there are many Telegram groups available, we find that B2C does a great job of offering everything necessary to outperform the broader crypto market.
This channel covers everything from crypto market insights, blockchain-related news, upcoming presales, new coin listings, and more.
FAQs
What is the best crypto Telegram group?
We found that one of the best crypto Telegram groups is B2C. This channel offers a free Telegram service that covers market news, signals, and price alerts.
What group has the best crypto signals on Telegram?
Based on our findings, Cryptosignals.org is the best provider of Telegram crypto signals. The signals include the crypto pair, entry/exit price levels, as well as the risk-reward ratio. Moreover, the trading signals are available via both free and paid Telegram groups.
---