We Were All Millionaires and 20 Crypto Jokes
Disclosure: Crypto is a high-risk asset class. This article is provided for informational purposes and does not constitute investment advice. By using this website, you agree to our terms and conditions. We may utilise affiliate links within our content, and receive commission.
This week, we were all millionaires and billionaires. Shortly. Also, not really.
Dogecoin saw a sharp rally after Elon Musk said Tesla "will make some merch buyable" with it, and SUSHI jumped as a new takeover proposal was met with mixed reactions. Arthur Hayes said it "pays to wait" with making new investments in crypto as stronger USD is coming, but Kraken's Jesse Powell said USD will drop to zero and that BTC below USD 40K is a buying opportunity – while Novogratz argued that BTC 'should hold' at USD 40K. Binance will shut its Singapore exchange and "refocus" those operations into a "blockchain innovation hub," the hacked AscendEX said it intends to 100% reimburse all the affected users, while the hacked Vulcan Forged said it had refunded 'the majority' of affected users. Robinhood is working on enabling its customers to send crypto as a gift, while a new Cash App feature will allow users to gift crypto and stock over the holiday season.
Meta decided to spend USD 60m to acquire the naming rights owned by the US bank Meta Financial Group, an Abu Dhabi state-owned investment giant Mubadala started to invest its assets in crypto and the surrounding blockchain-based ecosystem, Nike acquired virtual sneakers and collectibles creator RTFKT, Nexon America started accepting BTC and ETH among other coins for in-game purchases, and even a South Korean hydraulics firm took a crypto, DeFi, NFT and metaverse plunge.
Myanmar's shadow government recognized tether as its official currency to use it to combat the military regime, China's enforcement continued as the courts punished crypto miners and fraud rings, and the Russian Central Bank moved to ban funds from crypto investments, despite experts warning of a 'blurry' legal status. An IMF official admitted that it'll be difficult to regulate crypto without global consensus, while an Australian joint regulatory body backed the government's plans to regulate crypto. An NGO claimed that the US could impose sanctions on El Salvador's Chivo wallet, cryptoasset trades are expected to be subject to official reporting requirements within three years, likely first in the US, some of those speaking on stablecoins before the American upper house could have brought misinformation and inaccuracy to the table, and market participants positioned themselves for a potential "buy the news" event that might've followed a key US Fed meeting, seeing BTC and ETH jump post-meeting that heard talks of crypto, doubled tapering, and 2022 interest rate hikes. Also, Binance and FTX – are reportedly preparing to go head-to-head in a battle to become the main shirt sponsor of the football giant FC Barcelona. Oh, and the most important story of the week – Mr. Justin Sun is now His Excellency Ambassador.
And now, the most special part of the week: the jokes.
__________
Heeey, CT! All good?
Crypto Twitter: OMG, it's all over. The bear market is here. RIP.

Bitcoin Twitter: pic.twitter.com/eaKI1gwcDp

— raphael @ relai.app (@raphschoen) December 14, 2021
__
And how are our bicoiners doing?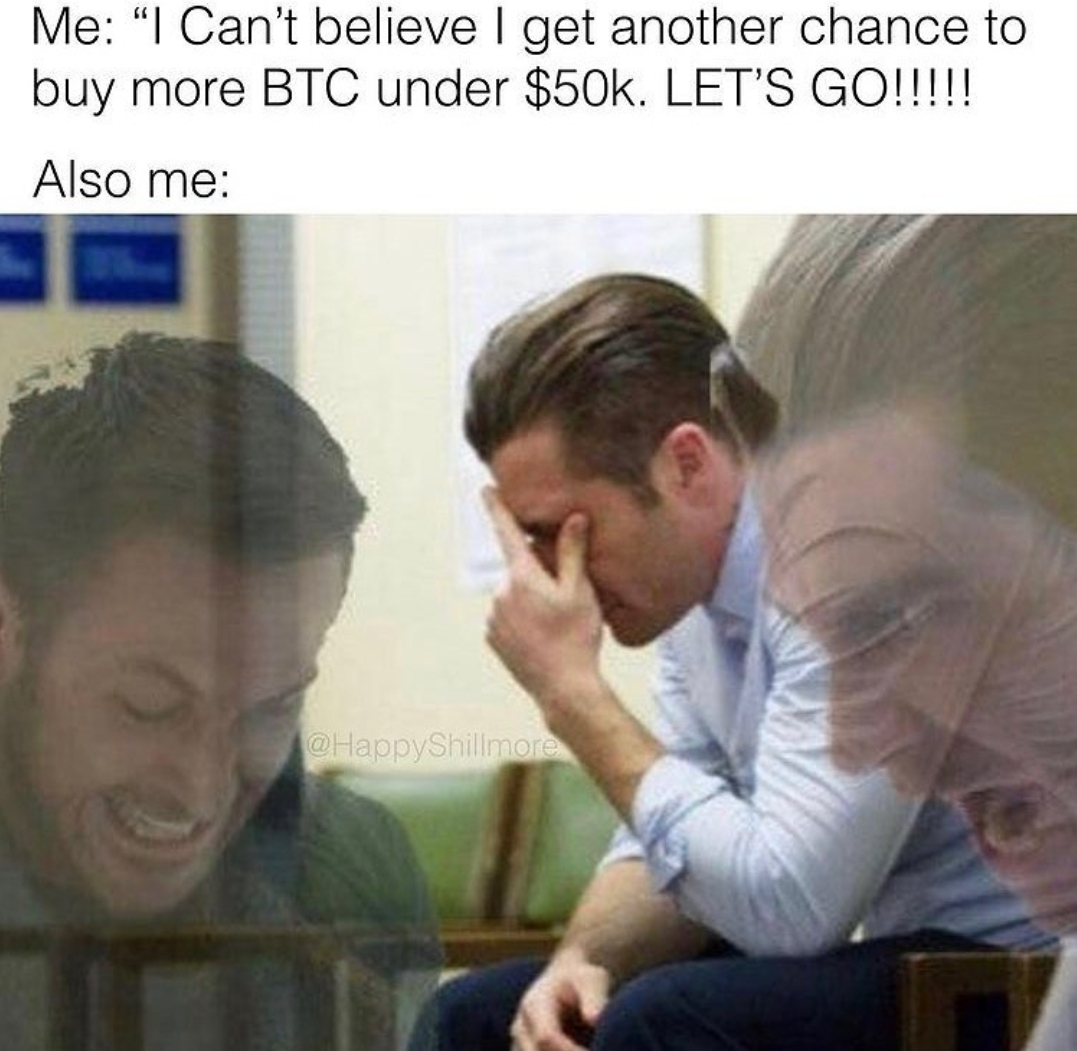 __
So much moneyz. Wait…
__
How about splitting the difference?
😂 #CoinMarketCap #Crypto pic.twitter.com/DERPfbeMIB

— Jess ☕️ (@CryptoNCoffeee) December 14, 2021
__
Trying to withdraw the millions:
__
But instead of millionaireing, the reality was much different.
#bitcoin dips a little bit.
CT picturing their Christmas. pic.twitter.com/t0eB8Rum3B

— Paolo Ardoino 🍐 (@paoloardoino) December 10, 2021
__
Can't even feel it really.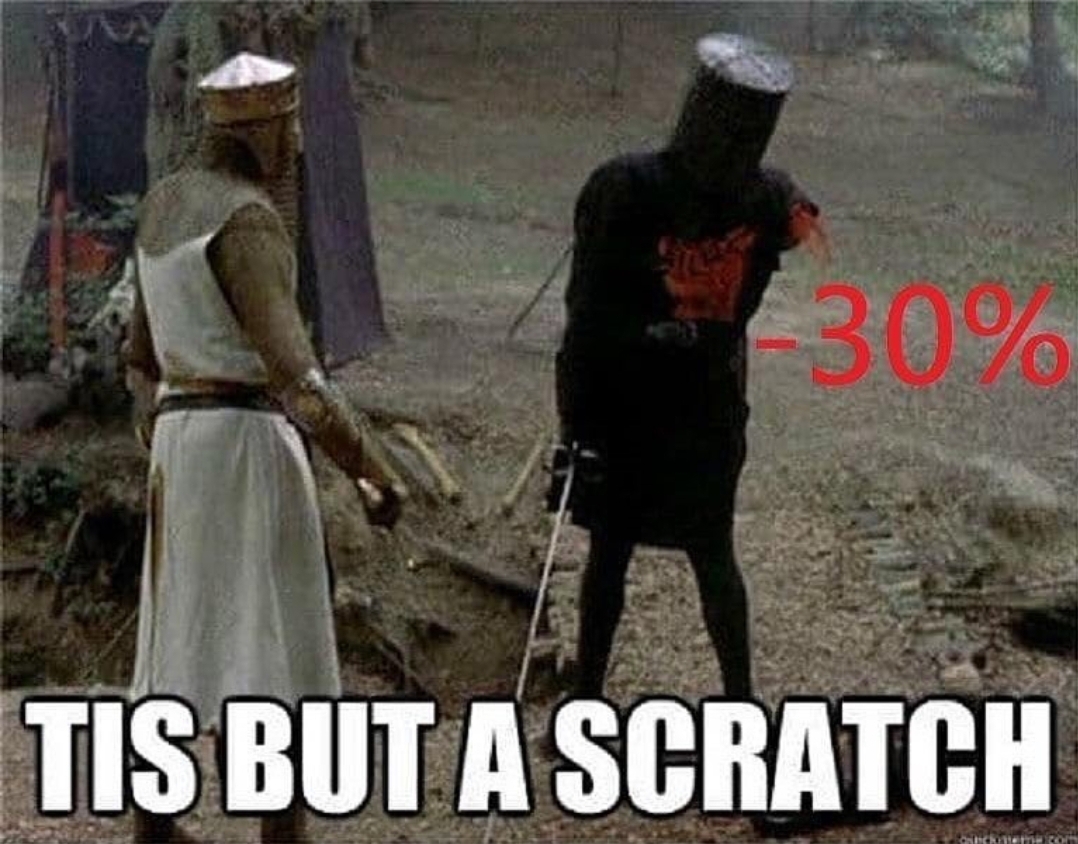 __
You go, BTC! No obst—No obstacle's gonna—Gonna stop you!
Sentiment is the most meaningful metric for Bitcoin, here is a visual depiction of how it has been trending pic.twitter.com/zKIrz4HLRk

— Kyle S. Gibson (e/cult) (@KyleSGibson) December 13, 2021
__
Occupation: Sayer of stuff, Poster of tweets, Mover of markets
BREAKING: TIME MAGAZINE'S PERSON OF THE YEAR SAYS DOGECOIN IS THE TOKEN MOST SUITED TO BE A CURRENCY. 420,000 BITCOIN MAXIMALISTS DON'T AGREE.

— Ran Neuner (@cryptomanran) December 14, 2021
__
How d'ya like the smell of that Musk?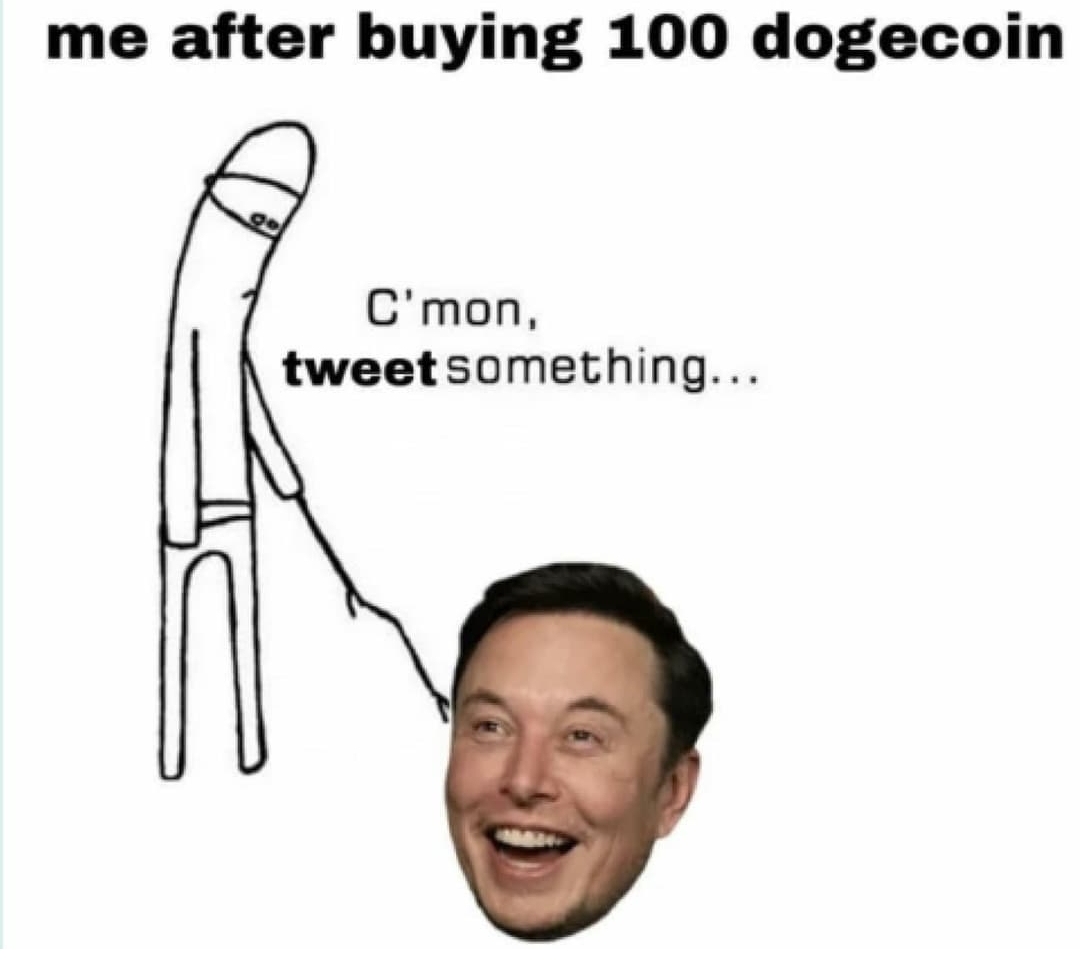 __
The legend says there's a grassy quality to them.
Every time I check the candles they are red I check again they are red can Dev Do Someting???

— hangzix (@hangzix) December 10, 2021
__
How many sequels does this thing have?
i hate this guy pic.twitter.com/kVbzoZz0yg

— jim (@jimtalbot) December 13, 2021
__
Yes.
https://www.twitter.com/TeddyCleps/status/1470656347926679554
__
That's high…
US Gov: Inflation isn't that high

Inflation: pic.twitter.com/1RxcngeTPR

— Edward Evenson (@WillHash4Coins) December 10, 2021
__
🤭
"Are these unrealized gains in the room with us right now?" pic.twitter.com/R0jUR6UAxm

— Ali (@BasedStoic) December 13, 2021
__
cOllECtoRs & CReAtOrS.
And this is how the same 3 creators decide what their next "project" will be. pic.twitter.com/HXUXHb7Fyj

— RoughSmile 🖤 (@RoughSmileNFT) December 16, 2021
__
Hey, anybody got the CEO's phone number?
BREAKING: Bitcoin CEO announces massive 50% supply issuance tapering to take effect at block 840,000; did not return multiple requests for comments.

— Tomer Strolight (@TomerStrolight) December 15, 2021
__
Pfft, that's nothing. My grandma left me a bunch of BTC she'd bought at the market in 1957.
Coins mined with negative block height are so scarce I hope you got above market price for them.

— Willy Woo (@woonomic) December 13, 2021
__
Payments are always welcomed.
If you bought $1000 worth of $ETH in 2016, today it will still be worth less than how much your friends will pay you to shut up about it

— Jason Choi (@mrjasonchoi) December 15, 2021
__
You know what the time is – dip 'n' flip!
Buy. The. Dip.#Bitcoin pic.twitter.com/JhX90VjEPF

— Sean Harris 🏀 (@BigSeanHarris) December 13, 2021
---