USDC Operator Happy After Yellen Calls Stablecoins 'National Security' Concern
At least one major stablecoin operator has welcomed the news that the American government is set to direct regulators to "act quickly" on fiat-pegged tokens.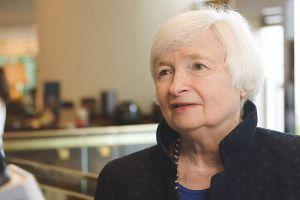 In an official statement, the American Treasury Secretary Janet Yellen stated that she had convened a President's Working Group on Financial Markets to examine stablecoins and their effect on customers, markets, and even "national security."
The group comprised of key financial policymakers such as Jerome Powell, the Chair of Board of Governors of the Federal Reserve (Fed), Gary Gensler, the head of the Securities and Exchange Commission (SEC), Rostin Behnam, the Acting Chairman of the Commodity Futures Trading Commission (CFTC), Jelena McWilliams, the head of the Federal Deposit Insurance Corporation and Michael Hsu, the Acting Comptroller of the Currency.
Powell and the Fed have previously signaled their own willingness to step in with stablecoin-related rules, but a concerted effort could potentially provide faster progress.
Yellen "underscored the need to act quickly to ensure there is an appropriate US regulatory framework in place," with the group "expected to issue" its "recommendations in the coming months."
The group, the statement continued had "discussed the rapid growth of stablecoins, potential uses of stablecoins as a means of payment and potential risks to end-users, the financial system and national security."
Jeremy Allaire, the CEO and founder of Circle, the company behind the USD coin (USDC), a major dollar-backed stablecoin, said that the meeting was "very significant."
He added:
"There seems to be an emerging consensus view, outside of extreme academic positions, that private digital currencies and stablecoins are here to stay and likely to become global scale, systemic parts of the economic and financial system. For the digital currency industry, this is an opportunity to step up and engage, and foster constructive dialogue with important policy leaders."
He also took the time to "thank" President Joe Biden and Yellen "for making this a national priority."
Meanwhile, Bloomberg quoted Matthew Frankle, a partner at the legal firm Haynes & Boone, as hinting the development could indeed be positive for the sphere. He claimed that "the main drive by regulators" would be to boost "safety for consumers." And although regulations could "cut into profit margins earned by issuers," they would potentially help increase usership "in the long-run."
However, the lawyer added:
"There's not a lot of disclosure about how stablecoins work and what's backing them."
On Reddit, many took a positive view of the news, with one remarking that tether (USDT) "is responsible for the vast majority of trading volume in crypto," and that the desire to regulate it from the government was "great for crypto."
Others agreed that long-term, it would help add legitimacy to the sector. But some expressed hesitancy about the prospect of increasing regulatory scrutiny in the world of crypto and stablecoins, claiming that more regulations would damage the decentralized, borderless nature of the technology and the ethos behind it.
___
Learn more:
- Experts Warn of Tighter Policing Ahead for Stablecoins
- Unconfirmed Stablecoin Report Brings Confusion Amid Bukele's Bitcoin Law
- USDC Issuer Circle To Debut On NYSE, Promises More Transparency
- Chinese Central Bank Opts For Usual CBDC Rhetoric In Bashing Bitcoin, Stablecoins
- EU Regulation May Harm Small Crypto Players, Stablecoin Users, And Elon Musk
- Skeptics Keep Tether Busy Despite Latest Transparency Round
---