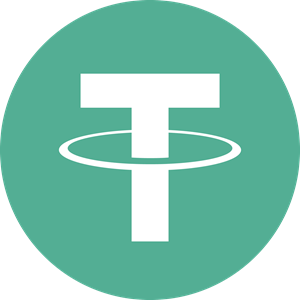 Tether
USDT
Tether
Tether coin is the most popular and controversial stablecoin, a cryptocurrency tied to a stable asset such as gold or units of a fiat currency. In addition to bringing the innate stability of fiat currencies to the market, Tether aims to offer easier and faster currency conversion and streamlined handling of digital payments on a global scale.
What Is Tether USDT
The Tether cryptocurrency (USDT) is supposedly tied to the US dollar at a 1:1 ratio, meaning that it should be traded at the stable rate of 1 tether coin for 1 US dollar. Singular units of the cryptocurrency are called "tethers" or "tether coins." It is described as being fully backed by the real-world reserves of the US dollar.
| Market Cap | Volume 24h | Circulating Supply | Maximum Supply |
| --- | --- | --- | --- |
| $84,580,382,473 | $7838442291200 | 84538113416.00000000 USDT | 84538113416.00000000 USDT |
However, price of a stablecoin can also fluctuate. For example, tether dropped below USD 0.90 in October 2018 before recovering to almost USD 1 again. In either case, it's still more stable than other cryptocurrencies.
Also, many investors question tether's peg to the US dollar despite Tether has sought to reassure the community by repeatedly saying that each USDT in circulation is backed by US dollars in its bank account. However, the company has failed to provide conclusive evidence, such as a formal audit, that would back up its claim.
Tether coin's history started with its predecessor Realcoin, which was presented by Brock Pierce, Craig Sellars and Reeve Collins back in 2014. Soon afterwards, the coin's name was changed to what it is now.
How To Use Tether USDT
The Tether platform uses Omni Protocol, the open source software which allows it to interact with blockchain. The main purpose of Tether coins is to make it easier to use fiat currencies on the blockchain since these tokens are supposed to act as cryptocurrency equivalents of their respective fiat currencies.
Based on this, traders can trade currencies between crypto exchanges at a more stable rate due to the Tether's link with the US dollar (denoted as USD₮ or, more often, USDT). At the same time, its technology gives traders an opportunity to use a system claiming to be more secure, faster and cheaper compared to regular banking transactions. Similarly, merchants and other users can convert their fiat currencies into digital ones without the usual costs incurred during these operations. Tether is often used on cryptocurrency exchanges that only offer crypto-to-crypto pairings, standing in place of a fiat currency.
As of November 2018, the number of Tether coins in circulation stands at almost 1.8 billion, out of its total supply of almost 2.6 billion coins. As of November 2018, its market capitalization stands at almost USD 1.8 billion. Apart from looking to increase its market capitalization and share, Tether faces competition from other stablecoins such as TrueUSD, Dai and others.
How To Get Tether USDT
Buying and selling Tether coins is rather straightforward, as the coin is supported by several international crypto exchanges such as Poloniex or Kraken which support it as part of appropriate trading pairs.
The Tether family also includes a Euro counterpart (denoted as EUR₮), and the support for the Japanese yen is currently being worked on.
Tether News