USD Coin
USDC
USD Coin (USDC)
USD Coin is a stablecoin which is pegged to the US dollar. It is managed by Circle and Coinbase.
| Market Cap | Volume 24h | Circulating Supply | Maximum Supply |
| --- | --- | --- | --- |
| $26,548,815,796 | $3,522,336,000.00 | 26548815796.00000000 USDC | 26548815796.00000000 USDC |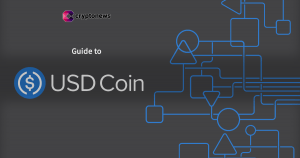 What is USD Coin?
USD Coin (USDC) is a relatively fresh stablecoin pegged to the US dollar. It was launched on September 26, 2018, in collaboration between Circle and Coinbase. USDC is an alternative to other USD backed cryptocurrencies like Tether (USDT) or TrueUSD (TUSD).
In a nutshell, USD Coin is a service to tokenize US dollars and facilitate their use over the internet and public blockchains. Besides, USDC tokens can be changed back to USD at any time. The execution of issuing and redeeming USDC tokens is ensured with ERC-20 smart contract.
Bringing US dollars on the blockchain allows moving them anywhere in the world within minutes, and brings much-needed stability to cryptocurrencies. Also, it opens up new opportunities for trading, lending, risk-hedging and more.
Who is the Team Behind The USD Coin?
USD Coin is developed by the Centre consortium, a partnership between Circle and Coinbase. The technology and governing framework are developed by Centre, while Circle and Coinbase are the first commercial issuers of USDC.
Circle was founded in 2013 by the entrepreneurs Jeremy Allaire and Sean Neville.
Circle is an official Money Transmitter, which makes the company an open financial book. Money Transmitters are US money service businesses that must comply with federal laws and regulations. Before the issuance of USDC, the equivalent amount of USD is with one of Circle's accredited partners. Consequently, all USDC tokens are regulated, transparent and verifiable. Besides, Circle is known as the crypto startup backed by Goldman Sachs.

How Does USD Coin Work?
USD Coins aren't just being printed out of thin air. Circle guarantees that every USDC token is backed with a single US dollar. The process of turning US dollars into USDC tokens is called tokenization.
Tokenizing USD into USDC is a three-step process:
1) A user sends USD to the token issuer's bank account.
2) The issuer uses USDC smart contract to create an equivalent amount of USDC.
3) The newly minted USDC are delivered to the user, while the substituted US dollars are held in reserve.
Redeeming USDC for USD is as easy as minting the token, except the process is reversed:
1) A user sends a request to the USDC issuer to redeem an equivalent amount of USD for USDC tokens.
2) The issuer sends a request to the USDC smart contract to exchange the tokens for USD and take an equivalent amount of tokens out of the circulation.
3) The issuer sends the requested amount of USD from its reserves back to the user's bank account. The user receives the net amount equivalent to the one in USDC tokens, minus all incurred fees).
Unlike the most popular stablecoin Tether (USDT), creators of the USD Coin are obligated to provide full transparency and work with a range of financial institutions to maintain full reserves of the equivalent fiat currency.
All USDC issuers are required to regularly report their USD holdings, which are then published by Grant Thornton LLP. All the monthly attestation reports can be found here.
How to Use USDC
USD Coin (USDC) is a 1:1 representation of one US dollar on the Ethereum blockchain. It's an ERC-20 token and can be used with every app which supports the standard.
To tokenize or redeem USDC with Circle, you need to register an account, verify your identity (KYC), and link a legitimate bank account. Circle USD platform allows users to perform four core actions:
Tokenize USD;
Redeem USDC;
Transfer USDC out to ERC20 compatible Ethereum addresses;
Deposit USDC from external Ethereum wallet addresses.
Circle USDC doesn't charge users any fees for tokenizing and redeeming services, except there is a $50 commission for incorrect and rejected bank transfers. For Coinbase USDC operations, all the standard fees apply.
A minimum USDC redemption amount is 100 USDC. The tokens are processed on business days only, and the process can take up to 24 hours.
There's no minimum tokenization amount, and the process can take up to 2 business days.
In general, stablecoins like USDC are used to:
Short cryptocurrencies without cashing out and make it easier to buy cryptocurrencies in the future;
Avoid traditional financial instruments and institutions;
Avoid hyperinflation (for people living in countries like Venezuela or Turkey);
Send money instantly, globally, securely and at low cost;
Purchase items in various crypto dApps, exchanges, and blockchain-based games.
How is The USDC Coin Different From Other Stablecoins?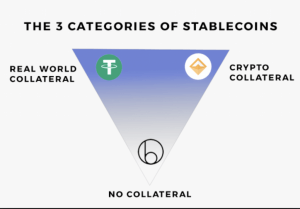 Crypto stablecoins can be put into four categories:
Fiat-collateralized. These include all stablecoins pegged to reserved fiat value. All fiat-collateralized coins are centralized by design. Examples: Tether (USDT); TrueUSD (TUSD); Gemini Dollar (GUSD); Paxos Standard Token (PAX); Digix Gold (DGX); USD Coin (USDC).
Crypto-collateralized. These are stablecoins whose value is pegged to reserved crypto assets. Examples: Makercoin (MKR & DAI); Havven (nUSD & HAV).
Algorithmic non-collateralized. Software-based economic models that seek to provide price stability without any collateralized assets. Example projects: Basis; Kowala; Fragments.
Hybrid. Stablecoins which rely on a blend of the approaches listed above.Example projects: Carbon.
USD Coin falls into the first, fiat-collateralized coins category, and is a centralized stablecoin. In general, all the projects within the same category work in a similar fashion and have only minor differences. The more outstanding ones are Tether (USDT), known for refusing to conduct a genuinely transparent audit, and Digix Gold (DGX), whose value is pegged to gold.
The rest fiat-collateralized stablecoins release regular attestations and are backed by US dollars. The main differences between them revolve around their fee policies and different partner organizations, but the business model, for the most part, stays the same.
Where Can You Get USD Coin?
USD Coin (USDC) can be purchased in the following exchanges:
Binance (paired with BTC, BNB).
Poloniex (paired with BTC, ETH, XRP, BHC, STR, LTC, ZEC, XMR, DOGE).
Coinbase Pro (paired with BTC, ETH).
Coinbase (paired with
CoinEx (paired with USDT).
Coinsuper (paired with BTC, USD).
OKEx (paired with BTC, USDT).
CPDAX (paired with BTC).
Hotbit (paired with USDT).
Kucoin (paired with BTC, ETH, USDT).
Korbit (paired with KRW).
FCoin (paired with USDT).
LATOKEN (paired with BTC, ETH).
SouthXchange (paired with BSV, DASH).
COSS (paired with BTC, ETH).
Crex24 (paired with USD).
Besides these exchange pairs, USDC can be turned to USD and vice versa at Coinbase.
Where to Store USD Coin
USDC is an ERC-20 token issued on the Ethereum blockchain and can be stored in any Ethereum wallet. The most popular options are MyEtherWallet, MetaMask, Mint or Jaxx wallets. If you don't know how to set up an Ethereum wallet, see this quick guide.
Current State of the Project
USD Coin is a rapidly developing project with credible institutions behind it. Since the project announcement in May 2018, its ecosystem has already expanded to more than 60 partners.
Some of the latest news surrounding the USDC project is about the level of control project creators retain over the stable cryptocurrency. Apparently, the developers hold the right to blacklist addresses and freeze funds if there's any suspicion that the USD Coins are used for illegal activities.
However, most of the other stablecoins also have similar clauses. The only stablecoin without such terms is DAI by Maker.
Similar Projects