Two Ledger Deals for Cold Wallet Fans: 30% Off Nano S + New Colors
Disclaimer: The following article is part of Cryptonews Deals Series and was written as a promotional article in collaboration with the sponsor of this offer. If your company has an exclusive promotion that you would like to share with our readers, we invite you to reach out to us. Let's build together.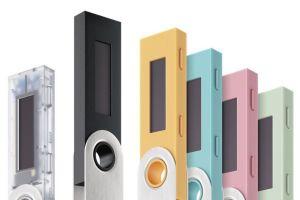 Hardware wallet manufacturer Ledger is launching two deals at the same time: a discounted Nano S and a limited edition of the same wallet in different, never before seen colors, for those crypto enthusiasts who take their wallet as a fashion statement seriously. Both of these are available for a limited time only, so if you want to get your hands on them, don't miss out! Read on to learn more about each promotion.
Ledger's dApps League Promo
Ledger has recently launched their own dApps League, where you get to vote for your favorite dApp which in turn gives you a 30% discount on the Ledger Nano S hardware wallet. The process is extremely simple: you select your favorite dApp, which has a promo code listed right next to it. This promo code can then be used to get a 30% discount on the Black Ledger Nano S hardware wallet, for up to five items per person (only purchasable at a single point, as the promo codes cannot be redeemed twice). When your order is finalized, your vote will count towards the dApp you want to see next in Ledger Live.
Keep in mind that you can only vote once. This means that you can't buy your discounted Nano S and then decide to get another promo code from a different dApp to buy more. However, when you're purchasing the Nano S, you can get up to five of the wallets at the discounted price with a single promo code. The promotion runs until August 2nd. The Nano S lets you manage and invest your crypto anytime, anywhere, with maximum security. It supports a wide variety of coins, letting you keep (most of) your portfolio in one place.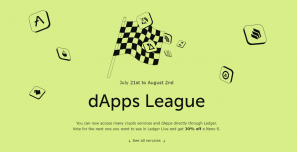 Limited Edition Colorful Nano S
Tired of the same old black wallet? For a limited time, you can purchase the Nano S in five different colors! Well, technically four, since one of them is transparent—making it look like a high end tech gadget straight out of a sci-fi movie (which, in a way, it is). Aside from that one, you can choose between Saffron Yellow, Flamingo Pink, Jade Green, and Blue Lagoon. You can choose the one that goes well with your general style, or even purchase one of each—the limited edition wallet will be available until stocks last, so you may want to snatch it before someone else does.
However, keep in mind that the discount we talked about above does not cover any edition other than the black one. You will still have to pay full price for the other colors. But hey, look at them: they're worth it!
If you still haven't taken the leap to protect your crypto assets properly, then this may be the perfect opportunity to do so. Even if you have, all crypto enthusiasts know a simple truth: your portfolio can never be safe enough, and Ledger makes HODLing easy, affordable, and now even fashionable.
Read our full review here.
---