Tron Prices Rise as CEO Justin Sun Admits He Invested in Poloniex
Tron (TRX) prices are up on the news that the company's CEO Justin Sun is indeed an investor in the Poloniex exchange, which started accepting limit orders for TRX/BTC, TRX/USDT and TRX/USDC yesterday.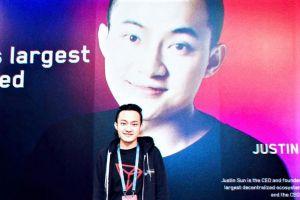 Justin Sun. Source: Twitter, @justinsuntron
Hour-by-hour Tron rates were still in the green at 6:10 UTC, with 24-hour prices above the +1.5% mark, while almost all the top 10 coins are in red. Tron still sits just outside the top 10 coins per market capitalization, however, behind tenth-placed token Stellar – despite a monthly price growth rate of over 17%.
TRX price chart: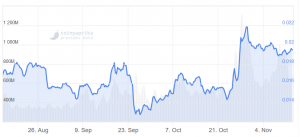 Source: coinpaprika.com
In a live-streamed video hosted by Poloniex, Tron's Justin Sun stated, "I don't own Poloniex […] but I am one of the investors who are helping Poloniex to grow."
Sun added that Tron was planning a wide range of Poloniex-related collaborations, including a token giveaway for Poloniex users. He noted that further details would follow in the coming weeks.
Poloniex announced it would be listing Tron earlier this week, amid reports that its new owners want to boost the platform's presence in Asian markets. After the exchange started accepting limit orders for TRX/BTC, TRX/USDT and TRX/USDC yesterday, full trading of TRX should be enabled soon.
Sun also described his first encounter with Poloniex, stating that a friend advised him to buy Ethereum (ETH). At first, Sun says he was concerned Ethereum was a "scam coin," but eventually decided that it was above-board. But when he decided to buy tokens, he found that the only exchange that listed ETH was Poloniex – a fact that led him to open an account on the platform.
Sun described Poloniex as "one of the biggest exchanges in our industry." (Ranked 76th by trading volume - USD 27 million in the past 24 hours, according to Coinpaprika). Poloniex's star has waned somewhat since its inception and meteoric growth in 2014. The platform was sold to Circle last year. The American company has since spun Poloniex out, with an unnamed group of investors taking control.
The Tron chief had seemingly distanced himself from the Poloniex sale, stating "I am not buying anything" at the time, although he added that he had "invested some" and was "helping out" his "friends."
Sun also explained that there would be a way for Chinese traders to use the Poloniex exchange, adding that they would have to access the site via a different web address.
---