This Major Investor Sees Altcoin Collapse, What's in His Portfolio?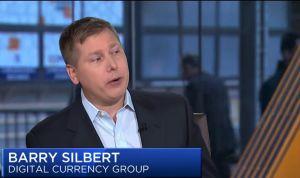 Barry Silbert, founder and CEO of major investment firms Digital Currency Group and Grayscale Investments believes that the vast majority of digital tokens will go to zero. So what's in their investment portfolio now?
"I'm not a believer in the vast majority of digital tokens and believe most will go to zero," Silbert told CNBC in a phone interview following a call with Grayscale investors.
Commenting on the rise of initial coin offerings (ICOs) which had exploded throughout 2017 and part of 2018, Silbert considers most of those as good as dead already. "Almost every ICO was just an attempt to raise money but there was no use for the underlying token," he said. "The vast majority of what's out there will be eliminated."
Speaking during a call with Grayscale investors, Silbert said, "I think what surprises people is that out of the thousands and thousands of tokens out there, there's really only five that we have any level of conviction about (Bitcoin (BTC), Ethereum Classic (ETC), Horizen (ZEN), Zcash (ZEC) and Decentraland (MANA)). Our strategy on the digital asset front is that we don't trade, we don't flip tokens, we're essentially investing in these tokens with the expectation that we're going to be in them for a decade plus."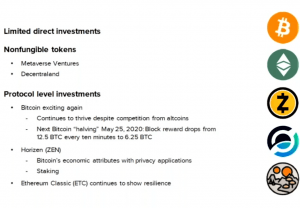 Still, Grayscale Investments offers more than just those five tokens as assets. In total, the company manages nine single-asset trusts and one diversified fund. Besides aforementioned five tokens, it also provides exposure to Bitcoin Cash (BCH), Ethereum (ETH), Litecoin (LTC), Stellar Lumens (XLM) and Ripple (XRP).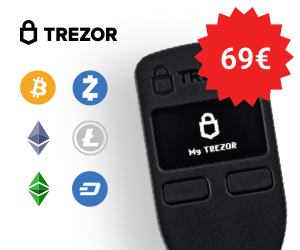 Out of those, Bitcoin makes up the most digital asset holdings at USD 707.4 million, while the next biggest is Ethereum Classic at USD 19 million. Litecoin and Stellar Lumens, for example, make up only USD 200,000 and USD 300,000 of the digital asset holdings, respectively.
The assets by Grayscale are sold as so-called Trusts, which enables investors to gain exposure to the price movement of the coins through a traditional investment vehicle, skipping the potential challenges of buying, storing, and safekeeping coins. The website adds that, "Grayscale Bitcoin Trust is a traditional investment vehicle with shares titled in the investors name, providing a familiar structure for financial and tax advisors and easy transferability to beneficiaries under estate laws."
Also, as mentioned, the company manages the Digital Large Cap Fund (USD 7.5 million worth of assets under management,) that enables investors to gain exposure to the price movement of BTC, ETH, XRP, BCH and LTC.
The fund's performance: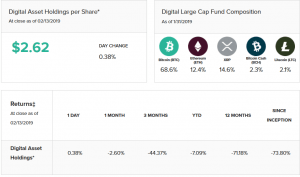 The question of meaningful institutional money is what is currently holding Bitcoin, and therefore a large part of the market, back from a bull run. If and when sentiment changes, Silbert predicted prices would "snap back hard," adding, "There are certainty institutional investors that have put money to work and many more are are considering it," Silbert said. "Until now they wanted to make sure they're not catching a falling knife."
Meanwhile, as reported this week, cryptocurrency adoption just got another boost from institutional investors, as police officers and other state employees in Virginia's Fairfax County will be looking forward to retirement with potential dividends from Bitcoin thanks to a new USD 40 million crypto venture fund by digital asset management firm Morgan Creek Digital.
Moreover, during the call, Silbert estimated that bitcoin has a potential to replace gold as a safe haven asset, as younger generations don't view gold as the same non-correlated, safe haven as their parents.
"I'm convinced that whatever money is in gold is not going to stay in gold," Silbert said. "That gets handed down to millennials — I'm highly confident a lot of that will go into bitcoin."
Got a new paperweight. Pretty much the only thing gold is good for nowadays pic.twitter.com/2uwIfz2MpC

— Barry Silbert (@barrysilbert) February 7, 2019
Separetely, Digital Currency Group has invested in dozens of crypto-related companies, including well known entities such as Chainalysis, Civic, Abra, bitFlyer, BitPay, Blockstream, Ledger, Luno, Ripple, Coinbase, eToro, Kraken.
___
Watch Barry Silbert discussing the volatility in cryptocurrency last November: