eToro Review
If you want to trade oil, stocks, gold, or cryptocurrencies, there's barely a better option than eToro. eToro is a global multi-asset platform that lets users trade CFDs of the most popular stocks, shares, commodities like oil, indices, and more than 15 major cryptocurrencies. It is a fully regulated exchange and broker with more than 10 million registered users worldwide. Compared with other cryptocurrency trading services, eToro does not allow you to withdraw your crypto assets unless you're using a dedicated custodial eToro Wallet, available on iOS and Android. Launched in 2007, the broker has been an active advocate for Bitcoin and has offered Bitcoin trading services since 2013. Known for being a social trading platform, it is best suited for new traders and investors who want to learn and experience the best of both crypto and traditional finance worlds.
General info
| | |
| --- | --- |
| Web address: | eToro |
| Support contact: | Link |
| Main location: | Limassol, Cyprus |
| Daily volume: | 0.0 BTC |
| Mobile app available: | Yes |
| Is decentralized: | No |
| | |
| --- | --- |
| Parent Company: | eToro Group Limited |
| Transfer types: | Bank Transfer, Credit Card, Debit Card, Crypto Transfer, |
| Supported fiat: | USD |
| Supported pairs: | 16 |
| Has token: | - |
| Fees: | High (Compare rates) |
eToro Review
Founded: 2006
Web address: etoro.com
Support contact: https://www.etoro.com/customer-service/, +44-866-350-0881
Parent Company: eToro (Europe) Ltd.
Company location: Limassol, Cyprus; London, United Kingdom; Hoboken, NJ, USA; Sydney, Australia.
Pros & Cons
Easy to use Highly social and regulated platform Ability to follow and copy other traders Helpful 'virtual account' training feature
Withdrawals don't work for all cryptocurrencies Not an exchange, so there's no buyer/seller marketplace Only cryptocurrency trading is supported in the U.S.
Disclaimer: eToro is a multi-asset platform that offers both investing in stocks and cryptocurrencies, as well as trading CFD assets.
Please note that CFDs are complex instruments and come with a high risk of losing money rapidly due to leverage. 68% of retail investor accounts lose money when trading CFDs with this provider. You should consider whether you understand how CFDs work and whether you can afford to take the high risk of losing your money.
The information below is not investment advice.
This review covers eToro services provided in Europe and the rest of the world, except for the United States. See our full eToro USA review here.
eToro Review: Key features
eToro is an ideal social trading and multi-asset platform for investors who are new to the investment world. The platform has been pioneering online investment space since 2006 and has earned its reputation as a credible broker. eToro platform is an excellent option if you're interested in cryptocurrency trading or traditional assets like stocks, commodities like oil or gold, or ETFs, and operates as a one-stop-shop for all these products.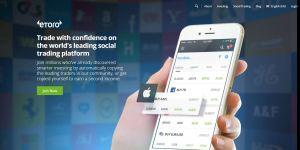 Disclaimer: Indicative prices for illustration purposes. Past performance is not an indication of future results.
Advanced traders may benefit from eToro margin trading, which allows you to access a myriad of trading instruments with leverage. Less experienced traders can benefit from eToro social trading where you can follow and copy seasoned investors, their research, and insights.
Note that the recently launched eToro U.S. platform allows trading cryptocurrencies only. Read the full eToro USA review here.
The key features of eToro include:
eToro social trading. eToro offers a unique social trading experience, making it the best social platform for traders. You can follow, copy, interact with your favorite traders, and create a custom news feed to keep tabs on your preferred assets and their news.
Best trading platform for learning. Plenty of educational materials, including a virtual portfolio for training.
A vast range of assets. Aside from 16 cryptocurrencies, you can also learn and trade in traditional markets like stocks, bonds, forex, ETFs, commodities, and other markets.
Excellent customer support. If there's an issue, you can reach eToro's team via phone, live chat, and support ticket. Besides, the platform is translated into more than 20 languages. The customer service is available Monday to Friday, 24 hours per day.
Mobile trading apps. eToro is easily accessible on the go so that you can make trades from your Android or iOS powered phone.
eToro global trading instruments include:
47 currency pairs (including EUR, USD, CAD, GBP, AUD, PLN, SGD, SEK, JPY, and many others).
13 stock index CFDs (SPX 500, UK100, NSDQ100, China50, AUS200 and others).
Over 1300 stock CFDs.
83 commodity CFDs (including oil, gold, silver, copper, natural gas, and platinum).
16 cryptocurrencies (BTC, ETH, BCH, XRP, DASH, LTC, ETC, ADA, EOS, NEO, XLM, IOTA, TRX, ZEC, BNB & XTZ).
U.S. customers can trade cryptocurrencies only for now, but that is likely to change anytime soon. Click here to read our full review of the eToro US platform and services.
Disclaimer: Cryptocurrencies are a highly volatile unregulated investment product. No EU investor protection.
68% of retail investor accounts lose money when trading CFDs with this provider.
68% of retail investor accounts lose money when trading CFDs.
This eToro review focuses on its fees, usability, security, deposit and withdrawal methods, and the company's background.
eToro background
Founded in 2006, eToro has a history stretching further back than Bitcoin and crypto. It started its life as an online foreign exchange brokerage. In 2010, it launched its famed copy-trading feature, which enables users to copy successful traders' investment strategies.
It made its first move into crypto in January 2014, when it began offering Bitcoin trading to the three million users it boasted at the time. At the time, these were contracts for difference (CFD) trades, which meant that the trader didn't purchase the underlying asset (e.g., bitcoin). Instead, it constituted an agreement that he or she will either pay the difference if the asset drops in price or will receive the difference if it rises. However, eToro switched to offering direct trades in crypto in September 2018, so now you actually own and can withdraw the cryptocurrencies you buy into the eToro wallet. Since March 2019, eToro is finally open to US residents. You can read our full review of eToro US here.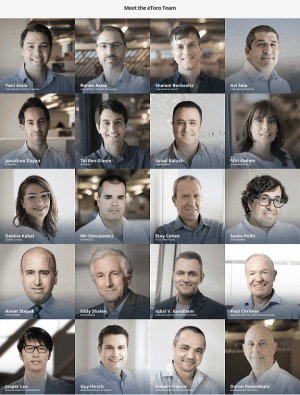 eToro's core team. Source: eToro.com
Today eToro boasts over ten million users, with its growth primarily driven by the crypto boom. And for a platform of its size, its interface is streamlined and straightforward to use, while its mobile app makes managing your portfolio on the go painlessly convenient.
eToro fees
Compared to 'standard' crypto platforms (e.g. Coinbase, Kraken, Binance), eToro's fee structure is a little different, and slightly complicated.
Since eToro is a brokerage service and not an exchange, it doesn't charge trading fees the way regular crypto exchanges do. However, you'll pay something called "spread fees" when selling crypto and buying crypto using leverage (i.e., when borrowing from the eToro trading platform to make a purchase). In other words, if you want to sell (or margin trade) a cryptocurrency, you have to pay a percentage of the sale price. This percentage derives from the 'spread' of the asset and constitutes the difference between its 'buy' price and its 'sell' price.
For example, if you sell one bitcoin at a market price of USD 7,000, you'll also have to pay 0.75% of the value of this one bitcoin (0.75% being the current BTC spread value at the time of writing). Assuming that 1 BTC equals USD 7,000, you'll have to pay USD 52.50.
And for any advanced trader taking out a leveraged position on a cryptocurrency, eToro charges 'overnight fees,' which are often referred to as 'rollover fees' on other cryptocurrency trading platforms. Because the trader is borrowing money from eToro to hold a trading position, eToro essentially charges them interest.
Spread and overnight fees at eToro
Let's review the spread and overnight fees for some of the most popular cryptocurrencies currently listed on eToro:
| Cryptocurrency | eToro Spread Fee | eToro Overnight Fee (per unit) |
| --- | --- | --- |
| Bitcoin | 0.75% | 4.377224 |
| Bitcoin Cash | 1.9% | 0.161194 |
| Ethereum | 1.9% | 0.117836 |
| XRP | 2.45% | 0.000158 |
| Cardano | 2.9% | 0.000033 |
| EOS | 2.9% | 0.002339 |
| Dash | 2.9% | 0.062788 |
| Binance Coin | 2.45% | 0.013034 |
| TRON | 3.5% | 0.000013 |
As indicated by the table above, overnight fees for BTC are pretty steep. By contrast, traditional crypto platforms are cheaper. For instance, Kraken charges 0.01% every four hours when holding leveraged BTC/EUR or BTC/USD trades. So, if someone has a trade worth 1 BTC on Kraken, they'll have to pay around 0.00056 BTC if they hold onto this position for 24 hours, whereas an eToro customer would pay approx. 0.0075 BTC.
Similarly, the spread fees generally mean that trading buying or selling crypto on eToro is more expensive than trading on other platforms. For example, Binance and Bitstamp each charge 0.1% for every trade a user makes, which compared to eToro's spread fee of 0.75% for BTC is noticeably cheaper.
And lastly, eToro also charges withdrawal fees and inactivity fees. The withdrawal fee is a flat USD 5, with users being allowed to withdraw amounts of USD 50 and above. Meanwhile, the inactivity fee is USD 10 per month. It is charged to every user whose account hasn't been active for 4 or 12 months, depending on whether they have made a deposit.
Note that eToro adjusts its fees according to the market conditions, so by the time you read this review, they may already be different.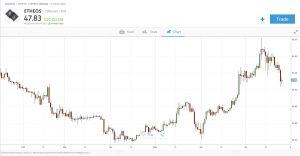 eToro charts. Disclaimer: Indicative prices; current market price is shown on the eToro trading platform. Past performance is not an indication of future results.Visit eToro
68% of retail investor accounts lose money when trading CFDs with this provider.
68% of retail investor accounts lose money when trading CFDs.
Security of the eToro platform
During our review of eToro's website and trading platform, we found that eToro has experienced no significant scandals in the past. Nevertheless, security isn't eToro's major selling point. It is mostly because, up until 2017, cryptocurrencies weren't directly traded and transferred using the eToro platform. Instead, users held a contract for difference (CFD), meaning that they agreed to either pay or receive the difference if the price of a coin sunk or rose.
In other words, eToro didn't hold any crypto that was owned by its customers. There was no need to use the kinds of security measures deployed at competing crypto platforms, such as cold wallets and multi-sig verification.
Today, it offers direct cryptocurrency purchases and keeps most funds in secure cold storage. However, mind that the eToro wallet keeps your private key, so you have to trust the trading platform to secure your funds. That said, it does hold its customers' funds separate from its business bank accounts. Also, eToro deals only with major, internationally recognized financial institutions, such as Barclays Banks and Coutts. Besides, eToro is one of the most secure platforms in terms of general compliance with financial regulation, being regulated by CySEC in Europe, FinCEN in the US, and the FCA in the UK.
68% of retail investor accounts lose money when trading CFDs with this provider.
68% of retail investor accounts lose money when trading CFDs.
eToro usability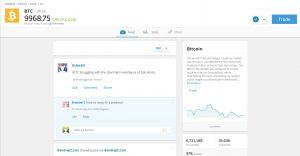 eToro social trading. Disclaimer: Indicative prices; current market price is shown on the eToro trading platform. Past performance is not an indication of future results.
While eToro offers a couple of essential features that make it highly suitable for starting and novice traders. It provides a Virtual Portfolio, a 'demo mode' that lets users trade without staking any real money. Using this mode, you can buy as much 'virtual' bitcoin, dash or XRP as you like and watch how each cryptocurrency performs.
eToro's use of copy trading is excellent for traders who don't feel confident in their ability to select winners consistently. With the CopyTrader system, eToro lets you copy the best-performing traders in various asset markets (e.g., commodities, stocks, ETFs, and crypto). You choose how much to invest, and then it mirrors every action the trader takes. Besides, users can make adjustments here and there (such as copying only new trades rather than all open positions).
The layout of the eToro trading platform is user-friendly and easy to navigate. The user has a control panel on the left-hand side of the screen. The right-hand side shows all the charts, data, and profiles you'll need to make your investment choices. Likewise, eToro's mobile apps allow you to do pretty much everything you can do on the desktop version of the trading platform. The ability to receive notifications on the go means you'll be able to stay on top of your trades regardless of where you are. The apps are available for both Android and iOS devices.
eToro social trading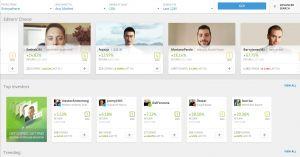 eToro social trading feature. Dislcaimer: Indicative prices; current market price is shown on the eToro trading platform.
eToro's copy trading enables you to copy the actions of traders of your choosing. It is like having seasoned traders from all over the globe trade on your behalf. You can follow specific traders in the social feed, monitor their actions in real-time, and opt-in to copy everything they do.
As such, eToro is the social media platform of traders that bridges the gap between you, your favorite traders, and your favorite markets.
Disclaimer: Past performance does not guarantee future results. The trading history presented is less than five years and may not suffice as a basis for an investment decision.
eToro deposit and withdrawal methods
At the moment, eToro users can deposit only fiat currency into their eToro account unless you transfer cryptocurrency directly to the eToro wallet. Besides that, you can use your credit/debit cards and a variety of other options, such as wire transfer, popular e-wallets like PayPal, Skrill & Neteller, Klarna, iDEAL, and more. All fiat funds held by eToro are actually in US dollars, so if you deposit EUR or GBP into your account, eToro will convert it to USD. As such, you will incur a conversion fee. The minimum fist-time deposit ranges from USD 50 to USD 10,000 based on your jurisdiction.
Withdrawals work in much the same way, with credit/debit card, bank transfer, and PayPal options all available. However, there is a flat fee of USD 5 for every withdrawal, so make sure to plan your withdrawals to avoid extra costs. The eToro crypto wallet also allows the platform users to hold and withdraw cryptocurrencies it supports.

eToro withdrawal methods.
eToro Review: Final thoughts
eToro is a unique social trading platform with a diverse variety of investment products. Although it comes at a higher cost than regular cryptocurrency trading services, the benefits outweigh the costs as eToro offers significantly more. Overall, eToro is an excellent place to start learning about the online investment world, diversify your portfolio, connect with other investors, and build a career as a wholesome trader.
68% of retail investor accounts lose money when trading CFDs with this provider.
68% of retail investor accounts lose money when trading CFDs.
Frequently asked questions (FAQ)
Where is eToro based?
eToro has offices in London, United Kingdom, Sydney, Australia, New Jersey, USA, Israel, and Limassol, Cyprus.
In which countries eToro is legal?
eToro is accessible in most countries in the world. Due to the challenges and legal regulations, eToro is not available in the following countries: Afghanistan, Albania, Belarus, Bosnia and Herzegovina, Botswana, Brunei, Burundi, Canada, Chad, Congo Republic, Crimea, Cuba, Ethiopia, Guyana, Guinea & Guinea-Bissau, Iran, Japan, Laos, Libya, Mali, Myanmar, Namibia, New Zealand, Nicaragua, North Korea, Palau, Samoa, Serbia, Somalia, Sudan, Syria, Turkey, Uganda, and Yemen.
If you're a citizen or resident of the United States, see our eToro US review.
Is eToro regulated?
Yes. eToro is regulated by the Financial Conduct Authority (FCA) in the United Kingdom, Cyprus Securities and Exchange Commission (CySEC) in Cyprus, and the Australian Securities and Investments Commission in Australia.
Is eToro trustworthy?
eToro is one of the most trustworthy trading platforms out there. It has been operating since 2006, has a good track record, cooperates with the law, and is regulated by FCA (United Kingdom), CySEC (Cyprus), ASIC (Australia), and FinCEN (United States).
How does eToro make money?
Like most exchanges, eToro earns when users pay fees. Their most common source of income spreads, but there are also overnight fees, currency fluctuations, exchange rates, and leveraged trading.
What happens if eToro goes bust?
Leaving your funds on eToro introduces additional counterparty risk. Despite that, eToro is a member of the Investor Compensation Fund for Customers of Cypriot Investment Firms, which compensates the clients of bankrupt forex brokers. Nonetheless, the maximum payout is 20,000 EUR per client, so if it goes bankrupt, you could lose at least some of your funds without a refund.
Does eToro pay dividends?
eToro is one of a few brokers that does pay its brokers dividends. You reap all the dividends multiplied by leverage, as stated in the dividend calendar. They will show up under the "Refunds" section and will be used to pay for the trading platform's accrued fees. If the net difference between the "Refund" amount and fees is positive, you will be credited with the difference when the trade is closed.
Does eToro have fees?
eToro does not charge any deposit or trading fees except for spreads. There is also a USD 5 withdrawal fee and extra overnight and weekend fees for CFD positions. The size of the fee varies per traded instrument.
What is the minimum deposit for eToro?
The minimum deposit on eToro is USD 200.
How do I invest in eToro?
After you open an account on eToro and make the first deposit, you can invest in various CFDs and cryptocurrencies with a simple few clicks. Alternatively, you can copy other traders' moves and invest together with them.
How do I deposit in the eToro account?
eToro supports many deposit methods, including credit and debit cards, wire transfers, PayPal, Skrill, Neteller, Webmoney, and UnionPay.
How do I withdraw money from eToro?
eToro allows you to withdraw money through the same methods used for making deposits. These include wire transfers, credit and debit cards, e-wallets, and cryptocurrency transfers from an eToro wallet to an external wallet. The process takes approximately 24 hours.
Disclaimer
eToro is a multi-asset trading platform that offers both investing in stocks and crypto assets, as
well as trading CFDs.
Please note that CFDs are complex instruments and come with a high risk of losing
money rapidly due to leverage. 68% of retail investor accounts lose money when
trading CFDs with this provider. You should consider whether you understand how
CFDs work, and whether you can afford to take the high risk of losing your money.
Past performance is not an indication of future results.
Cryptoassets are volatile instruments that can fluctuate widely in a very short
timeframe and therefore are not appropriate for all investors. Other than via CFDs,
trading crypto assets is unregulated and therefore is not supervised by any EU regulatory
framework.
eToro USA LLC does not offer any CFDs and makes no representations, and assumes no liability for the accuracy or completeness of the content of this publication, which was created by our partner using publicly available, non-company-specific information about Toro