Coinbase
Coinbase is the world's biggest and one of the best-known bitcoin and cryptocurrency brokers. Founded in 2012, this San Francisco based exchange has become a worldwide gateway into the crypto world. Today, it operates in 102 countries from Africa, Asia, South & North Americas, Australia, and Europe. You can use it to exchange bitcoin, ether, litecoin, bitcoin cash, XRP, and ten other popular cryptocurrencies. It's quick and easy to use, secure, and comes with reasonable exchange fees (although not the lowest). Besides, you can access it via your smartphone, which makes it one of the most convenient cryptocurrency exchanges for crypto market beginners.
Key features
As one of the world's leading exchanges, Coinbase offers many quality crypto services. However, at its core, it provides by far the simplest way to buy and sell the most popular cryptocurrencies such as Bitcoin, Ethereum, Litecoin, or XRP. Coinbase does so by enabling quick, simple, and easy ways to purchase cryptocurrency directly via your credit or debit cards, a wire or bank transfer as well as using local payments services like, for example, iDeal in Europe.
General info
| | |
| --- | --- |
| Web address: | Link |
| Main location: | San Francisco, US |
| Daily volume: | 0.0 BTC |
| Mobile app available: | Yes |
| Is decentralized: | No |
Parent Company:
Coinbase, Inc.
Transfer types:
Bank Transfer, Credit Card, Debit Card, Crypto Transfer,
Supported fiat:
USD, EUR, GBP
Supported pairs:
15
Has token:
USDC
Fees:
Very High(Compare rates)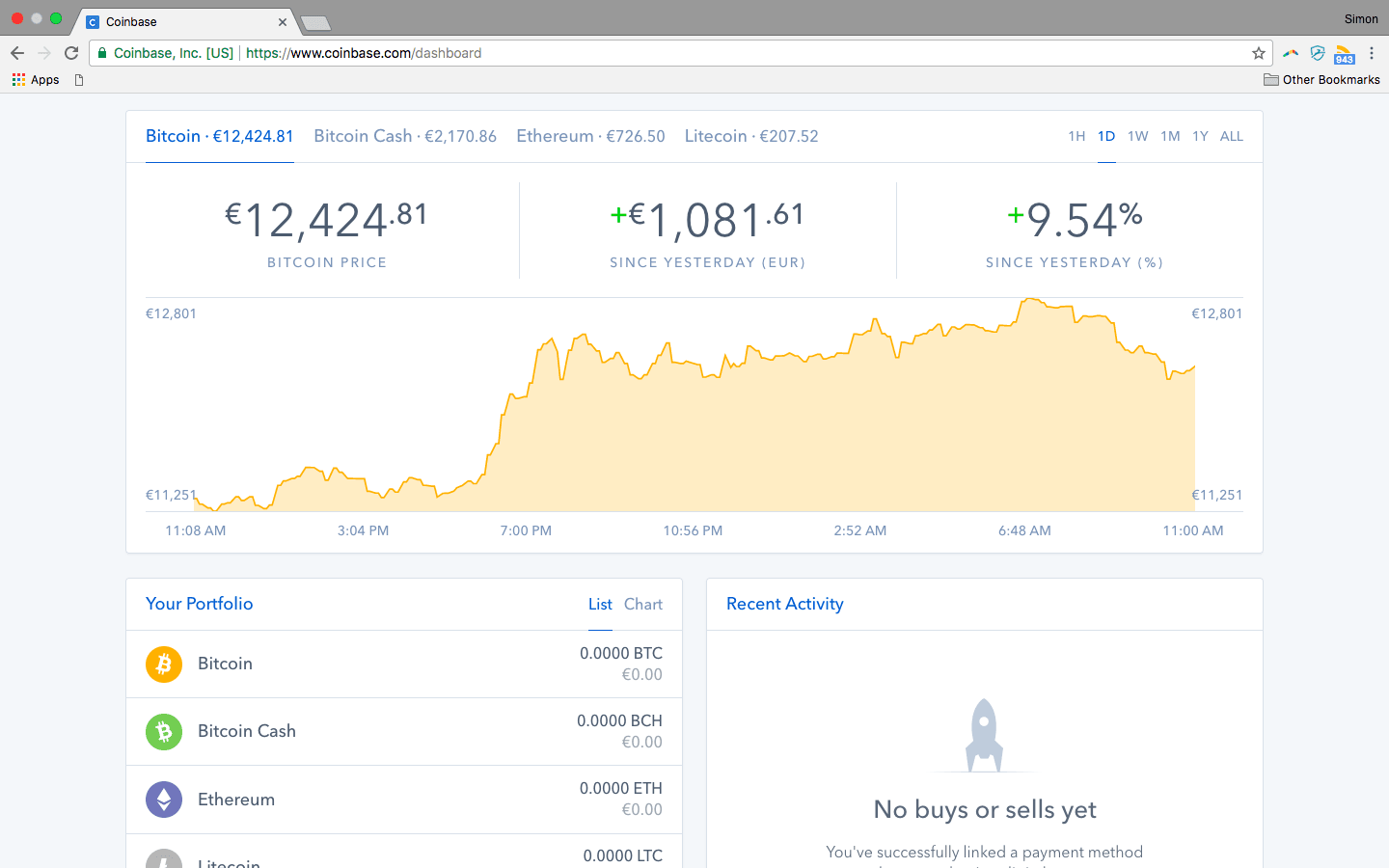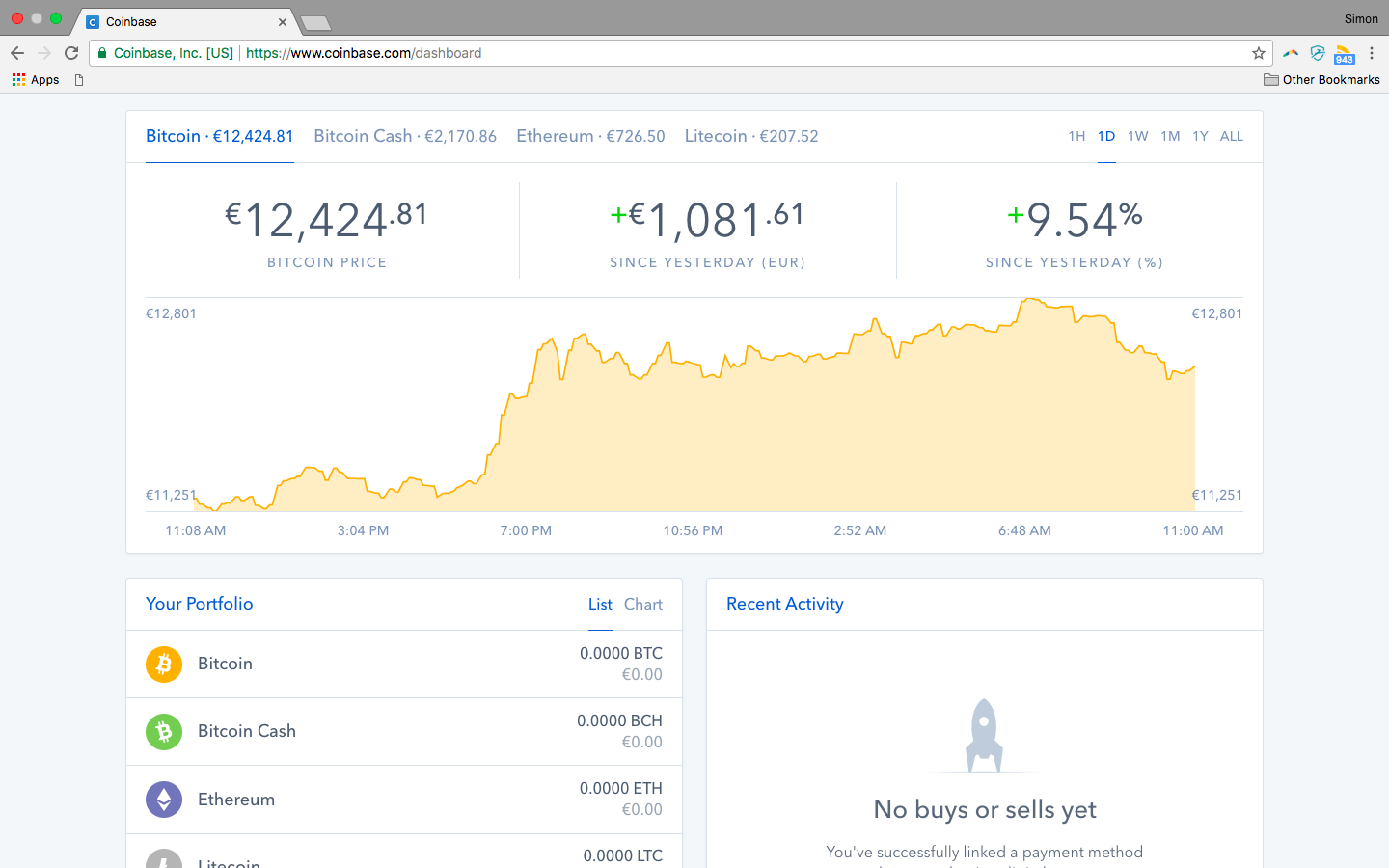 Fast and convenient cryptocurrency purchase methods usually come with higher fees, and Coinbase is no exception. However, at Coinbase, you will also find a professional 24/7 customer support team, cryptocurrency wallet, and will be able to enjoy a tried and tested exchange with robust security measures.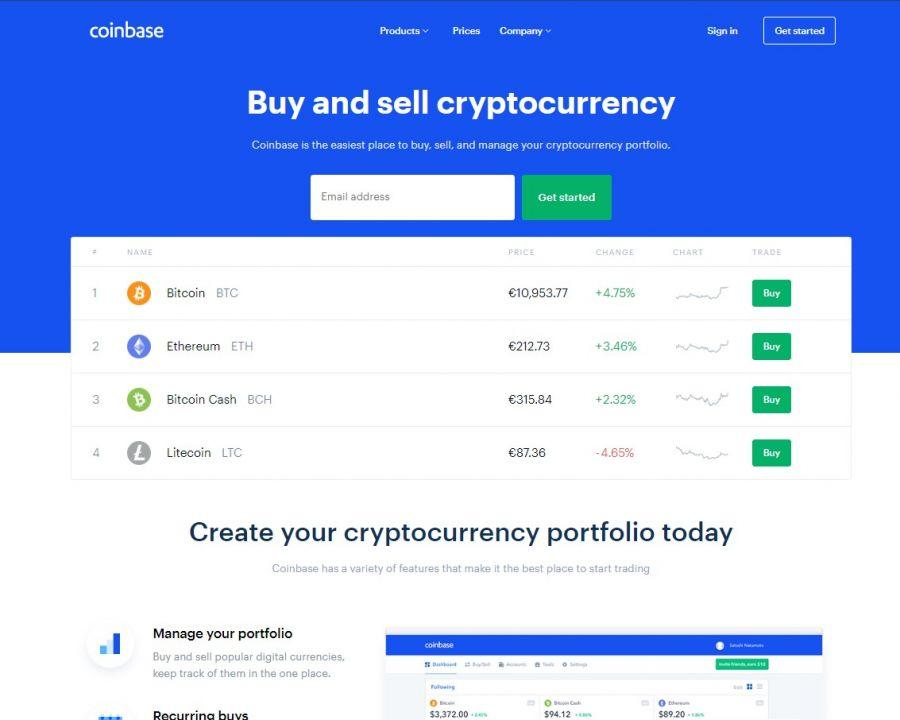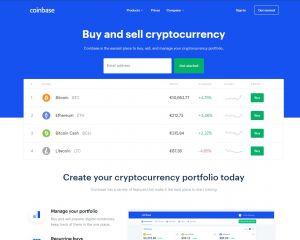 In brief, the must-known Coinbase key features include:
One of the easiest ways to buy bitcoin and over ten other top altcoins. Coinbase lets you purchase cryptocurrency using your credit/debit cards, bank account, wire transfer, other cryptocurrencies, and other localized payment methods (differs per country).
A worldwide exchange that supports many fiat currencies. If Coinbase operates in your country, it likely accepts deposits in your native currency.
A Coinbase's own USDC stablecoin. Unlike most exchanges, Coinbase utilizes its USD Coin (USDC) issued by the company together with Circle. It is a fully regulated, transparent, and verifiable stablecoin with regular audits.
Coinbase card. Coinbase customers from the United Kingdom, Spain, Germany, France, Italy, Ireland, and the Netherlands can order a Visa debit card which allows you to buy and sell goods and services with cryptocurrency. According to the company, more countries will be available soon. 
Earn crypto with Coinbase. Coinbase Earn program lets you earn cryptocurrencies by merely learning about them. Complete courses about cryptocurrencies like EOS or Stellar Lumens and get $50 worth of them in return.
Additional bitcoin and cryptocurrency services. As a Coinbase customer, you can also make use of Coinbase's custodial and non-custodial crypto wallets, OTC trading, Coinbase Commerce tools for businesses, and much more.
An excellent starting point for beginners. Coinbase is tailored for cryptocurrency beginners and has been a starting point for the majority of traders. There are no trading charts, too, so if you need a more advanced trading interface, check out Coinbase Pro.
Coinbase supported cryptocurrencies
At the moment, Coinbase facilitates the buying and selling the following cryptocurrencies:
Coinbase history and background
Coinbase was founded in June 2012 by Brian Armstrong and Fred Ehrsam as a part of Ycombinator. Ever since, it has raised over $540 millions from venture capital firms like Andreessen Horowitz, The NYSE, Rabbit Capital, and many others.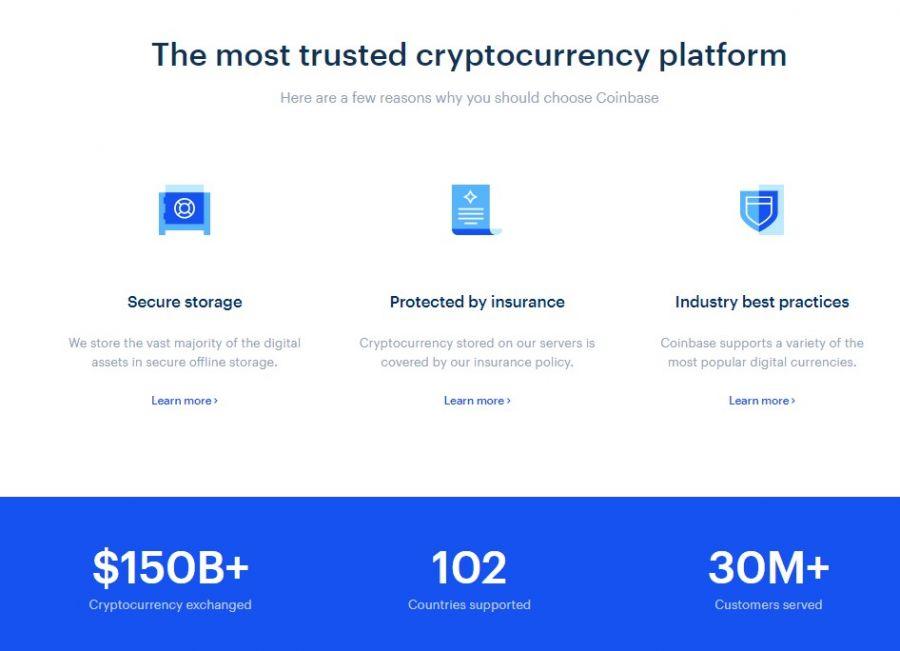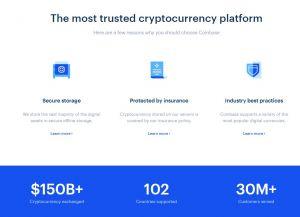 Coinbase opened the first regulated cryptocurrency exchange in the US in January 2015. Since that time, it has gone on to serve over thirty million customers and exchange more than $150 billion in digital currencies. This makes it one of the biggest exchanges on the web, with its reputation being cemented towards the end of 2017 when its mobile app became the most popular download on the Apple App Store.
Such popularity is largely due to Coinbase's easy-to-use interface, competitive transaction fees, its availability in 102 countries and its offering to buy the popular digital currencies like ether, litecoin, bitcoin cash, EOS, XRP and many others (in addition to bitcoin).
Coinbase supported countries
Today, Coinbase operates in 102 countries in Africa, Asia, Australia, Europe, North America, and South America. Currently, supported countries include the key markets in the United States, Australia, the United Kingdom, Singapore, Canada, Switzerland, Brazil, Argentina, Mexico, Poland, Spain, France, Hong Kong, Indonesia, South Africa, and many other countries.
Nonetheless, the service availability differs from country to country – while most Europeans can use Coinbase to buy and sell cryptocurrencies, citizens from most African and Asian countries can only make use of Coinbase's convert feature.
The full list of supported countries and services for specific markets can be found here.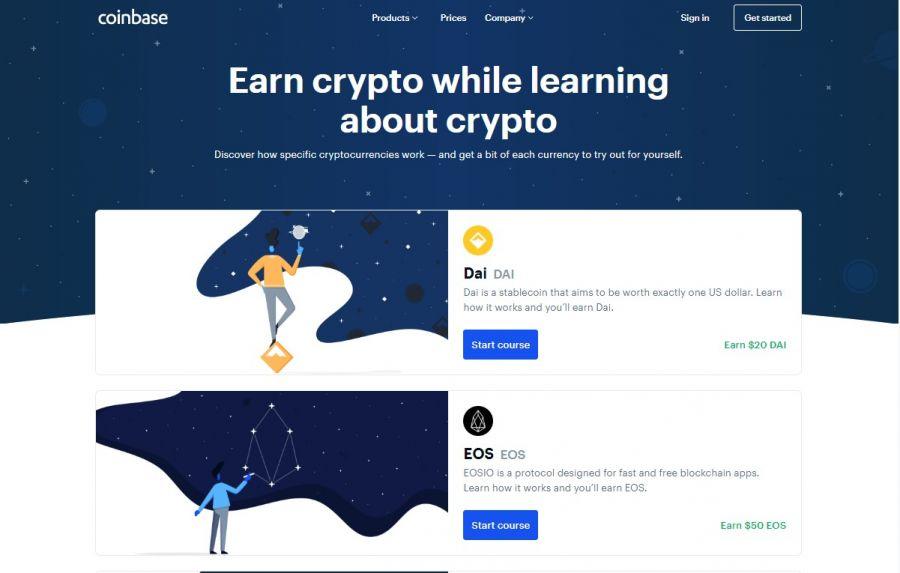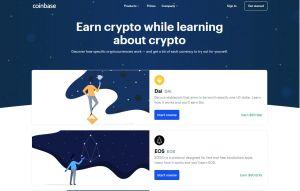 Coinbase Fees
Naturally, Coinbase charges fees to buy and sell cryptocurrency. These can be either fixed or variable. The fees vary according to payment type (e.g., card or bank transfer), the amounts being transferred, and your geographical location.
That said, Coinbase's support pages explain that it charges a minimum flat fee to exchanges under $200 in value. Coinbase's flat fee is charged only if it is higher than the variable fee.
| Transaction Value | Cost |
| --- | --- |
| Less than $10 | $0.99 |
| $10 to $25 | $1.49 |
| $25 to $50 | $1.99 |
| $50 to $200 | $2.99 |
For those over $200, it charges a variable percentage fee, which can also be considered a deposit fee. It varies according to your location as shown below:
| Region | Standard Buy/Sell | Credit/Debit Card Buys | Bank Transfers (SEPA) – in/out | Bank Wires – in/out |
| --- | --- | --- | --- | --- |
| Europe | 1.49% | 3.99% | Free/€0.15 | – |
| UK | 1.49% | 3.99% | Free/€0.15 | Free/£1 |
| Australia/Canada | 1.49% | 3.99% | Free/€0.15 | – |
| Singapore | 1.49% | 3.99% | – | – |
| USA | 1.49% | 3.99% | – | $10/$25 |
To take some concrete examples, someone wishing to buy bitcoin in British pounds and with a debit or credit card would have to pay the following fees to Coinbase:
| Total Ammount | Coinbase Fee | Conversion fee | Ammount spent on bitcoin |
| --- | --- | --- | --- |
| £100 | £1 | £2.41 | £96.59 |
| £200 | £1 | £4.85 | £194.15 |
| £300 | £2 | £7.26 | £290.74 |
| £400 | £3 | £9.68 | £387.32 |
| £750 | £7 | £18.11 | £724.89 |
And for the sake of comparison, Coinbase's 3.99% fee for credit/debit card transactions is cheaper than BitPanda's and BitStamp's respective fees. These both stand at 5%.
However, compared to CEX.io and Kraken, Coinbase is a bit more expensive. CEX.io charges 2.99% for credit/debit card purchases of bitcoin, while Kraken – which isn't as user-friendly and accepts only bank transfers – charges around 0.26% for bitcoin purchases.
In other words, Coinbase is cheaper than other simplified Bitcoin purchase services. But if the buyer is willing to shop around a bit, they can usually find more affordable fees elsewhere.
See our other exchange reviews if you'd like to explore more cryptocurrency exchanges.
Coinbase Security
Coinbase has proven to have robust security measures and has never been hacked before. Besides, it is a fully regulated exchange and holds various licenses required for operating in different states.
When opening an account, every Coinbase user is asked to submit documents for KYC verification. Coinbase verifies your identity using a passport, ID or driver's license, as well as a proof of address (recent utility bill or so). The check must be passed in order to buy or sell any cryptocurrency.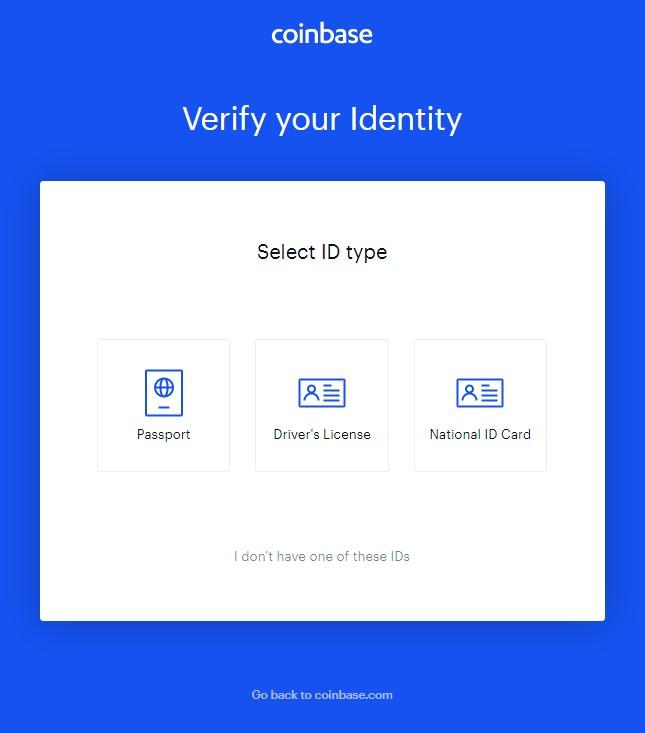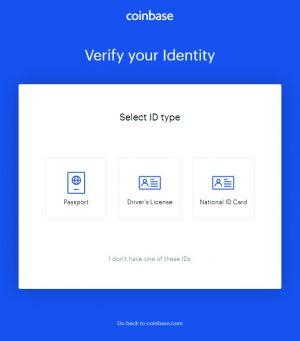 Users are asked to secure their accounts using a strong password and two-factor authentication (2FA). Currently, Coinbases 2FA methods include third-party applications like Google Authenticator or Duo and SMS-based 2FA. Unfortunately, Coinbase still hasn't removed the SMS-based 2FA authentication method even though it was proven to be insecure in the past. Try to avoid SMS-based 2FA if you can.
Speaking of the platform's security, Coinbase takes the following measures to increase the safety of its operations:
98% of customer funds stored offline.
Bitcoin and altcoins are distributed geographically in a variety of cold storage vaults around the world.
All website traffic is encrypted.
Customer wallets and keys are all encrypted (AES-256 encryption).
Coinbase employees undergo criminal checks and must encrypt their hard drives.
Coinbase runs a bug bounty program, incentivizing coders to alert them to any bugs.
Overall, Coinbase has proven to be a highly-secure cryptocurrency exchange with no history of hacks in the past. However, that shouldn't be a pretext to protect your Coinbase account with weak security measures like SMS-based 2FA.
For ultimate protection of your cryptocurrencies, be sure to store them offline using a hardware wallet. We recommend getting a hardware device by Ledger or Trezor.
Usability of Coinbase
Usability is one of Coinbase's biggest draws. Setting up an account is a quick and easy process, although it requires to disclose your name, address, bank details, and proof of ID.
Added to this, the website itself is clearly laid out, with easy to navigate pages and interfaces. Its dashboard shows the user the changing value of bitcoin (or the other three tradable cryptocurrencies), it shows them their recent transactions, and it shows them their portfolio of currencies.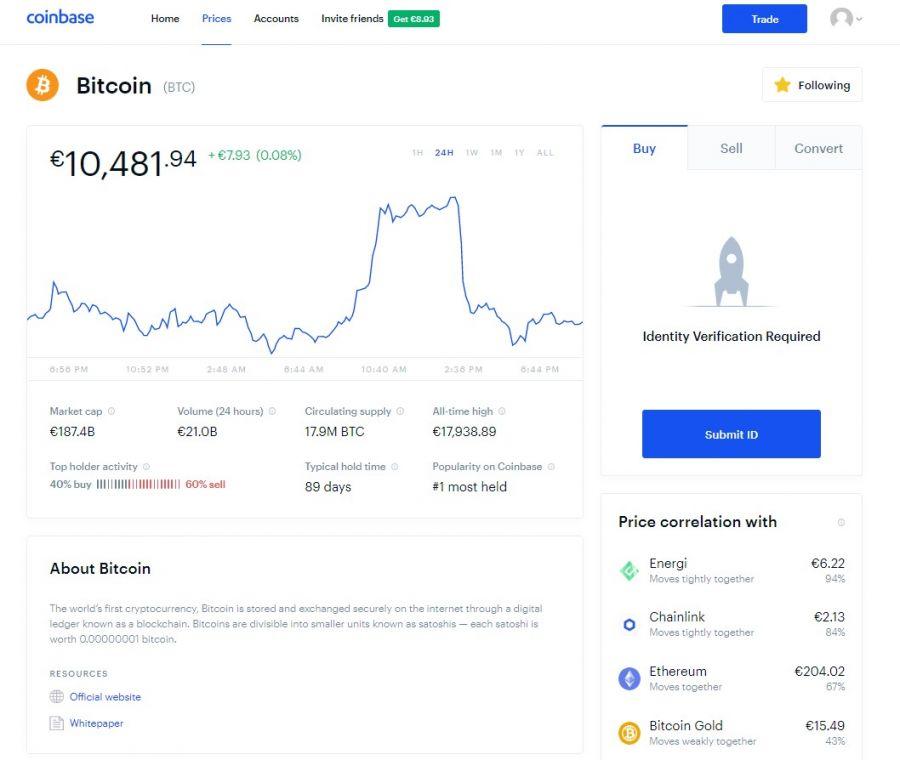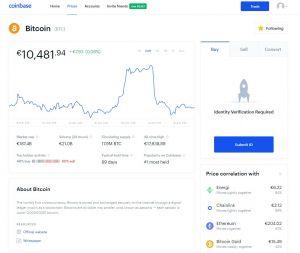 The website is designed for new and amateur investors who don't require charts or advanced order types in their investing activities. This makes it one of the most accessible and user-friendly digital currency exchanges out there.
This type of intuitive layout is also available on the site's mobile app, too. You can download it via the Apple App Store and Google Play store.
Deposit and withdrawal methods
Buying bitcoin is an instant process with a credit or debit card on Coinbase. Meanwhile, buying via a bank or wire transfer takes approximately 1-3 business days to clear the transaction in most places in the world. Cryptocurrency deposits do not cost you a cent (except for the network fees), and their clearing speed depends on the speed of the blockchain.
Speaking of withdrawals, Coinbase lets you receive funds back to your bank account or PayPal account. It can cost you anything from €0.15 to $25 depending on your location and preferred method.


If you want to withdraw cryptocurrency, you can do so by withdrawing them directly to your crypto wallet. Cryptocurrency withdrawals from Coinbase are free, and their execution speed depends on the state and busyness of the network (standard time is within an hour).
Closing thoughts
Coinbase is the world's leading cryptocurrency exchange which has made buying and selling of cryptocurrencies available to almost anyone. If you are looking for good and reputable exchange for your first-time cryptocurrency purchase, look no further – Coinbase is the place to go.
If you're a more experienced trader, check you another exchange by Coinbase – Coinbase Pro, which is oriented towards more advanced crypto market players.