Solana and Cardano Expected to be Replaced in Portfolios by InQubeta as AI Takes Over
Disclaimer: The text below is a press release that is not part of Cryptonews.com editorial content.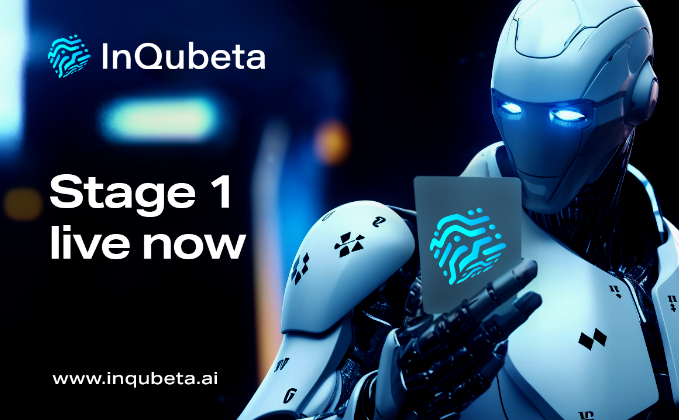 An increasing number of Solana (SOL) and Cardano (ADA) investors are swapping their holdings for InQubeta (QUBE) tokens as its presale remains one of the hottest topics in the cryptocurrency space.
The QUBE platform provides more utility than both projects combined, bringing AI startups that need funding together with investors who might not have entry to traditional investment channels.
InQubeta's innovative approach to investing sends more funds into the artificial intelligence (AI) industry, paving the way for more innovations while making investments in AI more accessible for the average investor.
InQubeta's presale success isn't surprising to those who have paid attention to investor attitudes regarding AI in the last several years, with investments increasing exponentially from $12 billion in 2015 to $119 billion in 2022.
InQubeta is riding the AI wave, with total investments in the sector expected to exceed $1.5 trillion by 2030.
Investors Swapping Altcoins for InQubeta (QUBE) Tokens
Cardano and Solana both have the potential for substantial growth in 2023, so investors swapping them out for QUBE signifies how optimistic they are about the project's future.
AI is poised to be the next major technological revolution and InQubeta's platform provides barrier-free access to investment opportunities created by the disruption it causes.
Startups use InQubeta's ecosystem to raise capital by developing non-fungible tokens (NFTs) that are listed on the marketplace once given the operations team's seal of approval.
Investors use $QUBE tokens to purchase the NFTs of any companies they think have the potential to innovate in the AI space, becoming part-owners with them.
Some of these NFTs also provide investors with additional rewards like a slice of profits or discounts on items developed.
$QUBE tokens are the ecosystem's native currency, with a fixed supply of 1.5 billion tokens. Deflationary practices, like a 2% burn tax, promote long-term price growth.
$QUBE holders can stake their tokens to help operate the blockchain and earn additional tokens.

No Turning Back From AI
The artificial intelligence industry has surpassed many milestones in the last decade, leading to many industries and technology experts bracing for an AI-driven future.
US President Joe Biden recently warned that AI will cause more change in the next ten years, than other technologies, like the internet, have done in the last 50 years.
AI will disrupt many industries while creating countless new opportunities. Investors who pick the right startups to invest in stand to enjoy similar profits to what those who backed dotcoms like Netflix in the early 2000s earned.
Cardano (ADA) Investors Getting Frustrated
Cardano is one of the most promising projects in the cryptocurrency space, but that hasn't helped its rebound since the 2022 crash.
It's one of Ethereum's (ETH) main rivals and its blockchain provides faster transaction speeds and lower fees.
It's also one of the most energy-efficient altcoins, with a significantly smaller carbon footprint than older blockchains like Bitcoin (BTC) and Ethereum, whose miners use up more energy than countries like Denmark, Argentina, and the Philippines.
Despite all the things the Cardano project has going for it, its prices remain seriously undervalued, leading to investors looking for more rewarding alternatives like InQubeta.
Solana (SOL) Price Growth Remains Slow
The Solana platform facilitates the development of decentralized applications and decentralized financial services.
It combines a proof-of-history protocol with a proof-of-stake mechanism to improve the scalability of its blockchain.
Like Cardano, Solana has struggled to recover its losses caused by the 2022 crash. Its investors are getting increasingly frustrated.
Summary
Altcoins like Solana and Cardano continue to struggle in a bearish cryptocurrency market, while new players like InQubeta are bringing in mainstream and crypto investors thanks to its link to artificial intelligence.
InQubeta has emerged as one of the top altcoins to buy in 2023 as investors have the potential to increase their holdings by up to 50x after its launch.

---