Justin Sun, Warren Buffett and Guests Finally Eat Dinner; TRX Jumps 12%
Disclosure: Crypto is a high-risk asset class. This article is provided for informational purposes and does not constitute investment advice. By using this website, you agree to our terms and conditions. We may utilise affiliate links within our content, and receive commission.
Just when the Cryptoverse thought it'd never happen, the long-awaited dinner between Tron's CEO Justin Sun and a crypto-skeptic billionaire Warren Buffett was finally eaten in late January. Following the news, TRX jumped more than 12%.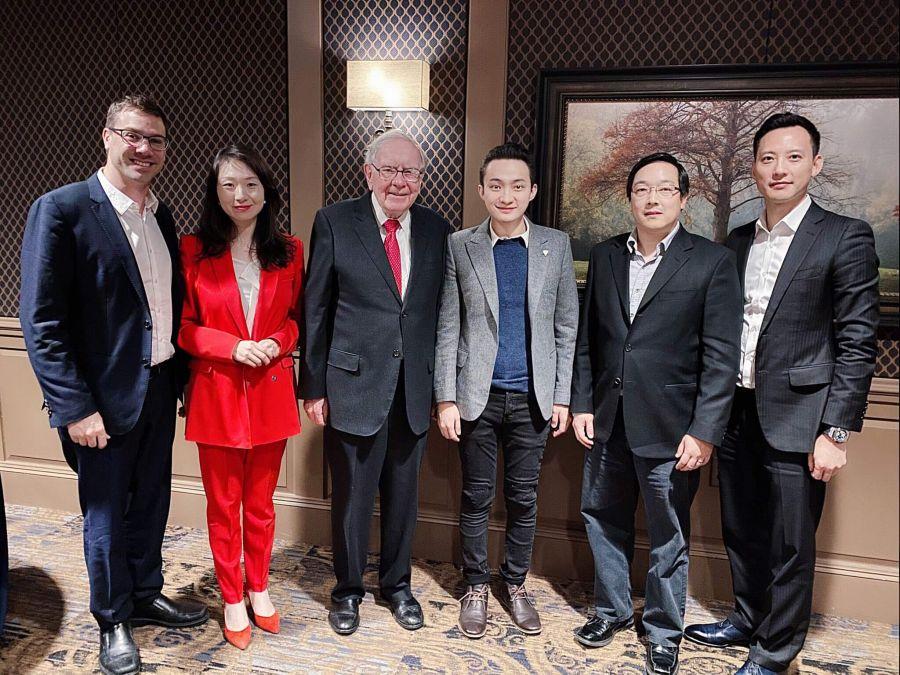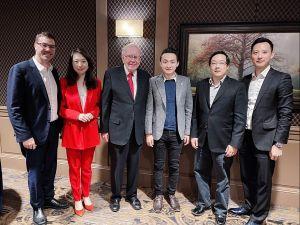 Sun himself tweeted about the event with a lot of praise and enthusiasm, surprising the community that it happened at all. The CEO described the dinner as "amazing," thanking Buffett for the shared advice.
TRX is currently (15:45 UTC ) trading at USD 0.022. It jumped 12.7% in 50 minutes. Overall, it appreciated 12.34% in the last 24 hours and 22.22% in a week.
Sun, along with Litecoin founder Charlie Lee, chief financial officer of the crypto exchange Huobi Chris Lee, chief executive of the trading platform eToro Yoni Assia, and head of Binance Charity Foundation Helen Hai, met Buffett on January 23 for a more than three-hour dinner at the Happy Hollow Club in Omaha, Nebraska, USA, reports Bloomberg.
Sun himself said that paying USD 4.56 million in a charity auction to have lunch with the billionaire was worth the USD 515 dinner. Among a number of gifts Sun prepared, Buffett received 1 BTC, stored in a Samsung Galaxy Fold.
"Since I gifted him this Bitcoin, BTC has increased 16%! Hope it continues to moon," writes Sun. Besides the BTC currently worth USD 9,791, Sun also gave Buffett 1,930,830 TRX coins (worth USD 43,758), a number that corresponds with the recipient's 89th birthday. "Mr. Buffett joked he wished he was born later so that he could have more," says Sun. The two also exchanged autographed books.
As to what the group discussed, Sun shared that the conversation was led around Bitcoin, Tron, and Tesla, during which Buffett said Elon Musk is a great entrepreneur, but Tesla's not a good investment. "The insights I received are priceless," he wrote in today's thread.
Tron's spokesperson, Ryan Dennis, was quoted by Bloomberg as saying that Buffett "shared a lot of his wisdom in business, investment and life in general," bringing forth the evolution in Sun's approach to entrepreneurship, his outlook on investments and business, while "there were a lot of conversations around blockchain and crypto." According to Dennis, Buffett said that blockchain has its value: "There are a lot of incredible companies in the payment realm, and it has huge demands. He believes blockchain technology will have a disruptive effect on the future of payment." Dennis also shared that Sun is considering joining the Giving Pledge with Buffett and Microsoft co-founder Bill Gates to donate the to charity, Dennis said. Buffett's assistant, Debbie Bosanek, is quoted in the article as saying that the two had an "interesting and enjoyable discussion."
"I told Mr. Buffett Bitcoin is the currency for the next generation," writes Sun, Mr. Buffett smiled and said "I'm sure my grandson would rather inherit my wealth in USD." LOL!"
As a reminder, Sun and Buffett, as well as a few high-profile guests Sun had invited, were supposed to have the lunch back in July. Sun cancelled it soon though, allegedly due to kidney stones. However, he later issued a long, now-deleted apology, saying that he'd been "immature" in his "excessive" promotion and over-marketing of the lunch. Many people at the time believed this to be a classic move meant to praise the Chinese leaders and get in the Communist Party's good graces – which may or may not be the reason this dinner wasn't promoted until two weeks after it already happened.
---