Crypto Market Sentiment in Neutral Zone; Tether Wins Week, Loses Day
Disclosure: Crypto is a high-risk asset class. This article is provided for informational purposes and does not constitute investment advice. By using this website, you agree to our terms and conditions. We may utilise affiliate links within our content, and receive commission.
After climbing a short step up last week, the average 7-day moving crypto market sentiment score (sentscore) for ten major coins slipped to 5 from 5.15, according to the market sentiment analysis service Omenics. Ethereum (ETH)'s sentiment is still above bitcoin (BTC)'s, and is the only coin with a positive sentscore.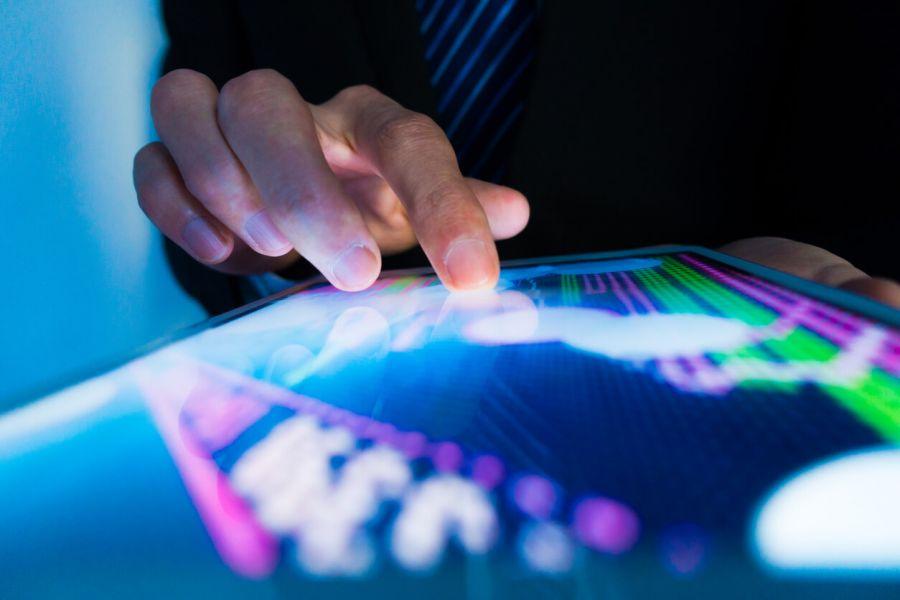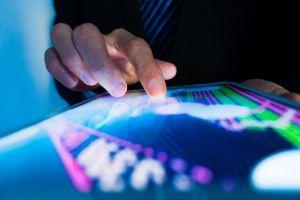 There are two green coins to talk about today, which are winners in their respective categories. One is the mentioned ETH with the score of 6.1. Five other coins have sentscores in the 5-5.9 range, led by BTC's 5.7, followed by cardano (ADA)'s and polkadot (DOT)'s 5.2 each, and ending with tether (USDT)'s and USD coin (USDC)'s 5 each.
Meanwhile, four coins have sentscores below 5: binance coin (BNB) and uniswap (UNI) are at 4.6 each, while XRP and litecoin (LTC) have 4.3 each.
And when it comes to the other green coin, which is also the winner of the week per the rise in its sentscore – that honor goes to USDT. It is the only coin that has seen it's sentscore rise over the past seven days, and by a double-digit percentage too, of nearly 11%.
All the other coins are red – save for BTC which is unchanged this week – ranging from USDC's -1.2% to UNI's -11.6%.
Sentiment change among the top 10 coins*:
Interpreting the sentscore's scale:
– 0 to 2.5: very negative
– 2 to 3.9: somewhat negative zone
– 4 to 5.9: neutral zone
– 6 to 7.49: somewhat positive zone
– 7.5 to 10: very positive zone.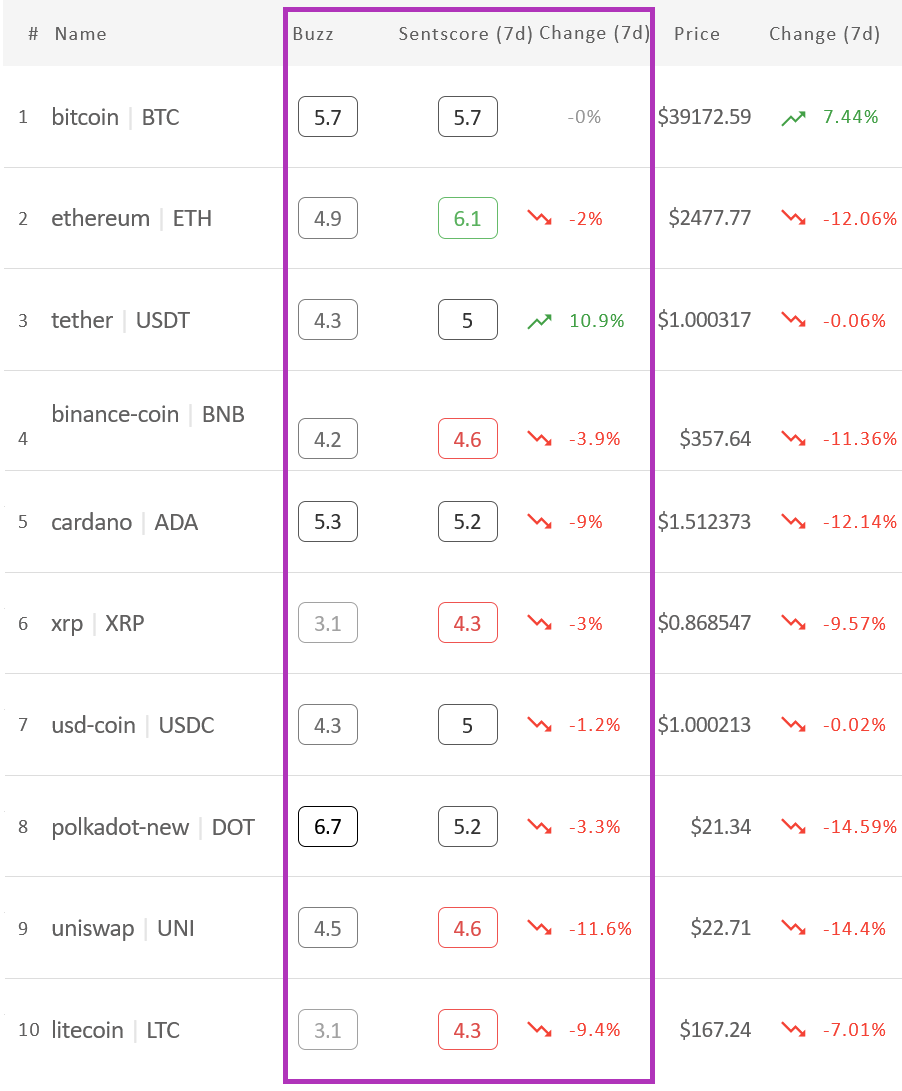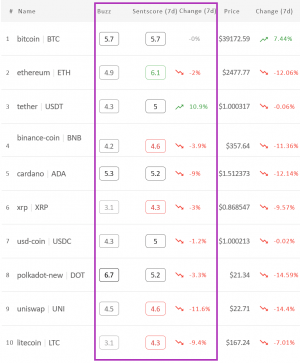 Now focusing on the developments in the last 24 hours, the overall sentecores for the 10 coins is down to 4.79, deep within the neutral zone. Nonetheless, the majority of the coins are up over the past day, even if by relatively low percentages. DOT leads the list with a rise to its score of 4.4%, while the smallest rise is BTC's 0.4%. When it comes to the drops, the week's winner turned the day's loser, as USDT's sentscore fell 6.7%. It's followed by LTC's -5.9% and ETH's -0.6%. Only four coins, however, have scores above 5, and none above 6. BTC is at the top with 5.7, while ETH is in the second place with 5.6. USDC and DOT have 5.4 and 5, respectively. The lowest score on the list today is LTC's 4 – sitting on the border of the negative zone.
Daily Bitcoin sentscore change in the past month: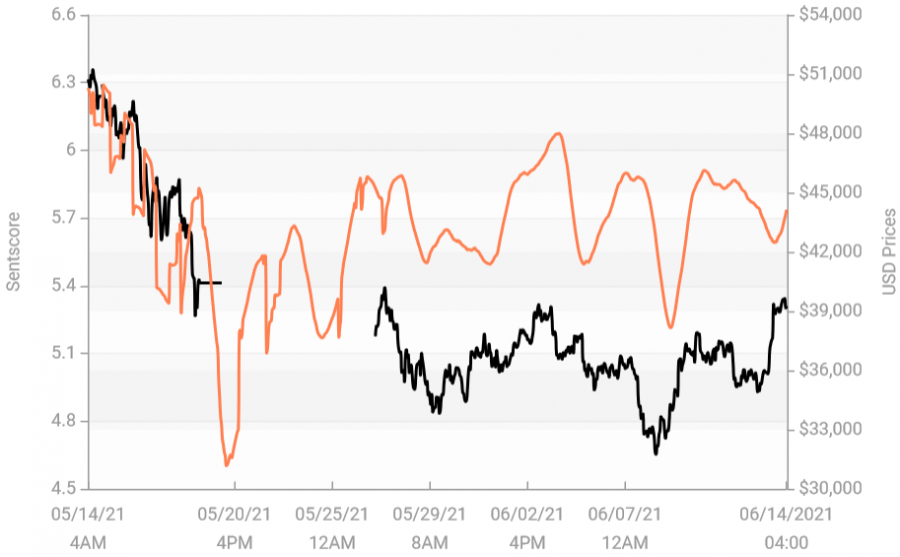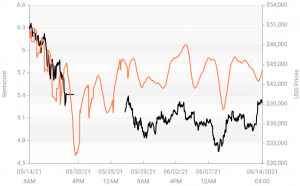 Meanwhile, outside the top 10 list, when it comes to the other 25 coins rated by Omenics, the situation is not much greener in the past week, if at all. Only eight coins have seen their sentscores rise, the highest among these being WAVES' 9.4%, and the lowest maker (MKR)'s 0.3%. The falls, on the other hand, are plenty, and for some, quite big. Chainlink (LINK)'s score dropped the most, 16%, while tron (TRX)'s fell the least, 0.9%. There are no scores in the positive zone, and only five have sentscores above 5, with algorand (ALGO)'s 5.9 leading the list. On the other hand, two coins are in the negative zone now, both with a 3.7 score: ontology (ONT) and OMG.
____
* – Methodology:
Omenics measures the market sentiment by calculating the sentscore, which aggregates the sentiment from news, social media, technical analysis, viral trends, and coin fundamentals-based upon their proprietary algorithms.
As their website explains, "Omenics aggregates trending news articles and viral social media posts into an all-in-one data platform, where you can also analyze content sentiment," later adding, "Omenics combines the 2 sentiment indicators from news and social media with 3 additional verticals for technical analysis, coin fundamentals, and buzz, resulting in the sentscore which reports a general outlook for each coin." For now, they are rating 35 cryptoassets.
---