BNB Price Prediction 2023 – 2030
Disclosure: Crypto is a high-risk asset class. This article is provided for informational purposes and does not constitute investment advice. By using this website, you agree to our terms and conditions. We may utilise affiliate links within our content, and receive commission.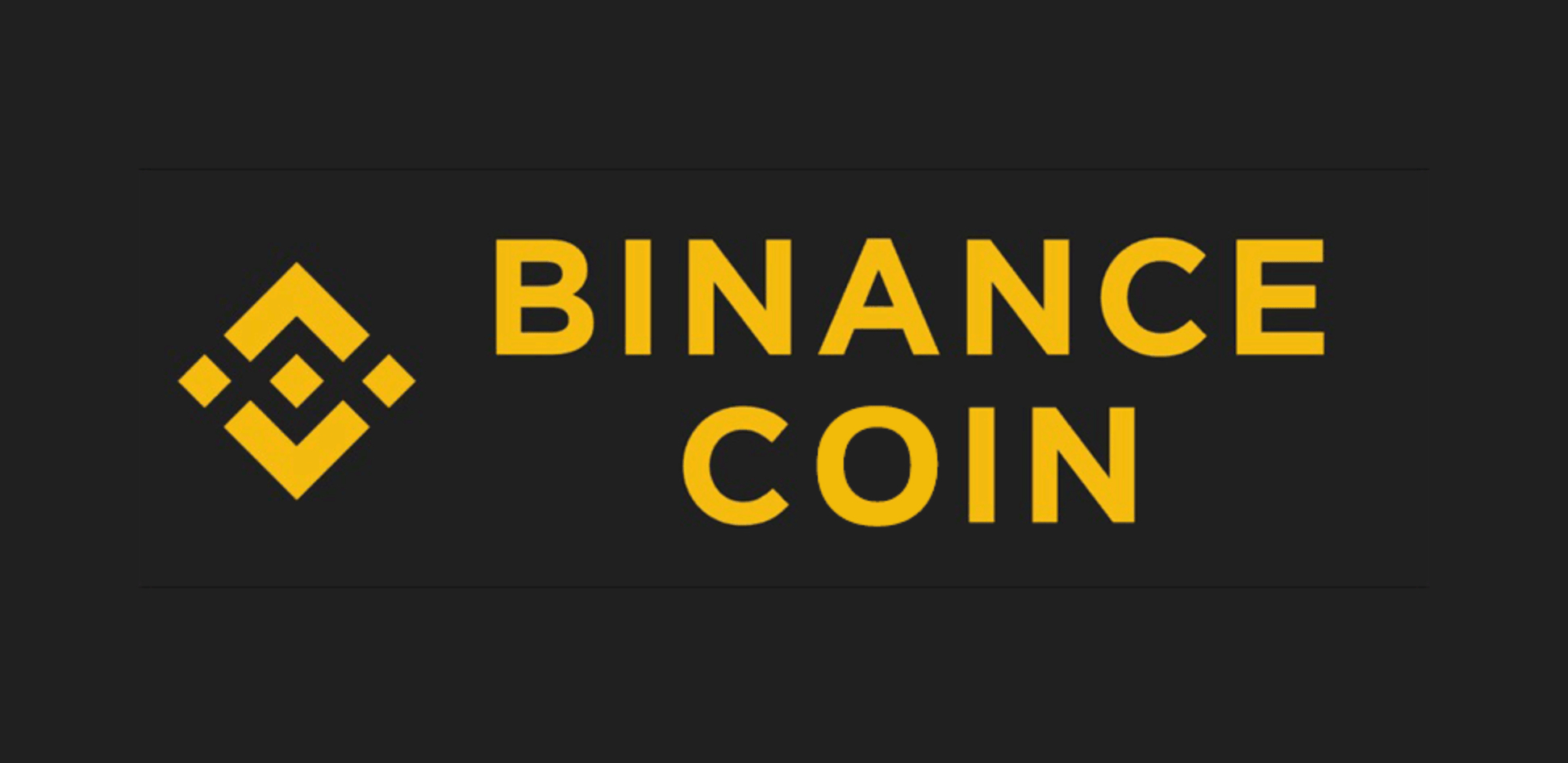 Disclaimer: The Industry Talk section features insights by crypto industry players and is not a part of the editorial content of Cryptonews.com.
Binance Coin (BNB) is the native token of Binance – the world's largest cryptocurrency exchange. Although BNB has several use cases within the scope of the Binance ecosystem, it's also widely used by investors to gain exposure to the exchange's growth and success.
This article presents our in-depth BNB price prediction, covering the token's price history and detailing our thoughts on its value potential. We'll also highlight where investors can buy Binance Coin today before showcasing several alternative cryptos that investors may wish to consider.
BNB Price Prediction Summary
We'll go into more detail on our BNB price forecast later in this article, detailing why many market participants now believe it to be the hottest crypto to buy. But for now, here's a brief overview of our price estimations for the years ahead:
End of 2023: Assuming Binance continues to dominate the crypto market, we should see demand for BNB rise even more. If this occurs, our BNB forecast estimates the coin's price could reach $500 by the end of 2023.
End of 2024: If BNB continues to attract more users it could potentially jump above the $700 mark by the end of 2024.
End of 2025: BNB's value is inherently linked to the growth of the Binance exchange – which will be fuelled by further innovation in the crypto market. For this reason, we estimate that BNB could be valued at $1,100 by the end of 2025.
End of 2030: Finally, we estimate the BNB crypto price could hit $2,500 by the end of 2030. This would represent a 606% increase from today's price.
Binance Coin Price History
Before diving into the details of our BNB price prediction, it's essential to provide some context by summarizing what Binance Coin is and how its price arrived at this point. As defined by Binance itself, BNB is the native token of the BNB Chain – Binance's decentralized ecosystem. 
The BNB Chain was actually formed by the merger of the BNB Beacon Chain and the BNB Smart Chain, both of which have their own use cases. The BNB Beacon Chain uses the BEP2 standard, also used by the BNB coin, enabling users to make fast and low-cost transfers.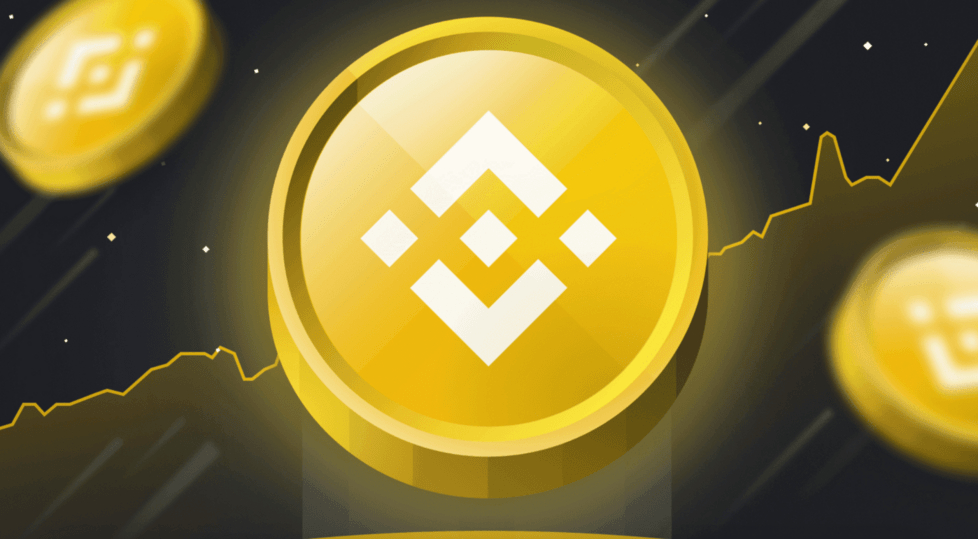 On the other hand, the BNB Smart Chain is a blockchain network that allows decentralized application (dApp) developers to build their projects. Interestingly, the BNB Smart Chain has smart contract functionality and is compatible with the Ethereum Virtual Machine (EVM).
So how does this relate to BNB? Put simply, BNB powers the entire ecosystem, allowing network users to make trades, conduct staking, invest in new projects, and even as a speculative asset. One of BNB's main benefits is that it provides some hefty trading fee discounts for Binance users –25% off spot/margin trading fees and 10% off futures trading fees.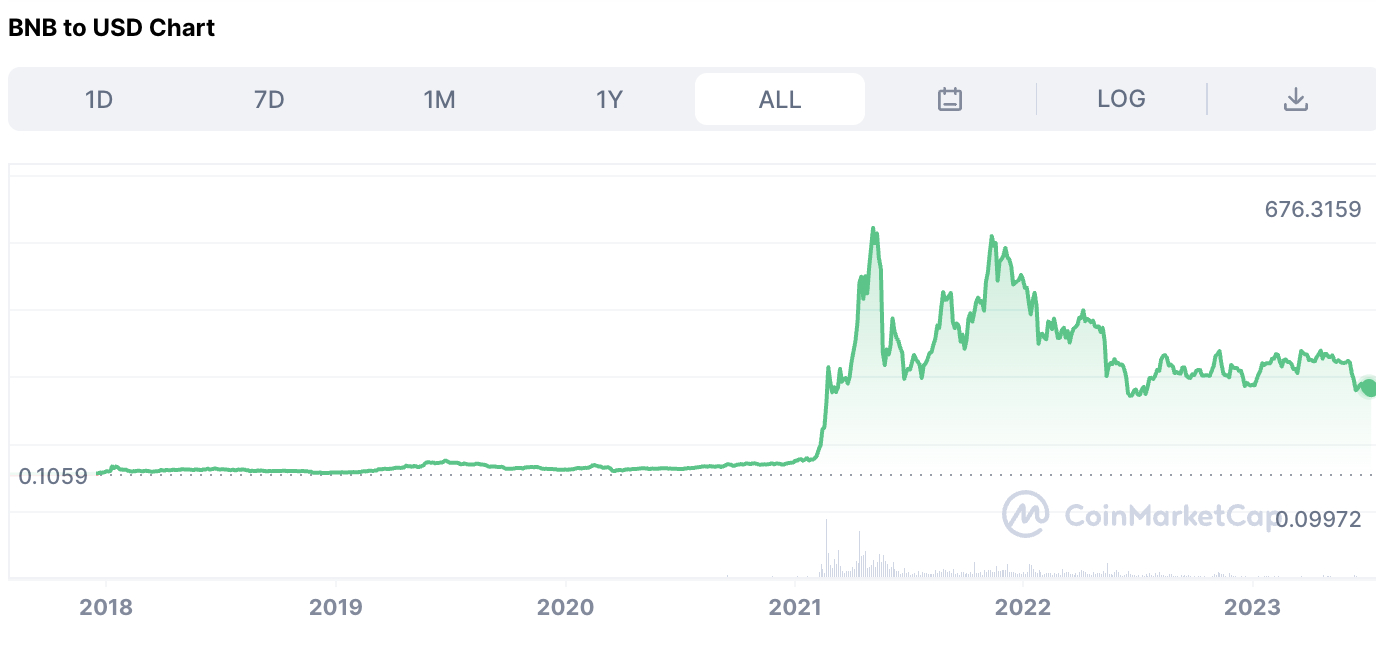 Although Binance Coin isn't a new cryptocurrency, it has been in the news for reasons we'll discuss in the next section. However, BNB has maintained a relatively strong reputation as an investment asset following its tremendous price rise in early 2021.
Between January 2021 and May 2021, the BNB token price surged by 1,586%. According to CoinMarketCap, this created an all-time high of $690.93. However, this high was short-lived, and the price immediately crashed – along with the rest of the crypto market.

The BNB coin price rose again in November 2021, yet the bullish run ended just before May 2021's highs. As of February 2023, Binance Coin is valued at around $332 – nearly 52% lower than all-time highs.
Before diving into our BNB price prediction for the years ahead, let's briefly recap some key points concerning the Binance Coin price history: 
Binance Coin (BNB) is the native token of the BNB Chain ecosystem
BNB has various use cases within the ecosystem, such as paying for trading fees, investing in new projects, and even paying for goods and services
BNB had its first significant bull run in early 2021, hitting an all-time high of $690.93 in May 2021
After a dramatic fall, BNB rose once more in November 2021 – yet couldn't breach previous highs
Since November 2021, BNB's value has decreased substantially until the start of 2023 and is now about 45% lower than its all-time high level. At press time, it is trading around the $233 mark. 
Crypto assets are highly volatile investment products. Your capital is at risk.
BNB Price Prediction 2023
The BNB price today is hovering around the $310 level and looks to have been rejected from the vital support region at the $340 price point. A close above this level can set the stage for a near-term rally in the coming months.
The whole saga with FTX will likely play into Binance's hands, as Sam Bankman-Fried has become a controversial figure within the scope of the crypto market. Bankman-Fried had already made sizable political donations and was more than happy to work with regulators, leading many to believe that his actions would cause the crypto market to become more 'centralized.'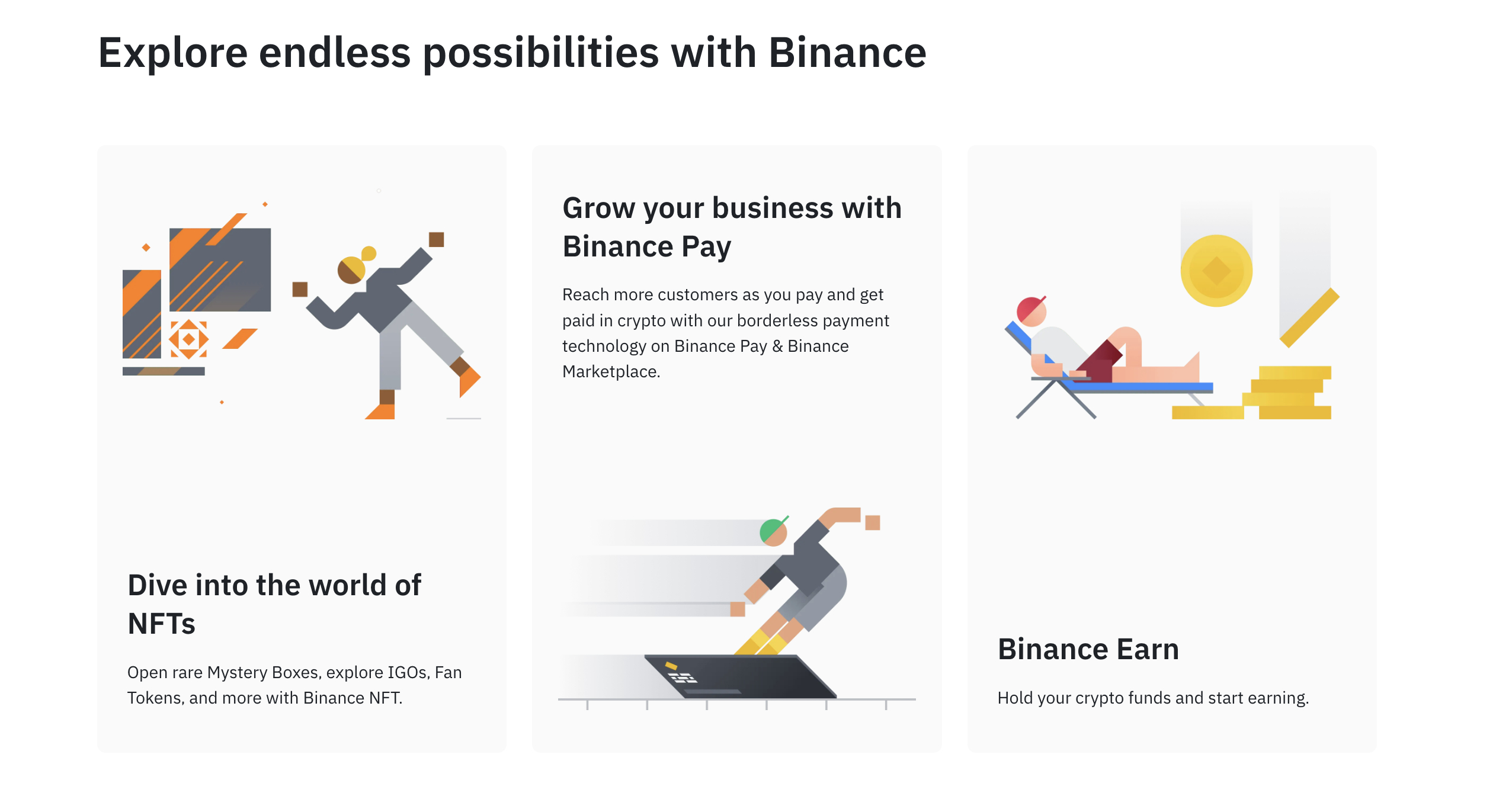 Many of the best long-term crypto projects rely on decentralization, so Bankman-Fried's actions were viewed with concern, especially by Changpeng Zhao. The fact that Bankman-Fried (and FTX) are now out of the picture is excellent news for Binance, as it means the exchange now controls most of the market and doesn't have to worry about regulatory oversight – at least for now.
The more of the market Binance controls, the greater the demand for Binance Coin. This is true for several reasons, mainly because Binance's fees are paid in BNB. So, if someone wishes to buy, sell, or trade crypto using Binance, they'll likely have to invest in BNB – creating bullish price pressure. 
With that in mind, our BNB price prediction estimates that the coin could cross $500 by the end of 2023. This would represent an over 43% increase from today's price.
Crypto assets are highly volatile investment products. Your capital is at risk.  
BNB Price Prediction 2024
BNB's stability and success can be attributed to its robust foundation. The coin has gained trust and popularity through its associations with well-established companies and ventures. 
Binance provides incentives for those who use BNB on its platform by covering substantial transaction fees. As Binance continues to grow and attract more users, the utilization and importance of Binance Coin will also rise, driving up its value and future potential.
Given the current tendencies of the market to rebound from its multi-monthly lows, it is likely that 2024 could continue to see a rise in the prices of the altcoin market. Moreover, Binance's current growth rate reaffirms the exchange's growth prospects in the coming times. Considering these factors, BNB could rise above the $700 mark by the end of 2024.
BNB Price Prediction 2025
Finally, how does our BNB price prediction for 2025 shape up? Given how well the FTX situation has played out for Binance, many investors looking to get rich off crypto will now gravitate towards Binance Coin. Since Binance Coin is inextricably linked to the Binance exchange, its price will naturally rise as the exchange grows in stature.
According to a report from Fortune Business Insights, the cryptocurrency market is projected to value over $1.9 trillion by 2028, equating to a CAGR of 11.1% between now and then. This means the crypto market's value is expected to more than double in the next six years, highlighting the massive opportunity that Binance now has.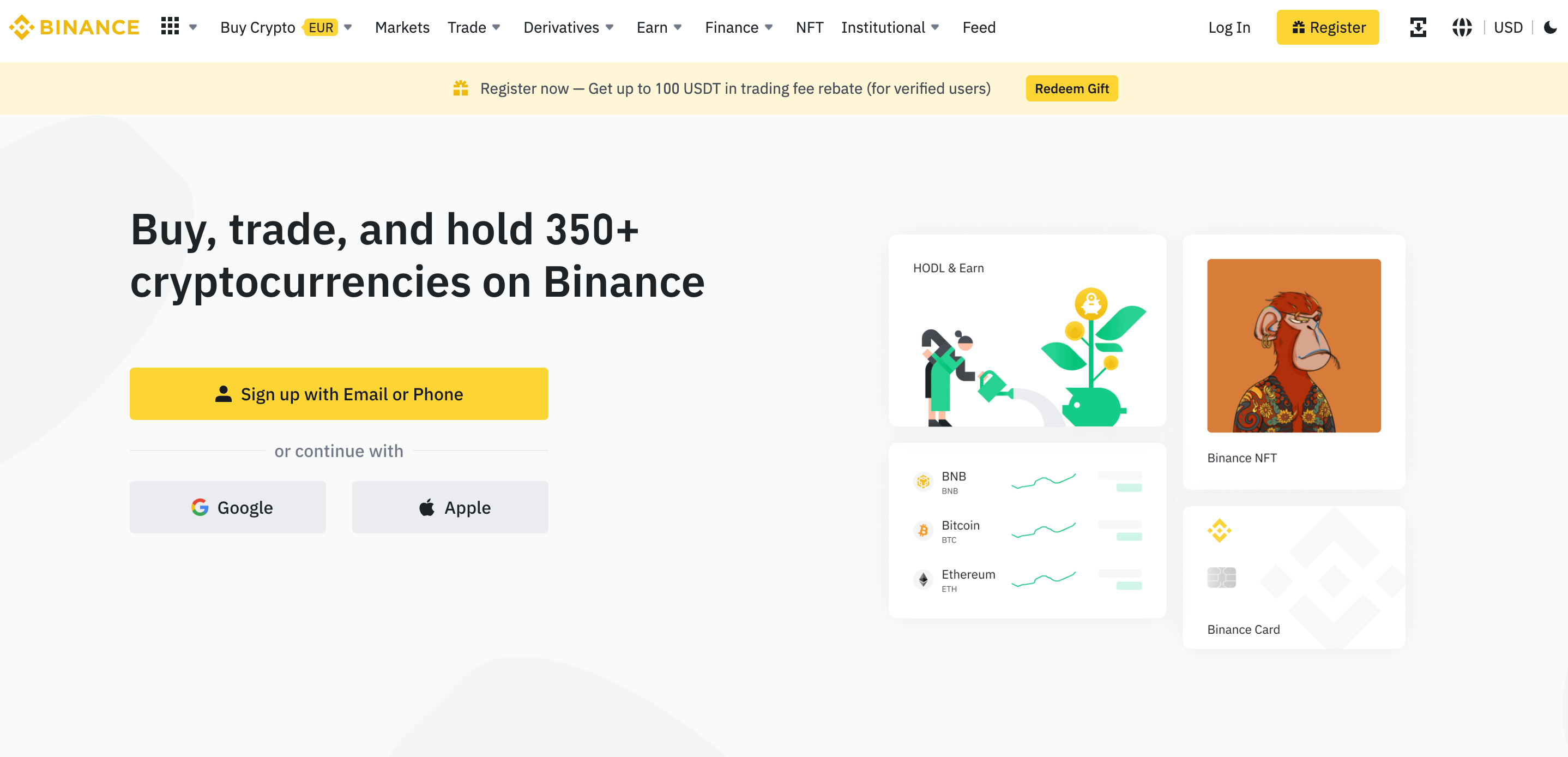 The crypto market's projected growth should also present new and exciting use cases for BNB. More dApp developers than ever are choosing to host their creations on the BNB Chain, adding even more utility to Binance Coin. Naturally, the larger Binance grows, the more popular the BNB Chain will become – leading to greater demand for Binance Coin.
Putting all of this together, our Binance Coin price prediction for 2025 estimates the coin could reach a valuation of $1,100.
BNB Price Prediction 2030
Binance ensures a controlled reduction in the supply of Binance Coin (BNB) as demand grows. The platform systematically eliminates a portion of BNB every three months, making BNB a deflationary asset and enhancing its prospects.
BNB serves as a payment option and expands possibilities in the Binance ecosystem, including savings programs, staking in the DeFi space, and liquidity generation through the BNB vault.
BNB's value has been affected by the recent bearish trend in the cryptocurrency market and concerns surrounding Binance's relationship with the SEC. Despite these challenges, expectations for BNB remain optimistic.
Looking further, our Binance Coin price prediction for 2030 sees the coin hit the $2,500 level – an over 640% increase from today's price.
BNB Price Potential Highs & Lows
As the sections above have highlighted, our BNB price prediction for the years ahead is relatively bullish – made even more so by the capitulation of the FTX exchange. The table below presents a summary of our predictions, along with the potential lows that could occur:
| | | |
| --- | --- | --- |
| Year | Potential High | Potential Low |
| 2023 | $500 | $230 |
| 2024 | $700 | $400 |
| 2025 | $1,100 | $650 |
| 2030 | $2,500 | $1000 |
Where to Buy Binance Coin
Given Binance's huge market share, many now believe that BNB is the best crypto to buy due to its long-term potential. However, those interested in purchasing BNB must identify a suitable broker that offers the coin whilst also providing a safe trading environment. 
Through our research and testing, we've found that Binance satisfies these criteria. Its extensive services include trading, staking, savings, and an initial exchange offering (IEO) launchpad. Binance's unique feature is its trading platform, offering high liquidity and multiple cryptos, making it a go-to for newbies and experienced traders.
At its core, Binance uses an efficient matching engine capable of handling 1.4 million orders per second, ensuring speed and reliability. BNB offers reduced trading fees and is used in token sales hosted on the Binance Launchpad, showing a practical use case within the Binance ecosystem.
Crypto assets are highly volatile investment products. Your capital is at risk.  
Is BNB the Best Crypto to Invest in Today?
Rounding off this BNB price forecast, can the coin be considered the best crypto to invest in today? Stating it's the 'best crypto' is hard to do, given there are so many exciting projects out there. However, in our opinion, BNB now has exceptional potential and could represent a valuable long-term asset.
Given Binance's increased dominance in the crypto market, it's likely that BNB will become one of the top crypto gainers in the coming months. Moreover, the BNB Chain continues to innovate, and projects like PancakeSwap, Venus, and CryptoBlades are just three that have made waves in the past year.

Although Ethereum has transitioned to a Proof-of-Stake (PoS) protocol, the network still has relatively high fees. BNB Chain is a viable alternative, as it offers low costs whilst being able to handle an increased number of transactions per second (TPS). This network also provides rapid transaction speeds, leading many developers to consider it ahead of Ethereum.
While BNB is having its time in the sun as of late, it is not immune to the volatile whims of the market. Current intra-day price charts show a steep decline, which means crypto presales have emerged as a better investment option for risk-averse investors. 
Wall Street Memes – Community-Powered Memecoin With Multiple Upsides
Wall Street Memes (WSM) is a community-backed meme token that has already raised close to $13 million in its presale. Created by the same team behind the successful Wall St Bulls NFT collection, this project boasts a strong following of one million users across various social media platforms.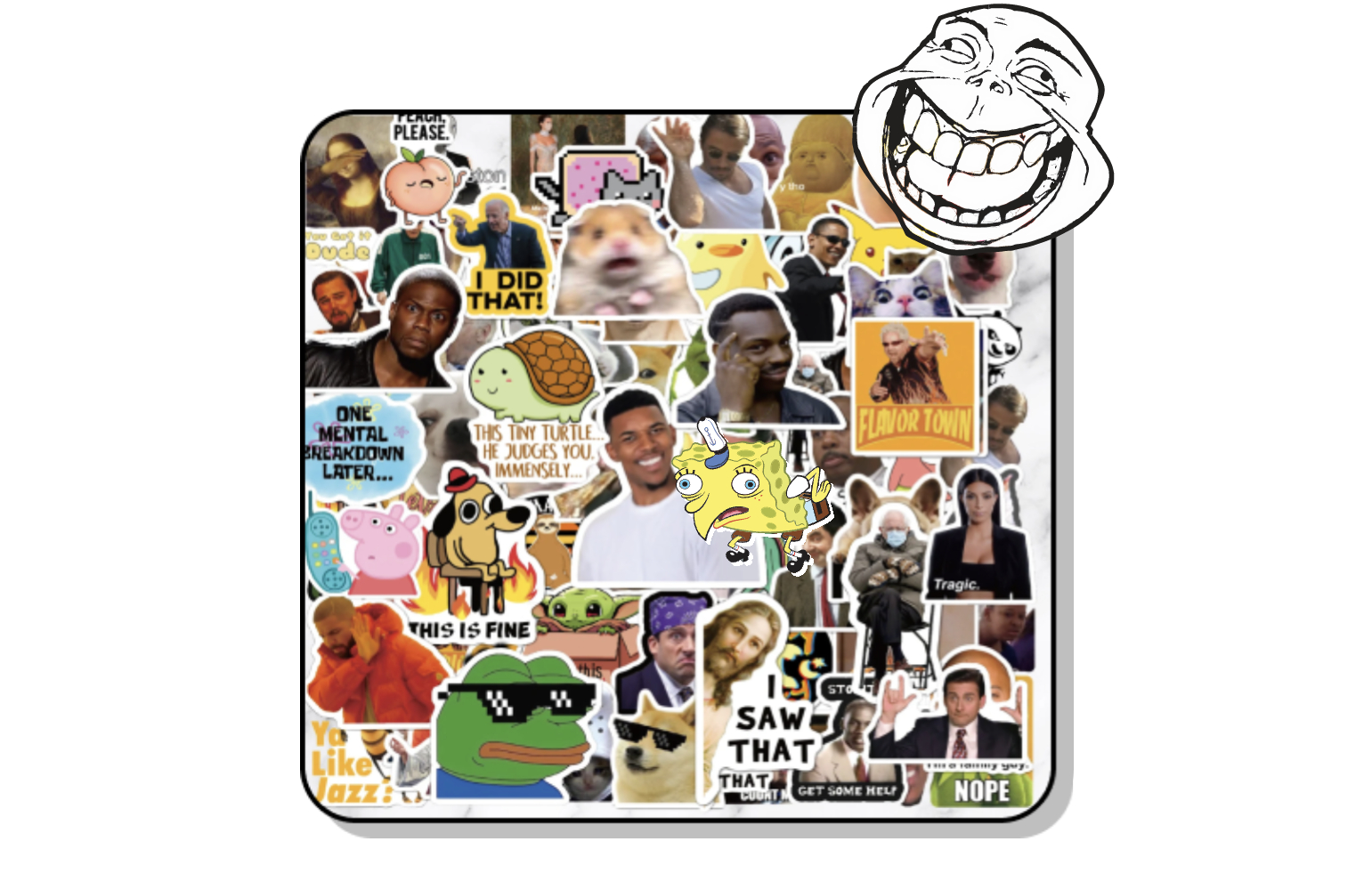 The WSM token aims to merge memes with blockchain technology, disrupting the financial landscape and empowering the community.
The WSM token has attracted significant interest from influential figures like Elon Musk. This engagement could further increase its popularity, given Musk's track record in influencing meme coin prices.
With a community-centric approach, 50% of the token's capped supply has been allocated for the presale, while 30% is set aside for community rewards and 20% for exchange liquidity. No tokens have been reserved for the team, highlighting the project's transparency and commitment to avoiding any unfair practices.
Wall Street Memes has also announced a generous airdrop for presale investors, offering them a chance to win $50,000 worth of WSM tokens by participating in the project's social media channels and completing simple tasks. Investors can purchase WSM tokens for $0.031 on the official Wall Street Memes website.
BNB Price Prediction – Conclusion
This article has presented our in-depth BNB price prediction, covering what the token is, how it works, and why we feel Binance Coin has positive value potential over the long term.
Although BNB is undoubtedly an exciting asset, there are other low market-cap cryptos to consider alongside it – such as Wall Street Memes. It is a memecoin powered by a strong community-based fundamentals and present huge upsides for those who want to leverage the market's volatility to make gains.
FAQs
Is BNB a good investment?
BNB could represent a good investment opportunity for those that believe the token is undervalued at current prices. Binance Coin's value has been on a steady downtrend since November 2021, yet the stage is set for a rebound now that Binance has a stronger footing in the crypto market.
What will BNB be worth in 5 years?
Our BNB price prediction estimates that the token could be valued at $2,000 in five years. This high valuation will likely be fuelled by growth in the broader crypto market and additional use cases for Binance Coin.
Does BNB have a good future?
In our opinion, yes – BNB does have a good future. It's now unlikely that any other exchange will challenge Binance's dominance, meaning as its native token, BNB will naturally be in high demand as the crypto market grows larger. 
---