8 Best Proof of Stake Crypto to Invest in 2023
Disclosure: Crypto is a high-risk asset class. This article is provided for informational purposes and does not constitute investment advice. By using this website, you agree to our terms and conditions. We may utilise affiliate links within our content, and receive commission.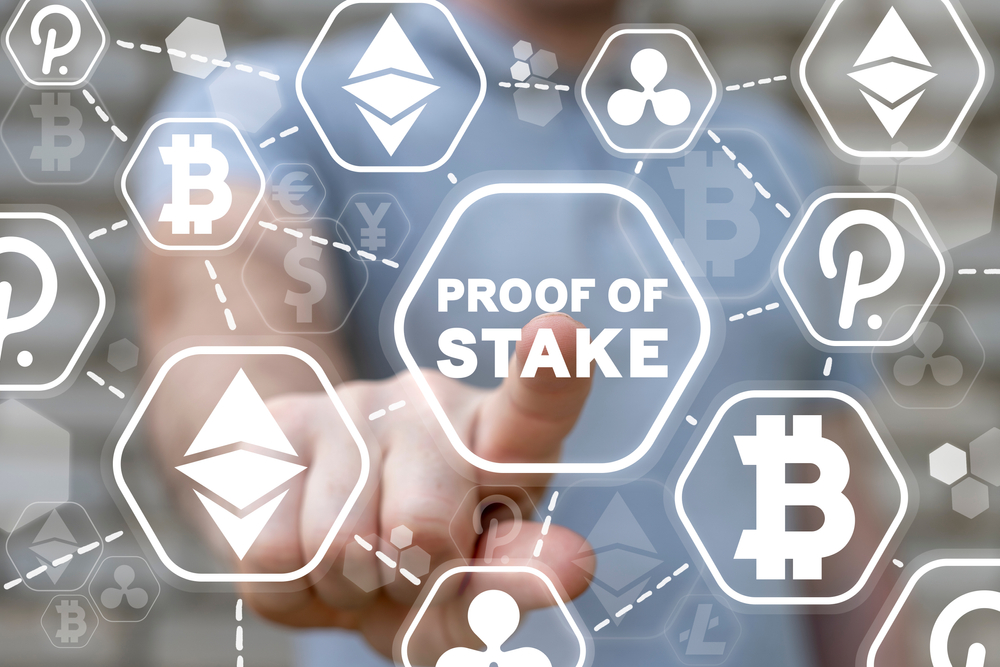 Disclaimer: The Industry Talk section features insights by crypto industry players and is not a part of the editorial content of Cryptonews.com.
Proof of Stake (PoS) is a blockchain-based consensus that allows cryptocurrencies to verify transactions. A more sustainable and energy-efficient alternative to the Proof of Work (PoW) consensus, Proof of stake blockchains have become increasingly popular in the last few years. 
This guide reviews the best proof of stake coins to invest in this year. 
Top 8 Proof of Stake Coins 2023
The sections below provide the top 8 proof stake cryptocurrency list for investors to watch right now. 
Bitcoin ETF Token – ERC20 PoS crypto with 450% APY and a market-specific roadmap tied in with SEC ratification of BTC ETFs in the USA. This is a steeply discounted presale with a hyper-aggressive token-burning policy and a $550,000 raise so far. 
Bitcoin Minetrix – A new PoS cryptocurrency that converges token staking with cloud mining. This stake-to-mine token rewards staked token holders with high APYs and cloud mining credits. The $BTCMTX is available to buy across ten presale rounds. 
Meme Kombat – Exciting proof-of-stake ecosystem offers meme vs meme combat, 112% APY, and multiple ROI generation mechanisms, with a completely new paradigm in the industry. Also scores very highly in terms of project transparency. 
Cardano – A decentralized PoS crypto offering low-cost transactions known for its energy efficiency and extensive staking pool support.
BNB – Binance's native governance token, BNB, offers a host of benefits to Binance customers, from trading discounts to a gateway for other BEP-based cryptos. 
Solana – With over 65,000 transactions per second, Solana is a robust decentralized blockchain leveraging an innovative PoH protocol for transaction processing.
Avalanche – A PoS crypto with a unique three-chain architecture that can support 6,500 TPS and hosts a hub for decentralized applications and custom blockchain networks.
Algorand – Offering a unique take on PoS with its Pure Proof of Stake (PPoS) consensus, Algorand randomly selects platform users to validate blocks and vote on proposals.
Closer Look at the Top Proof of Stake Cryptocurrency to Buy 
Here is an in-depth analysis of the top 8 PoS cryptocurrencies to look at this year. Keep reading to learn about the features, tokenomics and price rises for the trending Proof of Stake coins in 2023.
1. Bitcoin ETF Token – Top PoS ERC20 Crypto Offers 450% APY And a 25% Token Burn
Bitcoin ETF Token ($BTCETF) is a recently launched proof-of-stake coin with a dynamic APY above 450% (at present) and a 25% overall burn allocation to promote token scarcity. Currently, in round two, the entry price is just $0.0052, though this will rise to $0.0068 by the final round (round ten). 
The overall yield for this PoS crypto is declining rapidly. But typically, presale yields tend to stabilize in the double digits for a considerable length of time. So while early investment offers better yields and lower price entry, there are continual APY rewards.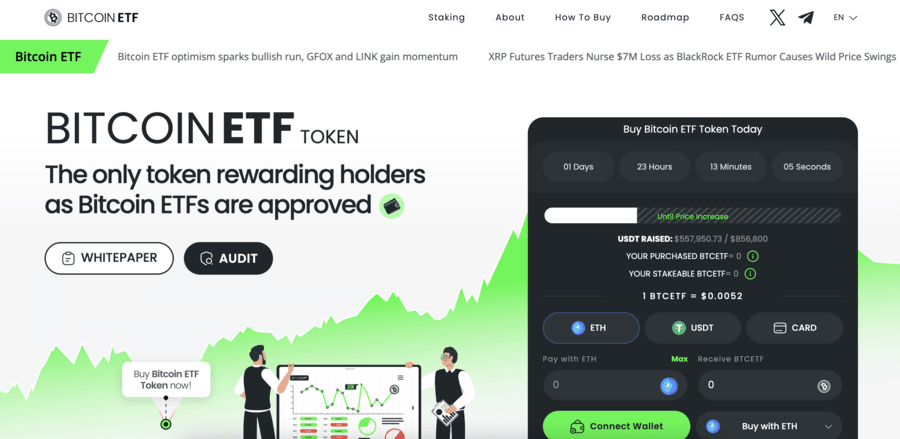 Bitcoin ETF Token is a regulatory-focused PoS coin. This means that its roadmap is connected to important events in the wider crypto financial landscape. The main event is the ratification of Bitcoin ETFs by the US Securities and Exchange Commission (SEC). Should this happen, it could have highly beneficial results for the price and trade volume of the $BTCETF coin. 
Along with a generous APY and a discounted presale, Bitcoin ETF Token offers a 25% token burn. In five specific market instances, 5% of the total supply is burned. This includes the BTC ETF approval by the SEC, the price of BTC hitting $100,000, and the total AUM of the BTC ETF market reaching $1 billion. 
There are 2.1 billion tokens overall with 840 million (40%) allocated to the presale, 525 million (25%) allocated to staking, 525 million (25%) allocated to burning, and 210 million (10%) allocated to DEX liquidity.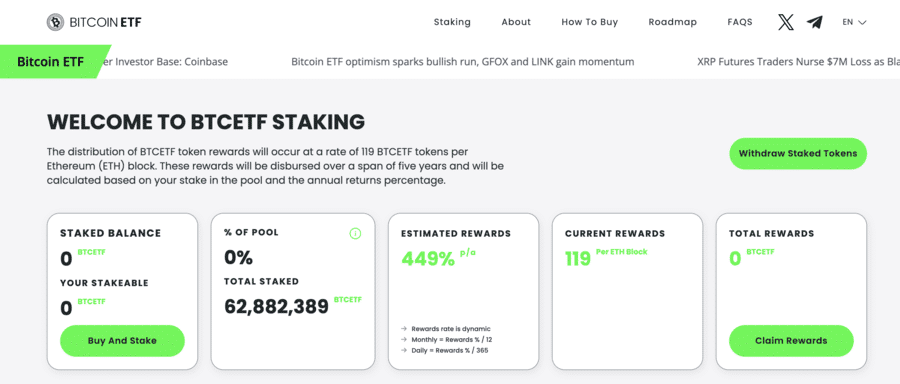 So no tokens have been withheld by a core team, which is a positive indication in terms of transparency.
The PoS coin also scored extremely well in its comprehensive smart contract audit from Coinsult. 
For additional information, interested investors should consult the Bitcoin ETF Token Whitepaper and join the Telegram account.
| | |
| --- | --- |
| Presale Started | 6 Nov 2023 |
| Purchase Methods  | ETH, USDT, BNB, MATIC, Card |
| Chain | Ethereum |
| Min Investment | None |
| Max Investment | None |
2. Bitcoin Minetrix – Earn High APYs and Collect Bitcoin Mining Power with this Stake-to-Mine Cryptocurrency, Presale is Soaring
The top proof of stake coin is Bitcoin Minetrix, a project converging token staking with cloud mining. Bitcoin Minetrix will offer cloud mining credits to investors that stake $BTCMTX – the native cryptocurrency. 
Cloud mining has been run by large corporations that rent out mining power to individuals. However, this space is full of several scams and illegal activities. Therefore, Bitcoin Minetrix is introducing a new way for individuals and everyday people to make money through crypto mining. 
The platform will offer cloud mining credits – ERC-20 non-tradable tokens. These are recorded on the blockchain and cannot be misplaced or tampered with. Therefore, more autonomy and transparency are given to the customers. One must buy and stake the $BTCMTX token to earn the credits. 
They will earn passive income through high APYs (Annual Percentage Yields) and cloud mining credits. While these credits do not offer any direct value, they can be burned to earn Bitcoin mining power. With the mining power you collect, you get access to allocated mining times. This will be used to get a portion of mining revenues.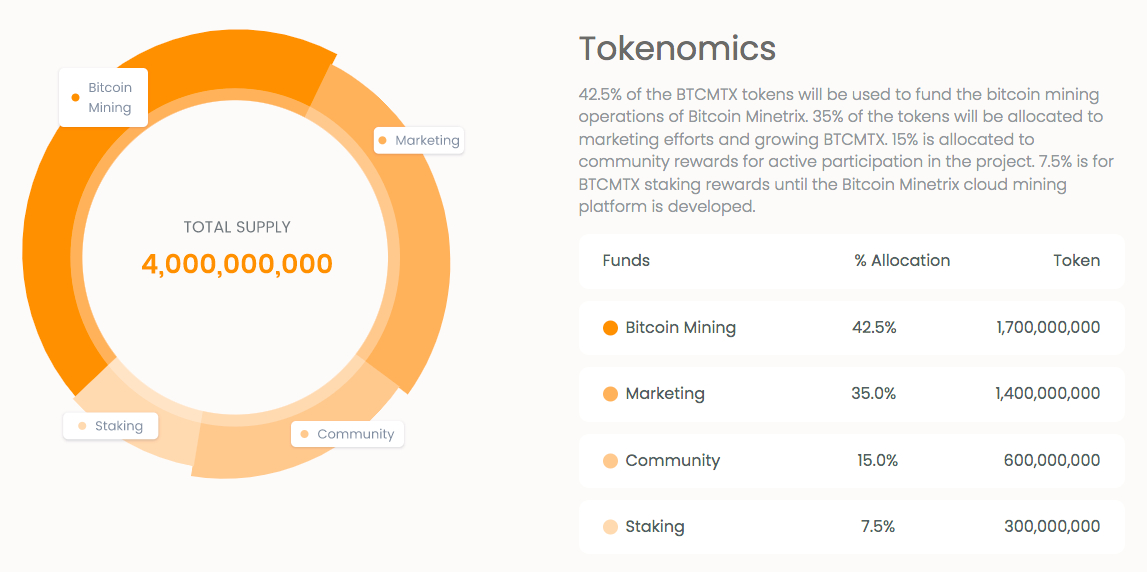 This proof-of-stake cryptocurrency will launch the stake-to-mine platform after the end of the ongoing presale. Bitcoin Minetrix aims to raise a hard cap of $32 million through the presale. In only a few days, the presale has collected more than $300K. 
Currently, $BTCMTX is priced at just $0.0114 per token. Learn more about the staking benefits and features of this crypto by going through the Bitcoin Minetrix whitepaper and joining the Telegram channel. 
| | |
| --- | --- |
| Presale Started | 26 Sept 2023 |
| Purchase Methods  | ETH, USDT, BNB |
| Chain | Ethereum |
| Min Investment | $10 |
| Max Investment | None |
3. Meme Kombat – ERC20 PoS Meme Campaign Offers Exciting Gameplay and 112% APY
Meme Kombat ($MK) is an Ethereum-powered presale that offers meme vs meme combat, something that has not been done before. 
Spectators can be on the outcomes of the fights using three primary mechanisms – P v P, P v Game, and Direct. 
There is also an option to place side bets on more specific items, something which could enhance the gameplay considerably.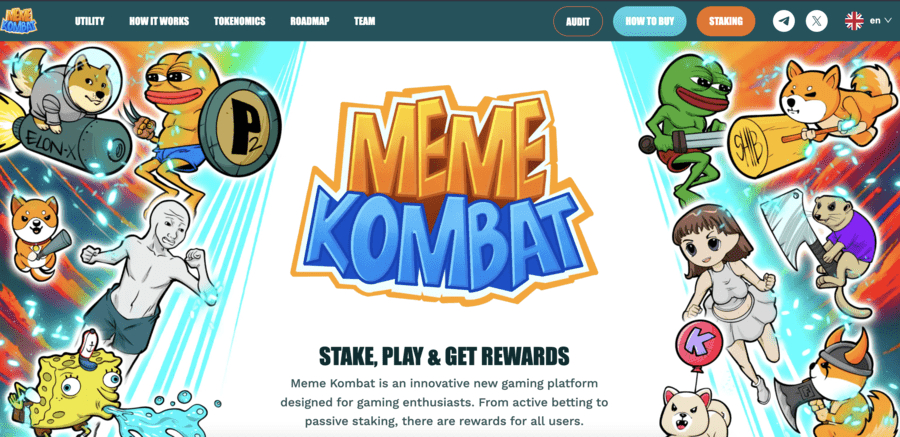 Aside from ROI from betting on fight outcomes, users can benefit from a solid 112% APY, which has stayed the same throughout the presale, as well as possible price appreciation. These are three means through which a participant can generate revenue through this PoS ecosystem.
For the first season, eleven of the world's most famous tokens will be featured. This includes Doge, Kishu, Mong, Floki, Pepe, Pepe 2, Shiba, Baby Doge, Milady, Sponge, and Wojack. More memes and game options will be incorporated into the ecosystem once season one has been completed.
This staking ecosystem is set apart somewhat by the fact that the founder has publicly revealed his identity, something which is rarely seen within the presale industry. It has further conducted a smart contract audit, so it scores well in terms of its transparency.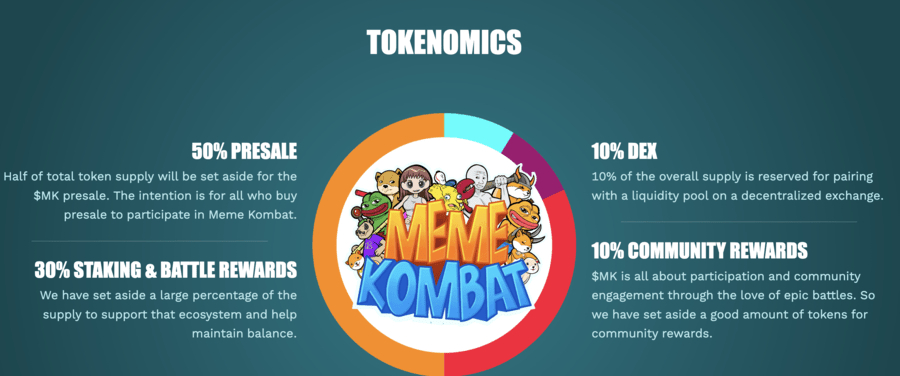 While the meme industry is known somewhat for scams or dishonest projects, this does not appear to be one of them, and has done very well in terms of transparency.
Fight outcomes are also processed on chain and the fights are chosen based on random order sequencing. 
Of the 120 million total $MK token supply, 60 million (50%) are available in the presale. 30% goes to staking and battle rewards, 10% to DEX liquidity, and 10% to community rewards. The founders have kept nothing for themselves – yet another positive sign.
According to some analysts, this could be a 10x or even 100x coin, as it is a unique concept in an industry known for large price movements in short time spans.
The price per token is $0.1667. 
More details can be found within the Whitepaper, as well as the social channels (Telegram and Twitter).
| | |
| --- | --- |
| Presale Started | September 2023 |
| Purchase Methods  | ETH, USDT, BNB |
| Chain | Ethereum |
| Min Investment | $10 |
| Max Investment | None |
4. Cardano – Decentralized PoS Cryptocurrency with Low-Cost Transactions
Cardano (ADA) is an open-sourced platform built on the proof-of-stake consensus to provide a decentralized and peer-driven blockchain. 
Cardano used the PoS protocol Ouroboros, allowing the network to support staking pools where ADA holders can delegate their stake. Staking pools ensure the maintenance of the staked assets and validate the transactions on Cardano. Since PoS protocols support cheaper transactions, Cardano's average transaction cost is roughly 0.16 ADA ($0.064) making it one of the most energy-efficient cryptocurrencies on the market.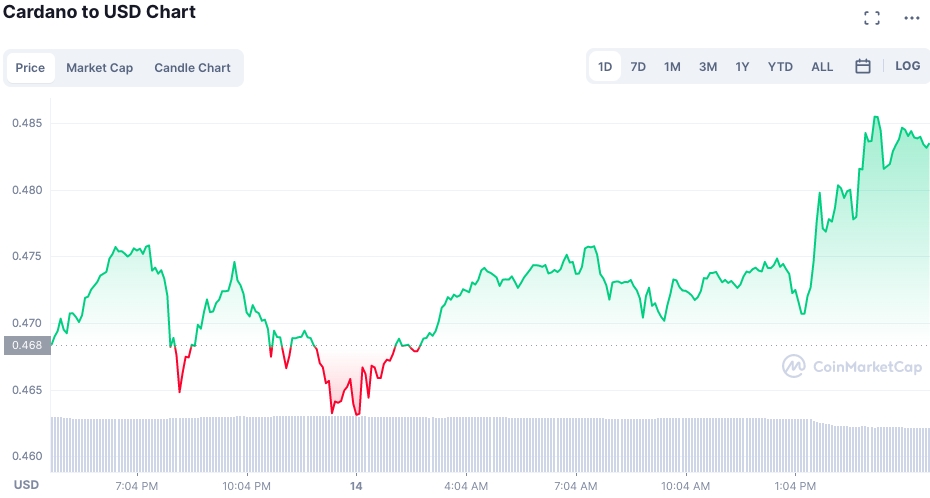 After launching in 2017, Cardano implemented the Alonzo hard fork in 2021, which allowed the blockchain to support smart contracts and deploy various NFTs and DApps (decentralized applications). 
Cardano deployed over 100 smart contracts within 24 hours of the Alonzo upgrade, resulting in an ADA price rally in September 2021. Cardano uses less energy than the best proof-of-work coins, similar to other PoS chains which is why some people consider Cardano to be one of the most sustainable cryptos on the market. 
Currently trading at $0.47, Cardano's ADA has corrected from its all-time highs (ATHs) of $3.10 set in 2021. However, the growing use cases and the low-cost efficiency makes it one of the cryptos with the most potential for growth. 
Cryptoassets are highly volatile and unregulated. No consumer protection. Tax on profits may apply.
5. BNB – Native Crypto of Global Trading Platform
BNB (Binance Coin) is the governance token of Binance – the largest cryptocurrency exchange in terms of the trading volume. Operating on the Binance Smart Chain (BSC), BNB follows the BEP standard to integrate smart contracts. 
BNB follows the Proof of Stake Authority consensus, allowing a validator to stake a specified amount of BNB to validate transactions on the network. The token is the 5th largest cryptocurrency asset, with a market cap of $45 billion.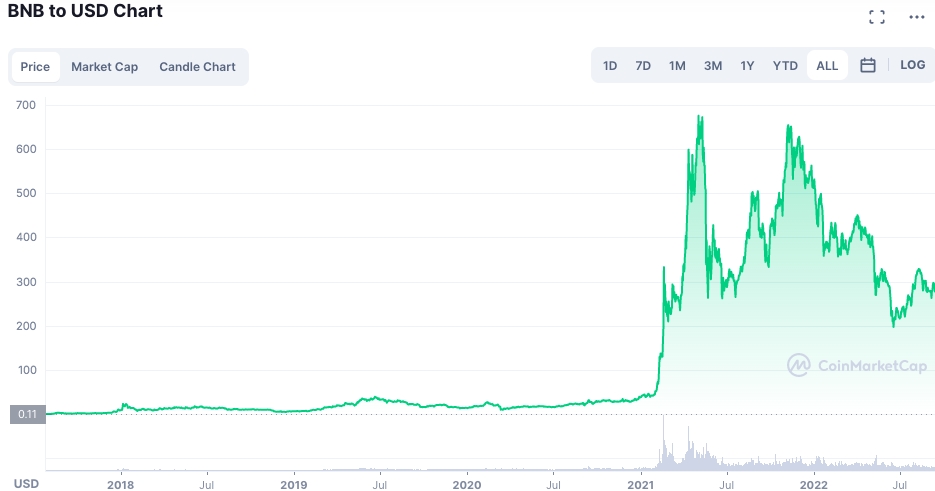 As the main token of the Binance exchange, BNB provides various benefits to Binance customers. Investors can get a 25% discount on spot trading crypto transactions on the platform, which generally costs 0.1% per transaction. Investors holding BNB can also save 10% on futures trading
The popular token is also used as a swapping mechanism for investors looking to purchase other BEP-based cryptocurrencies. For example, investors looking to buy Battle Infinity, one of the best new cryptocurrency assets, must purchase tokens with BNB. 
After reaching an ATH of $690 in 2021, BNB is available to buy at only $280. 
Cryptoassets are highly volatile and unregulated. No consumer protection. Tax on profits may apply.
6. Solana – Cryptocurrency Supporting 65,000 Transactions Per Second 
Solana (SOL) is a fast and secure decentralized blockchain that uses an innovative protocol to validate its blocks. Solana uses the innovative Proof of History (PoH) protocol, allowing the network to process transactions as they come in.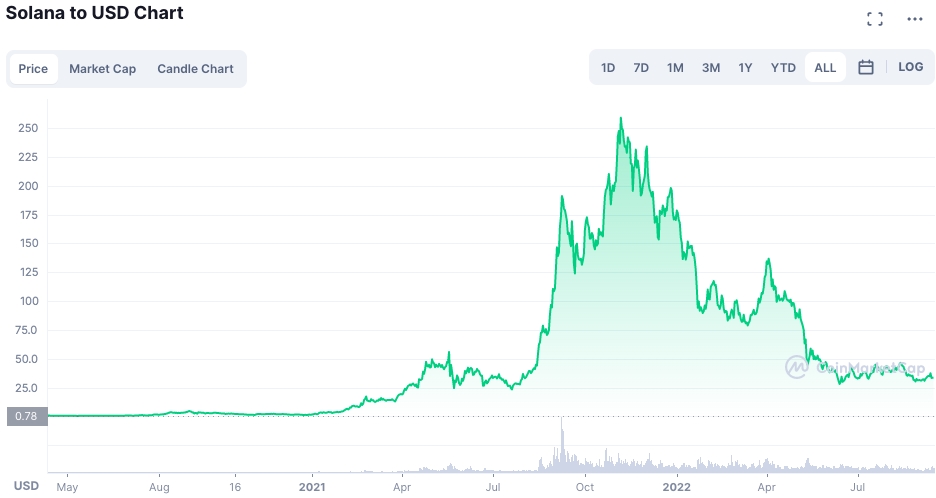 The protocols architecture allows Solana to achieve high throughput – processing 65,000 transactions per second (TPS). On the other hand, the Ethereum blockchain processes an average of 17 TPS. The high scalability makes Solana an ideal network for decentralized applications (DApps), as developers can achieve high levels of scalability with Solana. 
While PoH is the protocol Solana uses to improve speed, SOL still operates as a Proof of Stake consensus mechanism and supports staking protocols. SOL has proven to be one of the best altcoins to invest in, as the token has increased from $0.78 in 2020 to $33 in September 2022. 
Despite the enormous growth, SOL is 87% below its ATH and may be a potential long-term investment opportunity. 
Cryptoassets are highly volatile and unregulated. No consumer protection. Tax on profits may apply.
7. Avalanche – PoS Cryptocurrency with 3 Sub-Blockchains
A layer-1 network, Avalanche (AVAX), is another smart contract-compatible platform that acts as a hub for decentralized applications and custom blockchain networks. A popular Proof of Stake crypto, Avalanche can support 6,500 TPS. 
The high transaction speeds are made possible due to Avalanche's unique blockchain architecture. The cryptocurrency consists of three different blockchains, each partaking a different role in validating the transaction process. The Exchange Chain (X-Chain) is responsible for sending and receiving funds on Avalanche.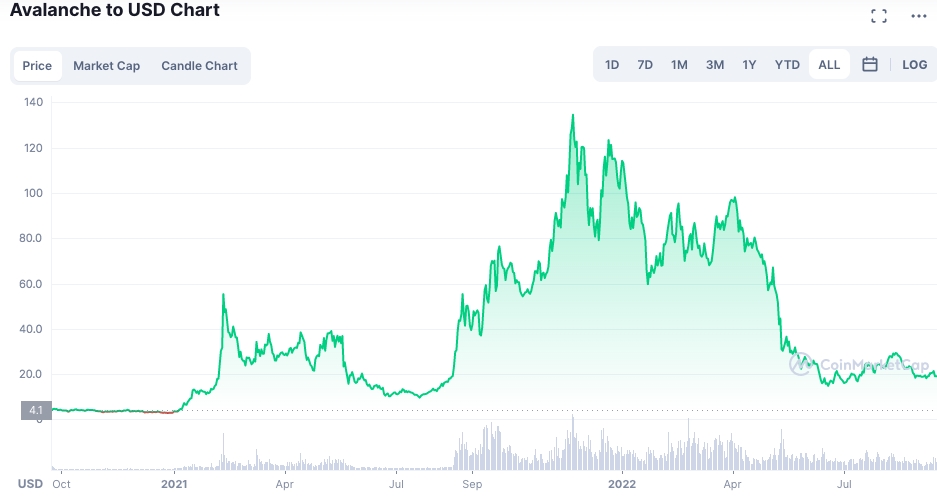 The Contract Chain (C-Chain) handles the transactions generated by DApps or smart contracts, while the Platform Chain (P-Chain) takes care of the staking/validator transactions on the Avalanche network. AVAX, the native token, is currently trading at $19 with a market cap of $5.6 billion. 
Cryptoassets are highly volatile and unregulated. No consumer protection. Tax on profits may apply.
8. Algorand – Cryptocurrency with a Unique Take on the Proof of Stake Protocol
Algorand (ALGO) is a self-sustaining blockchain-based network that uses the Pure Proof of Stake (PPoS) consensus, slightly different from the PoS algorithm. 
With the PPoS network – platform users are chosen randomly to validate blocks and vote on proposals. The likelihood of a user being selected is linked to the amount of ALGO they stake. 
Therefore, Algorand's unique consensus strives to increase security, ensuring that minority shareholders do not have the power to harm the whole system. 
In 2022, Algorand also developed the London Bridge – a trustless bridge that makes the network compatible with the Ethereum blockchain. In the long term, Algorand looks to solidify its DeFi ecosystem. Currently, ALGO is trading at $0.3 per token. 
Cryptoassets are highly volatile and unregulated. No consumer protection. Tax on profits may apply.
Proof of Stake Explained
Proof of Stake (PoS) is a network consensus used to validate transactions on different blockchains. Since cryptocurrencies aim to be decentralized networks, transactions are validated in a distributed databases, known as blockchains. Each block comprises a new transaction which has been validated on the network. 
To verify transactions using the Proof of Stake consensus, coin owners can act as the validators of transactions. Coin owners stake their own token holdings to get assigned the responsibility of validating transactions on the network. 
These coin owners or 'validators' are selected at random, with each crypto network offering different rules to become a validator. For example, Ethereum requires its coin owners to stake at least 32 ETH ($51,000 at the time of writing) before standing a chance to become a network validator. Therefore some investors have asked 'is Ethereum a good investment in 2023?'
Proof of Work vs Proof of Stake 
When Bitcoin was launched in 2008, the cryptocurrency space adhered to a Proof of Work (PoW) consensus. With Proof of Work, the consensus provides an objective way for Bitcoin holders to navigate and manage transactions on the platform. 
Proof of Work enables the concept of hashes, which comprise a long string of numbers, each assigned to a particular block. When a given data set is put through a hash function, it will only generate one hash. The hash will become totally unrecognisable if the data is tampered with or changed.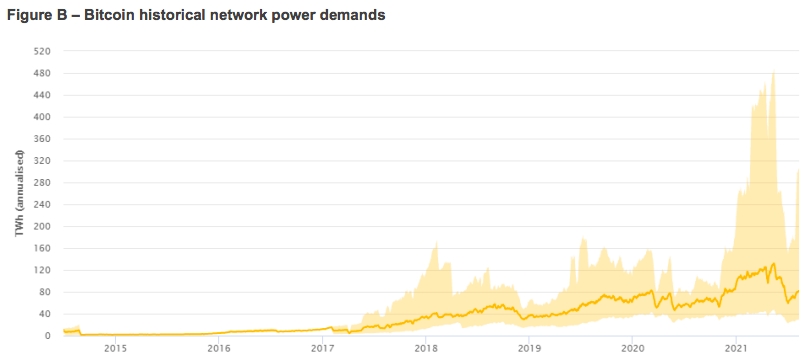 Each block is identified by its own unique hash, and one block connects directly to another on the blockchain. Therefore, it is impossible to tamper with a different set of hashes since one validates the other. Generating even one hash requires tremendous amounts of computational power. Therefore, the validators of Proof of Work networks are known as 'Miners'. 
For example, the production cost to mine one Bitcoin is expected to be around $13,000. The high cost of production combined with the limited token supply of Bitcoin is one of the big reasons for its high price. 
However, the Proof of Work network has been blamed for requiring an unsustainable amount of energy to facilitate the process. Therefore, Proof of Stake originated as a quicker and cost-effective alternative to validate transactions. 
Should You Invest in Proof of Stake Tokens?
Before investing in PoS cryptocurrencies, investors should analyze why this particular asset class may be a good investment. The sections below discuss some of the main advantages of Proof of Stake cryptocurrencies. 
Energy Efficient
Bitcoin miners are required to solve a complex mathematical equation to receive a Bitcoin. This process requires large among of energy, which has led many miners to switch to green energy resources. Since 2015, the energy requirements to mine one Bitcoin has rapidly increased. 
Growth of the Consensus
With the PoS consensus, many blockchains are managing to increase scalability while quickly establishing new blocks on the blockchain. In fact, Ethereum has developed close competition from upcoming altcoins such as Cardano, Solana, and Algorand, all of which have applied this consensus. 
The popularity of the Proof of Stake consensus is now at its peak, as Ethereum will be undergoing a network upgrade which will see it switch from the Proof of Work to Proof of Stake consensus. In the long term, it is more likely for PoS tokens to be more sustainable.
How to Buy Bitcoin ETF Token 
After analyzing the top PoS cryptocurrencies, investors can decide on their preferred assets. The sections below highlight a step-by-step process on how to buy $BTCETF – one of the most popular cryptos to invest in right now. 
Step 1: Create a Crypto Wallet – First, it's important to create a secure crypto wallet to store any tokens. MetaMask is commonly considered one of the top desktop options, while Trust Wallet has garnered international attention as a result of its phenomenal mobile experience. 
Step 2: Buy USDT/ETH/MATIC/BNB – To purchase $BTCETF tokens during the Bitcoin Minetrix presale, an investor needs to attain either USDT, BNB, MATIC, or ETH. They are available from most regulated brokers. Remember to keep some extra crypto at hand to pay for gas fees. 
Step 3: Purchase Bitcoin ETF Token – With funds in the wallet, connect to the Bitcoin ETF Token website then select the correct option depending on which token was previously purchased.
Conclusion
After reviewing the best Proof of Stake cryptocurrencies, we recommend Bitcoin ETF Token as the best crypto to invest in right now. 
Aside from its high APY, 25% token burn, and specific presale price increases, it is a campaign that is tied in with what could be one of the biggest events in crypto history – SEC approval of Bitcoin ETFs.
It might be the best-performing coin on the market, should this approval come to pass.  
FAQs
What are some of the popular proof of Stake coins?
Some of the popular proof-of-stake tokens include Bitcoin ETF Token (BTCETF), Bitcoin Minetrix (BTCMTX), Meme Kombat ($MK), Cardano (ADA), Solana (SOL), and Binance Coin (BNB). 
Is Shiba Inu a proof of stake crypto?
Yes, it was previously a PoW coin but after the Ethereum Merge – which saw ETH switch to PoS – Shiba Inu is also now PoS.
Is XRP token a PoS cryptocurrency? 
Unlike most blockchain networks, Ripple (XRP) does not use a PoS or a PoW consensus. The network relies on a consensus system that is controlled by various bank-owned servers. However, the new cryptocurrency, $XRP20 is a proof-of-stake token, and offers staking benefits to token holders.
 
---