8 Best Crypto Tools for Research & Analysis 2023
Disclosure: Crypto is a high-risk asset class. This article is provided for informational purposes and does not constitute investment advice. By using this website, you agree to our terms and conditions. We may utilise affiliate links within our content, and receive commission.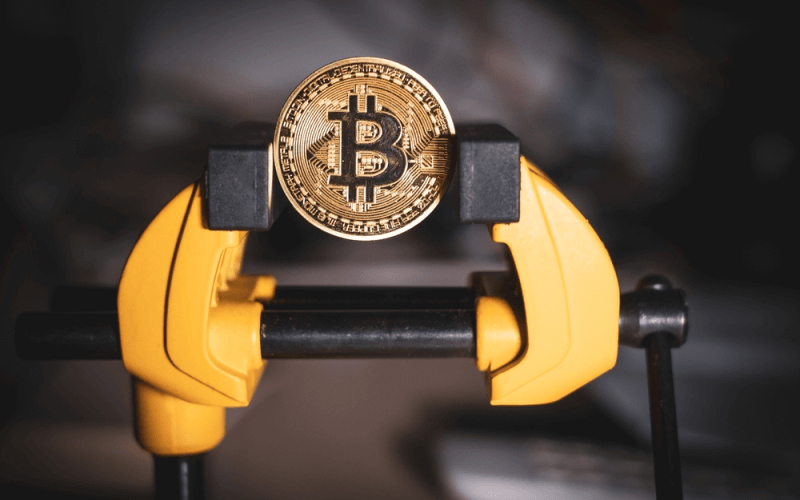 Disclaimer: The Industry Talk section features insights by crypto industry players and is not a part of the editorial content of Cryptonews.com.
Crypto analytics tools can be useful to investors in a number of ways. Not only can they help investors understand real-time and historical market data, but they can also be used to make better, informed trading decisions.
In this guide, we list the 8 best crypto analysis tools for both beginners and experienced traders alike. 
The Best Crypto Trading & Analysis Tools to Use in 2023
Below are the top crypto trading tools to consider, in terms of features, ease of use, and exchange integration. 
Dash 2 Trade – Overall Best Crypto Trading Tool
Cryptosignals.org – Get Daily Crypto Telegram Signal Alerts 
TradingView – Crypto Tool for Charting and Technical Analysis 
Messari – Best Crypto Research Site For Advanced Traders
Cryptowatch – Crypto Tool Supporting Multi-Exchange Trading
Shrimpy – Combine Crypto Portfolio Management With Auto Trading 
Glassnode – Crypto Tool for On-Chain Analytics
Coinmarketcap – Track Cryptocurrency Prices in Real-time
Traders can read our full reviews of the best crypto analysis tools listed above in the following sections. 
Review of the Best Crypto Analysis Tools
Crypto investors can optimize their decisions using a variety of approaches. However, regardless of the strategy, all investors need access to market data in order to arrive at their judgments. 
The best crypto tools in the market provide investors with simplified market data, making it possible for them to process information quickly. 
Below, we take a closer look at the most popular tools that help investors make money with cryptocurrency. 
1. Dash 2 Trade – Overall Best Crypto Trading Tool
Dash 2 Trade is emerging as one of the best crypto trading tools to provide investors with advanced analytics and market data. It combines several useful features such as actionable trading signals, accessible on-chain analysis, and more – all of which can help investors take advantage of the right opportunities in the crypto space.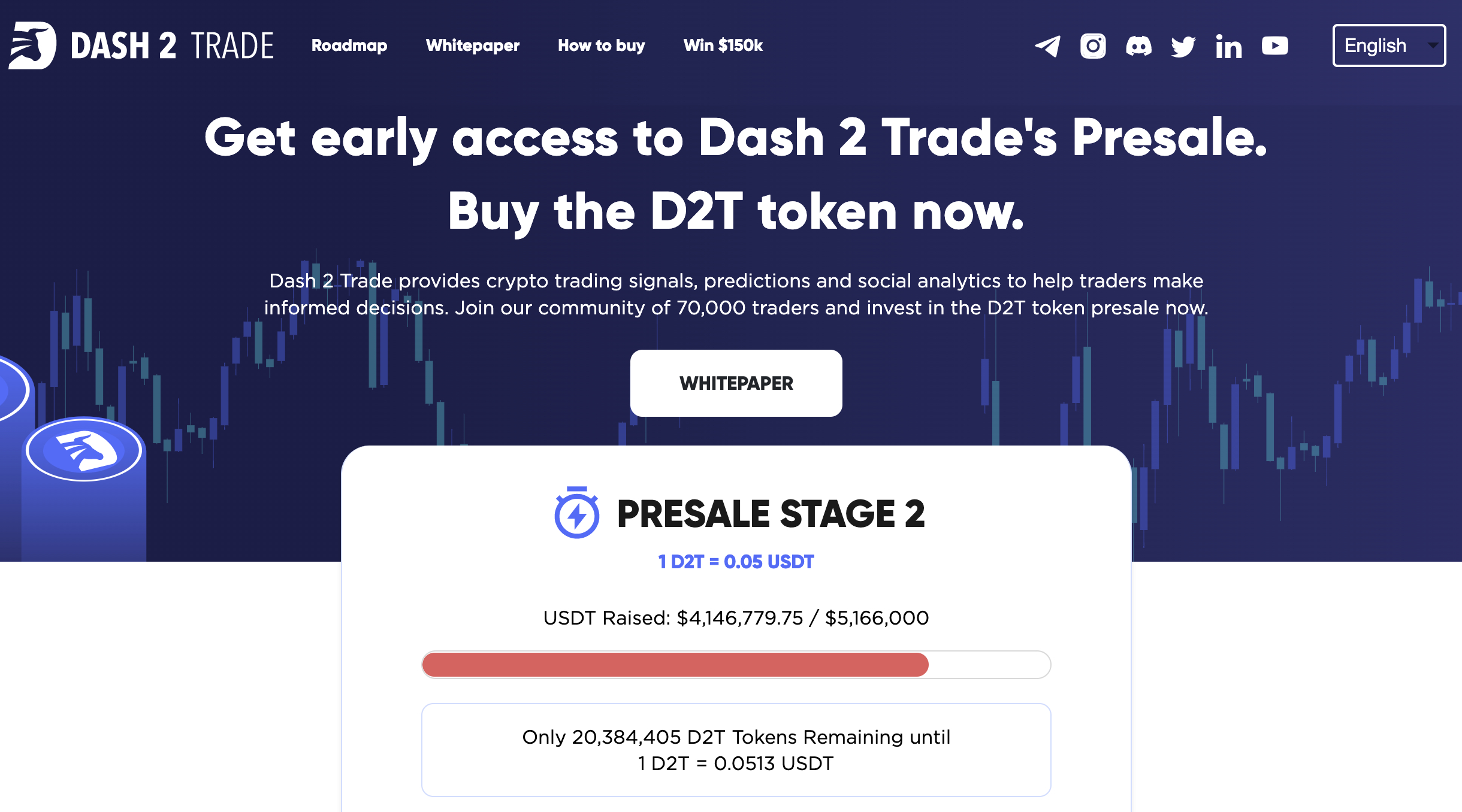 The Dash 2 Trade platform is powered by the D2T token. This ERC-20 token is a necessary prerequisite to access the different features of the Dash 2 Trade ecosystem. As of writing, the Dash 2 Trade platform has successfully raised over $4 million for its presale – which is selling out fast.
One of the top core features of Dash 2 Trade is its crypto signals. Dash 2 Trade is backed by Learn 2 Trade, which is an online platform with years of experience in providing crypto trading signals. These signals notify users of buy/sell opportunities in the market, alongside suggested risk management measures.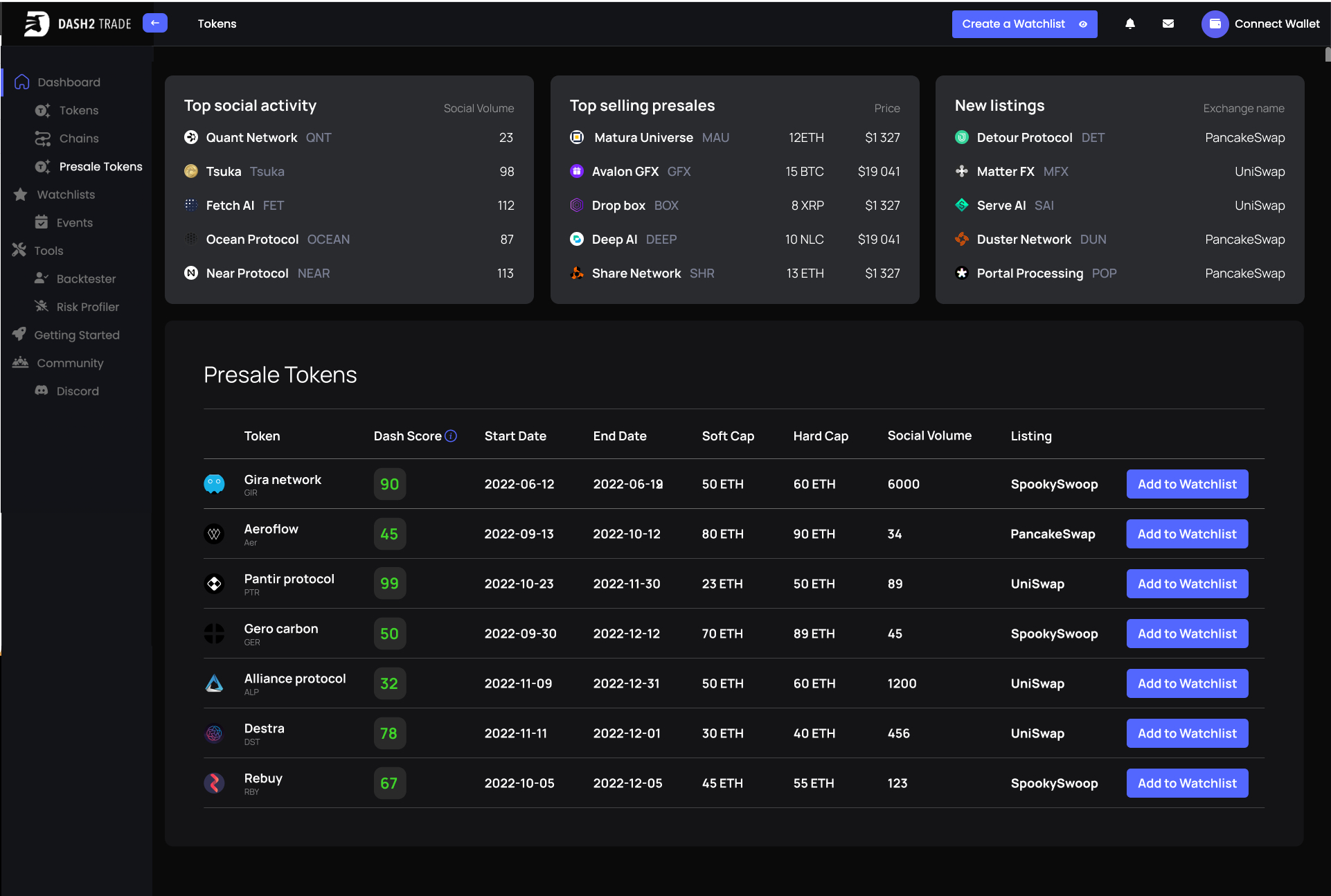 Dash 2 Trade also has an impressive tool that offers its users social and on-chain analysis insights. It tracks social media platforms to assess how active and widespread the discussions regarding a specific cryptocurrency are. This feature makes it possible for investors to identify cryptocurrencies that could witness significant price movements. 
In addition to this, Dash 2 Trade also has an alert system that will notify users of new cryptos with the most potential. It keeps track of the presale space to help its users evaluate the legitimacy of emerging cryptocurrencies. The Dash 2 Trade team has even set up a bespoke scoring system that considers the key metrics – such as the credentials of the project developers, the whitepaper, and the tokenomics. 
Dash 2 Trade also gives its users access to many technical analysis tools, such as moving averages, support lines, order book statistics, and more. It even comes with a strategy builder and backtesting platform, which mirrors live market conditions. In other words, D2T token holders will be able to test their strategies to see whether they need to make any amendments to their approach. 
Furthermore, Dash 2 Trade also supports auto and social trading – giving its users more power over their investments. Altogether, Dash 2 Trade is shaping up as the overall best crypto analysis tool. As such,  D2T tokens are gaining popularity as the best digital crypto to buy ahead of the next crypto bull run. 
The Dash 2 Trade platform will be up and running by Q1 2023. It will offer services via subscriptions – and will come with two different types of paid plans.
Dash 2 Trade also has a free version, which does not require users to hold any D2T tokens. However, the free plan does not offer full functionality – meaning that some of the aforementioned features are only accessible to paid subscribers. For more details you can read the whitepaper and join the official Telegram group.
2. Cryptosignals.org – Get Daily Crypto Telegram Signal Alerts 
Cryptosignals.org is one of the most popular tools for crypto signals. It offers daily trading suggestions via Telegram. Users can then assess the crypto signals in real-time and place trades accordingly. 
The signals provided by Cryptosignals.org includes everything required to place a trade. For instance, each signal tells users which crypto pair they should trade and whether to place a buy or sell order. The signal will also tell the user what limit, take-profit, and stop-loss orders they should place.
Apart from sending crypto signals, this platform also offers a detailed analysis of the reasoning behind the trading suggestion. This helps investors understand more about how to place trades based on market data. This approach is the main reason why Cryptosignals.org is considered one of the best crypto Telegram groups for inexperienced traders.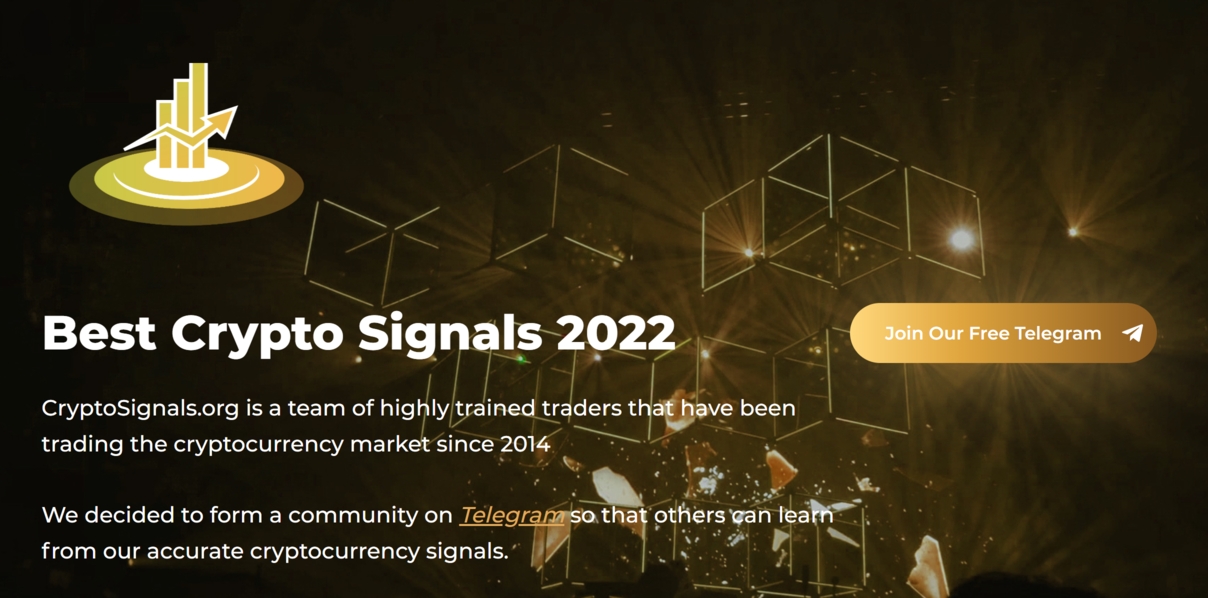 Cryptosignals.org offers both free and paid subscription services. The platform issues 2 to 3 signals per week for free users. On the other hand, paid subscribers can get 2 to 3 signals every day. As of writing, Cryptosignals.org offers provides signals for Bitcoin, Ethereum, Binance Coin, Cardano, Polkadot, Chainlink, and Ripple. 
The paid subscription is available at £42 per month (around $48) or £210 (about $240) per year. Alternatively, it is also possible to access Cryptosignals.org's signals by signing up with one of the platform's partner brokers. This includes eToro, Capital.com, and AvaTrade – however, users will have to make a minimum deposit of $250. 
As of writing, Cryptosignals.org also offers lifetime access to their VIP Signals for investors who buy at least $250 worth of Dash 2 Trade tokens – the best cryptocurrency to buy in 2023.
3. TradingView – Crypto Tool for Charting and Technical Analysis 
TradingView is one of the best crypto analytics platforms to offer live trading charts for digital assets and stocks. It comes with 100+ pre-built technical indicators and is compatible with many crypto exchanges. There are also over 100,000 community-built indicators, which are accessible to all TradingView users.
And what's more, TradingView also lets its users simulate real market conditions in order to test their strategies. They can use this feature to backtest ready-made as well as self-written strategies in real-time based on historical data. Apart from analytical tools, TradingView also sends its users snapshots of daily financial news.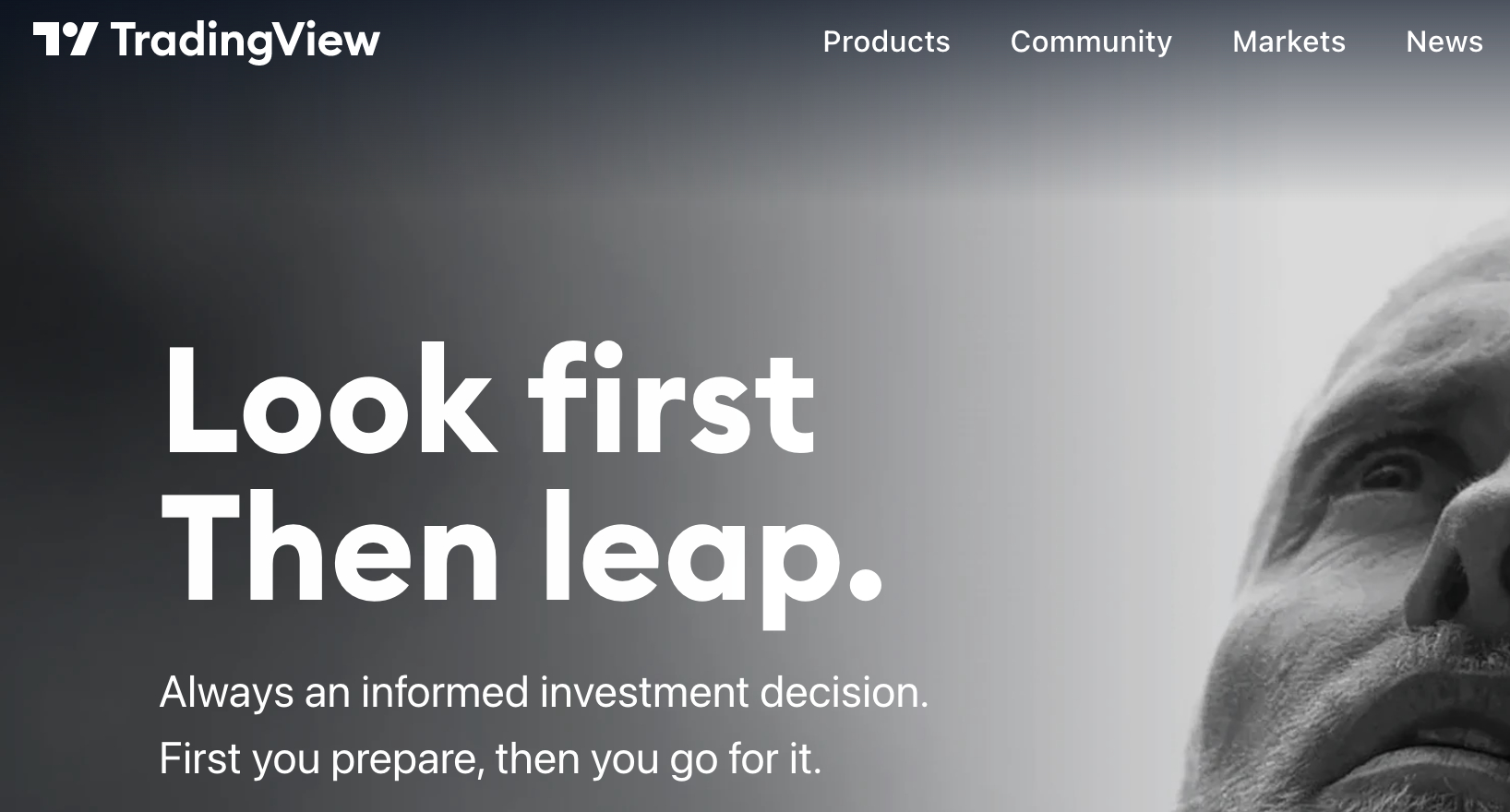 TradingView has charting tools that are open for both free and paid users. The main difference between different tiers of subscriptions is the number of charts and technical indicators accessible. A free TradingView account will suffice for most traders for the purpose of gaining access to basic technical analysis tools – which include five indicators per chart and 20 server-side alerts. 
The basic plan starts at $14.95 a month. Advanced traders who wish to unlock a higher number of charts and indicators can opt for a Pro+ or Premium plan. 
4. Messari – Best Crypto Research Site For Advanced Traders 
Messari is a crypto tool that aggregates data from the markets and presents it to users in the form of charts and research reports. It allows users to filter assets, set up a watchlist, and analyze crypto data using hundreds of charting tools. The platform also updates users with real-time market news and important events happening in the crypto space. 
At first glance, Messari has a sophisticated interface that might be a bit overwhelming for new crypto traders. The platform is not particularly user-friendly, however, experienced traders are likely to find it seamless to navigate through the site.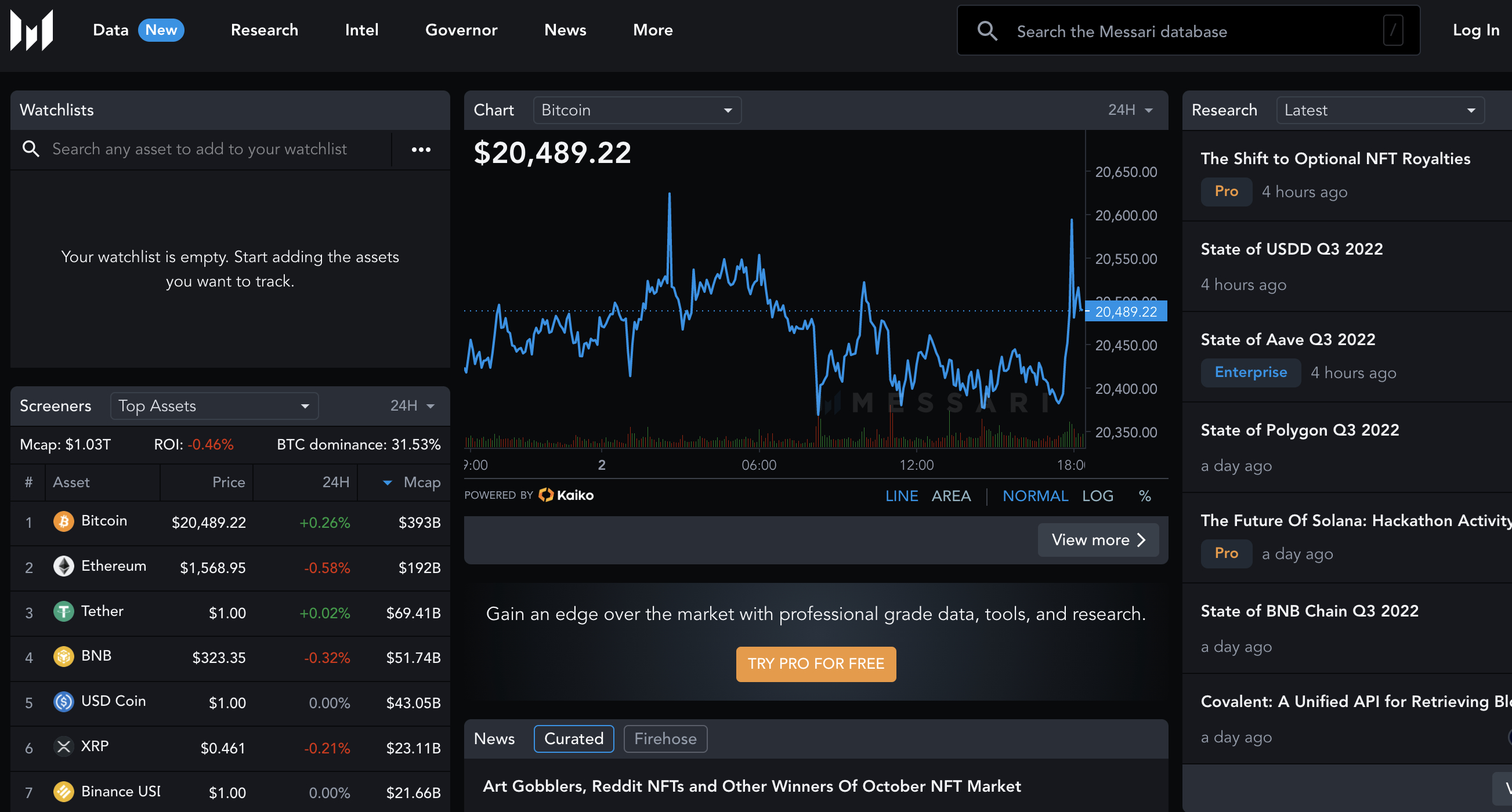 The most impressive feature of Messari is its crypto reports. The Messari team does the groundwork to offer its users detailed research reports that sum up the state of different cryptocurrencies. These are available in the form of quarterly reports or as analytical research papers. 
Crypto traders can indeed use Messari for free – however, as imaginable, the core features are limited. To get the most out of this cryptocurrency analysis tool, traders can upgrade to Messari Pro – at $24.99 a month, paid annually. 
The paid subscription comes with daily insights and long-form research, in addition to access to advanced screeners and charting tools. Moreover, the Messari Pro version also lets users download data into a spreadsheet. 
5. Cryptowatch – Crypto Tool Supporting Multi-Exchange Trading 
Cryptowatch is a comprehensive analysis tool that is owned by the popular exchange Kraken. This platform allows users to scan digital currency prices, analyze market movements, and even place trades on major exchanges – all via a single interface. This means that Cryptowatch is one of the best cryptocurrency trading tools for short-term investors. 
This platform offers its users access to live crypto prices and order book data from over 800 exchanges. Users also have the option to design their dashboard based on the crypto charting tools they prefer. These tools help traders to visualize live exchange data and come with in-built technical analysis indicators and overlays.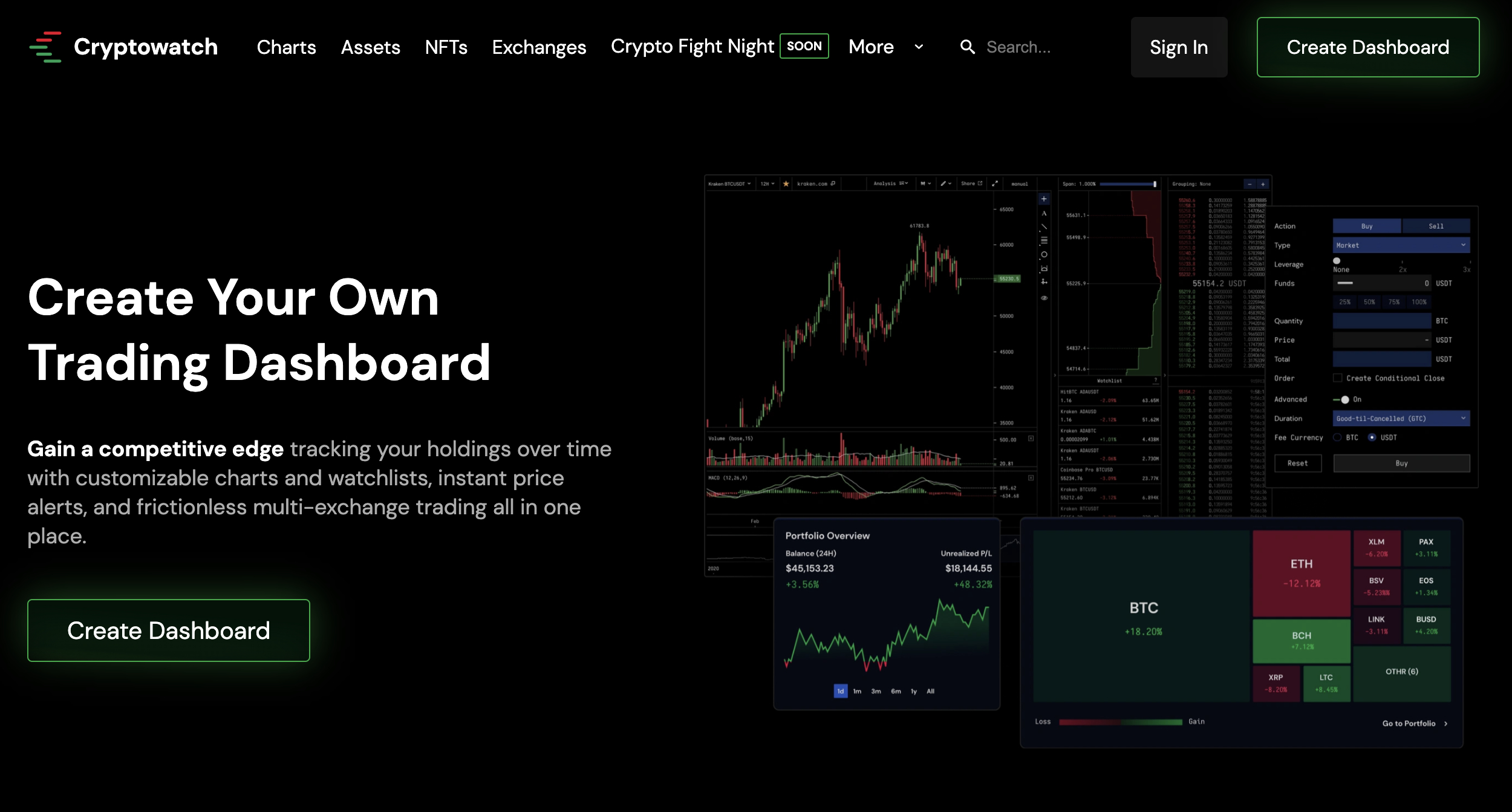 Furthermore, Cryptowatch can be assessed via both mobile and desktop devices. This crypto tool has an a la carte payment model, which means that users are only charged for the features they use. When creating an account, users are offered access to the core features – which include trading, portfolio management, charting tools, and a chat function. 
New users are also offered a balance of 250 Cryptowatch credits. As users set price alerts or use other features, a certain amount of Cryptowatch credits will be debited from their balance. If needed, users can always purchase more Cryptowatch credits. 
6. Shrimpy – Combine Crypto Portfolio Management With Auto Trading 
Shrimpy is primarily a crypto portfolio management website. It links with multiple exchanges and offers its users an overall view of their crypto portfolio. This means that investors need not log in to multiple exchanges to keep track of the performance of their investments. 
Instead, Shrimpy offers a visual summary of the overall allocation of digital coins on different exchanges. Users can also set directions for how much portfolio allocation should be given for each cryptocurrency. 
For instance, users can direct Shrimpy to increase the allocation for Bitcoin if the cryptocurrency's dominance increases in the market. So, if Bitcoin goes through a bullish phase, the platform will automatically execute trades across exchanges on the user's behalf.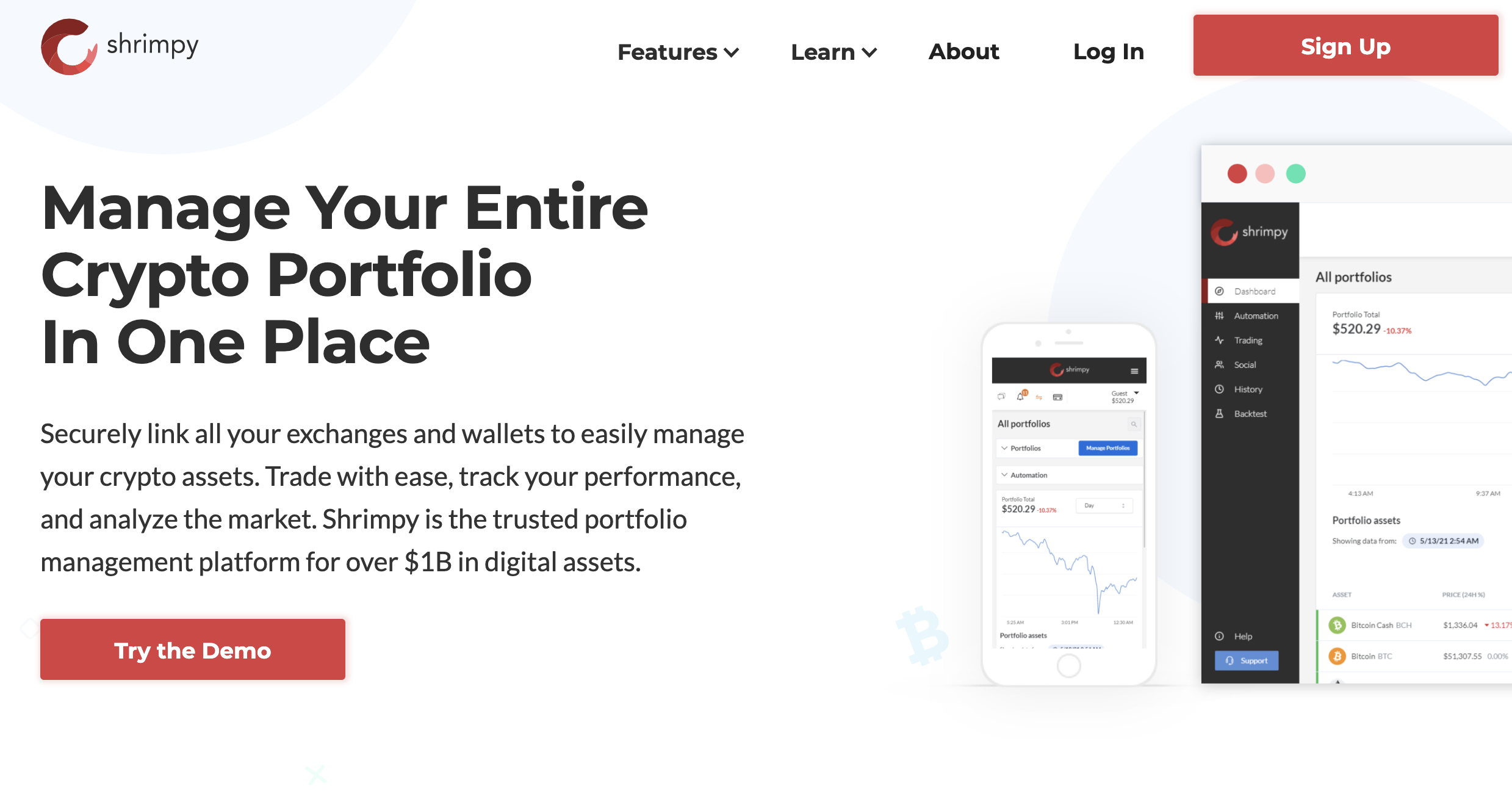 This way, Shrimpy can automate an investor's portfolio allocation. The platform can also be used for copying the strategies of other established traders on the platform. Altogether, Shrimpy is a great tool that simplifies crypto investing for its users. 
However, Shrimpy does not offer any free services. Those who wish to use this crypto tool can get on board with the starter pack at $19 a month. It is also possible to try out the demo platform before signing up for a paid plan. 
7. Glassnode – Crypto Tool for On-Chain Analytics
Glassnode gathers data from different blockchains to measure activity on crypto networks. It then breaks down this data to offer blockchain metrics and other insights to crypto traders and investors. This makes Glassnode one of the best crypto analysis tools for processing on-chain data. 
This on-chain data can tell users about the market capitalization of cryptocurrencies and for how long investors are holding their assets on average. This data can further indicate the future prospects of a specific cryptocurrency.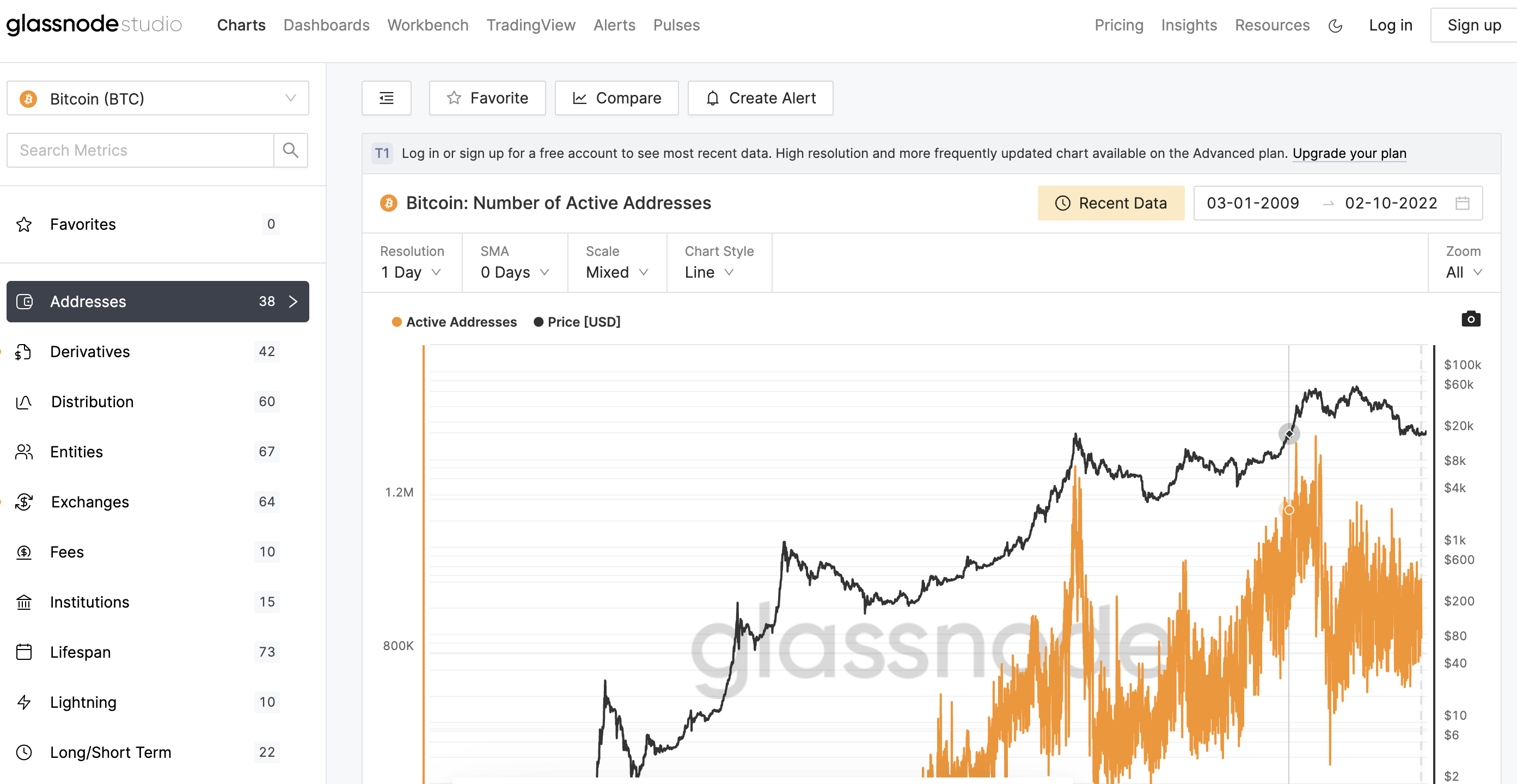 Glassnode also presents its data in the form of charts and provides its users with the option to customize their dashboard to their preferences. The platform also provides price data and lets its users set alerts. The platform divides its data into multiple tiers based on how advanced it is. 
The tier 1 data is updated every 24 hours and is accessible for free. The paid subscription for tier 2 and 3 data starts at $29 per month.
8. Coinmarketcap – Track Cryptocurrency Prices in Real-time
Coinmarketcap has established itself as one of the most-trusted cryptocurrency platforms over the years. This platform consults a variety of verified sources to provide accurate price data for different digital assets. 
It also provides information on trading volume, market capitalization, and circulating supplies of different cryptocurrencies – in a simple and easy-to-understand manner. Coinmarketcap is an entity operating under Binance Capital Mgmt – the global blockchain company. 
This allows CoinMarketCap to tap into its parent company's extensive resources to acquire more in-depth data about new projects and bring higher-quality information to its users.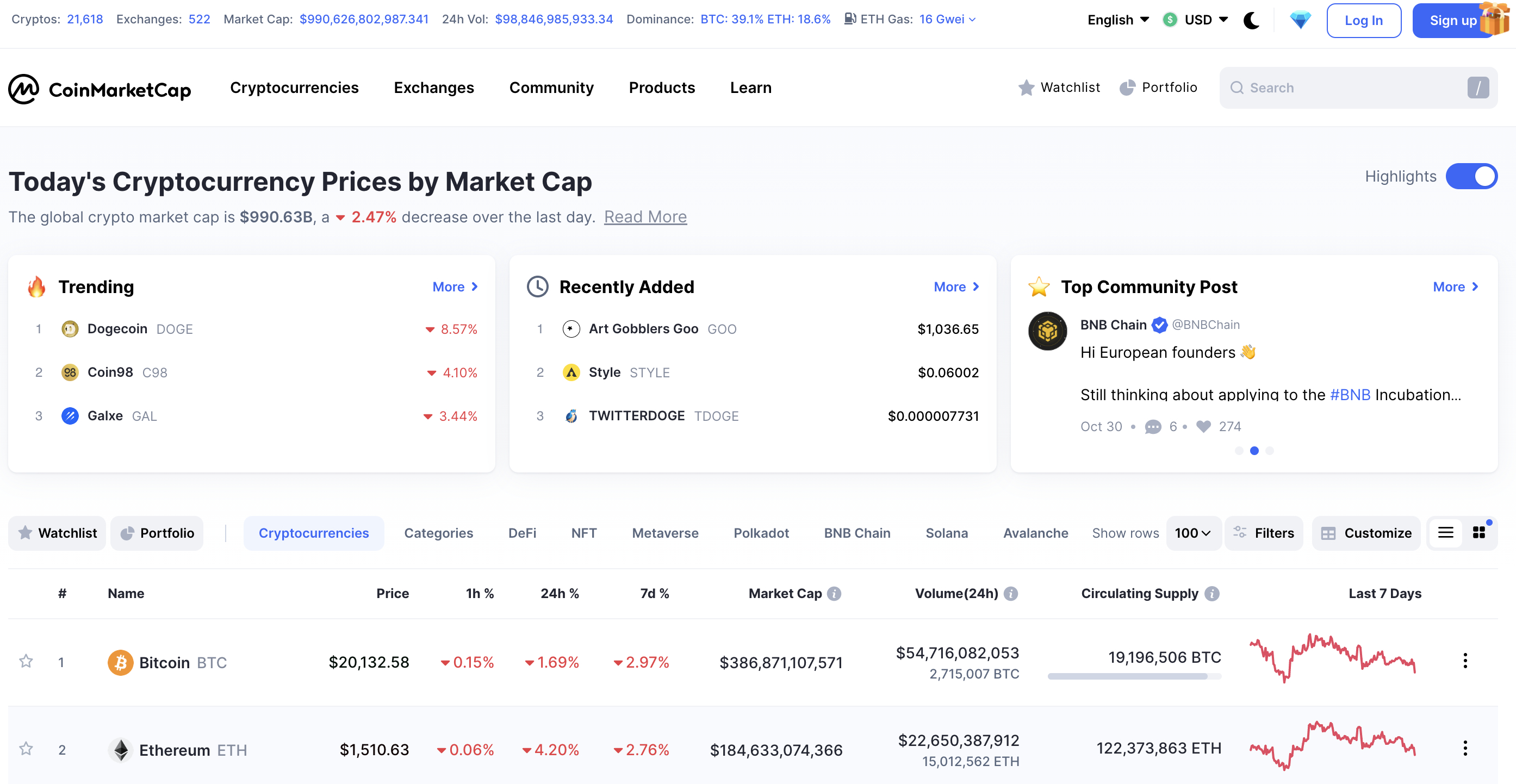 For many investors, Coinmarketcap is the go-to site to track cryptocurrency prices, spot new coin listings, and even learn about emerging presales. Investors can also set up price alerts on Coinmarketcap to be notified of any changes in the movement of their favorite digital assets. 
Coinmarketcap caters not only to crypto enthusiasts but also offers up-to-date information on the best NFTs and metaverse projects. And most importantly, all the information available on Coinmarketcap is free to access – which undoubtedly makes this one of the best crypto analysis tools to date. 
Why Use Crypto Tools?
With tens of thousands of projects, the crypto space is virtually awash with investment opportunities. Since the space evolves at a rapid pace, traders might miss out on important market news and factors that could affect the performance of their investments. 
Crypto tools can be a good option for those looking to find the best cryptos to invest in as well as the best crypto index funds.
As such, it is of the utmost importance to stay up-to-date with relevant market data. 
Proficient traders use the best crypto tools before making a move. 
These tools can help understand how market sentiment can affect the price of a digital token and its volatility. 
Crypto analytics tools can also scan the markets to find the best trading opportunities and alert investors of them in the form of signals. 
Some crypto tools also notify investors of new cryptocurrencies launching in the market. 
In other words, the best crypto analysis tools can make the process of investing a lot easier. They offer real-time data that help traders make prompt decisions – so that they don't miss out on any potentially profitable opportunities. 
Types of Crypto Analysis Tools 
Crypto research tools can help investors increase their chances of making profits – by providing access to valuable market data and allowing them to measure the potential risks. However, there are different types of crypto tools available. 
Therefore, investors should first be familiar with the different types of analytical services out there before picking the best crypto trading tools for their preferred strategies. 
Crypto Charting Tools
The best crypto tools help users visualize market data in the form of charts. This refers to graphical representations of the information, such as historical prices and trading volumes – plotted against time intervals.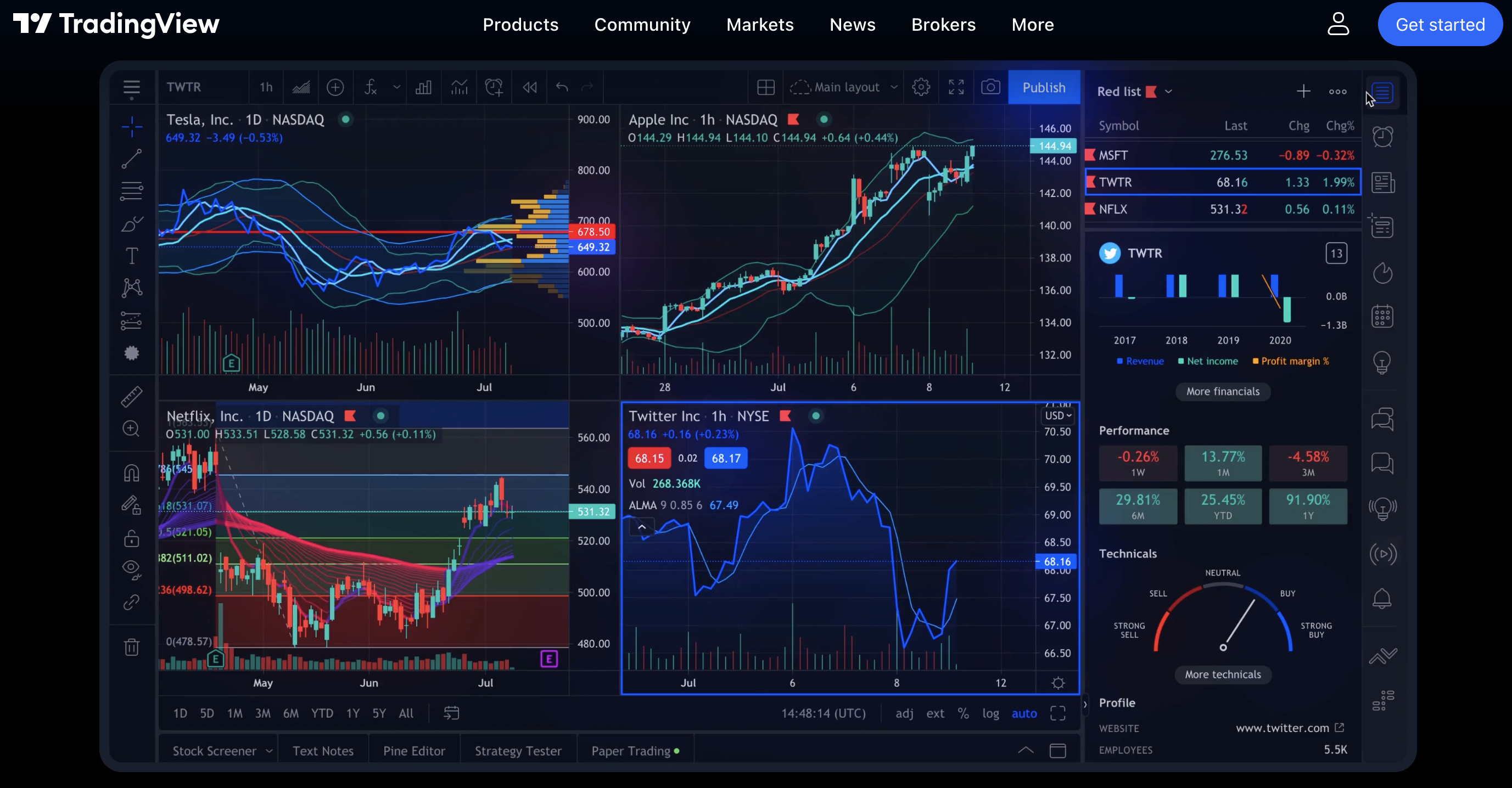 These charts form patterns based on the previous price movements of cryptocurrencies and can be used to spot different investment opportunities. Charting tools are also used hand-in-hand with technical indicators to speculate on the future direction of cryptocurrencies. 
Crypto Analytics
Crypto analytics is a vast term that encompasses different types of tools under its umbrella. For instance, some tools examine on-chain analytics. 
This represents transaction information recorded on the blockchain. On-chain analytical tools such as Dash 2 Trade track data regarding wallet addresses, transactions, miners' fees, and more. 
Similarly, another emerging field within crypto analytics is socio-economic indicators. 
In the case of cryptocurrencies, major market movements are often dictated by sociocultural developments.
This is mainly because the value of a cryptocurrency is driven by the perception of investors first; the technical factors and use cases only come second.
The best crypto tools available these days can track cultural trends – via platforms such as Reddit, Twitter, and other social media networks. This enables investors to spot the next cryptocurrency to explode. 
Trading Bots
The best crypto trading tools for short-term investors are those that come with automation. This means that traders need not watch over the market at all times. 
Instead, these crypto tools allow traders to set predefined conditions, and when these data points are met, positions are executed automatically.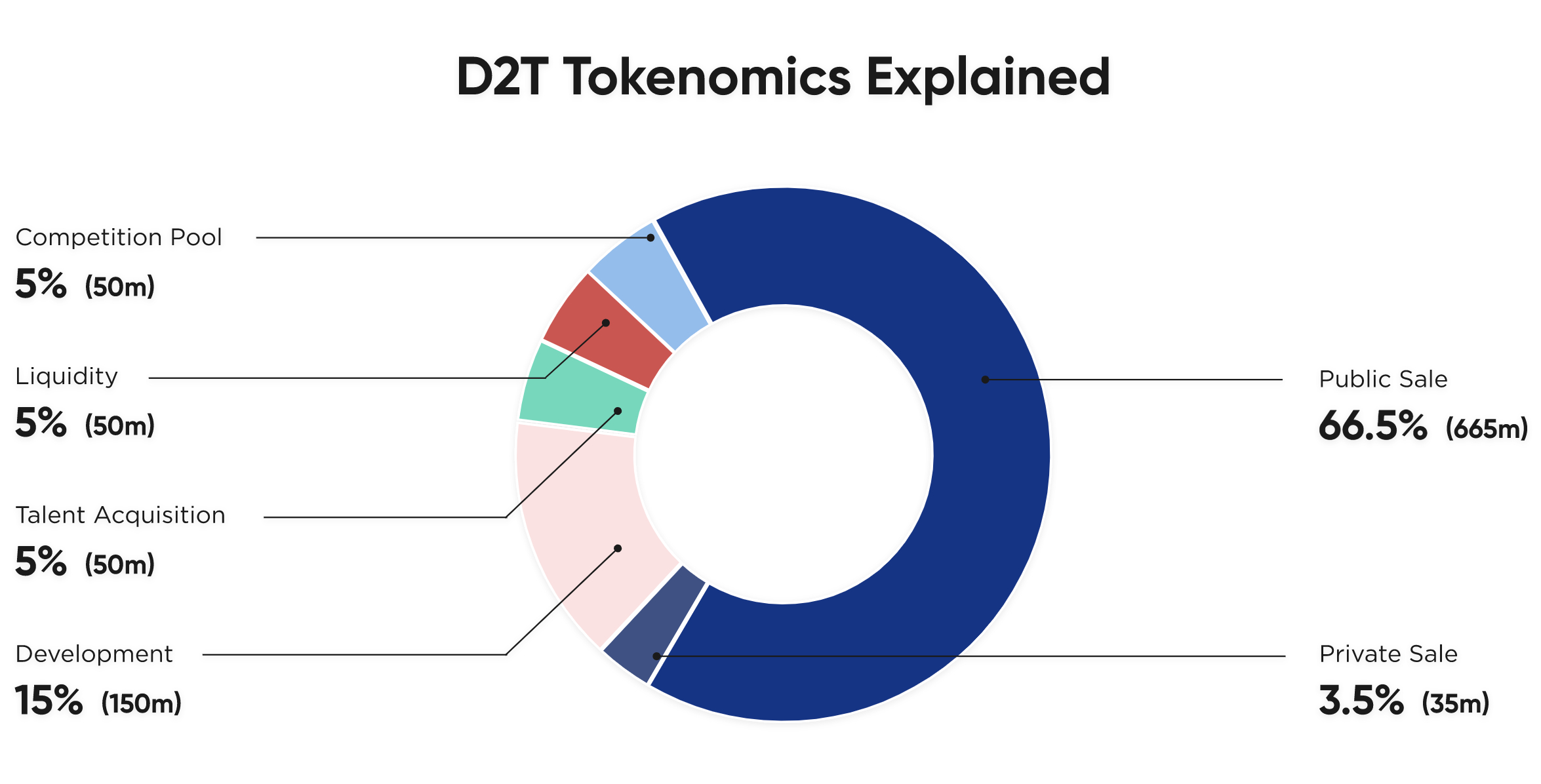 Some of the best crypto trading bots also allow their users to copy the strategies of other investors. This approach is widely called 'copy trading' – and enables investors to benefit from the expertise of advanced traders. 
Price Trackers 
Cryptocurrency analysis tools can also be used to track the price action of digital assets. In other words, these crypto tools will notify investors of any sudden changes in the market price of digital assets. 
The best crypto trading tools let users set up alerts that automatically send notifications when certain price thresholds are met. This can help investors spot sudden bullish or bearish movements or trend reversals. 
New Coin Listings 
Crypto launches offer investors some of the most profitable opportunities in the market. To identify the best crypto presales, investors should consider a variety of factors, such as the whitepaper of the project and the credibility of the team. 
Needless to say, the risk with new crypto coins is high, as the underlying business model is to be proven.
Nonetheless, the best crypto tools alert their users about new coin listings so that they don't miss out on any investment opportunities that could potentially turn out to be profitable.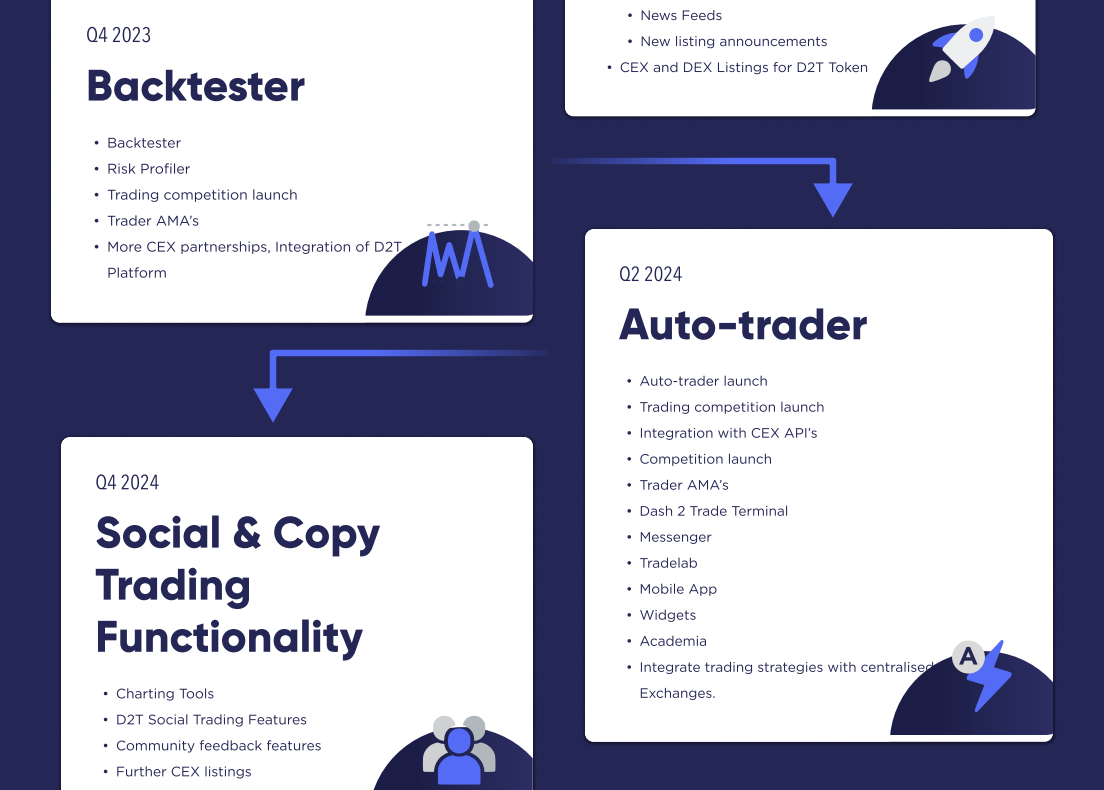 As is evident, there are a wide variety of cryptocurrency tools available in the market these days. The good news is that investors do not need to sign up with multiple platforms to gain access to all these tools. 
Instead, the easiest and most efficient way is to stick with a crypto platform such as Dash 2 Trade. This crypto analytics platform functions as a one-stop-shop – offering all the different types of tools that we listed above. 
The Dash 2 Trade platform automates the process of analytics to bring important metrics to its users – thus making it easy and less time-consuming to arrive at investment decisions. 
How to Use Dash 2 Trade Analytics & Signals
As we mentioned above, the Dash 2 Trade platform is still in its early stages. Once it's up and running, investors can sign up for a subscription plan based on the specific analytics and research tools they seek. 
Below, we explain in detail the best way for investors to buy D2T tokens via the Dash 2 Trade presale. 
Step 1 – Create a Crypto Wallet
The first step for investors is to set up a crypto wallet. D2T crypto coins are built on the Ethereum network, and as such, it is crucial to choose a wallet that can support ERC-20 tokens. 
There are many wallets in the market that can store cryptocurrencies safely; however, Dash 2 Trade recommends using MetaMask.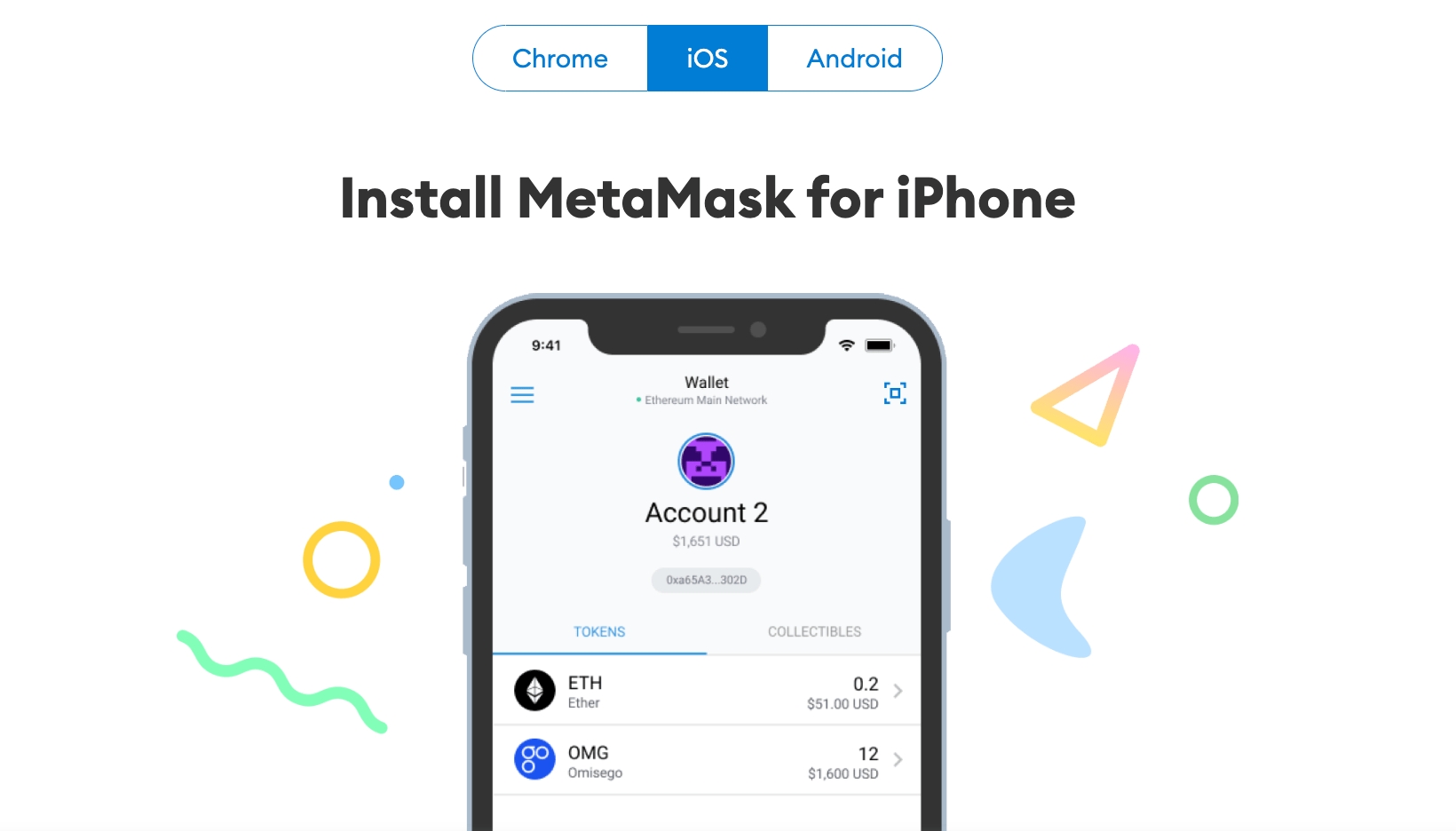 To download MetaMask, head to the website of the provider and install the wallet. MetaMask is available as an iOS/Android mobile app and a browser extension for Brave, Firefox, Edge, and Google Chrome. 
Step 2 – Buy ETH or USDT
After setting up MetaMask, investors should make sure that the wallet is loaded with Ethereum or Tether tokens. Both these digital assets are available at popular cryptocurrency exchanges. 
Dash 2 Trade also enables investors to buy Ethereum on its website through a third-party payment processor.  
Step 3 – Connect Wallet to Presale Dashboard
Next, head over to Dash 2 Trade's website and find the 'Connect Wallet' button.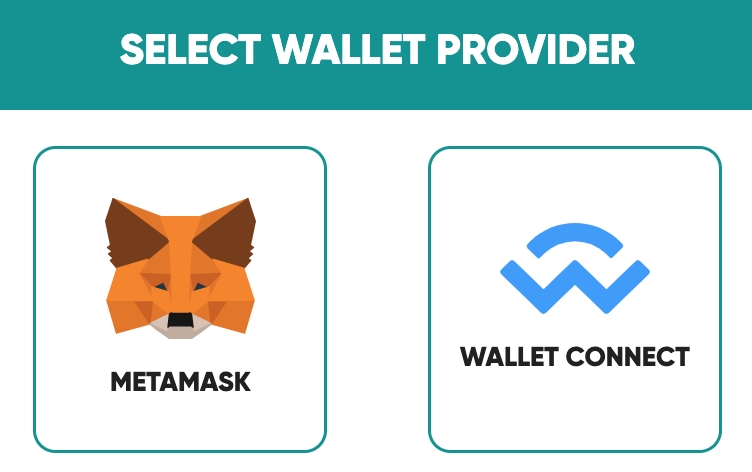 Investors can choose the provider they want to use and connect the wallet by entering the credentials. 
Step 4 – Buy Dash 2 Trade Tokens
After connecting the wallet, an order box will pop up on the screen. Here, investors can choose whether they wish to exchange Ethereum or Tether for D2T tokens. 
Investors should also specify the number of D2T tokens to buy. The minimum purchase amount is 1,000 D2T tokens. 
After verifying all the information, confirm the transaction. 
Step 5 – Claim Dash 2 Trade Tokens
The D2T tokens will not be added to the buyer's wallet right away. The platform will conduct a token generation event once the presale ends – during which D2T will be created. 
Once this step is over, the Dash 2 Trade platform will offer details on how to claim the D2T tokens via its website. 
Conclusion
It can be challenging, even for the most experienced investors, to keep up with the volatility of the crypto markets. Fortunately, there are several crypto research sites and tools that can help investors gain insight into this space. 
From our research, we found that Dash 2 Trade is a powerful platform that combines a wide variety of crypto tools. It offers D2T token holders access to trading signals, on-chain analytics, price alerts, backtesting, and more. 
Consider buying D2T tokens today via the presale to get the lowest price possible. 
FAQs 
What is the best crypto analytics tool?
The best crypto analysis tool will depend on the specific needs of the individual investor. Nonetheless, one of the best platforms in this space is Dash 2 Trade. The platform is designed by the team behind Learn 2 Trade, a leading crypto signals platform. Dash 2 Trade offers dozens of features, which include crypto signals, on-chain analytics, price alerts, new exchange listing announcements, social metrics, and more. 
What is the best crypto research site?
Dash 2 Trade has a wide range of features which makes it the best crypto analysis tool for research. It offers on-chain data analytics and social indicators and also has a unique scoring system to determine the future potential of new cryptocurrencies. 
What tools do I need for crypto?
Before choosing the best crypto analysis tool, investors need to consider their strategies carefully. For instance, those who prefer short-term strategies might look for tools that support auto trading. On the other hand, beginners might prefer tools that facilitate social or copy trading strategies. 
Which are the best crypto mining tools?
Some of the best crypto trading tools for miners include ECOS, Kryptex Miner, and Easy Miner. However, there is limited earning opportunity in the crypto mining space right now – considering the depressed price action. 
---