11 Best Crypto Private Sales to Invest in Now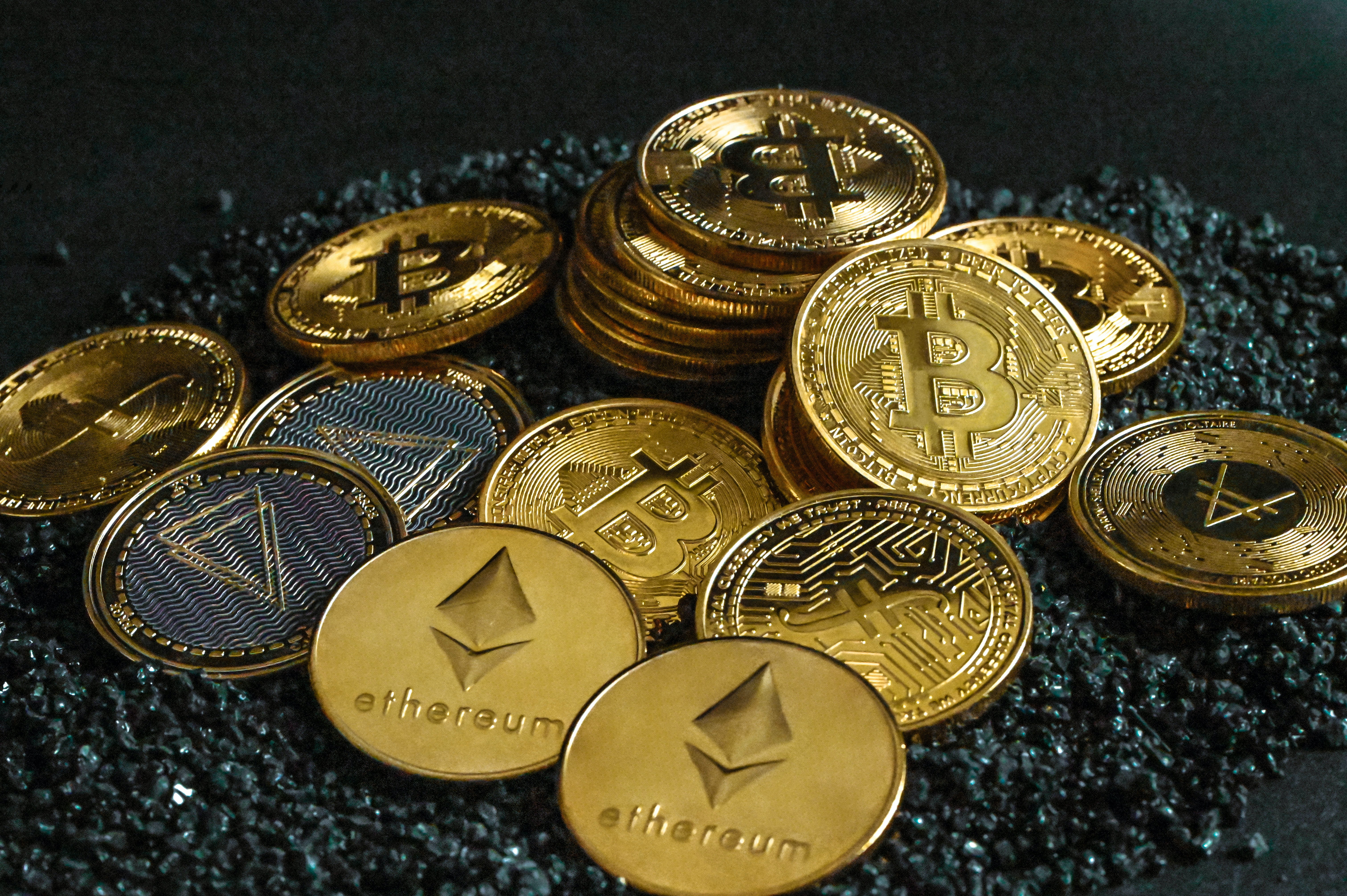 Disclaimer: The Industry Talk section features insights by crypto industry players and is not a part of the editorial content of Cryptonews.com.
In the world of cryptocurrency, investing in a project before the masses is perhaps the best way to earn a profit. While finding private crypto sales can be a great way to achieve this, locating the best crypto private sales is far easier said than done.
Throughout this guide, we'll be taking a look at a range of the best crypto private sales, discussing what a private crypto sale is, and explaining how they work.
The Top Crypto Private Sales to Buy in 2023
Below, we've included an overview of the very best crypto private sales that offer huge upside potential for investors.
Wall Street Memes - This meme-based crypto platform has developed a following of more than 1 million people across social media platforms, including Twitter and Instagram. The private sale aims to raise more than $30.5 million. The $WSM token has already raised over $25 million in just 13 weeks.
Bitcoin BSC ($BTCBSC) - Brand new private sale that places 2011 Bitcoin on an enhanced BNB Smart Chain with staking rewards, tiny transaction fees, an eco friendly design, and smart contract functionality. $100,000 raised in less than 48 hours.
XRP20 - This private sale is allocating 40% of its 100 billion token supply on presale. Calling itself the second coming of XRP, $XRP20 offers staking rewards, a deflationary token supply, and is built on the Ethereum blockchain.
BTC20 - Ethereum-based coin that mirrors Bitcoin's best bits but also improves upon its weaknesses by being proof-of-stake. Limited supply and tokens available for $1 - the same price as Bitcoin in April 2011.
yPredict - Crypto trading protocol that utilizes artificial intelligence and machine learning to help its users become more profitable, providing a wide range of data and tools. More than $3 million raised in its private sale so far.
WeSendit - Blockchain-powered gateway to decentralized storage.
Leap - New project providing a platform for sports people to get scouted.
WeSleep - Earn crypto rewards for sleeping.
Panaroma - Private crypto sale creating an investor-focused exchange.
VitalVeda - Utilizing the blockchain and virtual reality to create a metaverse gym.
Stackspace - Crypto private sale creating the next generation of digital marketplaces.
Analyzing the Best Private Token Sales
To provide investors with ample information, we've included detailed reviews of the best crypto private sales below. We've included projects that span a wide range of sectors and networks in order to provide the most comprehensive guide possible.
1. Wall Street Memes - Popular Meme Crypto Platform which has released its native token on Presale
The top private sale for 2023 is being conducted by the creators of the Wall Streets Memes platform. This is a meme cryptocurrency platform that is popular across various social media platforms.
Launched in 2019, Wall Street Memes has more than 1 million followers. The creators have decided to launch their own native token, $WSM. This comes after Wall Street Memes launched its own legacy NFT project, Wall St Bulls. This NFT project's first collection comprised of 10,000 Ethereum-based NFT pieces, which sold out in 30 minutes.
After the success of the NFT project, Wall Street Memes has decided to launch the token presale, which began on May 26, 2023. This was the same day that the NFT project also introduced a new Ordinals mint for Wall St Bulls.
Through the presale, investors have the opportunity to buy $WSM at very low prices. The presale will comprise of 30 rounds, where 1 billion tokens will be allocated. In total, $WSM has a total supply of 2 billion tokens.
For each of the presale rounds, the price of $WSM will increase. During the first round, $WSM was priced at only $0.025 per token. This round raised $500K in just 48 hours. At the time of writing, $WSM is priced at $0.0337 per token in its final stage.
While the listing price is not confirmed, the project aims to raise over $30.57 million through the presale. Promoting itself as a meme token, Wall Street Memes does not offer much utility.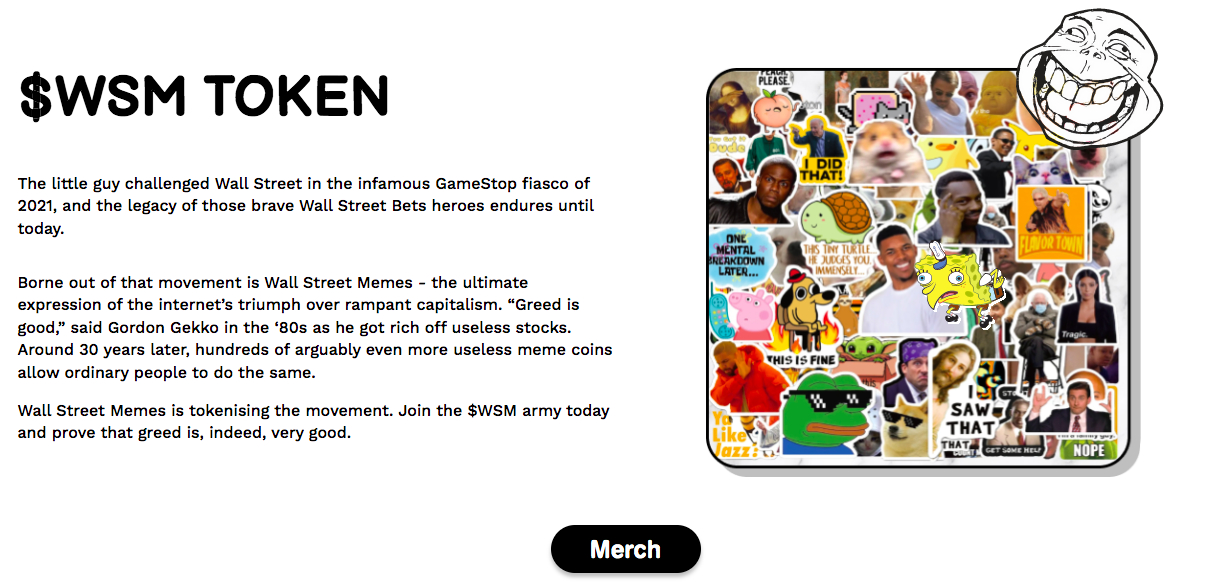 But, it's aim is to build wealth for the community by leveraging its large movement comprising of over 1 million followers. 50% of $WSM is available for the presale, 30% will be offered as community rewards, and the remaining will be allocated for exchange listings.
Thus, 100% of the tokens will be distributed among the platform members.
Since the start of the presale, Wall Street Memes has raised over $16 million in only seven weeks. Interested investors can join the Wall Street Memes Telegram channel to learn more about the project.
| | |
| --- | --- |
| Hard Cap | $30,577,000 |
| Total Tokens | 2 Billion |
| Tokens available in presale | 1 Billion |
| Blockchain | Ethereum |
| Token Type | ERC-20 |
| Minimum Purchase | 100 tokens |
| Purchase Type | USDT, ETH, BNB, Card |
2. Bitcoin BSC - Private Sale Provides Opportunity To Invest in Modern BTC Edition on a BNB Smart Chain, $100K Raised Within 48 Hours
Bitcoin BSC ($BTCBSC) is a new private sale that offers investors another chance at the most successful crypto of all time - Bitcoin. The Bitcoin tokenomics as they were in 2011 have been recreated on a much more powerful BNB Smart Chain.
To this effect, there are 21 million $BTCBSC with 6.125 million available in the presale at a price of $0.99. The token release schedule will finish up in 120 years, which is again identical to Bitcoin economics.
The concept has already proven very popular, with $100,000 raised within 48 hours. Clearly, there are many people who lament missing out on Bitcoin and wish they had another chance to get in. In a way, they do, through this new private sale.
But Bitcoin BSC offers far more than reflecting Bitcoin tokenomics. Being derived from the BNB Smart Chain, it adds considerable utility. The BNB Smart Chain is low cost, at $0.10 per transaction. In contrast, Bitcoin fees can range from $5 - $10, depending on network congestion.
The BNB Smart Chain can handle over 2,000 transactions per second while Bitcoin can handle about 7. The PoS blockchain is also far more eco-friendly than Bitcoin's environmentally damaging PoW mechanism.
Aside from these clear advantages, Bitcoin BSC offers estimated yields of 32,912%, which is a gigantic investment incentive. These yields will come down as time goes by, but staking also helps to stabilize the price and promotes long term participation as opposed to short term profit taking.
Of the 21 million $BTCBSC tokens, 69% are allocated towards staking, 29% to the presale, and 2% to the DEX, with nothing withheld by the core founders, which is a positive indicator.
The campaign has also undertaken an advanced manual smart contract audit from Coinsult, with zero issues found in the code.
Before investing in this presale, please remember to complete your due diligence and read the whitepaper to understand all risks.
The social channels (Telegram, Twitter) can also be joined to for the necessary alerts and notifications.
| | |
| --- | --- |
| Presale Started | September 2023 |
| Purchase Methods | ETH, USDT, BNB, Credit Card |
| Chain | BNB Smart Chain |
| Min Investment | $10 |
| Max Investment | None |
3. XRP20 - PoS Token Offering a Deflationary Token Supply, Priced 30x Cheaper on Presale than XRP's All-Time Lows
XRP20 is a proof-of-stake token that is giving investors the opportunity to join its one-round presale right now. The token name is based on its resemblance to XRP, since it has the same token supply of 100 billion.
Furthermore, XRP20 wants to give investors who missed out on the XRP bull run another chance to join a token that could potentially offer similar returns. The token stands out compared to XRP, as it offers on-chain staking since it is built on the Ethereum blockchain. 40% of its 100 billion token supply will be allocated to the staking mechanism.
Another 40 billion tokens are allocated for the ongoing token presale. $XRP20 is priced at just $0.000092 per token. In under a week, the presale has collected over $260K. The token is 30 times cheaper than XRP during its all-time lows.
By the end of the presale, the platform will look to garner $3.8 million. Interested investors can join this presale by purchasing $XRP20 with Ethereum (ETH) or Tether (USDT).

XRP20 also introduces a burning mechanism on the Ethereum-based smart contracts. 0.1% of every buy and sell transaction on XRP20 will be sent to a burning wallet address. Over time, 10% of the token supply will be burnt. As the supply reduces and the number of staked tokens increases, there will be a limited number of tokens in the market. Thus, we could see the price explode post the exchange listing.
Interested readers can learn more about this cryptocurrency project by reading the XRP20 whitepaper and joining the Telegram channel.
| | |
| --- | --- |
| Presale Started | August 2023 |
| Purchase Methods | ETH, USDT. |
| Chain | Ethereum |
| Min Investment | 100 XRP20 |
| Max Investment | None |
4. yPredict - Trading and Analytics Platform Powered by AI and ML
yPredict ($YPRED) is a new crypto trading and analytics protocol that will help traders and users maximize their profitability in the space.
It will do that by utilizing a range of custom tools and be underpinned by Artificial Intelligence and Machine Learning to offer a huge range of unique data.
The YPRED token presale has already raised more than $3 million and has 25,000 people on its waiting list for the platform.
Tokens are currently available for $0.1 and will rise by 20% to $0.12 in the final stage.
AI and ML will give yPredict users an advantage over other traders by providing data including pattern recognition of more than 100 charts, custom trading tools, hundreds of technical indicators and analysis of the news cycle and social media.
yPredict also allows users to develop and sell their own predictive models, while providing a community of traders to discuss ideas, competitions and learning tools for those wanting to get into trading.
Built on Polygon, the yPred team is also doxxed and KYC-verified and the YPRED smart contract has been audited by Coinsuly.
Read the yPredict whitepaper or join the Telegram group for more information and the latest news.
| | |
| --- | --- |
| Hard Cap | $6.5 million |
| Total Tokens | 1 Billion |
| Tokens available in presale | 80 Million |
| Blockchain | Polygon |
| Token Type | ERC-20 |
| Minimum Purchase | 200 tokens |
| Purchase Type | MATIC, USDT, ETH, BNB, Card |
5. BTC20 - Bitcoin Mirror which Does Away with Its Weaknesses
BTC20 is a project which has taken all the best parts of Bitcoin and combined them with the best parts of Ethereum.
As a proof-of-stake token, it is super-fast and efficient and does not come with any of the mining or environmental concerns of Bitcoin
Through the token presale, BTC20 sold out 6.05 million tokens for $1 each. This price pays homage to when Bitcoin was trading at the $1 mark in April, 2011.
The remaining 70% of the BTC20 supply is locked into a smart contract staking mechanism that will last for more than a century.
The more users stake their tokens, the more rewards are generated for the whole community, while any unsold tokens are added to the staking contract.
More information on the project can also be found in its Telegram group or by reading the whitepaper.
6. WeSendit - Blockchain-Powered Gateway to Decentralized Storage
WeSendit (WSI) is one of the best upcoming ICO (initial coin offering) projects on the market. The team behind the project aims to revolutionize the data storage sector by providing users with easy access to a wide range of established platforms that provide decentralized data storage services. The private sale is ongoing on the WeSendit website.
WeSendit aims to improve privacy in the data storage sector through the use of decentralization. With the project being an established player in the sector for an impressive 10 years, WeSendit certainly has the experience necessary to perform well. The project will allow users to access a range of providers like Filecoin and Storj without hassle, making life far easier for users.
Overall, WeSendit is one of the most interesting private sales currently ongoing. The project has been spoken about in a number of well-known publications including G2.com and with a fully doxed team, WeSendit is doing well on the transparency front. With that said, only time will tell how the WSI token performs on the open market.
7. Leap - New Project Providing a Platform for Sports People to Get Scouted
Leap (LEAP) is an innovative new cryptocurrency project that aims to change the way new talent is scouted in the sports industry via the creation of a platform that centers fans, talent, and decision-makers in a single location. The Leap private sale is expected to launch on October 31st with whitelist registration currently ongoing.
With the sports industry being worth hundreds of billions, a project with the potential to improve it could end up as one of the best long-term crypto projects out there. While the core functionality of Leap is still in the works, LEAP token holders will be able to stake their tokens for rewards, vote on decisions regarding the project's future, and get early access to the platform.
While we'll have to wait and see how the Leap platform develops, the project is unique and does show promise. With that said, private sales are risky investments so it's always imperative to perform ample research before investing.
8. WeSleep - Earn Crypto Rewards for Sleeping
Building on the various x-to-earn concepts that have become popular in the crypto space over the past year, WeSleep is a new project that allows its users to earn crypto rewards simply for sleeping. The project features two different tokens, $ZZZ (for rewards) and $WEZ (for everything else). The WeSleep private crypto sale is currently open for registration.
The project was created on the Solana blockchain, helping to keep fees low and settlement speed high. In order to engage users, the project will reward users with WEZ for completing various tasks which can then be staked to earn ZZZ. Similar to StepN, the rate of earnings will be based on the attributes of upgradable WeSleep NFTs.
Investors looking for the best private token sales in 2023 should keep an eye on WeSleep. The project seems to be well-designed and features a fairly unique concept, meaning it could perform similarly to StepN and become one of the best altcoins soon after its release.
9. Panaroma - Private Crypto Sale Creating an Investor-Focused Exchange
Panaroma (PANA) is a new project aiming to build a crypto exchange that puts investors first. To achieve this, Panaroma aims to increase transparency within the sector, providing users with the lowest possible fees and access to a variety of exclusive crypto assets. Registration for the project's private sale is currently ongoing.
The project aims to create a new breed of investing platform by building both a centralized and decentralized exchange, an NFT marketplace, and even a launchpad for the best IEO cryptos. The PANA token will power the entire ecosystem with holders receiving exclusive access to certain projects and reduced fees, similar to the FTT token from FTX.
While there is a wide range of different exchanges out there, few offer the number of features touted by Panaroma. As such, the project is up there with the best crypto private sales but as always its imperative to perform the proper due diligence before investing.
10. VitalVeda - Utilizing the Blockchain and Virtual Reality to Create a Metaverse Gym
VitalVeda (VVG) is another project worthy of consideration for investors on the hunt for the best crypto private sale. The project will utilize blockchain technology, the Metaverse, and virtual reality in order to create a virtual gym of sorts, allowing people all over the world to come together and get fit. The founder has been KYC verified by IDOPresales and the private sale is ongoing.
Throughout the pandemic, people struggled to stay healthy as the typical avenues, such as gyms, fitness classes, etc were all closed. However, VitalVeda aims to get a platform that can help people achieve their fitness goals from the comfort of their own homes. To incentivize exercise, the project will reward holders of any VVSW NFT with crypto for staying fit.
While move-to-earn projects have become rather prevalent, VitalVeda has a much larger focus on helping people with specific goals (e,g, building strength and losing fat). With personal trainers costing upward of $30 per hour, VitalVeda could end up being the best crypto private sale within the fitness sector.
11. Stackspace - Crypto Private Sale Creating the Next Generation of Digital Marketplace
Stackspace (STSP) is a project aiming to create the largest and most diverse digital market within the crypto space. The project is focused on NFTs in all forms but will specialize in gaming/Metaverse-related assets. The Stackspace private sale is open for registration and will run until November 12th.
To appeal to a larger audience Stackspace will be a multi-chain marketplace, allowing a huge number of projects to be listed on its platform. Additionally, the team will create a launchpad for Metaverse games assets, allowing investors to participate in the best crypto private sales with ease. The project will initially release as a website, before launching an app and a Visa-based crypto card.
With Stackspace aiming to unseat the best NFT marketplaces, it'll be extremely interesting to see how the STSP token performs once it's fully released. However, it's important to be aware that the value of the token will be heavily affected by the performance and growth of the marketplace.
What is a Private Crypto Sale - Explained
Before taking the plunge and investing in any of the best private token sales in 2023, it's worth taking the time to understand exactly what a private crypto sale actually is.
As the name implies, private crypto sales tend to be exclusive offerings prior to a new token being offered to the public as an IDO or IEO. It's common for a private crypto sale to require investors to be whitelisted or at least register for the sale ahead of time. Typically, these private token sales will offer new cryptos at the lowest price.
After a private crypto sale has concluded, the asset will then usually go on to announce a public sale typically taking the form of an initial DEX offering (IDO) or an initial coin offering (ICO).
How do Private Token Sales Work in Crypto?
While attempting to invest in the best crypto private sale can be a daunting task, it's actually a very simple process.
The vast majority of private token sales will allow users to register prior to or during the event, meaning that there is usually plenty of time to get involved with a project. Private sales will typically offer tokens for a lower price than a public sale for a couple of different reasons.
Risk - There is more inherent risk when investing in a private sale vs a public sale as the project is typically less developed.
Funding - The revenue generated from a private crypto sale will help to facilitate marketing, the development of a project, and sometimes the minting of tokens.
Rewarding Supporters - A private sale is typically the earliest stage in a cryptocurrency's lifecycle. As such, tokens are priced lower to show thanks to a project's first supporters.
The process of actually participating in the best crypto private sale will typically be very similar to purchasing an asset from an exchange. The investor registers for the sale then decides how many tokens to buy and completes the purchase, typically using a stablecoin or the native token of the network the project is built on.
Private Crypto Sales vs Public Sales
Any investor hunting for the best crypto private sale is likely to wonder about what separates private and public crypto sales. While both concepts are similar there are a few differences worth noting.
Private sales are typically priced lower than public sales as the investor takes on more risk.
A private crypto sale is often the first time an asset is made available for purchase, whereas a public sale will be the second or third step in a project's release.
While a private sale will usually occur directly on an assets website, a public sale will usually take place on either an exchange or project launchpad.
Cryptocurrency will almost always be required for a private sale while public sales can sometimes be purchased with fiat.
A private sale will typically offer far fewer tokens than a public sale, meaning they tend to take place over a shorter period than public sales.
So as we can see from the above points, while private crypto sales and public sales are very similar, in concept, they differ greatly in execution. As such, it's important to consider which type of sale is right for you prior to investing in a new cryptocurrency project.
Is Investing in Crypto Private Sales Worth it?
There are lots of reasons why investing in the best private token sales in 2023 could be worth it. We've included a few of the most important factors below.
Low Price
One of the primary reasons why investors look for the best crypto private sale is to stock up on tokens at the lowest price possible. This provides investors with far more upside potential when compared to an already established project. As such, private crypto sales can be perfect for investing with the best possible risk-to-reward ratio.
Innovation
While established cryptocurrency projects are typically seen as lower-risk investments, they tend to lack innovation. However, the best crypto private sales will feature some of the most exciting and innovative technology in the industry. As such, they can be phenomenal investment tools for those focused on utility-centric projects.
Beat the Masses
When it comes to investing, once the masses have piled in, the majority of any value a project held will evaporate due to a lack of buyers. As such, investing in a project before it's widely known is perhaps the best way to profit from cryptocurrency. With private crypto sales being the first time an asset is purchasable, they provide an excellent opportunity to in a project early.
Support Great Projects
While the vast majority of people will treat private crypto sales as an investment vehicle and hope to make a profit, that's only one side of the spectrum. Investors that participate in private sales can also support projects with a concept they like, potentially helping to get a revolutionary new project funded and available to the general public.
Conclusion
Throughout this article, we've taken a look at some of the best crypto private sales, explained how they worked and discussed the merit of private crypto sales as an investment.
One of the top private sales right now is $WSM, the native token of the Wall Street Memes platform. This platform has over 1 million community members and has also released its own NFT legacy project.
Now, the platform aims to raise more than $30.57 million through the presale of the $WSM token. In just a few days since the presale started, Wall Street Memes has raised more than $25 million in just 13 weeks. The token price is $0.0337 in its final presale stage.
FAQs

What is a private sale in crypto?
A private sale in crypto is the first time an asset is made available for purchase. Typically, a private sale will offer the lowest prices for an asset. In contrast to a public sale which typically takes place on an exchange, a private sale will usually occur directly on the project's website.
How do you participate in private crypto sales?
While it can be daunting, it's easy to participate in private crypto sales. Typically, they will be held directly on a project's website with investors able to exchange a certain cryptocurrency (e.g. ETH, USDT, etc) for tokens from the private sale.
What is the difference between a private sale and a public sale in crypto?
Although private and public crypto sales are both similar, there are a few important differences to be aware of. Private sales are generally viewed as being riskier than public sales but will offer tokens at a lower price to make up for the increased risk. Furthermore, private sales will usually take place over a shorter period with fewer tokens available when compared to a public sale.
What are ICO private sales?
An initial coin offering, or ICO, is the very first time an asset is made available to purchase. Typically an ICO private sale will be used to fund the marketing efforts for the larger public sale. It's also common for the funds generated from an ICO to be used for token minting.
What are the best crypto private sales right now?
Above we've discussed some of the best private token sales in 2023 available at a low entry point. One of the top private sales is Wall Street Memes - a meme crypto platform. More than $25 million has been raised in the $WSM presale at the time of writing in just 13 weeks.
---