Alarm Bells Ringing in XRP-keen Japan
Japanese investors are reeling from news coming out of the United States, where the regulatory Securities and Exchange Commission (SEC) has launched something akin to a war on Ripple's XRP token, with Coinbase the latest big-hitting exchange to announce it will suspend XRP trading.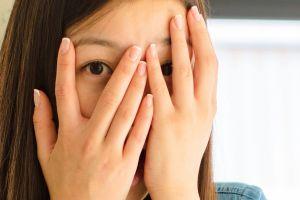 XRP adoption is high in Japan, where it vies with ethereum (ETH) for top spot as the most popular altcoin on many exchanges.
Chiba resident Koji (surname withheld), a crypto investor with what he called "considerable" XRP holdings, told Cryptonews.com,
"Perhaps naively, I believed that XRP was one of the safest crypto bets around. It's being used in all sorts of remittance solutions, has received approval from the Financial Services Agency (FSA) [the country's top financial regulator] and, above all, its operator is a big, powerful-looking American company with rich backers in Japan. I'm shocked to hear about what is happening, to be honest - and hoping for the best!"
Japanese media outlets and social media commenters have reacted with surprise after the American arm of the market maker B2C2 stopped XRP trading last week, with warnings to customers that "further actions regarding trading in XRP products" could be forthcoming.
The news has sent shockwaves across Japan's crypto community - due mainly to the fact that B2C2 is operated by Japan's fiercest XRP supporter, SBI, which bought B2C2 in a deal just weeks ago.
SBI has made a number of XRP giveaways to its shareholders, pays the pro gamers on the roster of its eSports subsidiary in XRP and operates the SBI Ripple Asia payments platform with Ripple. Moreover, SBI's CEO Yoshitaka Kitao is a member of the Ripple board, and was one of the first to rush to Ripple's defence last week, tweeting about the FSA's ruling that XRP is not a security, contrary to the SEC's position.
However, it looks like the mood in Japan has already soured somewhat when it comes to XRP. Two prominent exchanges last week announced they would be suspending XRP trading as a preventative measure, and one of exchange platform FXCoin's featured investment bloggers today wrote of further consequences of the SEC's move, opining that other tokens could also become classified as securities, dragging token prices into a new mire.
At pixel time (12:36 PM UTC), XRP trades at USD 0.204 and is down by more than 30% in a day and 58% in a week. The price also crashed by 68% in a month trimming almost all its gains over the past 12 months.
XRP price chart: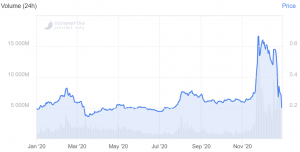 ___
Learn more:
Companies Start Suspending XRP Trading Following the SEC Lawsuit
XRP Drops As 'SEC Voted to Attack' Ripple
Ripple Not Happy With Regulatory Fog In US As Customers Worried About XRP
---