Active Addresses Number of Tether's Tron Version Eclipsed Ethereum Version
There's a shift of tether (USDT) activity from the Ethereum (ETH) to the Tron (TRX) version, while the ETH version still has much higher daily transfer value, according to crypto intelligence firm Coin Metrics.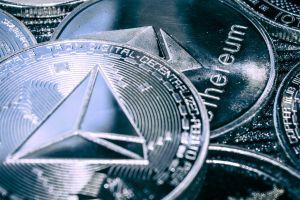 Since 2021 started, stablecoin daily active addresses have reached new highs, said the firm, and tether remains the most dominant stablecoin by most measures and accounts for a large majority of active addresses. However, it added that,
"Tether activity has increasingly shifted over to the Tron version of the stablecoin."
Since its creation, the dollar-pegged tether expanded from the Omni protocol (itself built on top of the Bitcoin (BTC) blockchain) on which it was originally built and is now issued on a number of different platforms. This includes Ethereum (USDT_ETH) and Tron (USDT_TRX).
That said, since the beginning of 2021, "the amount of USDT_TRX active addresses has eclipsed the number USDT_ETH active addresses," wrote the firm.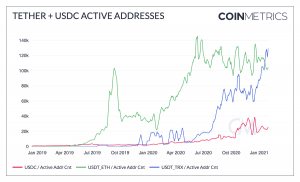 As to why this shift has been happening, Coin Metrics finds the reason likely to be related to fees. Tron fees have remained "miniscule," while Ethereum transaction fees have grown as a result of rising demand from decentralized finance (DeFi).
Ethereum has been struggling with high fees for months now, exasperated by the DeFi explosion seen last summer. Per BitInfoCharts.com, the average transaction fee (7-day moving average) has reached an all-time high, climbing to nearly USD 11. It now stands at USD 10.93.
Blockchain startup Chaingateway.io yesterday announced that it has integrated Tron into its ecosystem due to the rising Ethereum fees.
Meanwhile, stablecoin on-chain transfer value has surged to new highs in 2021 as well, also dominated by tether. But unlike active addresses, Coin Metrics pointed out, USDT_ETH has "significantly" more daily transfer value than USDT_TRX. "Although there are more individual addresses using the Tron version, the Ethereum version of Tether still accounts for a majority of the economic throughput," it said.
Users of the Tron version of tether are sending much smaller transactions than the users of the Ethereum version. The median transfer value for USDT_TRX is some 10x smaller than the median transfer value for USDT_ETH, said the firm. More precisely, this means about USD 95 on Tron compared to about USD 1,085 on Ethereum. Most other stablecoins' median transfer values are closer to the USD 1,000 range with, for example, USDC's median transfer value being some USD 1,570, wrote Coin Metrics.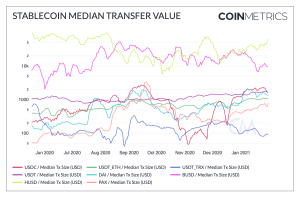 As reported in June last year, Coin Metrics found at the time that the Ethereum version of tether was "particularly well-distributed," better so than other stablecoins. Even when issued by the same entity, "stablecoins on different networks have varying outcomes in supply and activity distribution," the firm said.
In September 2020, the operators of the tether token announced that they would move another 1 billion coins from the Tron blockchain network to the Ethereum blockchain - for the second time in less than a month - which involved an undisclosed exchange and which commenters speculated could've been Binance.
Today, Tether and Bitfinex Chief Technology Officer Paolo Ardoino announced that an unnamed exchange would covert USDT 2bn from the Tron to the ETH version, while "there is another separate chain swap request (for 200M), from another exchange, still TRC20 to ERC20," he added.
Meanwhile, Tron CEO Justin Sun has been promoting the upcoming Sun Network, Tron's official side chain project - a parallel and connected chain that runs alongside the main blockchain.
Ranked third, Tether's current total market capitalization is USD 27bn.
___
Learn more:
Stablecoins May 'Penetrate Non-Crypto Markets' & Surpass USD 100B in 2021
Imagine Regulators Shutting Tether Down - What Happens to Bitcoin?
Bitcoin Strongest In North America, Asia More Open to Stablecoins, Altcoins
Stablecoins Seen as Most Important Development in Crypto
---