13 Best Crypto Wallets in 2023
Last updated:
• 35 min read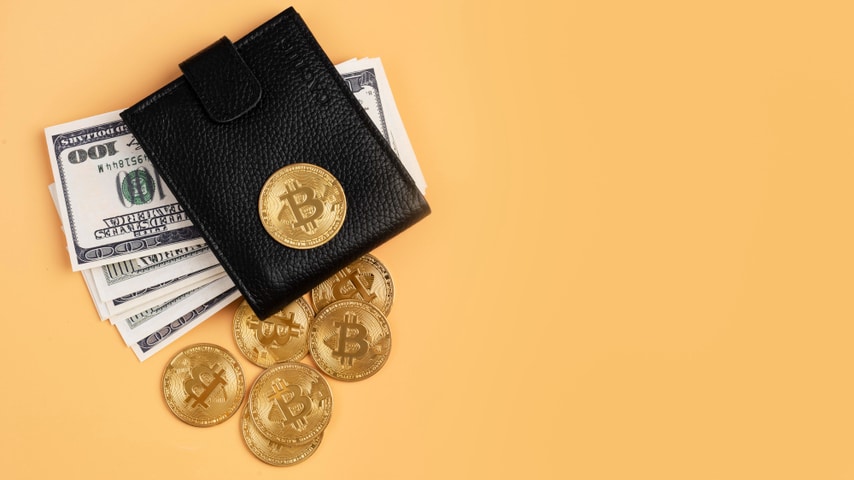 Navigating the world of cryptocurrencies can be overwhelming – especially for beginner traders. As more and more people become involved in the crypto market, understanding the importance of secure digital currency storage becomes crucial.
Considering that, this guide discusses the best crypto wallets for those just beginning their journey into the world of digital assets. We'll explore the various types of crypto wallets available to traders before providing a quick-step walkthrough showcasing how to set up a secure wallet in minutes.
List of the Best Cryptocurrency Wallets

As experienced traders will know, identifying the best crypto to buy is just one part of the investment process – finding a safe and secure crypto wallet is just as important. Taking this into account, listed below are ten of the best Bitcoin wallets available to use right now:
Best Wallet – Our pick for the best crypto wallet in 2023. This Web3 non-custodial wallet supports multiple blockchains, such as Bitcoin, Ethereum, and BNB Smart Chain, all in one wallet and has several unique features including insights and a DEX.
Coinbase Wallet – Beginner-friendly crypto wallet with biometric verification.
YouHodler – An excellent cryptocurrency wallet that comes with multi-chain support for swapping and trading as well as a yield program where you can earn up to 15% annual percentage yield on popular cryptocurrencies and stablecoins. You can also use the crypto lending program if you need liquidity.
Ledger – One of the best hardware wallets that keeps your private keys offline, which makes it hard for fraudsters to steal your funds. Via its Ledger Live app, you can purchase crypto or stake it directly with your wallet.
Trezor – Leading crypto hardware wallet with top-notch security features and privacy features via Coinjoin. Its desktop and mobile apps let you easily manage multiple assets like Bitcoin and Ethereum.
OKX – User-friendly crypto wallet with NFT support and DEX aggregator.
Binance – The World's largest exchange with a free crypto wallet app.
StrikeX – New and secure DeFi wallet perfectly suited for beginners.
MetaMask – Best crypto wallet for multi-chain support on the Ethereum blockchain and its layer 2 chains.
Trust Wallet – Binance-owned wallet provider with 25m+ users.
Kraken – Highly trusted and popular crypto exchange for advanced traders.
Crypto.com DeFi Wallet – DeFi crypto wallet with full NFT support.
Exodus – Super-popular Bitcoin wallet with customizable Interface.
Reviewing the Best Bitcoin Wallets for Beginners

According to Statista, there were over 9,000 cryptocurrencies in existence in December 2023 – nearly double the number seen in February 2021, although it is estimated there could be many more given the vast numbers of new meme coins and projects sprouting up regularly.
This highlights the rapidly-growing nature of the crypto market, which has naturally increased the need for secure wallet options. So, without further ado, let's dive in and take a closer look at the top cryptocurrency wallets for beginners:
1. Best Wallet – Overall Best Crypto Wallet in 2023 With Multi-Chain Crypto Swaps and Built-In DEX
Topping our list of the best crypto wallets in 2023 is Best Wallet, which has only just launched but already shot to the top of our list because of its unique features.
This is a multi-chain crypto wallet designed to address some of the challenges present in many current wallet offerings – such as multiple wallets required for various blockchains, lack of crypto news within the wallet, network bridges and NFT marketplaces.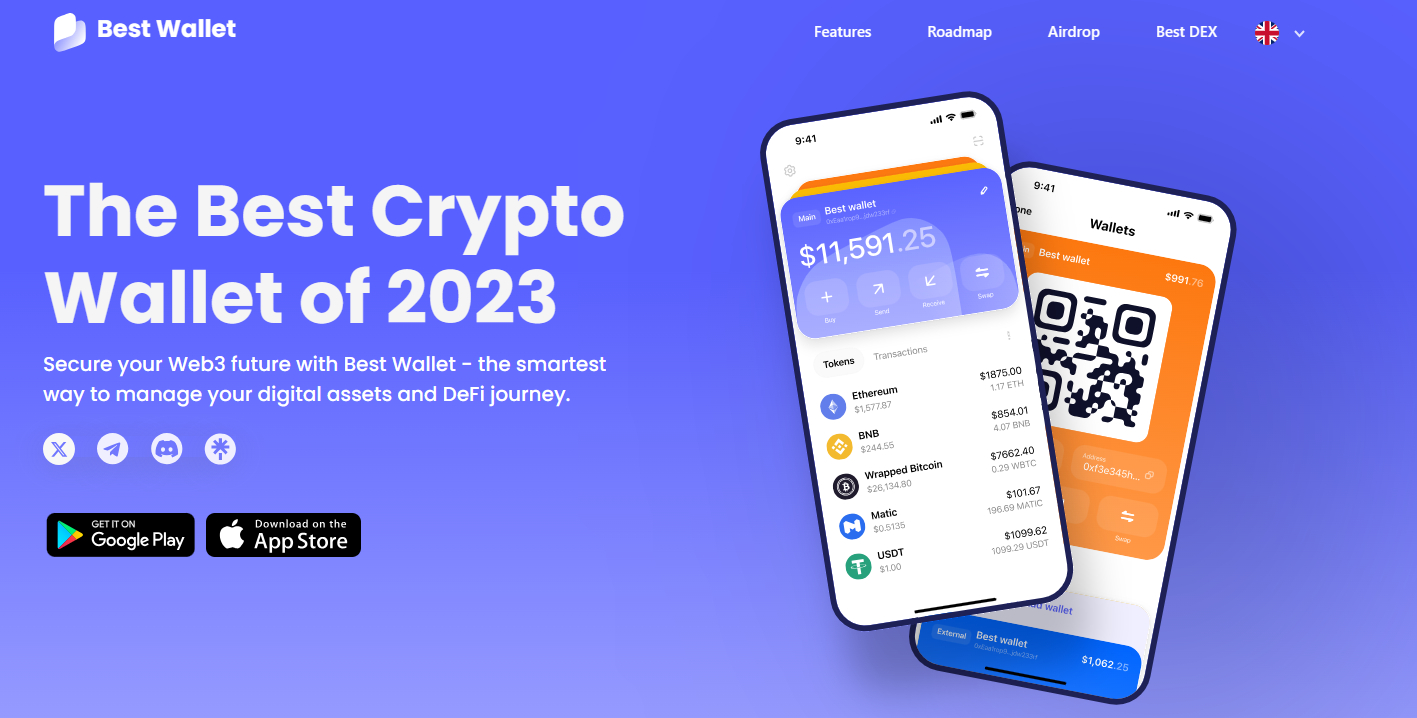 To address this, the creators of Best Wallet have created a comprehensive Web3 ecosystem that covers every aspect of digital asset management.
The non-custodial software wallet, available as a mobile app,  allows users to interact with coins, tokens and NFTs from multiple chains such as Bitcoin, Ethereum and BNB. This ensures users aren't confined to a single chain, allowing them to access limitless digital assets.
It also has several unique features that place it above other wallets – that includes market insights on trending and upcoming tokens, details on token airdrops, and even a built-in decentralized exchange to allow users to trade any token. Best Wallet is shaping up to be one of the best no-KYC crypto exchanges on the market.
Acting as the backbone of the ecosystem is the $BEST token, which is the utility and governance token. Holders who stake $BEST tokens will receive benefits, including access to advanced analysis tools, swaps without fees, early token launch access and NFT drops.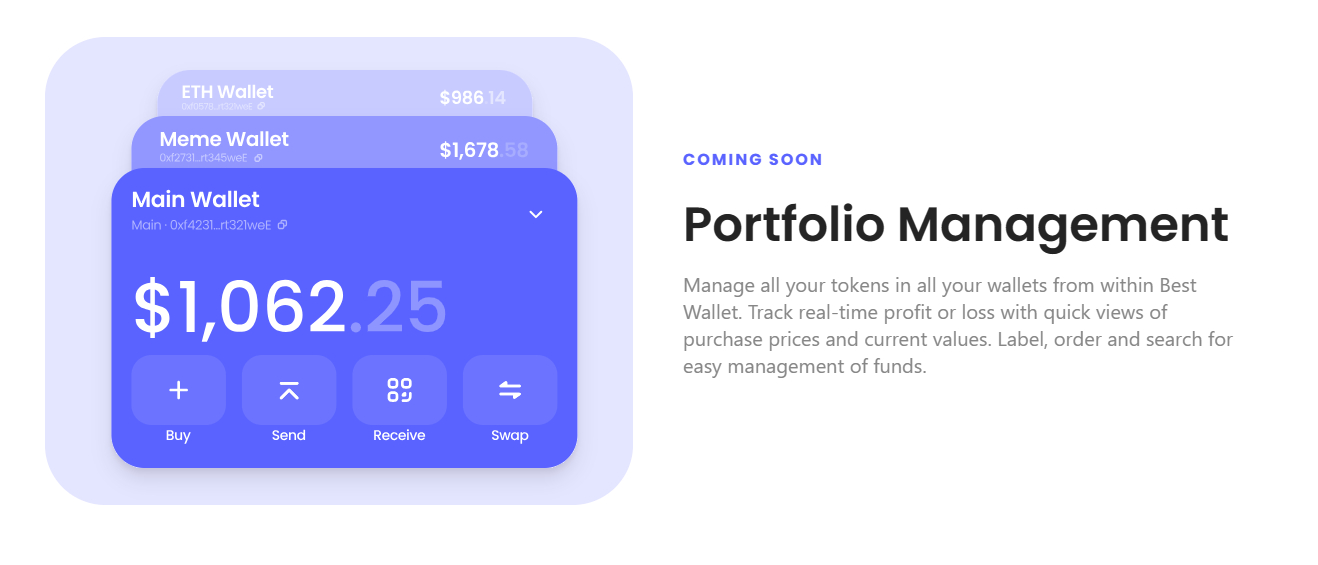 The tokens are not yet available but regular users of the wallet are set to get a huge airdrop of tokens in the coming months – with a total of 10% of the supply will be distributed to active users.
All in all, Best Wallet aims to be more than just a crypto wallet, with the developers seeking to make it a comprehensive digital asset management solution for multiple blockchains.
Follow Best Wallet on X and on the Best Wallet Telegram channel to get up-to-date information on the project.
| | |
| --- | --- |
| Type of Wallet | Software |
| Number of Supported Cryptos | Thousands through the DEX |
| Fee to Buy Bitcoin | via Wert |
| Mobile App? | Yes |
2. Coinbase Wallet – Beginner-Friendly Crypto Wallet with Biometric Verification
Coinbase is one of the most popular exchanges for those looking to make money with cryptocurrency since it has a stellar reputation due to its safety, asset selection, and regulatory approval. This exchange also offers a dedicated crypto wallet, free to use and available on smartphones, tablets, or as a Google Chrome extension.
Notably, the Coinbase wallet is a self-custody wallet – so users will have complete control over their crypto assets. The wallet supports over 100,000 coins/tokens, yet it also allows users to store their Ethereum and Polygon NFTs in the same place.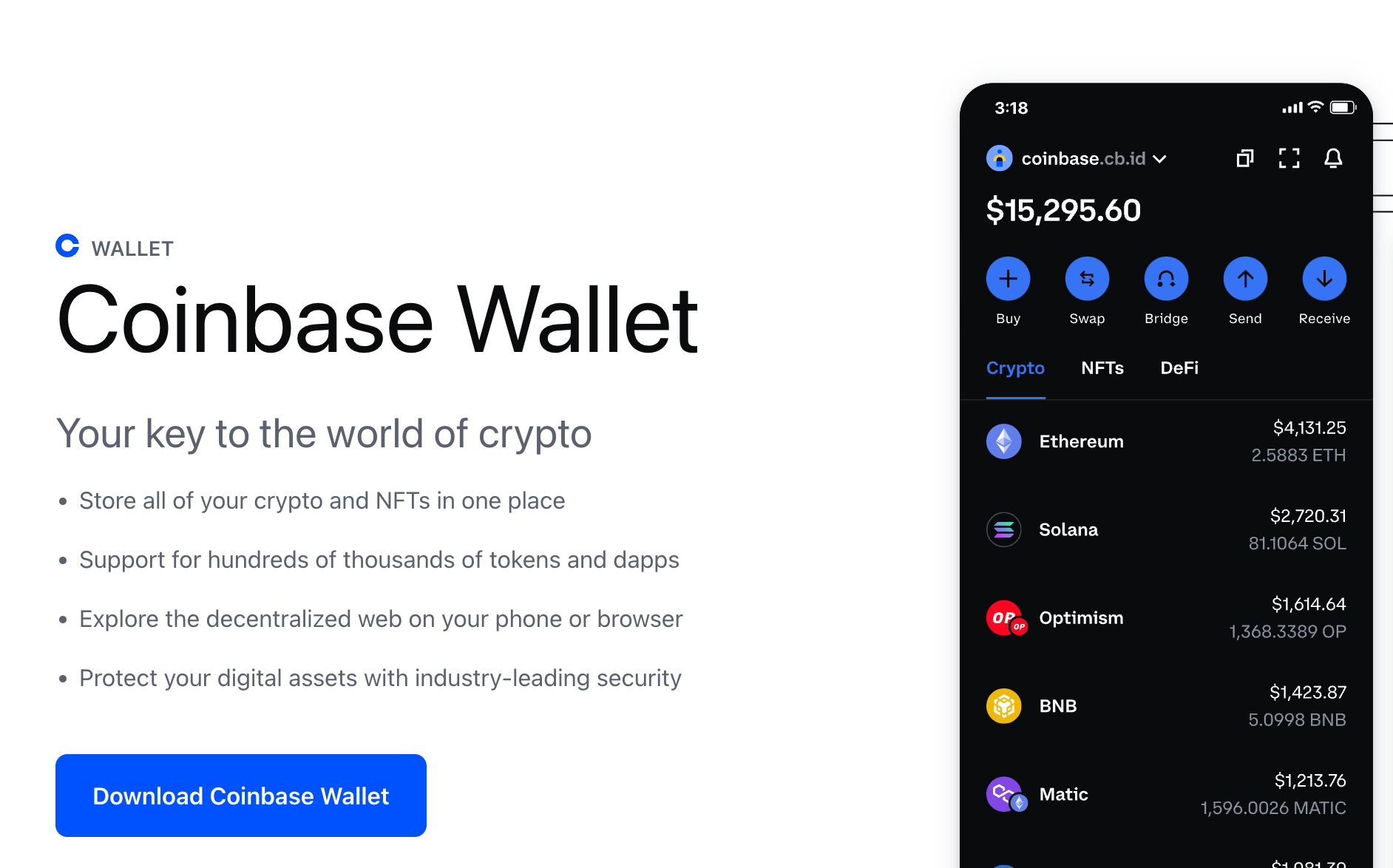 Coinbase allows users to bolster the security level even more by enabling two-factor authentication and biometric verification. Aside from its security features, the wallet also excels since it essentially acts as a handheld crypto exchange. Users can instantly buy and sell coins/tokens using a credit/debit card and even withdraw funds to an external bank account.
Since the Coinbase wallet provides access to the decentralized web, users can also make the most of the universe of DeFi apps available to them. Several opportunities are available in this regard, such as using liquidity pools to generate a yield or even taking part in a decentralized autonomous organization (DAO).
| | |
| --- | --- |
| Type of Wallet | Software |
| Number of Supported Cryptos | 100,000+ |
| Fee to Buy Bitcoin | 0.3% for DEX transactions |
| Mobile App? | Yes |
Cryptoasset investing is highly volatile and unregulated in some EU countries. No consumer protection. Tax on profits may apply.
3. YouHodler – An Excellent Crypto Wallet With Up To 15% APY on Popular Cryptocurrencies, Crypto Loans and Trading
YouHodler is one of the leading crypto wallets because it offers multiple features, like staking and trading all through a single wallet.
Store coins from multiple blockchains, including Bitcoin, Ethereum, Ripple, but also coins like ApeCoin and Decentraland. Through the crypto wallet, you can swap and trade this coins as you please.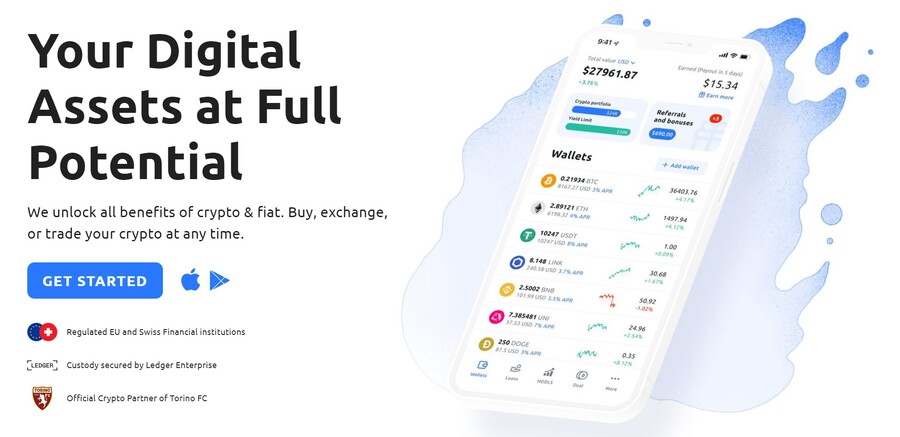 Those who don't want to trade can still earn yield on the tokens they hold. For example, Litecoin offers the highest annual percentage yield (APY) of up to 15%, while Solana has an APY of up to 13%, which is more than the 8% APY you can get by staking it on the Solana blockchain.
Stablecoins have a solid APY of up to 12% for USDT and USDC. But to get this yield, you need to advance your levels by trading or holding a certain amount of funds in your account. The Basic level APY is 6% for stablecoins, which is still competitive with other DeFi services and enough to offset the yearly inflation.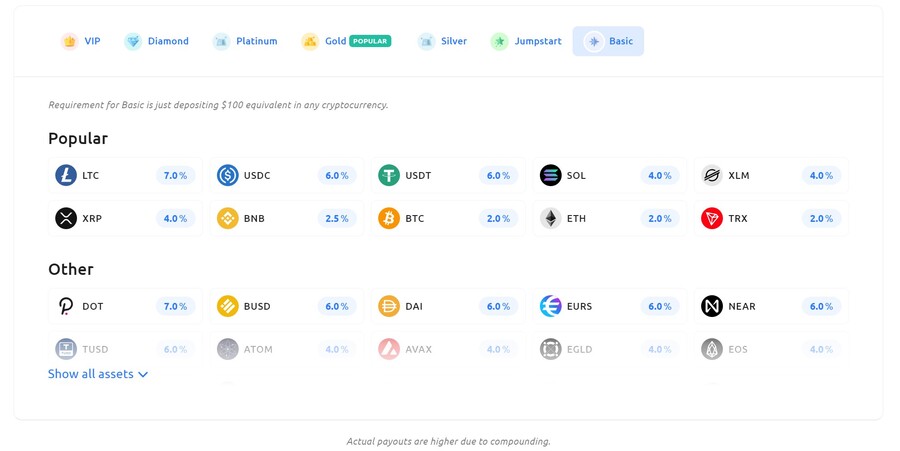 Bitcoin holders get to earn up to 4.5% APY depending on their level. However, YouHodler offers the chance to earn up to 0.2 BTC per month with Bitcoin Cloud Miner. In this case, you need to complete tasks on the YouHodler platform to earn sparks. Sparks are used on the Cloud Miner to mine blocks and earn BTC.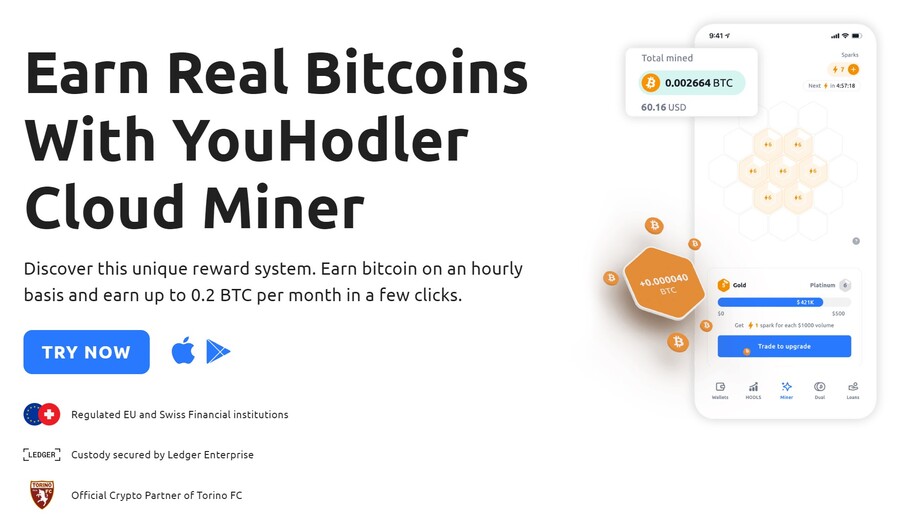 Those who need instant liquidity but don't want to sell their crypto assets can use YouHodler's crypto loans. With a loan-to-value of 90%, you can collateralize your crypto assets and get other cryptocurrencies or fiat currencies like EUR, USD, CHF and GBP and withdraw them if you need to.
YouHodler is an EU and Swiss-based company, regulated in Switzerland and in some EU countries. The funds within the wallet are secured using the Ledger Vault technology with $150 million in pooled crime insurance. As for your personal account, you can secure it with 2FA and biometrics.
Pros: 
Supports multiple cryptocurrencies
Up to 15% yield on select cryptocurrencies
Earn Bitcoin with Cloud Miner
Crypto loans with 90% LTV
Crypto to fiat exchange
Cons: 
Not available for US residents
$100 minimum crypto loan
| | |
| --- | --- |
| Wallet type | Hot wallet |
| Number of supported cryptos | Bitcoin, Ethereum, Polygon, Solana and more |
| Fee for buying Bitcoin | There's no fee except for the bid/ask spread |
| Mobile app | Yes |
| Staking and interest | Yes |
| Staking Rate/ Perks | Up to 15% APY |
Read more in our YouHolder Review article.
Cryptoasset investing is highly volatile and unregulated in some EU countries. No consumer protection. Tax on profits may apply.
4. Ledger – One of the Best Crypto Hardware Wallets With High Security and Multi-Chain Functionality
The Ledger crypto wallet is a hardware wallet widely considered one of the safest ways for investors to store their digital assets, whether that be cryptocurrencies or NFTs. This is because it uses "cold storage," meaning users' private keys are kept offline and safe from threats.
Ledger comes with a mobile and desktop app called Ledger Live where you can monitor your crypto portfolio, regardless of which blockchain, you can buy crypto with fiat, stake your coins or exchange them. Each Ledger wallet supports over 5,500+ crypto assets.
The Ledger app also lets you connect with third-party services, such as 1inch DEX, MoonPay, Lido staking, YouHodler and more.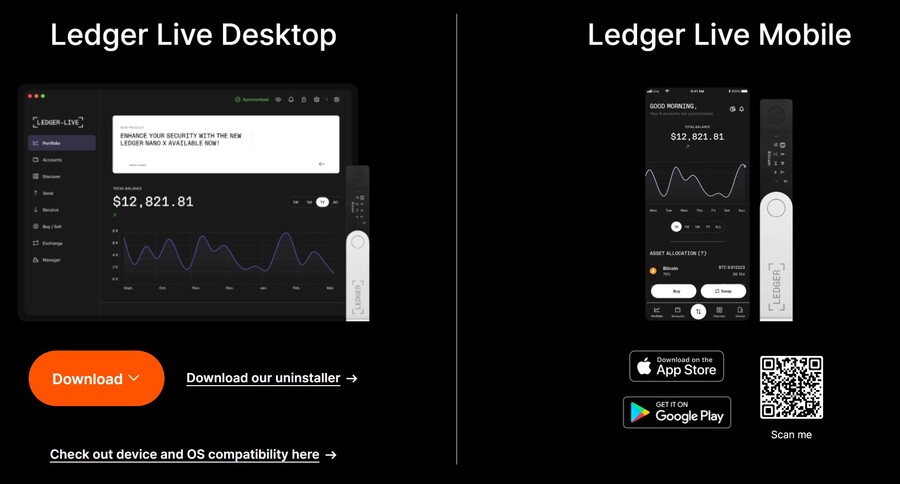 To use the Ledger wallet, you need either the Ledger Nano X, Ledger Nano S Plus or the Ledger Stax. Nano X is particularly interesting since it doesn't just boast USB functionality, but it can also connect to devices via Bluetooth. This means, you can safely execute transactions on your smartphone without connecting the Ledger wallet via cable.
Ledger even sells physical "chains" that allow crypto-savvy individuals to wear their Ledger wallet around their neck!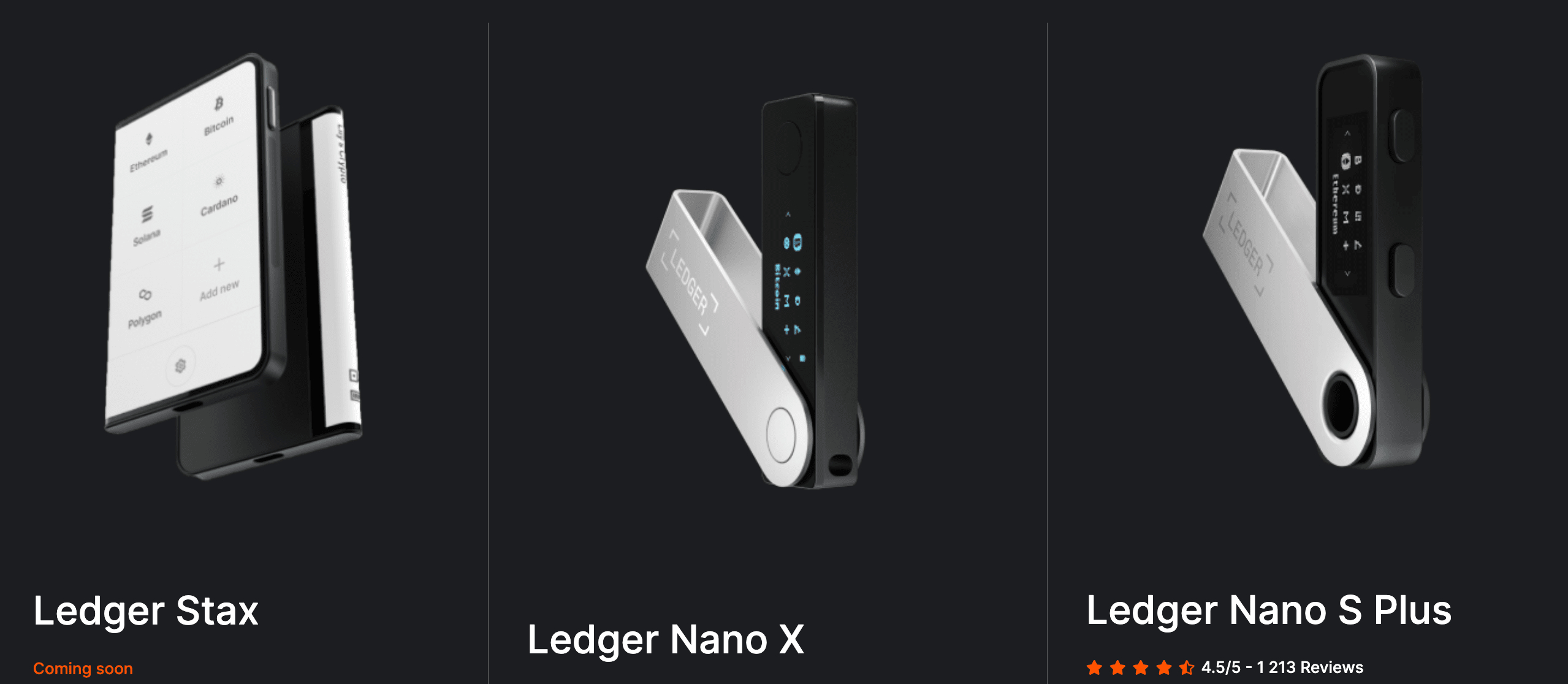 Ledger also has a vast library of educational resources where you can learn everything Web3 including how to stake coins, what is cloud mining and more.
| | |
| --- | --- |
| Type of Wallet | Hardware |
| Number of Supported Cryptos | 5,500+ |
| Fee to Buy Bitcoin | Varies based on exchange used |
| Mobile App? | Yes (Ledger Live) |
5. Trezor – Security-Focused Hardware Wallet with Simple Functionality
Trezor is one of the most secure wallets in the whole market and for those looking for simple offline storage it is a go-to choice.
There are three Trezor wallets available: Model One, Trezor Safe 3, and the advanced Model T, which features a touch-screen that allows for two-factor authentication on the device itself.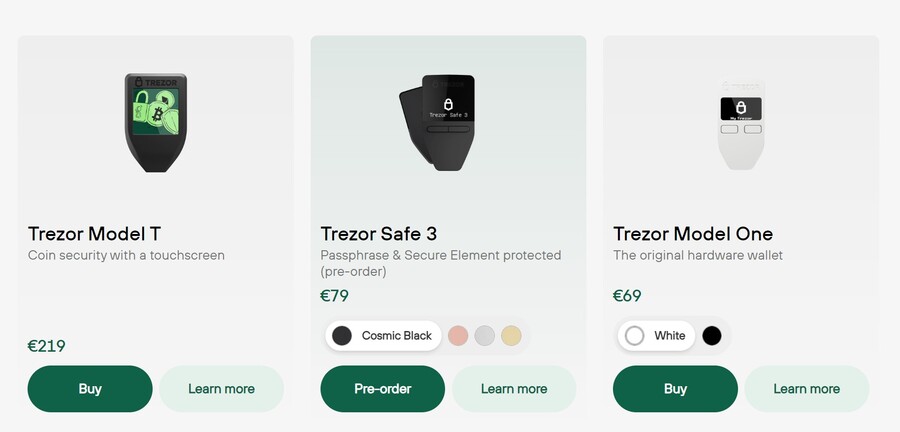 Trezor's added security also allows users to generate up to 16 recovery shares and store them in different places, meaning if one seed phrase is compromised then there are additional layers of protection.
It is also open source meaning its software is consistently reviewed and tested by third parties to keep its security transparent – main rival Ledger has closed-source firmware.
Trezor comes with its own desktop, mobile and browser app, called Trezor Suite. This lets you manage your coins by sending or receiving them, you can verify transactions or go incognito with Coinjoin. You can also directly purchase cryptocurrencies from within the app.
| | |
| --- | --- |
| Type of Wallet | Hardware |
| Number of Supported Cryptos | 8,000+ |
| Fee to Buy Bitcoin | Varies based on exchange used |
| Mobile App? | Yes (Trezor Suite) |
6. OKX – User-Friendly Crypto Wallet with NFT Support & DEX Aggregator
Another hugely popular crypto wallet app suitable for beginners is the OKX wallet. OKX describes its wallet as a "portal to Web3" since it contains various helpful features, including crypto asset storage, NFT support, and a decentralized exchange (DEX).
The great thing about the OKX wallet is its cross-chain support. At the time of writing, the wallet supports crypto assets from over 50 networks, including Ethereum, Polygon, Avalanche, and OKTC. The OKX wallet's interface is easy to navigate and doesn't feature any complex jargon, making it suitable for beginners.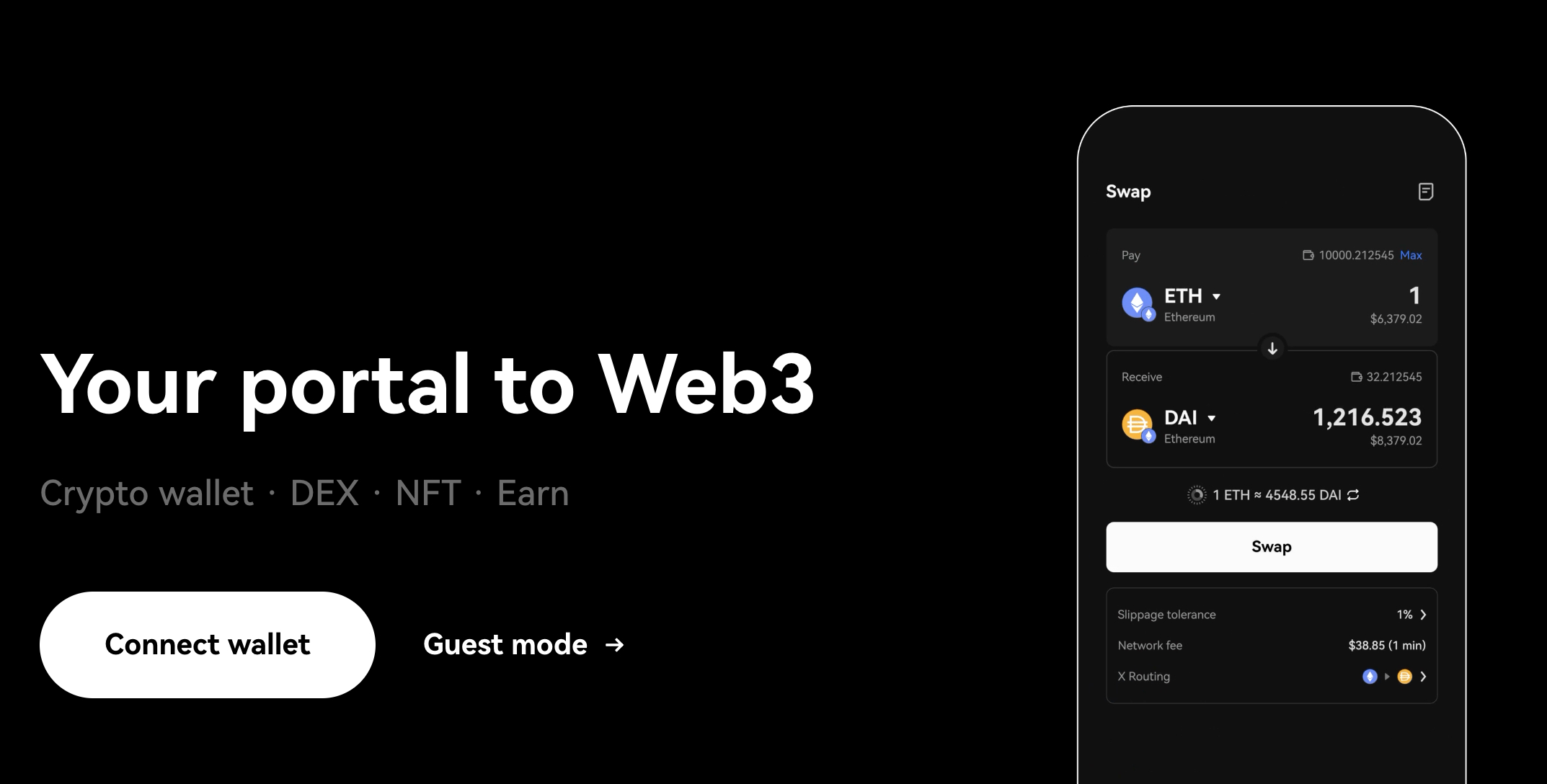 OKX's wallet is also highly compatible with a range of devices. It can be downloaded for free on iOS and Android smartphones, although it's also available on Windows and MacOS computers. The wallet's features sync across all devices, so users can seamlessly transition from one to another.
This is also one of the top crypto wallets for those interested in NFT investing. The OKX wallet features a "one-stop NFT aggregator platform," which supports 11+ networks and offers free creation and trading services. This platform features some of the world's most sought-after collections – including DeGods and Bored Ape Yacht Club (BAYC).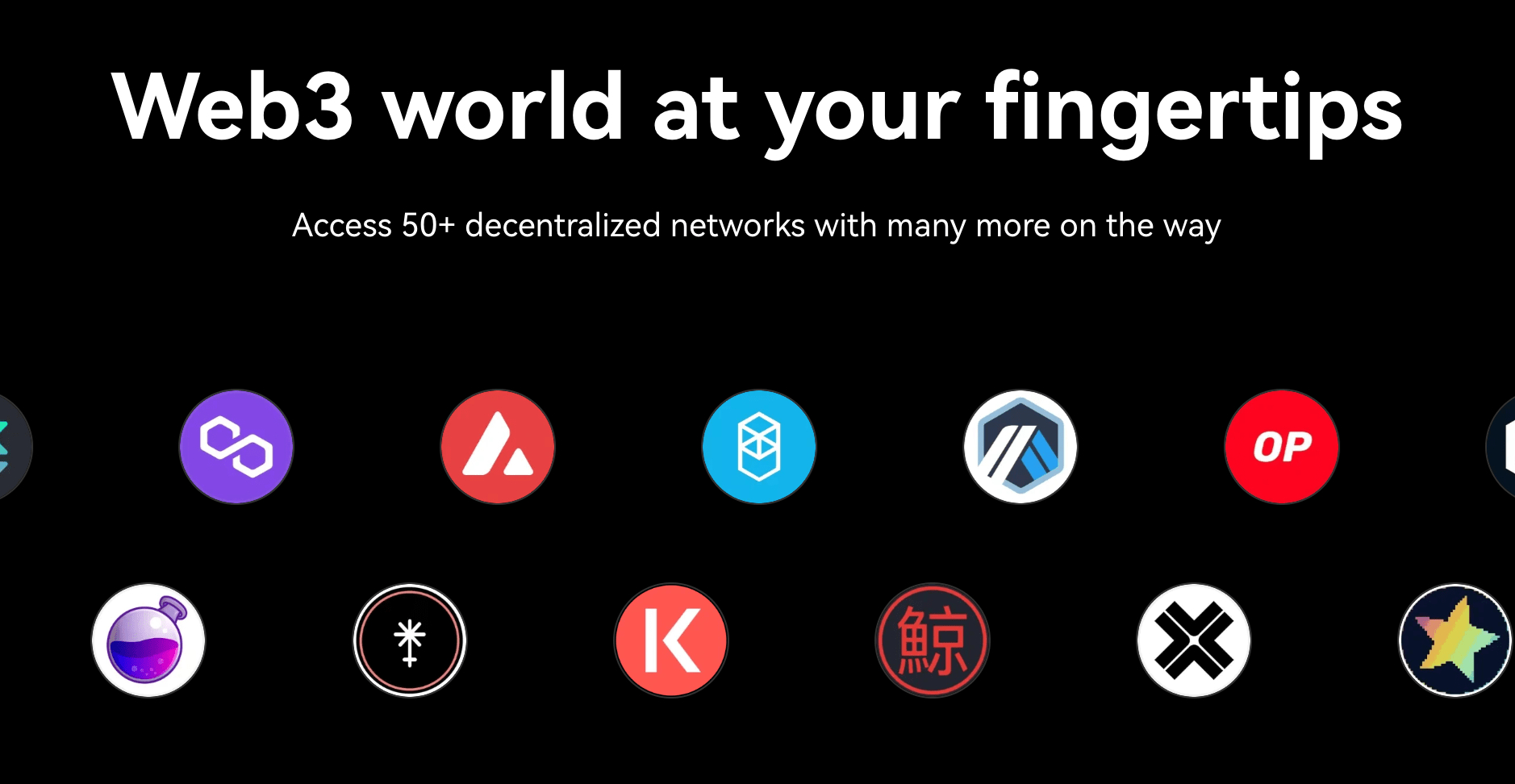 Aside from checking out the best NFTs to buy, wallet users can also earn a yield on their crypto assets. This works through the "Earn" feature, which has various subcategories, such as "Save" and "Farm." The feature uses DeFi protocols to maximize users' earnings potential; for example, ETH holders can receive an annual percentage yield (APY) of over 5%.
Finally, the OKX wallet has a DEX and bridge aggregator that instantly lets users swap tokens across many top blockchains. Due to this and the features mentioned above, the OKX wallet is undoubtedly one of the best crypto wallets available right now.
| | |
| --- | --- |
| Type of Wallet | Software |
| Number of Supported Cryptos | 3,000+ |
| Fee to Buy Bitcoin | Maker-taker fee based on 30-day trading volume |
| Mobile App? | Yes |
7. Binance – World's Largest Exchange with Free Crypto Wallet App
Binance needs no introduction as it remains the world's largest cryptocurrency exchange, facilitating daily trading volumes of over $6 billion. The exchange offers its own crypto wallet that links to the BNB Chain – Binance's own blockchain network.
Unlike other top cryptocurrency wallets, the Binance wallet is structured as a browser extension, downloading on Google Chrome and other leading platforms. It's free to download and use, enabling Binance users to store and manage their crypto holdings while interacting with other assets on the BNB Chain and Ethereum.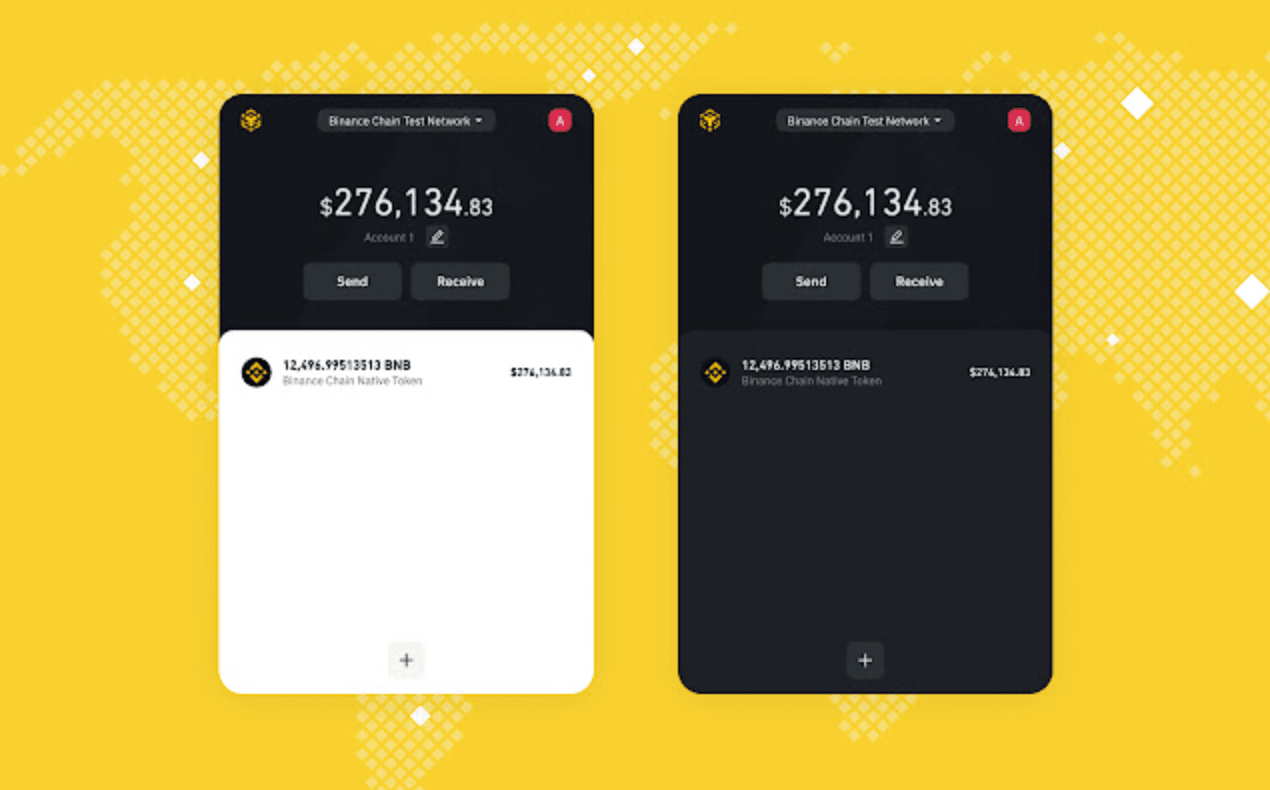 Since the Binance wallet is inherently linked to the Binance exchange, users can instantly transfer their holdings from the latter to the former. The wallet supports over 380 cryptos and allows users to buy crypto instantly using a bank transfer or credit/debit card.
Those looking to explore the Binance ecosystem further can check out the exchange's NFT marketplace and earnings protocols. Binance is also fantastic for active investors since it allows anyone to set up recurring buy orders to purchase specific assets at regular intervals.
Finally, the Binance crypto wallet enables users to send and receive crypto using QR codes instantly. This feature is essential for newcomers, as it mitigates the risk of using an incorrect wallet address and potentially losing funds forever.
| | |
| --- | --- |
| Type of Wallet | Software |
| Number of Supported Cryptos | 1,000+ |
| Fee to Buy Bitcoin | 0.1% trading fee |
| Mobile App? | Yes |
8. StrikeX Wallet – Investing Made Easy With a Simple, Secure, Multi Crypto DeFi Wallet
Though not as well known as some of the other wallets on the market, StrikeX could be quite the dark horse for those interested in security and ease of use. At the time of this writing, the StrikeX parent company (tradestrike.io) has an excellent 4.8 star rating on Trustpilot, and social reviews are often an accurate indicator of the quality of service. The StrikeX wallet app is available on both IOS and Android.
The simplicity of StrikeX is likely what has led to so many positive reviews. It has been built from the ground up to be easy to use, with clear instructions, an open interface, and excellent interoperability with other wallets. Users can build a wallet address list for easy transfer, so they don't have to continually copy and paste long strings for repeat transactions.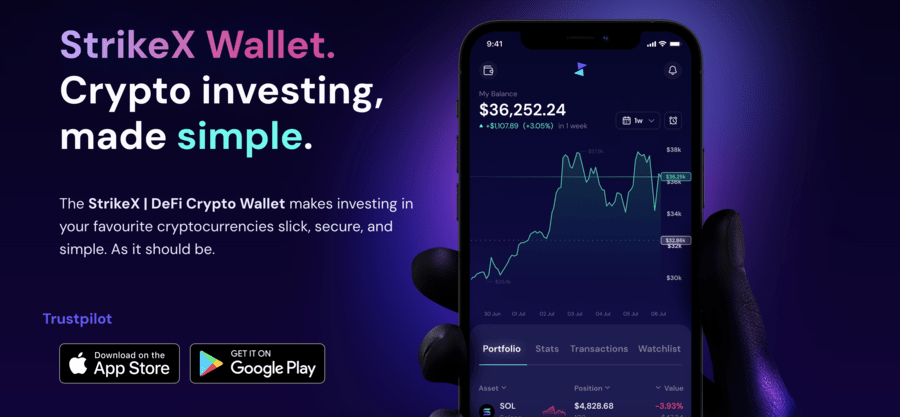 It's also possible to buy crypto through the wallet with a credit or debit card. A cross-chain swap allows users to swap 15,000+ cryptocurrencies across twelve blockchains, and an in-app QR code allows for easy connection with Web3 websites and applications.
What StrikeX does really well is that it is simple and easy to use, but builds on this with advanced functions in a way that does not overwhelm new users. It allows users to track portfolio performance across multiple wallets with visual charting, and also provides an overall market overview.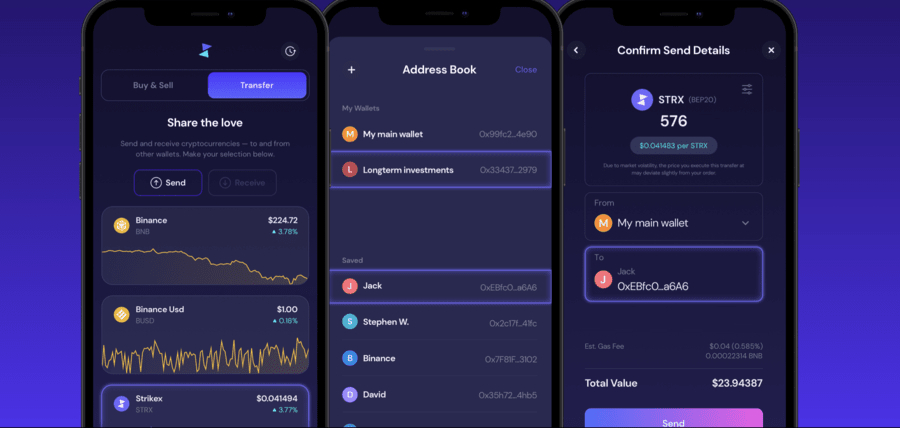 There are very few downsides associated with this simple yet powerful crypto wallet, and we were very impressed with the address list, a simple technique that few providers have adopted, but which greatly increases the convenience of the application, giving it a more familiar feel. It's also a pure DeFi wallet – no personal identification is required to use it.
There are not many downsides with this wallet – but it only supports Bitcoin, Binance Smart Chain, Ethereum & Solana at the present time. Other than this, it is an ideal wallet for beginners who want to anonymously and securely send and receive their Web3 assets.
| | |
| --- | --- |
| Type of Wallet | Software |
| Number of Supported Cryptos | 15,000+ |
| Fee to Buy Bitcoin | 1% (on-ramp), 2% (off-ramp) |
| Mobile App? | Yes |
9. MetaMask – Best Crypto Wallet for Multi-Chain Support
Those seeking the best cryptocurrency wallet may also wish to check out MetaMask. MetaMask has over 20 million active users worldwide and acts as a "gateway" into the world of Web3. Wallet users can interact with thousands of dApps, store NFTs, and even participate in gaming platforms.
One of MetaMask's best features is its multi-chain support. The wallet can hold tokens minted on various networks, such as Ethereum, BNB Chain, Avalanche, and Polygon. It's also free to download and available as a browser extension or a smartphone app.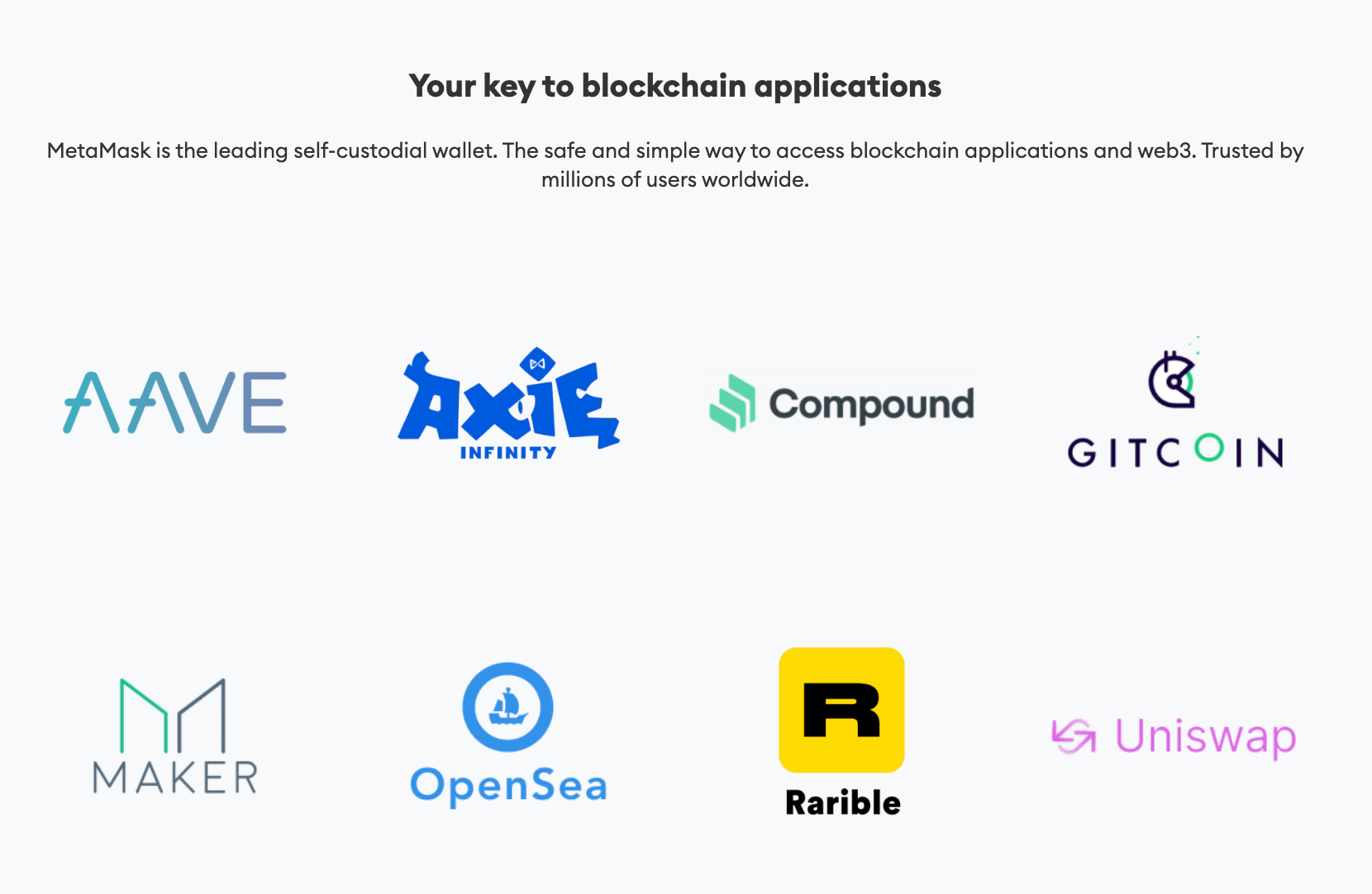 Beginners pondering "Is cryptocurrency a good investment?" will easily be able to discover new assets through MetaMask's token exchange feature, which allows users to buy, store, and swap coins/tokens instantly. Interestingly, MetaMask also has a built-in DeFi browser that enables users to utilize thousands of dApps, providing scope for limitless earnings opportunities.
Importantly, MetaMask also gives users a "self-custody" option. This means that users can retain complete control over their private keys – a rare feature for online wallets. This is one of the distinguishing factors of the best decentralized crypto wallets. As such, MetaMask doesn't store any data about the wallet, which reduces the risk that the wallet could be subject to a cyberattack.
| | |
| --- | --- |
| Type of Wallet | Software |
| Number of Supported Cryptos | 500,000+ |
| Fee to Buy Bitcoin | Varies depending on provider (e.g. 3% for card purchases) |
| Mobile App? | Yes |
10. Trust Wallet – Binance-Owned Wallet Provider with 25m+ Users
Trust Wallet is a wallet provider owned by the Binance exchange, offering support to over 40 blockchains and 160,000+ coins/tokens. This wallet is used by more than 25 million people and is designed to streamline the buying, selling, and storing process for beginners.
With Trust Wallet, users can quickly backup and restore their accounts using a recovery phrase – a handy feature that safeguards newcomers. Trust Wallet doesn't collect personal data from users and can be downloaded for free on Android or iOS devices.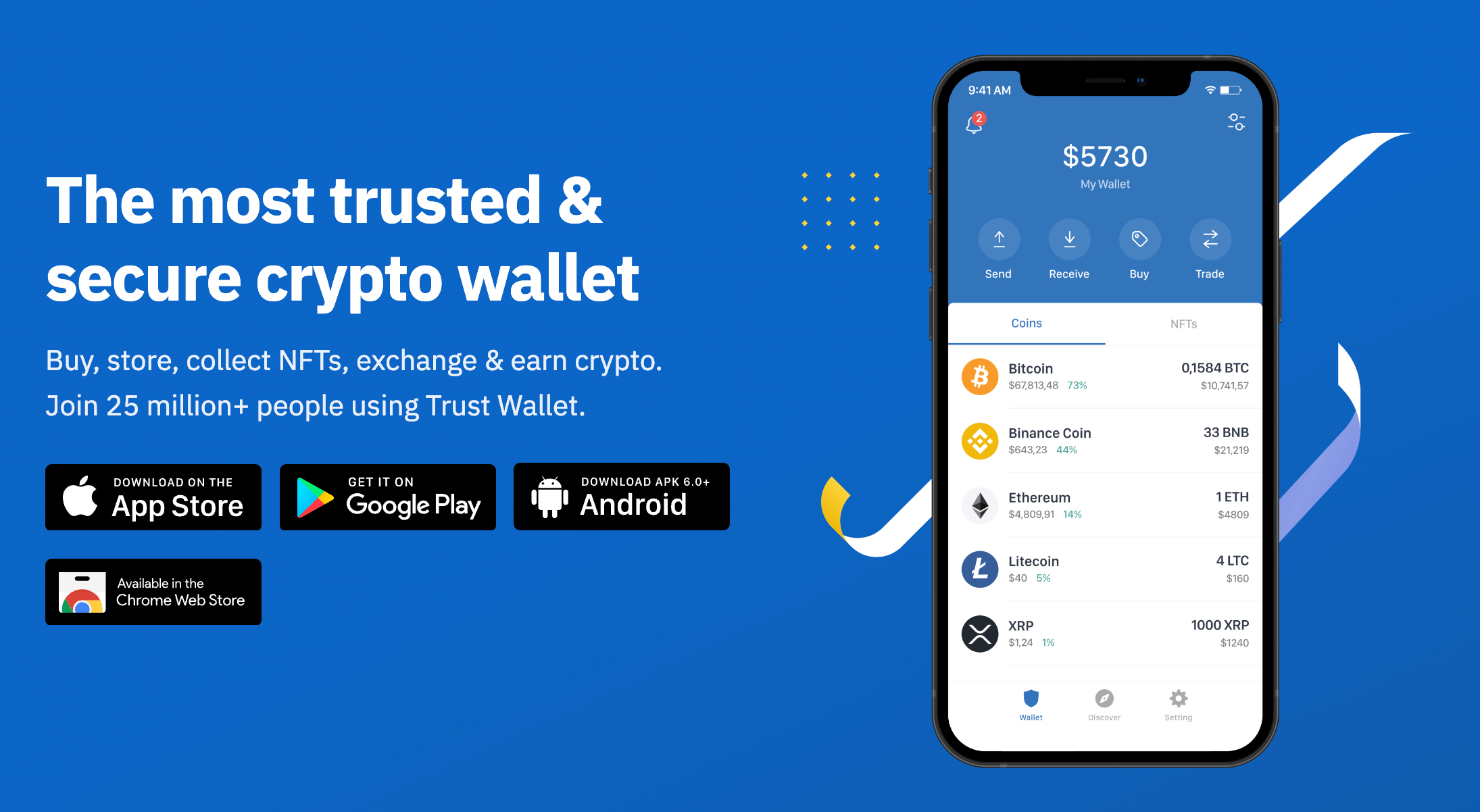 Trust Wallet's main appeal is its user-friendliness since it allows users to instantly buy crypto using a credit/debit card from within the app. The wallet also has a token-swapping feature and an earning protocol, allowing users to generate interest on their idle crypto holdings.
Like other top crypto wallets, Trust Wallet also allows users to explore the world of NFTs and dApps. Users can store their NFTs safely while checking out the latest dApps – including blockchain-based games. Finally, given that the wallet is owned by Binance, users also benefit from the safety and security associated with the exchange.
If Trust Wallet doesn't quite suit your trading needs we recommend reading our article on the best Trust Wallet alternatives in 2023.
| | |
| --- | --- |
| Type of Wallet | Software |
| Number of Supported Cryptos | 160,0000+ |
| Fee to Buy Bitcoin | 0.1% transaction fee |
| Mobile App? | Yes |
11. Kraken – Highly-Trusted and Popular Crypto Exchange for Advanced Traders
Kraken is a US-based crypto exchange that is rated as one of the most trustworthy in the market due to its reserve audit, large customer base and high liquidity.
The exchange offers almost 250 cryptos and has just celebrated 10 years in the market, having launched in September 2013 and is one of the best exchanges for advanced traders.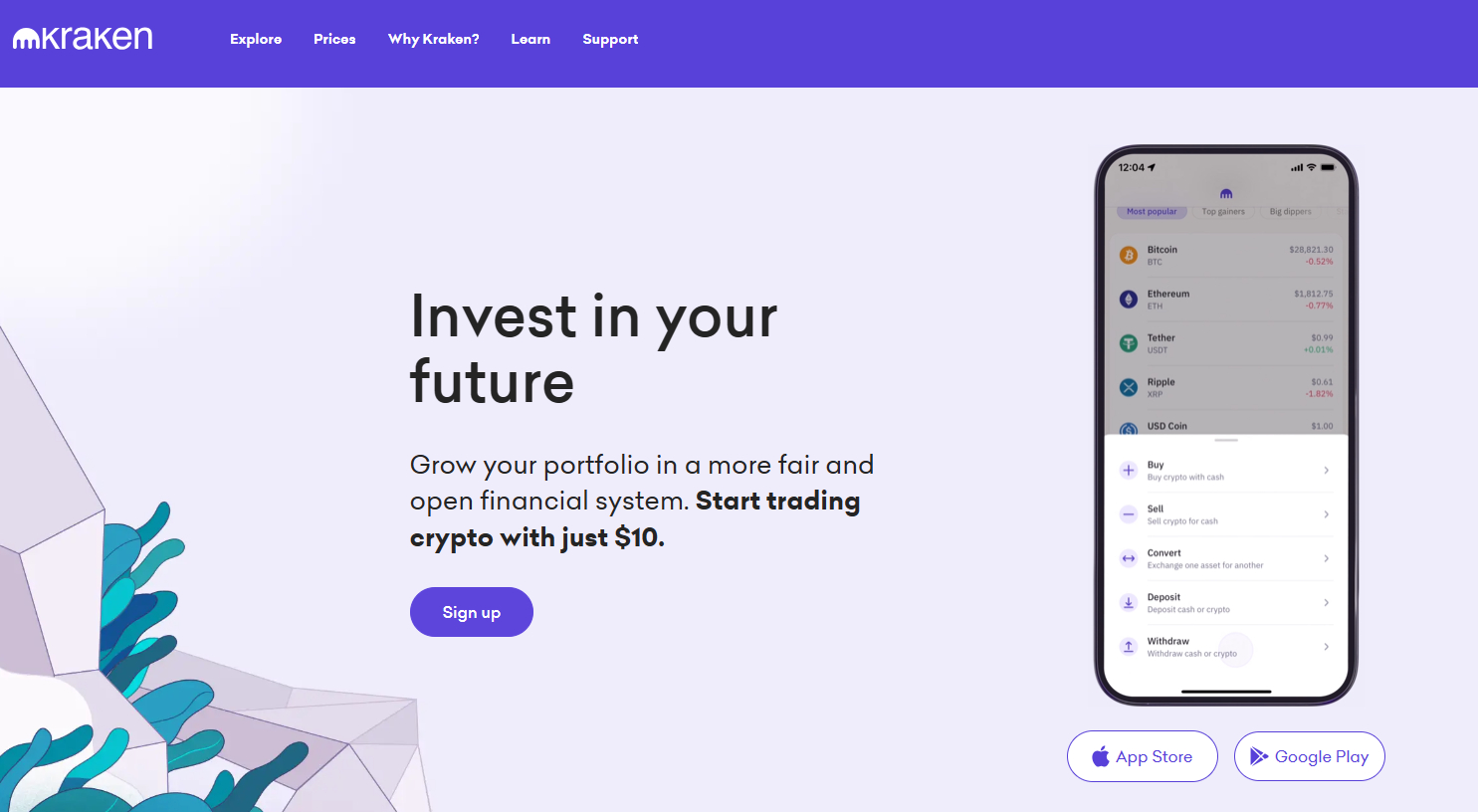 Kraken is one of the most appealing centralized exchanges for advanced traders as it offers extremely competitive fees when trading Bitcoin, for example, and has a highly functional dedicated mobile app.
While instant buying of Bitcoin costs 1.5% and fees for beginners are about average, Kraken Pro users can take advantage of a maker-taker fee model, which ranges from just 0.00% to 0.26% depending on how often a user trades over a 30-day period.
That's not to say it is not a good choice for beginners, however, with Kraken having excellent security and storage for a hot wallet – with claims it holds 95% of its deposits offline, with enough in reserve so people can withdraw at will.
One downside over other exchanges is that Kraken offers no staking rewards for US customers, having had to previously pay a $30 million settlement to the SEC.
| | |
| --- | --- |
| Type of Wallet | Software |
| Number of Supported Cryptos | 240 |
| Fee to Buy Bitcoin | 0.00% to 1.5% |
| Mobile App? | Yes |
12. Crypto.com DeFi Wallet – DeFi Crypto Wallet with Full NFT Support
As many will know, Crypto.com is one of the top crypto exchanges globally and offers its own DeFi wallet app, which is downloadable for free. This wallet is non-custodial and can be downloaded as a smartphone app or a browser extension. Either way, the wallet supports over 700 coins/tokens and can access 20 blockchain networks.
As expected, the Crypto.com DeFi wallet mainly focuses on providing users with access to the world of decentralized finance. Users can browse thousands of dApps and maximize their crypto holdings using the hottest lending/yield farming protocols.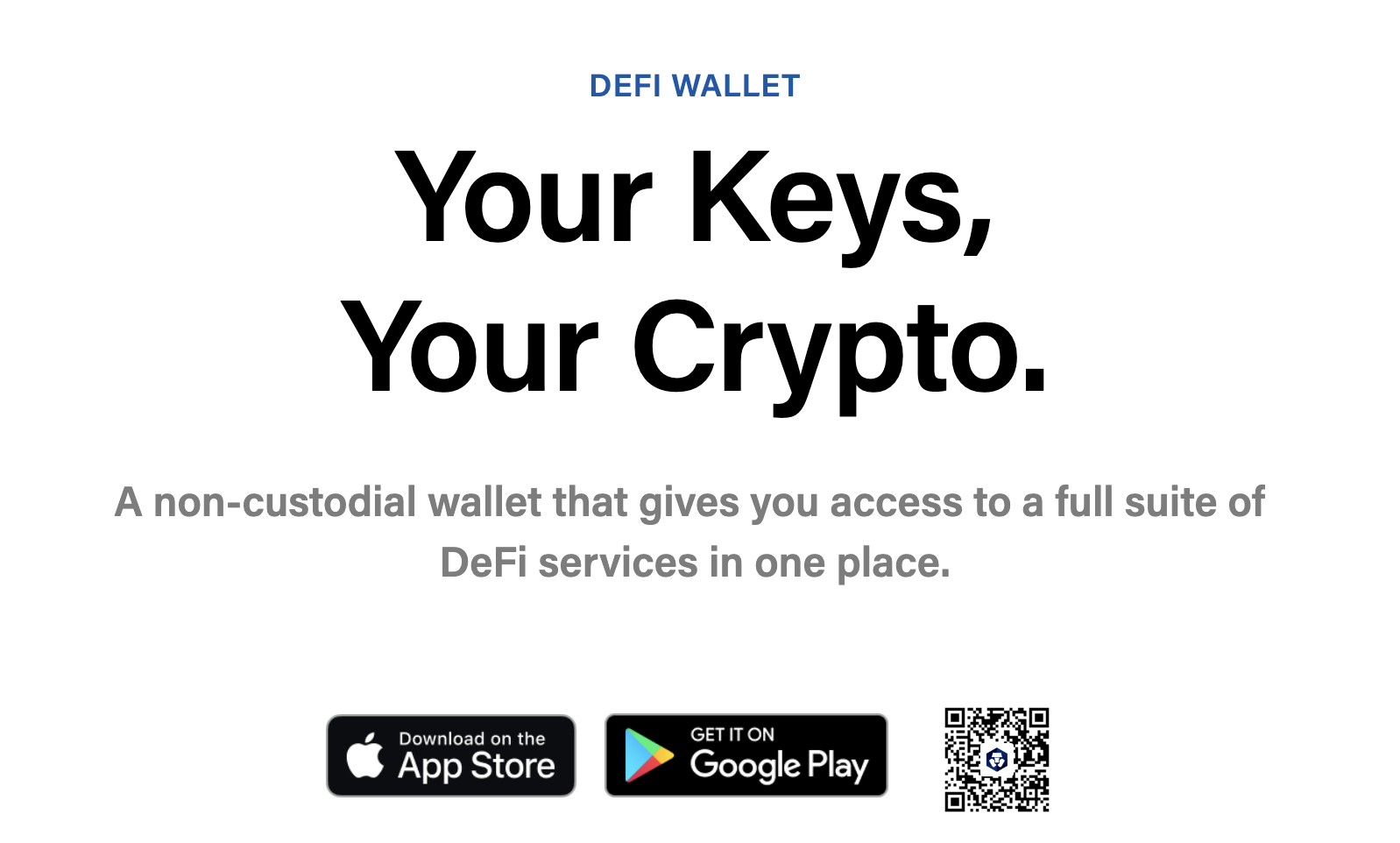 This wallet even has full support for NFTs and allows users to view and share their digital assets on social media. Finally, the Crypto.com DeFi wallet can even be linked to a Ledger hardware wallet, which adds another layer of protection for those transacting and interacting with dApps.
| | |
| --- | --- |
| Type of Wallet | Software |
| Number of Supported Cryptos | 700+ |
| Fee to Buy Bitcoin | 0.4% per transaction |
| Mobile App? | Yes |
13. Exodus – Super-Popular Bitcoin Wallet with Customizable Interface
Exodus is a desktop/mobile wallet application that allows users to store and manage over 260 cryptocurrencies and NFTs. This wallet has multi-chain support, making it ideal for those that regularly interact with networks like Solana, Ethereum, and the BNB Chain.
The Exodus wallet is all about functionality, with users able to instantly buy crypto using a credit/debit card or bank transfer. Exodus also allows users to withdraw funds to an external bank account or even their PayPal account. Another cool feature is that users can quickly exchange one token for another without completing extensive KYC checks.

Most users praise the Exodus wallet for its beautiful interface, which can be customized with various themes and skins. Like most wallets, Exodus also provides access to the world of DeFi, allowing users to generate a yield on their assets.
Finally, the Exodus wallet can even be linked to the hardware wallets offered by Trezor, enabling users to boost their security level.
| | |
| --- | --- |
| Type of Wallet | Software |
| Number of Supported Cryptos | 320+ |
| Fee to Buy Bitcoin | Spread + 2% processing fee |
| Mobile App? | Yes |
Crypto Wallets Explained

Now that we've identified the best crypto wallets for beginners, let's take a closer look at what these wallets are. In simple terms, cryptocurrency wallets are software programs or hardware devices that allow users to store, manage, and transfer popular cryptocurrencies like BTC and ETH.
These wallets act as the holder's "portal" to the crypto market, making it easy to hold crypto assets safely over the long term. Various types of wallets are on offer, such as "hot" and "cold" wallets, which offer varying degrees of safety and functionality.
We'll explore these wallet types in more detail later, but it's important to note that all wallets have a "public" and "private" key. These keys are essential since they prove asset ownership and enable wallet holders to send/receive funds.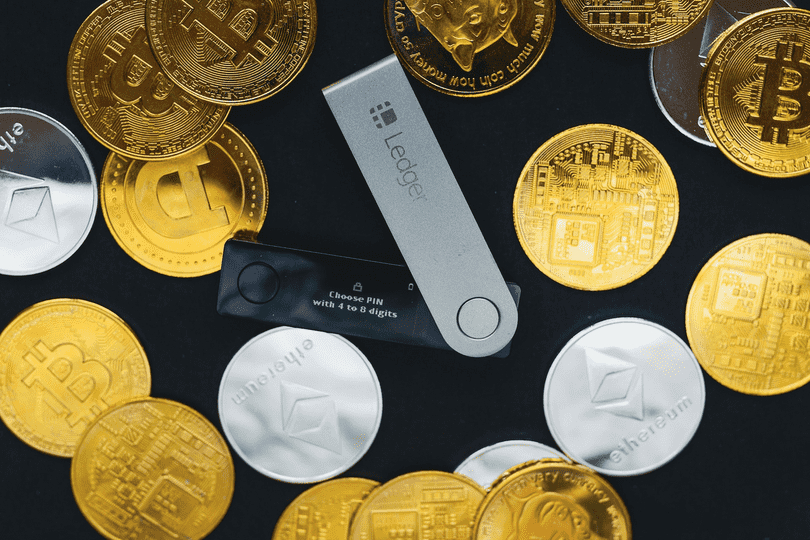 According to a report by TripleA, it's estimated that over 420 million people worldwide own crypto. Most of these people are based in Asia and North America, although this figure is growing every month. Due to this vast customer base, the importance of using crypto wallets is more significant than ever – especially since the market is still relatively unregulated compared to "traditional" asset classes and hackers and scammers are extremely active.
Ultimately, crypto wallets act as a way to store crypto safely without keeping it on an exchange or brokerage account, giving an individual more power over their holdings.  Although there are various types of crypto wallets with specific features and security measures, all of them are designed to serve this purpose. 
How Do Bitcoin Wallets Work?

Whether someone's looking to invest in the cryptos with the most potential or is more interested in well-established coins, it's vital to understand how wallet storage works. Regardless of where the Bitcoin account is held, using a crypto wallet is critical for protecting crypto asset holdings from cyber attackers and other bad actors.
The simplest way of viewing crypto wallets is as a method for protecting an investor's holdings, via access to their public and private keys. As noted above, these keys have essential use cases – but what do they do? Here's a quick overview:
Public Key: The public key can be considered the wallet's "account number" and is used to receive funds from other individuals/businesses.
Private Key: The private key is an alphanumeric code unique to each wallet and used to prove ownership of the crypto assets inside. In this sense, the private key is like a password – meaning it should never be shared with anyone else.
Crypto wallets store and manage the private key – not the actual crypto assets. This is because the crypto assets are still held on the blockchain, meaning the private key simply provides access to them.
Crypto wallets are so important because they use advanced cryptographic techniques to protect the user's private key, essentially a password. Different wallets have different approaches, but they can range from DDoS protection to biometric verification – and even 3D face scans.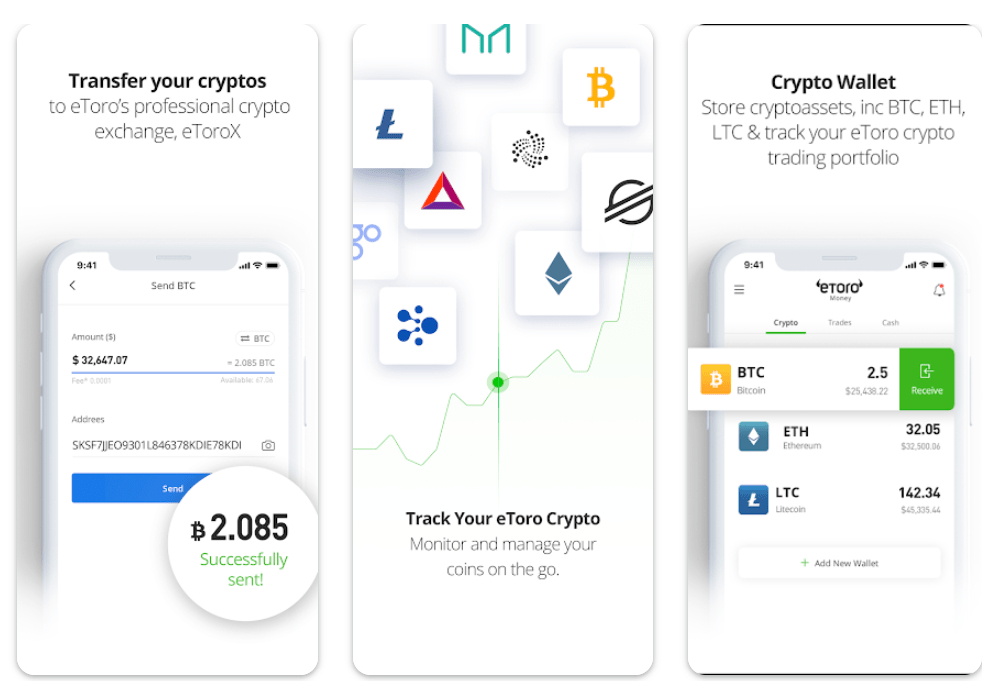 The best crypto wallets usually offer backup and recovery options that ensure users can't lose access to their crypto. In the past, if a user lost their private key, their crypto assets could never be re-accessed. Nowadays, many wallet providers have recovery seed phrases and other features that can restore access, although it is important individuals also take great care not to share or lose those.
Whether a user opts for a crypto hardware wallet or a software wallet, partnering with a well-respected provider is essential. Moreover, it's also vital that users follow security practices, like ensuring their private keys remain confidential and implementing a backup procedure. 
Why Do You Need a Cryptocurrency Wallet?

Finding and using the best crypto wallet available is an integral part of the crypto-trading journey for beginners, especially if they plan to hold, trade or manage large sums of crypto. These wallets are essentially for safely storing, sending, and receiving digital currencies, making them like a 'crypto bank account'.
As we've touched on earlier, traders need these crypto wallets since they keep the private key safe. The private key is the only way for someone to gain unauthorized access to the user's funds – if this key is kept safe, the funds are inaccessible.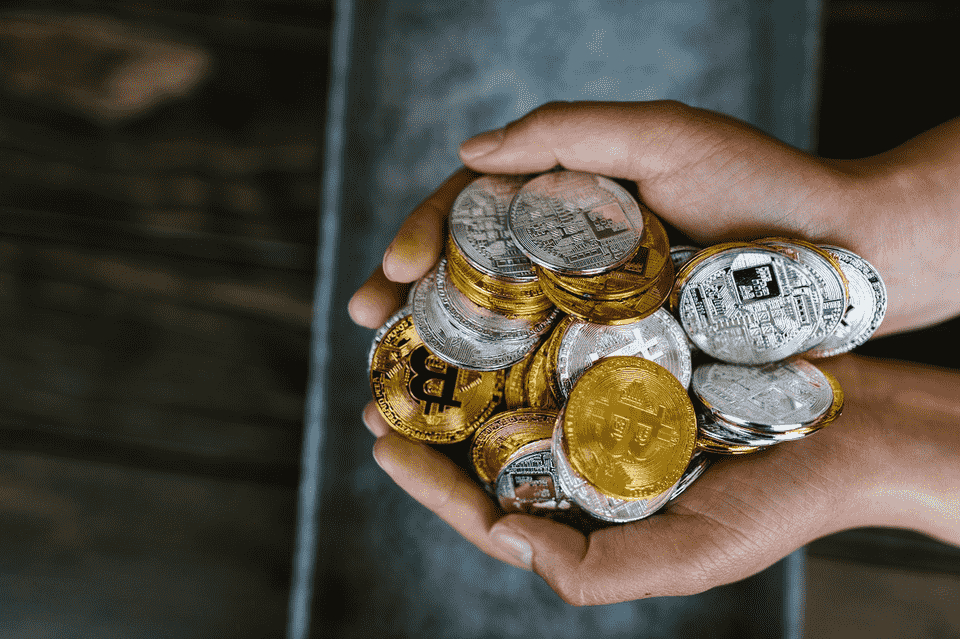 Moreover, many of the best things to buy with Bitcoin can only be purchased by sending payment from a reputable wallet provider. Since crypto wallets make it easy to send crypto payments, they're vital for buying goods/services online that are denominated in digital currencies.
Another critical feature of crypto wallets is that they allow users to have complete control over their crypto assets. Since cryptocurrencies are decentralized, they aren't held by intermediaries like banks. Even holding on a centralized exchange comes with its own risk, as FTX customers previously found when the exchange collapsed leading to billions of dollars in investor losses, or if the exchange is hacked – like has been recently seen with Huobi Global, when $8 million was stolen in September 2023. Thus, having a self-custody crypto wallet will ensure that only the user "owns" the associated crypto assets.
Finally, crypto wallets are also important because they make it easy to access the crypto market. Most wallets allow users to instantly buy/sell crypto from within the wallet's interface and many providers offer support for NFTs and DeFi protocols, significantly broadening the investment possibilities. 
Types of Crypto Wallets – Hardware and Software, Hot and Cold, Paper

Deciding to buy altcoins or crypto tokens is a huge decision – yet choosing where to store them post-purchase is just as important.
We've already discussed what crypto wallets are, but there various types of wallets on offer with a litany of language that can leave beginners confused.
Software Wallets (Hot Wallet)
Software wallets are the most popular type of storage solution for crypto assets, especially for beginners. These digital platforms allow users to store and manage cryptos in a user-friendly manner. The most important thing to note about these wallets is that they're connected to the internet – which is in stark contrast to hardware wallets.
There are two main types of software wallets:
Mobile wallets: These are smartphone apps designed to provide on-the-go access to the user's cryptos. Mobile wallets are often offered for free by many top exchanges, like Best Wallet.
Desktop wallets: These are applications that can be downloaded and installed on the user's computer. Desktop wallets are slightly safer than mobile wallets since they store the user's private key locally on the computer – MetaMask is one such is example.
Either way, these wallet types are considered "hot" since they're connected to the internet. This makes them more susceptible to cyberattacks than "cold" wallets which have no connection to the internet.
Hardware Wallets (Cold Wallet)
Alternatively, crypto holders can store their assets in hardware wallets, which are also often referred to as cold wallets – think cold storage – as they are not connected to the internet until a user connects a physical device.
A Bitcoin hardware wallet is a physical device used to store the user's private keys. These devices usually look like USB sticks and hold the private key offline – meaning hackers can't access it.

As noted by Kraken, hardware wallets are one of the most effective ways for a user to protect their private key and are a must for investors or traders who are managing extremely large sums of crypto.
It is simply not safe to have huge holdings linked to the internet at all times.
However, these wallets must be connected to another device, such as a laptop or smartphone, to initiate transactions. So, although they have a much higher security level, hardware wallets aren't as user-friendly as software wallets.
Another downside is that as they are physical devices they come with additional cost to purchase – Trezor's latest Model T, for example, costs in excess of $200.
Paper Wallets
The third wallet type is paper wallets. Unlike an online Bitcoin wallet, paper wallets are a type of "cold" storage that involves a user writing their public and private keys on a piece of paper.
The user would then store this piece of paper somewhere safe where nobody else could access it – for example in a safe, safety deposit box or locker.
The downside to this approach is that those with paper wallets still eventually need to use a crypto wallet app to spend or transfer digital assets.
Thus, paper wallets are relatively impractical and considered less safe than the alternatives – hence why they aren't widely used.  
How to Find Safe Crypto Wallets

Finding the best Bitcoin wallet can be tricky – especially since so many options exist. However, we've identified three tactics that traders can employ to find safe crypto wallets effectively:
Use a Reputable Provider
The most important tactic to use is only choosing crypto wallets offered by reputable providers. It's a good idea to read online reviews and check a potential provider's track record before downloading the wallet that they offer. Many crypto wallet providers are even endorsed by high-profile individuals or businesses, which can boost credibility. 
Many of the top providers listed in this guide have a long track record of success in the space and high security scores. However, even highly-trusted wallets can be susceptible to attacks – Atomic Wallet was one of the leading providers in the space before North Korean hacker group Lazarus stole more than $100 million of customer funds.
Consider the Wallet's Security Features
When choosing a Bitcoin wallet, it's also essential to thoroughly research the wallet's security features. We'll explore this further in the next section, although it typically involves checking the type of encryption on offer and deciding whether to use a hot or a cold wallet.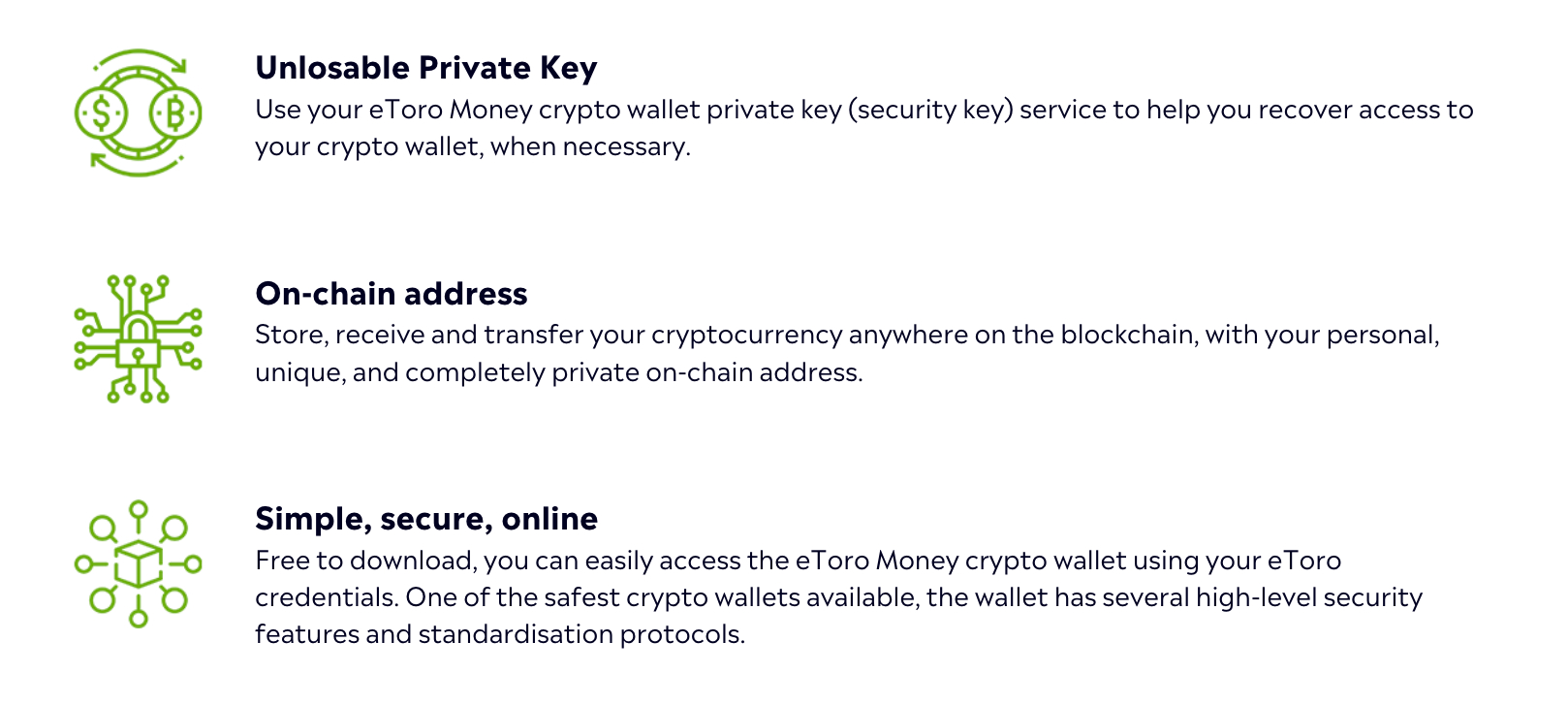 Test the Wallet Before Making Large Transfers
Finally, it may be best to test out a wallet with a small amount of crypto before fully committing. This minimizes the risk of catastrophic loss while allowing users to test the wallet's functionality and security features. Assuming the wallet is up to the task, users can confidently transfer more significant amounts of crypto.
How to Choose the Best Bitcoin Wallet for You

Much like when choosing between the best AI crypto trading bots, deciding which cryptocurrency wallet to use involves analyzing various factors and will also come down to user preference.
Let's take a look at six of the most important factors to consider:
Security Features
The single most important factor to review when choosing a crypto wallet is its security features. This includes the encryption technology it uses, how it manages the user's private key and any backup options it has.
Many of the best Bitcoin wallets also offer two-factor authentication and biometric verification to enhance security further. There are even wallets that have multi-signature support, which means they have two private keys rather than one.
Cold wallets are automatically much safer than hot wallets – due to them not being connected to the internet, hackers cannot access those funds without having physical access to the hardware device.
Type of Wallet
Another important consideration is the type of wallet to use. This can be boiled down to using either one of the best hot wallets or a cold wallet. As noted earlier, the former is connected to the internet, while the latter isn't.
A crypto hardware wallet is generally considered the safest way to store a trader's private key. However, they can sometimes be impractical; if practicality is the primary concern, a software wallet may be more suitable. 
Those trading crypto daily would likely prefer a hot wallet as they want fast and easy access to funds.
But users should always choose a cold wallet if they are holding large sums of crypto over an extended period of time, and only connect to the internet when they wish to make a specific transaction – buying, selling or transferring elsewhere – and then disconnect.
User-Friendliness
Navigating the market can be tricky for beginners, so user-friendliness is an important consideration. Users should review a wallet's interface design and ease of setup, both of which are crucial for making the trading process accessible to beginners.
Another thing to consider is whether the wallet comes with any help or support. Most prominent providers, like OKX, have dedicated help centers with answers to the most commonly-asked questions, which can be a blessing to newbie investors.
Hardware wallets are not particularly difficult to use but add a another step compared to software wallets, with the likes of Trezor not having a mobile app on iOS also another thing to consider.
Supported Cryptocurrencies
According to CoinMarketCap, the crypto market is now valued at over $1.08 trillion with tens of thousands of coins available.
Given the scale of the market, more new coins and tokens are springing up every week – so it's a good idea to choose the best cryptocurrency wallet for asset selection.
Almost all crypto wallets will support the largest coins, such as Bitcoin and Ethereum. However, the top wallets also offer support for lesser-known tokens and stablecoins, which can be highly beneficial.
MetaMask is one of the best wallets for supported cryptos as it has multi-chain functionality and supports a massive range of tokens, as well as those new to the market.
Features & Functionality
Users should also check out the wallet's features and functionality. For example, if a user wishes to invest in the best DeFi coins, they should check whether the wallet provides access to the decentralized web.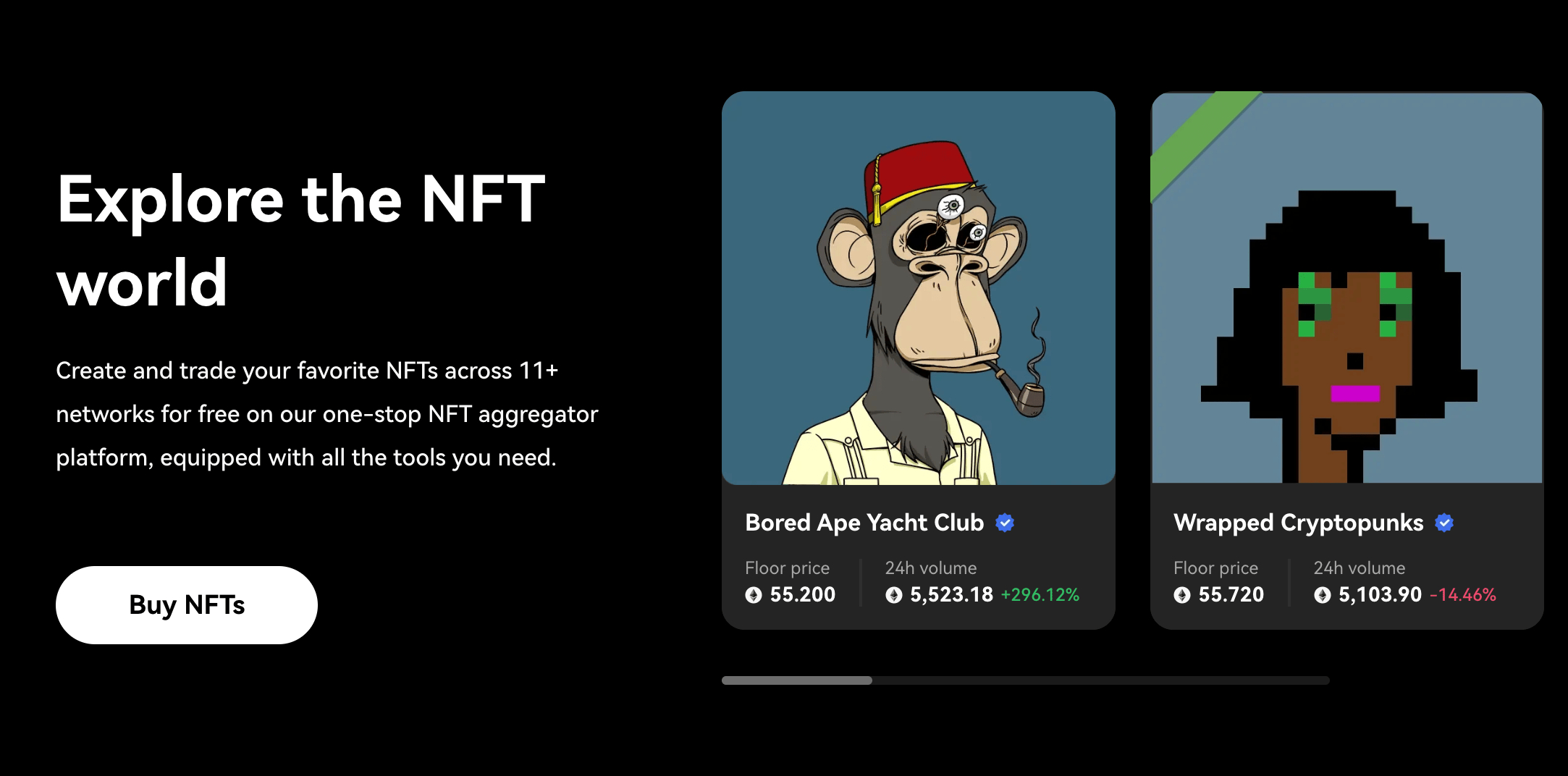 Many wallets also provide functionality for NFT storage alongside their crypto storage options. This can be a great benefit for investors interested in obtaining cryptos and NFTs to create a well-rounded portfolio of digital assets.
For NFTs specifically, investors who hold images from highly valuable collections should also consider placing them in cold storage and only connecting to the internet when carrying out a specific task such as selling.
Fees
Finally, users should also consider the fees associated with using a crypto wallet. Most software wallets are free to download and use – the only fees to be aware of are network fees that occur during transfers.
As mentioned above, those who choose to use a Bitcoin hardware wallet must be aware that these wallets have an up-front cost since they are physical devices.
The price of these devices can vary significantly, although it usually ranges between $50 and $300, depending on the provider and model.
How to Get & Use a Crypto Wallet

Before ending this guide on the best crypto wallets, let's look at how to download and use one of these wallets. As noted earlier, our recommended crypto wallet app is offered by Best Wallet, which is free to download, simple to use, and available on iOS and Android devices.
With that in mind, detailed below are the simple steps to download the Best Wallet app and begin using it today:
Step 1 – Download Best Wallet App
Best Wallet is available as a mobile app on both Android and iOS, so the first step is to head to the Play/App store and download the Best Wallet app. It is free and shouldn't take long to be added to your phone.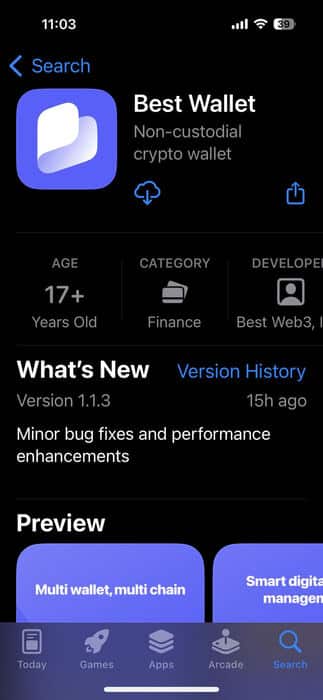 Step 2 – Create Account
Next, the app will ask you to use a current email address to create your account. Simply input your email address or select 'Continue with Apple/Google' to quickly input an email address that's already saved to your phone.
Step 3 – Confirm Security Features
Once an email address has been put in, the app will ask if you would like to add two-factor authentication (2FA), which means it will send you a six-digit code when you log in for added security.
This skep can be stepped, although it is not possible to skip the next step which is inputting and confirming a four-digit password.
There is also the additional security feature of enabling fingerprint login which, if chosen, will allow users to skip putting in a password each time and just continue instantly.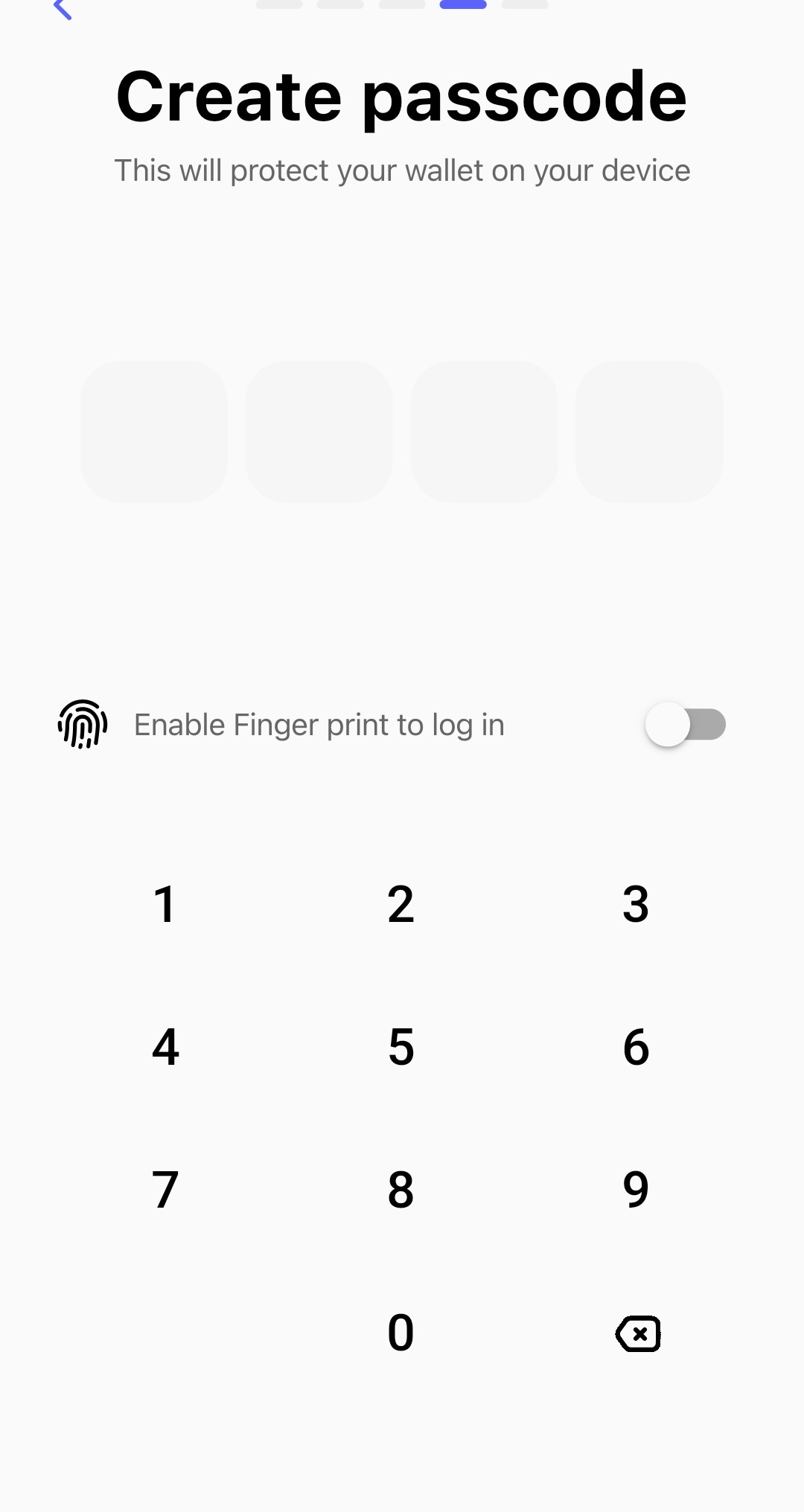 Step 4 – Use the Best Wallet App and Features
An account should now have been created and users are able to use the Best Wallet features, including accessing insights on upcoming and trending tokens, buying crypto (via third-party app Wert) and using its decentralized exchange to trade thousands of cryptos.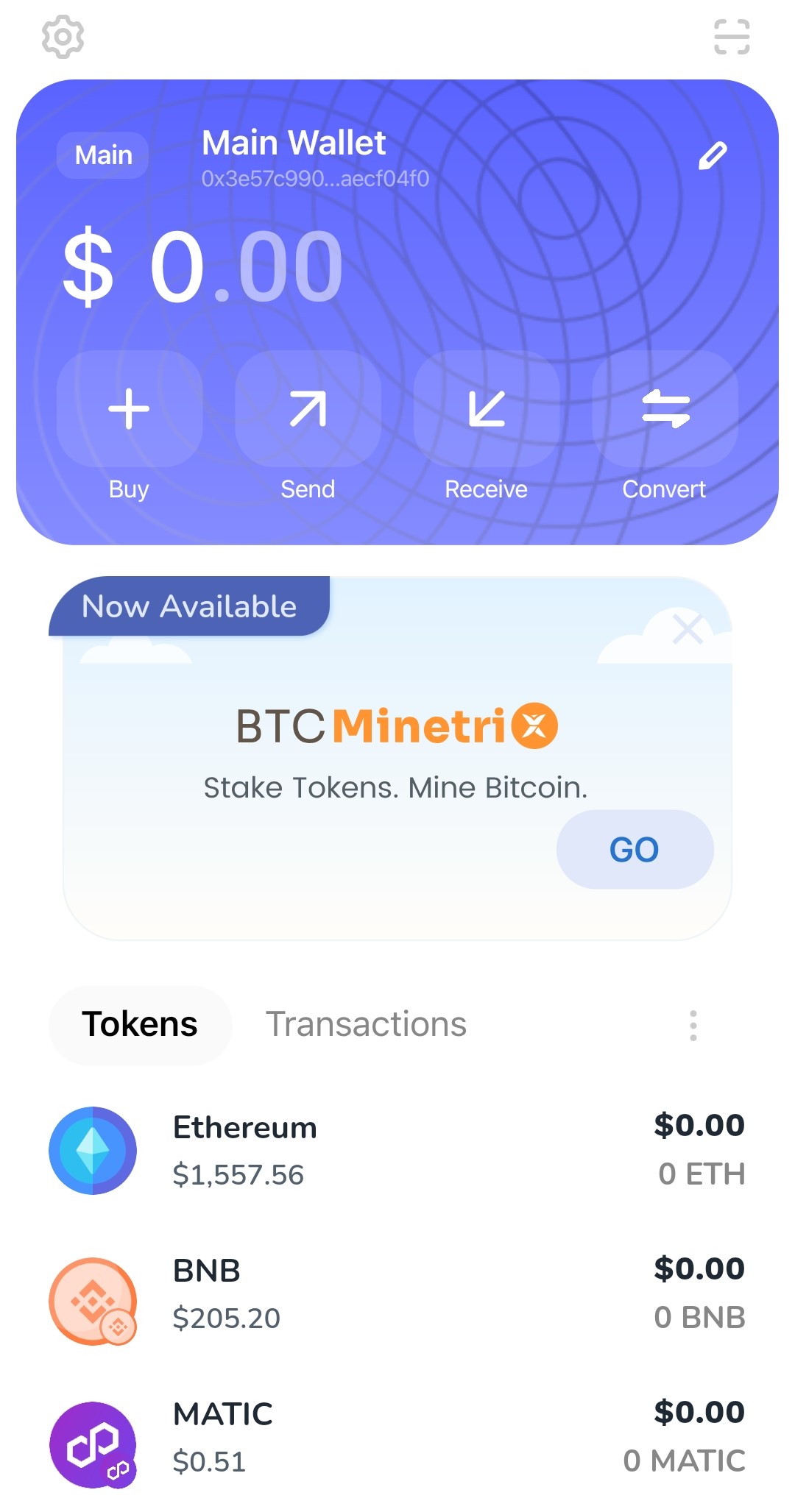 Best Crypto Wallets – Conclusion

In conclusion, this guide has discussed the best crypto wallets available right now – equipping beginners with essential insights that will enable them to navigate the crypto market safely and cost-effectively.
Those seeking a user-friendly and highly secure option may wish to consider Best Wallet, a non-custodial software wallet that offers low fees and enhanced features.
That includes insights on trending and new tokens, upcoming airdrops, and a built-in DEX enabling trading for thousands of tokens. Available as a mobile app on iOS or Android, it has strong security features such as two-factor authentication and fingerprint login.
Its native token, $BEST, is also set to be airdropped to users of the wallet after launch.

FAQs

Which is the best crypto wallet?
After extensive research and testing, we've concluded that Best Wallet offers the best crypto wallet. This wallet supports over 1,000 different coins/tokens, is free to download, and even boasts an AI-powered chatbot.
What is the safest crypto wallet?
Two of the safest crypto wallets currently available are those offered by Best Wallet and OKX. These wallets offer multi-factor authentication and advanced security protocols to protect users in the unlikely event of a cyberattack.
Which crypto wallet has the lowest fees?
Best Wallet is completely free to use, meaning it's an excellent option for those seeking a cost-effective option. Other wallet providers with low (or no) fees include OKX, Binance, and MetaMask.
How do I choose a good crypto wallet?
Choosing a good crypto wallet involves analyzing several essential factors. These factors include the provider's reputation, the number of supported crypto assets, the wallet's functionality, and also its level of security/privacy.
Is Coinbase wallet good?
The Coinbase crypto wallet is extremely popular and is considered one of the best options for crypto traders/investors. This is because the wallet has a clean interface, allows access to thousands of dApps, and even supports NFTs.
What is the best crypto hardware wallet?
Crypto hardware wallets are those that use physical devices to store cryptocurrency offline – they can also be referred to as cold wallets. We rate Ledger and Trezor as the best hardware wallets, although they both have strengths and weaknesses.
Disclaimer: Crypto is a high-risk asset class. This article is provided for informational purposes and does not constitute investment advice. You could lose all of your capital.
About Cryptonews
At Cryptonews, we aim to provide a comprehensive and objective perspective on the cryptocurrency market, empowering our readers to make informed decisions in this ever-evolving landscape.
Our editorial team, comprised of more than 20 professionals in the crypto space, works diligently to uphold the highest standards of journalism and ethics. We follow strict editorial guidelines to ensure the integrity and credibility of our content.
Whether you're seeking breaking news, expert opinions, educational resources, or market insights, Cryptonews.com is your go-to destination for all things crypto since 2017.