Status Plans Payments With Keycard, Develops Crypto-Native Communities Feature
One of the top ICOs of 2017, Status (SNT), a crypto marketplace application and decentralized mobile and desktop client for Ethereum (ETH), is planing to enable crypto-to-crypto payments on its Keycard hardware wallet. Also, a tool for crypto-native communities is being developed.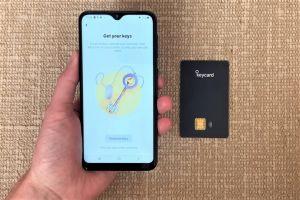 Keycard is a contactless, cold storage hardware wallet introduced in 2019, and it's a mobile-first product.
"We will deploy solutions where you can use this card to pay directly in crypto on payment terminals in shops. That's the future for Keycard," Guy-Louis Grau, Product Manager at Status, told Cryptonews.com, without providing a specific timeline.
Status says they would not compete with products like Crypto.com and other payment card providers, which are using Visa's or Mastercard's infrastructure.
"Status is 100% crypto, thus the merchant (a shop) will ask for a payment in DAI, USDT or other cryptocurrency and the user will pay with Keycard. The merchant will not use the traditional point of sales provided by his bank, but the Status app will play the role of the point of sales," according to them.
Status has manufactured 3,000 Keycards for now, most of which have been sold. An additional 1,000 units have been manufactured and delivered to Status, but are not yet sold, they told Cryptonews.com. Grau said that they are able to manufacture 20,000 units "quite quickly."
Also, according to him, Status and Keycard can also be used for trading non-fungible tokens (NFTs), as they enable users to access a decentralized marketplace on the go.
Additionally, they are also working on a tool for crypto-native communities - like the Discord messaging app, but for users that hold crypto.
Given that Status is a messaging app, this new feature would enable users to be part of a community if they own some tokens. Admins, for example, will be able to make airdrops.
Owning some tokens presents "a great way to prevent both scammers and spam," and it "introduces this notion of tokenized membership," said Grau. Users either pay to be able to use a certain communications app or a group, or they just own some NFTs for example, whether they paid for it or earned it. "But from an architecture standpoint and protocol standpoint, you cannot post there if on the blockchain you don't own these assets," he added. "And then imagination is the limit in terms of what these assets are and how you get them."
Status said they will begin to test this feature with select individuals and communities throughout Q2.
Today, SNT, ranked 131st by market capitalization, is trading at around USD 0.17 and is down by around 30% in a month, trimming its annual gains to 472%.
_____
Learn more:
- 40% of Surveyed Individuals Plan to Use Crypto Within a Year - Mastercard
- Bitcoin Dominance In Payments Drops Amid Dogecoin, Altcoins Surge - BitPay
- Signal Turns Into Noise With MobileCoin Integration
- More Than 1,000 Clients Paid With Bitcoin Since 2014 - airBaltic
- Why This Bitcoin-Believing Startup Bets on Facebook's Diem Instead
- Bottlepay Launches Bitcoin Twitter Payments, Reddit, Instagram Come Next
---