Crypto.com Review
Started in 2016, Crypto.com has grown into a fully-fledged and well known international cryptocurrency hub with a complete crypto ecosystem build upon its Crypto.com App, Exchange, DeFi swap, DeFi Wallet, DeFi Earn, Crypto.com Price, staking, crypto lending, and many other services. Crypto.com works with regulatory institutions all over the globe, and aims to bring you the most convenient way to buy, sell, trade and spend cryptocurrencies. The Crypto.com App allows users to buy and sell bitcoin and over 80 other top cryptocurrencies with top 24 fiat currencies, make payments and offers low trading fees. It's non-custodial Crypto.com DeFi Wallet grants you control of your private keys.
General info
Web address:

Crypto.com

Support contact:

Link

Main location:

Hong Kong

Daily volume:

? BTC

Mobile app available:

Yes

Is decentralized:

Yes
Parent Company:

Crypto.com

Transfer types:

Bank Transfer, Credit Card, Debit Card, Crypto Transfer

Supported fiat:

USD, EUR, GBP, JPY +

Supported pairs:

80

Has token:

CRO

Fees:

Low (Compare rates)
Pros
Earn up to USD 50 exchange sign-up bonus via Cryptonews referral above
Low fees
Ability to buy and sell crypto with fiat, credit/debit card, or cryptocurrency
Regulated and trustworthy platform
Beginner-friendly
Cons
Exchange is available for the US residents
Low privacy
Crypto.com review: key features
Spend Cryptocurrencies with their well-known Crypto.com Visa Card and get up to 8% cashback on every purchase.
Crypto.com App - Buy and sell over 80 cryptocurrencies with fiat at their true cost. Pay for daily expenses with crypto using the Crypto.com App and dedicated VISA card.
Deposit crypto and earn up to 12% p.a. pay in weekly with Crypto Earn.
Access crypto loans via Crypto Credit with 50% LTV.
Crypto.com Exchange - Trade top cryptocurrencies with the lowest fees in the industry.
The Syndicate - users can participate and buy cryptos with 50% off when staking CRO.Crypto.com Exchange Referral Program - you can get up to USD 2,000 referral bonus in CRO and 50% of the trading fees for every friend and successful referral.
Supercharger - During the first 30 days, deposit and withdraw CRO from the Supercharger pool any time during this period. The average share % will be calculated every day. For the second 30 days, receive a reward token every day during the reward distribution period based on the liquidity provided in the deposit period.
Swap and farm DeFi Coins in their decentralized exchange - Defi Swap which is the fork of Uniswap V2. Store your crypto safely with a non-custodial Defi Wallet.
DeFi Earn -.Users are able to receive the best return by depositing their tokens to the protocol with the highest APY at the time of the deposit. Crypto.com's integration with the Compound lending pool gives users easy access to nine DeFi tokens: BAT, COMP, DAI, ETH, UNI, USDC, USDT, WBTC, and ZRX—with more to come.
Track on the latest token prices, market movement, market capitalization ranking, and token information with Crypto.com Price.
Depending on your location, some of the key features of Crypto.com may be inaccessible for you. For instance, lending services are not available to residents of Hong Kong, Singapore, Switzerland, Malta, and the United States.
Background, history, and present of Crypto.com
Crypto.com started as Monaco Technologies GmbH in June 2016. Founded by its current CEO, Kris Marszalek, the company started with the slogan "Spend anywhere, without fees."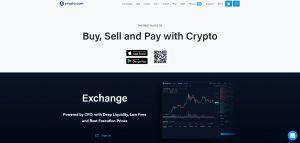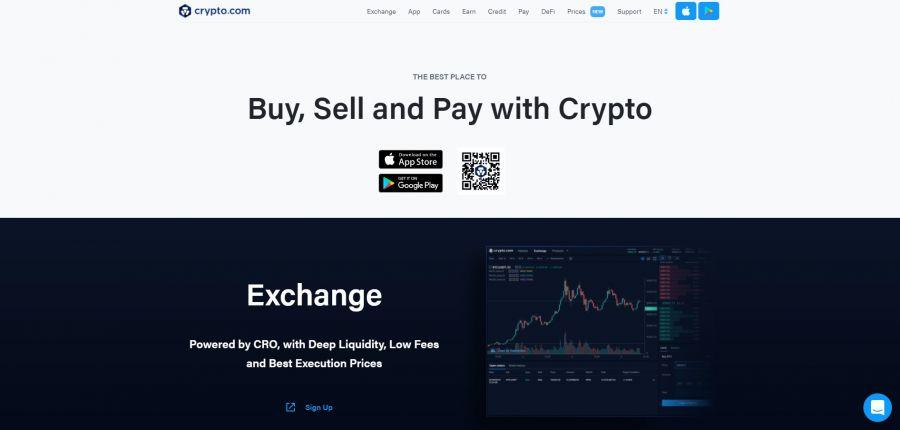 In the first half of 2017, Monaco launched its own token, MCO, which was funded via an ICO. The ICO took place from May 18 to June 18, and Monaco managed to raise approximately USD 26,7 million worth of crypto by selling 12,135,542 MCO tokens (out of 31,587,682 in total supply.)
In July 2018, Monaco announced its rebranding to Crypto.com and began shipping its Crypto.com Visa Card a few months later. At the same time, the company announced the launch of Crypto.com Chain with its native CRO token. Since then, CRO tokens were airdropped to MCO token holders.
Late in 2019, Crypto.com launched its own crypto-to-crypto exchange, thus aiming to win a bigger market share amongst crypto traders. Earlier this year, the company also launched its Crypto.com Pay, Earn, and Crypto Credit services, and their Crypto.com Visa Cards started shipping in the United States.
In 2020, the company launched its non-custodial DeFi Wallet and DeFi Swap services, as well as started delivering Crypto.com Visa cards to its European customers. The company also decided to phase out the MCO token completely by swapping it to CRO, meaning that from now on, Crypto.com Visa card users will have to stake CRO tokens for cashback rewards.
At the moment, the core management team at Crypto.com consists of:
Kris Marszalek, CEO
Rafael Melo, CFO
Gary Or, CTO
Bobby Bao, Head of Corporate Development
Brent Diehl, Global Head of Business Solutions
Weiyi Zhang, Platform Architect
Eric Anziani, COO
Jason Lau, CISO
A complete list of current core team members and their advisory board can be found here.
At pixel time, Crypto.com boasts of having more than 2 million users worldwide. The company's headquarters are located in Hong Kong, but it has offices all over the world, including Malta, Bulgaria, Singapore, United States, China, Japan, Russia, India, United Kingdom, Australia, and Argentina. As such, it has grown into a fully global crypto giant with a rapidly increasing global presence.
The upcoming plans of Crypto.com include launching MCO Visa Cards in Canada and Asia-Pacific regions, launching Crypto.com Chain mainnet, and launching Crypto.com Pay merchants service.
Crypto.com Visa Cards have recently started launching in Canada, and the upcoming plans are launching Crypto.com Chain mainnet, and launching advanced trading features on Crypto.com Exchange.
Supported countries
Crypto.com is a fully regulated crypto company, meaning that it complies with all necessary financial and risk-prevention regulations. As a result, you won't be able to use its services, be it a payments app or its exchange, anonymously.
Currently, Crypto.com is available in most countries worldwide, including the United States, Europe, Canada, Australia, Russia, Latin American countries, and some Asian and African states.
However, some Crypto.com services may be subject to certain geo-restrictions. For example, its
Upon registration, you will be asked to verify your identity. You will need to provide the platform with your:
Full legal name
Picture of a government-issued ID
Selfie as proof of liveness
In order to get a Crypto.com Visa card, you will also need to verify your residence address with a recent (not older than 3 months) utility bill.
It can take up to 3 business days to get your account verified.
Crypto.com fees
Crypto.com is on the lower end of centralized exchange when it comes to trading fees. Though different products are priced differently, it is one of the best fiat-to-crypto gateways in the crypto industry.
Crypto.com app fees
In our experience, the Crypto.com app is by far the easiest way to buy, sell, send, receive, exchange, and pay with crypto via Crypto.com. The app lets you deposit cryptocurrencies free of charge, allows free crypto to crypto exchanges, and supports free transfers to Crypto.com wallet.
However, it charges a fee for crypto withdrawals to an external address which differs based on cryptocurrency being withdrawn.
Crypto.com exchange fees
When it comes to Crypto.com exchange fees, it will charge you trading and withdrawal fees. The trading fees are based on your 30-day trading volume, and you get more discounts as your trading volume increases. You also have an option to stake CRO tokens are pay your trading fees in CRO. The more CRO you stake, the bigger the trading discount. As a bonus, you will get 10% p.a. earnings on your CRO stake. As mentioned, you can earn up to 0.1% taker fees if you are a Level 1 tier trader, what you need to do is to stake at least 5,000 CRO and pass the KYC verification, you will then no need to pay any trading fees but to earn it from your trading instead.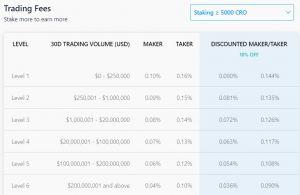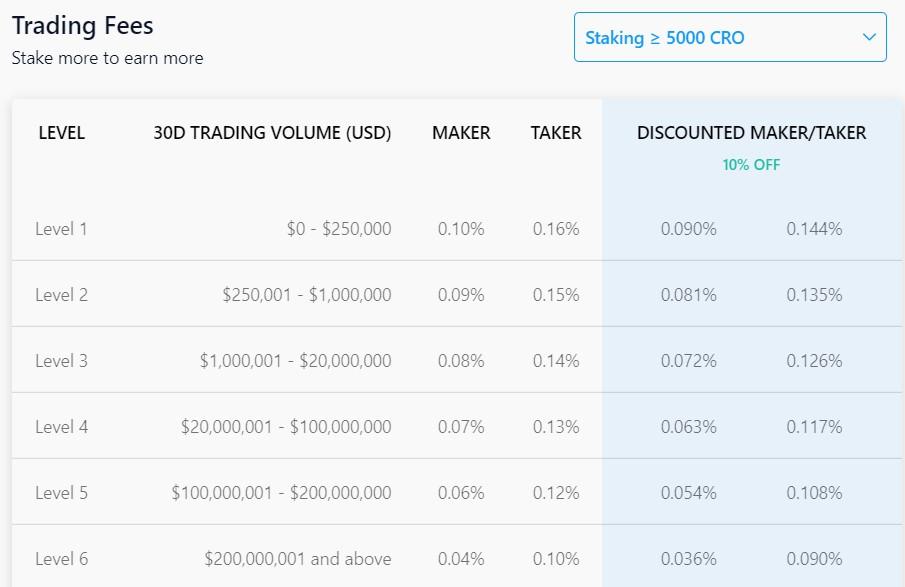 VIP retail clients at Crypto.com exchange can enjoy these trading rates:


When it comes to cryptocurrency withdrawals, here is a small sample of withdrawal fees for certain cryptocurrencies: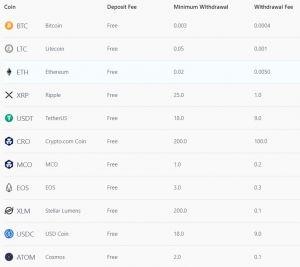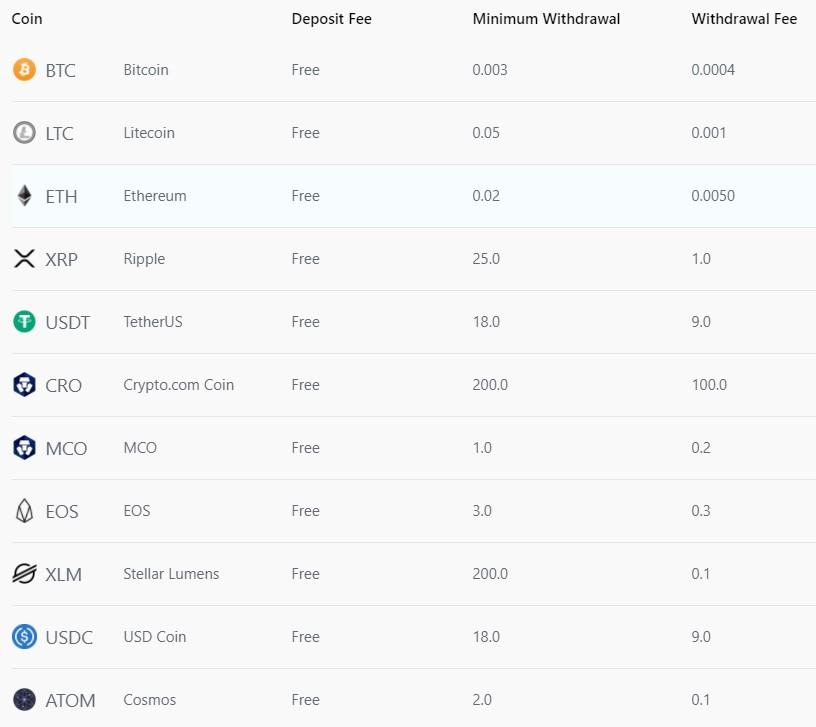 As such, the Crypto.com exchange charges standard fees for cryptocurrency withdrawals. There are no fees for cryptocurrency deposits.
The Crypto.com app also allows you to purchase cryptocurrencies directly with your credit card. A credit card purchase via the app will be 0% if you are in EU regions and a 1-3% fee apply depending on your region.
Crypto.com DeFi Swap fees
Unlike the app or exchange, the Crypto.com DeFi swap allows you to connect your personal Ethereum wallet for simple and effortless ERC-20 token swaps. Typically, you will pay 0.3% fees to liquidity providers as the token swapping fees to support the run of smart contracts.
You can connect Defi Swap with Crypto.com Defi Wallet. When transferring crypto in the Ethereum network, you will have to pay gas fees. You can conveniently choose between average, fast, and super transaction confirmation speeds, where average and super-fast represent low and very high transaction fees respectively.
Visit Crypto.com


Crypto.com design and usability
Crypto.com is a beginner-friendly crypto trading platform that makes it super easy to acquire, exchange, and spend crypto. Besides, anyone can make use of its other crypto services like the exchange, DeFi Swap and Wallet, Staking, Earn, Pay, and Lending.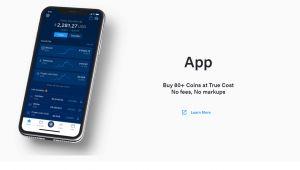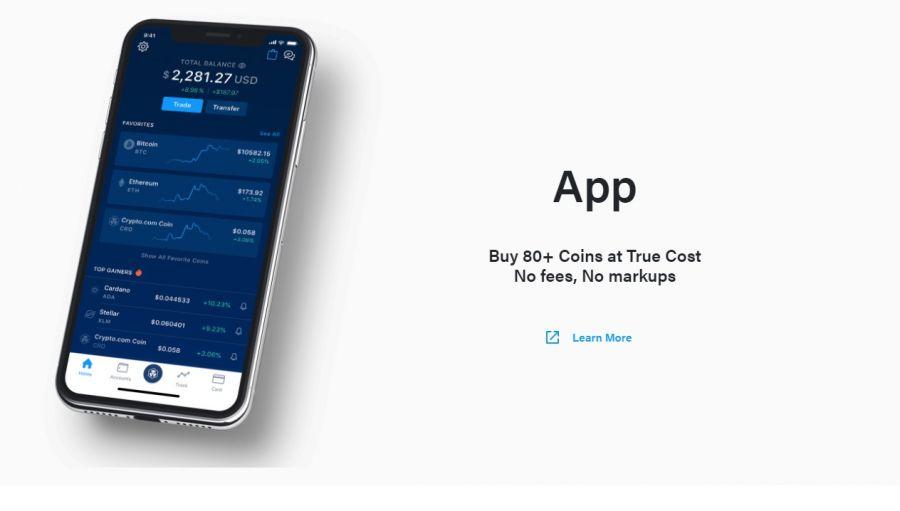 Crypto.com App
The easiest way to access Crypto.com services is by downloading its mobile app. It lets you buy and sell cryptocurrencies, exchange fiat currencies, manage your VISA card, access lending, and Crypto Earn services, Crypto Credit, pay with crypto for your purchases, and much more.
It also lets you track your portfolio, send coins to Crypto.com exchange, withdraw cryptocurrencies to external wallets, as well as manage deposits to the platform. Overall, Crypto.com mobile app is like a Swiss knife of crypto - it acts as your personal finance center for both fiat as well as crypto finance.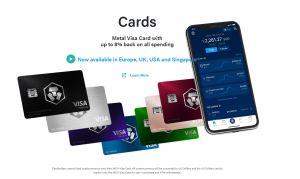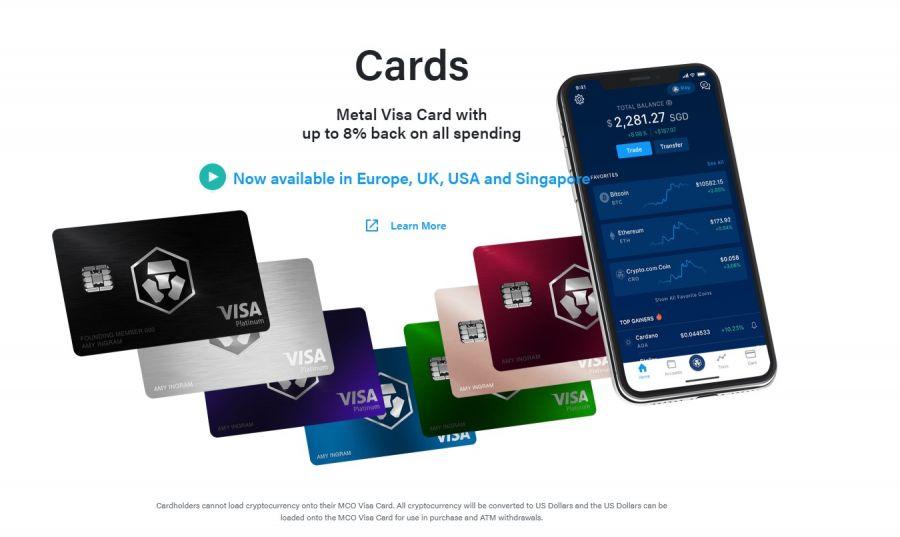 The app is available on both iOS and Android devices and can be downloaded from your local app store.
Crypto.com exchange
Crypto.com exchange is a dedicated crypto-to-crypto exchange that is aimed at more experienced traders. Accessible via the web platform, Crypto.com Exchange lets you trade in over 110 liquid markets with Bitcoin (BTC), Tether USD (USDT), and Crypto.com Coin (CRO) base pairs. Besides, it lets you margin trade with up to 3x leverage.
The exchange itself has a neat design, but it is oriented towards traders and may not be easy to navigate for complete beginners. As of 2021 February, you can place limit, market, and advanced stop-limit and /stop-loss orders.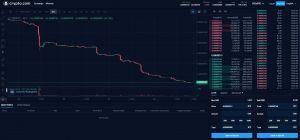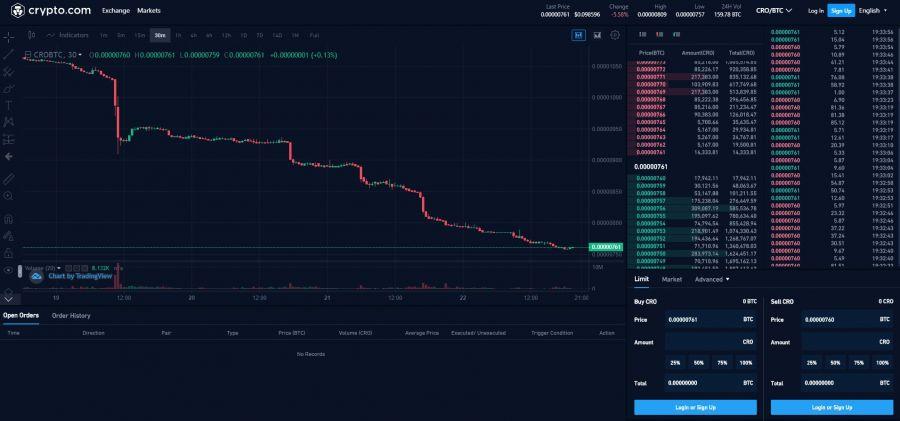 Crypto.com exchange users can also access Crypto.com Lending services, participate in The Syndicate events that let you buy newly listed coins with discounts, take part in Crypto.com Arena trading competitions, as well as make use of Crypto.com Supercharger staking pools and reap significantly yields for certain assets. Mind that you are eligible for additional trading fee discounts if you use the exchange's native CRO tokens.
The exchange can be connected to your Crypto.com app account, which makes it easy to transfer coins back and forth in case you need a new deposit or withdrawal.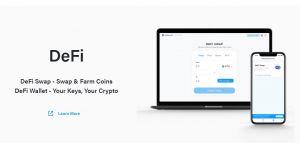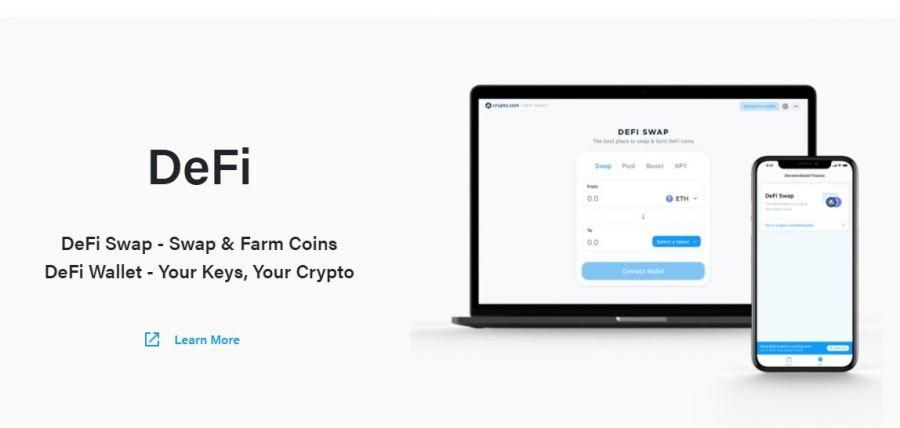 Crypto.com DeFi Swap
DeFi Swap is a relatively new DeFi exchange that comes with a separate Crypto.com's DeFi wallet app and dashboard. It lets you trade the hottest DeFi tokens in a non-custodial manner, meaning that you can swap coins privately and without compromising your private keys.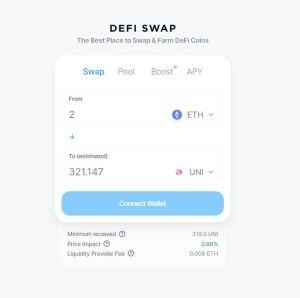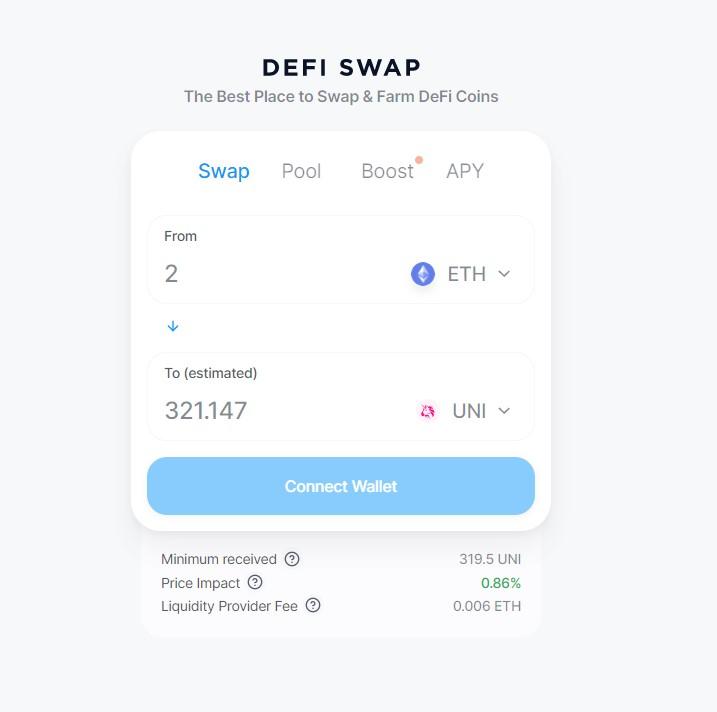 DeFi Swap can be accessed both via the web, as well as a mobile app.
Crypto.com VISA card
All Crypto.com App users may claim a VISA card for spending their crypto assets. While the Midnight Blue card is free, other color cards require you to stake a certain amount of CRO tokens in order to claim a metal card with extra benefits.
At the most basic level, you will get 1% CRO cashback on your purchases, as well as USD 200 or its equivalent worth of no-fee ATM withdrawals. Besides, you can exchange up to USD 2,000 worth of currency at interbank exchange rates per month. Higher CRO-staking tiers enjoy higher withdrawal and exchange limits.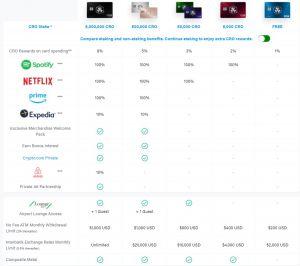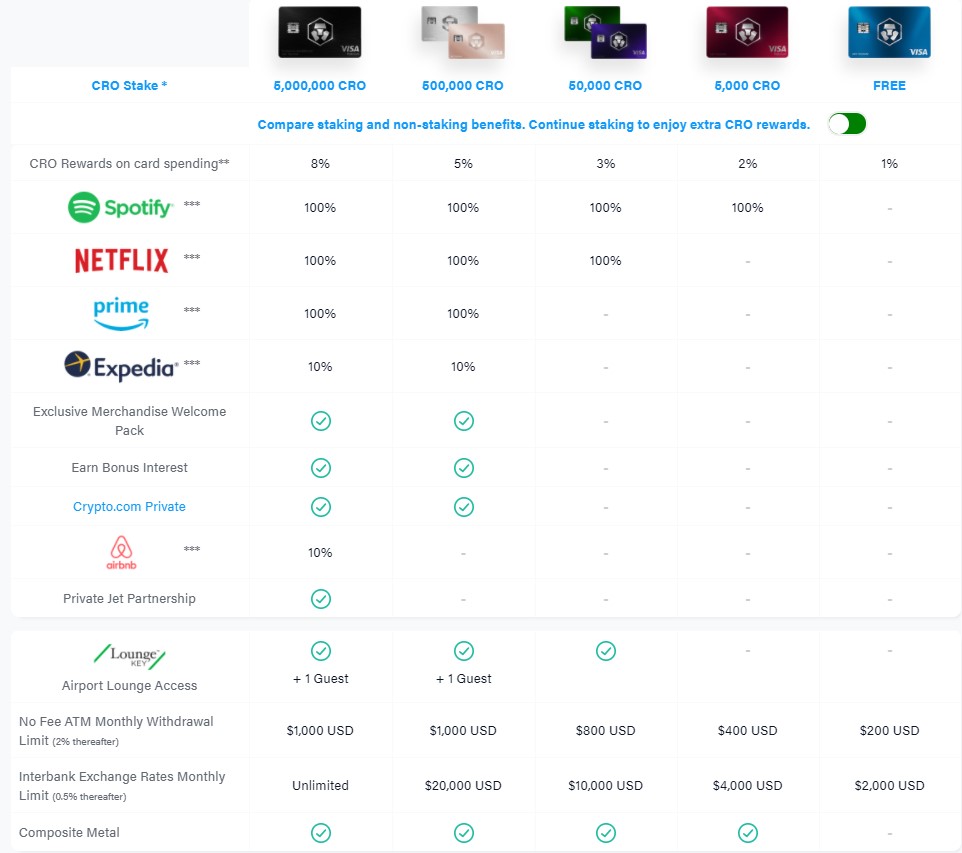 It's important to note that you can't load cryptocurrency directly into the Crypto.com VISA card. All cryptocurrency into your app account must first be converted to fiat currency, and then you spend dollars, euros, or other currencies of your choice for purchases.
Security measures
Crypto.com practices a "Defense in Depth" culture, which means that security processes are embedded into all aspects of its business. As a result, the platform is one of a few crypto services that has not been hacked yet.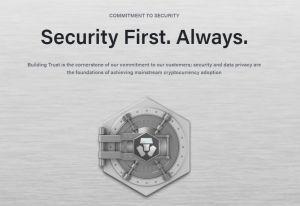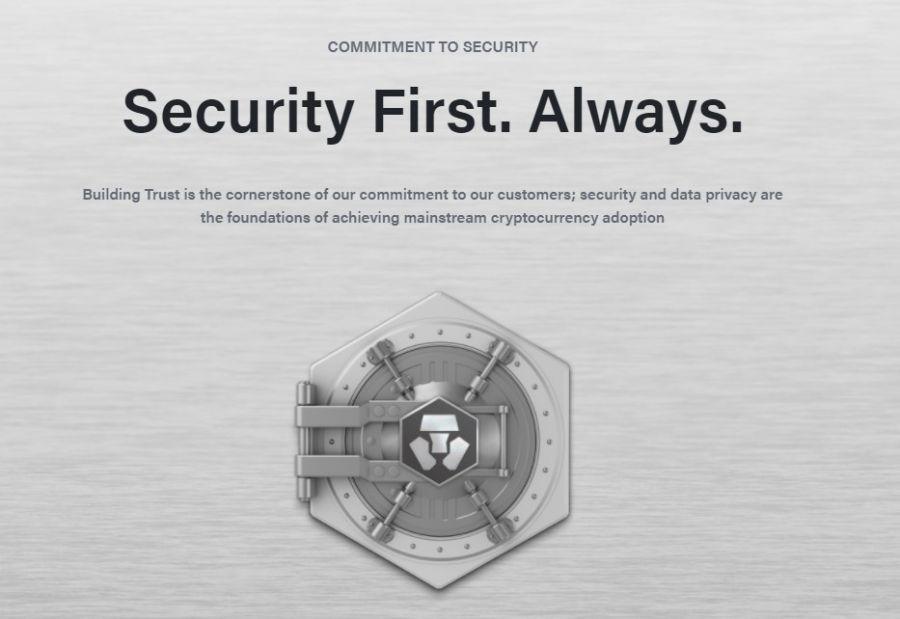 On the service side of things, Crypto.com keeps 100% of its user funds in offline cold storage. The security solution is a part of partnership with Ledger, and utilizes its institutional-grade custody solution Ledger Vault, which leverages technologies like hardware security modules (HSM) and multi-signature keys.
Additionally, Crypto.com's cold storage is covered by USD 360 million insurance, which includes direct and indirect coverage via custodians, against physical damage, and third-party theft.
When it comes to protecting its hot wallet, Crypto.com uses HSM's and multi-signature keys, too. The funds kept in its hot wallets are corporate funds and constitute just a fraction of companies total holdings that is sufficient to day-to-day withdrawal requests from customers.
In terms of fiat currency security, customer deposits are held in highly regulated custodian bank accounts all over the globe and thus benefit from local regulations. For instance, the US customer's USD balances are protected by FDIC insurance, which covers up to USD 250,000 worth of your money. In any case, Crypto.com lets you retain ownership of any fiat deposited with its apps, meaning that your fiat funds can never be claimed by Crypto.com or its creditors.
In terms of infrastructure security, Crypto.com uses Amazon Web Services (AWS), which comes with the following security features:
Network and web application firewall.
Controlled encryption in transit with integrated Transport Layer Security (TLS) across all services.
Automatic encryption of all traffic.
Business continuity planning for outages and attacks prevention.
Logging, monitoring, automatic threat detection, and real-time analytics.
These infrastructure security measures work in tandem with a variety of internal Crypto.com risk controls:
A dedicated internal team that screens all deposits for KYC, AML, and alcohol, tobacco, and firearms (ATF) compliance.
All withdrawals undergo request screening to flag suspicious transaction amounts and velocity.
Manual approval of large fiat and crypto transactions.
Industry-leading AI analytics tools.
Strict access control measures for both cold and hot wallets.
Penetration testing via numerous attack vectors and external audits.
Hacker One Bug Bounty program for responsible vulnerability disclosure.
On the user side of things, Crypto.com lets you protect your accounts with two-factor authentication (2FA), as well as a combination of a passphrase, password, biometric verification (fingerprint & face ID), email verification, and phone verification. Besides, its DeFi wallet lets you keep your private keys, meaning that you can self-custody your funds instead of relying on the security of the platform.
In case you do want to trust Crypto.com with your funds, it is a highly secure and regulated crypto platform with numerous security certifications and assessments by top security auditors. Crypto.com has obtained the following certificates:
ISO/IEC 27001:2013, ISO/IEC 27701:2019, PCI:DSS 3.2.1, Level 1 compliance and CCSS.
ISO/IEC 27701:2019 Certification for privacy risk management by SGS.
ISO/IEC 27001:2013 Certification for information security management by Bureau Veritas.
Level 1 (highest degree) PDC:DSS standard for complying with strict requirements in the payment card industry.
CCSS (Cryptocurrency Security Standard) that a series of strict security requirements for storing, accepting, and transacting cryptocurrencies.
Adaptive (Tier 4) rating - National Institute of Standards and Technology (NIST) Privacy Framework
Adaptive (Tier 4) rating - National Institute of Standards and Technology (NIST) Cybersecurity Framework
As you can see, Crypto.com follows the "gold standard" security measures and takes the security of its crypto users extremely seriously. As such, it is one of the safest crypto platforms on the market.
Conclusion
Crypto.com is a beginner-friendly crypto trading platform that makes it super easy to acquire, exchange, and spend crypto. Besides, anyone can make use of its other crypto services like Exchange, DeFi Swap and Wallet, Staking, Earn, Pay, and Lending, which makes it an excellent one-stop-shop for all-things-crypto.
Summary
Web address:

Crypto.com

Support contact:

Link

Main location:

Hong Kong

Daily volume:

? BTC

Mobile app available:

Yes

Is decentralized:

Yes
Parent Company:

Crypto.com

Transfer types:

Bank Transfer, Credit Card, Debit Card, Crypto Transfer

Supported fiat:

USD, EUR, GBP, JPY +

Supported pairs:

80

Has token:

CRO

Fees:

Low (Compare rates)