Status
SNT
Status
Status (SNT) is the world's first decentralized mobile and desktop client for Ethereum. It lets users send encrypted messages, access decentralized applications (DApps), and a cryptocurrency wallet. The big picture goal of Status is the mass adoption of the Ethereum network.
| Market Cap | Volume 24h | Circulating Supply |
| --- | --- | --- |
| $336,476,549 | $15,058,468.45 | 3470483788.0 SNT |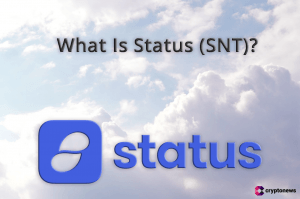 What Is Status (SNT)?
Status (SNT) is an open-source messaging platform and mobile interface that allows users to interact with DApps running on Ethereum (ETH) blockchain. It works like Play Store for Android or App Store for iOS applications, except it is built entirely on peer-to-peer (P2P) technologies. Every user can use Status (SNT) to:
- Access, browse and interact with over 2000 Ethereum DApps
- Send and receive encrypted P2P messages.
- Use it for payments and smart contracts.
- Store and control private crypto-assets in the Status wallet.
Also, the Status Network uses Status Network Tokens (SNT), which are the native currency of the platform.
The ultimate goal of Status is to quicken the mass adoption of Ethereum DApps. It will be achieved by targeting the rapidly growing smartphone user segment and making DApps discovery and usage easy and intuitive. Apart from the app, the Status community also builds infrastructure tools which empower everyone to join the community and build a better web together. The main platform's components are Incubate, Embark, Studio, Nimbus, and Keycard.
Incubate. It provides supports early-stage open-source startups, including funding, technical support, mentorship, legal and regulatory compliance, product design, marketing and communication, and other resources.
Embark. A simple, easy to use development framework which lets you build and deploy DApps.
Studio. An integrated environment for developers and those who wish to learn more about Dapp development.
Nimbus. A research project and light client implementation for Ethereum 2.0. It is designed for embedded systems and resource-limited hardware.
Keycard. Status hardware wallet which takes the shape of a card. It can be used for a smooth, safe, and contactless transactions. It works with SNT, ETH, and many ERC-20 tokens. Its code is open-source, so everyone can use and edit it for personal needs.
Status (SNT) Team
Status is based in Crypto Valley, Zug, Switzerland. The team consists of more than 70 full-time members and experienced advisors. Most of the employees are developers who focus on core development and creation of DApps. The remaining employees are responsible for day-to-day operations, marketing, and business development.
Jarrad Hope and Carl Bennets founded Status. Before co-founding the Status Network Network, they worked together on various software products for six years. The company's COO is Nabil Naghdy. He is a former product manager at Google. He used to manage Google Maps and Google Flights products for seven years.
What Problem Does Status (SNT) Solve?
Legacy social networks are unbalanced and exploit users for the benefit of advertisers and platform owners.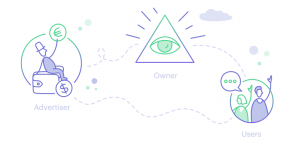 Status seeks to disrupt traditional social networks by empowering users. Using Status, they can become important actors in the platform governance and take complete control over personal data.
How Does Status (SNT) Work?
Status is designed to interact with DApps on the Ethereum network. At the same time, it also functions as a messaging platform and web 3.0 browser. Anyone with internet access can use the Status app for free trade, P2P payments, and encrypted P2P communication. The platform utilizes Whisper V5 protocol to delegate nodes and support a decentralized chat.
Here is a brief overview of the key aspects of the Status network.
Decentralized Push Notification Market
Unlike traditional social networks with free push notifications, Status does not generate revenue from selling customers' data nor advertising. Instead, it creates a push notification market for service providers. If a user wants to receive push notifications from a DApp, he or she must deposit SNT with a provider. Although paying for push notifications sounds counterintuitive at first, Status developers present it as a feature rather than a drawback.
"We recognize that in a model where the User is no longer the Product, paying for push
notifications may initially seem like a hurdle, as Users in existing platforms currently get this
"for free." Instead we make the costs explicit to the User and don't exclude possibilities where a push notification node could build a business on top of the infrastructure, ie. offer the
service 'for free' by the User viewing ads to pay for push notifications. The end result is that we give the User a choice."
What they mean is such a feature also gives users a choice to remain private and undisturbed by opting-out of any service.
Status Platform Governance
Status is a profoundly community-driven application. It democratizes the governance of the platform by using SNT tokens. SNT holders can propose solutions, vote, and make decisions regarding Status software development.
For every proposal and voting, SNT tokens are cloned into voting ballots. The more SNT one holds, the greater the voting power. Voting on the platform matters comes exclusively without costs.
Ethereum Name Service Usernames
Status users are automatically identified by SECP256k1 public key, which allows them to communicate without a reserved username. Nevertheless, the project stakeholders can also reserve usernames with social recovery mechanism. It gives users a human-readable and recoverable access point in case they lose their private keys.
The user must hold SNT to reserve a username. Keep in mind that if a user wishes to leave the network, he or she can withdraw their tokens and the username will be unreserved. In such case, anyone can claim it again. It is a completely optional feature, and in some cases, it may require users to pass KYC/AML verification.
Indicators of Trust
The Status Network includes an online reputation system. It lets SNT holders pay for badges which indicate users level of trust. Such feature lets Status establish a base for Web of Trust, which may come in handy in the future of the project.
For example, it allows creating Public Group Chats whose membership is based on users economic stake in a token or a set of different tokens. It could be a way of removing sockpuppet actors from the conversation (or at least significantly raising their costs).
Tribute to Talk

Tribute to talk is an economics-based anti-spam filter which protects users from receiving "cold" messages. A stakeholder sets a minimum amount of SNT which another Status user must meet to open a conversation. The deposit is returned upon getting a reply.
Attention-based Signaling
Legacy social networks rank information through the news feed algorithms. Most of the time they are set up to push the platform owners agenda. The Status network deploys the so-called "signaling" process to let users curate content. It works like upvoting and downvoting on the mainstream social media platforms, except Status weights users tokens to determine the impact of a vote.
Besides, platform stakeholders may choose different search algorithm providers in case their current one becomes dishonest in their eyes.
Status Teller Network
Status Teller Network is a DApp inside the main app which lets the app users discover nearby people to exchange cash for digital assets. The feature may help capture a market share of LocalBitcoins and similar services. It will require paying SNT to become a seller.
Status DApp Directory
Much like the Google Play Store or the Apple App Store, Status DApp directory is the gateway to the world of DApps on the Ethereum network. Here, the DApp developers can list their DApps and gain exposure. The users can navigate the directory to discover decentralized services.
At the moment, over 30 DApps available at the directory, including popular ones like:
LocalEthereum
DDEX
Etherbots
Livepeer and others.
Status Sticker Market
A Sticker Market allows anyone to design and sell their stickers. Like news feed algorithms, the sticker collections will be curated according to votes. Every market participant will have to use SNT.
What Is the Status Network Token SNT?
SNT is an ERC-20 token built on the Ethereum network. It is the utility token of the platform.
The Status Network is free to use, but you need SNT to access premium features of the app, like:
Select and receive push notifications.
Vote and propose on the Status governance issues.
Register and reserve usernames.
Receive badges which indicate accounts level of trustworthiness.
Create and join public groups that require certain badges to enter.
Send and receive qualified messages (tribute to talk).
Opt-in to use Status curation mechanisms (e.g., content or DApps.
Become a seller in the Status Teller Network.
List DApps and gain exposure in the DApp Directory.
Accessing the Sticker Market.
Other extra features of the network.
At the time of writing, 3,470,483,788 SNT tokens are in circulation. The total supply is going to be 6,804,870,174 SNT.
Status (SNT) ICO
Status ICO happened on June 20, 2017, and was sold out in a day. The investors received 10,000 for 1 ETH. The project raised $99 million. At the time, one SNT cost $0.0365. The SNT tokens were distributed in the following proportions.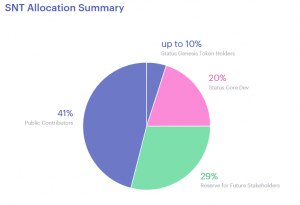 Speaking of the ICO funds:
50% of the funds were allocated to the core development.
15% went to the project security,
15% were allocated to finance day-to-day activities.
10% is set for marketing.
10% were committed to cover legal and compliance costs.
Where To Buy Status SNT?
Status Network Tokens can be purchased and sold in many markets and exchanges. These include:
Binance, Bittrex, IDAX, Trade.io, Bitrue, Kucoin (paired with BTC, ETH).
Poloniex, HitBTC, OKEx, Gate.io, Liqui (paired with BTC, ETH, USDT).
Bitfinex, Ethfinex (paired with BTC, ETH, USD).
ZB.COM, Huobi, WazirX (paired with BTC, USDT).
Upbit, GOPAX (paired with BTC, ETH, KRW).
IDCM, CoinTiger, Vebitcoin, Neraex, Nuex, ooobtc, BigONE, XS2 (paired with BTC).
ZG.top, DragonEX (paired with USDT).
TOPBTC, ChaoEX, Kyber Network, OTCBTC, IDEX (paired with ETH).
Radar Relay (paired with WETH).
Bancor Network (paired with BNT).
Koinex (paired with INR, XRP).
Tidex (paired with BTC, WAVES).
Livecoin (paired with BTC, USD).
You can purchase Status SNT tokens using USD via Bitfinex, Ethfinex, Livecoin. Upbit and GOPAX support KRW pairs. Koinex can be used for trading directly with INR.
Where To Store Status SNT?
Keeping your crypto holdings in exchange is unsafe. A good rule of thumb is to keep them in a private wallet.
Status Network Tokens (SNT) are issued on the Ethereum blockchain according to ERC-20 standard. Therefore, they can be put in any Ethereum wallet which supports ERC-20 tokens. Some of the most popular ERC-20 token wallets include MyEtherWallet, MetaMask, or Mist. For the sake of convenience, you can keep SNT tokens in the Status app.
Hardware wallets provide the highest security. Status develops the native hardware wallet Keycard, but it is not ready just yet. Until its release, you can use the most secure, industry-standard hardware wallets by Ledger or Trezor.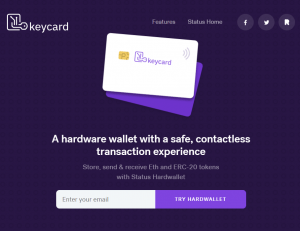 Status SNT News and Progress
The Status Network project has successfully released their Android and iOS Alpha version apps, as well as the desktop app. The apps were released in the summer of 2018. Status Desktop was released on January 8, 2019. Although they are still in a test phase, users can already enjoy some of their benefits.
In recent news, the Status team has hit the headlines for being another blockchain project to make drastic cuts to its staff during the bear market. The project had to cut almost 25% of its staff, leaving around 70 employees.
Despite the cuts, the project team is focusing on the further betterment of its ecosystem. The project is known for its lucrative bounty program for the developers, so anyone can give it a shot. The project should maintain its position as the best mobile DApp explorer as long as Ethereum stays well.
Similar Projects
OmiseGO (OMG) - Ethereum-based financial technology for real-time, P2P value exchange across jurisdictions and organizational silos.
Mithril (MITH) - A decentralized social media platform on the Ethereum blockchain.
Loom Network (LOOM) - Tokenized application protocol for a new decentralized web.