I Know What you did Last Crypto Winter: 20 Crypto Jokes
Bitcoin went bellow USD 10K. That happened.
By the time I typed this, altcoins rallied, then Bitcoin jumped over USD 10K. That happened.
In the ever-larger world of regulations-related news, a Chinese court reportedly recognized Bitcoin as having legal value as property; U.S. CFTC is investigating BitMEX; U.S. lawmakers are moving fast to stop major IT companies from issuing cryptocurrencies; U.S. Congress can make stablecoins and Libra irrelevant; Crypto Mom is worried about forfeiting innovation to other countries, and the G7 is worried too but about crypto and Libra. Speaking about Libra, Facebook's main game might actually be Calibra, but either way, there were not one, but two hearings so far to talk about the new coin. Trump famously took aim at Bitcoin and Libra, for which the community thanked him, while the Treasury Secretary is also uncomfortable with Libra.
Meanwhile, South Korean major mobile carriers joined with major companies and banks on a blockchain-powered mobile identification platform collaboration, and LG began offering blockchain-powered mobile phone insurance. Speaking of blockchain, Siemens is looking into ways to use this technology for carsharing, and Pundi X partnered with Verifone to bring crypto to more retailers. It was a good week for Huobi which announced its new stablecoin, and they're also considering 'a more balanced shift' than Binance's 'radical' BNB burn. And while the anticipated Polkadot announced the "canary-net" that is its experimental version called Kusama, and Ycash, Zchash hard fork went live, Vitalik Buterin was criticized for his 'Ethereum + Bitcoin Cash' scalability solution. And in the midst of it all, Ray Dalio brings hope to BTC.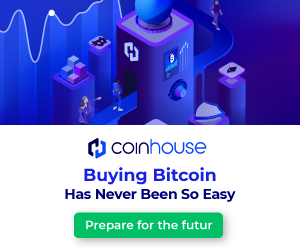 Once all is done, sit back and watch the Roubini vs. Hayes match.
But first, the jokes. Enjoy!
__________
That looks...interesting.
crypto ban the movie first pictures leaked pic.twitter.com/iBqWRM3tqI

— 81tc01n (@81TC01N) July 15, 2019
__
Everything is relative. A matter of context really.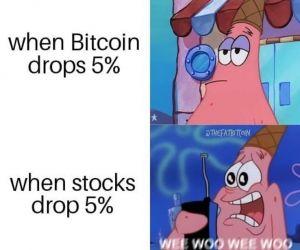 __
This too shall pass before coming back again.
#Crypto people be like "Another Dip? Buying opportunity!!!" pic.twitter.com/zpf12r4Xjn

— iLLyNoiiZe (@illynoize) July 12, 2019
__
So they say. I don't believe them.
What doesn't kill you makes you stronger.

Meme #3#cryptomemes #Memes #btc #bitcoin #rekt #cryptocurrency pic.twitter.com/jUMATaXk56

— Cannabisstoreza (@ZaCannabis) July 12, 2019
__
Here's one that'll take a few years of your life.
What trading altcoins feels like right now.

pic.twitter.com/mKGjg9bQ5M

— Jacob Canfield (@JacobCanfield) July 16, 2019
__
It's a special kind of love.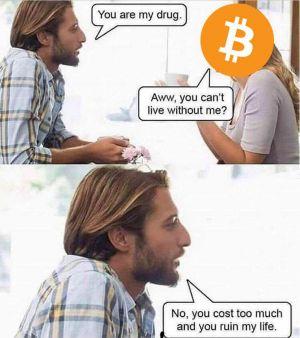 __
Hey, hey, listen to this one!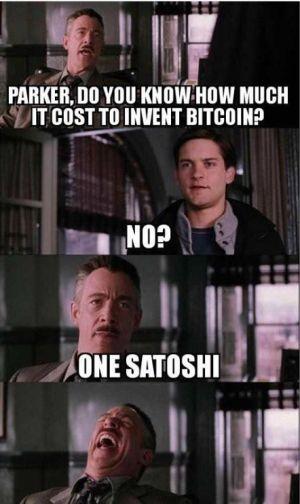 __
Uh! Another one!
Why do bitcoiners want a Lambo?

Because Ferrari is owned by Fiat.

— Gem (@GemCrypto) July 15, 2019
__
Alternate realities... Parallel universes....
Vitalik proposing scaling via bcash

Congressmen differentiating Bitcoin from shitcoins

What alternative universe is this.

— grubles (@notgrubles) July 17, 2019
__
It's been 84 years...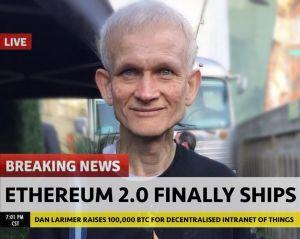 __
Ugh! That poor, poor kitty...
Bitcoin Price action today pic.twitter.com/ZpbqWOhMsc

— FatihSK (@FatihSK87) July 19, 2019
__
Is that USS Enterprise? Well, this should be entertaining. Yah!
Trump's tweet about #crypto summed up in one image#Bitcoin pic.twitter.com/6rxunU4sPc

— Boxmining (@boxmining) July 15, 2019
__
Listen, it's easy!
Dude, did you pass math? :-D@realDonaldTrump #cryptomeme #meme #cryptocurrency #rt #retweet pic.twitter.com/s2JGmV8VDj

— Parham Lilian (@lilian_parham) July 15, 2019
__
When some retrospection's in order.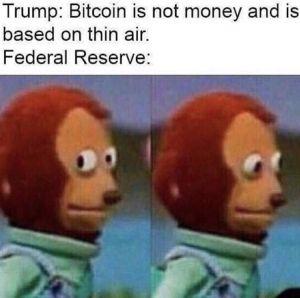 __
Cryptos are based on thin air, he said...
Did you ever look closely at that famous Mnuchin photo? Can't believe everyone missed this! pic.twitter.com/KjtcJn7z83

— Mike In $pace (@mikeinspace) July 15, 2019
__
It's official. Written, signed, sealed, and everything.
Greenhouse Effect: It's official, one unit of thin air now costs more than $10k. pic.twitter.com/ZHi8KxBZoZ

— LaurentMT (@LaurentMT) July 16, 2019
__
Just a relaxing walk, really...
July 11, 2019
__
First contexts, then different realities, followed by the Enterprise, now the relativity of time... Cryptoworld's a lot of fun!
NEWS FROM THE FUTURE 2043 - Craig Wright released from Jail. pic.twitter.com/cSAeSaZr4I

— Crypto Meme Central 🔞 (@CryptoScamHub) July 17, 2019
__
Nothing much. Nothing's happening. Why? What did you hear?
Wife: what do you guys even talk about on bitcoin Twitter?

Me: pic.twitter.com/xVMx9HyKU9

— AMERICAN HODL 🔑 (@MericanHodl) July 14, 2019
__
As (almost) every weekend, a crypto song in its celebration: crypto trader subgenre.