Trump Takes Aim at Bitcoin, But Crypto Community Says 'Thanks'
American President Donald Trump has lashed out at cryptocurrencies – taking aim at Bitcoin and Facebook's Libra project in particular, and insisting that the social network and other token issuers must "face global regulations" if they intend on "becoming banks."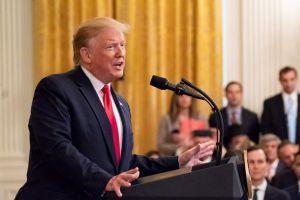 Source: Twitter, @WhiteHouse
In three strongly-worded tweets, Trump stated, "I am not a fan of Bitcoin and other cryptocurrencies, which are not money, and whose value is highly volatile and based on thin air."
Some cryptocurrency enthusiasts have taken to social media to denounce the President's comments, but just as many said that the outburst will likely be a blessing in disguise – helping grant cryptocurrency with further acknowledgment and exposure.
Tron's Justin Sun, meanwhile, responded by inviting Trump to a lunch meeting with crypto leaders and Warren Buffett, saying that the President had been "misled by fake news."
In either case, just recently, Trump has joined the ranks of other officials unintentionally building a case for Bitcoin and showing why it's better compared to traditional fiat money systems.
By the way, there are two Trump-themed digital coins circulating in the cryptoverse:
TrumpCoin (TRUMP) (1,386th by market capitalization) - "TrumpCoin-helping to Make America Great Again by supporting President Trump in his fight against fake news, corruption and the deep state." It's down by 8% in the past 24 hours.
President Trump (PRES) (2,283rd by market capitalization) - "The most actual price for one President Trump [PRES] is $0.004386," according to Coinpaprika.com. The price is down by 4%.
Read more: Can Donald Trump Ban Bitcoin and Cryptocurrencies?
Other reactions to the recent Trump tweet:
You can find more reactions here.
And a few words from the Fed
Meanwhile, in a meeting on the American Senate Banking Committee on Facebook and Libra, the chairman of the Federal Reserve Jerome Powell said he could foresee a future whereby multiple currencies could be used in the country, with Bitcoin being one of these.
__________________
__________________
Powell equated the scenario to America's national banking era – the period in the mid-late 1800s between the establishment of chartered banks and the launch of the Federal Reserve in the mid-1910s.
The Federal Reserve chairman opined, "Really almost no one uses Bitcoin for payments, they use it more as an alternative to gold. It is a store of value – a speculative store of value, like gold."
On Libra, Powell stated, "The size of Facebook's network means it could be – essentially – immediately systemically important."
---