Huobi Won't Follow Binance's 'Radical' BNB Burn; Mulls Balanced Shift
Singapore-based crypto exchange Huobi Global said it will not make a "radical" burn decision, such as the one their competitor Binance made, but will go for a "more balanced shift".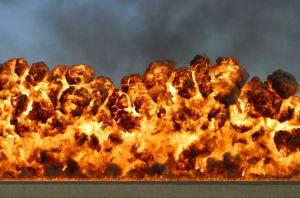 This consideration for a more balanced solution comes after cryptoverse's recent debates over the exchange buybacks and where should the tokens for it come from. Last week, CEO of Binance, Chanpeng Zhao, announced that the Binance team unanimously agreed to burn 100% of their binance coins (BNB) (worth USD 2,400,000,000) first, meaning that all BNB tokens allocated to the Binance team from the initial coin offering (ICO) in 2017 will be burned, which is half of the total supply of BNB tokens, according to Zhao.
On the other hand, Huobi Group's founder and CEO, Leon Li, said: "We have no plans to make equally radical changes but we are considering a more balanced shift – say one third of the tokens from team holdings and the rest from the open market." He added that this is not a final decision, and one will be made after discussions with the community.
Huobi recently used 20% of the revenue from Huobi Global's spot market and its digital asset contract trading service Huobi DM to buy back and burn 14,011,700 Huobi Tokens (HT), which is 116.4% more than in the first quarter of 2019. "In terms of actual funds spent on the buyback, Q2 represented a 232% increase over Q1", the exchange said.
There are two big trends which have led to the huge jump in this quarter's buyback, said the CEO:
a rapidly strengthening market for digital assets
the increasing popularity of Huobi's entire product line.
Speaking of their products, the company stated that Huobi used "the extended bearish conditions of 2018" as an opportunity to update and improve its products and services. Among the number of products introduced since the beginning of 2019, users have found Huobi Prime and Huobi FastTrack programs, tiered trading fee discounts for HT holders, and continuing upgrades to Huobi DM, "which recently exceeded USD 504 billion in cumulative trading volume."
Li announced more improvements and innovations from Huobi until the end of this year. "Expect to see further developments on Huobi Finance Chain, our innovative DeFi (decentralized finance)-focused public chain project, further improvement of our API functionality for high frequency algorithmic traders, and more", promised the CEO.
Meanwhile, last month Huobi announced their plans to open a physical branch office in Turkey, which will include localized products and customer support, while in a recent interview with Cryptonews.com, Ross Zhang, Head of Marketing at the Huobi Group, said that 2019 will be another important year for Huobi's global expansion, with more comprehensive services offered to countries where there is large demand for cryptocurrencies.
_________________________
_________________________
At pixel time (09:42 UTC), HT, which is ranked 39th by market capitalization and is the fourth largest exchange token, trades at c. USD 4.15 and is up by 2% in the past 24 hours, by almost 3% in the past week and by 20% in the past month.
Huobi token price chart: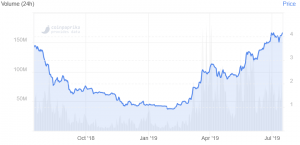 ---