Libra Hearings, Day 2: 'I Don't Think You Should Launch Libra at All'
U.S. lawmakers held another day of heated questioning over Facebook's plans together with at least another 27 partners to launch the Libra project.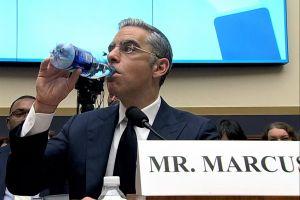 David Marcus. Source: a video screenshot
This time, David Marcus, co-creator of Libra, head of their Calibra wallet, was answering questions before the U.S. House Financial Services Committee.
"I have serious concerns with Facebook's plans to create a digital currency and digital wallet," Maxine Waters, chairwoman of Committee, said. "If Facebook's plan comes into fruition, the company and its partners will yield immense economic power that could destabilize currencies."
Meanwhile, Democratic representative Carolyn Maloney said that Libra shouldn't be launched at all or at least is should start from a small pilot program. However, Marcus did not commit to this.
Republican representative Ann Wagner said she's concerned that "a 2020 launch date represents deep insensitivities about how Libra could impact U.S. financial security, the global financial system, the privacy of people across the globe, criminal activity and international human rights."
A prominent cryptocurrency critic, Democratic representative Brad Sherman, even went further, suggesting that the Libra project "may do more to endanger America than" the 9/11 attacks, and isisted that Facebook CEO Mark Zuckerberg testify before the committee.
However, during the hearing today, Bitcoin got a few moments of fame thanks to Congressman Patrick McHenry.
"The world that Satoshi Nakamoto, author of the Bitcoin whitepaper, envisioned is an unstoppable force. We should not attempt to deter this innovation. Those who have tried have already failed," he said, encouraging "thoughtful governmental oversight" of the Libra project.
___________________
___________________
Also, Congressman Warren Davidson said he hopes that there will be more cryptocurrency-related hearings.
After the first day of hearings on Tuesday, bitcoin and the whole crypto market dropped sharply. The most popular cryptocurrency almost touched USD 9,100 today. However, at pixel time (19:12 UTC) it already trades close to USD 10,000 again and is up by more than 3% in the past 24 hours.
Libra hearings, day 2:
Other key points from the hearing:
Marcus confirmed that until now all investments in Libra were made by Facebook only. He declined to provide any numbers.
To a question "What is Libra?", Marcus answered that it's a payment tool.
After Libra becomes a permissionless project, the Libra Association will still be able to set rules.
According to Marcus, Libra is a competitor to Paypal, Alipay and other payments companies.
There will be small or no fees on peer-to-peer transactions, while business-to-business transactions will have "small fees."
There will be no advertising on Calibra.
Marcus said he doesn't know yet, whether any restrictions will be applied to use Libra, for example, in case if someone is banned from using Facebook.
Calibra wallet will not share individual customer data with the Libra Association or Facebook.
The main use case of Libra in the U.S. - sending money abroad.
There will be countries where Calibra can't operate, but Libra might be accessible via other wallets.
At the moment there are no plans to start lending services, but there are banks that might want to engage in this.
Calibra will need to stick to their commitments as they will be competing with other wallets.
Calibra may offer other financial services should the project earns trust from clients.
_____________
Watch Congressman Patrick McHenry discussing hearings with Facebook and thoughts on their digital currency.
Meanwhile, German Finance Minister Olaf Scholz said on Wednesday that Facebook cannot go ahead with Libra until all regulatory issues are dealt with, Reuters reported. Additionally, French Finance Minister Bruno Le Maire said that "We cannot accept having any exchange currencies with the same kind of power and the same kind of role as sovereign currencies."
Other reactions:
---