Brief 12K, Many Exploits, Plenty ETH and 20 Crypto Jokes
This week, bitcoin hit USD 12,000 but fell right back in minutes. More bitcoin flash crashes are coming in this new bull market, a crypto investor warned, while Russian lawyers warned that e-pay laws may have knock-on effects for BTC. Meanwhile, XRP jumped upon seeing a strong demand from institutions, and both gold and BTC surge but expose a generational divide. Also meanwhile, we just might see a new Bitcoin Cash hard fork – Bitcoin Cat.
In exploit news, ETC suffered another 51% attack, a 'scamming' teenager, 'polite' lad, and 'very good person' were arrested for allegedly hacking Twitter, a hack forced travel company to pay USD 4.6m in bitcoin ransom, Bitfinex stepped up its hunt for the 2016 hackers, promising a USD 400m reward, Opyn said that they would reimburse the victims of the hack in full, and a vulnerability forced Ledger to choose between security and usability.
In ETH news, its trading volume doubled, its Medalla testnet went live, in June DeFi saved Ethereum, Coinbase blamed Ethereum fee spike for its performance issues, while Coca-Cola's new Bottling Harbor will use Baseline Protocol and Ethereum mainnet. Then we learned what the best time of day to make ETH transactions is, and that Ethereum won't give its USD 4bn DeFi throne to EOS or Tron anytime soon, which was followed by a new fight between Vitalik Buterin and Adam Back. Meanwhile, a US Congressman said that centralized money systems have 'never been good', while Goldman Sachs saw 'a resurgence of interest' in crypto from institutions.
And now – enjoy your weekly dose of best crypto jokes!
__________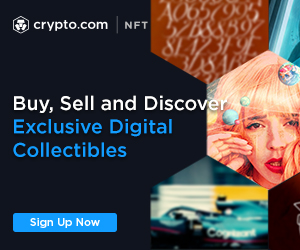 It looks like crypto twitter, but with less clashing. Hello, CT!
this is how uniswap works pic.twitter.com/DSM9i8ePgR

— The Crypto Dog📈 (@TheCryptoDog) August 6, 2020
__
Do you remember how much we all looked forward to the halving? Maybe you should sit down....
Most impactful events in crypto markets 2020:

1. Black Thursday meltdown
2. $COMP-led DeFi rally
3. Paul Tudor Jones buys BTC
4. India Supreme Court lifts crypto banking ban
...
99. Halving

— Jason Choi (@mrjasonchoi) July 12, 2020
__
Look at them working hard.
Bears practicing taking the trash outpic.twitter.com/3ZaBIvZZ56

— Sven Henrich (@NorthmanTrader) August 3, 2020
__
Speaking of hard-working bears, here's another one giving his absolute best.
Bitcoin told you not to trade..! Just HODL from r/CryptoCurrency
__
So, what's your plan for today?
A day in the life of a HODLER from r/Bitcoin
__
Thinking ahead.
When you buy a shitcoin but then later there's not enough liquidity to sell your bags it be like pic.twitter.com/3d28Xgum6o

— Matthew Graham (@mattysino) July 6, 2020
__
"Look, dad! What's this green paper?"
The Evolution of Ideas from r/Bitcoin
__
Very dad joke.
#dadjoke pic.twitter.com/EcvXEJRZTH

— Tari (@tari) July 29, 2020
__
Crypto space rule 1.4v2, aka Bacon Ruler of the Thumb (Phase 0,5 of Senility): expect the unexpected. Also, listen to your dad.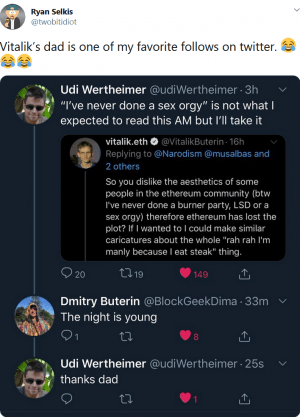 __
You may think it's one drawer, but there's an entire filing cabinet behind it.
How many excuses you got tho..?? #Bitcoin pic.twitter.com/bvKNBwmZJ6

— RD ₿TC (@RD_btc) August 6, 2020
__
You see, not even watching a short, 3-hour tutorial...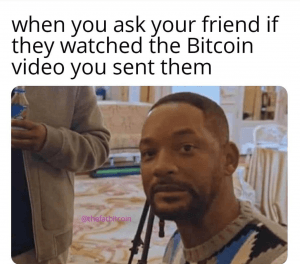 __
And then, this is what happens - have to argue with yourself.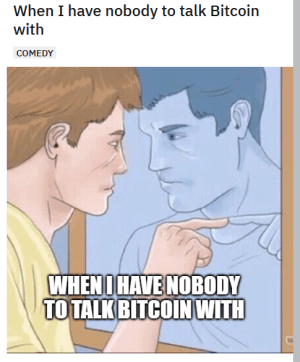 __
Now this is just funny! Both of these.
July 9, 2020
__
When you really want your friend request to be accepted.
July 9, 2020
__
Giving oneself a push...
Robinhood trader versus hedge fundspic.twitter.com/ybRqQPzEWs

— Sven Henrich (@NorthmanTrader) August 7, 2020
__
...before anyone else makes you run.
__
You wouldn't be buried in coins if you collected some sats instead. Just saying...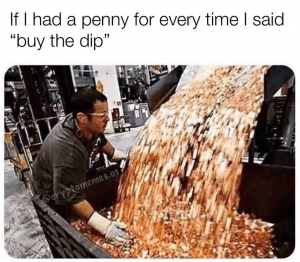 __
Not the dip we talked about.
When you are the last person to buy the pump and it dumps immediately after pic.twitter.com/OjuwLNYrLc

— Teddy (@TeddyCleps) July 19, 2020
__
Now, finish your lessons first...
__
...Then go have fun, crypto Padawans, Jedis, Siths, R2DSC3POBB8K2SOs, and others!