Gold and Bitcoin Surge Exposes Generational Divide – JPMorgan
Both younger and older investors are seeing the case for an alternative to fiat money, but the generations differ when it comes to what that currency should be: bitcoin (BTC) or gold.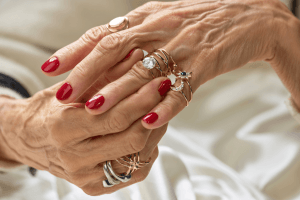 According to a note by strategists at investment banking giant JPMorgan Chase & Co that was quoted by Bloomberg, the older generations continue to favor traditional safe havens like gold and bonds over stocks, as alternative assets have come back in focus amid the COVID-19-triggered economic downturn:
"The older cohorts continued to deploy their excess liquidity into bond funds, the buying of which remained strong during both June and July," the note said.
For the millennials, however, bitcoin-backed exchange-traded funds (ETFs) and stocks of technology companies remained popular investments, the group of JPMorgan strategists led by Nikolaos Panigirtzoglou wrote in the note.
By analyzing investment flows in the market, the strategists concluded that both gold and bitcoin ETFs have been experiencing strong inflows over the past five months, driven partially by a decline in the value of the US dollar over the same time period, the report said.
And while there are still no regulated bitcoin-backed ETFs listed in the US, certain products such as the Grayscale Bitcoin Trust are accessible for investors through the public over-the-counter (OTC) market, which does not require funds to be registered with the Securities and Exchange Commission.
On Tuesday, gold price hit USD 2,000 an ounce for the first time, while BTC remained well below of its all-time high of USD 20,000, trading at around USD 11,200.
Bank of America estimates that the impact of coronavirus and US-China tensions could push the gold price towards USD 3,000 a troy ounce in the next 18 months, as reported by Financial Times yesterday.
BTC increased by 56% this year, while gold is up by 34%.
Bitcoin and gold correlation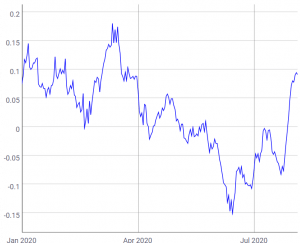 Meanwhile, Jim Reid, Research Strategist at German banking giant Deutsche Bank, said last month that despite he is 'a gold bug' due to the bleak future of fiat money in his "long-term work I've always found many commodities difficult to recommend on a buy and hold basis as most underperform inflation over the long run."
___
Learn more:
Bitcoin to Gold Correlation Rises, Physical Metal Buyers Pay Premium
Young Robinhooders Might Be a Driving Force for Bitcoin Market
Watch Q3 and Millennials Before Next Major Bitcoin Move – BitMEX CEO
'World is Ready for Private Money' - JPMorgan
'Difficult to Ignore' Shift As Grayscale Buys More Bitcoin Than Miners Generate
---