Ethereum Won't Give Its USD 4bn DeFi Throne to EOS, Tron Anytime Soon
Ethereum has the first-mover advantage, as it has had at previous times in crypto history. Tron and EOS are certainly trying to eat into Ethereum's dominance. The transition to Ethereum 2.0 may enhance Ethereum's dominance even further.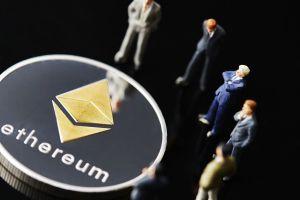 Most of the total value locked (TVL) into DeFi (decentralized finance) is locked into Ethereum (ETH)-based platforms, and in the short term, it seems like things are going to stay this way.
As for the longer term, industry observers told Cryptonews.com that Ethereum will remain the dominant DeFi platform, even if other blockchains – such as EOS and Tron (TRX) – will catch up to an extent.
This is because growth among DeFi-enabling blockchains will come from network effects as much as technological utility and capacity. And with Ethereum boasting the first-mover advantage and a rapidly growing, most likely, it will be the 'place to be' for DeFi.
The king network rules DeFi
Ethereum is by far and away the dominant DeFi blockchain. Taking data from DeFi Pulse and DeFi.Review, it would seem that it accounts for 90%-99% of the total value locked into DeFi platforms.
Looking at DeFi Pulse, all but one of the 36 DeFi platforms it tracks are based on Ethereum (the other one is Bitcoin (BTC)). Of the USD 4 billion currently locked into these 36 platforms, all but USD 11.5 million of this total is on Ethereum.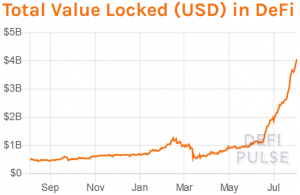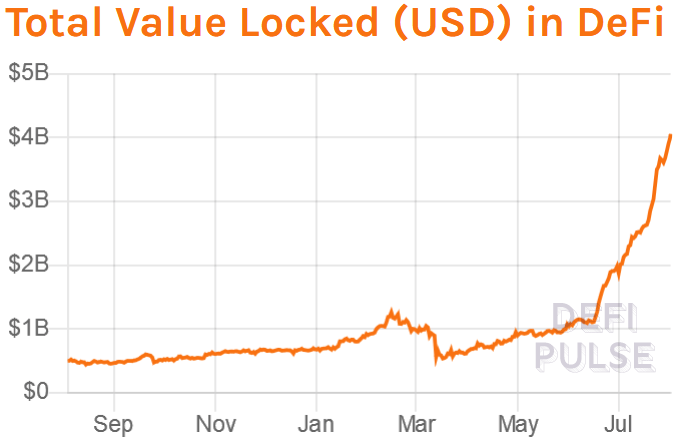 DeFi.Review tells a very similar story: only four of the 26 DeFi platforms it tracks are not on Ethereum. These four - EOS, Tron, Bitcoin, and WaykiChain (WICC) - account for almost 10% of the TVL (USD 3bn) tracked by Defi.Review.
Why is Ethereum so dominant? According to industry observers, this dominance comes not so much from Ethereum being technically superior, but from it being the first to move and the first to gain a sizable base.
"Ethereum has the first-mover advantage, as it has had at previous times in crypto history, from taking the lead in ICOs [initial coin offerings] and smart contracts and now DeFi," said Anndy Lian, a Singapore-based cryptoasset advisor and author.
Lian also noted that Ethereum has the second biggest market capitalization in crypto and is "one of the best testing beds for the industry. If ETH cannot make DeFi work, no one else can."
Figures working within DeFi take a similar view. A spokesperson for the Maker Foundation told Cryptonews.com that Ethereum's current success lies largely with the fact that it was able to quickly build up DeFi activity on its blockchain, something which attracts more users and more activity in turn.
"Scope, size and amount of activity on Ethereum are critical factors driving the DeFi ecosystem," they said.
Maker (MKR) now leads DeFi by TVL, with more than USD 1.2bn locked.
A chance for expansion
The Maker Foundation's spokesperson suggested that blockchains that can interoperate with or build on top of Ethereum may have a chance of expanding their market shares.
"Chains that can easily integrate or build across Ethereum should be able to take advantage of that activity and grow with it by providing scale for DeFi apps," they said.
On the other hand, the Maker Foundation isn't entirely confident that the DeFi market share of such chains can be substantial.
"Many of these exist today, but usage indicates that the DeFi market is currently prioritizing activity over efficiency or transaction costs."
In other words, the DeFi prize will go to the blockchain that can command the biggest network effects. This is Ethereum, and it's likely to remain Ethereum, even if other blockchains such as Tron and EOS increase their respective shares.
These two blockchains are certainly trying to eat into Ethereum's dominance.
Early in July, Tron founder Justin Sun announced the launch of three Tron DeFi projects, including a "JUST Lend" credit platform. Meanwhile, EOS announced the launch of the xNation platform in April, working in partnership with Bancor (BNT).
It's possible that the market shares of EOS and Tron will creep upwards in the coming months. Anndy Lian isn't sure how fast such growth will be, however.
"The market share is starting to spread but it will be slow," he said. "Ethereum will take the lead till 2021 on DeFi while the rest are playing catch up."
The impact of Ethereum 2.0
The transition to Ethereum 2.0 – and to a proof-of-stake consensus mechanism – may enhance Ethereum's dominance of DeFi even further. A 66% majority of polled Ethereum holders are planning to stake their coins in the network once it shifts to proof-of-stake, potentially increasing demand for the kinds of steady returns DeFi can provide.
"When ETH goes into its full scaling mode, this will create another wave," said Anndy Lian, who predicted a boost to DeFi from Ethereum 2.0.
The Maker Foundation also expects proof-of-stake to boost Ethereum-based DeFi. Although it estimates that the biggest boosts to DeFi's potential scale will come from interoperability and integration between blockchains, implying that there's space for other blockchains to grow their market shares.
"While Ethererum 2.0 should bring greater efficiency, it will likely fall on apps to find scale by integrating across chains."
Ethereum will likely continue to dominate DeFi in the future, yet other blockchains will play a role. The thing is, just how big and sustainable will the DeFi sector really be?
"If the current players create a proper environment and follow some form of governance, DeFi will grow stronger in the next 2 years time," predicted Anndy Lian. "But if everyone is trying to get short term gains and every project trying to become 'DeFi', then this crazy period will just be a shorter ICO-like run."
___
Learn more:
DeFi Punches Above Its Weight As it Targets Bitcoin's Thunder
DeFi on 'Tesla's Path' as Tokens Skyrocket On Hopes, Not Results
Yield Farming 'Frenzy' Didn't Boost DeFi User Numbers
DeFi Faces Multiple Challenges On Its Way To Dominate Crypto
---