XRP Jumps As Ripple Sees Stronger Demand From Institutions
After a decline in its sales of XRP tokens in the first quarter of the year, the California-based fintech firm Ripple sold more in the second quarter thanks to demand from institutional buyers.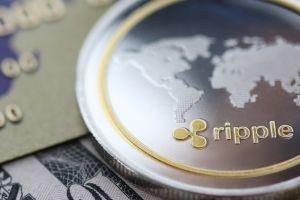 Ripple's total XRP sales ended at USD 32.55m for the second quarter, versus USD 1.75m for the first quarter – a more than 18x increase, the company said yesterday. It had continued the previously reported pause in so-called "programmatic sales" of XRP – essentially meaning open market exchange sales – and instead shifted all selling activities to over-the-counter (OTC) markets. The shift is part of a strategy by Ripple to provide "increased XRP liquidity to RippleNet's On-Demand Liquidity (ODL) customers," the company said, adding that they are seeing increased interest from financial institutions in using its solutions:
"More than ever, financial institutions are seeing the value of RippleNet's ODL service to provide instant, global payments and meet market demand, especially during times of crisis due to the exposed risk and increased volatility," the quarterly report said, while adding that ODL made up "nearly 20% of RippleNet volume" in the second quarter.
"Comparing just H1 2019 with H1 2020, RippleNet experienced 11x year-over-year growth in ODL transaction volume," the report said.
XRP price reacted positively to the new report, outperforming many other major cryptoassets today.
At the time of writing, (07:49 UTC), XRP was up by 3.87% over the past 24 hours, trading at a price of USD 0.3117. The gain today follows what has been a stellar week for XRP, with a 7-day price surge of more than 40% – the third highest among the top 100 cryptoassets by market capitalization.
XRP price chart: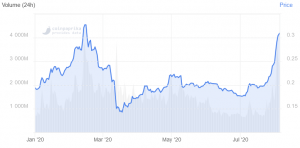 However, OTC sales are still smaller compared to the highs seen in 2019.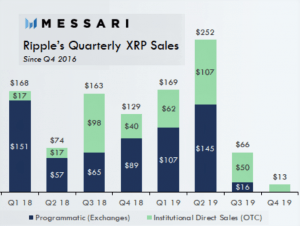 Also, XRP's trading volume figures revealed a marked decrease in trading volume across exchanges in the past quarter compared to the first quarter. According to the firm's data, average daily volume stood at USD 196m in Q2, versus USD 322.7 in Q1.
__
Learn more:
Ripple is Selling XRP at a Discount to Some Institutional Buyers
XRP Giveaway for Exchange Clients, eSports Teams to Get XRP
Ripple Lawyers Hit out at XRP-related Class Action Suit Claimant
---