XRP Price Prediction – Will XRP Reach $5 in 2023?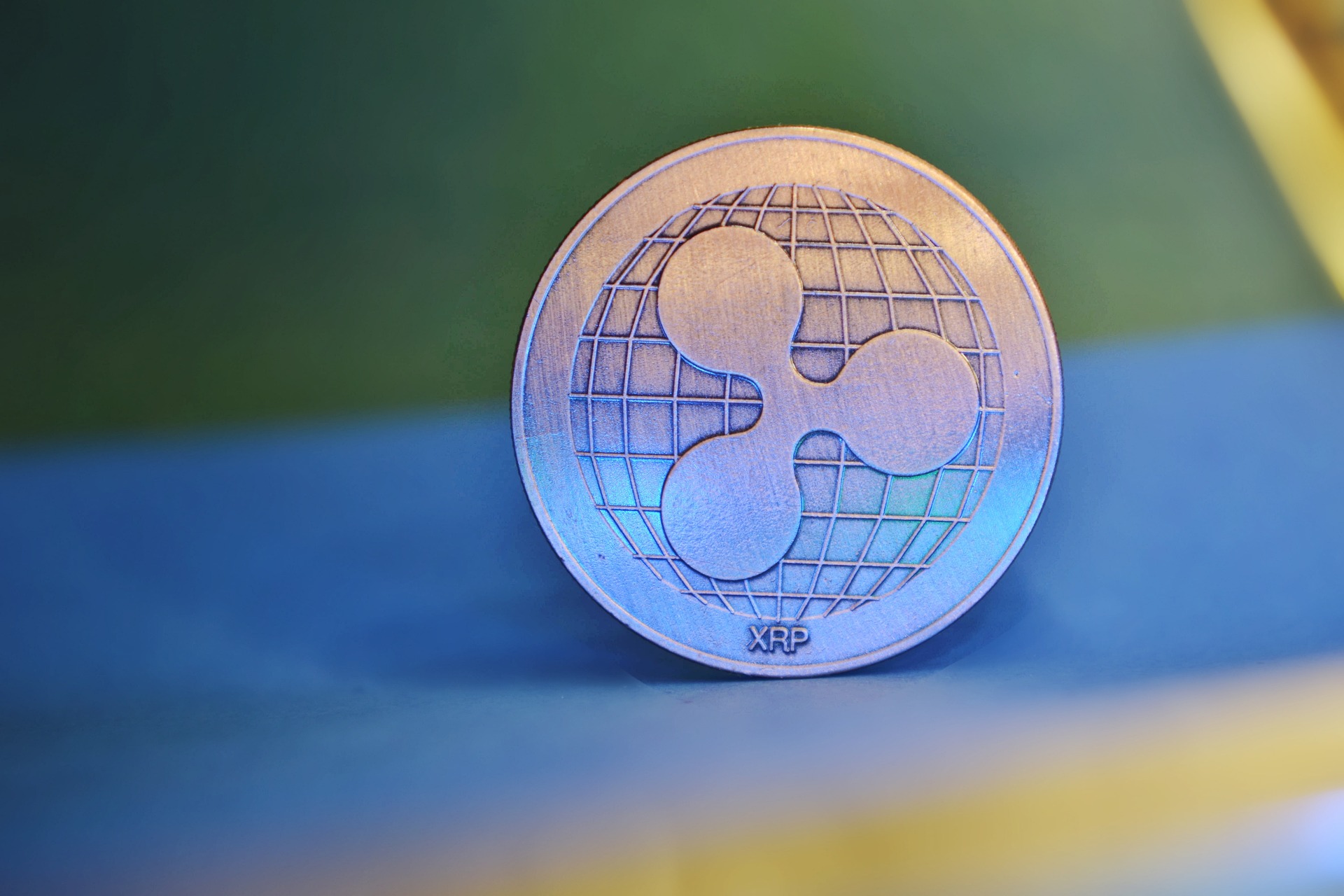 The XRP price has fallen by 2.5% in the past 24 hours, dropping to $0.459316. It's also down by 5.5% in the last seven days, yet ongoing expectations of a positive end to the Ripple-SEC case also means that it remains up by 27% in the last 30 days.
Tellingly, the altcoin has also risen by an impressive 115% since December 31, 2020, when the SEC's announcement of legal proceedings against Ripple caused it to fall to $0.212070. This actually makes it one of the best-performing major cryptocurrencies of the period since (e.g. bitcoin is actually down since December 2020), while a favorable settlement for Ripple will likely cause the price of XRP to rise significantly.
XRP Price Prediction – Will XRP Reach $5 in 2023?
According to XRP's technical indicators, it's still riding a wave of momentum that began in mid-September. Its 30-day moving average (red) continues to climb above its 200-day average (blue), suggesting that it has some time left before its current momentum subsides.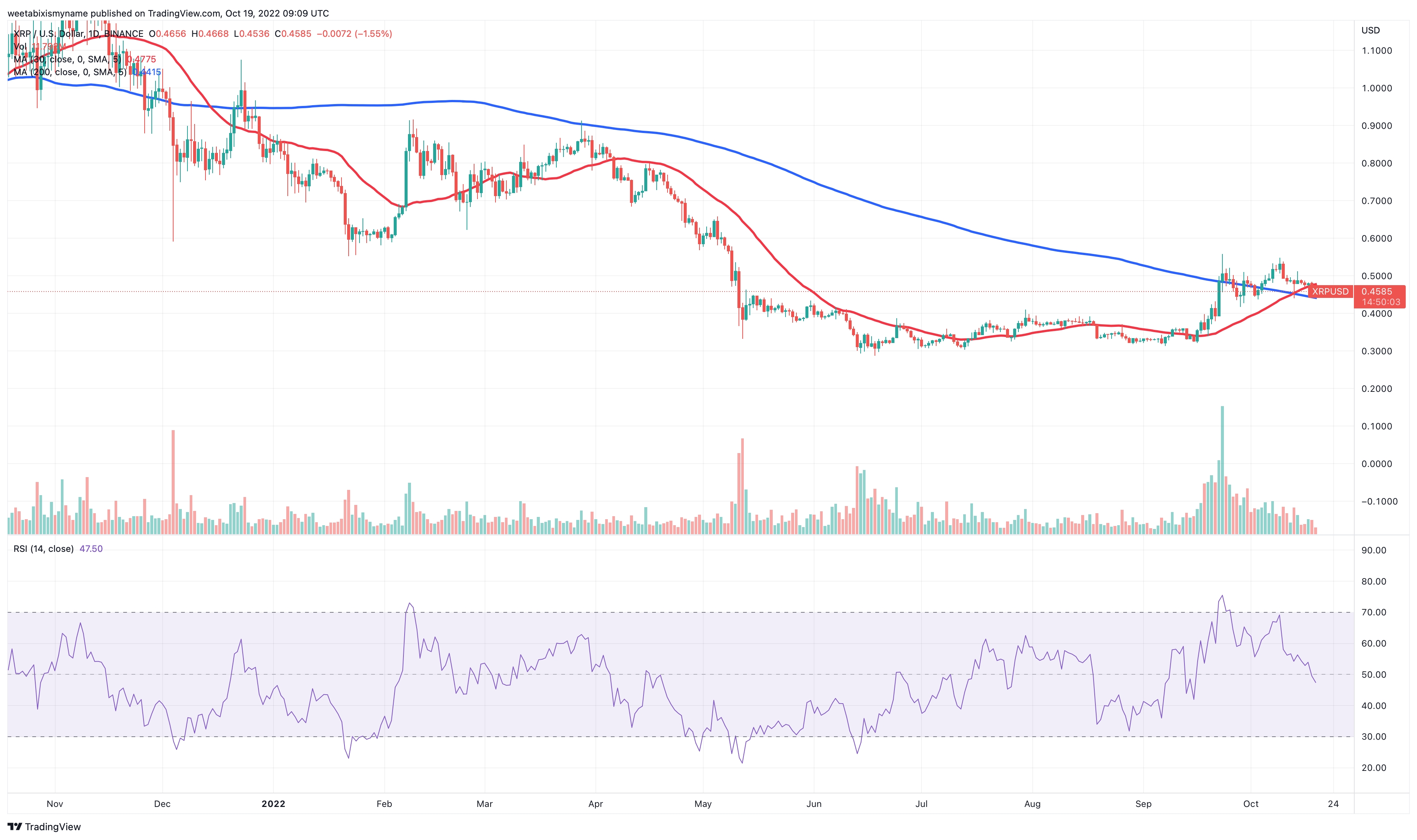 At the same time, its relative strength index (purple) has dropped from 70 a week or so ago to just under 50 today. This, however, is more to do with wider market sentiment than with XRP itself, with rising inflation still causing plenty of pessimism among investors.
As far as XRP is concerned, it has had a good month or so, having risen by 41% since reaching a low of $0.325002 on September 16. It was around this time that both the Ripple and the SEC submitted motions for summary judgment, meaning both parties have asked the court presiding over their case to set down a schedule for reaching a settlement.
Needless to say, this is highly bullish for Ripple. Over the past year or so, it has witnessed a number of rulings which indicate that any summary judgment would be positive for it.
Most recently, Judge Torres ruled last week that Ripple could present two amicus briefs, which are basically pieces of evidence given by external sources. This ruling came against the SEC's objections, indicating that the regulator certainly isn't getting an easy ride.
Perhaps more importantly, March also brought news of the court upholding Ripple's right to use a fair notice defence, which the SEC had filed a motion to dismiss. This motion was denied, meaning that Ripple can present evidence showing that the regulator failed to give it sufficient warning that XRP was likely to be deemed a security.
Such developments also go together with Ripple exec Brad Garlinghouse going on record as saying that he feels confident about the case, as well as Ripple itself preparing for an IPO should it gain a good settlement. As a whole, they have created the expectation that the company will prevail in its case, and that XRP will rocket as a result.
How High Can XRP Go?
Of course, this doesn't necessarily mean that XRP will set new records immediately upon a good settlement for Ripple. On the one hand, this is likely because the market may still be weathering bearish conditions when the case ends, yet there's also a chance that a Ripple win has already been priced in (given how XRP has beaten much of the market recently).
Nonetheless, most figures within the cryptocurrency sector expect XRP to rally in the medium- to long-term following the case's conclusion. A recent poll of 55 specialists produced an average prediction that XRP will reach $3.81 by the end of 2025 if Ripple wins.
Given that XRP's current all-time high of $3.40 was set back in January 2018, it's arguable that this estimate is conservative, if only because the altcoin missed out on setting a new record during the 2020-21 bull market (something which most of its rivals did). At the same time, Ripple has been able to continue expanding its network even during the case, implying that XRP's current price is likely a gross undervaluation.
Still, it may take some time for XRP to reach a new record high following a victory, so for the less patient traders out there, it's worth looking at other alternatives for relatively big gains. One promising area to consider in this respect are presales, with a number of successful token sales this year leading to big returns after exchange listings.
One of the most interesting presales happening right now is for the Impact Project (IMPT), an Ethereum-based carbon credit marketplace. Its platform will enable consumers to earn NFT-based carbon offsets via shopping online with eco-friendly retailers, and since launching on October 3, its token sale has already raised over $5.5 million.
Whether IMPT sees truly substantial gains after it lists is open to speculation, but it's clear that its native platform has some strong fundamentals and may attract ESG investors. This gives it as good a chance as any of rising in the coming months.
---