XRP Price Prediction as XRP Blasts Past $0.50 Resistance – $1 XRP Soon?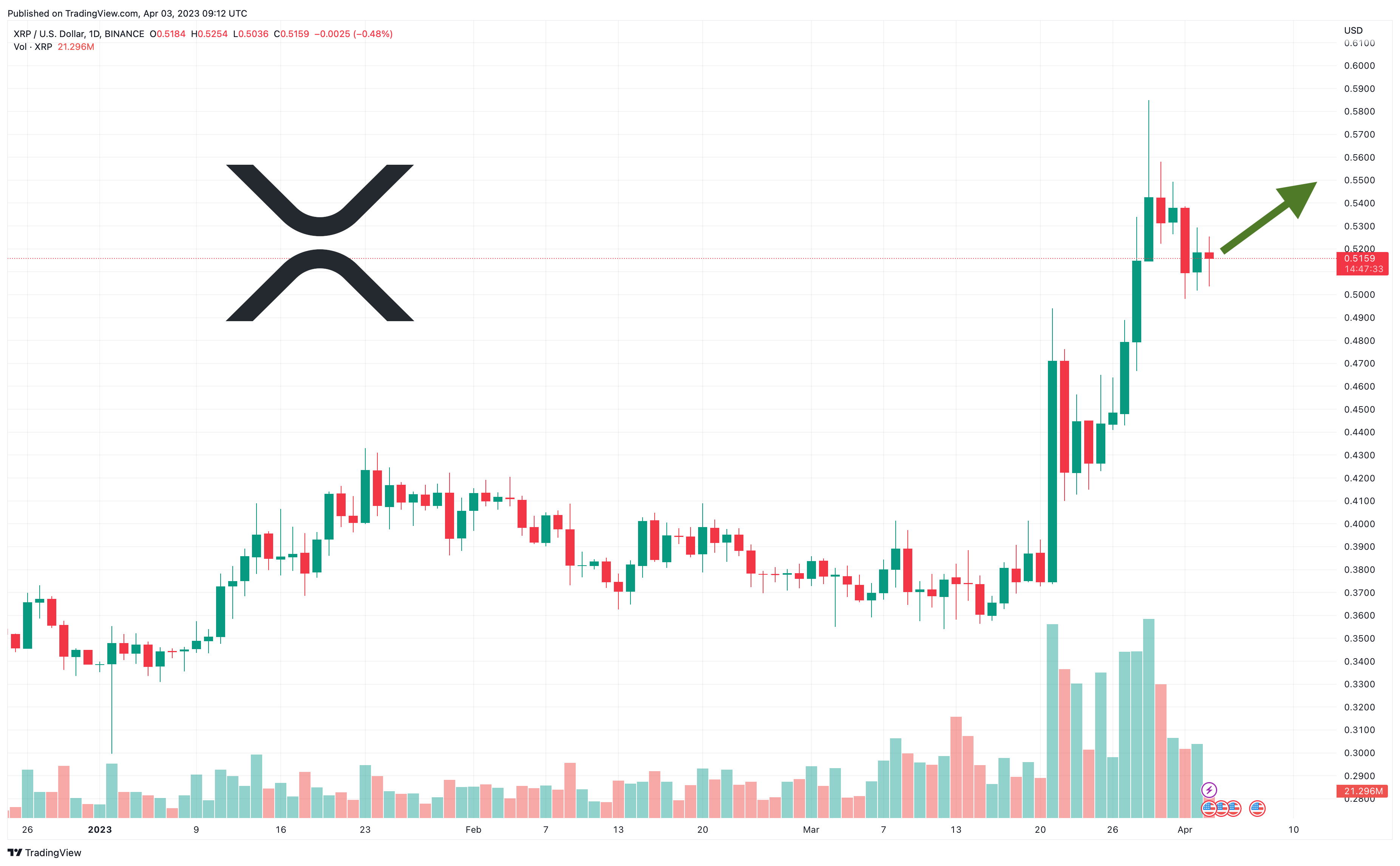 The XRP price has barely budged in the past 24 hours, rising by 0.2%, with its current price of $0.517976 representing a gain of 15% in the past week.
The altcoin has also risen by 36% in the last 30 days and by 52% since the start of the year, with positive expectations regarding the outcome of the Ripple-SEC case largely responsible for its recent outperformance of the market.
And with some observers expecting a conclusion to this case very soon, it may not be long before XRP witnesses further rallies.
XRP Price Prediction as XRP Blasts Past $0.50 Resistance – $1 XRP Soon?
XRP's indicators still occupy a bullish position, and while they may have a little more space to rise further, they could just as easily witness a correction in the short-term.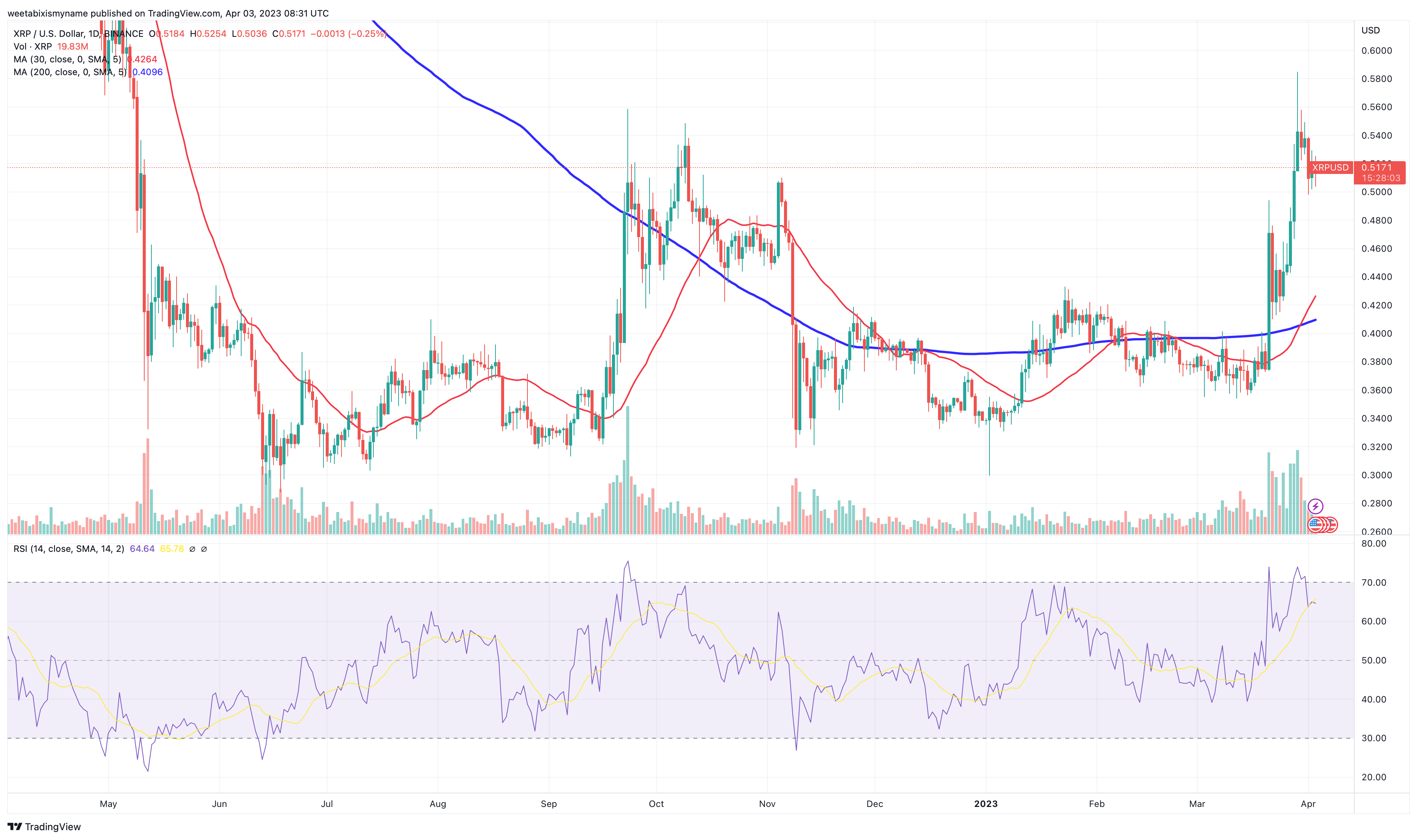 Its relative strength index (purple) has recently dipped after passing 70 a few days ago, although its 30-day moving average (red) continues to surge ahead of its 200-day average (blue).
As such, there may be further rises in the next few days before XRP's momentum sags too much and it has to endure a correction.
That said, if Ripple does secure a positive judgment or settlement in the days next few days or weeks in its case with the SEC, then XRP could just as easily begin an even bigger rally, defying its current indicators in the process.
Interestingly, recent whale alerts have revealed that Ripple is sending millions of dollars in XRP back to its escrow wallets, with several large transfers happening within the past couple of days.
Given that Ripple generally deposits and withdraws XRP to and from these wallets in order to maintain a consistent supply of the coin, responses to these recent transfers have suggested that they could signal a selloff in the near term.
This view is potentially supported by another big transfer, with one whale sending nearly $11 million in XRP to Bitstamp in the past 11 hours.
However, even with this short-term bearishness, it's clear that XRP is set to surge if Ripple secures the equivalent of a victory in its case with the SEC.
A decision in this case could arrive almost any moment now, with recent analysis from lawyer John E. Deaton suggesting that it could arrive at any pointing between the next few days and the next couple of months.
And when the long-awaited ruling does finally arrive, there's an expectation (at least within the cryptocurrency community) that it will be a positve one for Ripple, enabling the firm to continue its business as before.
This is based on the perception that, while Ripple has mounted a strong case in its defense, the SEC has mounted a generally weak one, in which it has mostly failed to substantiate its key arguments and claims.
For instance, last month brought the decision to exclude one of the SEC's expert witnesses, who the regulator had called upon to testify that XRP buyers had had a reasonable expectation of profit when they initially bought their tokens from Ripple.
This isn't the only decision to have gone Ripple's way in recent months, with the firm also famously securing the right to present a fair notice defense.
It has also been able to have around 14 amicus briefs submitted in its defense to the court (including one from Coinbase), while the SEC had only one.
Taken together, such developments invoke a scenario where Ripple has a good chance of winning, and where XRP skyrockets as a result.
Such skyrocketing will follow a positive outcome almost immediately, yet the altcoin's price will also steadily rise in the following months, as Ripple grows its business.
Even with the case hanging over it, Ripple has been steadily growing, with XRP Ledger accounts rising to almost five million since the case began in December 2020.
Ripple's financial reports also reveal steady net sales of XRP, with the company's cross-border payments business expanding into several new markets in recent months.
As such, it's not unreasonable to expect XRP to hit $1 in the weeks following a Ripple victory, and it could rise even higher by the end of the year.
And assuming a return to more bullish market-wide conditions, XRP could also beat its current all-time high of $3.40, which was set back in January 2018.
XRP Alternative: New Web3 Token
While XRP is certainly primed for a big rally sooner or later, such a rally isn't guaranteed, while it could also take a few months to arrive.
Because of this, traders may prefer to consider newer altcoins for above-average gains in the near term, with presale tokens proving particularly profitable in the past year.
One of the newest and most interesting of these is DeeLance (DLANCE), which recently opened its public coin offering.
DeeLance is an Ethereum-based recruitment and freelancing platform for the Web3 sector, with it planning to launch in beta by the end of Q2 2023.
It will enable freelancers find work with businesses in the crypto sector (and vice versa), while its native DLANCE token will enable users to pay for items within the DeeLance ecosystem.
The presale is currently in its first stage, with one DLANCE token costing $0.025, although this price will rise to $0.027 by stage two (and to $0.035 in the final stage).
Investors can participate by going to the official DeeLance website and connecting their wallets, before using either USDT or ETH to purchase DLANCE.
---