XRP Price Prediction as Judge Rules in Favor of Ripple to Deny SEC Motion to Seal Hinman Documents – XRP to $1?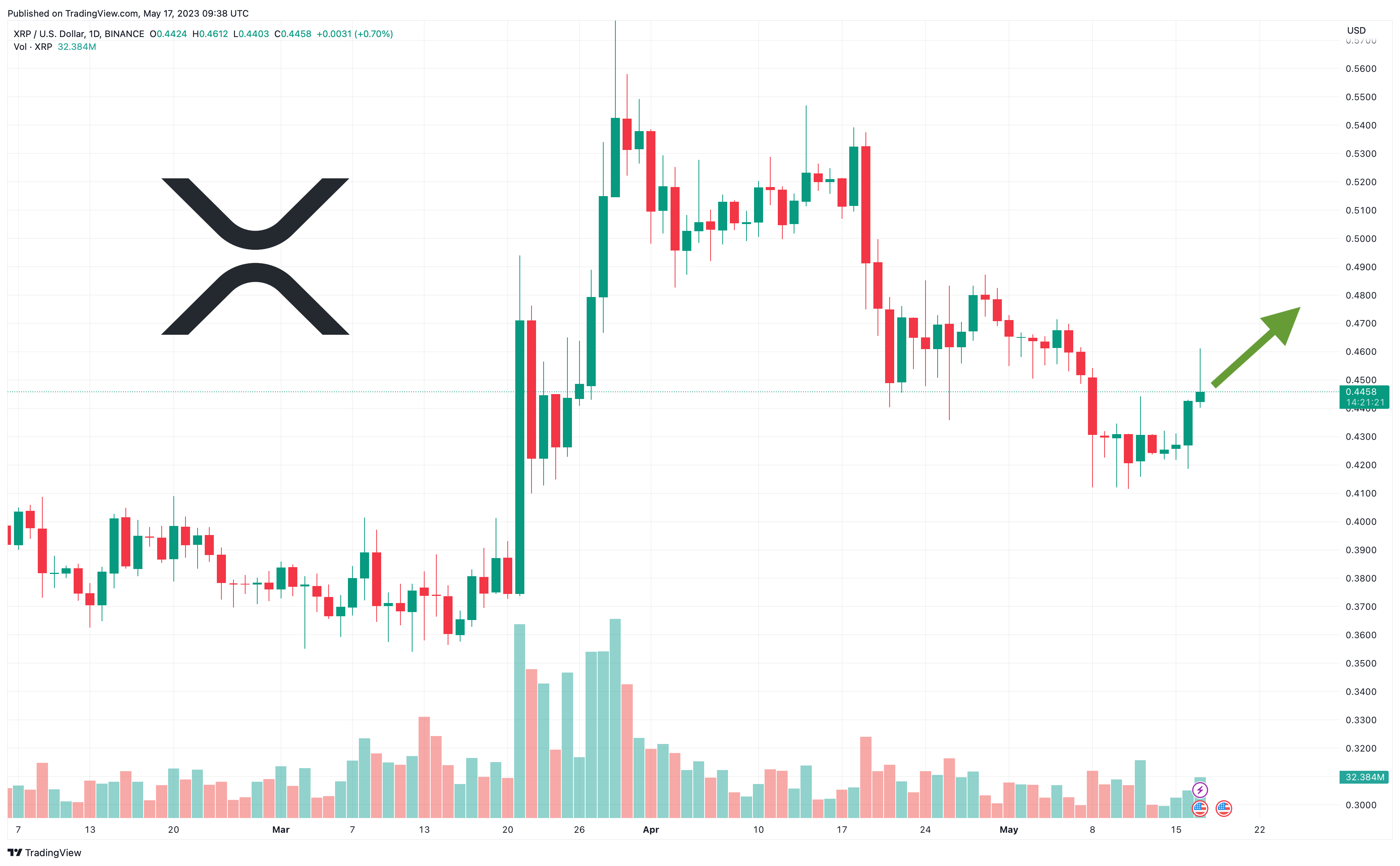 The XRP price has jumped by 5% in the past 24 hours after the judge presiding over Ripple's case with the SEC denied the regulator's motion to seal important documents.
At $0.446896, XRP is up by 4% in a week but down by 13% in the last 30 days, with today's spike going some way towards reversing losses suffered by the altcoin in the past couple of weeks.
And given that Ripple and the court will now have access to docs related to the famous William Hinman speech in 2018, the expectation is now that the company is in a very good position to secure a favorable summary judgment or settlement.
If so, XRP could rise much higher in the coming weeks and months, potentially becoming one of the best-performing major tokens of the year.
XRP Price Prediction as Judge Rules in Favor of Ripple to Deny SEC Motion to Seal Hinman Documents – XRP to $1?
Unsurprisingly, XRP's price chart shows a very significant breakout today, something that was arguably overdue in light of how oversold and undervalued the altcoin had become in recent weeks.
While XRP's relative strength index (purple) has dipped again after reaching almost 90 early this morning, it's likely to maintain its momentum at a level above 50, raising the possibility of further gains.
Also raising this possibility is its 30-day moving average (yellow), which has just overtaken its 200-day (blue), reinforcing the impression that XRP is in the middle of a breakout rally.
Such a rally has been due for quite a while, especially given the expectation that the Ripple-SEC case is due to end in the near future.
And after Judge Analisa Torres denied SEC's motion to seal the Hinman documents, it now really seems that Ripple has a very good chance of getting something good out of the case.
The reason why these documents are so significant is that they could shed light on the SEC's stance on cryptocurrencies and securities, with the aforementioned Hinman speech finding the regulator's former director (of its division of corporation finance) declaring that Ethereum is not a security.
It's assumed that documents relating to this speech may bear on Ripple and XRP, potentially revealing that the securities did not regard the latter as a security.
If this turns out to be true, it would significantly weaken the SEC's case, while strengthening Ripple's long-running claim that it did not have fair notice that the regulator was minded to regard XRP as a security.
And for some observers, the fact that Judge Torres has denied the SEC's motion is a strong sign that a summary judgment is close to being issued.
While it's not clear just how positive such a judgment would be for Ripple, yesterday's development and the case's general progress over the last few months suggest it would be mostly favorable.
As such, it's now entirely credible to believe that XRP is set to rally big once the case reaches its conclusion.
From its current level of around $0.445, it could easily return to $1, a price it hasn't had since November 2021.
Of course, given that the case had been underway for nearly a year at this point, XRP's price could also surpass $1 in the months following the case's conclusion.
And if the wider cryptocurrency market enters a more bullish phase around the time the case ends, XRP could even end up shooting for its current all-time high of $3.40, set back in January 2018.
Diversification with New Altcoins
But seeing as how it's not guaranteed that Ripple will get the outcome it wants, traders may be advised to diversify their portfolios with other altcoins, with some newer alts showing great potential at the moment.
This is particularly the case with some of the best presale tokens, with one of the most successful at the moment being AiDoge.com, an AI-powered meme-generating platform that has already raised more than $8.5 million since the offering for the $AI token began at the end of April.
Due to launch in the fourth quarter of the year, AiDoge's platform uses advanced AI algorithms and large datasets to generate memes.
Users simply have to enter short text-based descriptions to generate memes, while also holding enough $AI to pay for the service.
Users can also upvote and downvote created memes, with the highest-ranked images earning their creators rewards in $AI.
$AI can also be used for staking, meaning that the altcoin offers real utility, in contrast to most other meme tokens.
Investors can participate in its presale by visiting AiDoge's official website and connecting their wallets, before using ETH, BNB, USDT or fiat currency to buy $AI.
1 $AI now costs $0.0000308, which will rise to $0.0000312 in the sale's next stage, while it will list at $0.0000336.
However, with interesting features and growing popularity, $AI could easily smash this price once it gains a few big exchange listings.
---