XRP Price Prediction as $800 Million Trading Volume Floods In – Are Whales Buying the Dip?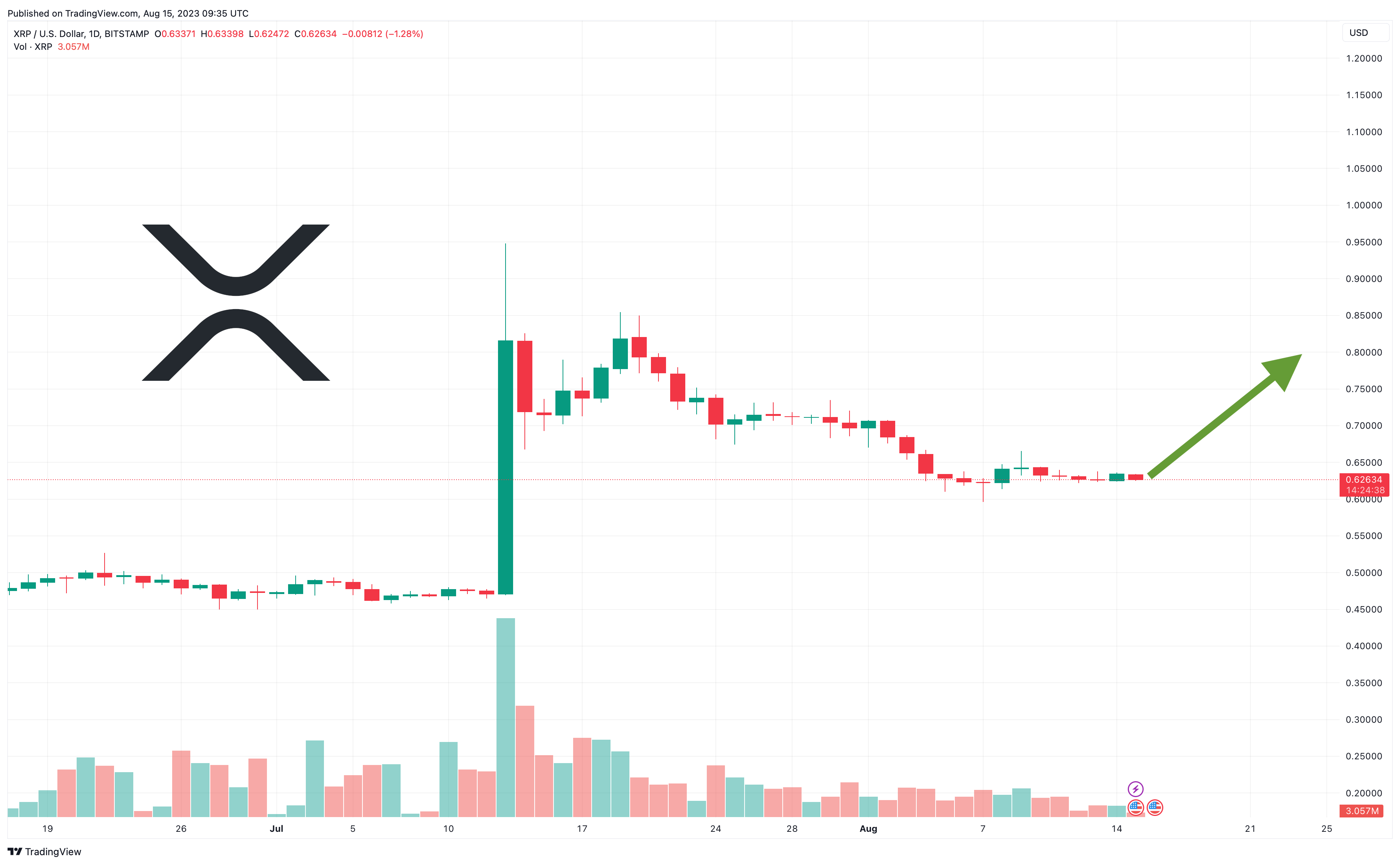 The XRP price has remained stuck at $0.626890 this morning, in line with a cryptocurrency market that also hasn't really moved in the past 24 hours.
This puts XRP at a 1% gain in a week and a 12% loss in the last 30 days, with the altcoin having risen by 84% since January 1, largely as a result of the mostly positive result Ripple had witnessed in its case with the SEC.
However, with the SEC seeking to appeal aspects of this ruling, some of XRP's momentum has been lost, whle the coin has also been affected by market-wide negativity, which has arisen from a combination of the US debt downgrade, continued rate hikes, and concerns surrounding the Chinese economy.
But with XRP's position remaining as strong as it was a month ago, and with its trading volume nearing $1 billion, it's likely that the altcoin will rise again soon.
XRP Price Prediction as $800 Million Trading Volume Floods In – Are Whales Buying the Dip?
The chart below indicates the extent to which XRP has corrected since the euphoria of mid-July, when the aforementioned Ripple ruling arrived.
Now, the altcoin's indicators are in weak positions, yet the flipside of this is that it should be due for a rebound anytime soon.
Its relative strength index (purple) is wobbling around the 50 level, a position where it could go either way, depending on external push and pull factors.
On the other hand, XRP's 30-day moving average (yellow) has remained below its 200-day average (blue) for the best part of a week now, meaning that the coin has been oversold and should correct upwards in the near future.
Such cautious optimism is also supported by the altcoin's support level (green), which has gradually risen since last week, in an apparent sign that XRP has finished its recent drop.
As mentioned above, XRP's earlier momentum has been spoiled by the SEC's request for an interlocutory appeal, with the regulator seeking to challenge Judge Analisa Torres' conclusions regarding Ripple's programmatic sales of XRP on exchanges.
This has soured the mood surrounding XRP, yet some legal commentators suspect that the SEC's request for an appeal may not even be granted, let alone be successful.
As such, not much has really changed with regards to XRP's current status, and even if the SEC has its appeal granted and then wins this appeal, it's likely that exchanges will continue listing the altcoin.
For this reason, it can be expected that XRP will continue its steady rise over time, particularly with Ripple announcing a number of important partnerships in the past few weeks.
From its current level at around $0.626, XRP could return to $0.70 in the next few weeks, before seeing out the year at around $0.80.
First XRP, Now XRP20
Because XRP may require some time to lock in substantial gains, many traders are recommended to diversify into newer altcoins that have bigger short-term potential.
This includes presale coins, which can often see double-digit percentage gains (if not higher) when listing on exchanges.
And one of the most interesting presale tokens available right now, especially from an XRP perspective, is XRP20, a new ERC-20 coin that has already raised just over $3.2 million in only a few weeks.
This is a massive sign of just how enthusiastic many investors are about XRP20, which is now very close to hitting its presale's hard cap of $3.68 million.
The altcoin's appeal is two-pronged: on the one hand, it comes with the same maximum supply as XRP itself (100 billion tokens) and is currently priced at $0.000092, which was the price XRP had way back in 2014.
On the other hand, it's an Ethereum-based token, meaning that its holders can use it for staking, something which can earn them a passive income (on top of any gains from price increases).
If that weren't already bulllish enough, XRP20 has a built-in burning mechanism, with 10% of its total supply set to be burned over time.
This should make it deflationary over time, helping its holders to make some serious gains once it lists on trading platforms.
Yet time is running out for anyone who wants to acquire the coin during its presale, with new investors able to buy XRP20 by visiting its official website and connecting their software wallets.
Disclaimer: Crypto is a high-risk asset class. This article is provided for informational purposes and does not constitute investment advice. You could lose all of your capital.
---