Thai Central Bank Delivers Mixed 'Digital Currency' News
The Thai central bank says it is currently testing the use of "digital currency" as a means of payment among financial institutions in the country, with a view to beginning transactions early next year – although a national digital fiat may still be some way off.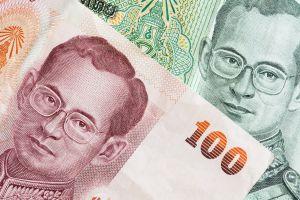 Per media outlet Thai News Agency, Bank of Thailand (BoT) governor Veerathai Santiprabhob, stated that "full implementation of digital currency [payments] among financial institutions" would take place "during the first quarter of 2019."
Thai financial authorities appear keen on adopting pro-cryptocurrency or digital fiat policies as part of a wider cashless society drive. However Santiprabhob warned that a digital fiat might take anywhere between three and five years to develop. The governor stated that the task was "complicated," needed technological expertise and required the nation to be "ready" to adopt a digital fiat.
It is not clear which sort of "digital currencies" the BoT is considering making use of – but if a Thai digital fiat is not yet on the cards, the central bank may be considering using an existing stablecoin or even a widely used cryptocurrency such as Bitcoin.
Thailand's regulatory Securities and Exchange Commission (SEC) has recently warned citizens that they risk running into legal problems if they trade using unlicensed exchanges, hitting out at Thai-South Korean joint venture Q Exchange in the past week.
A plethora of South Korean companies are known to be planning to open exchanges in Thailand, including Bithumb and Upbit – South Korea's market leaders. Rival South Korean exchange Coin25 has already set up a Bangkok branch. However, the company appears to be attempting to avoid irking the SEC by only currently offering trading in its own native coin.
Recently, Christine Lagarde, the Managing Director of the International Monetary Fund (IMF) suggested that governments could set up their own cryptocurrencies.
"The advantage is clear. Your payment would be immediate, safe, cheap, and potentially semi-anonymous. And central banks would retain a sure footing in payments," Lagarde said at a fintech conference in Singapore. She added, that "they would offer a more level playing field for competition, and a platform for innovation. Meanwhile, your bank or fellow entrepreneurs would have ensured a friendly user experience based on the latest technologies."
_____
Weekly LocalBitcoins, a peer-to-peer bitcoin marketplace, volume (in bitcoin) in Thailand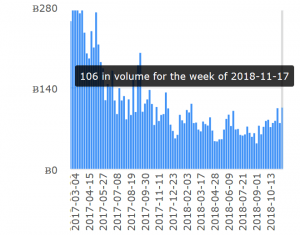 ---