Spongebob Token Price Prediction - Can the $SPONGE Token Match Pepe Coin's Growth?

Disclaimer: The Industry Talk section features insights by crypto industry players and is not a part of the editorial content of Cryptonews.com.
Meme coins have taken the crypto market by storm over the past few weeks, with projects like Pepe Coin (PEPE) and Turbo (TURBO) both producing enormous returns for investors.
Given the price explosions of these coins, many alternative projects have sprung up looking to match (or exceed) their growth.
One coin currently making waves in this regard is Sponge (SPONGE) – a brand-new, SpongeBob-themed meme coin that looks set to go viral in the coming days.
$SPONGE Soars Over 300% Following Uniswap Listing. Could This be the Next Meme Coin to Explode?
SPONGE was launched on May 4th with little to no fanfare, taking a different approach than most new cryptocurrencies. Rather than establish itself through a presale phase, SPONGE instead quietly became available on Uniswap.
According to CoinMarketCap, Uniswap is the world's largest decentralized exchange (DEX), facilitating over $650 million in daily trading volume. Moreover, Uniswap controls nearly 20% of the DeFi trading market, making it the ideal platform for a SPONGE price pump.
In less than 12 hours of the SPONGE token being live on Uniswap, the price had soared over 320%. Since then, SPONGE's price has risen even higher, reaching the $0.0001253 level.
This means SPONGE is up an incredible 358% from its launch price in less than one day of trading.

Per blockchain data site DEXTools.io, over $2.5 million worth of SPONGE tokens has been traded since the token launched. Moreover, the project now boasts a market cap of $5.07 million.
Interestingly, the buy orders keep coming in for SPONGE tokens – with one high roller even investing $19,000 in the project in the last two hours.
The hype around SPONGE has even led to the token being listed on CoinMarketCap, which is an accolade that usually takes weeks (if not months) to achieve.
Given SPONGE's remarkable rise, many are already speculating that it could follow in Pepe Coin's footsteps and produce quadruple-digit gains for early investors.
Exponential Returns Potentially on the Horizon for Early SPONGE Investors
As investors have seen recently, meme coins are back with a bang.
Ever since Elon Musk decided to change the Twitter logo to Dogecoin's logo, the interest in meme coins and tokens has skyrocketed. As touched on earlier, Pepe Coin and Turbo are the two that have benefitted most from this interest, with the PEPE price up over 3,000% from mid-April.
The exciting thing about these meme coins is that they don't abide by "typical" asset pricing laws because the price is solely fueled by hype and buzz from retail traders.
Although this may seem illogical, it can often produce exponential price growth in the situations that it succeeds – as investors are seeing currently.
However, many meme coins experience tremendous price pumps, then fall dramatically, meaning investors always need to be aware of the "next big thing" in the market.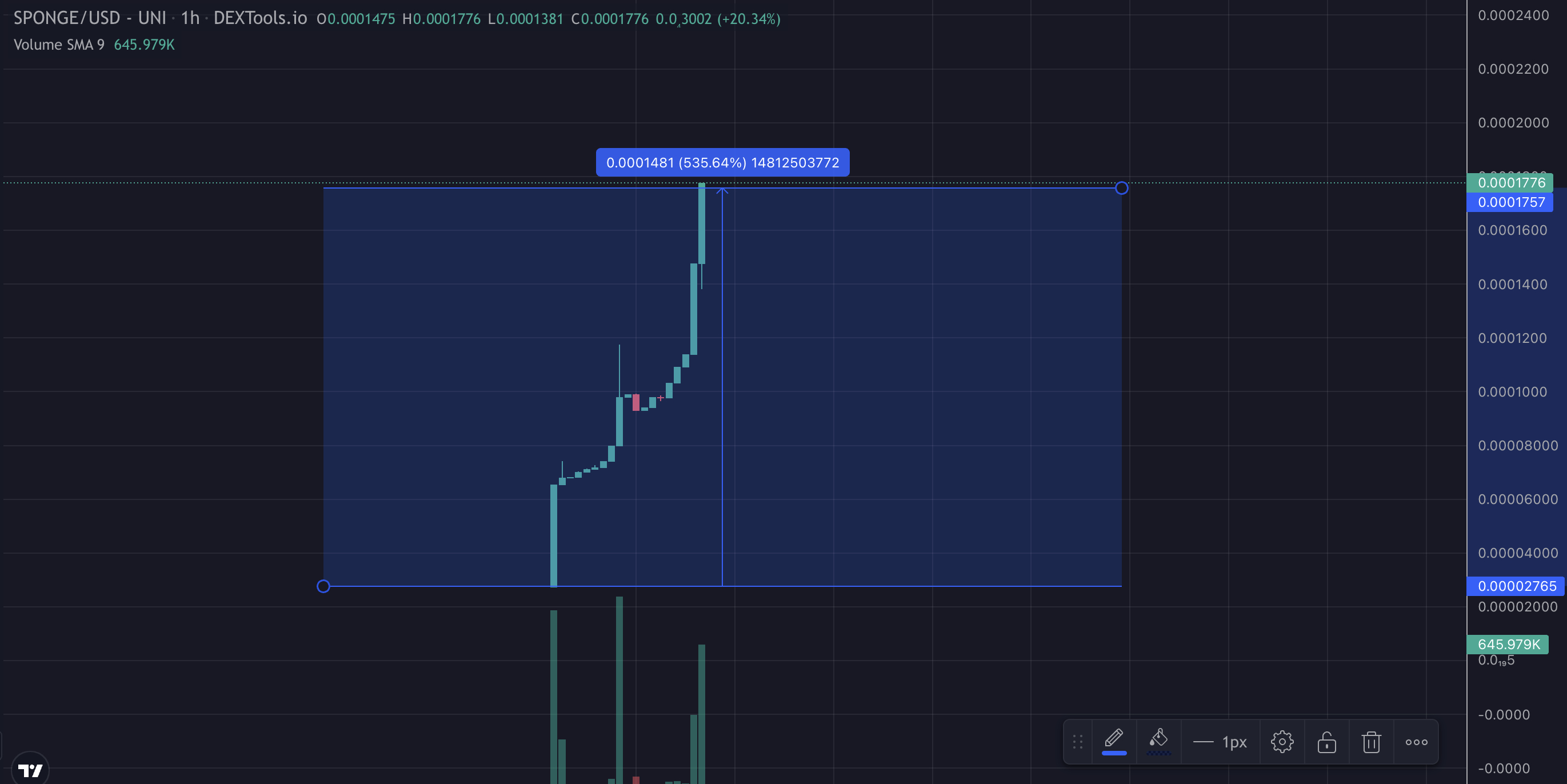 SPONGE could be a viable option in this regard since it has only just launched, meaning the broader investment community hasn't yet got its hands on the token.
The token isn't yet a day old, so there's no telling how high the price could go. However, based on its current trajectory, there's every chance SPONGE could produce similar gains to PEPE and TURBO.
Realistically, there's scope for SPONGE's price to hit the $0.00035 mark in the coming days if buyer momentum continues. This would represent an incredible 1,172% increase from its launch price.
If this occurs, we'd likely see the SPONGE token be listed on additional DEXs – and perhaps even CEXs.
The increased liquidity and accessibility this would provide can't be understated. Due to this, SPONGE could even reach the $0.0006 level before the end of the year – which would be 2,123% higher than its launch price.
As with all new crypto projects, there's no telling where the price could head – or whether the bullish momentum will continue to play out. Given this, investors must be prepared to do their own research before investing.
SPONGE Token – Why the Incredible Hype?
Wondering why so many investors are flocking to buy Spongebob token right now? Given the coin's remarkable rise, many investors are already asking: what is the $SPONGE token?
Put simply, SPONGE is an homage to the beloved SpongeBob SquarePants character, which became famous due to the TV show that shares its name.
As noted on the SPONGE token's Twitter page, this project aims to be the "Krabby Patty of meme coins."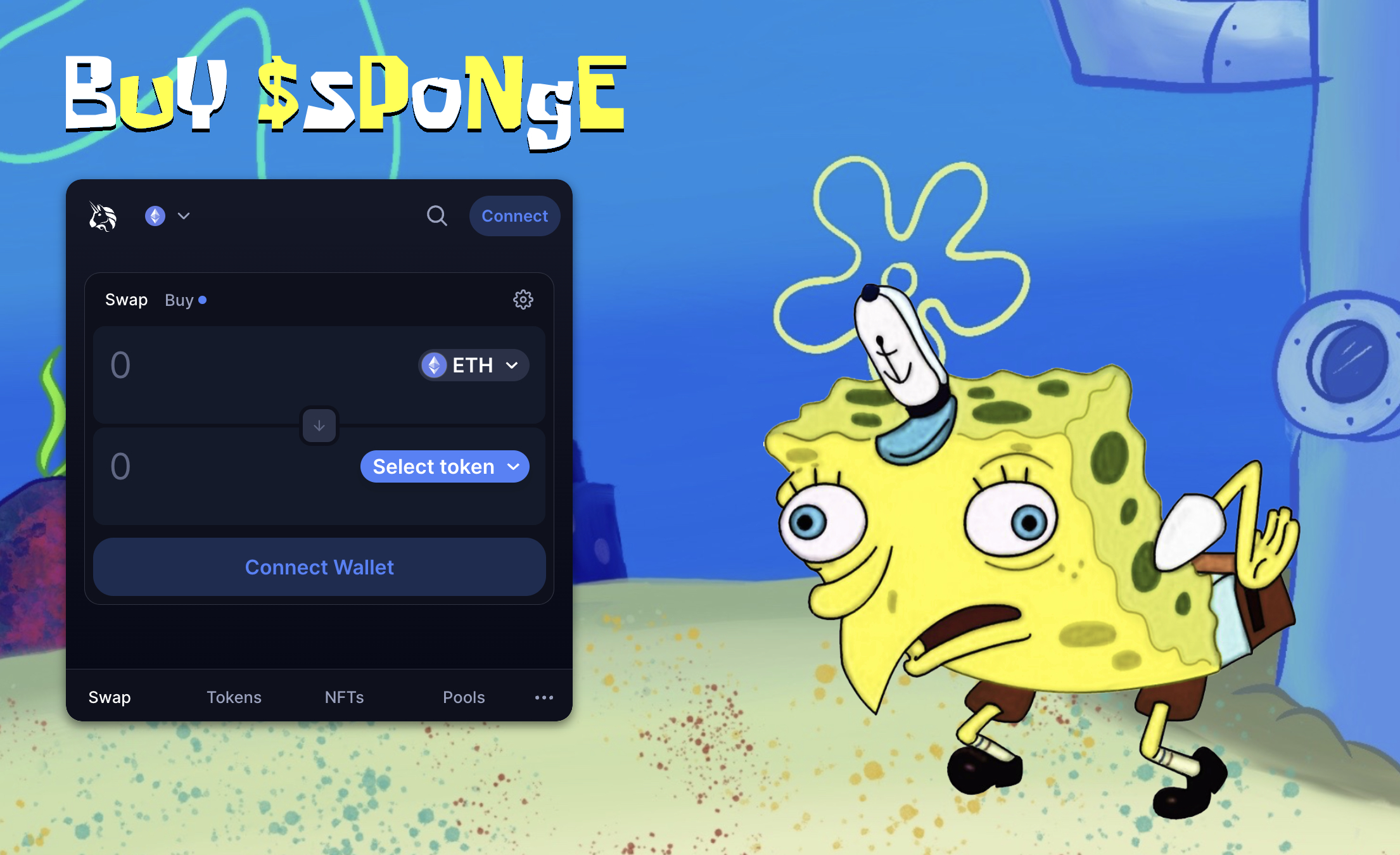 The total supply of SPONGE is fixed at 40,400,000,000, with the project featuring no roadmap – a setup popularized by numerous meme coins over the past few weeks.
Ultimately, SPONGE tokens don't have any utility yet - they're simply driven by community spirit and the love of the SpongeBob character.
Those looking to invest in the SPONGE project can do so through Uniswap or the Sponge Token website, which features a handy widget enabling eager investors to make purchases using hundreds of different ERC-20 tokens.
For more information, investors can check out the official SPONGE Telegram channel.
Disclaimer: Cryptocurrency projects endorsed in this article are not the financial advice of the publishing author or publication - cryptocurrencies are highly volatile investments with considerable risk, always do your own research.
---