SEC Might Not Approve Bitcoin ETF For Two Years + 13 More Crypto News
Crypto Briefs is your daily, bite-sized digest of cryptocurrency and blockchain-related news – investigating the stories flying under the radar of today's crypto news.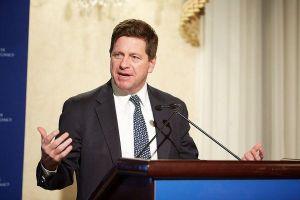 Jay Clayton. Source: Twitter, SEC
Regulations news
It's "reasonable to assume" that the American regulatory Securities and Exchanges Commission (SEC) won't approve Bitcoin ETF while Jay Clayton is the chairman of the Commission, Jake Chervinsky, General Counsel at Compound Finance, estimated. "His term ends on June 5, 2021, but could go another 18 months longer. Usually we'd see new ETF proposals filed immediately after rejection, but it might be time to take a year off," the lawyer tweeted. Yesterday, the SEC has turned down Bitwise's Bitcoin ETF application. The company had hoped to list a product in conjunction with the NYSE Arca exchange, and made its initial application back in February this year. However, in March the SEC stated that it would need more time to deliberate. The regulator says that NYSE Arca "has not met its burden" in respect to American laws and rules of exchange practice. Meanwhile, Bitwise said they "look forward to continuing to productively engage with the SEC to resolve their remaining concerns, and intend to re-file as soon as appropriate." Last week, Bitwise's head of research Matt Hougan said that "We're closer than we've ever been before to getting a bitcoin ETF approved." In August, talking of the Bitcoin ETF importance, Hougan said that "the key to a Bitcoin ETF in the U.S. is that it unlocks the financial advisor marketplace."
Lawyers and blockchain experts in Russia say they have developed a way to calculate "official prices" for major cryptocurrencies – opening the door to taxation. Per Izvestia, the Russian Association of Cryptocurrencies and Blockchain (RACIB) and the Digital Economy Committee of the Association of Russian Lawyers have developed a technological solution that will help attorneys, tax officials and traders make crypto-calculations. The solution makes use of an algorithm that aggregates Bitcoin exchange rates, cutting off best and worst results, providing updates every 30 seconds.
The Crypto Valley Association (CVA) of Switzerland became the seventh national trade association to sign a Memorandum of Understanding (MoU) with the International Digital Asset Exchange Association (IDAXA) with the goal to provide a unified voice for the Virtual Asset Service Provider (VASP) industry.
Adoption news
Trading news
The Poloniex exchange has delisted six tokens, according to what appears to be an email to account holders. A Reddit user posted what they claimed was a copy of the email. The tokens to be reportedly removed are: Pascal, Steem, Navcoin, GameCredits, LBRY Credits and Clams. Trading will be halted on October 15, with withdrawals "permanently suspended" as of November 15.
Cryptocurrency exchange Bitstamp says it has expanded its partnership with BitGo to include the custody of cryptocurrencies. Bitstamp, which is owned by the South Korean company NXC Holding, said, in a press release: "Bitstamp's assets will be secured on 100% cold storage technology in bank-grade class III vaults and protected by BitGo's USD 100 million insurance policy."
Cryptocurrency liquidity provider and electronic OTC (over-the-counter) trading specialist B2C2 said it has launched a product for trading gold directly against Bitcoin (XAU/BTC). The new product will allow institutional clients to trade gold synthetically with B2C2 OTC Ltd., which is authorized and regulated by the Financial Conduct Authority in the UK. Clients will also be able to settle in the underlying metal via blockchain-powered tokens that correspond to physical ownership of gold in vaults, according to the company.
Mining news
Major cryptocurrency mining equipment manufacturer, Bitmain, announced two new models - S17+ and T17+ – from the Antminer 17 series. Both new miners will come with improvements to power efficiency and hashrate, the company claims. The new models should be available for purchase starting October 11.
Career news
The average salary of a blockchain worker in Canada is CAD 98,423 (USD 74,000), nearly double the Canadian national wage average, a report by the Canadian Digital Chamber of Commerce showed. The difference in average salary can be explained by the larger sample of startup respondents, they added. At the same time, survey respondents cite legal and regulatory ssues (39%) and funding gaps (35%) as the top two challenges where they welcome support.
Investing news
CEO of the Maker Foundation Rune Christensen revealed that Multi-Collateral Dai (MCD) is ready to launch on November 18. MCD will introduce new features to the Maker Protocol, including the Dai Savings Rate (DSR) and additional CDP collateral types. "The DSR will not only allow users to earn on Dai held, but will also immediately create an entirely new dimension for innovative Maker protocol integration on the backend of DeFi [decentralized finance] dapps [decentralized apps]," according to the announcement. At pixel time (09:28 UTC), Maker (MKR) trades at c. USD 493 and is up by almost 7% in the past 24 hours and by 9% in the past week.
---