Millions in Bitcoin Cash to be Frozen due to the Hard Fork
The crypto market might lose millions in trading volume in the coming days due to the scheduled hard fork of Bitcoin Cash, (BCH) the fourth largest cryptocurrency by market capitalization, as a number of exchanges will pause deposits and withdrawals to minimize customer disruption. Moreover, some of BCH owners might not be able to access their coins for an unspecified time.
Coinbase, the US-based exchange and wallet provider, announced that they will be pausing all BCH trading, as well as disabling any withdrawals of BCH from Coinbase and all associated services for the time being: "If you wish to have access to your BCH during the pause, you will need to remove it from the Coinbase platform prior."
"Due to recent developments, we have now determined that it will be necessary to also pause all buys, sells, and trading of BCH starting at 8:00AM PST on Thursday on Coinbase.com, in the iOS and Android apps, and on Coinbase Pro and Prime," the company said in a blog post.
As for how long the pause will go on, the blog post explains, "We cannot predict the duration of this process. When the upgrade is complete, we will evaluate the security and viability of the network and take appropriate next steps, including re-enabling sends, receives, and trading. We will update our customers throughout the upgrade process and about the outcome of the fork once the network reaches consensus."
The decision to freeze all BCH-related business will mean a lot of frozen funds, for a lot of people. Combined figures from Coinbase Pro, Binance, Huobi and OKEx (all of which are suspending BCH deposits and withdrawals during the fork for an unspecified time) are showing almost USD 400 million in BCH trading volume in the last 24 hours.
At the time of writing, the total 24-hour BCH trading volume exceeds USD 1 billion, while the price crashed by almost 9%.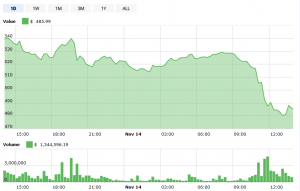 The community is generally not too happy about the trading suspension. In reply to the announcement by Coinbase, cryptocurrency investor and Twitter influencer WhalePanda tweeted:
Previously, Binance, Coinbase and other exchanges have announced their support for the Bitcoin ABC proposal as published on bitcoincash.org. However, as Coinbase noted, "unlike previous BCH hard forks, there is a competing proposal [Bitcoin SV] that is not compatible with this published roadmap."
Bitcoin ABC is the "mainstream" proposal supported by bitcoincash.org, while Bitcoin SV – short for "Satoshi's Vision" – is backed by the self-proclaimed Satoshi Nakamoto, Craig Wright and a group of BCH miners.
"It should be clear that as confusing as the Bitcoin Cash hard fork may seem, especially for beginners, it is unlikely to have any significant impact on the broader crypto industry, are very slim. However, this drama is a lot of fun to watch and a great exercise for people to increase their knowledge and understanding of how these things work," Mati Greenspan, Senior Market Analyst at eToro, a social trading platform, said earlier this week. According to him, the end result will most likely be a split in the network resulting in two different versions of Bitcoin Cash when both upgrades go into effect this Thursday.
---