Fake Trading Still Makes Up Majority of Bitcoin Trading Volume
A market manipulation tactic called wash trading makes up over 80% of the Coinmarketcap top 25 Bitcoin pairs volume, a new report claims. The actual volume of most of these pairs is under 1% of their reported volume, and only two of the top 25 BTC pairs, listed on Binance and Bitfinex, do not suffer from this.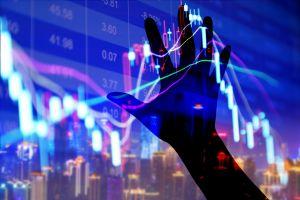 A wash trade is a form of market manipulation in which an investor simultaneously sells and buys the same financial instruments to create misleading, artificial activity in the marketplace. The report, done by the Blockchain Transparency Institute (BTI,) a group of blockchain data researchers and enthusiasts, claims that the biggest offender is the OKEx exchange, as the team claims that it found almost all of their top 30 traded tokens to be engaging in wash trading when processed through their algorithms.
However, even the estimated adjusted volume for them would still keep them in the top 10 exchanges. Some other mentioned exchanges are Huobi, HitBTC and Bithumb, the latter reportedly engaging in wash trading primarily with Monero, Dash, Bitcoin Gold, and ZCash and changing those pairs monthly.
Top 25 BTC trading pairs on Coinmarketcap: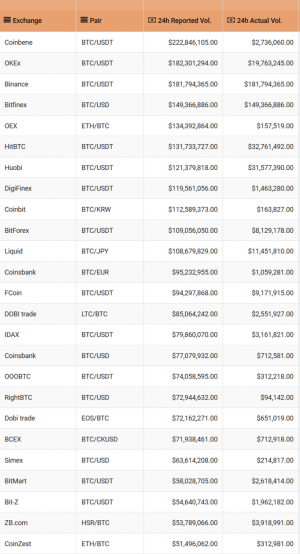 This manipulation tactic is dangerous for any aspiring token projects, as they pay exorbitant fees to be listed on exchanges that they believe hold a large trading volume and might offer high liquidity. The report adds that the average project spent over USD 50,000 this year in listing fees in order to add their tokens on exchanges which practice wash trading, and this adds up to an estimated USD 100 million only in 2018. They add, "With over 50 exchanges wash trading over 95% of their volumes, this is a 500K a year scheme, with some exchanges making over one million dollars this year just from collecting these fees."
Top 25 BTC trading pairs by BTI: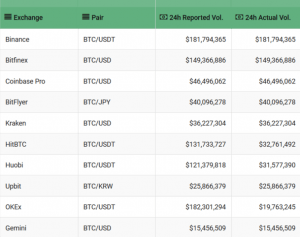 The fake trading volume issue is a long-standing one in the cryptocurrency world. Aside from wash trading, some exchanges engage in other manipulative behavior such as transaction mining, where they return a portion of the trading fees paid by users when they place orders on the exchange in the form of the exchange's own token. In some extreme cases, users can receive tokens worth more than the trading fee they paid, essentially earning free money by generating buy and sell orders on the exchange. Users then follow up and often run trading algorithms designed to generate a large number of orders, inflating the trading volume on the exchange.
Among partners and supporters of the Blockchain Transparency Institute are Messari, a crypto intelligence firm, Deepesh Chaudhari, MIT data scientist, Bitwise, a crypto investment company, and others.
---