HitBTC
HitBTC is an exchange for the experienced cryptocurrency trader interested in trading altcoins. The exchange offers high liquidity and does not force KYC measures on its users (though it is recommended to verify your account to avoid potential issues. Its wide selection of altcoins makes it a great place for hunting low cap gems, but its unregulated nature raises some questions surrounding its ownership and whereabouts, which aren't currently clear. There are also reports from forums regarding reliability, with some users having difficulties withdrawing their funds. However, in our experience, we had no such issues, as the exchange and its team functions well, especially if you follow all security recommendations and best practices. However, question marks are surrounding its ownership and whereabouts, which aren't currently clear. There are also reports from forums regarding reliability, with some users having difficulties withdrawing their funds.
HitBTC Review: Summary
HitBTC is an old-time bitcoin exchange established in 2013. Since then, the exchange has made a name for itself as a go-to place for buying and selling low cap altcoins. It exchanges a wide variety of digital assets, including most popular cryptocurrencies like bitcoin (BTC), ethereum (ETH), litecoin (LTC), ripple (XRP), dogecoin (DOGE), monero (XMR), tron (TRX), dash (DASH), EOS (EOS) and tether (USDT). It's also one of the few exchanges open to bots, providing a range of APIs that help tech-savvy customers trade automatically.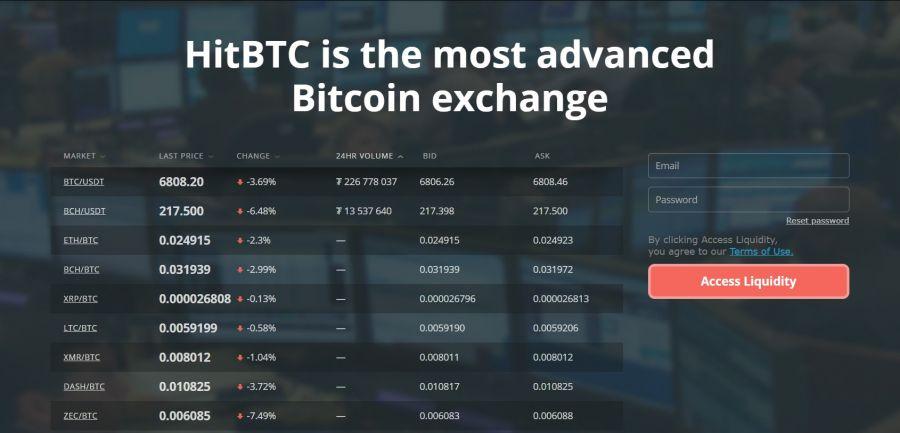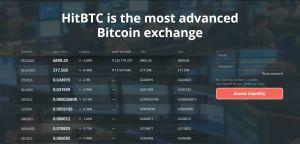 HitBTC exchange homepage. Source: HitBTC.com
General info
| | |
| --- | --- |
| Web address: | Link |
| Main location: | Las Conden, Chile |
| Daily volume: | 547.1 BTC |
| Mobile app available: | Yes |
| Is decentralized: | No |
Parent Company:
Ullus Corporation
Transfer types:
Credit Card, Debit Card, Crypto Transfer,
Supported fiat:
-
Supported pairs:
805
Has token:
-
Fees:
Low(Compare rates)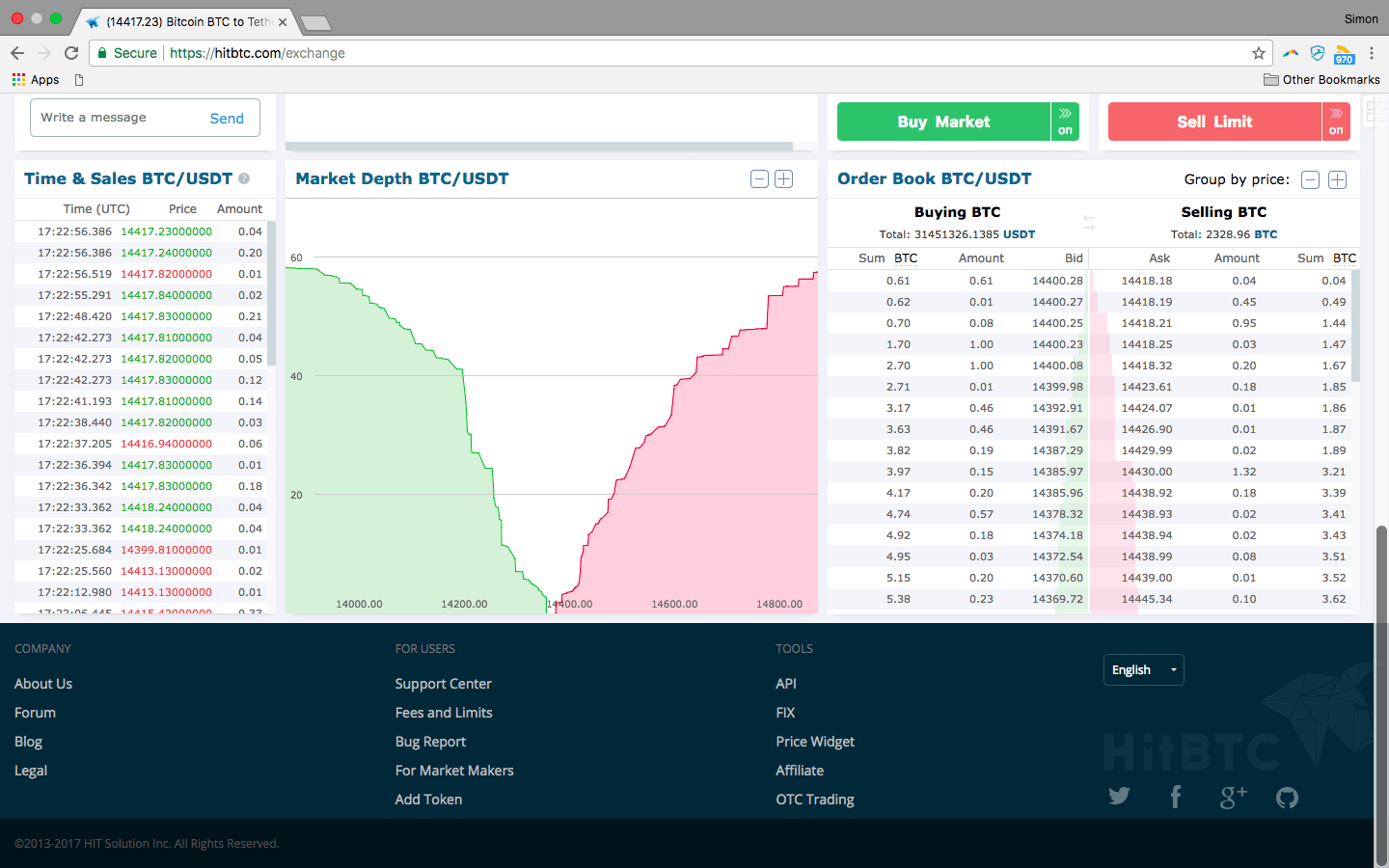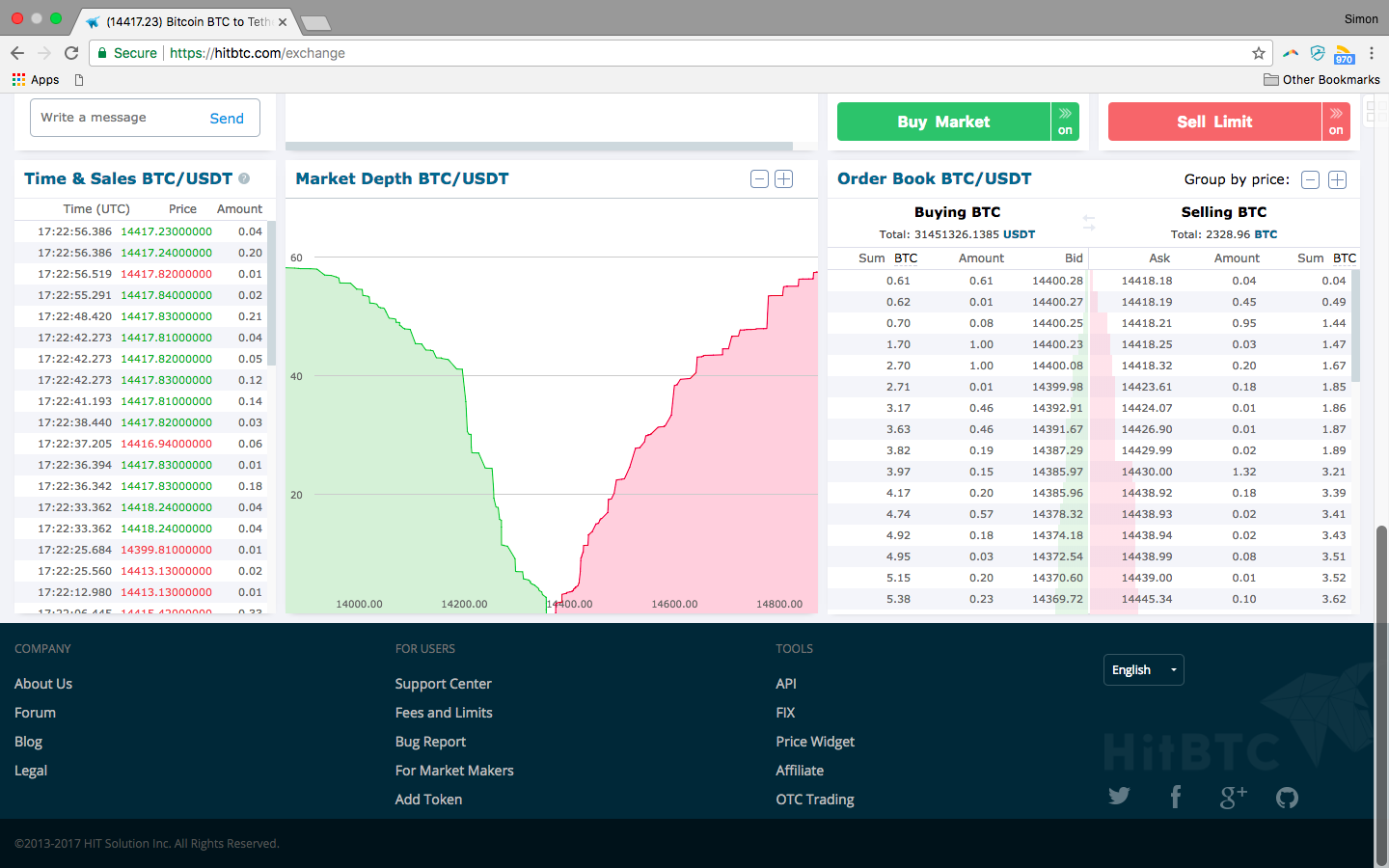 The key features of HitBTC exchange include:
Buy and sell over 380 cryptocurrencies in more than 800 cryptocurrency pairs. HitBTC offers one of the widest selections of cryptocurrencies available for trading and is one of the first exchanges to enlist emerging projects.
Crypto-to-crypto exchange. Buy bitcoin or deposit some other cryptocurrency and start trading immediately without verification. You may be asked to verify your identity later, though.
Secure exchange. HitBTC remains one of a few exchanges that hasn't been hacked before.
Low trading fees. Starter and General accounts pay 0.1% maker fee and 0.2% taker fee, while upgraded accounts enjoy
Robust and robot-friendly API. HitBTC users can make use of trading bots, which work well with the platforms' robust API.
Demo account. HitBTC offers a demo account for new cryptocurrency traders. Everyone can try out its platform without making a deposit.
All in all, these features make HitBTC one of the top altcoin exchanges in terms of available markets and liquidity. Nevertheless, it also has numerous concerns surrounding it, which we address further in this HitBTC review.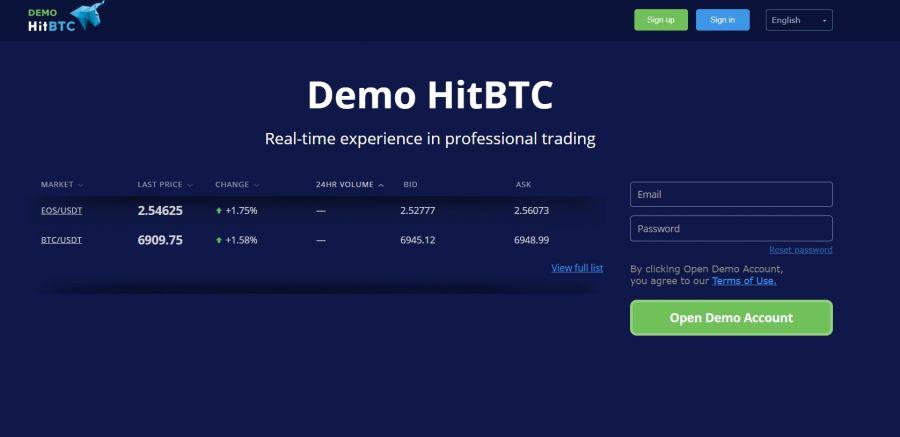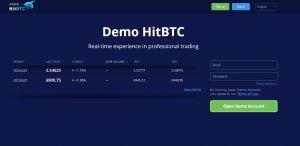 Source: HitBTC demo platform. Source: HitBTC.com
HitBTC Location, History, and Background
Founded in 2013 and launched in February 2014, HitBTC is an advanced cryptocurrency exchange specializing in altcoin spot trading. It boasts of being established by experienced system architects, technology engineers, and finance experts, though most of HitBTC team remain anonymous, which is a big red flag for some users. Reportedly, the company was kickstarted with a USD 6 million venture capital investment.
Nevertheless, HitBTC exchange is open about its official location. It is registered in Chile as Hit Solution Limited. Its official mailing address is Av Vitacura 2969, Las Condes, Región Metropolitana, Chile.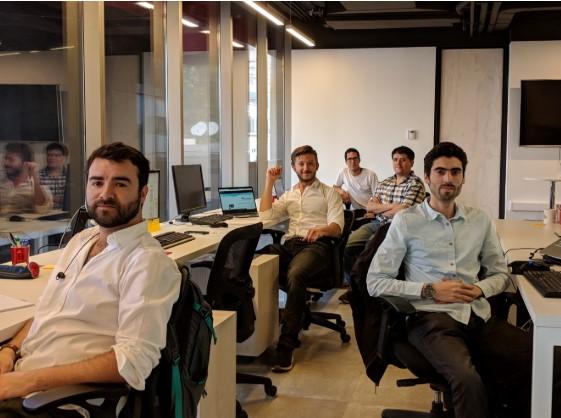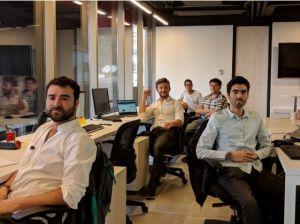 A picture of HitBTC team members. Source: HitBTC.com
During its six and counting years of operation, HitBTC had a colorful history with numerous accusations. There are many posts on social media, forums, and review sites pointing out all sorts of issues with the website. At the same time, many users are happy with HitBTC's services.
One of the more notable rumors surrounding the exchange includes the 2015 hack of BTER and Excoin exchanges. HitBTC also went offline at the same time, but never acknowledged any losses or that it experienced a security breach.
In 2017 and 2018, many users have complained of slow HitBTC support response times, and some users also experienced issues with fund withdrawals. At the same time, it's London-based parent company Hit Techs Ltd. was dissolved in May 2017, leaving question marks about the exchange's current ownership.
In early 2019, just a few days prior to the annual "Proof of Keys" event, HitBTC came under fire for disabling user withdrawals. However, the exchange didn't make a big deal out of the situation.
"Sometimes, when our security measures are triggered, withdrawals can be frozen momentarily. This happens for safety reasons only – it is standard procedure, and we do it simply because the security of our customers is our top priority," HitBTC spokesperson told Cryptonews.com.
In recent years, HitBTC has become a top exchange in terms of market liquidity, competing with such exchanges like Bitfinex and Binance. CryptoCompare even grants HitBTC the highest score in the data reporting section, indicating that the exchange's liquidity must be real (competing unregulated exchanges that fake most of their trading volume).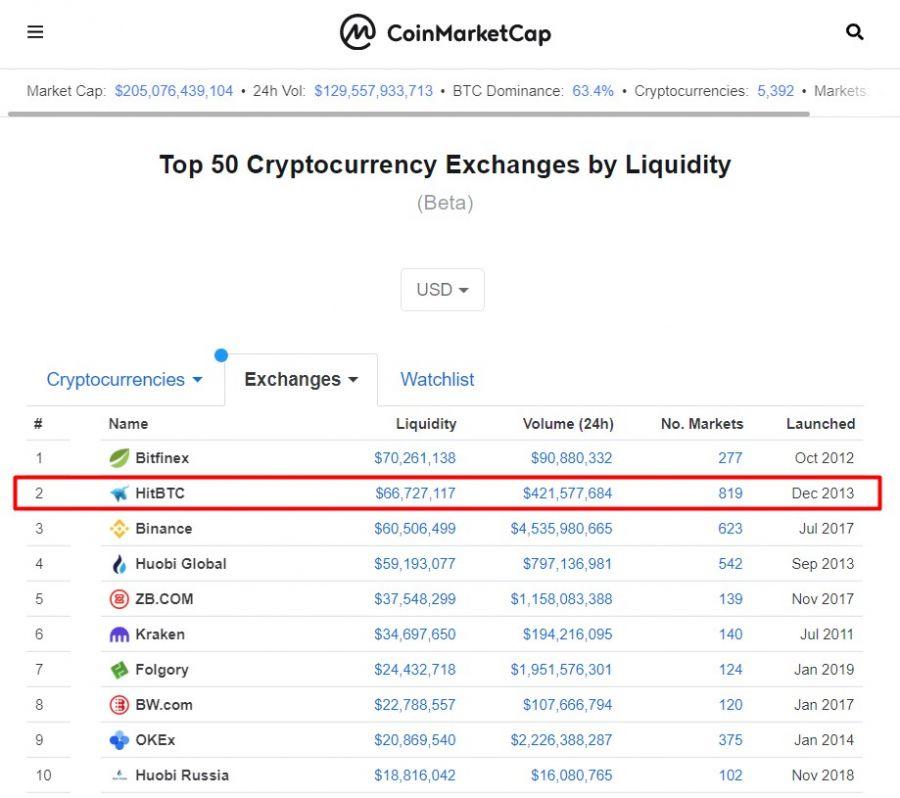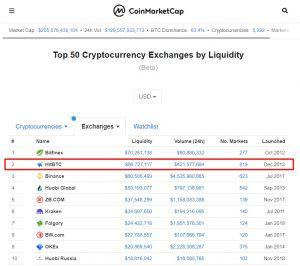 HitBTC exchange liquidity. Snapshot taken on April 24, 2020. Soure: CoinMarketCap.com
All in all, HitBTC's past is an interesting subject. The exchange is often accused of lack of transparency and shadowy businesses practices; however, there is no tangible evidence for these claims.
The exchanges board members call these accusations a mere smear campaign "attempting to paint HitBTC in an unfavorable light."
It's important to note that HitBTC is an unregulated exchange, although it does comply with KYC (know you customers) and AML (anti-money laundering) regulations. It also values users' data and privacy and is entirely GDPR compliant, as you can delete your data from the exchange at any time.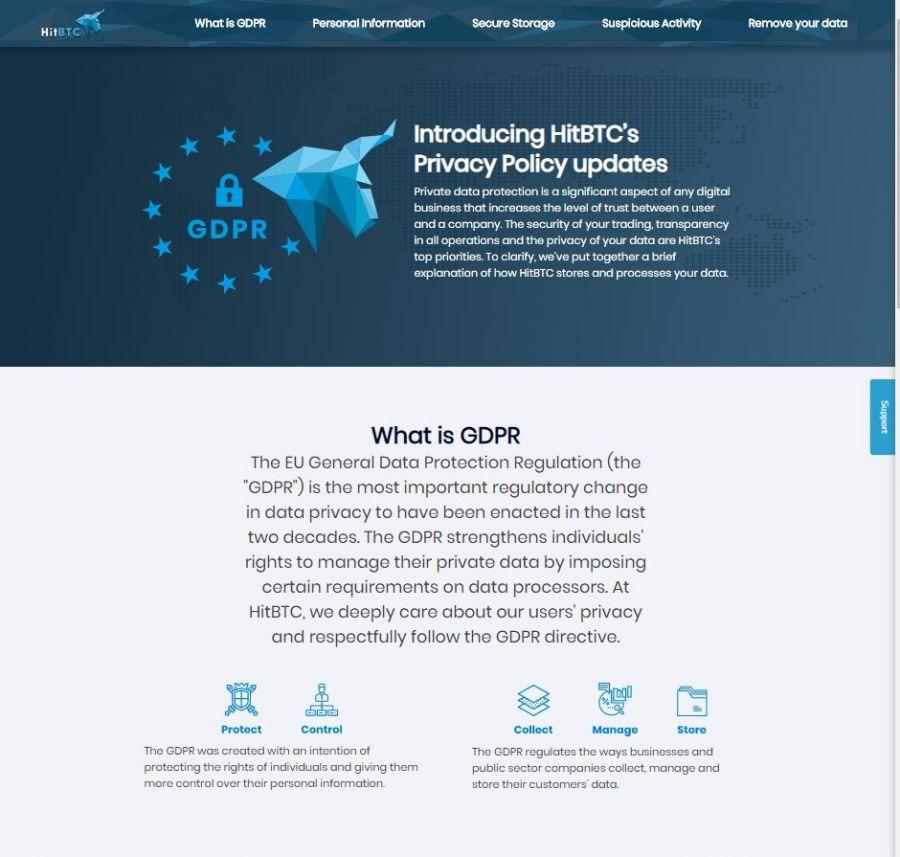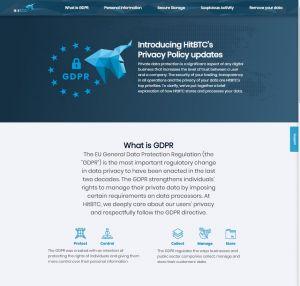 Source: HitBTC.com
At the same time, HitBTC has established multiple partnerships with regulated actors, such as TrustedVolumes.com, Changelly, and BEQUANT.
HitBTC Supported Countries
HitBTC runs a global operation. However, its terms and conditions specify that citizens and residents, as well as companies from the following countries, cannot use its services:
The United States of America
North Korea
Sudan
Crimea and Sevastopol
Cuba
Syria
Any other state or jurisdiction embargoed by the United States of America
By registering at the platform, you confirm that you're not a citizen or resident of any of these countries.
HitBTC Verification
HitBTC has several different verification tiers. Unverified accounts start as Starter, and verified ones receive upgraded account status. In order to get verified, you will have to submit the following documents:
Personal information: Your name and surname, birth date, and nationality.
Residential address: Address, city, zip code, and country.
Proof of identity: A copy of your ID, passport, or driver's license.
Selfie: A picture of you holding an identity document and note stating current date and text "For HitBTC KYC."
Phone number.
Although HitBTC verification is not forced, upgraded accounts enjoy numerous benefits like the ability to regain access to the account in case of losing password or two-factor authenticator and lower trading fees.


Verification levels at HitBTC platform. Source: HitBTC.com
Besides basic verification, professional traders might want to upgrade their account to PRO status using HitBTC's UK-based partner Bequant Technologies. The service is accessible via bequant.io and is dedicated to Institutional and Professional traders only.
HitBTC PRO account holders can enjoy the following benefits:
Same liquidity as on HitBTC
Seamless verification process
Dedicated account manager
No limits on deposit or withdrawals
In order to qualify as a PRO, you need to either have a minimum balance of 100 BTC or generate over 1000 BTC turnover per month.
HitBTC Fees
Trading cryptocurrencies on HitBTC comes with a simple fee structure. It does not charge fees for cryptocurrency deposits, but incur a cost for placing orders and withdrawing funds from the platform.
HitBTC trading fees are among the lowest in the industry. Unverified users pay 0.1% maker fee and 0.2% taker fee. Meanwhile, verified users fall into HitBTC's tier fee system, which determines trading fees based on the user's trading volume during the past 30 days.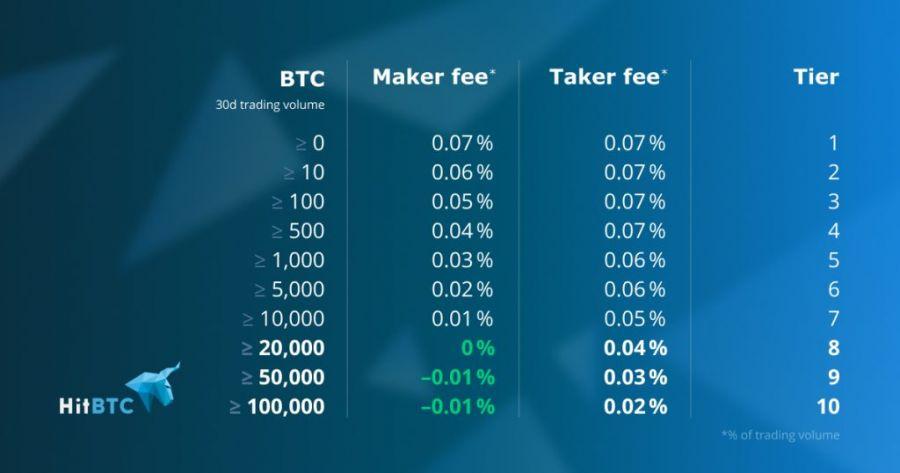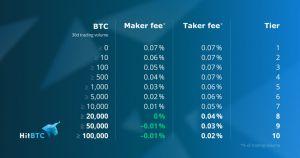 HitBTC fees table. Source: HitBTC.com
Once you reach tier 8, that is trade 50,000 BTC per month or more, HitBTC will start paying you a rebate of -0.01% per every completed trade.
Here is how the lowest tier HitBTC fees fare with other popular cryptocurrency trading exchanges.
As you can see, there is a significant difference in HitBTC trading fees for verified and unverified accounts. For unverified users, HitBTC fees similar to the ones we find on other popular exchanges like Binance or Bittrex. However, for verified users, the fees drop significantly, making HitBTC's fees absolutely cheapest on the entire market in terms of crypto trading.
When it comes to cryptocurrency deposits and withdrawals, there are no fees for making deposits with HitBTC. However, there are flat fees for withdrawals, and these can be particularly high for some of the newer cryptocurrencies listed on the site. As an example, the following is a list of the one-off fees charged for withdrawing some of the more popular currencies:
Bitcoin: 0.0015 BTC
Bitcoin Cash: 0.08438 BCC
Ethereum: 0.0428 ETH
Ethereum Classic: 0.866 ETC
Ripple 6.38 XRP
Tether: 20 USDT
Litecoin: 0.053 LTC
Monero: 0.1006 XMR
EOS: 0.01 EOS
Tron: 372.5 TRX
Zcash: 0.13583 ZEC
Tezos: 4.953 XTZ
Chainlink: 2.192 LINK
NEO: 1 NEO
In this regard, HitBTC withdrawal fees are some of the highest amongst all cryptocurrency exchanges.
To sum it up: HitBTC offers some of the lowest cryptocurrency trading fees amongst all crypto-to-crypto exchanges. At the same time, its cryptocurrency withdrawal fees can be unreasonably high for certain coins, making HitBTC fees a sort of mixed bag.
While such fee structure works for large-volume traders, it may be irritating for small traders dealing with small amounts of crypto.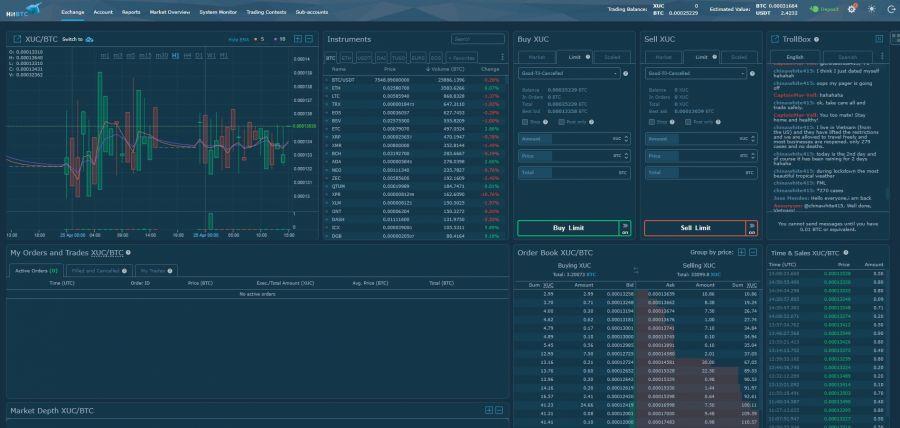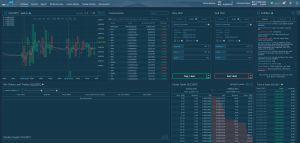 HitBTC exchange review. Source: HitBTC.com
HitBTC Security Measures: Is HitBTC Safe?
HitBTC does security well. As such, it has never been hacked before, or at least haven't disclosed any such incidents. Some sources claim that HitBTC was hacked in early 2015 together with BTER and Excoin exchanges, though the information hasn't been confirmed.
For one, it lets users set up two-factor authentication for all their transactions, adding an extra layer of safety. The Security section of the Settings menu also allows the user to see all logins to their account so that they can check to see if there's an IP address and/or location they don't recognize. And just in case someone else happens to be logged into their account, they can click a button that terminates all sessions except theirs. At the same time, they can also choose to automatically log out of all sessions at a selected, regular interval.
In addition to these options, HitBTC users can protect their account with the following security measures:
Crypto wallet address whitelisting
Strong password
Two-factor authentication (Google Authentication)
Session termination tool and activity log
Cold storage custody
Auto logouts after 30 minutes of inactivity.
Once you sign up, you'll see that HitBTC forces you to active 2FA measures on your account. Until you do so, some features of the exchange will be locked, which is good for your security.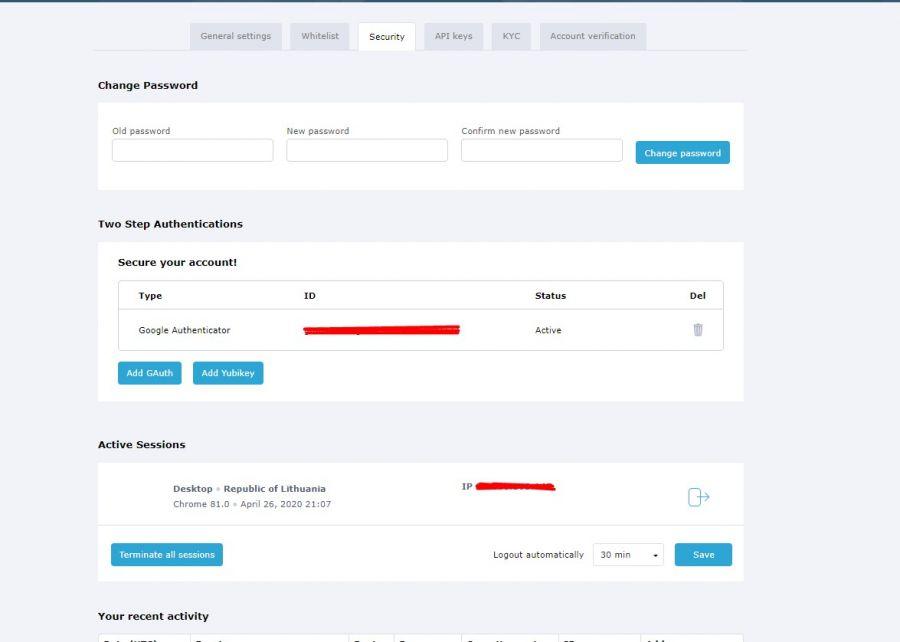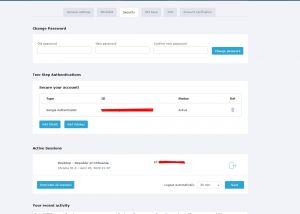 HitBTC security measures. Source: HitBTC.com
Yet despite its appeal as a secure technology, HitBTC remains an unregulated exchange at the forefront of the crypto wild west, which raises questions and adds risks to its reliability.
Besides, some customers have complained online that they've been unable to withdraw their funds from the trading platform. There's also the fact that its former, London-based parent company – Hit Techs Ltd. – was dissolved in May 2017, leaving lots of obscure information about the exchange's team and ownership.
Despite these red flags, my personal experience with HitBTC remains positive – the exchange does its job, even though high withdrawal fees weren't a pleasant experience. Many users online seem to complain about forced know your customer (KYC) checks when withdrawing funds, so a good practice would be verifying your account before starting to trade on HitBTC.
Also, the exchange employs a sophisticated legal team and complies with GDPR regulations, thus giving you full control over your data and privacy.
According to CryptoCompare's exchange benchmark report, HitBTC is a B grade exchange that leads the market in data provision. However, it scores only 9.5/20 in terms of security, which means it is an above-average exchange in this domain.
Overall, HitBTC is a secure exchange in terms of technology it uses to protect your funds. However, the exchange lacks transparency when it comes to its team and location, which is a major red flag for some. On the contrary, it has a proven track record, operating in the industry for more than six years already.
Personally, I haven't had any issues with the service yet, but at the same time, I would not recommend depositing more money with it than I can afford to lose.
Exchange Design and Usability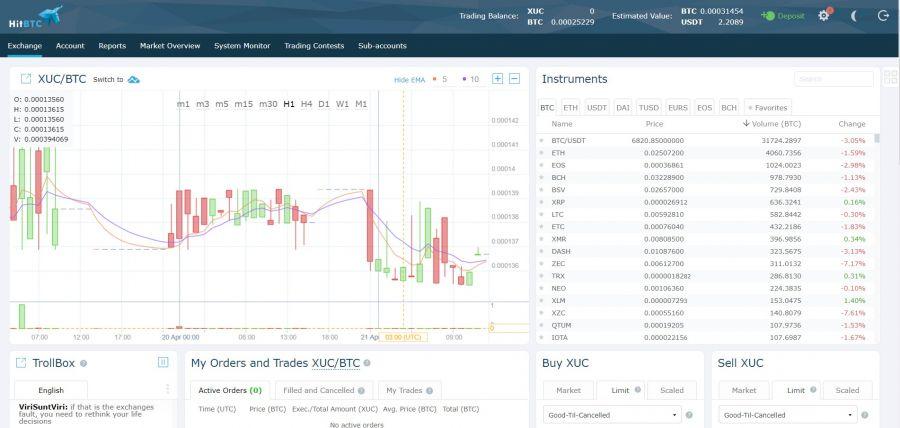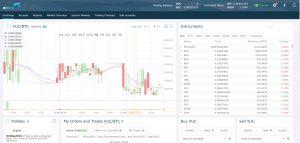 HitBTC exchange. Source: HitBTC.com
For the inexperienced cryptocurrency buyer or trader, navigating the HitBTC website is, at first, a dizzying experience. Much of this initial complexity comes from how HitBTC is focused more on the experienced trader than on people new to cryptocurrency. As such, more experienced retail traders and professionals should not have issues with the exchange's interface.
All trades take place in the main "Exchange" dashboard, which features the following array of panels: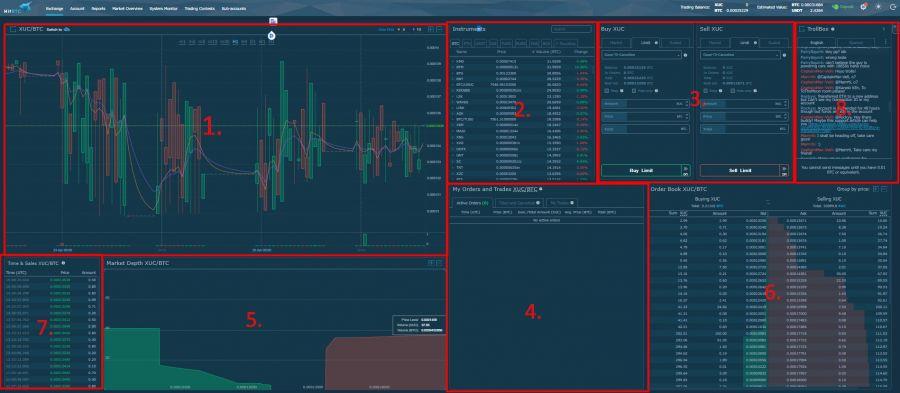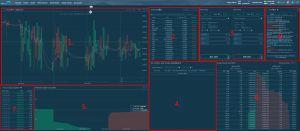 HitBTC trading dashboard. Source: HitBTC.com
Graph/timeline displaying the value of one currency against another.
Table displaying supported cryptocurrency markets.
One panel each for placing buying or selling orders.
Panel displaying user's orders and trades.
Graph displaying the depth of a particular market for a cryptocurrency pair.
Two panels displaying the order books for buying and selling a chosen currency
A panel displaying a timeline of trades in a particular cryptocurrency pair (market history).
Trollbox for chatting with other cryptocurrency traders.
The entire trading interface is completely customizable so that you can organize these windows in the most convenient order. When it comes to trading, the exchange supports the following standard order types:
Market order
Limit order
Scaled order
Stop order
Post only order


Source: HitBTC.com
That said, the actual mechanics of how the site works and how a user trades are surprisingly straightforward. Users complete trades by depositing a chosen cryptocurrency into the HitBTC wallet, moves funds between main and trading accounts, and uses the deposited cryptocurrency to buy other currencies until he or she wants to withdraw their funds to an external wallet. As such, trading on HitBTC may not be too difficult even for complete beginners.
Verified users can create sub-accounts that will help you to create different profiles for different trading strategies. Moreover, HitBTC organizes various trading contests, so you can measure your skills against other traders and climb up the ranks in its leaderboard.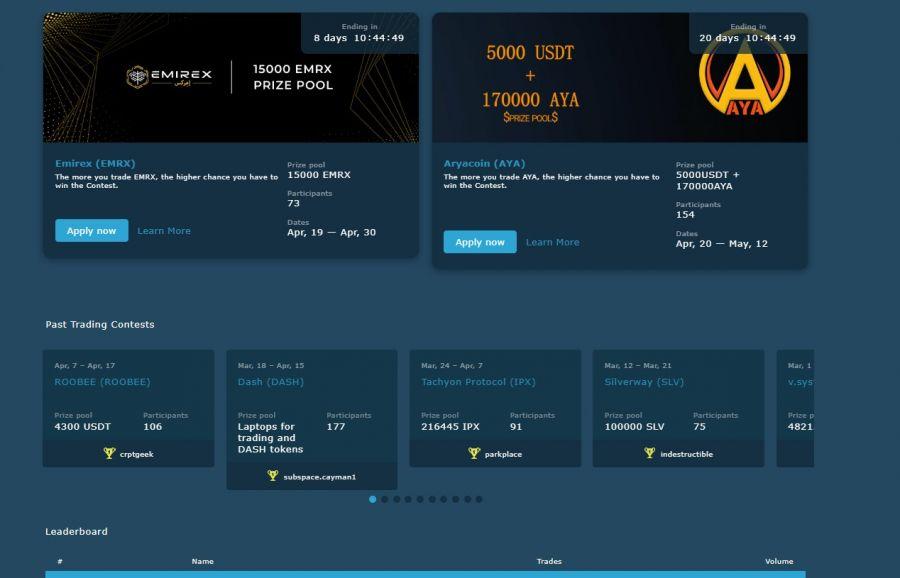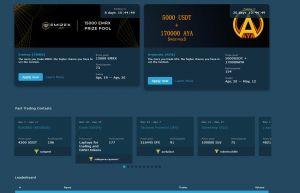 Source: HitBTC.com
In the "Reports" tab, you can extract your complete order history in case you need to integrate that data into some sort of analysis or for tax purposes.
In case you want to deposit cryptocurrency directly into HitBTC using fiat currencies, HitBTC has an effective Changelly integration on its site. Using it, you can buy cryptocurrency instantly with your bank card (VISA or Mastercard) and send it directly to your HitBTC wallet to start trading immediately.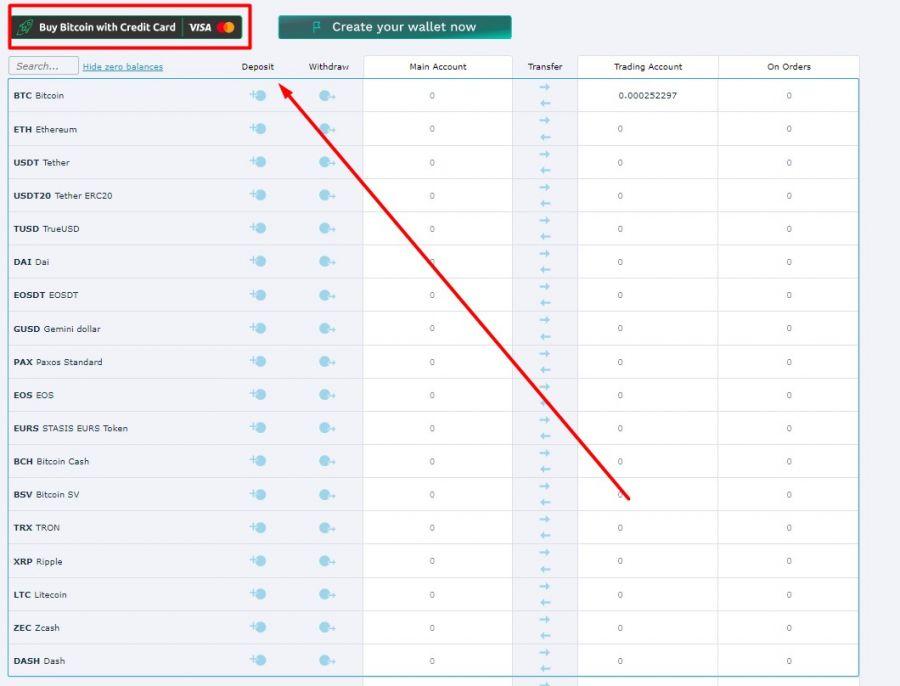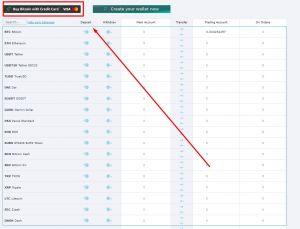 Buy bitcoin via HitBTC. Source: HitBTC.com
HitBTC Mobile App
Trades might also be happy to start using the HitBTC mobile app for iOS and Android devices. The app is available on Google Play Store and Apple's App Store.
However, we weren't able to try it out because it is still in its early beta mode. Hopefully, the full version of the app becomes released soon.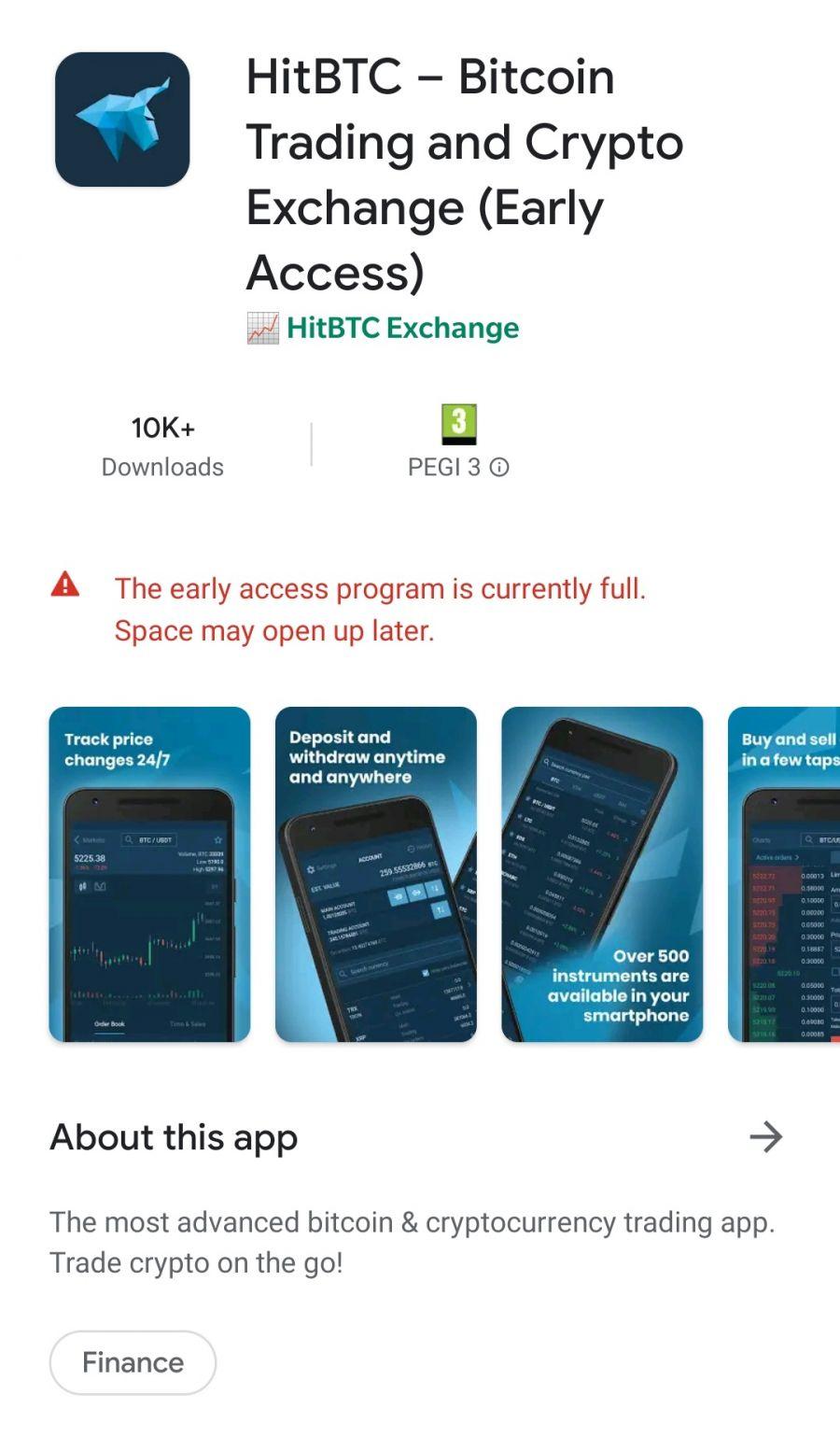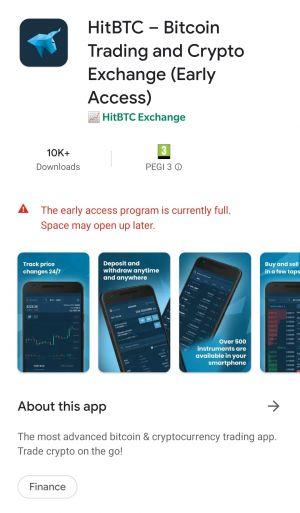 HitBTC mobile app for Android. Source: HitBTC.com
HitBTC Demo Trading
For the beginners, HitBTC exchange offers an opportunity to try and trade cryptocurrencies on its demo platform first. You can register and access the demo platform by clicking the demo option at the bottom of the screen or by simply typing demo.hitbtc.com into your browser.


Source: HitBTC.com
You will need to create a separate account for the demo platform. A demo account gives you approximately USDT 4000 worth of cryptocurrency, so you can start experimenting with hypothetical portfolios and strategies, or simply get used to the cryptocurrency trading and HitBTC platform.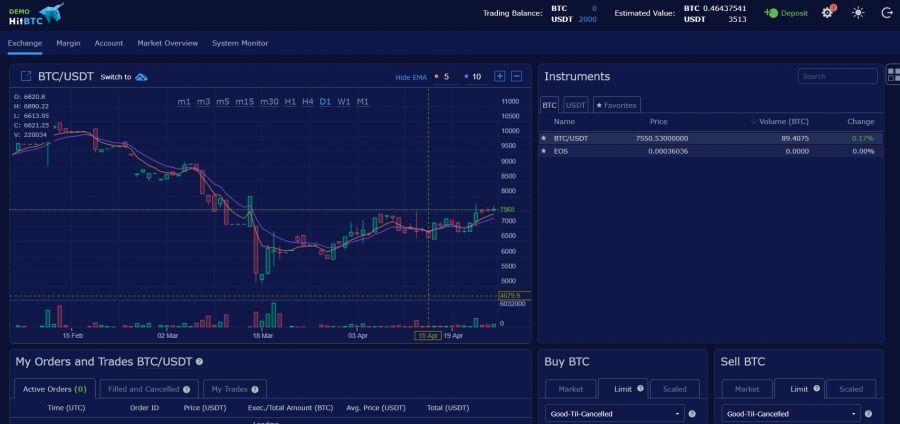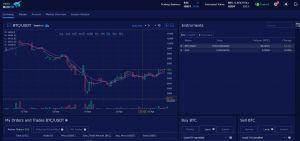 HitBTC demo exchange. Source: HitBTC.com
HitBTC Customer Support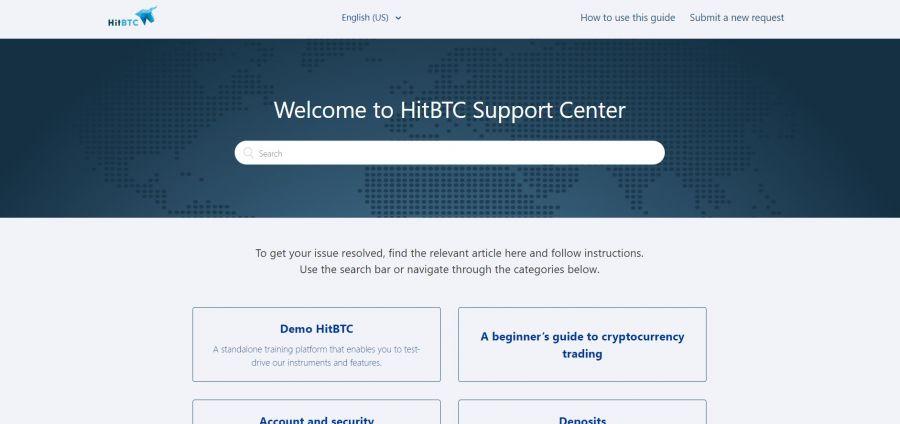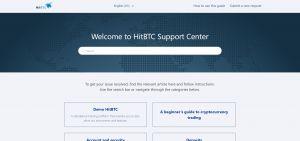 HitBTC support center. Source: HitBTC.com
As a popular cryptocurrency exchange, HitBTC has a support center for all sorts of user-related issues. The support center includes:
An extensive knowledgebase comprised of articles about all HitBTC platform features.
Submit a ticket feature, allowing you to reach out directly to the exchange's support team.
The exchange team typically responds within 24 hours, but, in my experience, the resolution of some issues may take several weeks.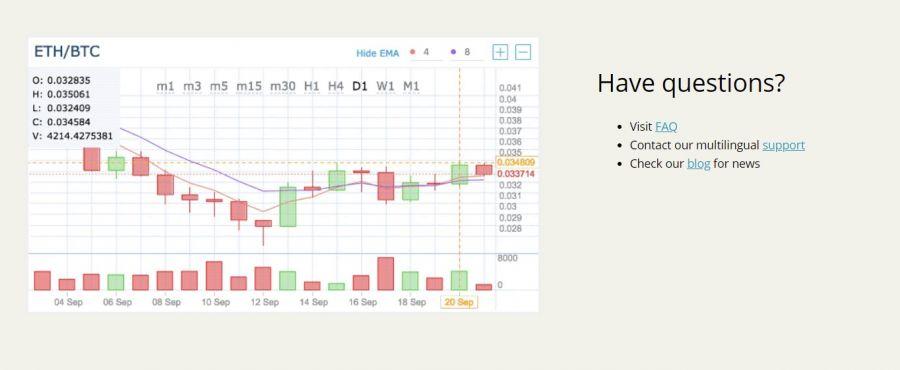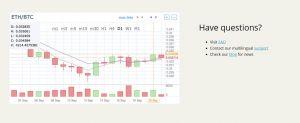 Source: HitBTC.com
HitBTC OTC
HitBTC also offers personalized OTC (over-the-counter) trading services for high-volume traders. Over the counter traders take place as a result of a partnership with TrustedVolumes.com.
To qualify for HitBTC's OTC service, you must exchange over USD 100,000 per trade. Each trade will incur a 0.1% transaction fee.
HitBTC Deposit and Withdrawal Methods
Although HitBTC used to support fiat currencies such as US dollars (USD), British pounds (GBP), or euros (EUR), it does not support them anymore, and there is no way to link HitBTC accounts with personal bank accounts.
However, you can still purchase cryptocurrency with fiat and deposit it directly into your HitBTC wallet address using Changelly integration, which can be found in the "Account" tab for the deposits and withdrawals.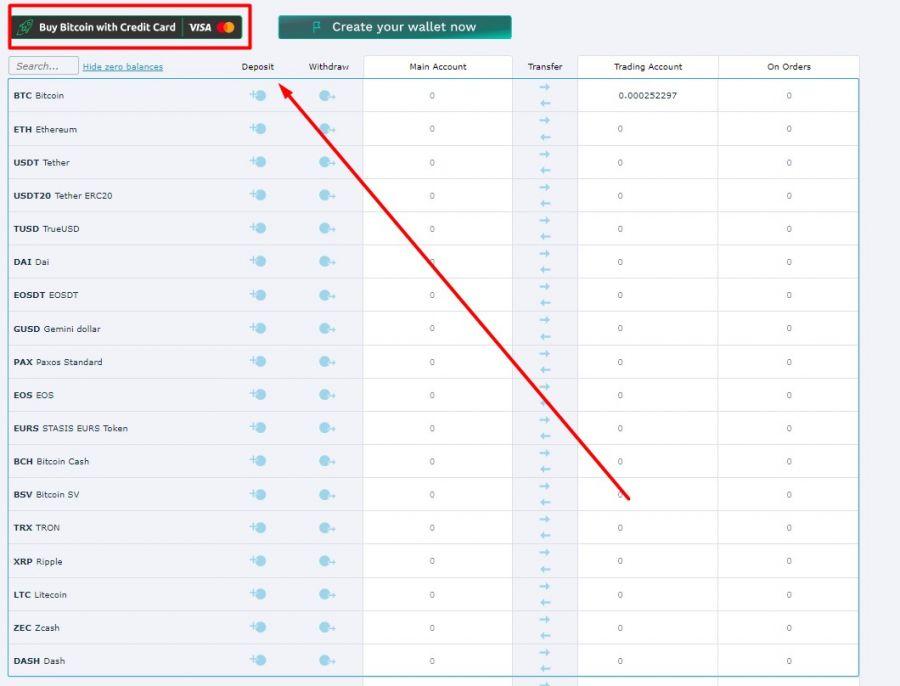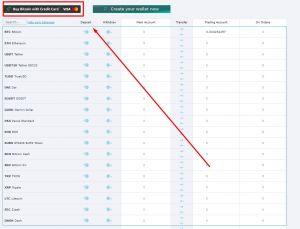 Buy bitcoin via HitBTC. Source: HitBTC.com
When it comes to cryptocurrency deposits and withdrawals, they are as straightforward as it gets. All you need to do is navigate to the "Account" tab and select the cryptocurrency of your choice.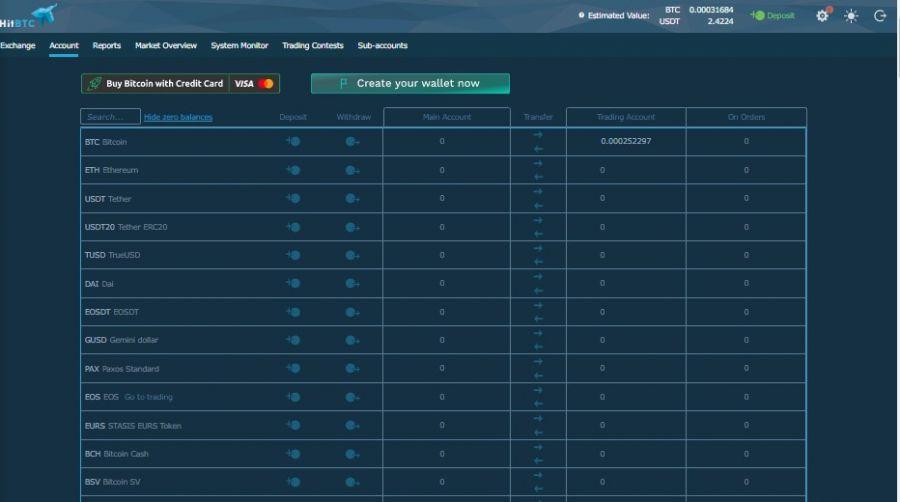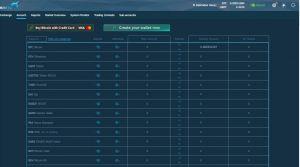 Source: HitBTC.com
Mind that HitBTC's withdrawal fees are far higher compared with other exchanges, so it might not be the best option for depositing small fractions of cryptocurrency.
The withdrawals typically take several minutes and mostly depend on the network speed of the cryptocurrency being withdrawn.
Conclusion
HitBTC is an interesting and exciting exchange. It does offer one of the broadest cryptocurrency markets selection in the entire industry, and its trading fees are the lowest, too. The exchange is relatively secure and easy to use but is a better fit for more experienced traders.
However, unregulated anonymous exchanges in obscure locations do attract their share of critics. As a result, a mysterious exchange like HitBTC will always have many supporters who are happy with its services, as well as numerous critics who are disappointed with its lack of transparency.
Essentially, it all boils down to you and your risk tolerance level – do you trust the exchange enough to store significant amounts of cryptocurrency there? Or would you instead go for a full KYC, regulated exchange?
In this situation, it's best to go with your gut feeling and remember the golden rule – never trade more money than you can afford to lose.