Ethereum Classic Inches Towards Top 10, Trading Volume Up Almost 2,900%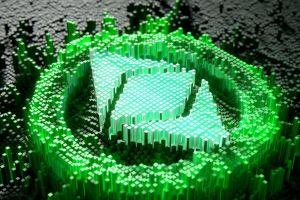 Ethereum classic (ETC) is seemingly making a classic dogecoin (DOGE) move, getting closer to the list of the top 10 coins and baffling the Cryptoverse at large.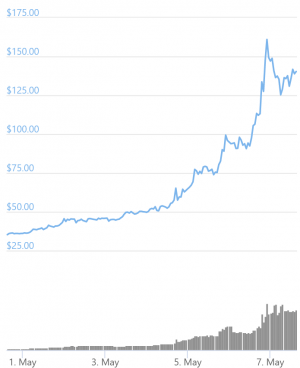 ETC, currently the 13th coin by market capitalization, is continuing its rally. It's up 33% in a day and 307% in a week (at 11:41 UTC), trading at USD 141. It's the second-best performer among the top 100 cryptoasets by market capitalization this week. Also, it appreciated 1,917% in a year, hitting an all-time high of USD 167 (per Coingecko) on May 6.
Its trading volume has also increased significantly over the past week, going from USD 1.5bn on April 30 to USD 44.6bn recorded so far on May 7. That's a 2,873% rise.
ETC price chart:
Also, the public charity focused on supporting the development and growth of the project, ETC Cooperative, reported the network's hashrate, or the computational power, to be at its all-time high as well. Per BitInfoCharts.com, the hashrate saw a major spike since the month started, going up more than 32% in the past day to 28.87 TH/s - the highest it's ever been. The 7-day simple moving average hashrate is still below the ATH of 18.27 TH/s recorded in May 2020, standing at 15.18 TH/s on May 6 this year.
Moreover, on May 5, major crypto investment company Grayscale announced a total asset under management of USD 49.8bn, with USD 1.1bn in the Grayscale Ethereum Classic Trust.
But the teams supporting the project have been experiencing some issues as well.
After the ethereumclassic.org site went down several days ago due to the SSL certificate expiration, which is a type of digital certificate that provides authentication for a website and enables an encrypted connection, ethereumclassic.org and ETC Cooperative reported hours ago that they are working on solving "some DNS [domain name server] issues with the ETC forum."
Also, crypto exchange Poloniex seems to have suffered an issue with ETH withdrawals, with its head, Justin Sun, saying that the funds are safe, and that they are "trying our best to resolve it."
But in this case, some commenters, like trader and analyst Tone Vays, noted certain accusations which have been brought against Poloniex, relating to its previous instance of disabling its ETC wallet, reportedly due to maintenance.
Nonetheless, the numbers are going up for ETC, and similarly to what happened to DOGE - nobody's really sure why exactly. At least in DOGE's case, one could point to celebrities tweeting about it and the continual, vocal community support. However, some industry observers point at Robinhood, a popular trading app, that supports ETC among other cryptoassets. Some of them - bitcoin cash (BCH), bitcoin SV (BSV), litecoin (LTC), and DOGE - are up by 40%-100% in the past seven days and are among the best performers this week.
"Number go up. So does FUD," said ETC Cooperative. Director of Developer Relations Stevan Lohja suggested that it's due to a combination of elements including "market forces," and ETC being "the middle ground between BTC and ETH."
Comparing the search interest for 'ethereum' and 'ethereum classic' on Google Trends, we see that in early May, ETC followed ETH - jumping at approximately the same time, which was not the case earlier in the week, or the month for that matter. Perhaps, due to ethereum (ETH)'s rising price and the subsequent mainstream interest, it may have resulted in larger curiosity about its more affordable brother.
This may perhaps be backed up by certain comments from people claiming to be newcomers or not looking into ETC before, wanting to invest in it, or move some of their ETH to ETC, asking for advice and seeking more knowledge on the two projects.
However, there were quite a few negative comments about the project as well. One Redditor wrote that those buying ETC are "people who don't know any better, and people speculating that there are people who don't know any better."
But most of the criticism seems to focus on the network's security. Some argued that the network is an easy prey for 51% attacks. "It was repeatedly 51% attacked last year," said one. "So insecure you need multiple days of confirmations because it can be 51% attacked for next to nothing," said another. A Redditor went a step further and declared the chain dead altogether, saying it has no fundamental value and that it's highly insecure.
"All of these reasons are why Ethereum currently has a much higher market cap than Ethereum Classic, and as a result, a higher price per coin. They are NOT "the same chain". Ethereum Classic is NOT "the same but cheaper"," wrote 'interweaver'.
However, the team behind ETC is not going to waste this increased interest in this project.
____
Learn more:
- Original Ethereum Outperforms ETH Despite Its 'Institutional Evolution'
- The Ethereum Economy is a House of Cards
- Are GameStop-Style Surges In Crypto Any Different From Old Pumps & Dumps?
- If History Rhymes, ETH Might Hit USD 19K; Downside Risk Stronger Than BTC's
---