Cuba 'Studies' Cryptocurrencies, Expert Floats Cent'l Asia Crypto Idea
The Cuban government says it is "studying the use" of cryptocurrencies in an effort to boost the country's flagging economy as American-led sanctions continue to bite.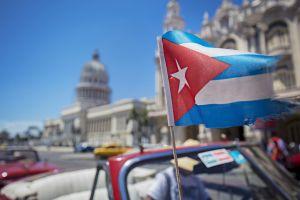 The United States has ramped up sanctions against Cuba in recent months, with tourism and educational travel bans, as well as a recent ban on the Havana-owned oil company Cubametales, which America says is supporting the Nicolás Maduro regime in Venezuela.
Media outlet La Vanguardia quotes Cuba's Minister of Economy and Planning, Alejandro Gil, as stating, "We are considering studying the application of [cryptocurrencies] in national and international commercial matters […] Measures of this type can allow us to move forward, looking for solutions to problems. We have to look for alternative means to solve economic problems."
Gil joined the country's president, Miguel Díaz-Canel, as well as other ministers, on a special television broadcast, where the politicians discussed measures that might help raise national production and demand in an attempt to spark economic growth. The president hinted that cryptocurrency-powered solutions might allow Cuba to make use of its own economic resources and could "strengthen domestic reserves."
Venezuela has experienced a sharp rise in cryptocurrency usage, and the Maduro government launched its state-run, oil reserves-backed cryptocurrency, the Petro in an attempt to escape the pressure of sanctions. President Donald Trump has banned the cryptocurrency, and promised to place sanctions on countries and companies that agree to deal with the Petro in any form.
Meanwhile, in Kazakhstan, a senior Accenture official has put forward a proposal for a "Central Asian cryptocurrency" run by Kazakhstan. Per Kun.uz, Anton Musin, the managing director of Accenture Kazakhstan, regulations are the only thing standing between the idea and a functioning Central Asian cryptocurrency – as the technology is already in place.
Musin, who earlier this year suggested that the UAE and Saudi Arabia launch a similar initiative, stated that his proposal would "make sense" for both Astana and the greater region.
However, he noted that the cryptocurrency might be something "of a corporate nature, for banks to enable cross-border transactions, not as a tool of payment for [ordinary] people." Musin stated that "In the future, based on the sort of regulation that will be adopted [in Central Asian countries], this is a completely applicable scenario."
---