The Darknet Still Loves Bitcoin – and Doesn't Care About Prices
Bitcoin (BTC) usage is rising on darknet markets, where it is often used to buy narcotics and finance other illegal activities – although the darknet still accounts for less than 1% of all BTC transactions.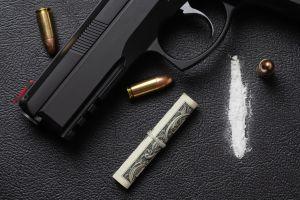 Per data from blockchain analytics provider Chainalysis, over USD 600 million worth of bitcoin moved on darknet markets in Q4 of 2019.
That figure may seem high, but it represents a tiny fraction of BTC usage in above-board activities.
Chainalysis also discovered that bitcoin usage on darknet markets is less likely to be influenced by fluctuating cryptocurrency prices.
The report's authors wrote,
"While all categories see spikes in July 2019 around the same time as a bitcoin price surge, darknet markets exhibit a much less dramatic spike."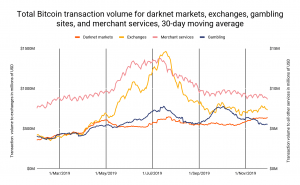 The company also noted,
"After a small decline in 2018, total darknet market sales grew 70% in 2019 to over USD 790 million worth of cryptocurrency, making it the first time sales have surpassed USD 600 million."
And Chainalysis pointed out that "for the first time since 2015 darknet markets increased their share of overall incoming cryptocurrency transactions."
Darknet BTC transactions doubled from their 2018 figure of 0.04% to 0.08% last year.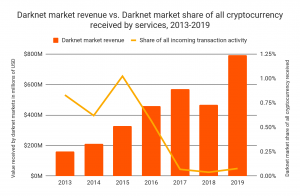 The mainstream media has responded with articles, some of which have polarized the crypto-community.
The New York Times published an article entitled "Bitcoin Has Lost Steam. But Criminals Still Love It." However, many have lashed out at the newspaper, accusing it of lazy journalism and focusing on negative aspects of the data.
On Twitter, a number of commenters pointed out that the darknet's crypto influence is still minimal in the greater crypto world.
One remarked that "darknet markets make up only 0.08% of overall incoming cryptocurrency transactions."
Others commented that the story was in fact "positive," with one Twitter user even claiming that it was "bullish."
Meanwhile, Chainalysis forecasts that "we may see more darknet markets accept, or perhaps even mandate the usage of privacy coins like Monero."
___
Learn more: Exit Scam Fears as Major Darknet Site ICO Promises 700% Growth in 6 Months
---