Crypto Market Ignores Tether's Backing News
Lawyers for under-fire stablecoin Tether (USDT) confirm the token is not backed 100% by cash reserves, but say that it is not obliged to back its token 1:1 with fiat – sentiments that the market appears to agree with.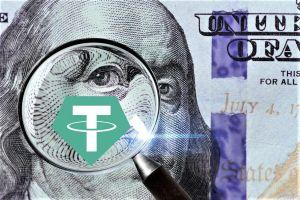 At the time of writing (08:36 UTC,) tether still trades above 1 USD.

As previously reported, Letitia James, the Attorney General (AG) of the State of New York has taken out a court order against Tether, the Bitfinex exchange and iFinex, the Hong Kong-based company that operates both.
The AG has alleged that Bitfinex "engaged in a cover-up to hide the apparent loss of USD 851 million dollars of co-mingled client and corporate funds," and that the exchange had "given itself access" to Tether cash reserves that were put aside to underpin Tether tokens.
Tether's lawyers have hit back at the AG's move, with legal firms Morgan, Lewis & Bockuis and Steptoe & Johnson issuing a memorandum of law to a New York court. The document makes the following claims:
the AG neglected due process in issuing the court order
the AG has failed to prove that Tether can be considered to be a security or commodity under the terms of the Martin Act (anti-fraud business legislation)
Tether has made no secret of the fact that its reserve funds include loans made to affiliates [it was revealed in February on their website]
the AG has failed to show that any irreparable harm has been done to investors
Stuart Hoegner, Bitfinex's General Counsel and a lawyer specializing in cryptocurrency-related matters, has also filed an affidavit with a New York court in which he admits,
"Tether has cash and cash equivalents (short-term securities) on hand totaling approximately USD 2.1 billion, representing approximately 74% of the current outstanding tethers."
However, the company also has "additional reserves" though "less liquid" assets, Hoegner said without specifying.
Meanwhile, the Tether's website claims that the excess of their assets over liabilities stands at almost USD 23 million.
Hoegner also notes, that Federal Reserve rulings only require American banks to keep cash reserves "representing, at most, only 10% of their liabilities" – indicating that the AG appears to be holding Tether up to impossible standards.
The strongly worded document also claims that liquidity is no problem for Tether, stating,
"Between December 2018 and April 29, 2019, the average daily fiat redemption has been USD 566,066.00, with the largest being USD 24.2 million. The vast majority of [fiat] redemption requests of Tether are for less than USD 1 million."
Meanwhile, another attorney representing Tether, Zoe Phillips of Morgan, Lewis & Bockuis, said in a separate document that "the Attorney General appears to believe that Tether must hold USD 1 in cash fiat currency for every dollar of tether. These allegations are wrong on multiple levels."
"More fundamentally, the Attorney General has no authority to dictate how Bitfinex and Tether do business with one another, or the amount of reserves that Tether must hold," she stressed, adding that any tether holder dissatisfied with the current arrangement that tether is not fully backed by cash could have freely redeemed his or her tethers for cash, or exchanged their tether for another virtual currency, and can still do so today.
USDT transaction count and price (7 days average):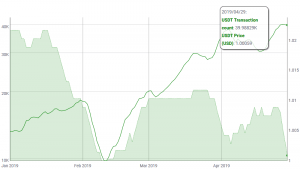 Furthermore, Hoegner stated that the AG's injunction was "needlessly disruptive" to Bitfinex, contained incorrect allegations about the company's dealings with Panama-based company Crypto Capital – and has succeeded in "spreading misinformation to the markets."
However, the Attorney General said last week that Bitfinex lied to its customers when it claimed that "all cryptocurrency and fiat withdrawals are and have been processing as usual without the slightest interference" in October 2018.
_____
Discussions
__
__
__
__
__
__
__
__
__
__
__
__
__
__
__
---